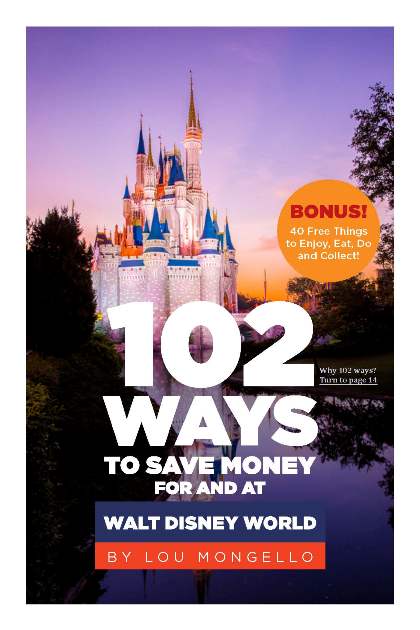 So many people plan a trip to Walt Disney World every year as their annual vacation. While one of the most popular vacation destinations on the planet, a WDW visit isn't exactly affordable – or is it?? In the brand new book by Lou Mongello, 102 Ways to Save Money For and At Walt Disney World, you'll uncover a variety of secrets that might make a Disney vacation more affordable and sooner than you think!
In 102 Ways to Save Money For and At Walt Disney World, you'll find a multitude of tips and tricks that will make any vacation anywhere easier to afford. Segue these techniques to afford any vacation any time, whether you're going to Walt Disney World in Orlando, or not.
The reason you want this book, though, is for those Disney-specific tricks to maximize your Disney budget dollars and to save as much money as possible on your next Disney vacation.
Inside, you'll find why the Sanford airport is the best option for families (and the one that I prefer to fly in and out of, too!). Discover the sneaky ways to use an Annual Pass for Walt Disney World, even if you only plan to visit once a year – and how just one Annual Pass can save your entire family a whole lot of money!! There's smart tips on souvenir shopping, and budget-saving ideas on how to get all of those new souvenirs home without spending a fortune on checked baggage fees.
Among my favorite suggestions is where you can find some of the most popular food items served at table service meals, for a fraction of the cost at quick-service locations! You could save $6 for one person with just this one tip alone, and still enjoy a delicious, popular breakfast treat.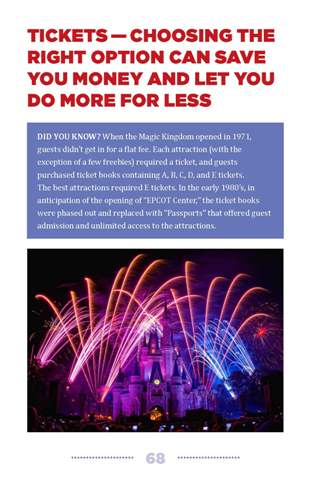 I've known Lou Mongello for more than seven years, as we published our first Disney guidebooks around the same time and appeared at press events in Orlando. He is a passionate Disney fan and knows the parks like no one else. You can trust his insight into all things Disney, and his newest book is a fabulous compilation of the money saving tricks he's used for years!
The 200-page book is beautifully illustrated with fabulous photos from Walt Disney World via the Disney Photography Blog. The stunning imagery just might be another reason to buy the book. And there are plenty of hyperlinks to access previous posts, podcasts and more from Lou's site, www.wdwradio.com, so you'll instantly be connected to even more information.
The e-book is available for Kindle and Nook, as a PDF, or as a paperback by clicking here.
What are your money saving tips for a visit to Walt Disney World?  Share them below!