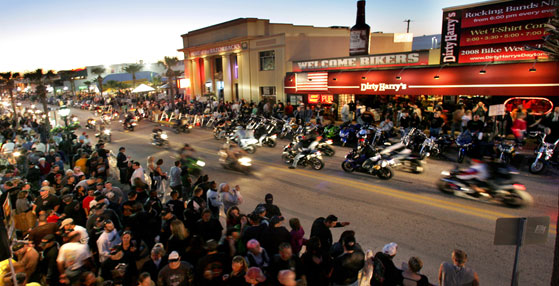 Truth is, you don't have to ride a motorcycle to enjoy Bike Week 2015.  While more than 500,000 bona-fide motorcycle enthusiasts will be visiting during the March 6-15 event, others are making the trek just to take in some amazing sights, sounds and flavors.
"There's just so much going on during Bike Week," explains Daytona Beach Area Convention and Visitors Bureau Executive Director Tom Caradonio. "Between the concerts, the rides, the rallies, the vendor shopping, the great food and our various local non-profit agencies' fundraiser events, it's no wonder folks from all around the world come to immerse themselves in all that is Bike Week."
This year's festival will include plenty of traditional action, too.  Visitors will see live music in hundreds of local venues and watch the pros compete in Daytona International Speedway's Motorcycle Races. For those wanting to get a taste of the event's history – and enjoy some fun and sun on the Original American Beach –riders can take a 10 mph cruise on the hard-packed beach in designated areas, just like rally-goers experienced back in 1937, the year of the first beach race.
Bike Week events are schedule throughout Daytona Beach and surrounding areas, including key venues like world-famous Daytona International Speedway; Daytona Beach's Main Street, Riverfront Park and Dr. Mary McLeod Bethune Boulevard;  and Bruce Rossmeyer's Destination Daytona, a year-round motorcycle complex that features Daytona Harley-Davidson's 109,000 square foot showroom, retail and specialty shops, restaurants, a concert pavilion and an on-site hotel.  Each venue offers visitors a variety of delicious foods, live music, biker apparel and more.  Nearby DeLand and New Smyrna Beach also offer activities during the festival.