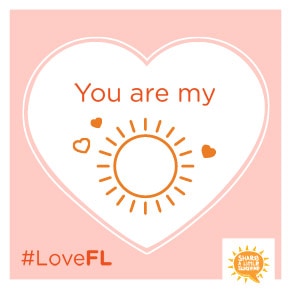 This Valentine's Day, much of the country is under snow. But not in Florida.
If you're dreaming of Florida, live in Florida or have great vacation memories of Florida, send your friends and family a little love from the Sunshine State with these great electronic cards from ShareALittleSun.com.
Share a Little Sunshine is a part of the Visit Florida marketing campaign, and, boy, they are really doing a great job with these cards. It's part of their Bragging Season campaign online, which needs no help at this time of year.
Not only are there Valentine's Day cards, but there are winter themed cards as well, which are hilarious – and true!
Visit the website, www.sharealittlesun.com, to send these cards via Facebook or Twitter and share the warmth! Use hashtag #LoveFL if you'd like!