"I received this product for free from Moms Meet (momsmeet.com) to use and post my honest opinions. Compensation for this post was provided and this page may contain affiliate links."
I have a sweet tooth. A big one. I know I'm not alone here. The thought of chocolate, ice cream, candy, cake… you name it and it's the first thing I'm going for. I've always had a weakness for it and never understood those who don't!
When I got pregnant, I was definitely the woman who allowed myself the extra indulgence – because my baby wanted it! (No-actually it was mommy who wanted it!) After my son was born the cravings of course didn't stop. When you are exhausted, sometimes you just reward yourself with a pint of ice cream! Right??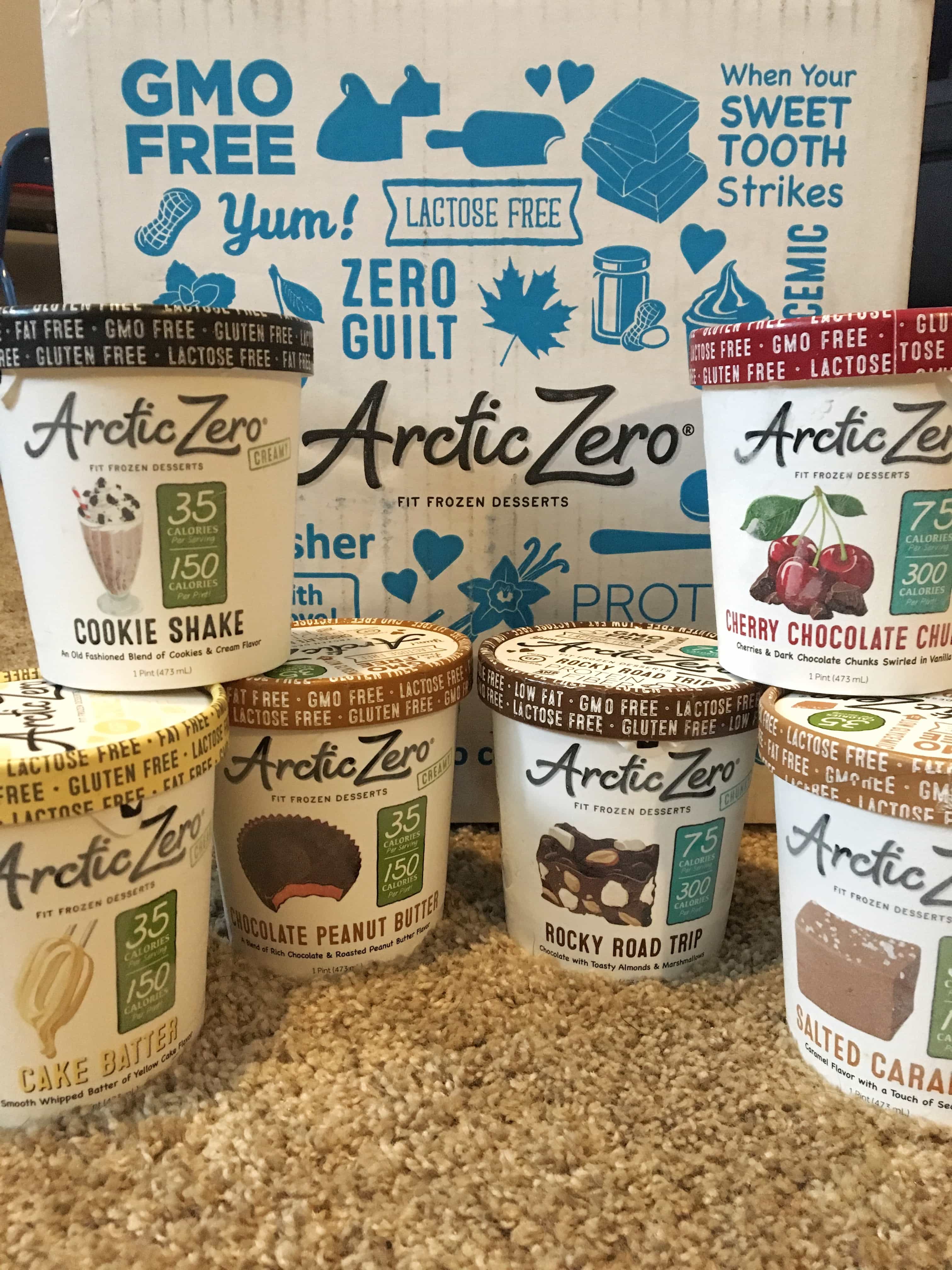 After over a year of not losing my baby weight, I thought that maybe I needed to ignore my cravings a little better. I've worked hard and have lost the weight, but so easily it can sneak back on! SO, how can I be disciplined when chasing a toddler around, losing my mind and just wanting to crash on the couch with something sweet at the end of the day? I KNOW I'm not the only one out there and I want to share with you sweet-loving sisters that there is hope. I have found an answer to our sweet tooth dilemma. Arctic Zero! Guilt free ice cream? OH YEAH. I jumped right on the chance to give these pints a try to see if I could satisfy my urges and my scale!
Now before I get to the fun aspects of Arctic Zero, here's the important aspects: the health benefits!!
Fat Free/Low Fat options. YAY! Creamy pints are only 150 calories/pint and the chunky pints are only 300 calories/pint. A WHOLE PINT!! Not only are their pints low in fat, they pack nutrition as well boasting 3-4 grams of protein & 2-3 grams of fiber per serving. Sure, ice cream isn't a great meal idea, but adding Arctic Zero works great in protein smoothies and adding some fruit to make a delicious snack for the kids are great options! I have complete confidence in giving my child Arctic Zero because there are no artificial ingredients, and low sugar! (My boys don't need extra sugar!)
For anyone who has dietary restrictions, I know the choices for tasty treats can be limiting. Arctic Zero pints are a new and amazing option! They are lactose free, non-GMO, certified Kosher, and sweetened with the natural fruit – monk fruit! Monk fruit is a sweet fruit loved by Buddhist Monks in Asia and makes Arctic Zero taste delicious while keeping the glycemic levels low so that even diabetics can enjoy them with no worries and pure enjoyment!
Now for the flavors!! I have tried several of them and I'm here to give you my honest opinion. First of all, Arctic Zero has Creamy and Chunky options. As mentioned before, the Chunky varieties do pack a few more calories, but that's because they are loaded with chunky goodness. (These are also my favorites!)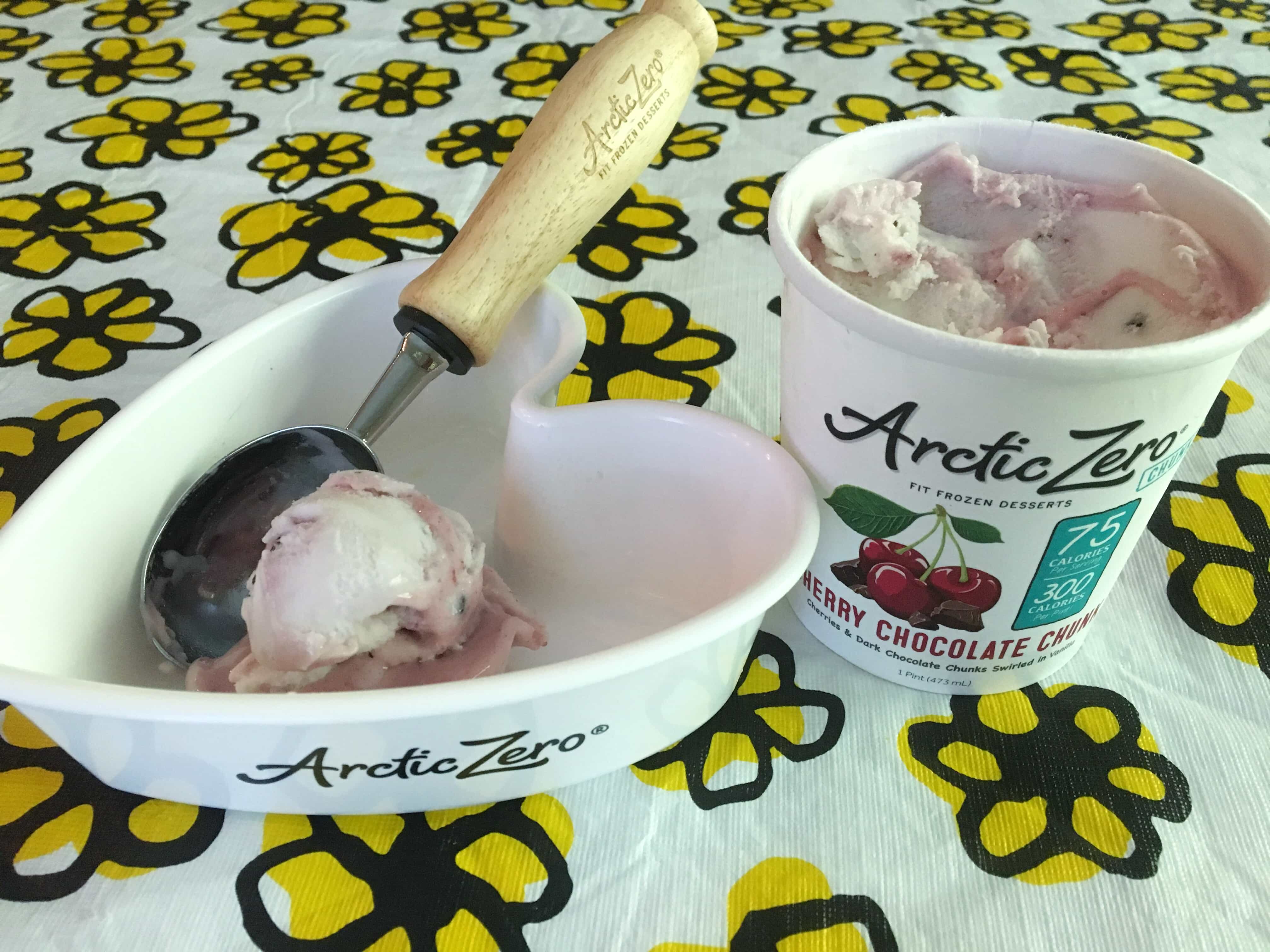 To thoroughly enjoy Arctic Zero ice creams, you will want to thaw them out as suggested instead of just diving right into a frozen pint with a spoon. I have tried both thawing options- letting the pint sit out at room temp for 15 minutes as well as 'zapping' it in the microwave for 30 seconds. I think both options work well, so depending on how long you want to wait, you can't go wrong either way!
I first let my Arctic Zero thaw out at room temp. In all honesty after chasing kids around, it was prob closer to 20 min but the ice cream was softened and scoopable! I had decided to try the Peanut Butter Swirl first because I love peanut butter in my ice cream. Let me tell you, once I started, I didn't stop scooping. It's a blessing that the whole pint was only 300 calories because this tired momma devoured it all in one sitting! The peanut butter swirl was so rich and creamy! I can confidently say that I will be buying that flavor again.
So, as I said I have tried many of the flavors. I am a big fan of the Chunky recipes. Along with Peanut Butter Swirl that I ate all in one setting, Cherry Chocolate Chunk, Rocky Road Trip, Cookie Dough Chip, and Brownie Blast all could have easily disappeared at one sitting as well! I haven't tried Snickerdoodle Dandy yet but I'm going to! All Chunky Pints do pack in plenty of the chunky delicious bites. The almond and marshmallow bites of Rocky Road Trip were so delicious it was amazing to think that I could keep scooping and not feel guilty!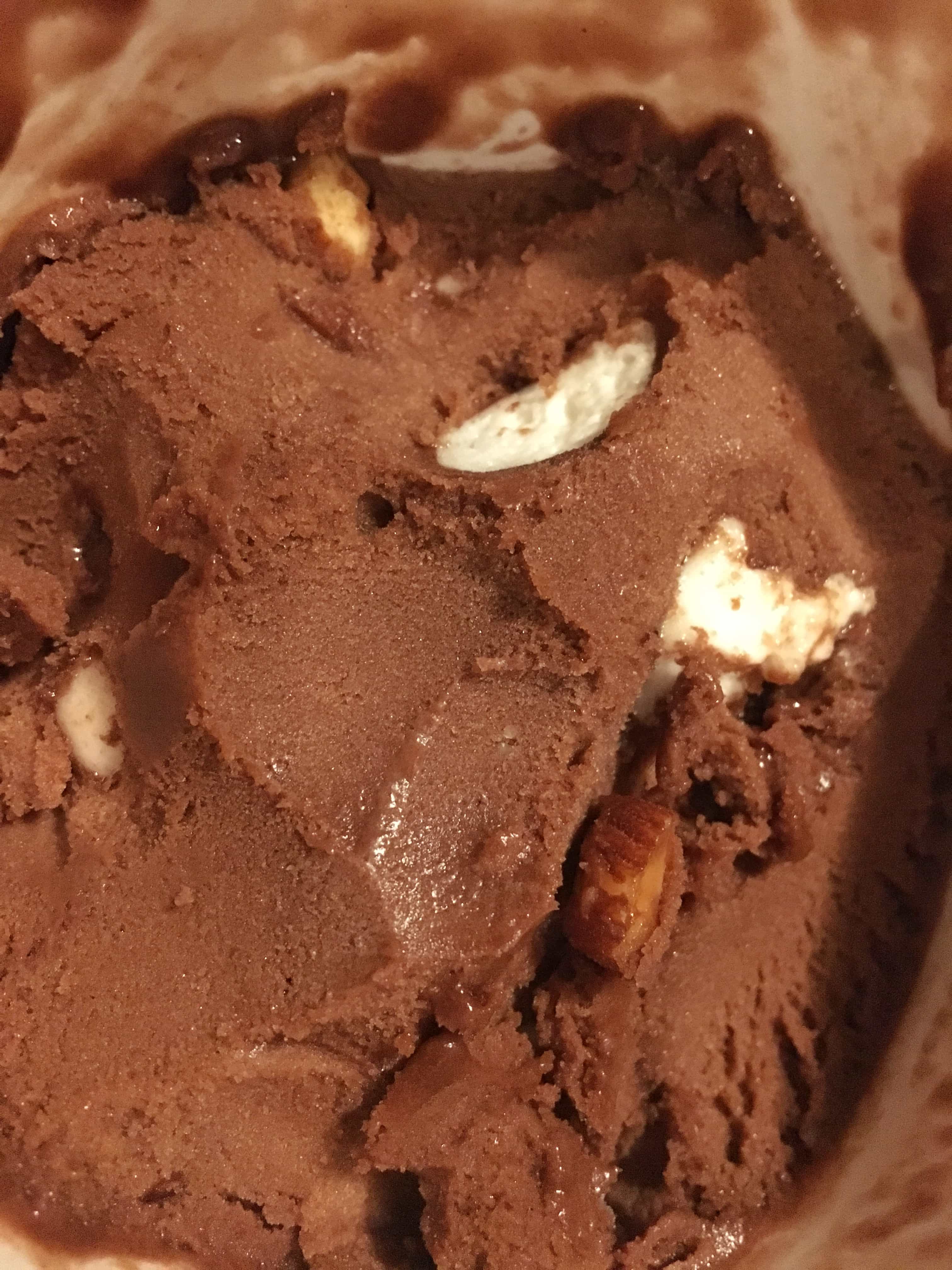 The creamy flavors are also tasty and are great for milkshakes and smoothies! Cookie Shake was the flavor milk shake I made for my kiddos. I added milk to achieve the consistency I wanted and I got a 'MMM MMM Good!' from my 2 year old.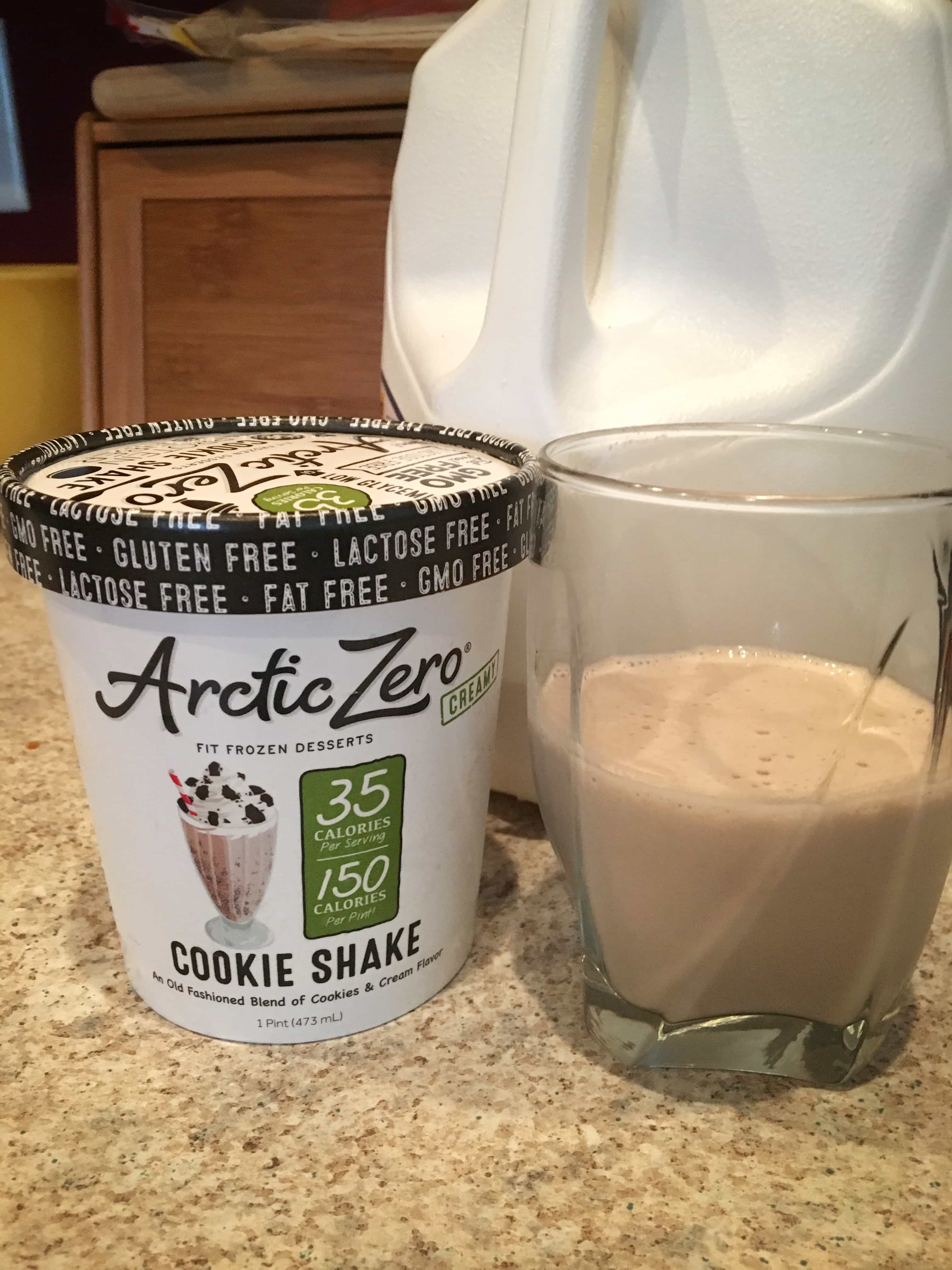 Cake Batter and Chocolate Peanut Butter would also make great milkshakes as their flavors are spot on and so creamy. Salted Caramel is delicious. What a bold caramel flavor it has – if you love caramel, you wont' be disappointed. I have not been able to try the Cappuccino, Purely Chocolate, Hint of Mint, Poppin Pomegranate, Toasted Coconut or the Vanilla Maple flavors, but when I see them, I will! Arctic Zero also has a line of chocolate Dipped Bars! Can't wait to try!!! I obviously need a bigger freezer.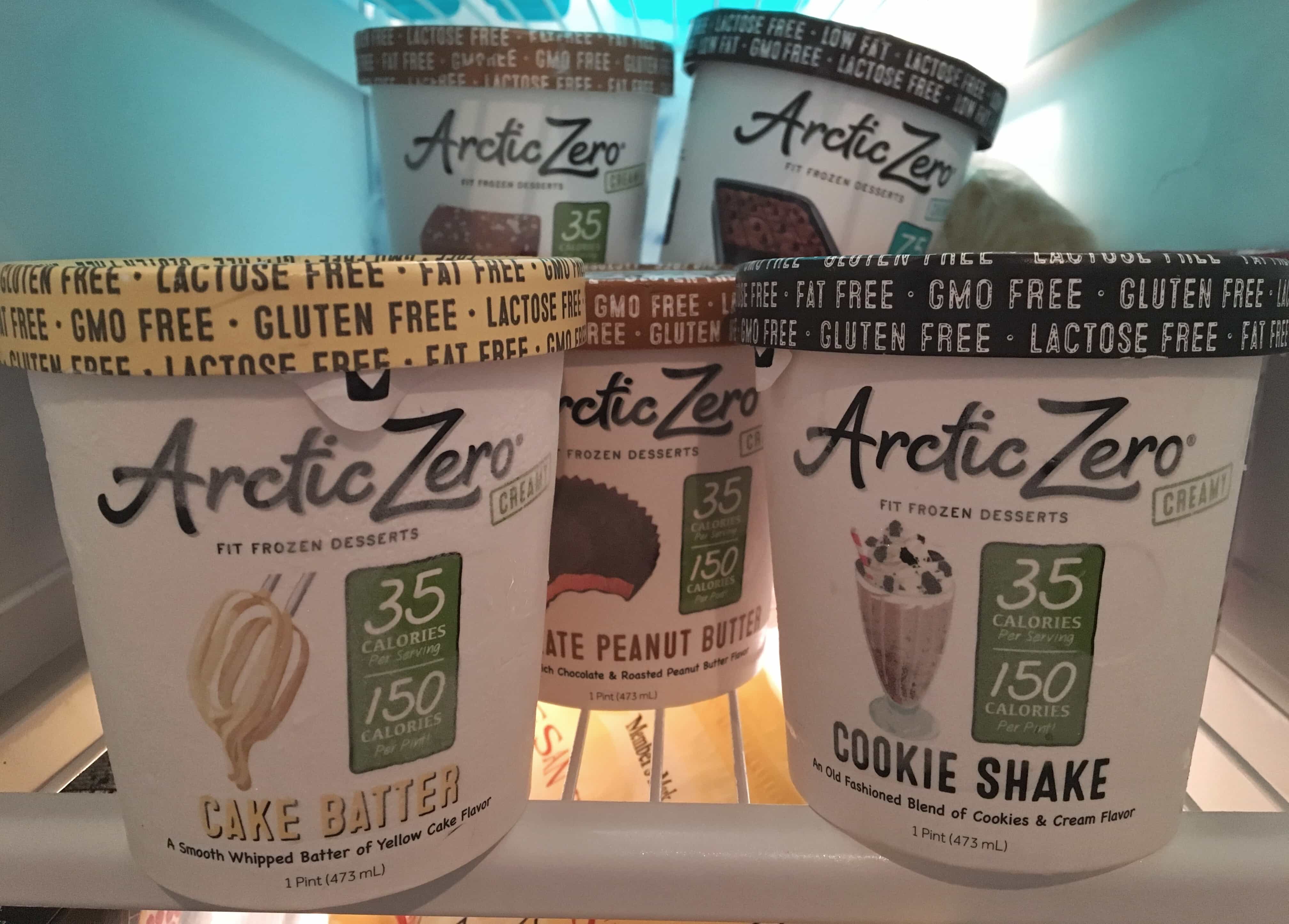 For between $4-5 dollars a pint, you can bring home creamy and chunky pints of ice cream you will be ok with telling yourself and your kids Yes to! Still not sure? You can easily win a voucher for a FREE pint to try of your choosing! You can find Arctic Zero at many retailers near you including Target, Publix, Whole Foods, Walmart or online at Amazon and ArcticZero. For a free voucher, the first 3 people to leave a comment and a way for us to contact you will be the lucky winners! EASY! Free Guilt Free Ice Cream! Seriously though, from this mom who also struggles with a sweet tooth and the desire to keep wearing the clothes in her closet – I WILL buy Arctic Zero ice creams. If you're like me – maybe you'll need a bigger freezer too? Enjoy your Arctic Zero!!