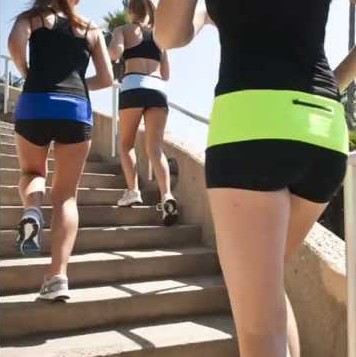 Do you ever get frustrated like me when you want to go to the gym or go for a walk and you don't have pockets for your keys, debit cards or phone?
I was lucky enough to get to try a Hip Appeal hip wrap and I was an immediate fan. It's comfortable and stylish with plenty of pockets built-in for everything you'll need to carry – hands free!! Perfect for hiking, shopping, traveling or going to a ball game when you don't want to carry around a heavy purse or bag.
Hip Appeal measures 5 inches and has 3 pockets big enough for a cell phone, ID's, keys, or passports; two of the pockets are zippered to keep your valuables safe. It can be worn discreetly under your shirt but there's no reason you wouldn't want to show it off!! Hip Appeal comes in a variety of colors so you can have one to match every outfit! What makes Hip Appeal even more appealing is that they are 100% Made in the USA with the same high quality fabrics that are used by top-selling fitness apparel companies.
When I first tried mine I was so pleased that it didn't roll up when I walked and it felt snug and secure without being too tight. My phone easily slipped into the hidden seam pocket while my keys were secure in the zippered pocket. I fell instantly in love with this product and I know you will too. It makes a great item for yourself as well as a great gift for women on the go (gift cards available!)! Hip Appeal will even personalize a wrap with  a name, an emblem, or a business logo!
You can search for a retailer near you online, or sign up for Hip Appeal's Newsletter and save 10% on your online purchase! Now you can hit the beach, hit the trails, hit the gym, or hit the mall hands free, comfortable, and fashionable!