The LakeHouse Restaurant recently opened at the Hyatt Regency Grand Cypress with a fresh and modern color palette, wide open spaces, contemporary design and a commitment to local foods.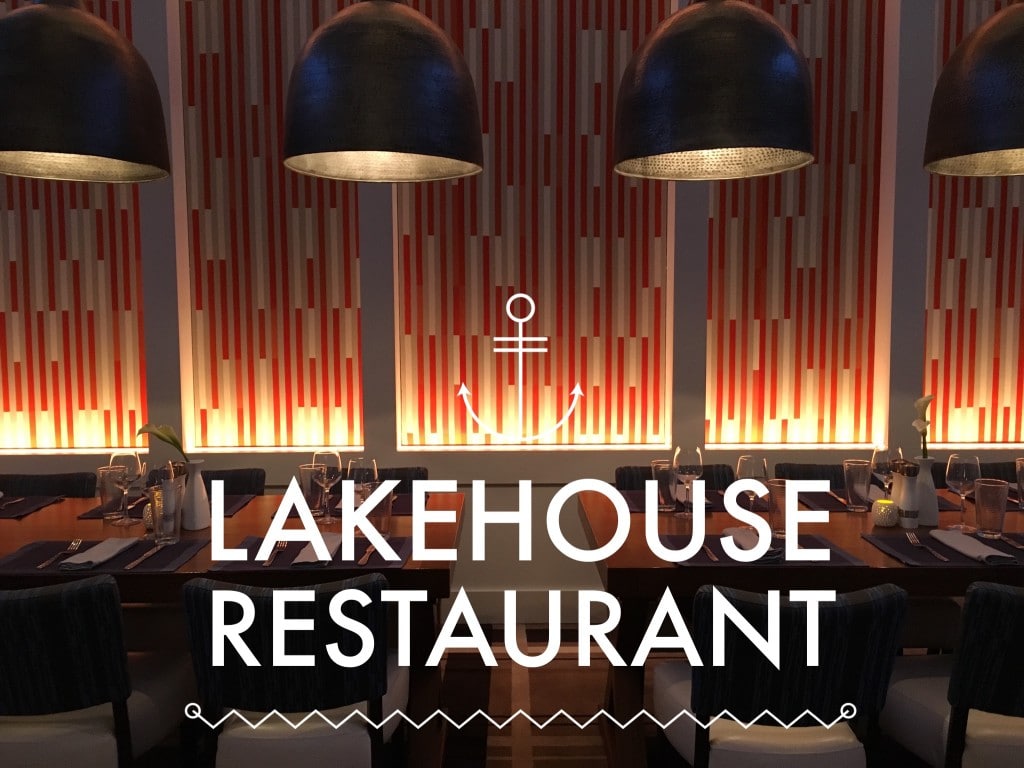 During a recent media preview, I was honored to explore the culinary menus available at the LakeHouse, aptly named with its large picture window views overlooking the 21-acre Lake Windsong.
The colors and décor are what sold me well before I ever ate a bite in the restaurant….. well, I was sipping on their White Sangria as I entered for the first time, so does that count?!? (Recipe below, btw!) Not a stodgy dated restaurant that is sometimes found in resort hotels, the Lakehouse transcends what you'd expect.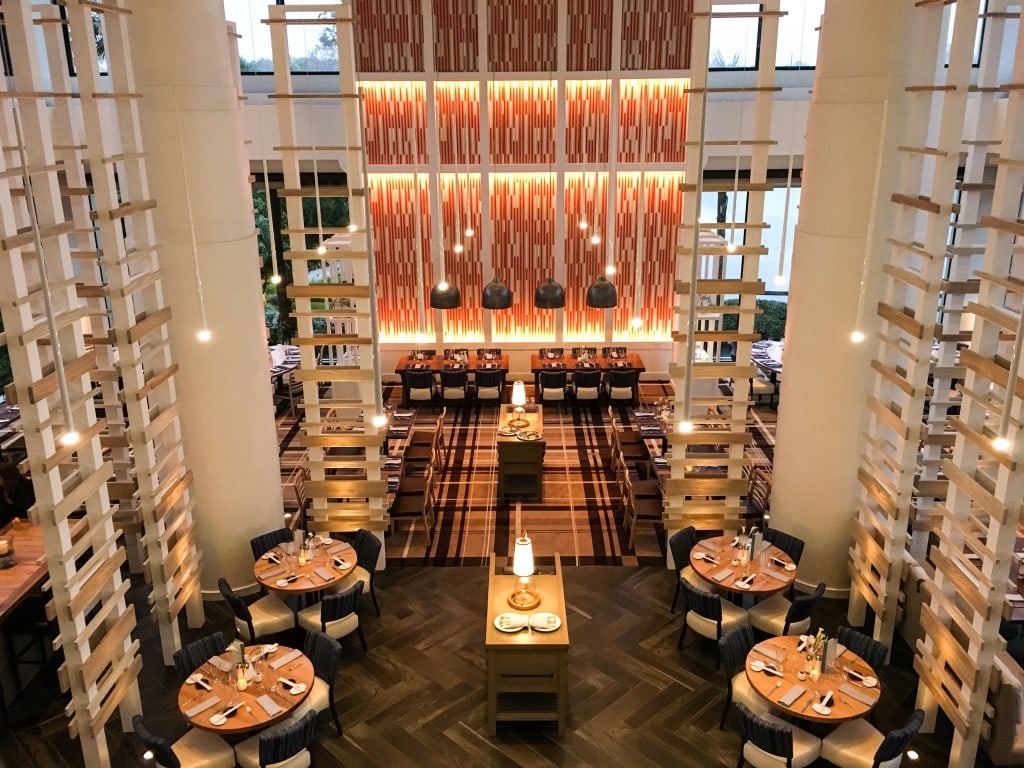 I truly appreciate the wide open-concept design, with three-dimensional wall coverings, innovative use of wooden slat décor, concrete pendant lamps and the bold use of the color orange – a trendy, young, and fresh color that makes a dramatic statement.
Outside the windows, the herb garden can be walked through, where the chefs pick fresh herbs for dishes every day. Views of the lake and surrounding landscaped grounds don't disappoint.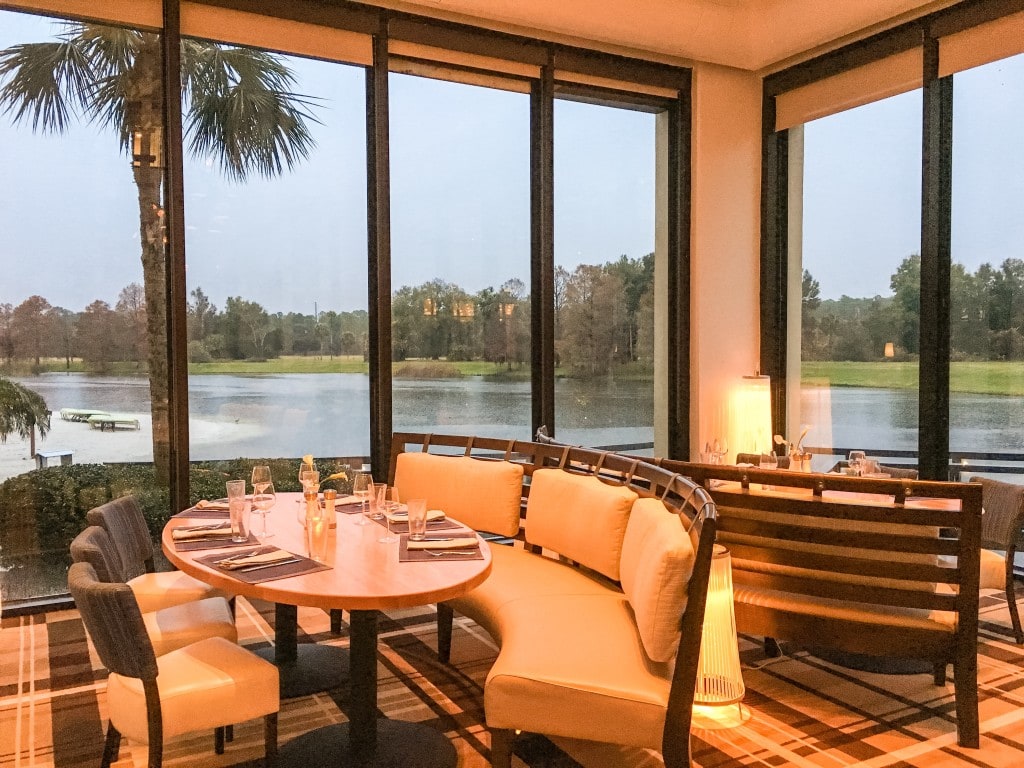 It doesn't matter how good the renovated 6,350-square foot space looks, though, if the food isn't any good.
And boy, was it good.
LakeHouse is open all day long, serving three meals a day, as well as quick bites in the afternoon and a bar. We had a tasting menu for dinner, but I'd be anxious to try breakfast and lunch, too. In fact, I know that I'll be back.
With an emphasis on gathering ingredients from local farms within 60 miles of the resort, Steven Rujak, Chef de Cuisine, creates comfort foods with an elegant twist. Dietary needs, such as vegan, vegetarian, pescatarian, dairy-free, and gluten-free, can be accommodated.
Here's what we ate and drank:
Sushi
I'm not a big seafood eater, but I did try one piece of sushi and it was great. The plates pretty much were devoured by our tablemates, all of whom enjoyed the selections.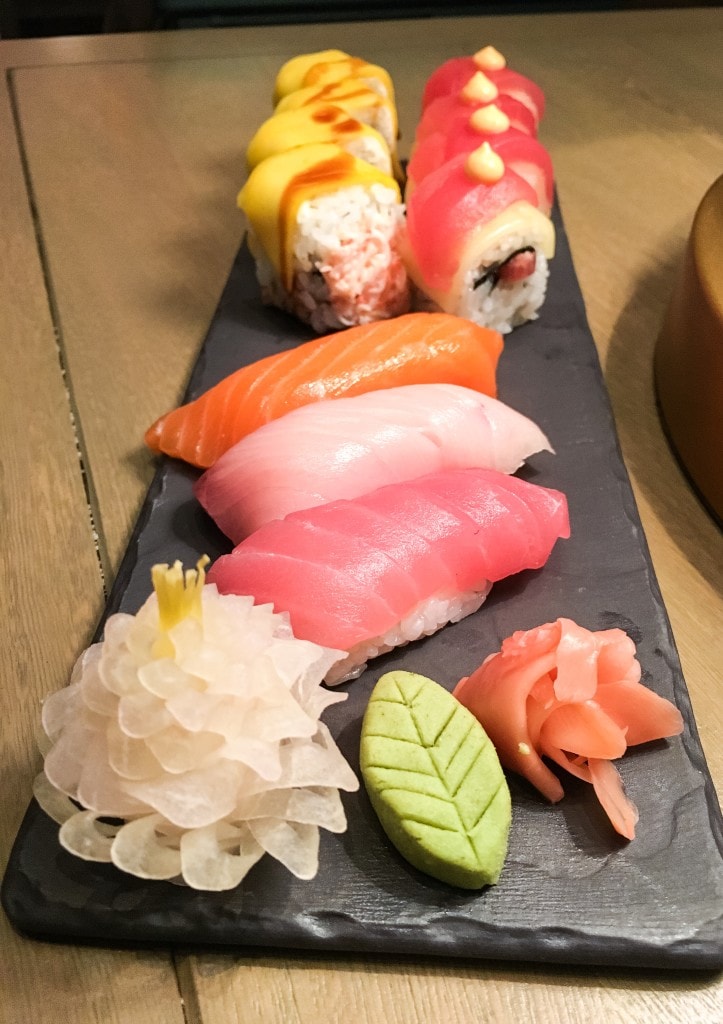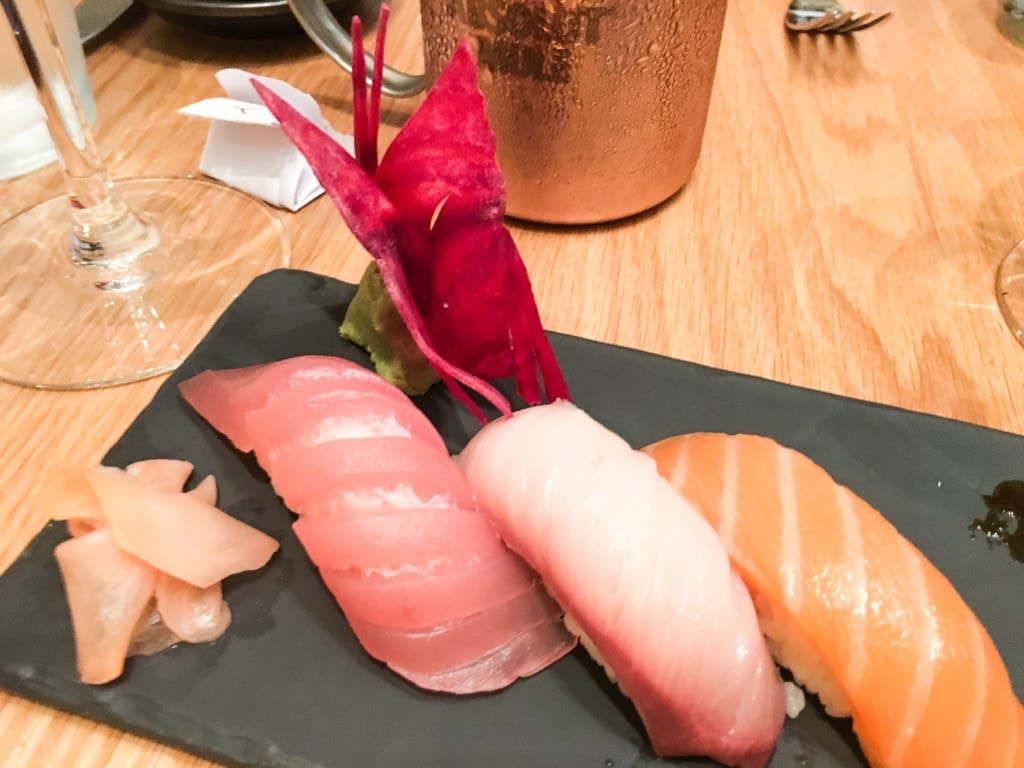 The Fuzzy Mule
A take on a classic Moscow Mule, this cocktail adds peach flavor to Absolut Vodka, fresh lime juice, and ginger beer for one of the restaurants most popular drinks on the menu – and for good reason! This cocktail was excellent and I would have one again.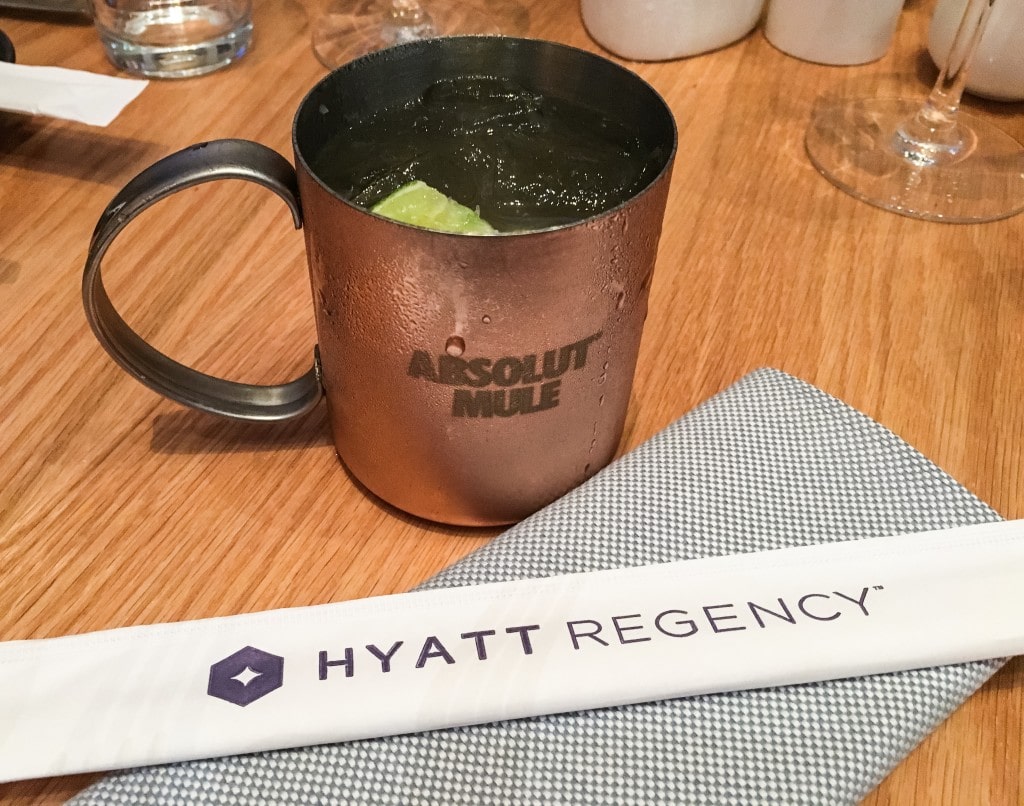 Almond Filled Dates Wrapped in Bacon
Not something that I would usually order for myself, but I wouldn't have know what I was missing if I hadn't had a tasting of these tempting bites that are among the favorites for Eduard Propst, Senior Food and Beverage Director.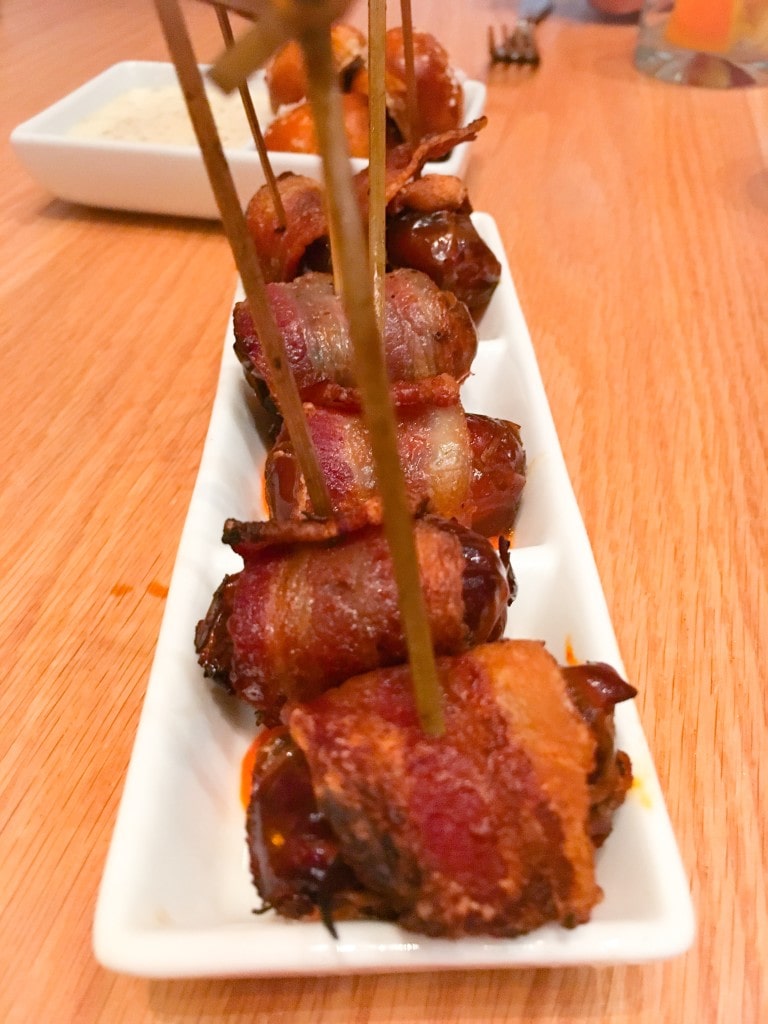 Maldon Sea Salt Pretzel Bites with Horseradish Mustard and Beer Cheese Fondue
Sinfully rich and decadent, I could eat a whole plate of these myself. Maybe next time….. With another Fuzzy Mule 🙂
Pineapple Rosemary Caipirinha – Augusta Cachaca, fresh pineapple and lime
This drink is strong, and with a Brazilian spirit that I was not familiar with. This might be the best time to try an authentic Caipirinha.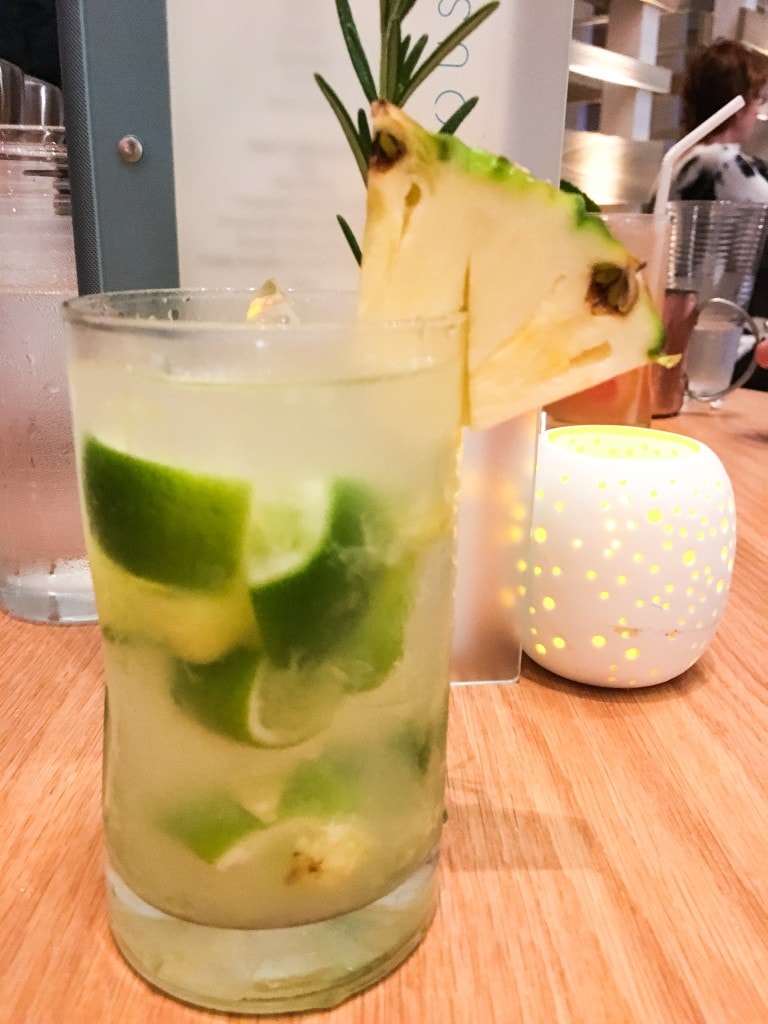 Grilled Shrimp Cocktail – with Bloody Mary Sauce, Shaved Horseradish, Sliced Cucumbers
I don't eat shrimp, so I can't tell you how this tastes, but everyone else was raving about how delicious the shrimp was grilled.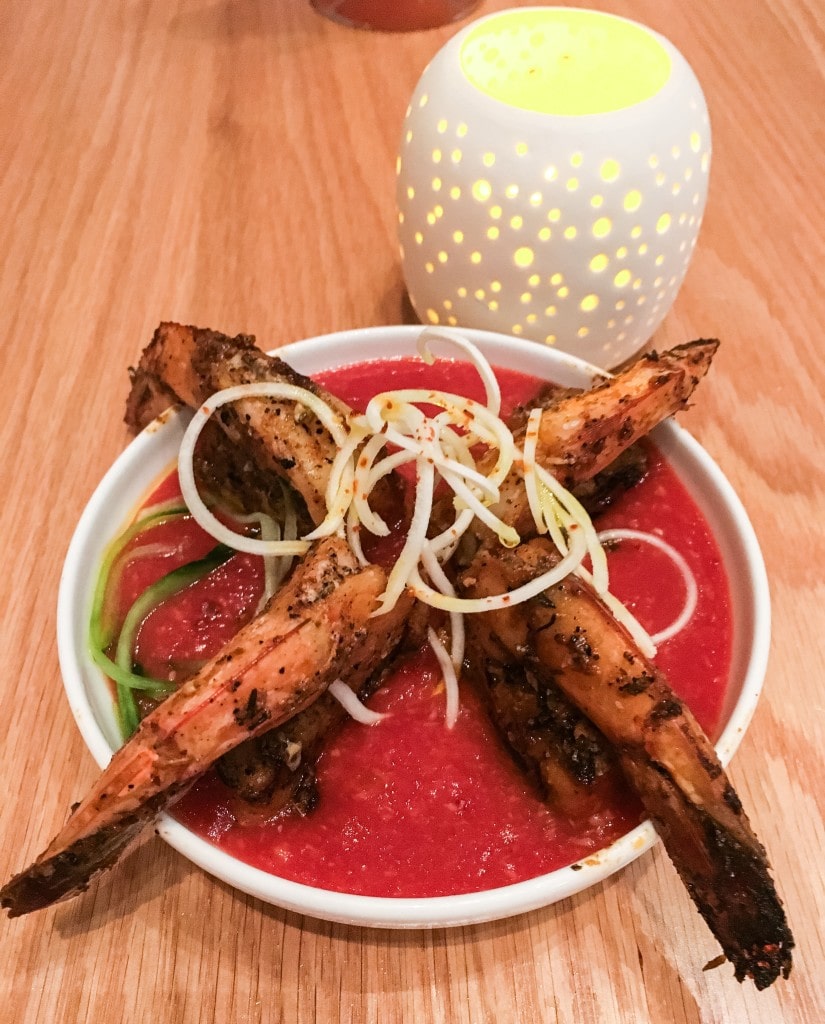 Margherita Pizza – sliced Roma tomatoes, mozzarella, torn basil and parmesan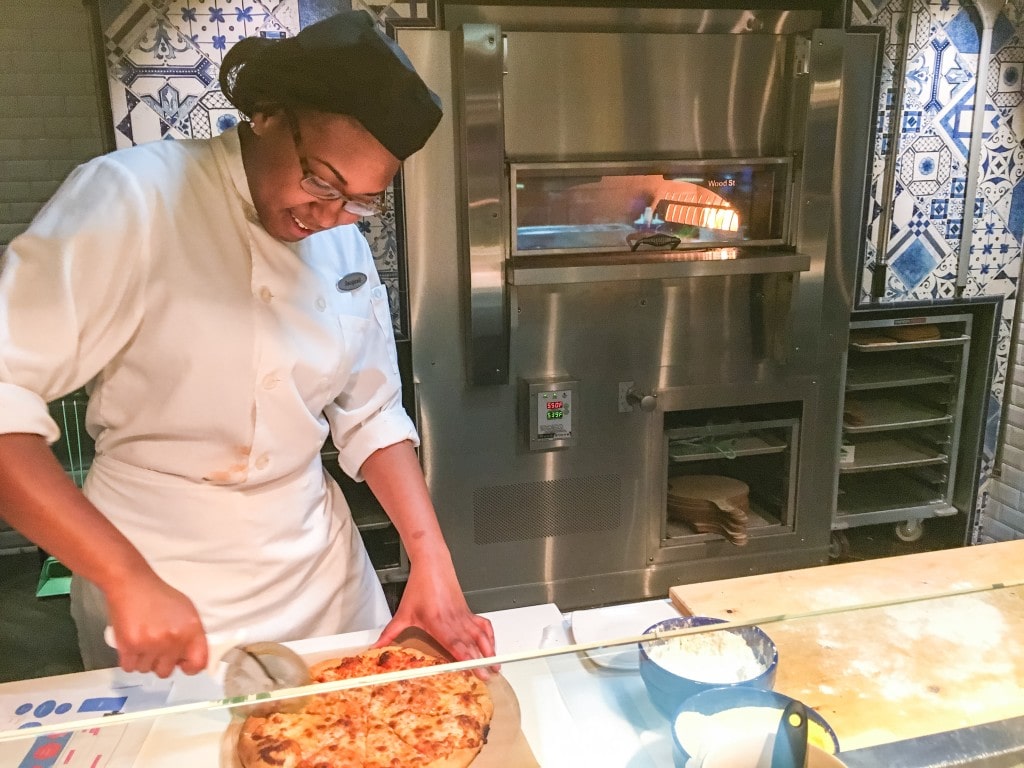 The Vegan Flatbread – Roasted beets, herbs, heirloom tomatoes, beech mushrooms, vegan cheese, balsamic glaze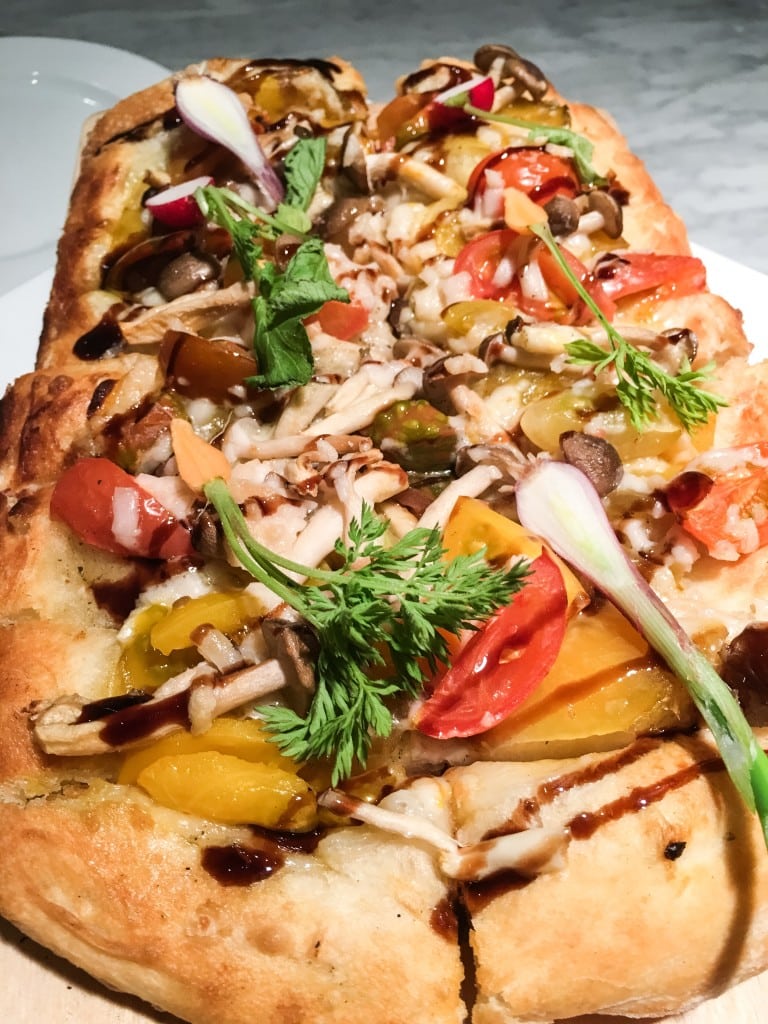 Citrus Salad – Sliced Oranges, Arugula, Fresh Ricotta Salata, Red Onion, Garden Mint, White Balsamic Vinaigrette
Oh, so delicious and fresh! Keep in mind this is a sampling taste, not the size of what you'd get when you order it off the menu!
Filet Mignon – Herb Bread Pudding, Port Wine Sauce, Beech Mushrooms, Asparagus
Rich, hearty and the bread pudding is an unexpected combination with the filet. This is a stick-to-your-ribs dish that I devoured.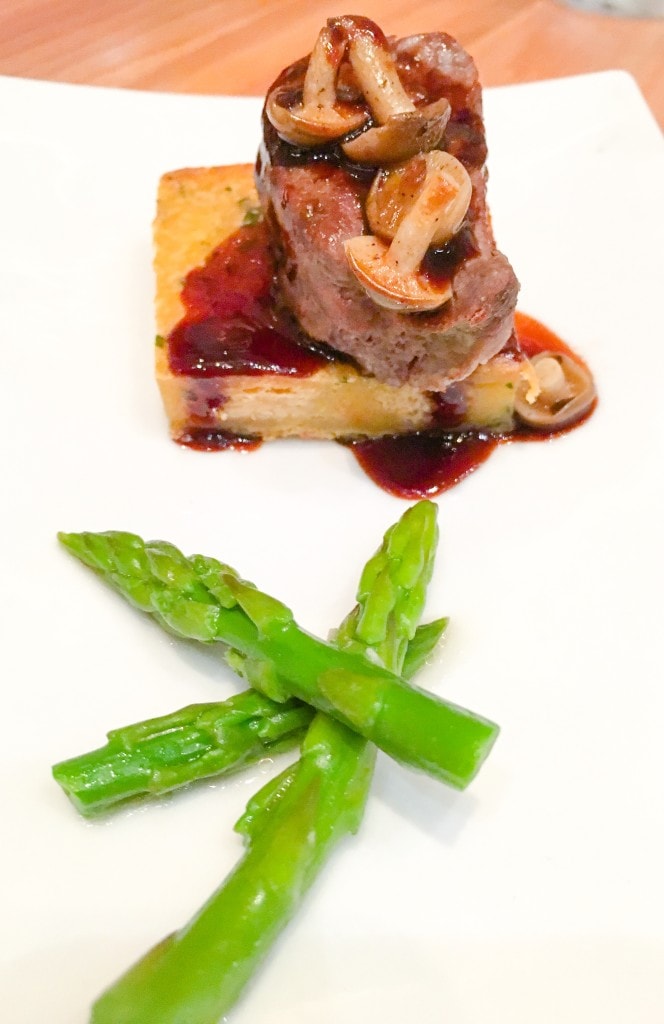 Sea Bass – Citrus Butter Sauce, Spiced Kale, Lemon Grass Orzo, Red Pepper Julienne
I'm not usually a fish eating person, but this taste of this entrée was so good, that the plate was completely empty afterwards. Light and yet rich with flavor. Loved the orzo with the meal.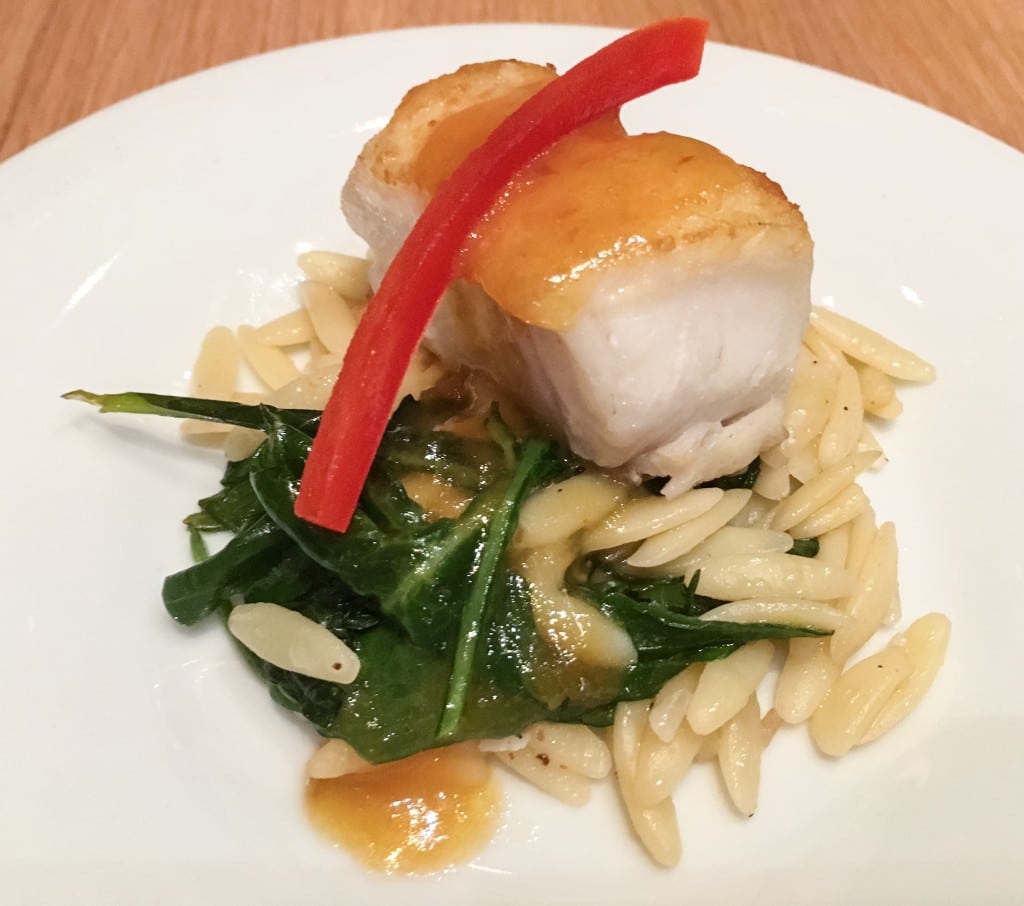 Hot Roasted Apple Tart – fire roasted apples, crisp flaky crust, almond filling, house churned vanilla bourbon ice cream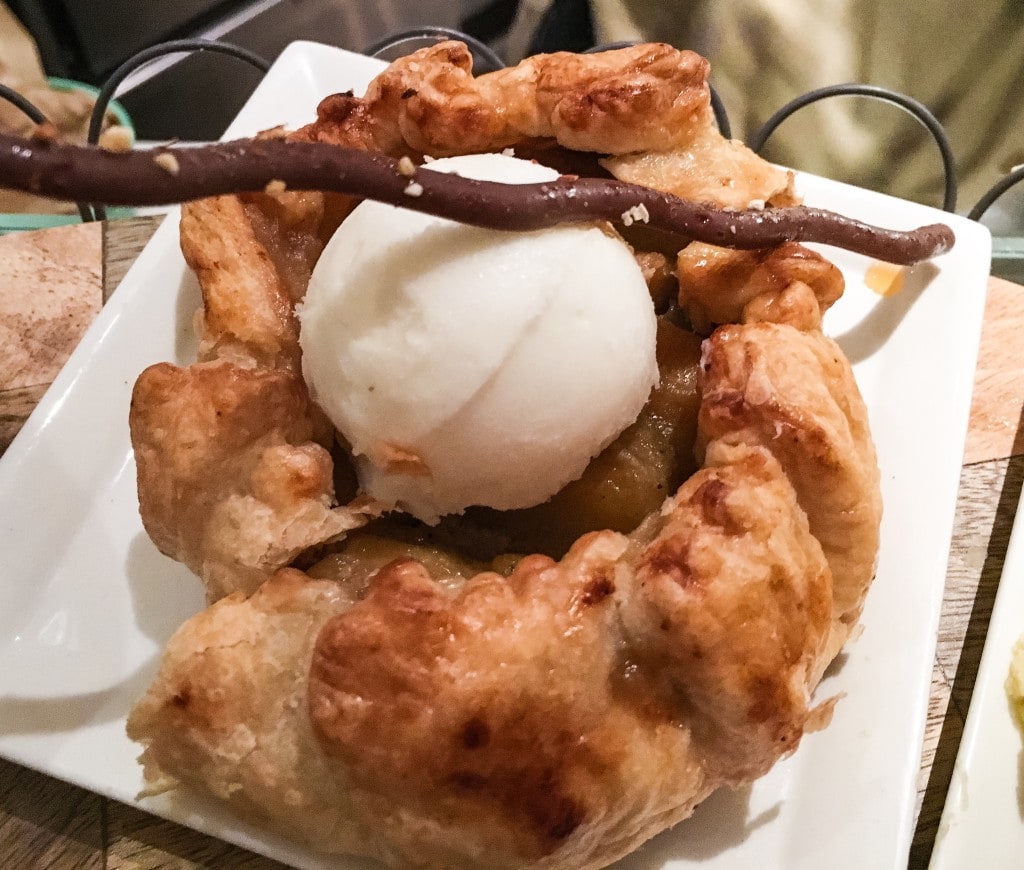 Classic Double Fudge Cake – buttermilk fudge cake layered with rich ganache, served with a scoop of ice cream

Sticky Toffee Fig and Date Bread Pudding – bananas rum foster sauce, dolce de leche ice cream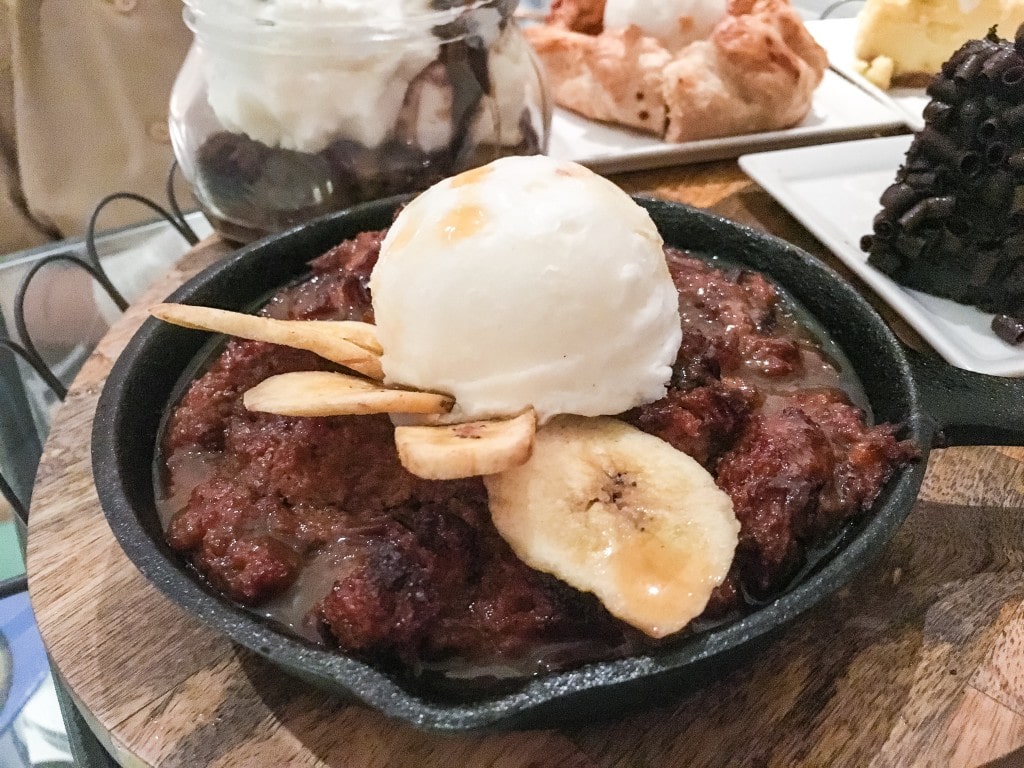 Peanut Butter Brownie Sundae – Two scoops vanilla ice cream, warm double fudge brownie, house-made butterscotch, peanut butter sauce, chocolate, nut bark
Rich, ooey gooey deliciousness. It's as sweet as it looks, and oh, so, yummy!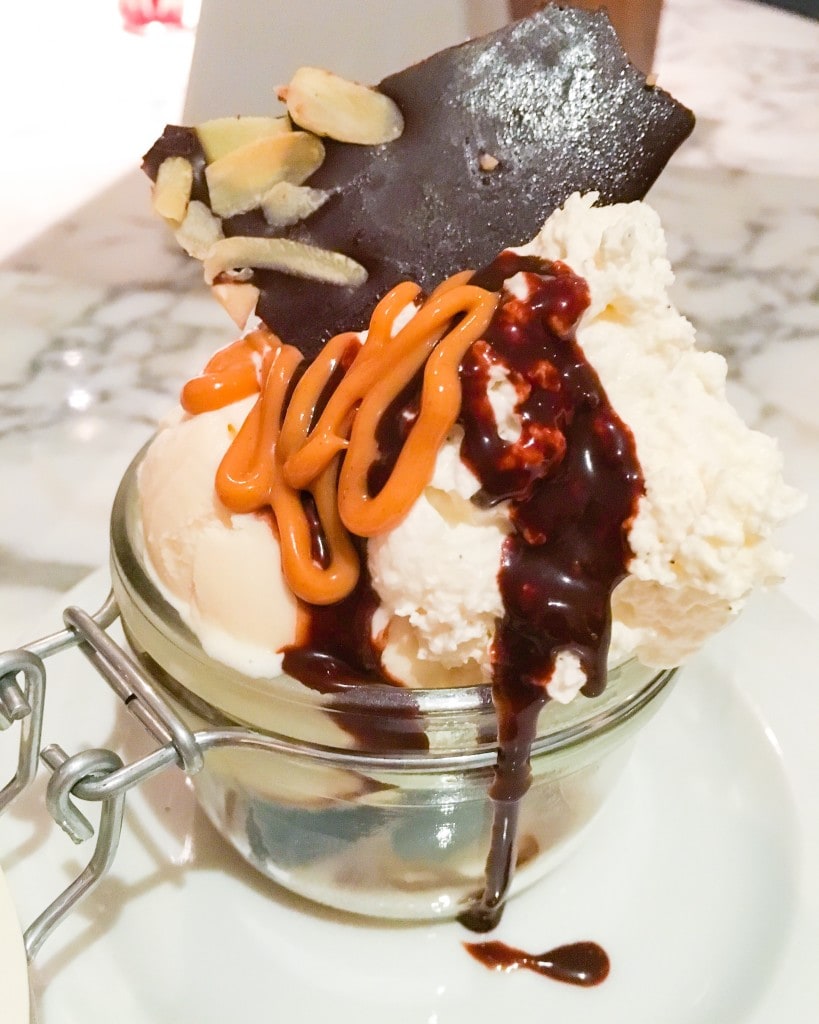 White Sangria
We were welcomed to the Hyatt Regency Grand Cypress with a refreshing glass of White Sangria. It was an enjoyable drink (you can see that I already drank half the glass before remembering to take a picture) that is easily made for your next party, thanks to the resort sharing its drink recipe:
(Serves 8-10)
Ingredients:
1 bottle Prosecco
1 bottle white wine
1/4 cup St. Germain
1 orange, thinly sliced
1/2 lemon, thinly sliced
10 strawberries, thinly sliced
1 cup blueberries
1 cup raspberries
1 cup orange juice
Combine all ingredients.