It's Magical Dining Month in Orlando! Yeah!!!!!!! Can you sense our excitement? That's because Magical Dining Month is the best time to explore the flavors of Orlando at prices that you won't normally find at amazing restaurants in the city and central Florida.
Not familiar with Magical Dining Month? Here's the deal – Enjoy three course prixe fixe dinners at more than 70 of Orlando's hottest and most talked about restaurants for over a month (A preview week starts August 24, and runs through the end of September). It's the 10th Anniversary of Magical Dining Month in 2015. With each meal, $1 is donated to the charity chosen each year. In 2015, it's Elevate Orlando, which equips urban youth for their future, with mentoring, college and career exposure, and help with planning a future after high school.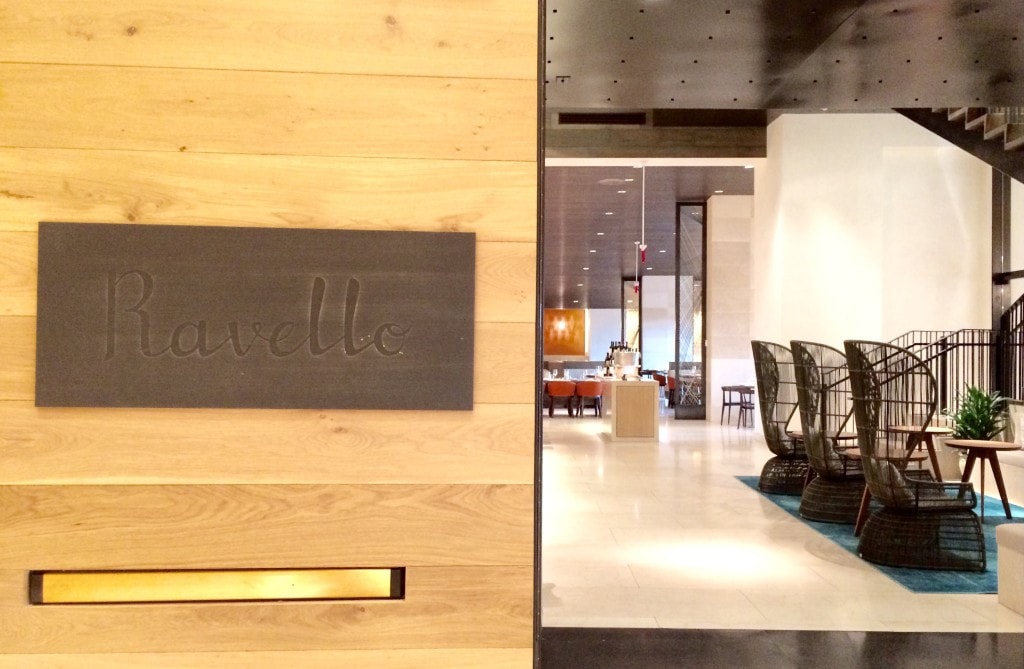 We had the honor of being invited for a sneak peek of the Magical Dining menu at Ravello, a restaurant at the Four Seasons Orlando Resort at Walt Disney World Resort. If you've been following along for a while, you know that the Four Seasons Orlando is one of our favorite places to stay and dine. Just celebrating it's one-year anniversary, this is the first time that Ravello has been part of the Magical Dining Month, so it's a great opportunity to explore the restaurant and see what you've been missing!
We have never been disappointed with the dining at Four Seasons Orlando. So to say that we were blown away with the food on Ravello's Magical Dining Menu speaks highly as to what you should expect.
Without further ado, here's what is on the Ravello Magial Dining Menu, and why you should book a reservation ASAP.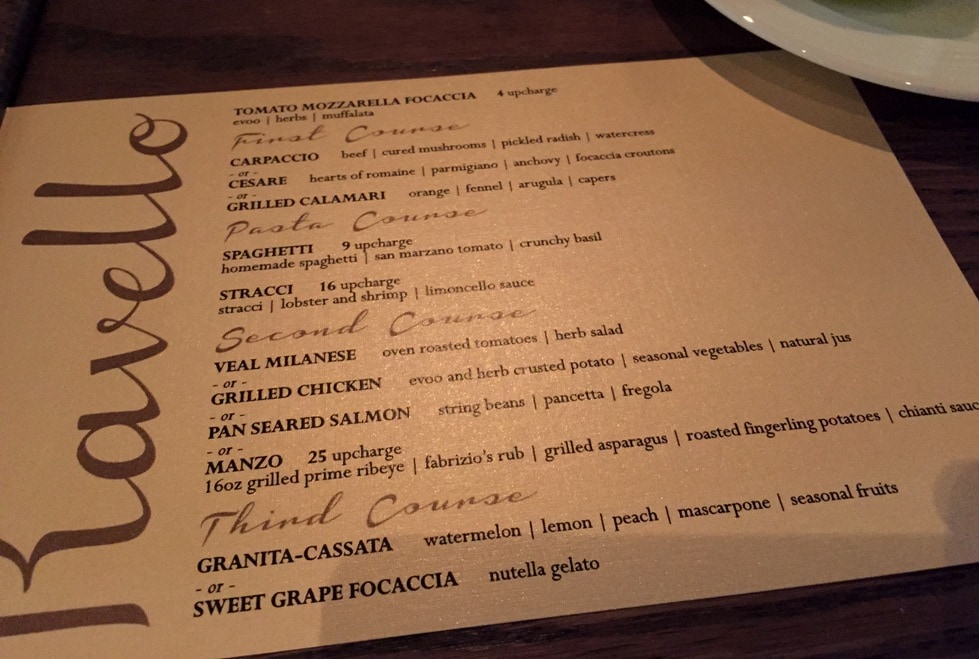 The Ravello Magical Dining Menu has choices for your First, Second and Third courses (appetizer, entrée and dessert). There are opportunities to add on a focaccia bread serving, a pasta course, or a steak entrée, for an additional surcharge.
First Course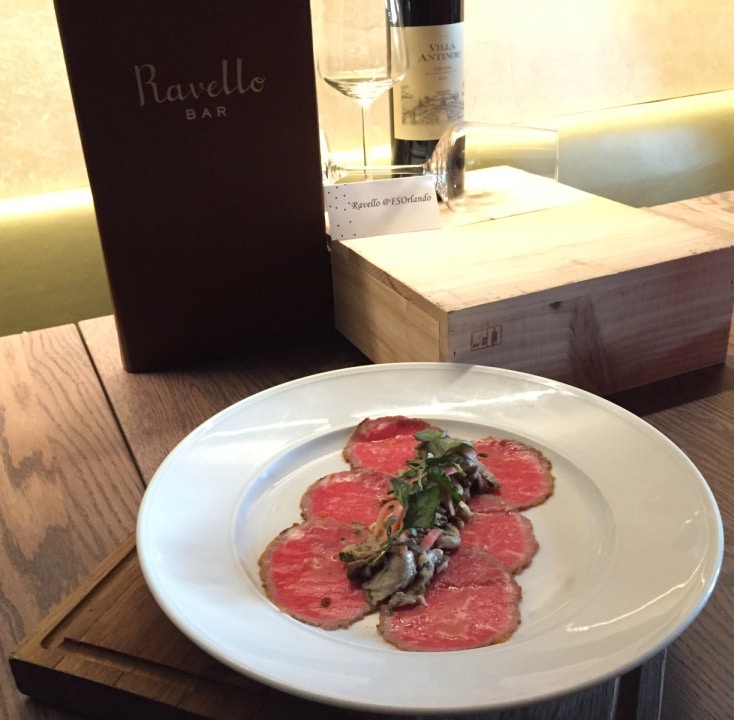 Carpaccio. Thin slices of beef, with house cured mushrooms, pickled radishes and watercress. Light, delicious, 'nuff said.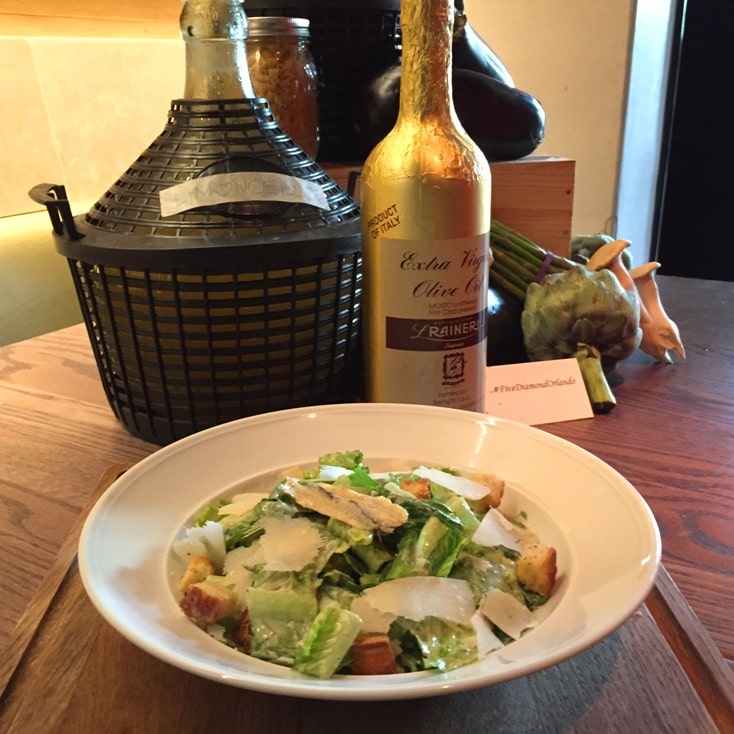 Caesar Salad. A refreshing salad for an appetizer featuring hearts of romaine, Parmigiano, anchovy slices and focaccia croutons.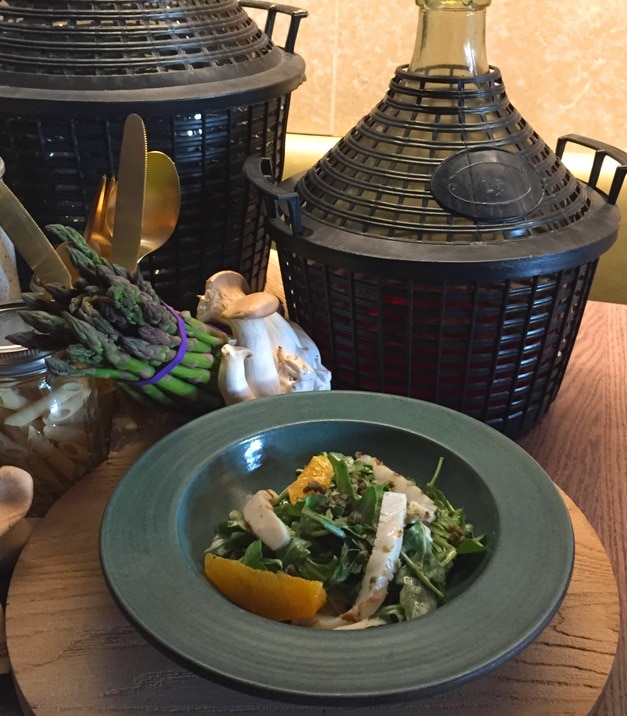 Grilled Calamari. Undeniably one of the stand out choices of the night, this grilled (not fried) calamari is paired with orange, fennel, arugula and capers for an unexpected twist on this classic seafood favorite. The pictures simply can't do this First Course choice justice as to how good it tastes.
Pasta Course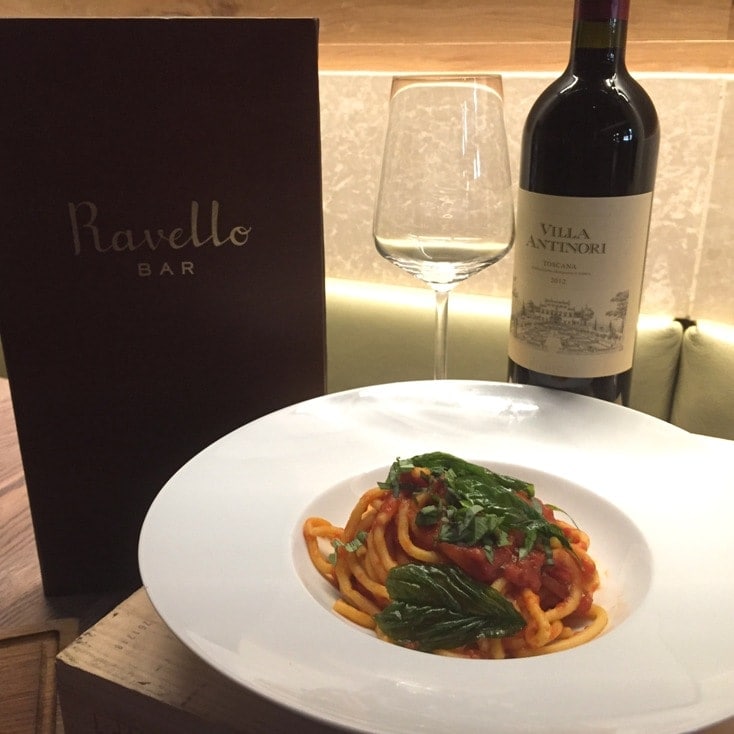 Spaghetti. The word spaghetti doesn't conjure up images of fine dining, but wait until you taste the house made pasta served up at Ravello. You'll think you've been transported to a grandma's kitchen in the heart of Italy. Served with a san marzano tomato and crunchy basil topping, this was one of our favorites, too!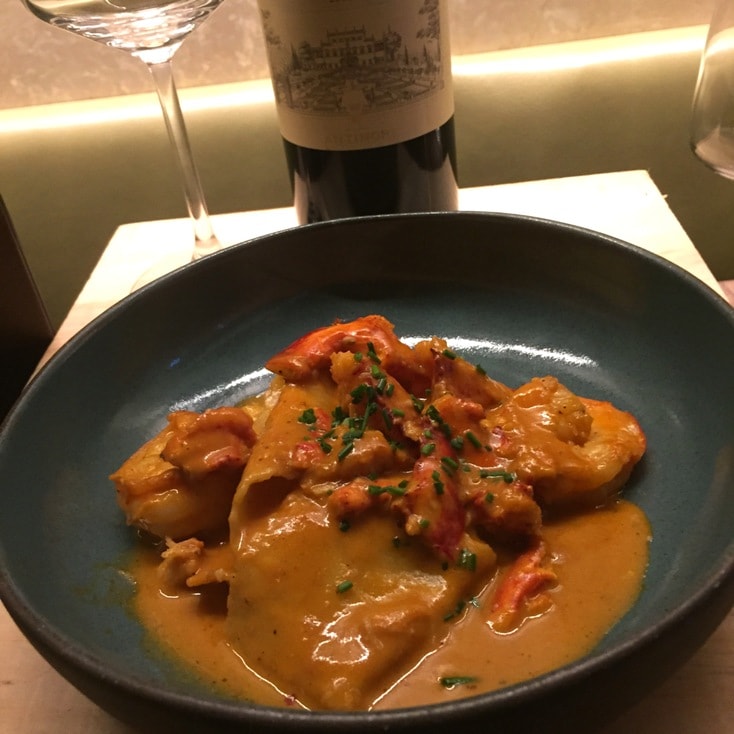 Stracci. House made stracci pasta topped with lobster and shrimp and coated in a limoncello sauce.
Second Course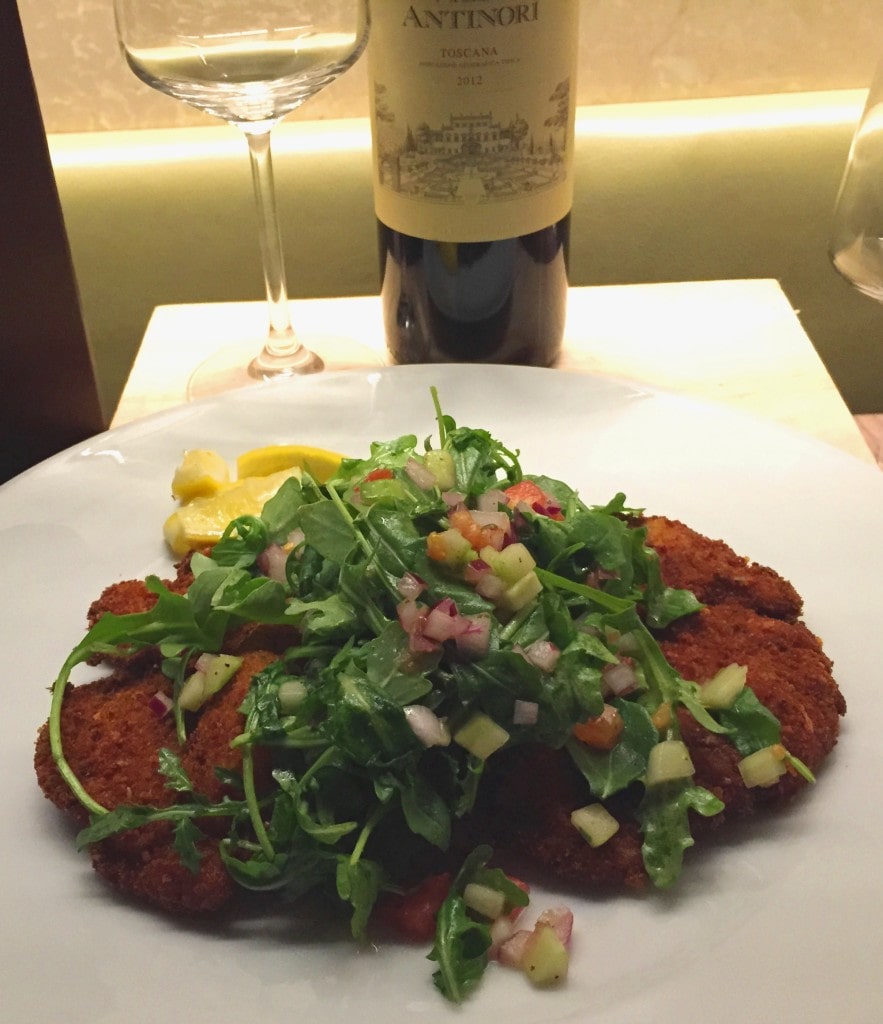 Veal Milanese.  A classic Italian dish served with oven roasted tomatoes and a herb salad.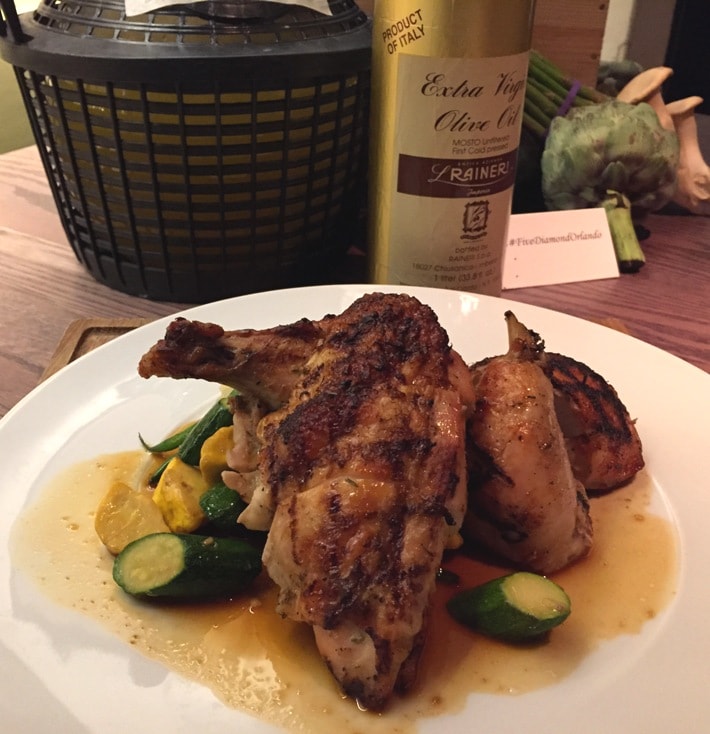 Grilled Chicken. Served up with extra virgin olive oil and herb crusted potatoes, seasonal vegetables and natural jus.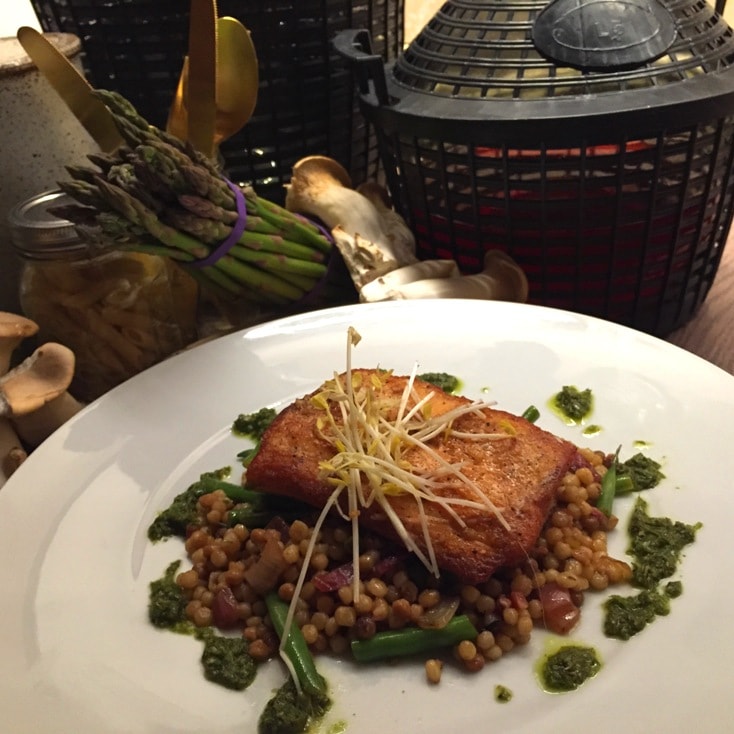 Pan Seared Salmon. Paired with string beans, pancetta and fregola.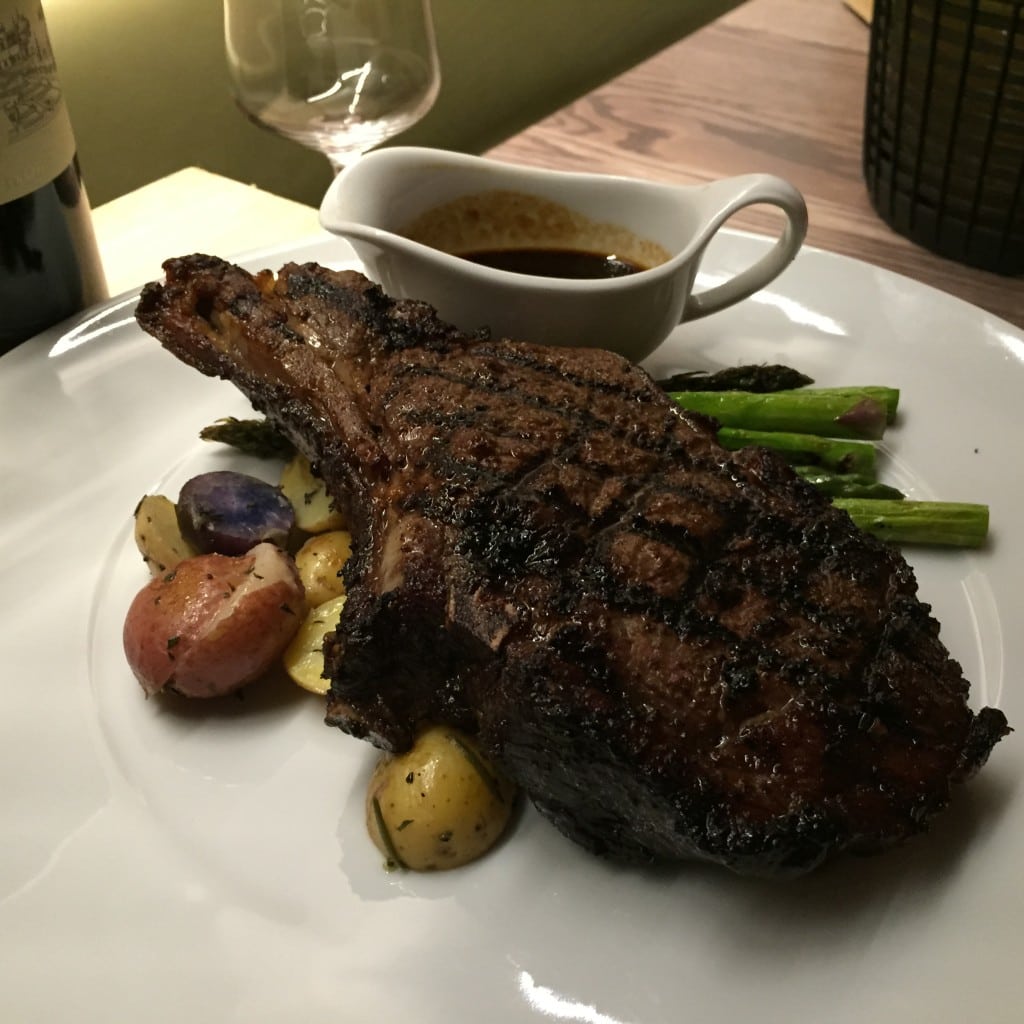 Manzo. This 16 oz. grilled prime ribeye is a definite splurge, but, oh boy is it worth it! We could cut this ribeye with a fork, it was that tender. One of the best steaks we've ever had, just dive in and enjoy this entrée that's seasoned with the chef's recipe of a rub sauce, along with grilled asparagus, roasted fingerling potatoes, and a chianti sauce. Massive portion, unbelievable flavor!
Third Course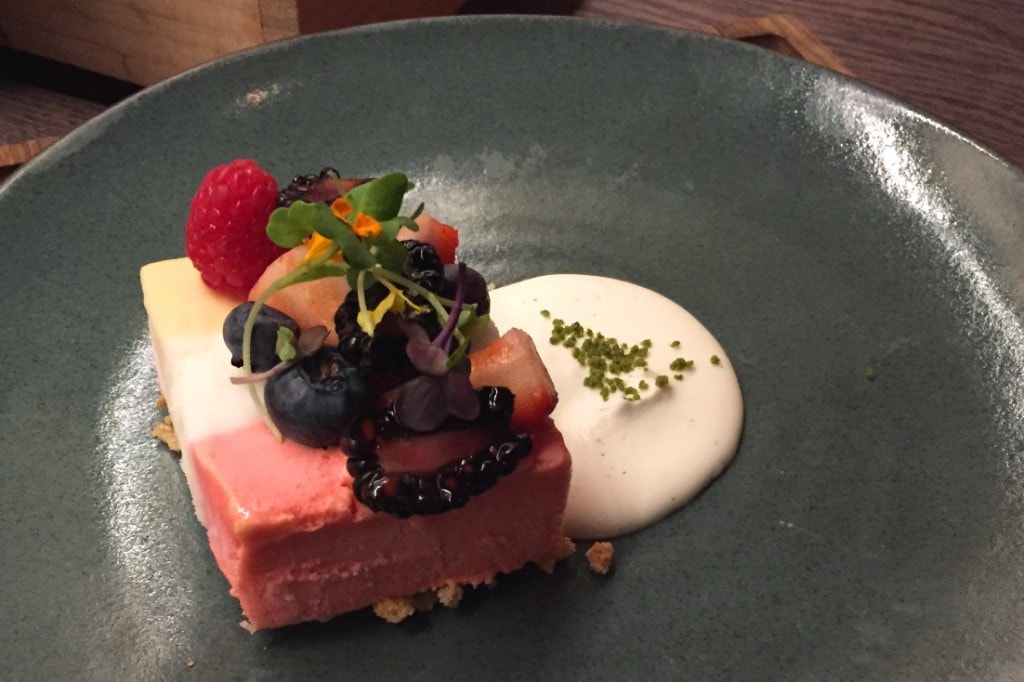 Granita-Cassata. Even if you don't order the Manzo steak, you're going to be stuffed by this point! So it's a good thing there's a lighter dessert just waiting for you. A delightful combination of watermelon, lemon and peach granita, served with mascarpone and seasonal fruits, there's a lot of flavor but not the heaviness with this dessert.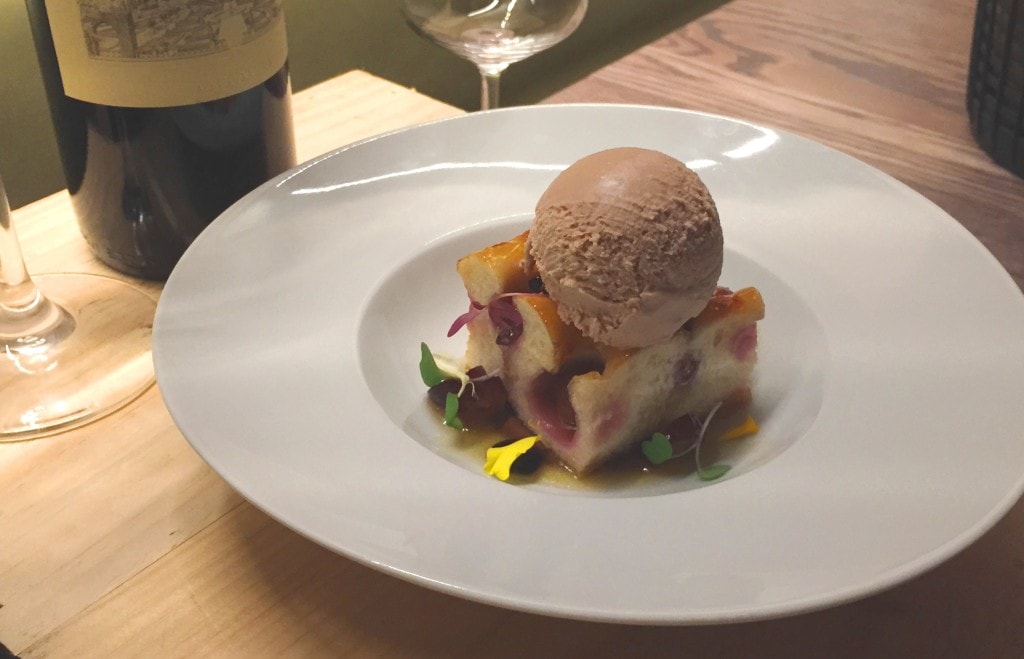 Sweet Grape Focaccia. A twist on an Italian staple traditionally served with the main meal, this sweet – not savory – focaccia is topped with a nutella gelato that is amazing!
Planning on enjoying Magical Dining Month in Orlando? Reservations are suggested, since this opportunity is so popular among locals. Also, be sure to ask for the specific Magical Dining Month menu. The restaurant's are still serving up their traditional menus, too, so you'll need to make sure that you're given the correct menu to choose from. All members of your party do not have to eat off of the Magical Dining Menu. One person can order from the menu, while another person orders off of the traditional menu. Gratuities are not included.