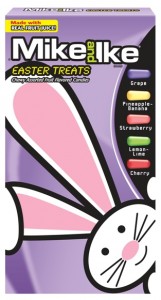 Peeps are a favorite in Easter baskets everywhere, but did you know that Peeps have some sister candies, too, that would make great Easter basket additions?
Mike and Ike candy is made by the same company that creates all of those little Peeps. So why not add Mike and Ike Easter treats to the basket, too, and keep it all in the family? 🙂
Mike and Ike, made in the U.S.A. in Bethlehem, PA, has a special Easter Treats blend that comes in a cute box with a large Easter bunny. Mike and Ike Assorted Fruits Jelly Beans and Mike and Ike Tangy Twister Jelly Beans also round out the Easter goodies made by the Just Born company, along with Hot Tamales and Goldenberg's Peanut Chews.
When picking out your Easter candy, see where it's made. If you care about supporting American companies and American jobs, along with great taste from a company known for its infamous Easter confections, then choosing some Mike and Ike's. It is a sweet thing to do this Easter!