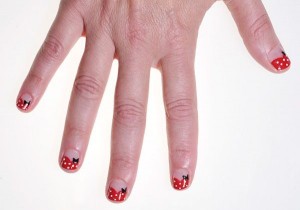 In the second Disney manicure DIY tutorial from the Disney Blog, here's a great way to show off your Disney Side by painting your nails to resemble Minnie Mouse. (Check out the first – a Disney castle manicure)
Whether at home or before a Disney vacation, it's an easy way to show your love for all things Disney!

Having a Disney-themed party at home? These would be great for the hostess – or a great idea for a slumber party for girls and tweens!
Photo Courtesy of The Disney Blog