When you've found a hidden gem of a restaurant in Orlando, it's hard to share the secret, knowing that soon it will be so popular that you might have a problem getting a table anymore. Yet Plancha at the Four Seasons Orlando Resort at Walt Disney World Resort is so good, I've got to tell you all about it. Just promise me that there will be a table left when I want to go dine at this great Cuban American restaurant!
Plancha is located at the Tranquilo Golf Club at Four Seasons Orlando Resort. It's the same location as the former Walt Disney World Resort's The Osprey Ridge Golf Course, located near Fort Wilderness Resort. Now it is owned by the Four Seasons and renamed Tranquilo. With some much needed improvements to décor and food and beverage items, it's been transformed into a place you actually want to come and spend some time at, whether enjoying a great meal, a fabulous round of golf – or both.
To be honest, we have only come to Tranquilo Golf Club for the food (and to shop the 50% off sale at the Golf Shop), and we keep coming back! Plancha has a great lakeside setting with an outdoor porch perfect for enjoying cocktails. Indoors, the expansive windows overlook the lake, with formal table service, as well as a bar and casual seating areas.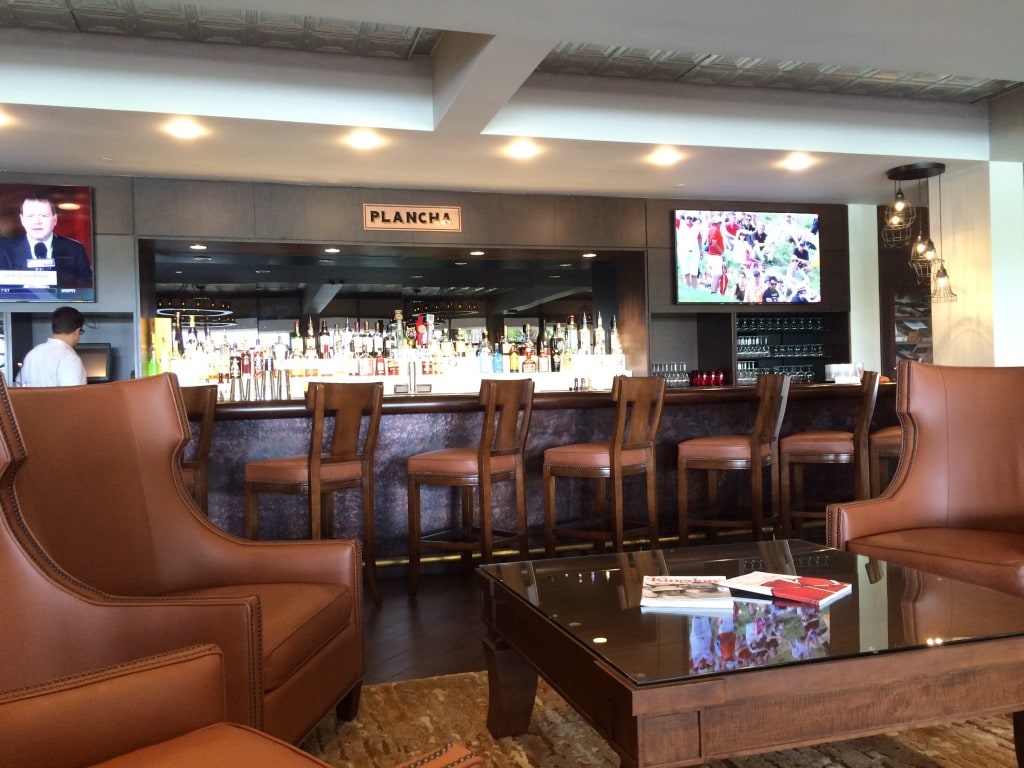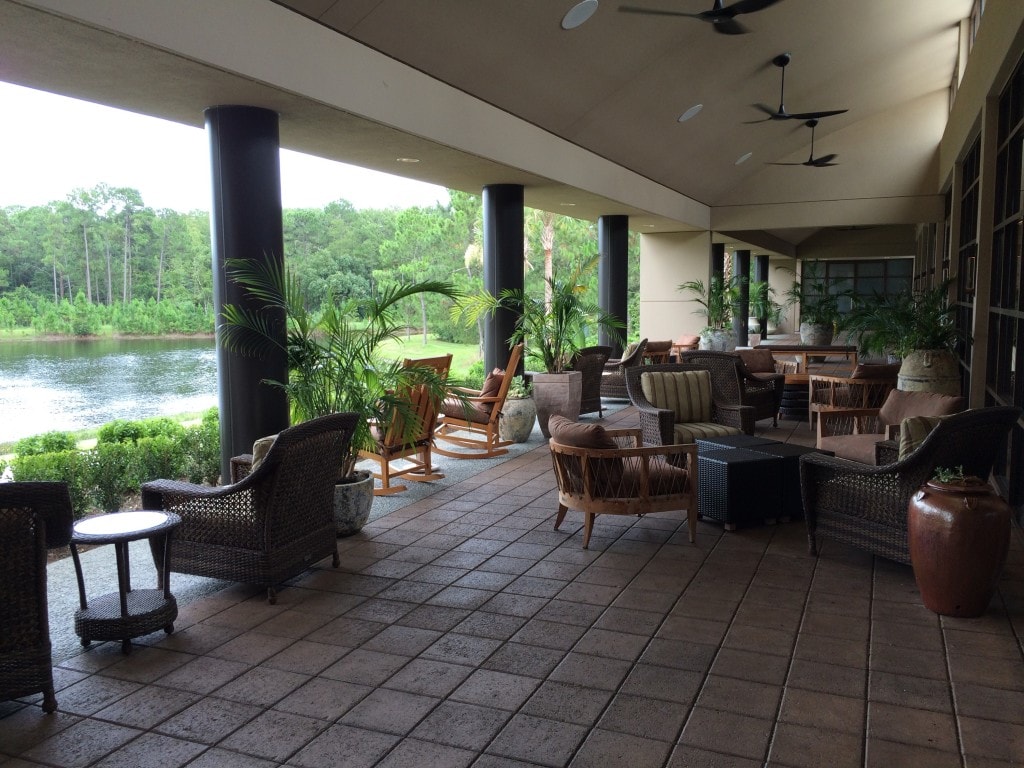 The staff are impeccable (as is everyone at the Four Seasons Orlando Resort) and each time we've visited they have gone above and beyond in customer service to create an exceptional visit full of great food and a welcoming atmosphere. For instance, my husband fell in love with a cocktail at Ravello called Blood and Cane. We asked if it was on the menu at Plancha. The bartender said no, but he would be more than happy to get the ingredients at Ravello and bring them over to Plancha to create the cocktail. It's the little things like that – a gesture to go above and beyond for a guest's satisfaction – which is why we enjoy visiting the Four Seasons Orlando Resort again and again.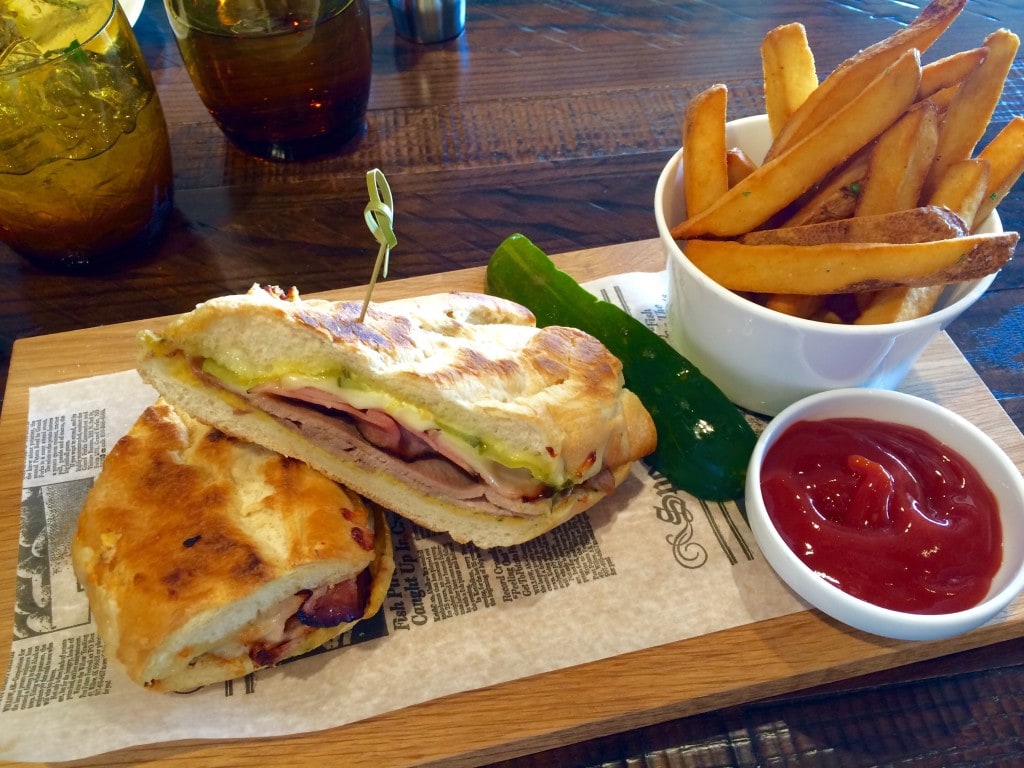 On our first visit, our server informed us that Plancha has the best Cuban sandwich anywhere and that we had to try it. How can you argue with that? So I ordered it and have to agree that it IS the best Cuban sandwich that I have ever had. So often the pork is dry or the sandwich bread is too hard, but not at Plancha. The El Cubano sandwich is made with moist Black Forest Ham, Roasted Pork, Swiss Cheese, Sofrito Mustard and Housemade Pickles.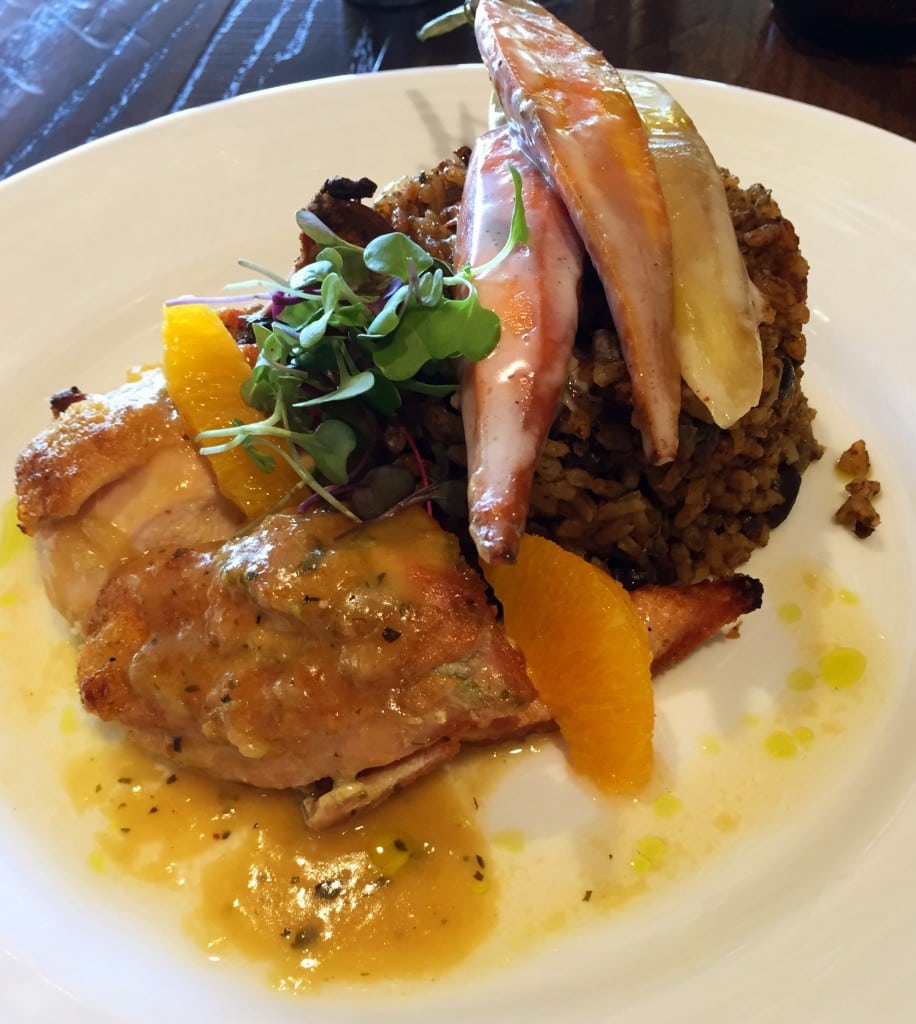 My husband ordered the Mojo Marinated Chicken with Congri Rice, Baby Carrots, and a Sour-Orange Oregano Mojo. I only had a bite, but the flavorful orange sauce with the tender chicken and beans and rice that weren't dry was an entrée that I'd happily eat again.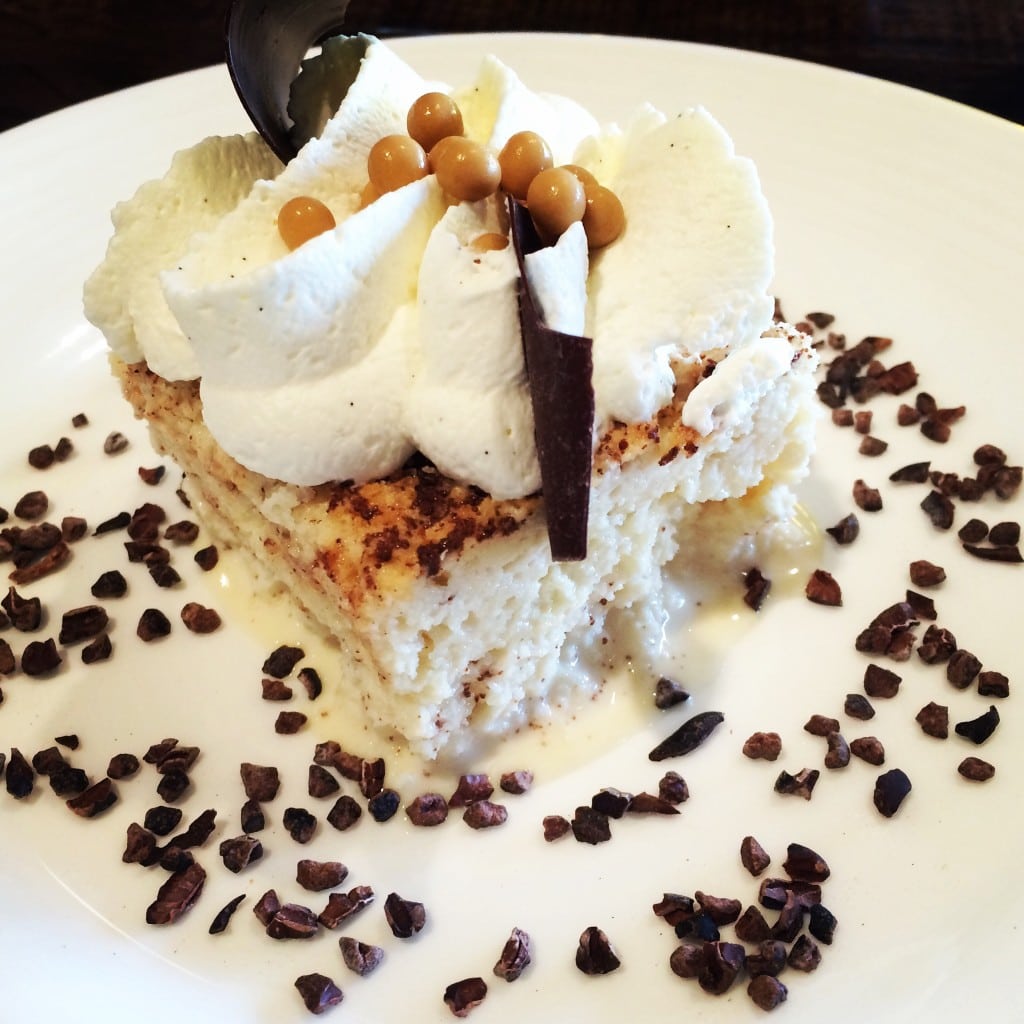 Of course, how can you go wrong with the Tres Leches dessert with Dulce de Leche and Dulcey Pearls, surrounded by cacao nibs? This dessert is simply amazing – decadent richness with the three milks yet a light taste that's not too overpowering with sweetness.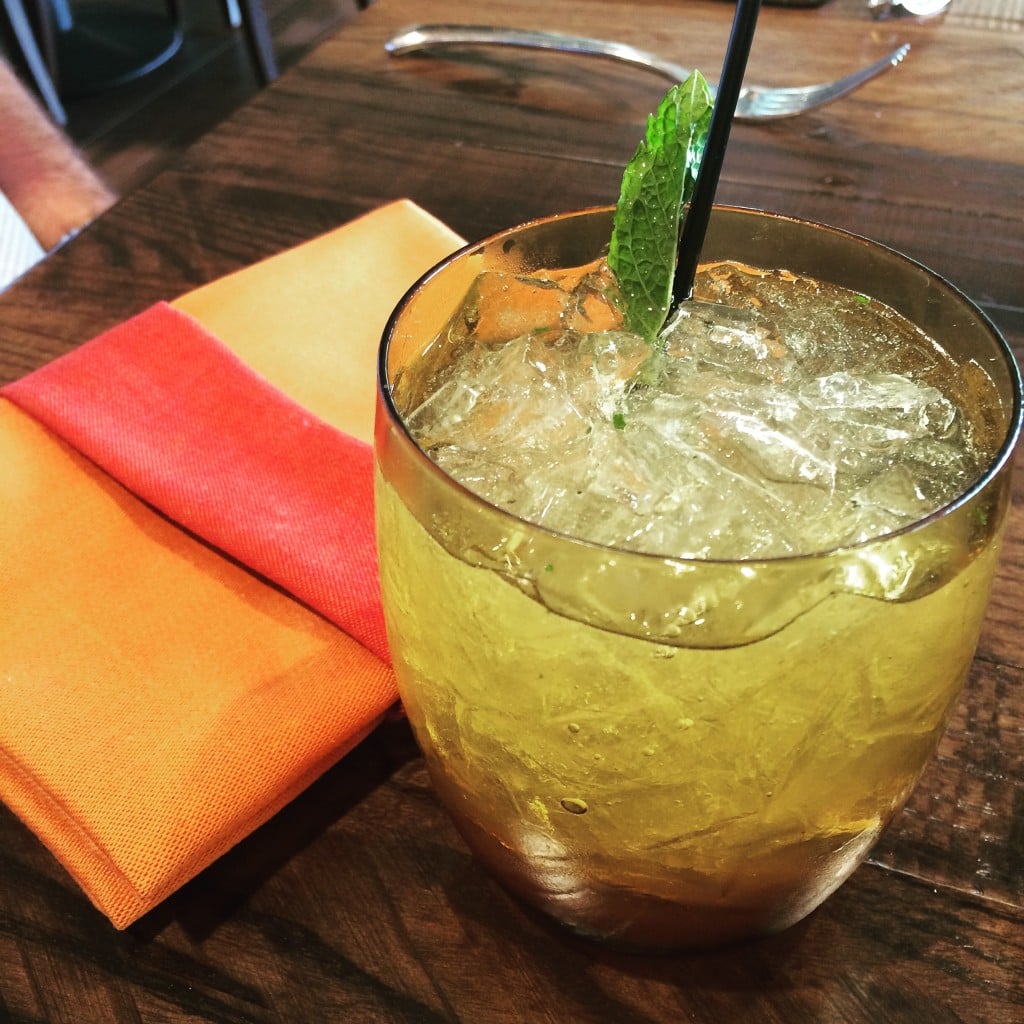 Our cocktail of choice during the visit was the Plancha Mojito, highly recommended by our server. Made with Don Q Rum, Cava, Lime, Mint and Simple Syrup, it was a refreshing twist on a classic Mojito (which I don't typically tend to love). The addition of Cava, instead of club soda, seemed to be the flavor profile that I like better.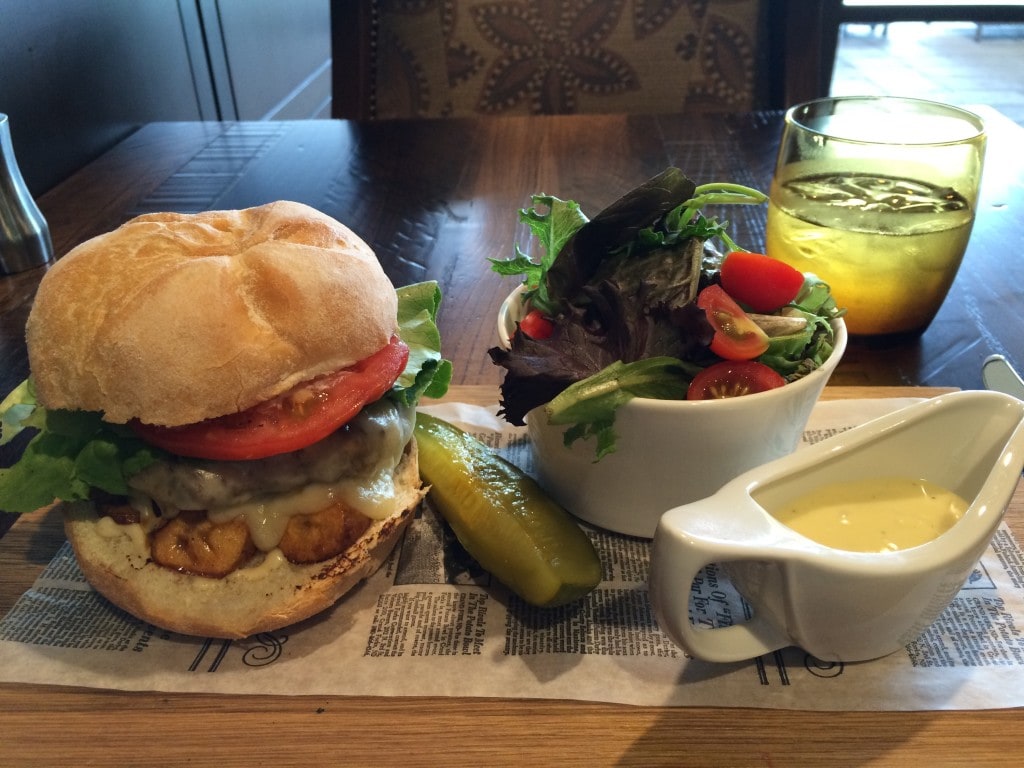 On subsequent visits, I've tried a variety of more appetizers, entrees, and desserts. Among my favorites is the Plancha Burger, one of the stand-out options on the menu. Crafted with chorizo and beef, this hamburger is among the juiciest and most flavorful that I've tasted! Topped with white cheddar, lettuce, heirloom tomatoes and sandwiched on a bed of Maduros, which are sweet plantains, this unexpected flavor combo really works for a unique taste twist for a burger. It is filling, though, so be prepared 🙂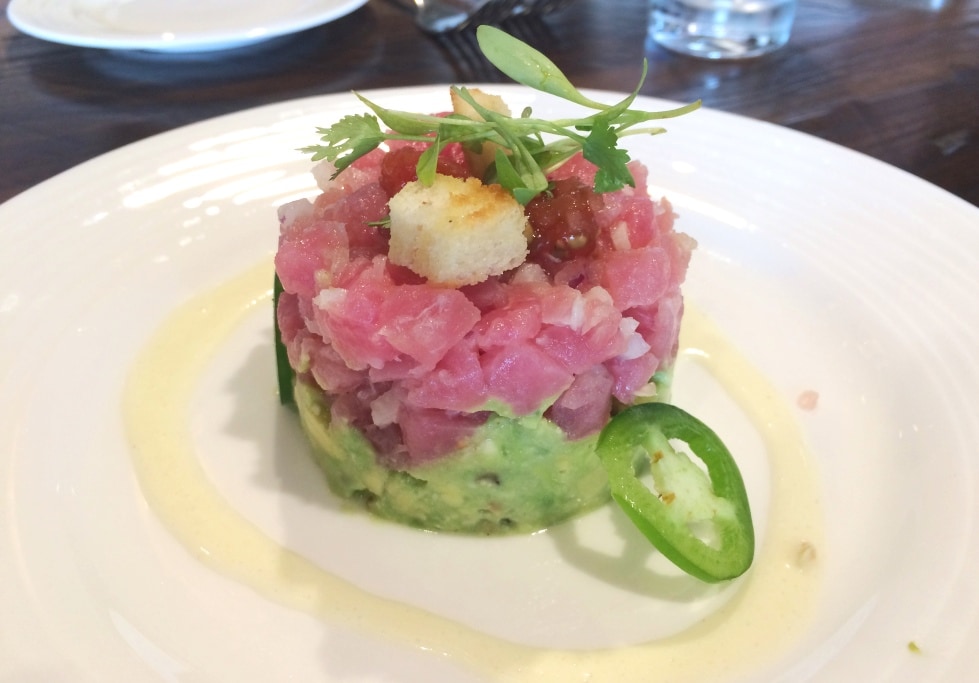 The Tuna Ceviche with avocado and a ginger and coconut vinaigrette was amazing. Light, fresh and airy, it was a perfect accompaniment to the heavier foods that I had for entrees. However, I'd be happy to have this and a dessert as a complete meal. Just sayin'!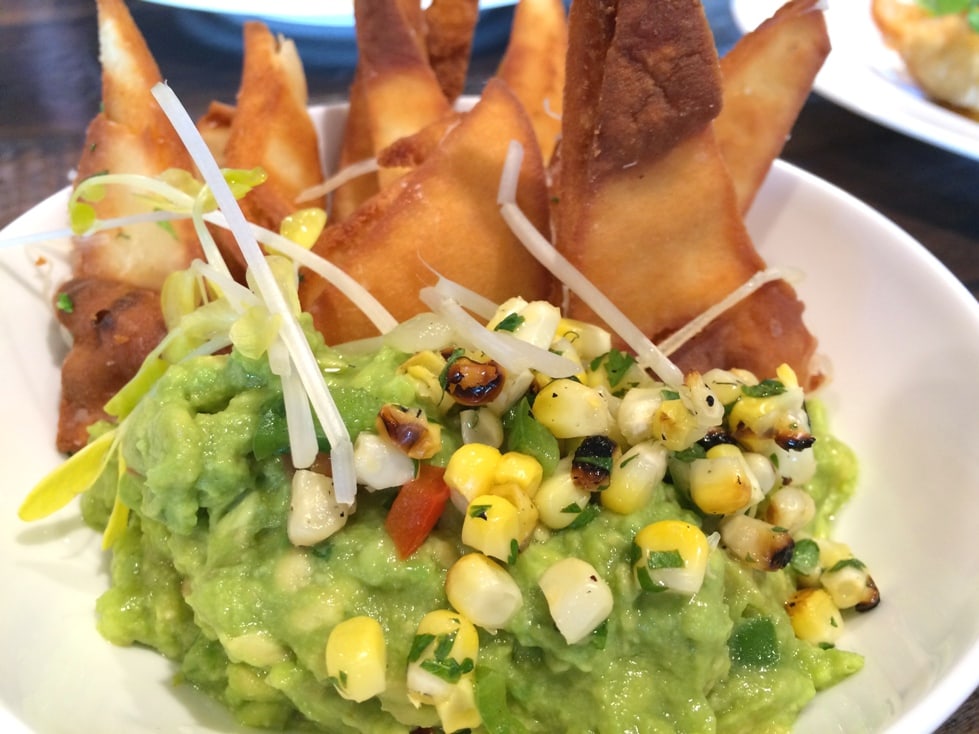 Another can't-believe-it's-this-good appetizer was the Guacamole with Roasted Corn Relish and Naan Chips. Hearty and just a little different than what you'd expect, these are a great app to have with a cocktail on the back porch.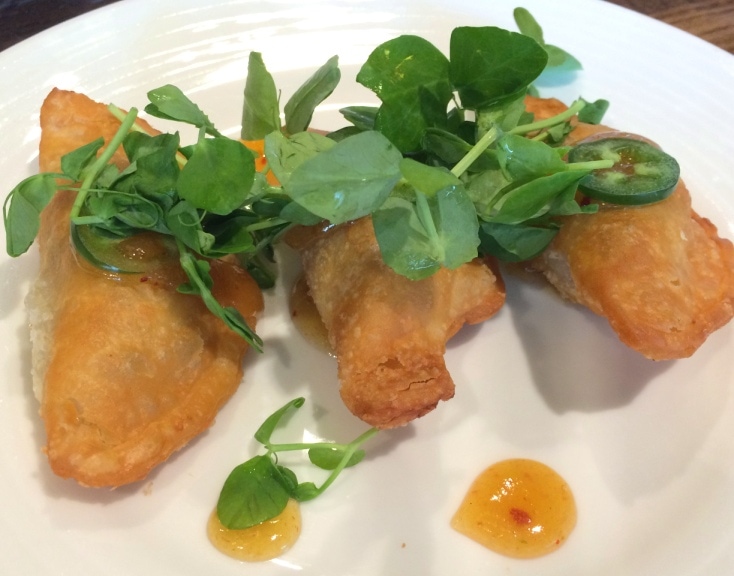 The Beef Empanadas with a Mango and Jalapeno Jam looked tasty, too. I have a mango allergy so I didn't try them, but there were rave reviews from my table.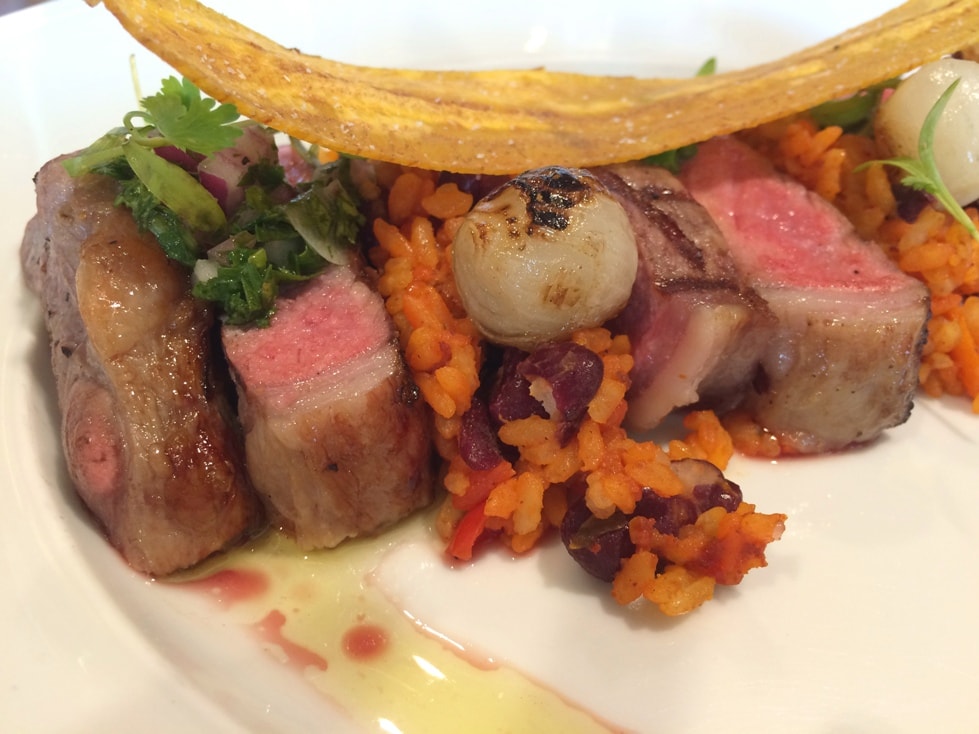 For entrees, the New York Strip with Mamposteao Rice (like a dirty rice) and Classic Chimichuri was wonderfully presented with great flavors. If I were to choose, though, the Plancha Burger would still be my choice for red meat deliciousness!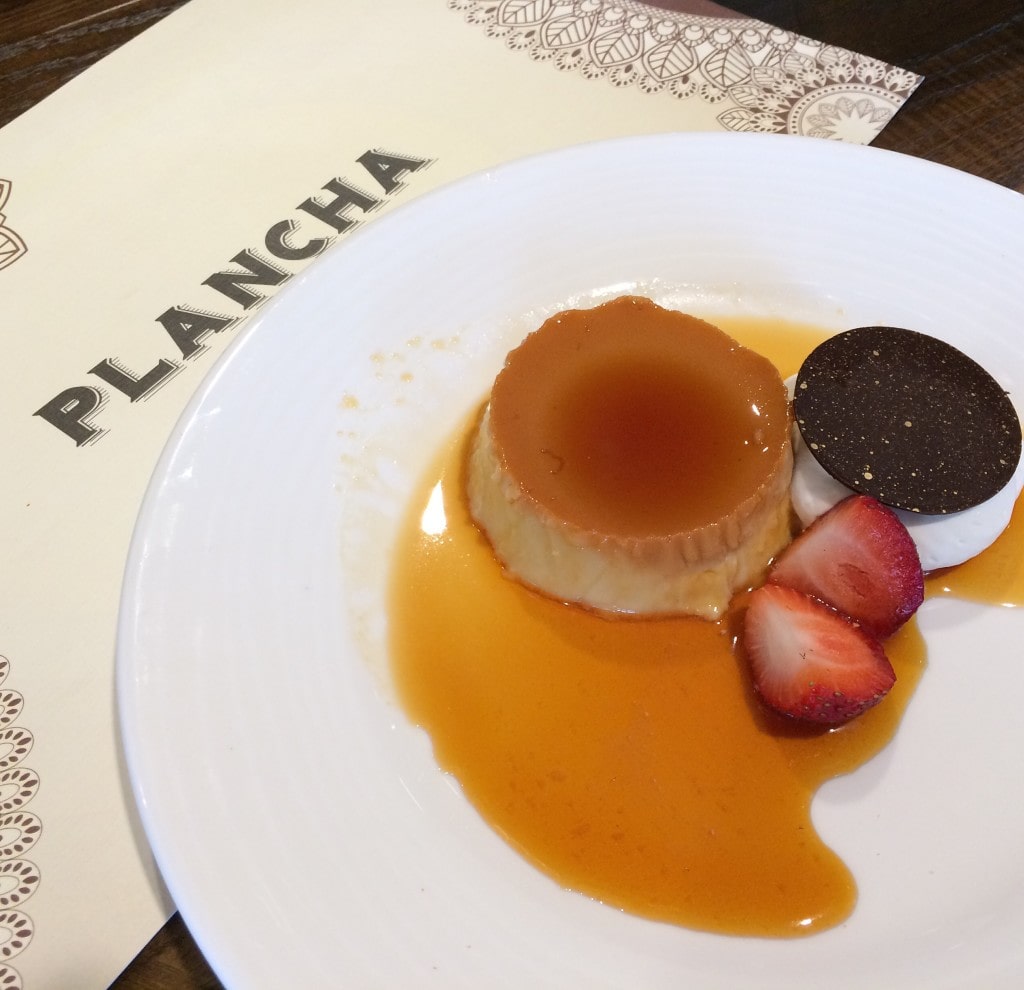 Additional desserts we have since enjoyed include the Flan with Cana Sugar Caramel. It was super rich and dense with a sweet caramel sauce that made you wish you could like the plate clean.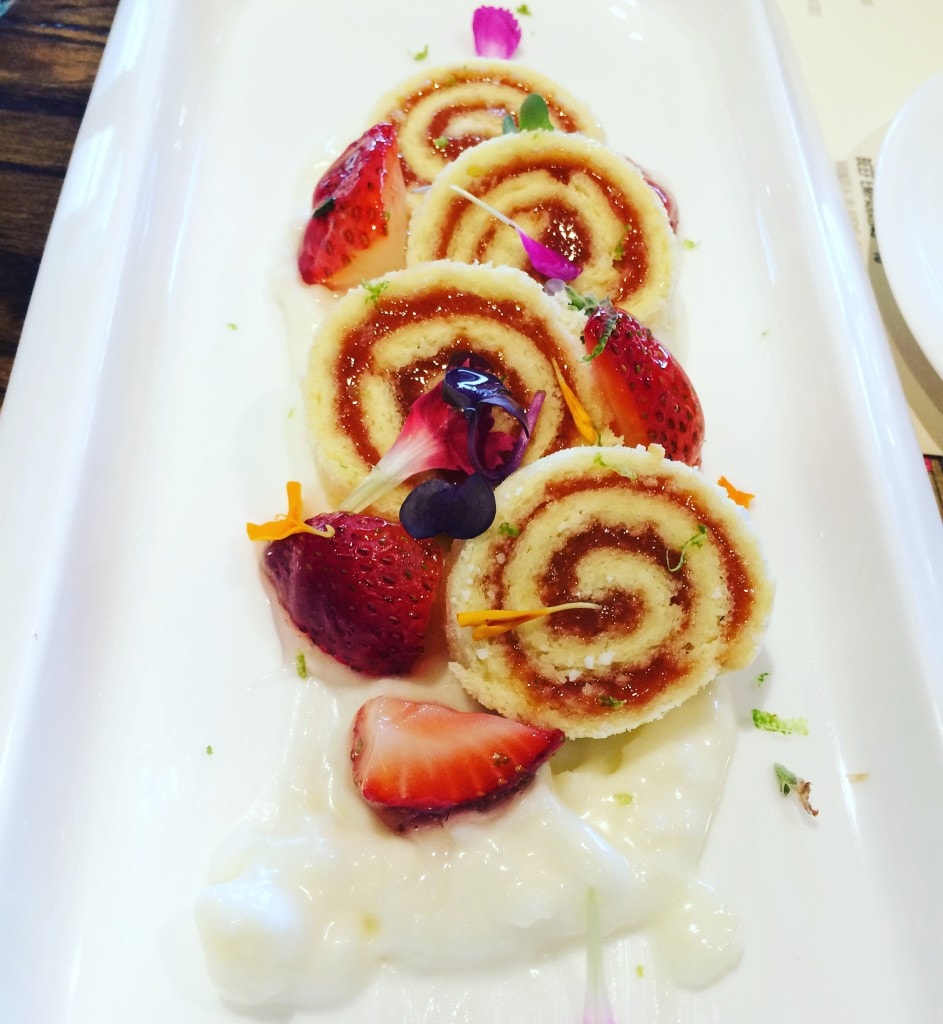 The Guava Rolls are served with a Crema de Queso. They are not as sweet as some of the other dessert offerings on the menu.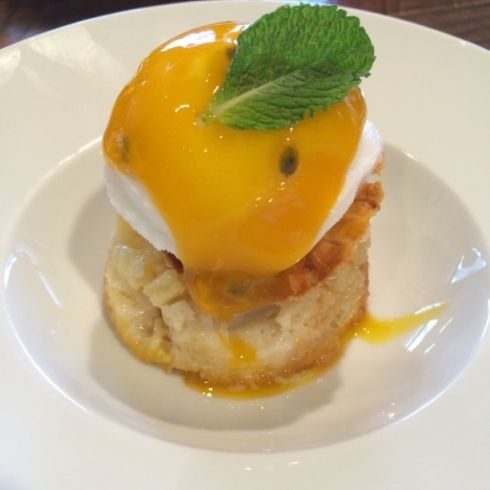 Rounding out the dessert menu is the Pina, with a coconut helado and passion fruit.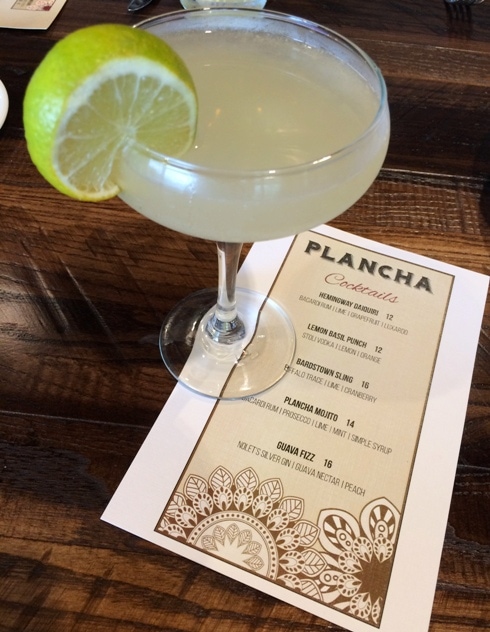 One more cocktail that we've tried at Plancha is the Hemingway Daiquiri. I mean, how can you not choose a drink named after Hemingway, right? It was smooth, expertly mixed and really refreshing. I'd happily order another one again. Thankfully, Plancha is the perfect place to come in and grab a cocktail and appetizers, so I plan to do just that!
The menu has changed three times since Plancha opened in October 2014. It looks like the menus will be rotating on a seasonal basis, with the addition of a Sunday Brunch soon.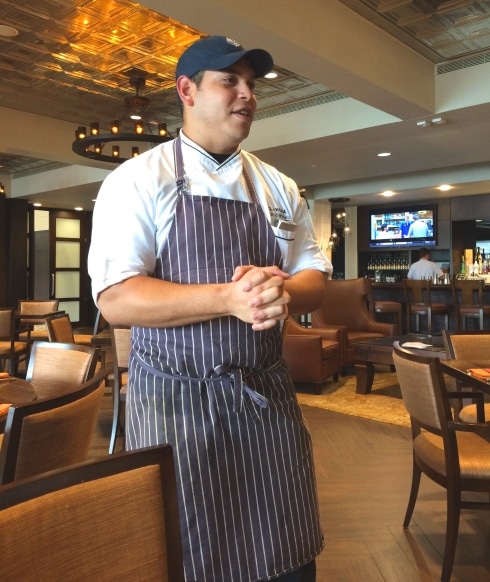 Chef Pedro Sanchez blends his Puerto Rican roots with a Cuban influence, drawing from his grandmother's Cuban background. He says the cuisines are similar, but he likes to play with the spices and traditional expectations for new, inventive tastes. Sanchez has worked through Puerto Rico, Brazil and the United States before coming to the Four Seasons Orlando.
We love going to Plancha for a meal (hours are 11 a.m. to 6 p.m., so be sure to get there early for a dinner) because there's no worries about finding a table. It's an intimate, cozy atmosphere with great views and impeccable service. Be sure to go to the Tranquilo Golf Club entrance, though, and not the main Four Seasons Orlando Resort entrance at Golden Oak. Drive past the Golden Oak entrance heading towards Fort Wilderness and it will be the next main entrance on your right.
For Disney cast members, keep in mind you get this fabulous discount.