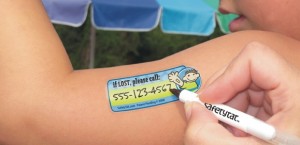 In our home, we proudly display our love of the Mouse. It's a love that we share, and we try to get to Disney World once a year to satisfy our urge for that Magical feeling. This year, however, we decided to have my 4-year-old step-son join us for his first time. We were looking forward to experiencing the magic as seen through a child's eyes. We couldn't wait.. and so much to do to get ready!!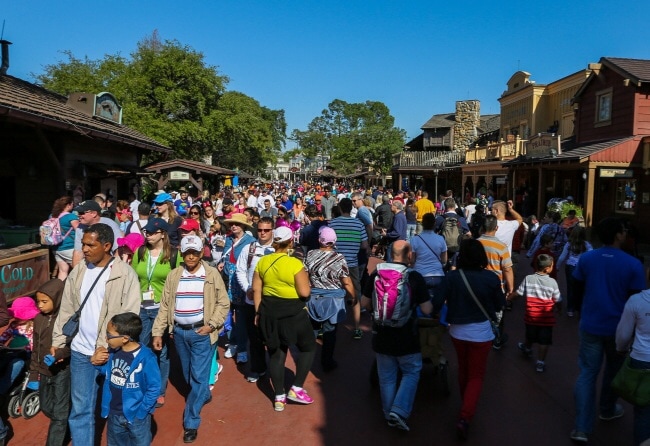 While planning, we had to consider things from a different point of view. In the past, we only had to keep tabs on ourselves, so making sure that we had all we needed to take care of him added a few extra things to consider.  Among remembering to get all the things we needed to tote around the parks such as drinks, spare shoes, sunscreen, hat, sunglasses and his Nabi (for entertaining in long que lines)…. It occurred to us that we needed something to help us keep track of our little one while powering through the Disney crowds. Always be prepared for anything right?? We discussed with him that if he were to get separated and not be able to find us, that he should go to the nearest Cast Member and let them know he was lost.  This lead me to wonder though – how would they get in touch with us to let us know where he was? After surfing the internet, we found the perfect answer to our question!
SafetyTat !!!!!
(Note: We use affiliate links. There is NO cost to you, but we earn a little money to help support the site. Thanks for using!)
SafetyTat is a temporary tattoo that you can put on your child with safety and contact information. They can last up to two weeks if you choose to keep it on that long, and they are waterproof!!  PERFECT!! They offer many different designs based on your child's interest from race cars and aliens to princesses and zoo animals. You also have an option of creating your own Tat! Now, just in time for summer, the Beach Tattoo pack is introduced with fun images of turtles, sharks, seahorses and more!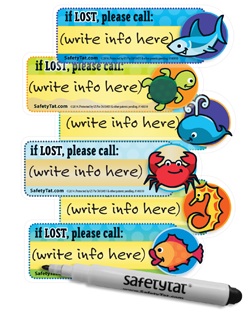 There are a couple of options to choose from including the Original SafetyTat (one line, one graphic) and the Quick Stick Write On! version allowing you to write on the information you wish to share.  Along with the SafetyTat to provide contact information for your children, SafetyTat provides Allergy and Medical Alert Tats enabling you to alert anyone to medical conditions.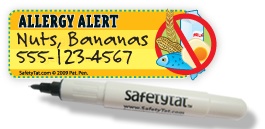 There are Tats specialized for the common peanut allergies as well as general food allergies, Diabetic alerts and other Medical Conditions, Autism, and Down Syndrome that people may need to be aware of.
SafetyTat also recognized the need for a product for our older loved ones as well. Tats for Seniors includes tattoos for patients with Alzheimer's, Dementia, and Aphasia. Tats are made for the older child as well called Tween Tats. They are made in styles that are more acceptable for wear without losing any cool status.
SafetyTat also provides Anywhere Labels that you use to label things such as lunch boxes, backpacks, or anything else you may need to mark as your own. And as if they haven't come up with enough cool products already, Tat Kisses are another fun option provided for a parent to provide cute sticker messages and encouragement to their little ones!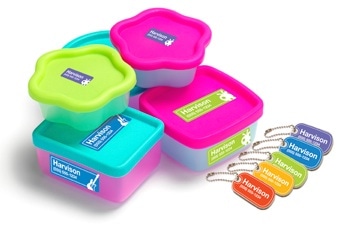 In keeping up with technology, SafetyTat has a new project: SafetyTat QR (Quick Response).  This provides a new option to allow more information to be shared than can be written on the Original Tat. Any smart phone with a QR app can scan these codes. QR Tats are able to carry up to 90 characters of information. Now information including emergency medical and allergy information, special instructions, and multiple contact numbers can be accessed with a simple scan.  These Tats are peel and stick and will last 1-3 days.

In my opinion, this a genius idea that I'm thankful to be aware of and pass on to all of you. We used the SafetyTat while on our trip and it was fantastic. Our little guy did disappear while in one of the play areas and we found him with a Cast Member who told us that he immediately showed her his 'tattoo'.  Gotta love that little guy… He wore it for several days and like the product stated, it lasted through bath time, playing in the pool, and getting soaked by Kali River Rapids and splash zones in the parks. And we still have 5 SafetyTats left to use for future events or to share with friends!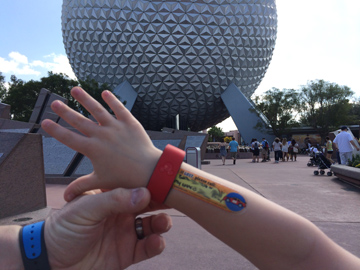 I'm a big fan of the SafetyTat. There are so many options and opportunities to use this affordably priced product and it can help so many people! It's quick and easy and provides a peace of mind that you can't put a price on. I'm not the only fan of the product; The Today Show, Good Morning America, The Steve Harvey show and The Katie Show , as well as Mom, Parents, and First for Women Magazines are all recognizing the benefits of this product as well as so many others! The Quick Stick Write-On! Has also been awarded the iParenting Media Greatest Products Award! Congrats!
So next time you or someone you know needs a way of providing simple safety information for the one you love, consider all of the many wonderful options that SafetyTat provides!!!