It's the time of year for parties and family get togethers! As well as giving gifts to those we are thankful for such as teachers, mailmen, hair stylists, and so many others! If you are looking for a simple and delicious gift idea, take a look at Sally's Famous Gourmet Foods!
Sally's Famous Gourmet Foods provides delicious mixes for dips, sauces, spreads, marinades, and seasonings. Packages are affordable and simple and would make great gifts or great dishes for your family!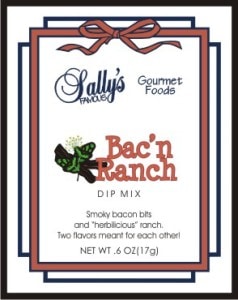 Owners Sally and Rick Conner make so many delicious flavors that it would take too long to list them all!  Make sure that you check out the Sally's Famous website for the flavors you love best made locally in Columbia, SC!!