Sarasota, Florida takes arts for its residents and visitors seriously. Other cities might claim how dedicated to the arts that they are, but I've never seen anything like it in Sarasota, where art is an integral part of all aspects of life.
The arts community of Sarasota – thankfully – believes that everyone should be able to appreciate art, not just the rich and wealthy. And it comes in all shapes and forms. One GREAT example is Season of Sculpture. This large-scale art installation along the water at Sarasota's Bayfront Park features 18 massive art pieces from acclaimed regional, national, and international artists. You've got to hurry to see it, though, because Season of Sculpture only happens once every two years.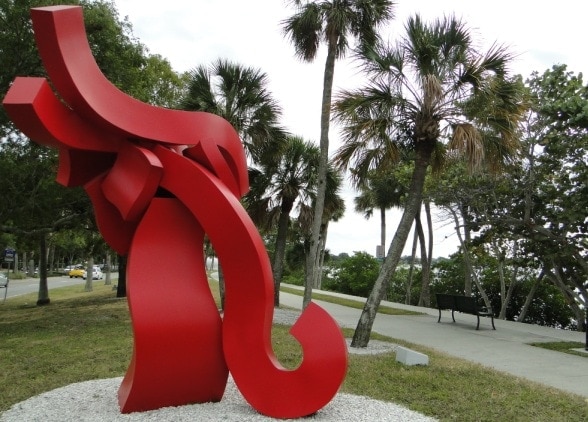 This years Season of Sculpture opened on November 16, 2013 and will run through May 2014. There's no entrance fee, no specific path that you have to take, no closing hours. The beauty of Season of Sculpture is that you enjoy the pieces how you want, when you want. Walking along the waterfront gazing at gigantic pieces of artwork is a memorable way to spend some time in Sarasota. But there are plenty of people that might only see parts of the sculptures while driving by, too, and even that's quite impressive.
Check out a video tour and interview with co-curator Fayanne Hayes in this short video: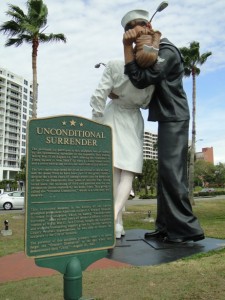 Among the most memorable pieces along the art walk – though not a piece of this season's installation, because it is a permanent installation – is Unconditional Surrender, a recreation of a famous Life Magazine photograph. At this art installation, visitors gather in droves, taking pictures, posing for pictures, and generally marveling at the size of the piece of artwork which is HUGE!!!
This is Season VII for the local non-profit organization that puts on these free, public exhibitions of monumental work. This year's theme is "Shared Ground: Eight Artists, Eighteen Installations." Sculpture comes from Heinz Aeschlimann, Hans Van de Bovenkamp, Robert Chambers, Richard Herzog, Linda Howard, Jun Kaneko, Jae-Hyo Lee and Boaz Vaadia.
To see even more of the smaller works by these artists, a small satellite exhibition can be enjoyed at the Sarasota Herald-Tribune building at 1741 Main Street in downtown until May 2014.
Want a little more in-depth info about the works during your waterfront walk? You can access more info on your smart phone by scanning a QR code, or by joining a public educational program or docent-led tour sometimes available. The artworks are featured by title and artist on the website, and you'll want to follow Season of Sculpture of Facebook for current events and info.