Speak Like a Whale Day is June 11, did you know? Probably not 😉 For you and your children, though, this Disney inspired holiday is a great time to visit the theme parks and movie theaters for some underwater goodies and fun!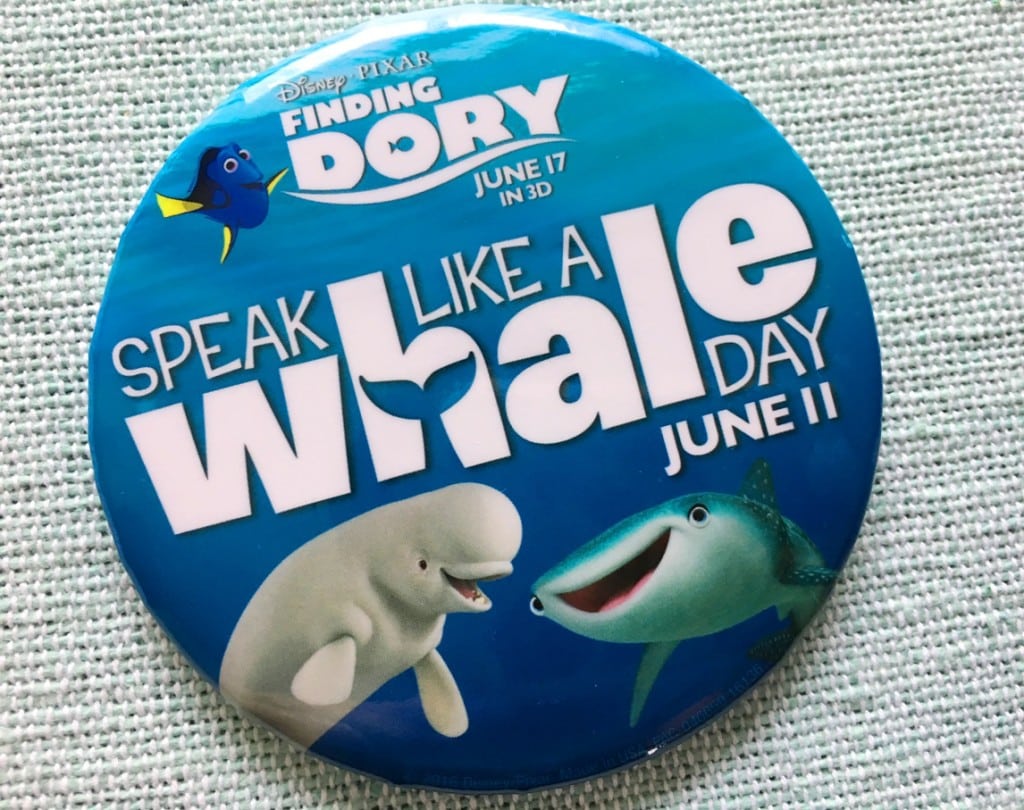 In honor of Dory, the forget blue tang fish that claims to know how to speak whale, Pixar Animation, The Walt Disney Studios and Disney Parks have declared June 11 as "Speak Like a Whale Day."
It's just one week in advance of the release of Finding Dory, on June 17. We were honored to have seen the first 33 minutes of Finding Dory at Disney Social Media Moms Celebration in May. We were only the second audience to ever see the movie, beside the producers. I can promise you, it tugs at your heartstrings just like Finding Nemo did.
"We had very few clues to go on," said director Andrew Stanton about creating Finding Dory. "Dory's past became the subject of great curiosity – both for us as storytellers and for everyone who'd fallen in love with her."
"We knew she'd been separated from her family, we knew she suffered from short-term memory loss, we knew she could read, and we knew she could speak whale – or at least she thought she could," Stanton said.
In Finding Dory, the blue tang fish might be able to put her whale talking skills to the test with new friends Bailey, a beluga whale who is convinced his biological sonar skills are on the fritz, and Destiny, a nearsighted whale shark.
After watching a film preview, we know some secrets that we're not sharing yet, but we want to know what happens, too!!!!
On Speak Like a Whale Day, guests are encouraged to try to speak like a whale and share their antics on social media with the hashtag #SpeakLikeAWhaleDay and #FindingDory.
At Disney destinations, guests can celebrate in a number of ways, including:
Guests at Disneyland Resort in California, Walt Disney World Resort in Florida and Disney Cruise Line ships will receive a complimentary button to celebrate the day on June 11 (while supplies last).
At the Downtown Disney District at Disneyland Resort and Disney Springs at Walt Disney World Resort, families can dive into "undersea" themed activities, including a live DJ, games and giveaways. Young guests can attend "Whale Speak University" and give speaking the language a try.
At The Seas with Nemo & Friends in Epcot at Walt Disney World Resort, guests can learn about the real-life counterparts of the characters from the film and see them in their massive 5.7-million-gallon saltwater aquarium home. Experts from Disney's Animals, Science and Environment Team will be on hand throughout the day to help guests find Dory and her friends and get a closer look at their world.
Dory and some of her new friends from Disney•Pixar's "Finding Dory" have joined Crush at the Turtle Talk with Crush attraction at Epcot and Disney California Adventure park. Guests can meet Destiny the whale shark, Bailey the beluga whale and Hank the "septopus."
Select theater chains will give away buttons, while supplies last. Chains include Goodrich Quality Theatres, Marcus Theatres, Megaplex Theatres and National Amusements.