This post is sponsored by BabbleBox.com on behalf of Single Edition Media.
When I think of spring, I think of blooming flowers, blue skies, & getting outside! Vacations, sporting events, spring breaks, summer vacations, and photo opportunities are fast approaching. Warm weather is moving in for us and egg hunts, bunnies and Easter baskets are right around the corner!
With that Easter Bunny hopping in fast, do you find yourself wondering what you can do as a special Easter gift for your teenager, your boss, or even your child's teacher?  Or maybe you need something special to bring to an Easter get together? Look no further than Edible Arrangements!!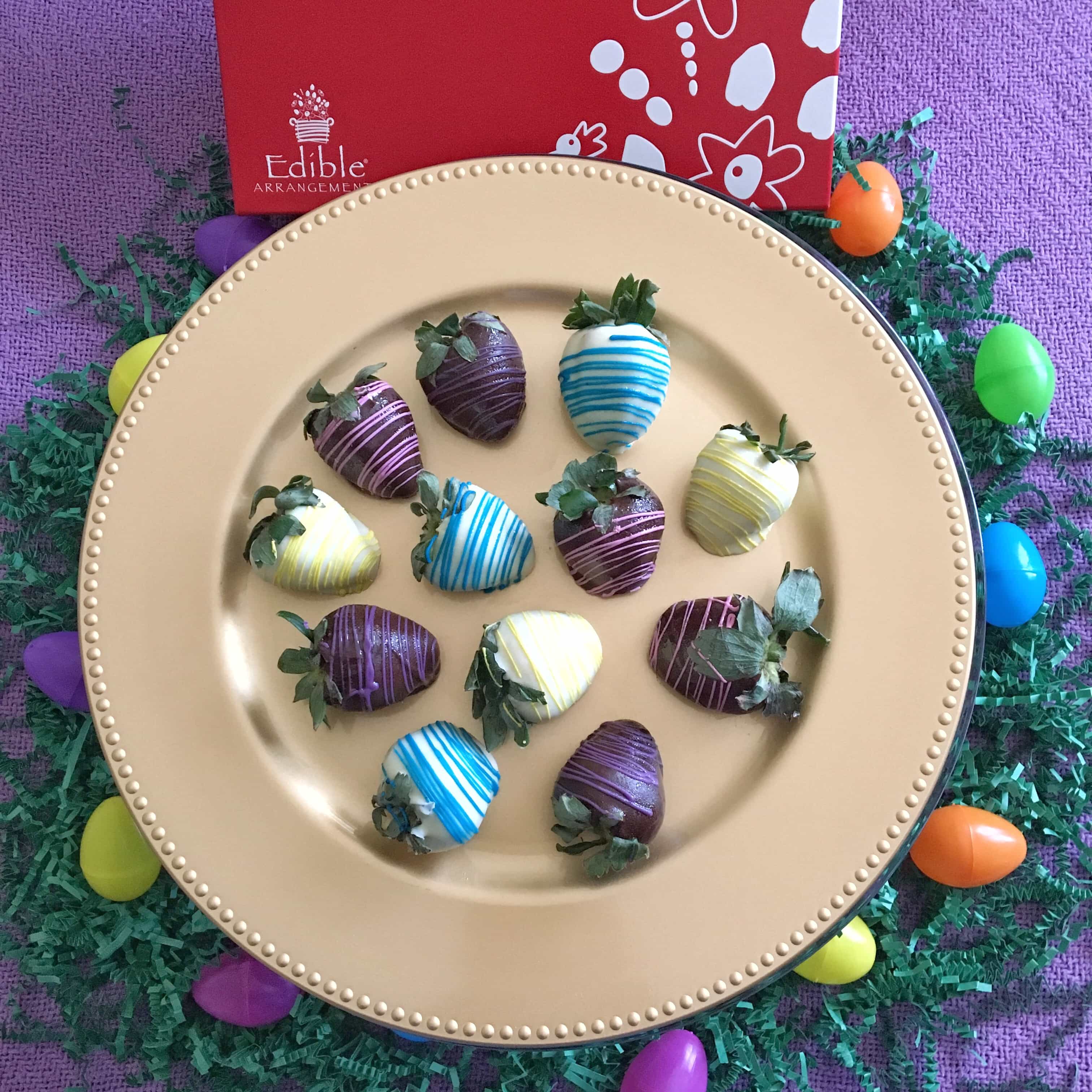 These chocolate covered Swizzle Berries from Edible Arrangements are amazing! They are fresh strawberries dipped in semisweet and white chocolate with fun Swizzles of yellow, lavender, blue, and pink colors! As beautiful as these berries are, you almost don't want to eat them, but you'll be glad when you do! These berries were so juicy and the chocolate was delicious! I recently had a birthday, and at the end of my wonderful day, to sit down, relax, and enjoy a couple of white and milk chocolate covered strawberries was a perfect spring birthday treat! Edible Arrangements includes your little ones as well! Kids' favorite characters are even more special when arranged with fruit and chocolates! Some selections are Olaf, Disney Princesses, Hello Kitty, Mickey Mouse Clubhouse, and a perfect Easter treat – Cuddly Bears paired with Easter Truffles! These special truffles are fresh bite size Granny Smith apples dipped in delicious gourmet chocolates and swizzled with fun colors! A great idea for Easter baskets for kids!!
The good news is that the amazing berries I got to eat are just the beginning of the masterpieces Edible Arrangements has to offer. Make sure you don't miss the adorable Easter bunnies made out of chocolate covered pineapple! Still looking for a unique centerpiece? How about the Gourmet Sharable Caramel Apple? Fresh apple slices, covered in caramel, and then dipped in chocolate? This is a centerpiece your friends will love! (Maybe order more than one!) But don't wait much longer! You'll want to make sure you get that special order in so you'll be Easter ready, however there is a possibility of same day delivery options.  You can even save 20% off all orders of $50 or more with the code BLOG4712! What an Easter treat!
As those plans are being made for Easter basket goodies and spring break adventures, it's time to start thinking about spring clothes shopping for our growing kiddos! Baseball games, jump roping, and spring break beach trips all demand fun and easy to wear pieces for our kids. OshKosh B'Gosh specializes in easily matchable tops and bottoms for little boys and girls up to size 5T, as well as bigger kids up to size 14. They know what kids like to wear and know us parents want long-lasting quality at an affordable price!
I have to say this is my one stop shop for both of my boys. I love their graphic T's, fun shorts, polos, and workout combos! Everything can be mixed and matched and the quality can't be beat. I know when I buy my boys clothes from OshKosh they will last as long as I need them to. My sons live in comfy OshKosh jersey shorts and colorful T-shirts in the summer time, and as my youngest is starting to dress himself, the convenience and ease of pulling up OshKosh shorts is perfect for him. This mom loves jean shorts and cute shirts, and with his older brother playing baseball, this super cute jersey baseball shirt is perfect for my little guy! He looks so adorable in the longer cut jean shorts and the jersey shirt will get a lot of use this spring cheering at his brother's games!
I'm blessed with rowdy boys, but I adore looking at the too cute girl clothing options! Bike shorts and fun scooter skirts (shorts built-in) paired with adorable tanks sporting pockets and bows make me long for a little girl to shop for! OshKosh knows kids are all fun and games, but occasionally we have to make them step it up a notch for special events such as Easter or other fun get togethers. OshKosh has us parents covered here as well! Polo shirts and ruffled shirts can be paired with skirts and classic shorts making our little ones look so cute, and they still feel good in what they are wearing! My oldest has several of these polo's and I just LOVE them. Spring break beach trip planned? You can get your beach needs with UPF 50+ swimsuits for boys and girls along with fun accessories including sun hats, water sandals and slip ons as well as fun stylish sunglasses (my son LOVES his). Get Spring Break ready or add some cute accessories to your Easter baskets with OshKosh B'Gosh!
Are you looking for some fresh ideas for the Easter baskets of girls and tweens in your life? Maybe something to make their bath and beauty routine more exciting? Yum!Spa has you covered with sweet-smelling treats that can make any girl feel special! The fragrance of passion fruit, peach, and melon tutti-frutti brings a fun and hip spa experience into your home. The Yum!Spa fragrance is light and fruity and smells like spring! Fresh and fun!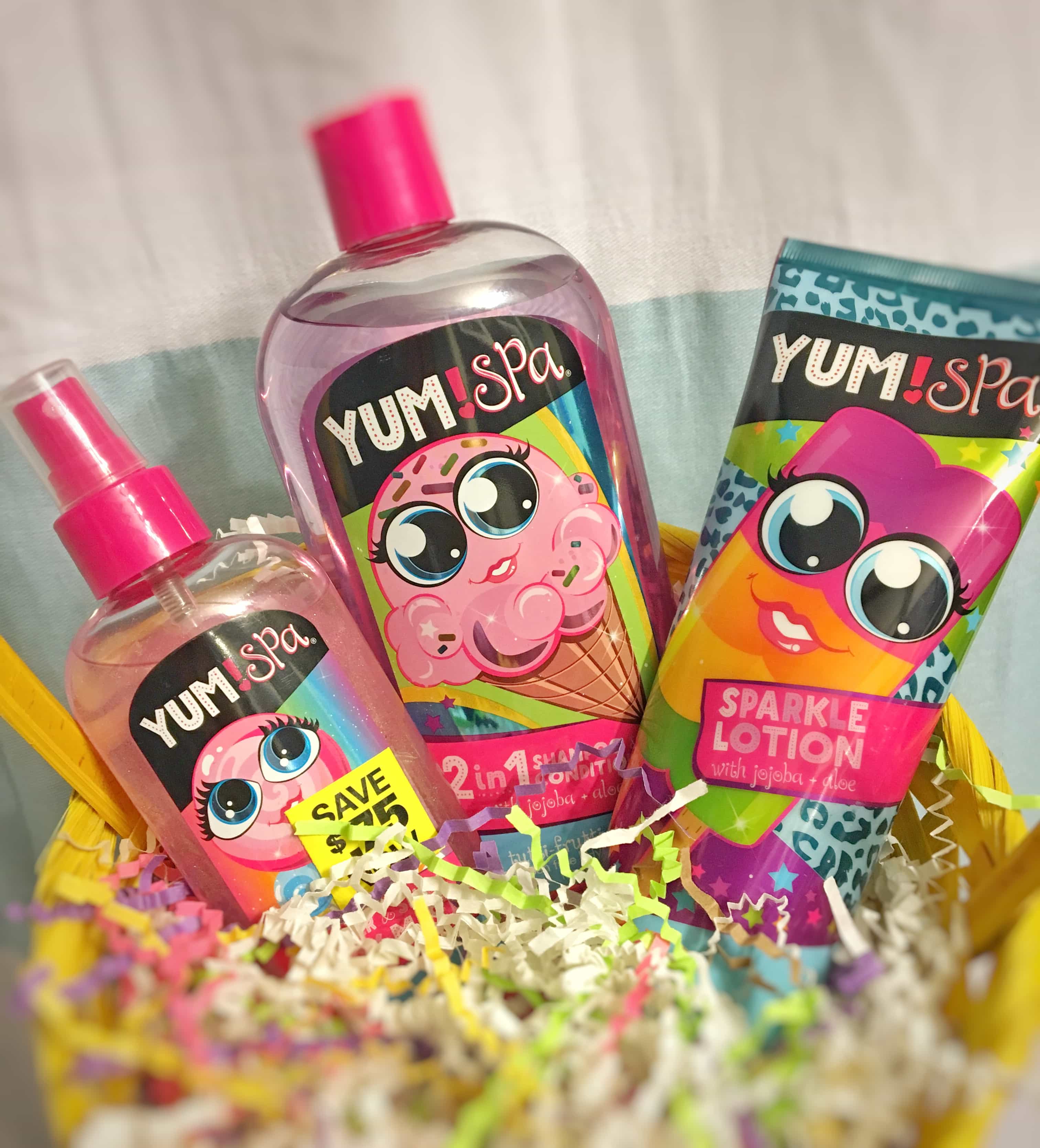 Yum!Spa 2-in1 Shampoo & Conditioner is infused with aloe and jojoba which leaves young, beautiful hair smooth, soft, healthy and smelling amazing. The Sparkle Body Lotion is also infused with aloe and jojoba, leaving skin soft & sparkly! The sun is shining and Easter eggs need hunting, so a few spritzes of Shimmer & Shine Body Mist will have your princess's skin and hair ready for fun & pictures while smelling so good! Yum!Spa products are Paraben-Free, and the 2-in-1 Shampoo & Conditioner and Sparkle Lotion are Hypoallergenic as well! Yum!Spa products can be found exclusively at Walmart where you will want to make sure you use your coupon! (soon to be available through Amazon!)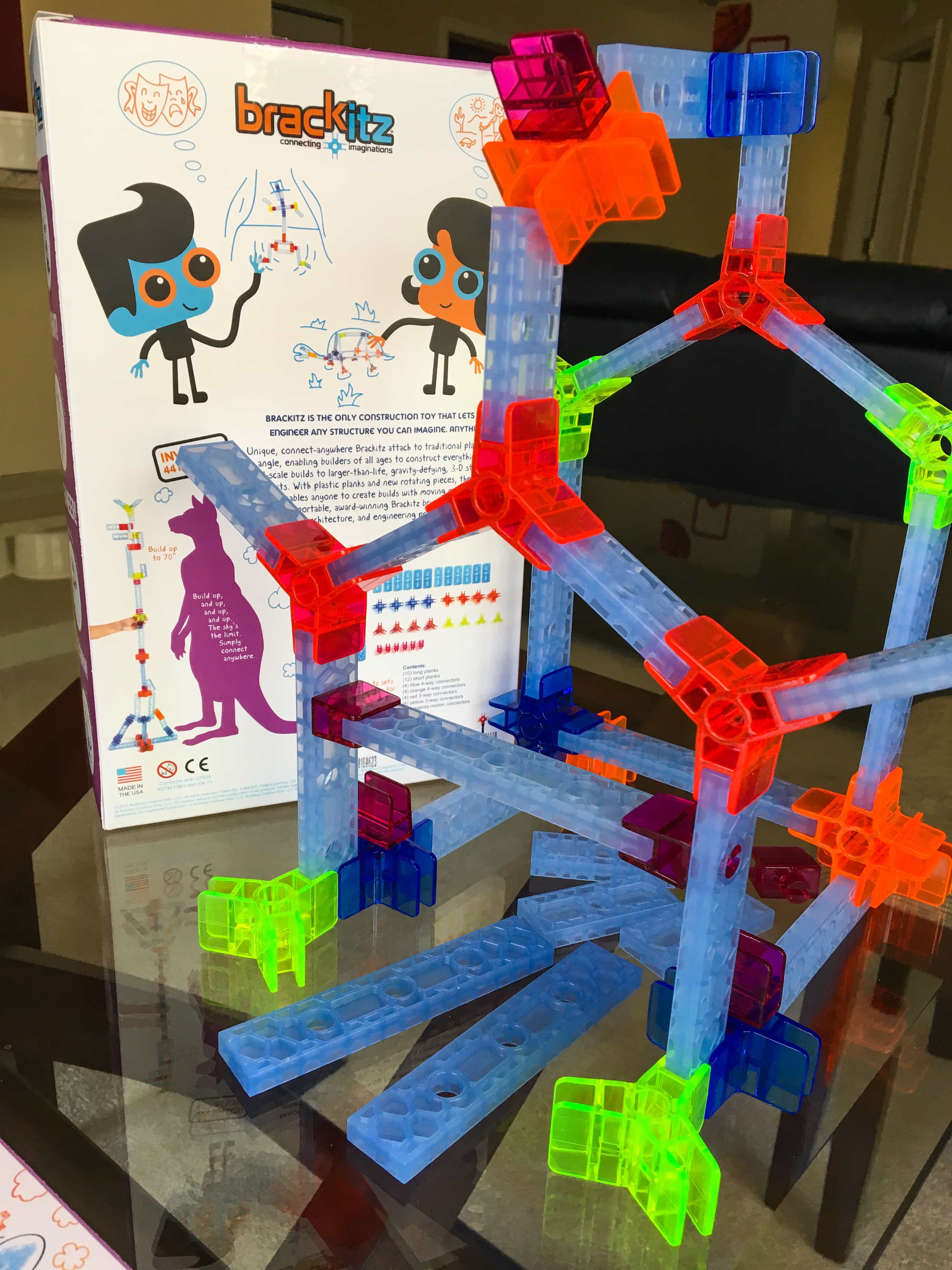 Brackitz is the new unique building and creating toy with no limitations! While building blocks will always be fun for many kids, they will eventually be limiting in building and structural capabilities. Kids (& adults) can build and develop anything they can imagine and it won't fall apart! Your designs are durable enough to stand strong until you take it apart and start something new! With Inventor 44; 44 planks and brackets are able to attach at any angle so that simple designs, 3D images, and towers to the sky are only a handful of things you can accomplish! My son had a blast creating a fancy house, a space station and a space ship! With Driver 43, 43 pieces are included to design 10 different driving machines. Wheels and axels combined with rubber-band drivetrains equip little inventors to create anything that can drive, fly, or spin in circles! My husband and son created a car that they could pull back and let zoom across the kitchen floor! They had a great time with Brackitz! The best part is that while playing, kids are engaged in thoughts of art, science, math, engineering, and architecture. This is a much better use of time during spring break than sitting on the couch flipping channels or navigating electronics! Just in time for Easter, spring break, birthdays, or just because, you can get your Brackitz at Target or by going to the Brackitz site directly. Your kids will love it!
I hope your spring is full of smiles and sunshine and that you are able to provide a few of these fun necessities for the loved ones in your family! They are sure to make your Easter gifts and baskets even more memorable! Have a Happy Easter!!