Waiting seems to be a huge waste of time, don't you think? Whether at the doctor's office, picking your kids up from school, at sports practices or stuck in that never-ending line at a store. It's also a time when your quest for healthy snack foods – and sensible eating – gets derailed. So that's why we try to always have a Stolen Moments Sanity Savers Kit stashed away.
No one wants to wait, but how you choose to use that time is up to you – and affects your own happiness and health.
What's a Stolen Moments Sanity Savers Kit? It's a small collection of the things that make us happy, maximize our time, or even help us stay healthy when inevitable delays happen.
It's our mom's idea, really. All of our lives, our mom always had a magazine or book tucked away when she would take us to a doctor's appointment or wait to pick us up somewhere. She always has a snack on hand – just in case – along with a water. Her car is packed with all kinds of items "just in case" that, when you need them, really do make all of the difference between a bad time and a good day! So it's inevitable that we would figure out a way to keep our sanity through our own stashes.
The average person spends about 2-10 years waiting in lines (depending on varying statistics).  That's A LOT of wasted time!!! So start this very moment and put together a plan of how to best maximize that time.
What makes you happy – and reduces your stress while waiting – are very personal choices. Here are some of the things that we like to keep around – and some ideas for you:
Amusements
Sure, your phone is often a source of amusement when waiting in line. But what happens if there's no wifi, your data plan is maxed out, or your battery is about to crap out? It's okay to go old school sometimes and let your brain get a workout with non-digital entertainment.
Crossword puzzles, Sudoku games, or word searches are ideal to stash away in a purse or glove compartment. Mini-size versions of these books are available, and you can pick up a huge variety at dollar stores.
Coloring books (just remember to pack colored pencils or markers) are also great stress relievers. They come in all shapes and sizes to fit your needs.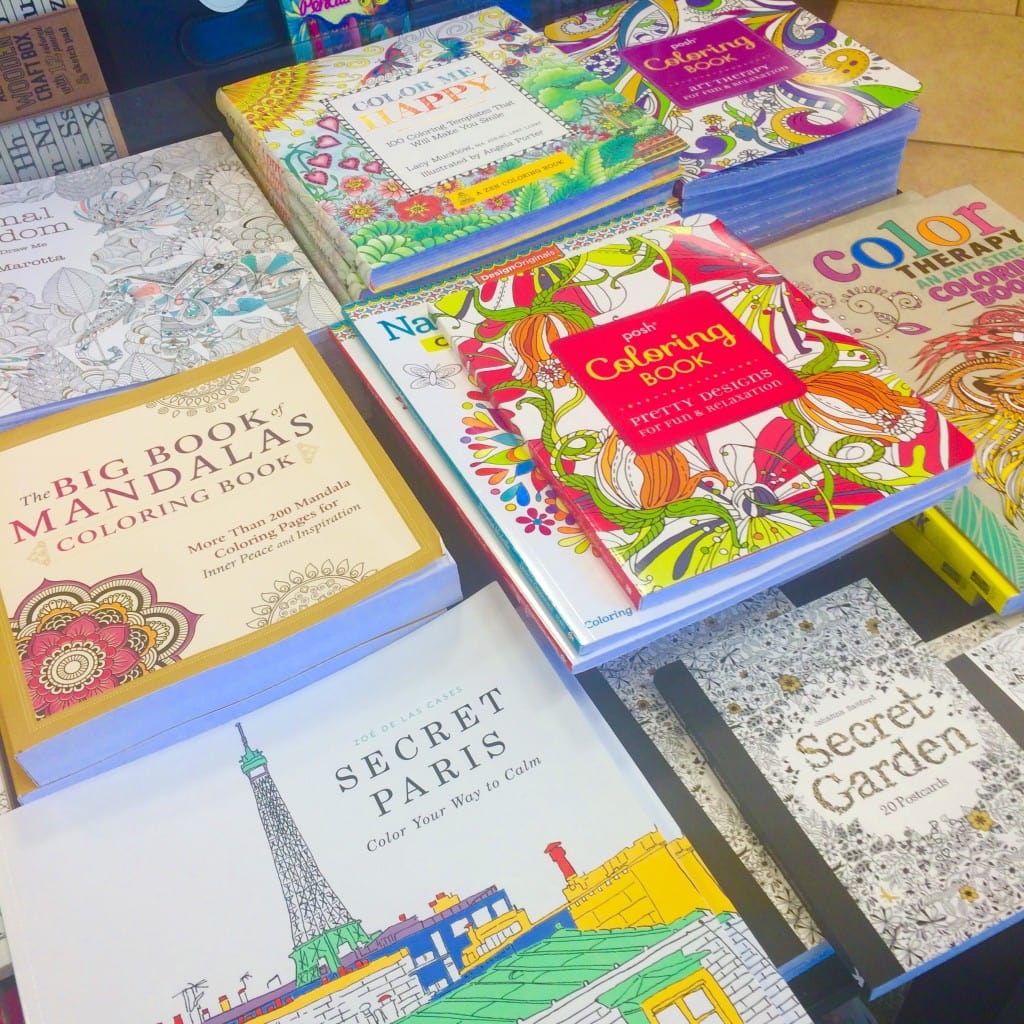 Magazines are classic items for a Stolen Moments Sanity Savers Kit. From cooking magazines laden with recipe ideas to fashion and beauty magazines that give you inspiration, don't rely on your doctor's office for having any great magazines that suit your taste. Stash one in your purse, or leave a few in the car for when you've got time to spare.
Books that don't have a long, continuous plot line are great. Think trivia books, small collections of short stories, humor books or even cookbooks. Again, we like to pick up ones for super cheap at dollar stores or library and thrift store sales to tuck away for later.
Even knitting, bead work, or other crafts can be kept in the car for when you're waiting.
Snacks
You've been there – the kids are late in getting out of school or out of practice. You haven't eaten since lunch time. And you need a snack NOW! So you grab something unhealthy just because it's close by.
Or, you had every intention of going home and cooking a meal from scratch, but now you are so hungry now that you need something ASAP so you pull through a drive-in and it's greasy hamburgers and fries for everyone for dinner. If you had just had a snack to tie you over, maybe you could have made it home, but……..
Then you feel guilty later.
It doesn't have to be that way.
Planning ahead can really help you keep your healthy eating on track – especially healthy snacking. Because getting HANGRY is really a thing (Trust me. I know from experience.) When you need food, you need food. Case closed. So stash your bag, backpack or car with some healthier snack ideas in advance.
We just discovered the vast array of Weight Watchers Market snack items at Publix. They are perfect snack foods that won't derail your sensible eating habits when life throws you a curve.
No matter what your taste buds crave when it's snack time – salty or sweet – there are Weight Watchers snack foods for you. Cheese or popcorn are great ideas for those who like savory items. Having a sweet tooth, though, I instantly gravitated towards the Weight Watchers display at Publix that had sweet baked goods (the frozen treats and chocolate candies looked good, too, though……).
These perfect sized snack portions can easily be tucked into my purse for when hunger sets in and I want smarter snack foods. They're delicious and lower in calories than the candy bars or fast food items that you might end up grabbing when your schedule goes awry.
Drinks
Stuck in a car during traffic delays, or waiting in the heat at your kid's soccer practice? You know that's when thirst hits! It's a smart idea to have a drink on hand, even if you don't anticipate being very long.
Refillable water bottles are perfect solutions.  In a pinch, bottled water are easy to grab and go. Just remember to bring a fresh container every day.
Juice boxes are also a smart solution to tuck away "just in case." They're not just for kids!
Getting Caught Up
A notebook or scratch paper – and a pen or pencil – are the perfect solutions to maximizing even just 2 minutes of time. Start making a list. Any list.
Maybe you're making a list of all of the items you need to buy at the grocery store this week. Or recipe ideas you'd like to try at home.
Perhaps it's a list of what you need to do this weekend – chores or errands or household cleaning (blah!).
Let your mind wander to a happy place and start making lists of vacation destinations or day trip ideas that you'd like to go home and start exploring.
Or maybe you start jotting down notes as to what fashion items you might need to start looking for to help stretch your wardrobe this season.
Whatever you start jotting down, it helps save you time and energy down the road from being scatter brained and losing your great ideas. That's smart wait time solutions!
How To Pack
In the car, we keep a lot of these items in the glove compartment or in a plastic container on the floorboard in the backseat or tucked away into the corner of the trunk.
Makeup bags – especially pretty ones that make you smile – corral all of your stuff together to just pop in your purse or backpack.
Dollar stores sell cheap plastic containers that are perfect for stashing all of your stuff. We especially like the divided compartments, to put in a bottle of water, snacks and other items.
This post is part of a social shopper marketing insight campaign with Pollinate Media Group® and Weight Watchers, but all my opinions are my own. #pmedia #WWFoodsAtPublix  http://my-disclosur.es/OBsstV