Keukenhof Gardens in Amsterdam, Netherlands is perhaps one of the most stunning natural works of art you will ever see. Open for only 8 weeks a year, this Spring time spectacle showcases more than SEVEN MILLION TULIP BULBS all in one mind-blowing, can't-believe-how-beautiful-it-is showcase of nature.
Which means that it attracts 800,000 people in eight weeks – 75% of whom are international visitors.
Updated March 2018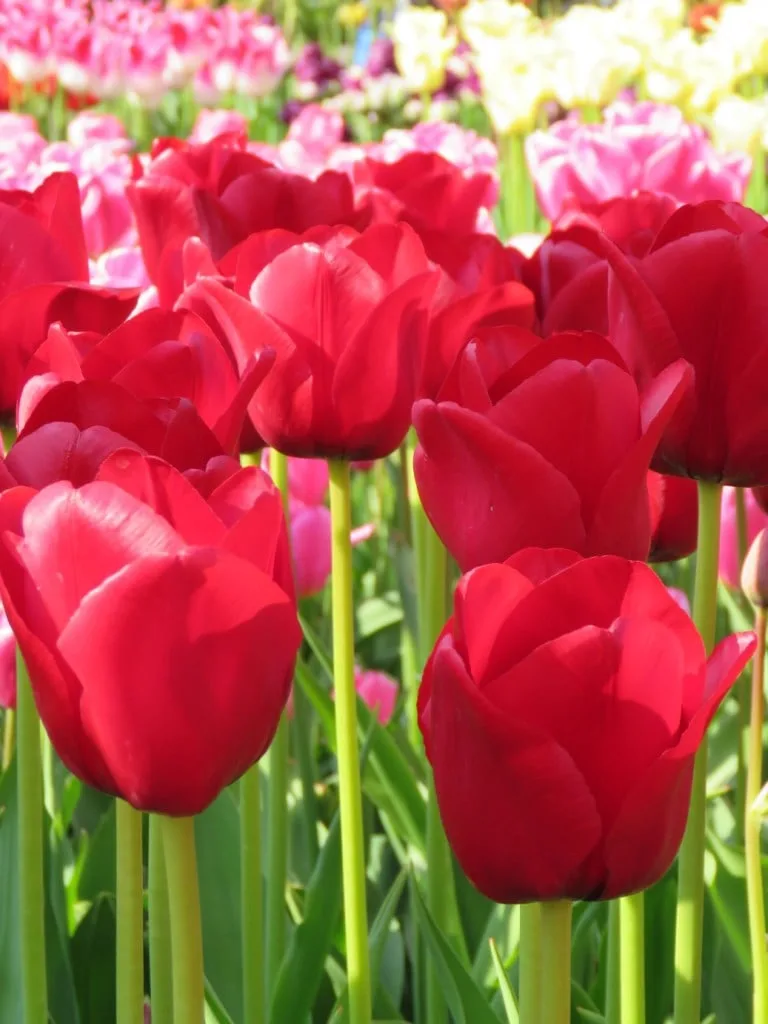 Keukenhof is a can't miss destination in Amsterdam, and one that we're extremely grateful to have experienced on our AmaWaterways river cruise last year (see the ship and what we dined on). This year Keukenhof Gardens is open from March 22 to May 13, 2018. Planning on visiting? Here's some helpful information on transportation, when to go and what to see at Keukenhof Gardens, whether you're there for the day or a river cruise excursion.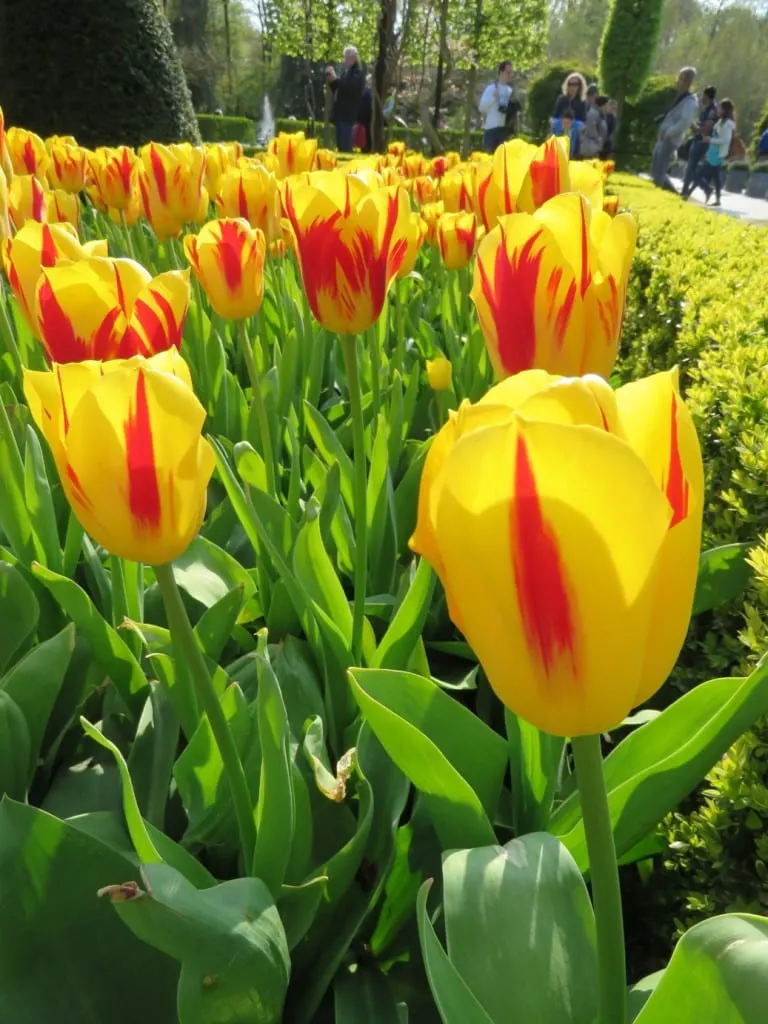 Wondering what type of camera it takes to get pictures like these? A simple point and shoot Canon Power Shot is all we used (Okay, it looks more advanced than a point and shoot camera, but trust us – just leave it in automatic mode and you don't have to do anything but get great photos!)
10 Tips to Make Your Keukenhof Gardens Experience Better: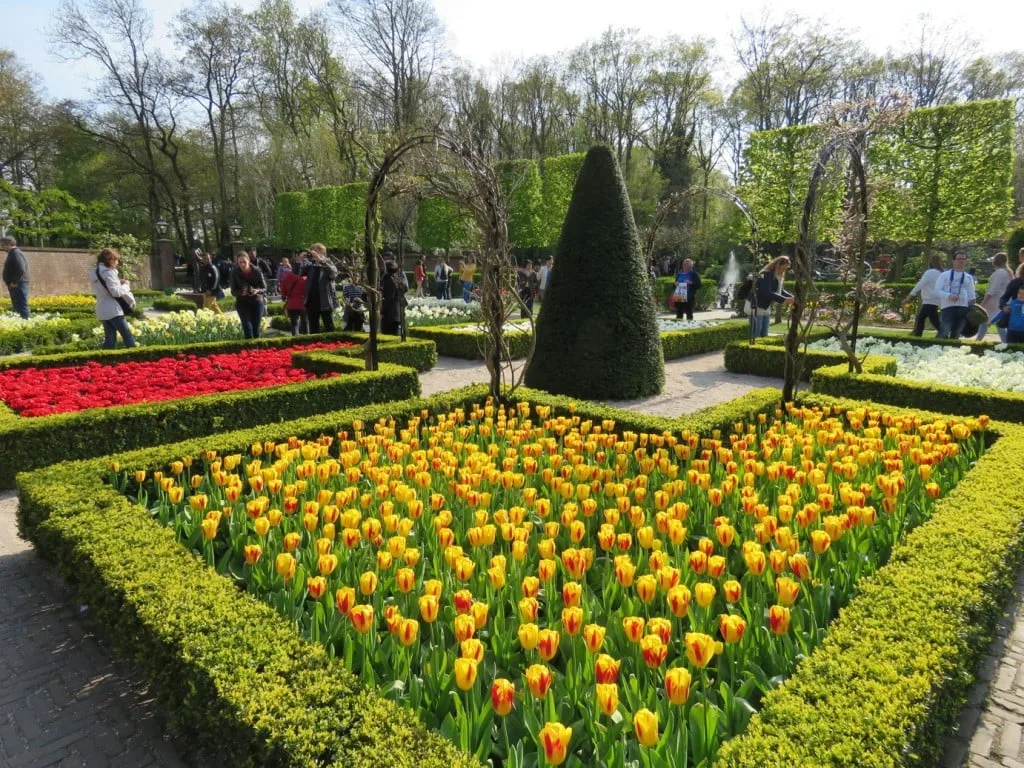 Buy a ticket with transportation included!
This is a lifesaver for Americans and international visitors who want to see the beauty of Keukenhof, but don't want to worry about transportation schedules and transfers.
We arrived early in Amsterdam for our AmaWaterways cruise. We stayed for a couple nights at the Radisson Blu Hotel Schiphol (we'd never stay there again) to get over jet lag, and to go to Keukenhof Gardens for a longer period of time (we're SO thankful that we did!!!!) I found that there are buses that leave directly from Schiphol Airport that go directly to Keukenhof, but only for those that purchase this combo ticket.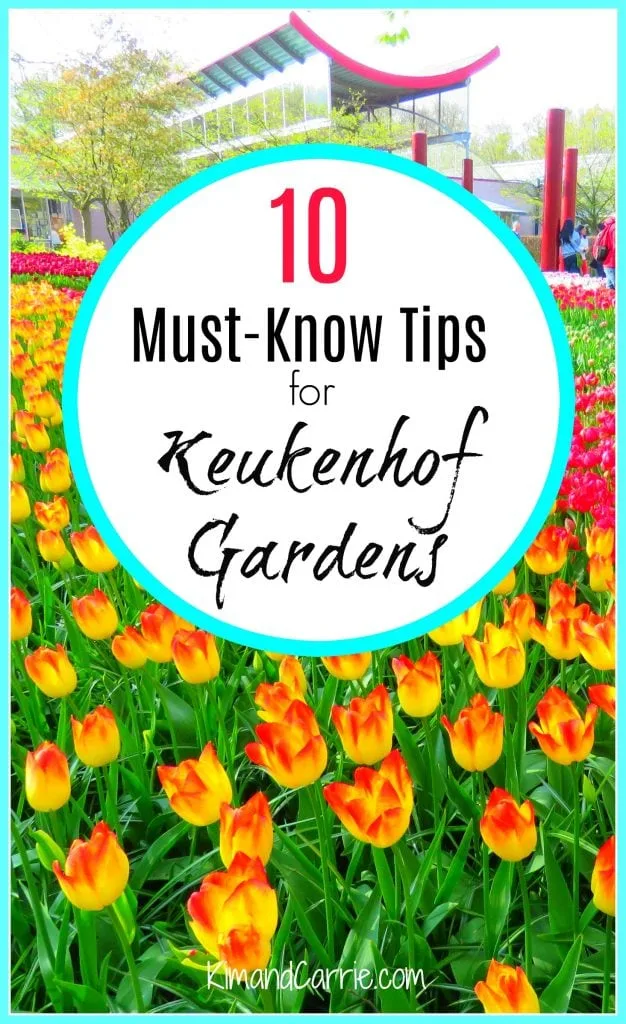 Trust me, it's WORTH the extra €8 or so. Adult combo tickets are €24.50, with just Keukenhof Garden admittance for 17 euro. The peace of mind of just getting on the Keukenhof Bus and not worrying about transfers is priceless.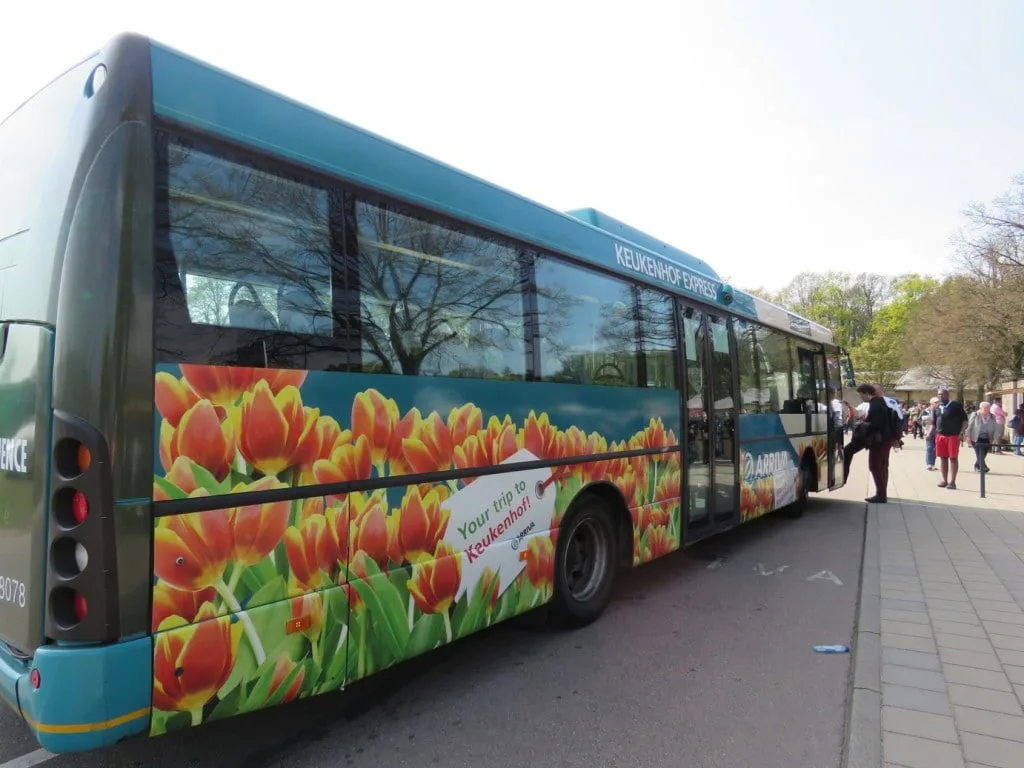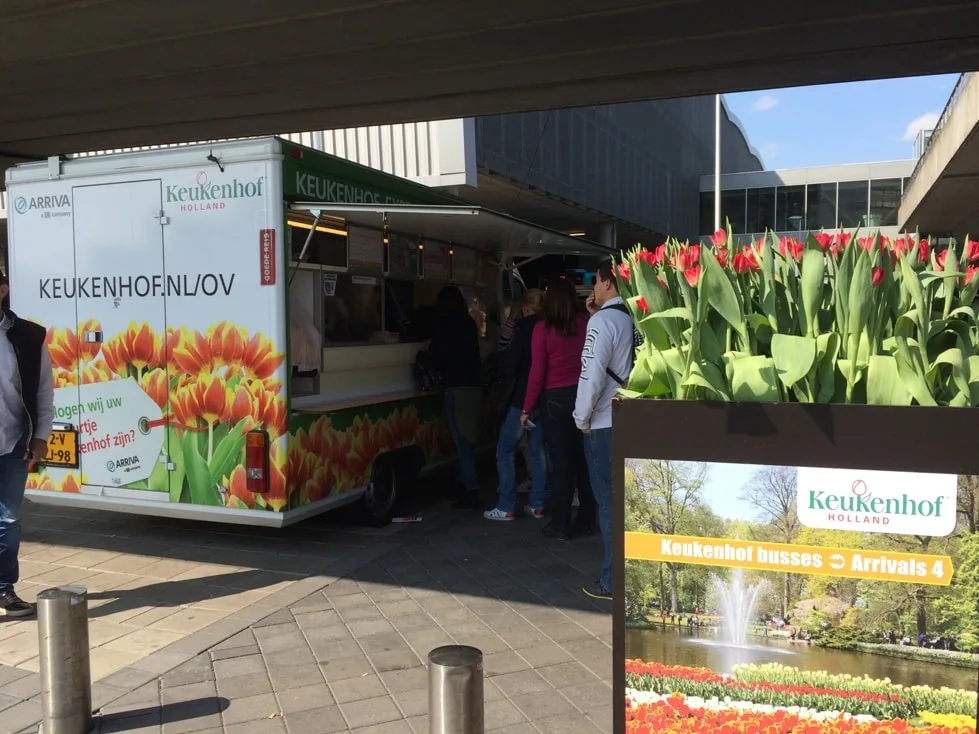 We boarded the bus after sleeping off jet lag in the morning. The mid-afternoon departure was extremely crowded and we stood in line for quite a while. The buses were PACKED but the views when you got close to the gardens were amazing!!
FYI: There are other departures throughout the Amsterdam area for the direct service if you're staying in town or the outskirts.
Want to leave all of the planning details and transportation stress to someone else? These Viator Keukenhof Gardens Tours are a smart bet for you, including some with Amsterdam city tours or a trip to Zaanse Schans (which we loved).
Arrive Early or Late
Needless to say, tour groups fill the Keukenhof Gardens all day long, so if you arrive as soon as it opens, or stay later in the afternoon until closing, you'll have much more room to explore and take pictures.
The first time we visited, it was late in the afternoon, so we stayed until closing time. The sun was still out, but the crowds were noticeably thin. This is the time that you want to be there!
Lighting is better, too, in the early morning or late evening. Prime picture taking lighting!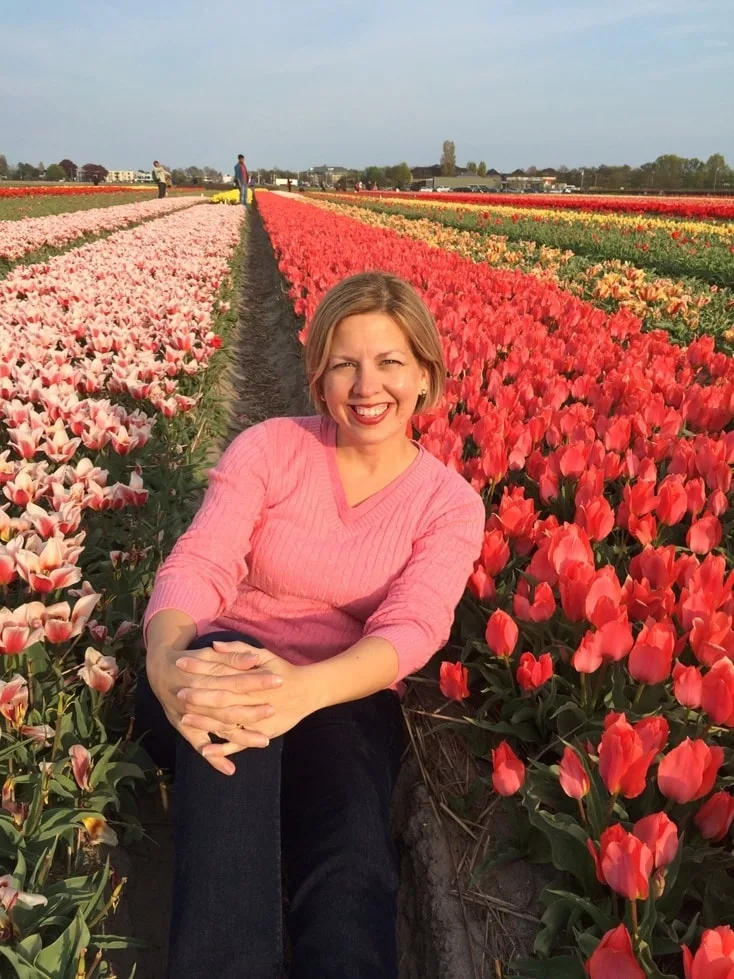 Earlier in the season is better than later
We visited both on the second to the last weekend that Keukenhof Gardens were open, and on the very last weekend. There were noticeable differences in the flowers – both in the vibrance and freshness, and in the amount to be seen. Just a week made a HUGE difference.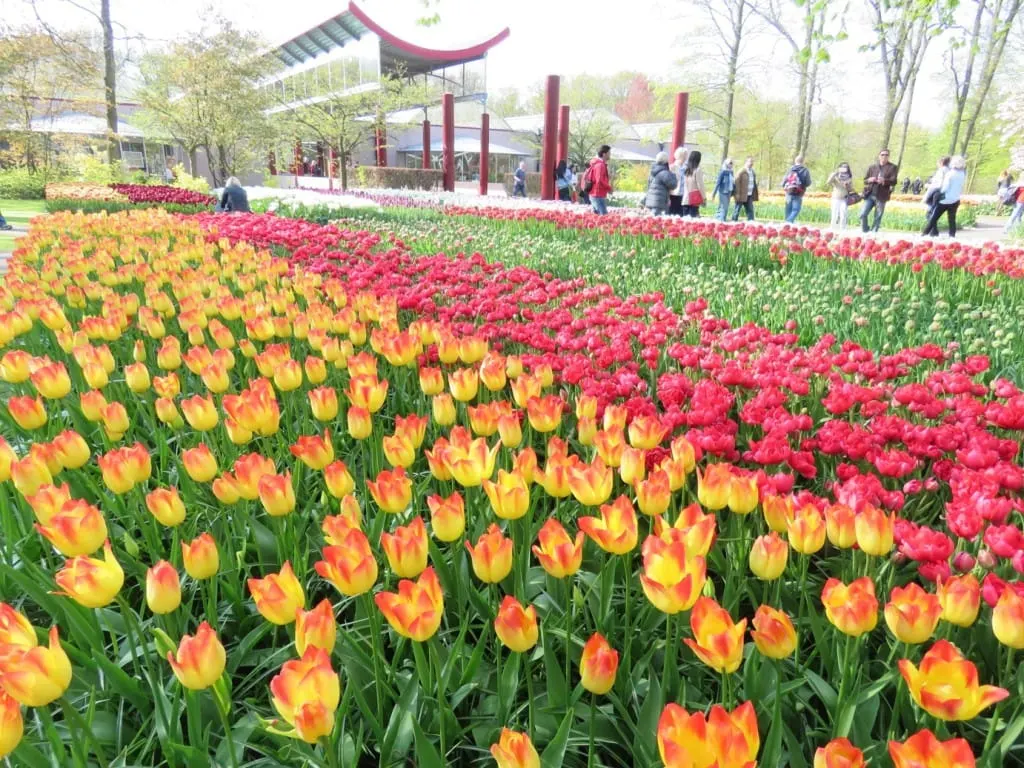 Grab a Park Guide
You're going to need it. This place is massive. About 89 acres. Seriously. Do NOT think you can just wander around at your leisure and see everything. You've got to know the layout, and have a plan. Especially so you don't get lost!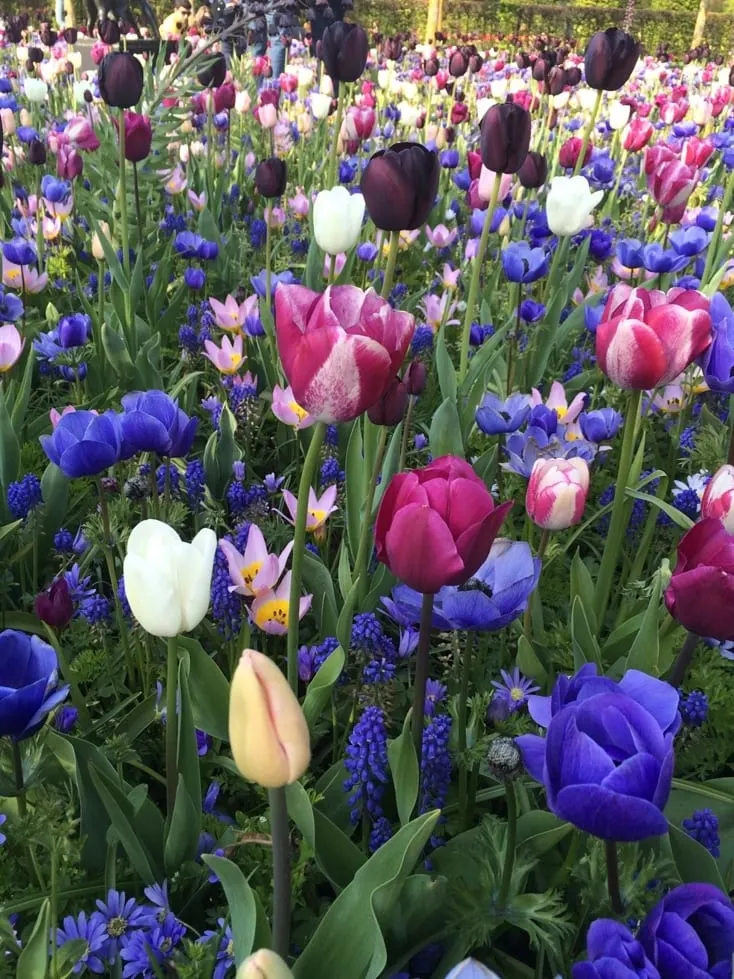 Be sure to walk to the tulip fields outside Keukenhof
As we stood inside Keukenhof Gardens on the edge of the canal that offers the boat tour, we saw people walking through tulip fields across the canal. The fields were not part of Keukenhof Gardens.
Wanting to tip-toe through the tulips, I finally yelled at someone across the canal and asked them how they got there. They said to walk through the parking lot. We left and walked through the parking area and on a well-worn path that many others were walking down, too.
It led to the most spectacular field of tulips that offered amazing photo opportunities! This field was full of flowers on the first time we visited. A week later, they had all been removed.

Don't eat during the low times
Eating in Europe is always relaxed and unrushed. It's no different in the cafes inside Keukenhof Gardens. The food will come when it's ready, your check won't come until you beckon the server to bring it.
It's all nice, until you're trying to see 7 million tulips.
So if you do stop to eat, do so when the crowds are heavy in the gardens or the weather is bad or the lighting is horrible for pictures. Don't waste precious time in the early morning or late afternoon waiting on a piece of cake and coffee.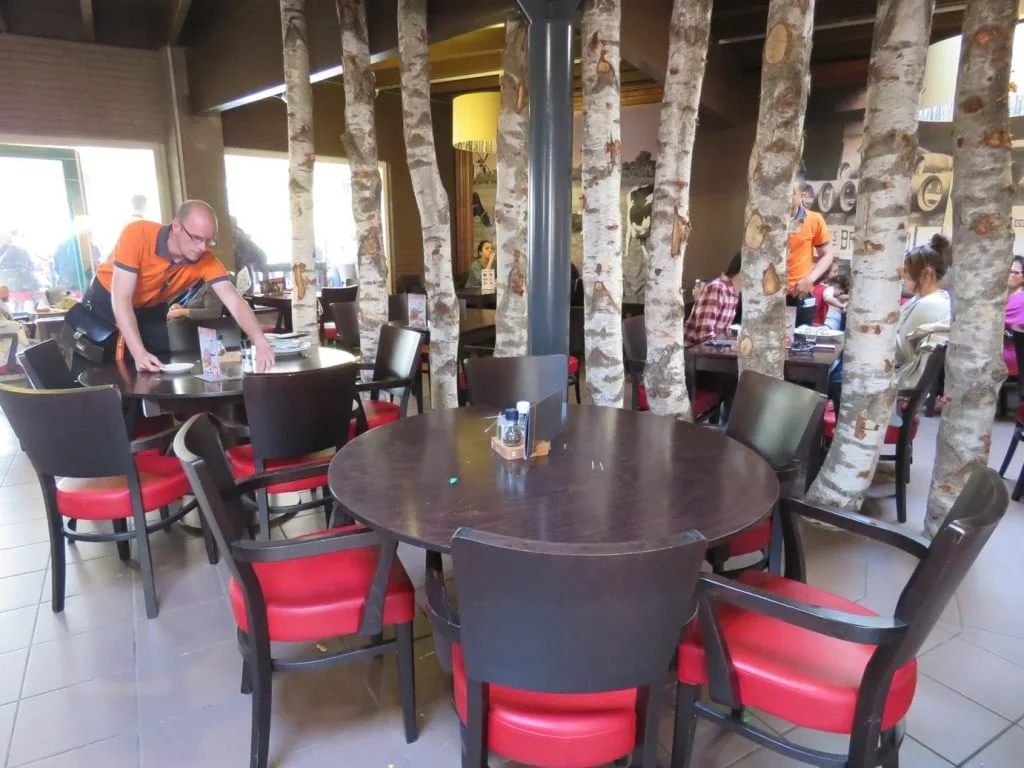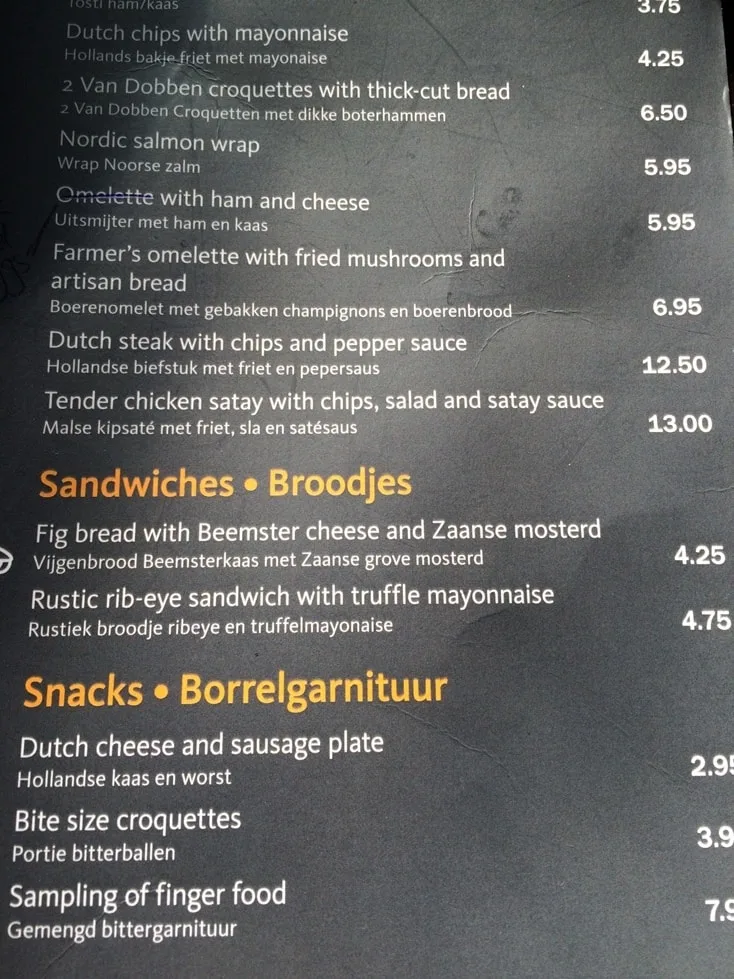 Head to the outer areas
With 89 acres, it's massive, and there are sure to be hidden gems of areas that the throngs of tourists haven't found. There are also 800 varieties of tulips, and they're not all going to be showcased in the same gardens.
Go the edge of the park (not near the main entrance) for less people and more picture taking opportunities. We found amazingly brilliant landscapes in more hidden areas of the park.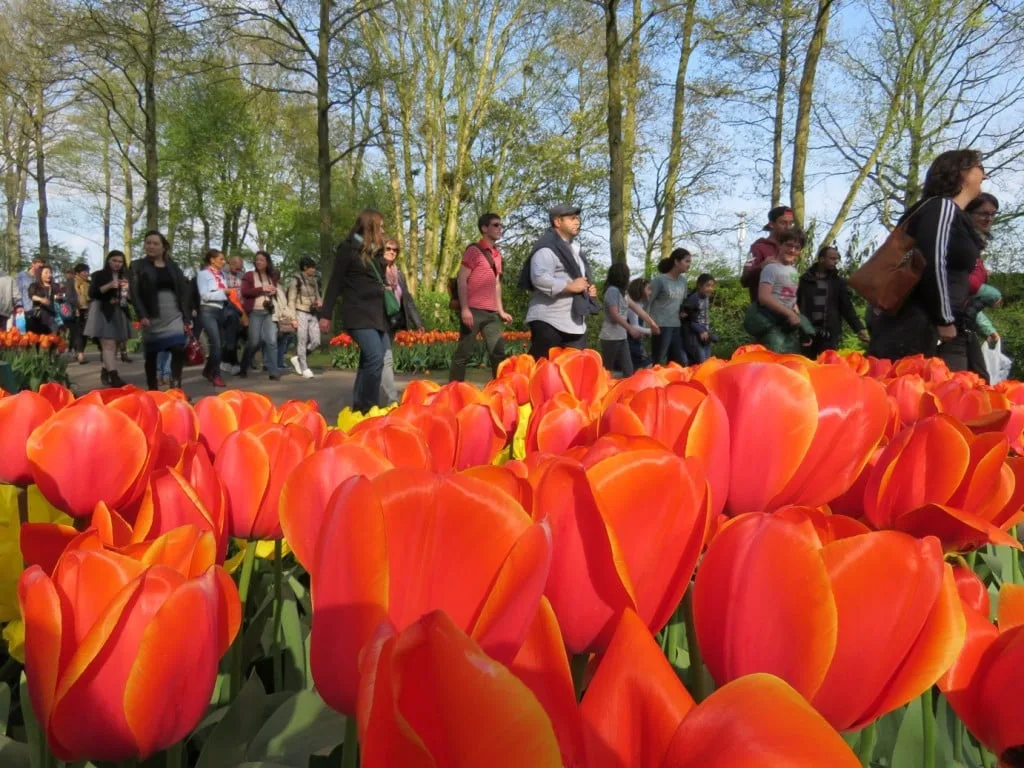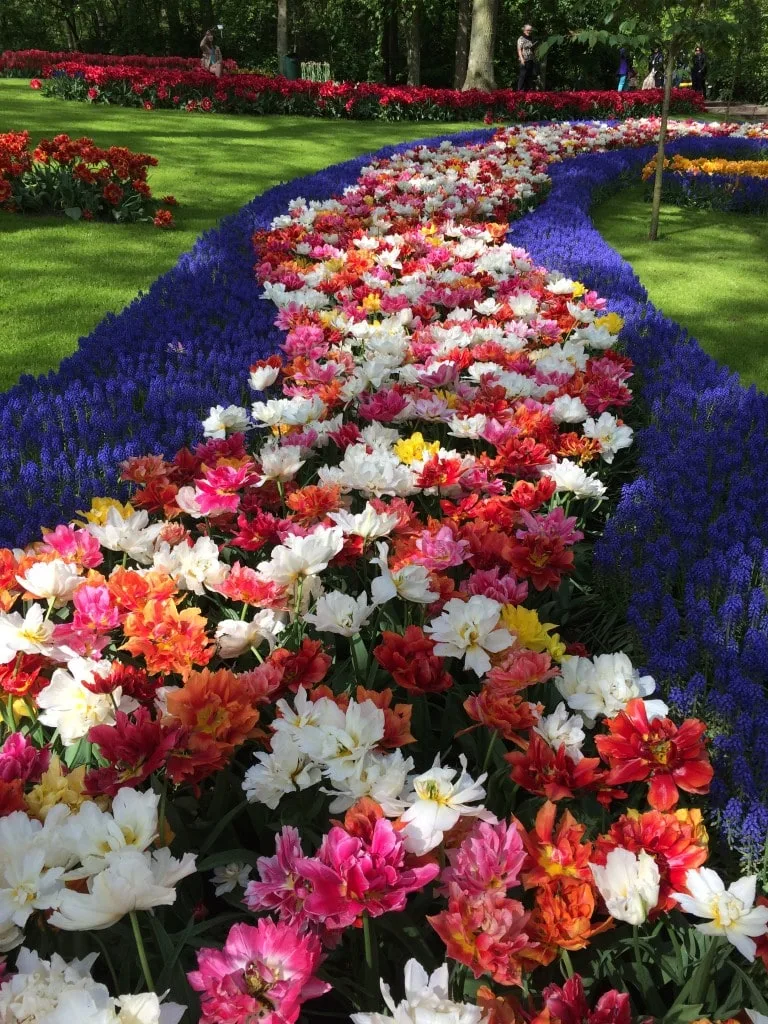 Skip the Indoor Exhibits Until the End
Let's face it. You want to see tulips in bloom, and tons of them. The inside exhibits are interesting, but probably not as much as the outdoor gardens. See what you want outside first, then head towards the indoor buildings.
Stay as Long as You Can
Seriously. This isn't a two hour jaunt, especially if you love taking photos. Plan at least half a day.
For our AmaWaterways excursion, I was really happy that they gave you two options. You could stay for just a few hours, or you could skip another afternoon excursion that day and spend that time at Keukenhof, too. So there were two pickup times from the AmaWaterways' coaches. Both included in the free excursion. Stay for the entire length of time.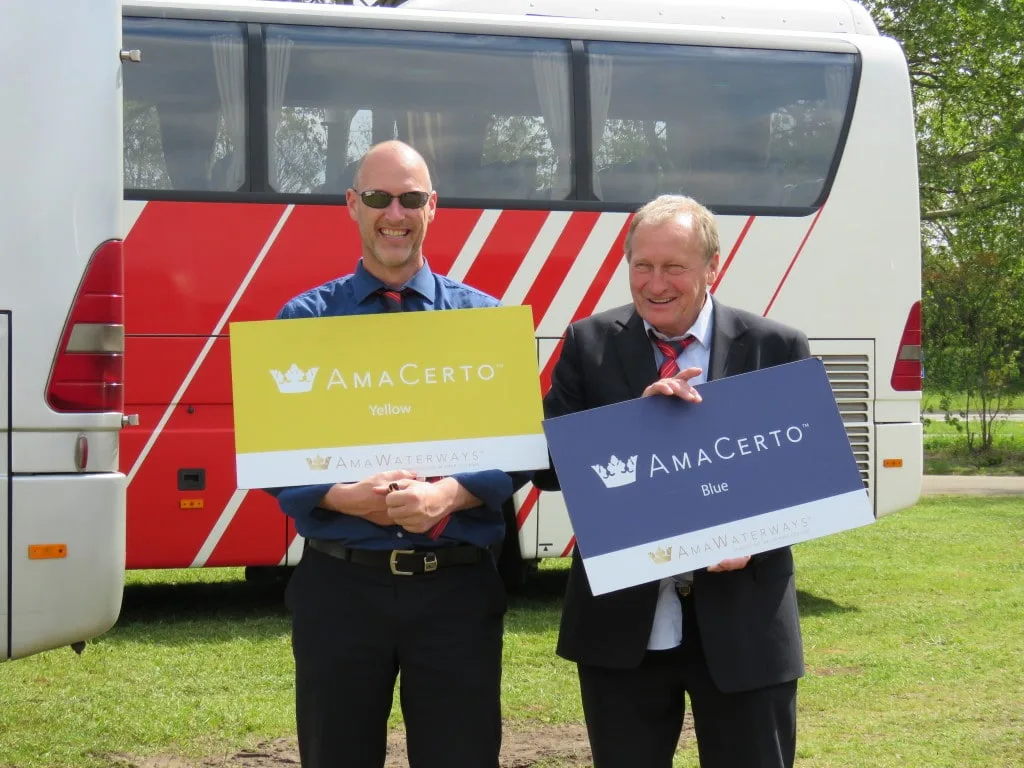 Skip a Tour
For our river cruise excursion, we were escorted inside Keukenhof Gardens and right past all of the beautiful gardens we had spent so much time admiring days before to go to a more sterile place to learn about the history of Keukenhof. I didn't care and you might not either. I would have been pissed if I only had a few hours at Keukenhof and hadn't already seen the gardens. Again, you're there for the flowers and the photography.
Get inside and go off on your own, after you're sure of the pickup time and location to get back to your ship.