We just spent an entire week in Glacier National Park this summer in Montana. Glacier is considered one of the most spectacular National Parks, and with that status, you can expect BIG crowds.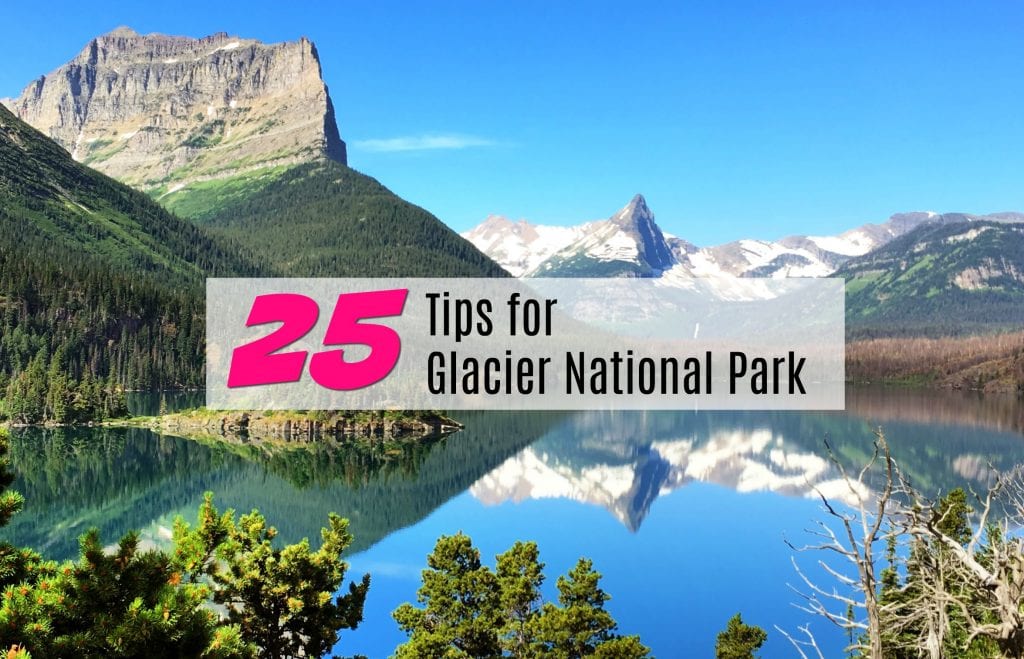 In fact, Glacier National Park is receiving RECORD crowds in 2021. The crowds only grow every single year, no matter what's happening in the world, which means you need smart travel tips for Glacier National Park.
There's so much to see and do in Glacier National Park it can be overwhelming. Especially if you are dealing with summer time crowds, as well. So here are our 25 Travel Tips for Glacier National Park – all of the tips and tricks we used to escape the crowds, avoid the heat, and enjoy Glacier National Park more.
25 Travel Tips for Glacier National Park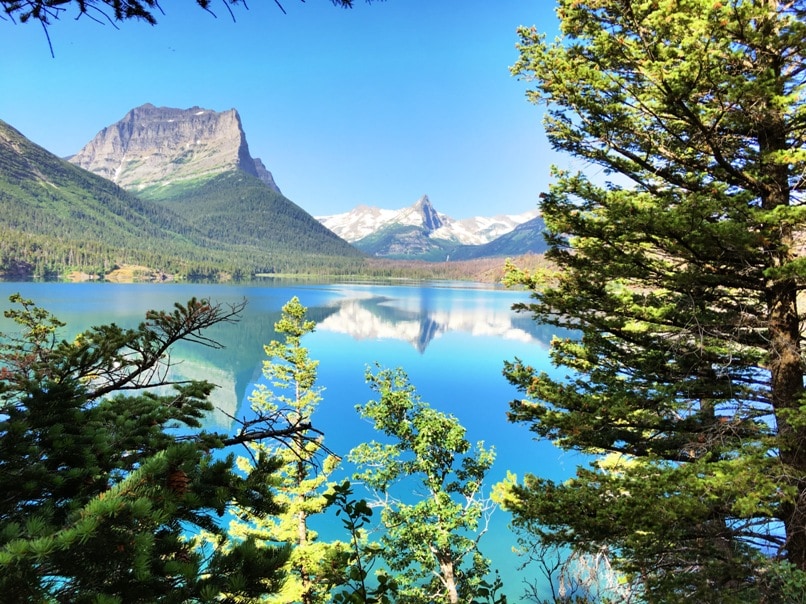 1. Do the most popular trails early in the morning (before 8:00 a.m.) or later in the day (starting about 6 p.m.) The most popular locations have parking areas that can't accommodate the crowds at peak times. Save frustration of waiting for a parking space or parking far away by getting there when there are fewer crowds.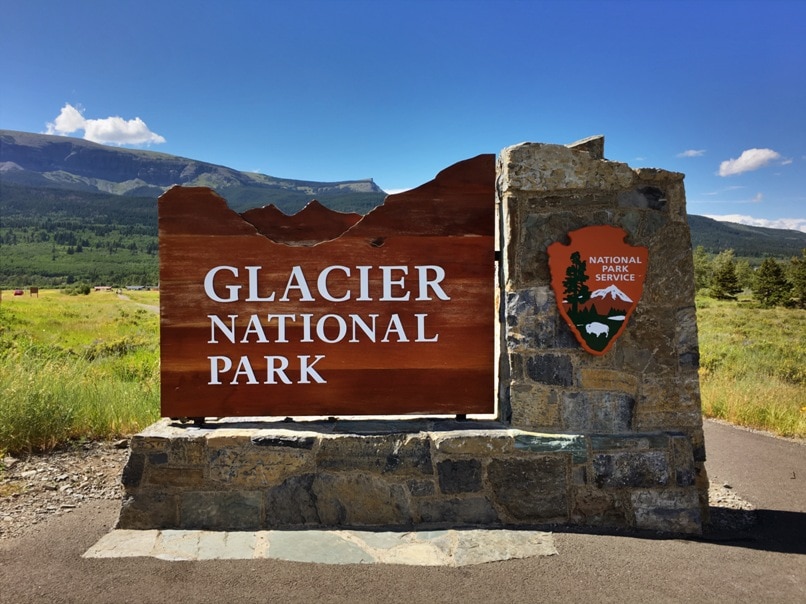 2. Early morning is a great time to get a jump start on hiking. However, everyone is starting to learn this trick, so when I say early, I mean EARLY! We headed to Avalanche Picnic Area at 8 a.m. to do the Trail of the Cedars Hike. By the time we waited in construction along the roads and arrived at 8:30-8:45 a.m., the main parking areas was full, cars were lining the road, and there was little parking left in a secondary parking lot. Heading out and ARRIVING at your location well before 8 a.m. is smart.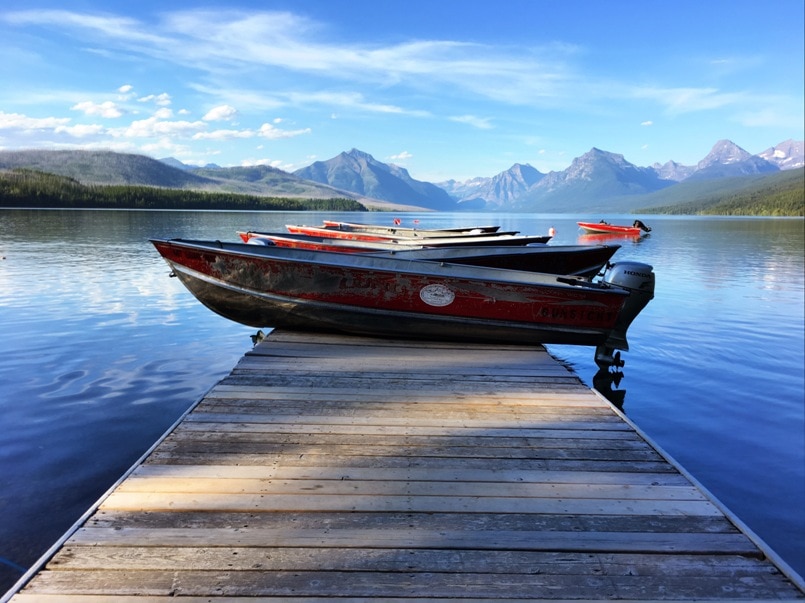 3. Night time seems to be the absolute best time for hiking, photography, and nature encounters (like this curious mountain goat). The light is just perfect for stunning images. The weather is a bit cooler, without the blazing heat of the day. And animals are coming out to feed before settling in for the night. With sunset times around 9:30 p.m. in the summer, you'll have lots of time for hiking and pulling out at photo overlooks.
4. Shuttle services are available along the Going to the Sun Road. Park in Visitors Centers (including St. Mary's and Apgar) to catch the shuttle. However, keep in mind that lots of people are doing this and the parking is very limited in these visitor centers after early morning. Also, waiting for the shuttle and being at the mercy of having to catch one at the right time that has room can be frustrating and eat time out of your day. If you have your own transportation, consider driving in early morning and late evening.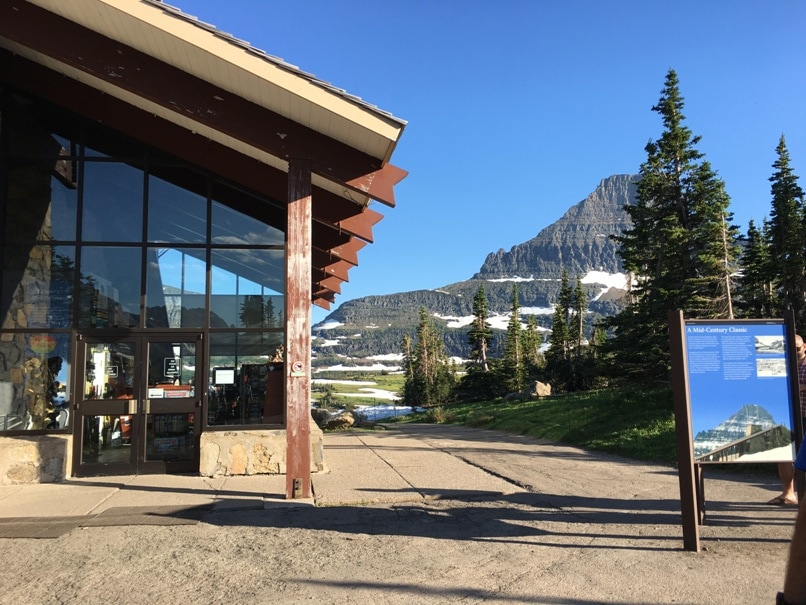 5. Apgar Visitor Center on the West Entrance was the least impressive visitor center we visited, yet the most crowded. Unless you must stop there, consider some of the other Visitor Centers that have more interpretive displays and bigger gift stores and facilities. In fact, St. Mary's Visitor Center has an entertaining film about Glacier National Park on the hour and half hour in their auditorium.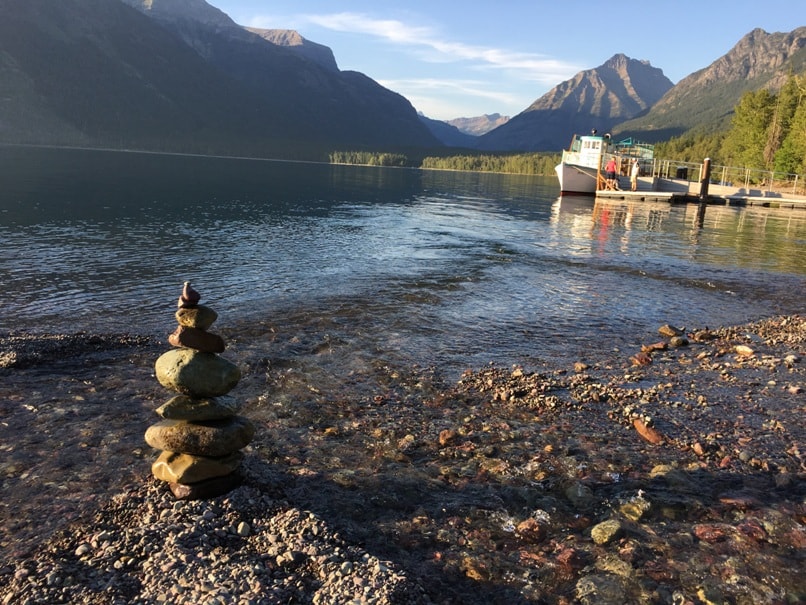 6. The West Entrance of Glacier National Park has more of a woodsy feel, similar to what you'd envision Oregon or the forests of California to look like. With so many trees, the temperatures seem to be cooler on that side of the park, compared to the East Entrance.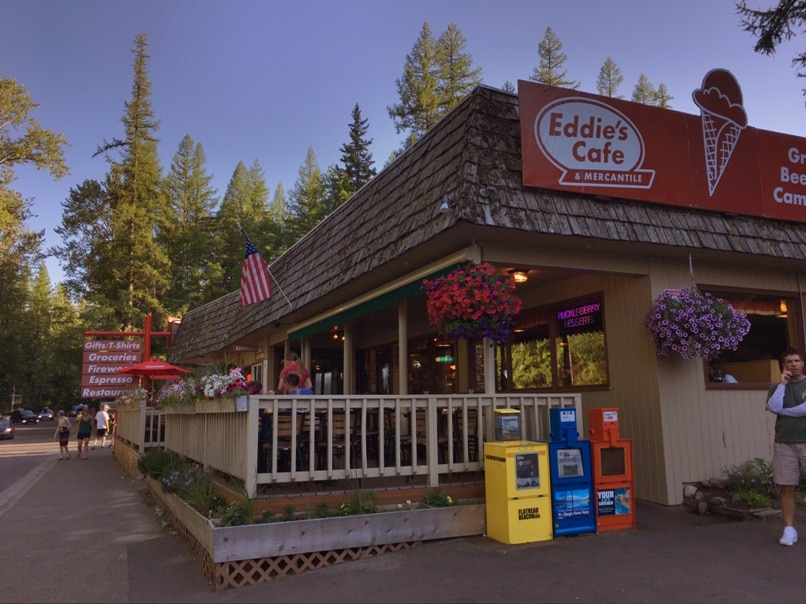 7. Apgar Village on the West side of the park is like a small town, with plenty of large shops (including one specializing in Montana artists), as well as an outfitters rental company, restaurant, ice cream shop, and bear spray rentals. There are two hotels in the village, along with boat rentals. With so much to do in the tiny village on Lake MacDonald, expect big crowds and very little parking. This is a smart place to visit very first thing in the morning or late after dinner.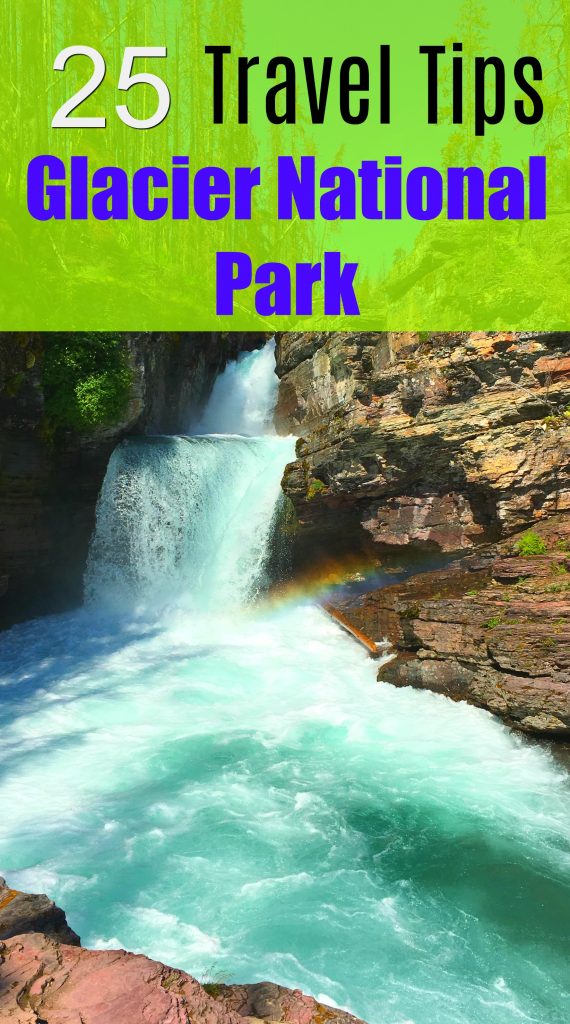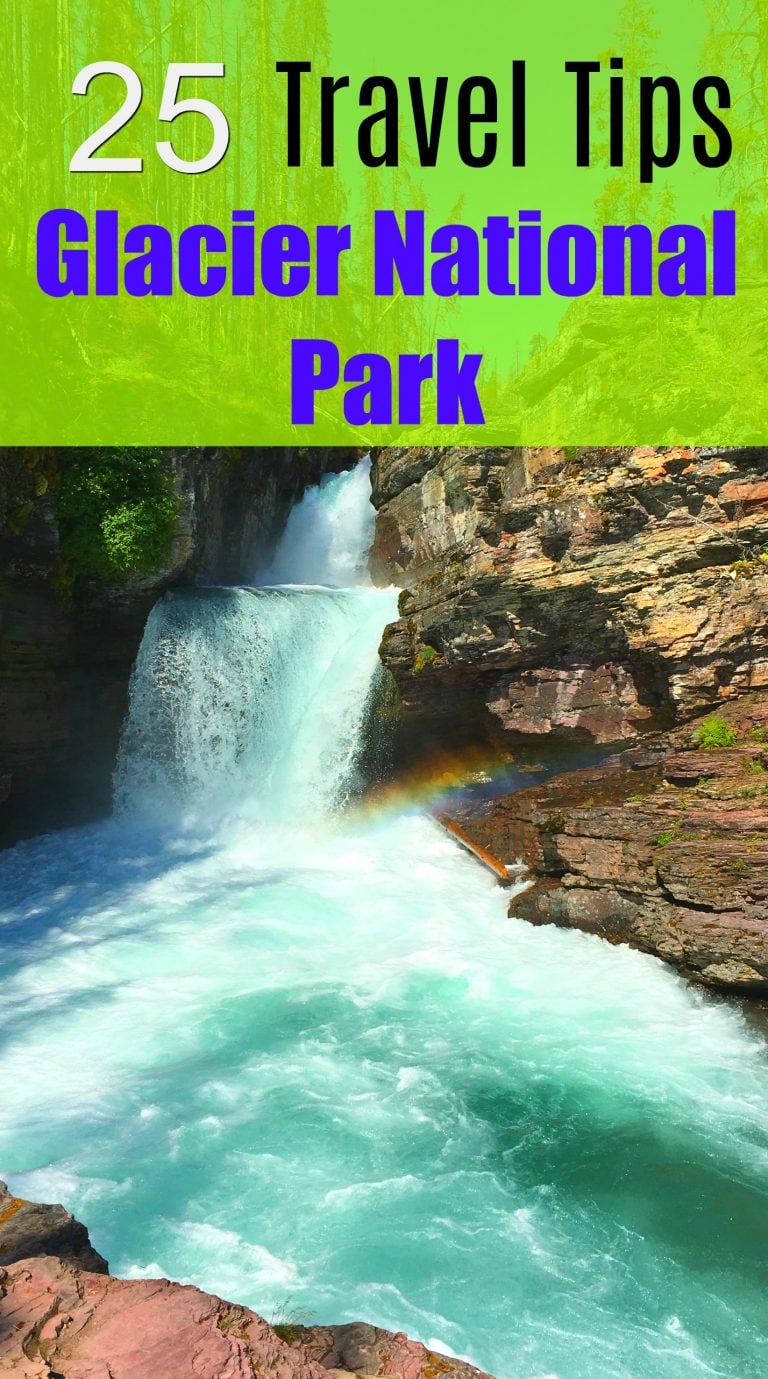 8. There are more traditional creature comforts on the West side, making it a popular location for families and those that aren't into roughing it too much. The trails, photo pull outs and activities seem to be more family-oriented, compared to the rougher, more rugged East side.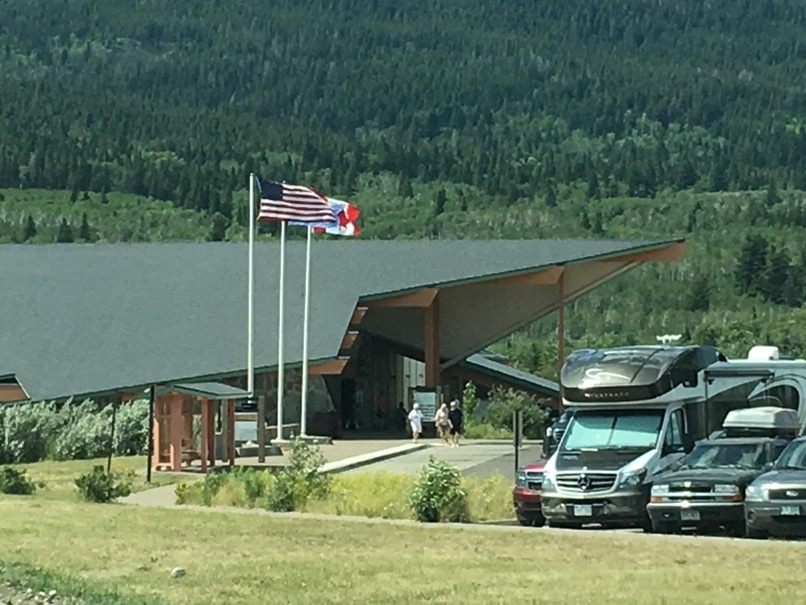 9. The East Entrance at St. Mary's is a gateway to terrain that seems to be a bit more rugged, more rocky snow-covered mountain peaks, and more challenging hikes.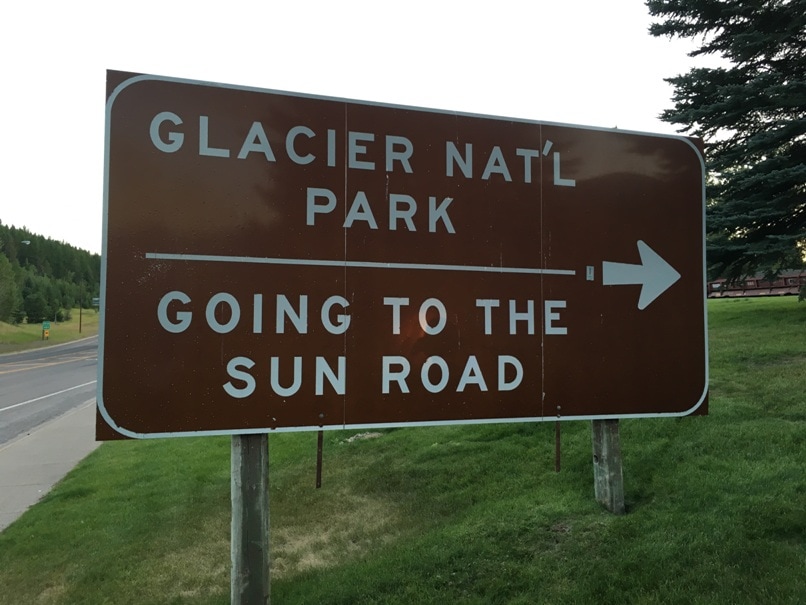 10. Going to the Sun Road is best discovered in two half-days of driving. Unless you're only doing photo ops along the side of the road, you'll need to leave in some time to hike to see views that aren't visible from the road. Logan's Pass is a good mid-way point to travel to.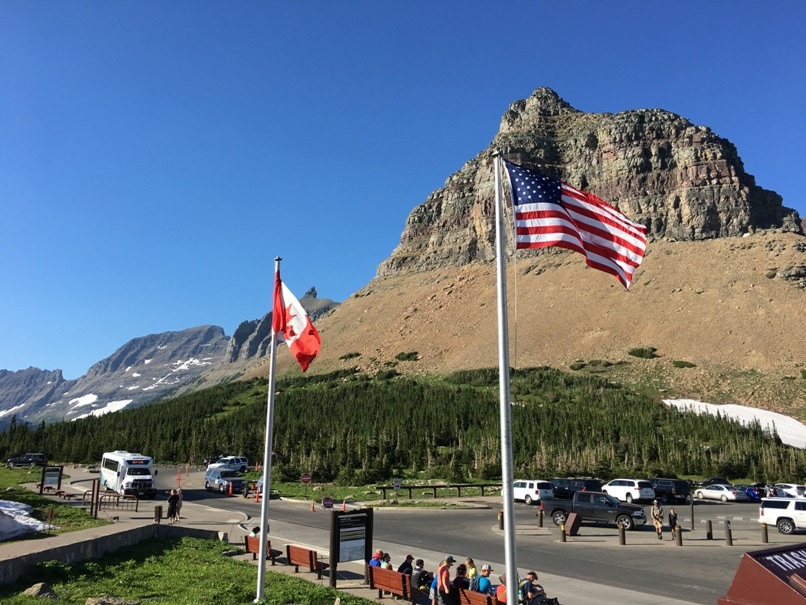 11. Logan's Pass is a highly popular visitor center and parking destination. Just like all popular destinations, get there early or after the visitor center closes (during summer, it closes at 7 p.m. – the latest of all visitor centers in Glacier National Park).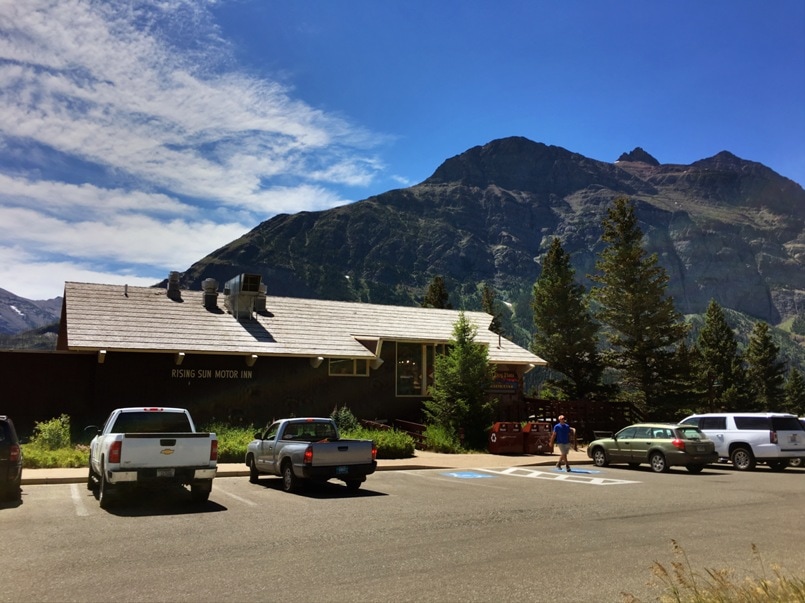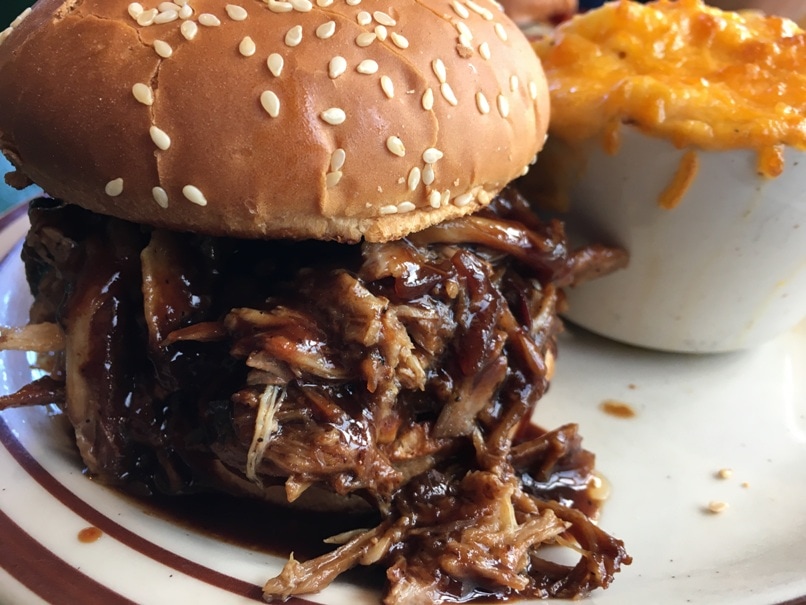 12. Rising Sun is one of the least-crowded areas, yet offers lots of options for shopping and dining. The restaurant has seriously delicious food (try the Huckleberry BBQ sandwich but skip the bread – it's a HUGE portion!). It's one of the only areas in the park where we found Huckleberry Hard Cider….. just sayin'!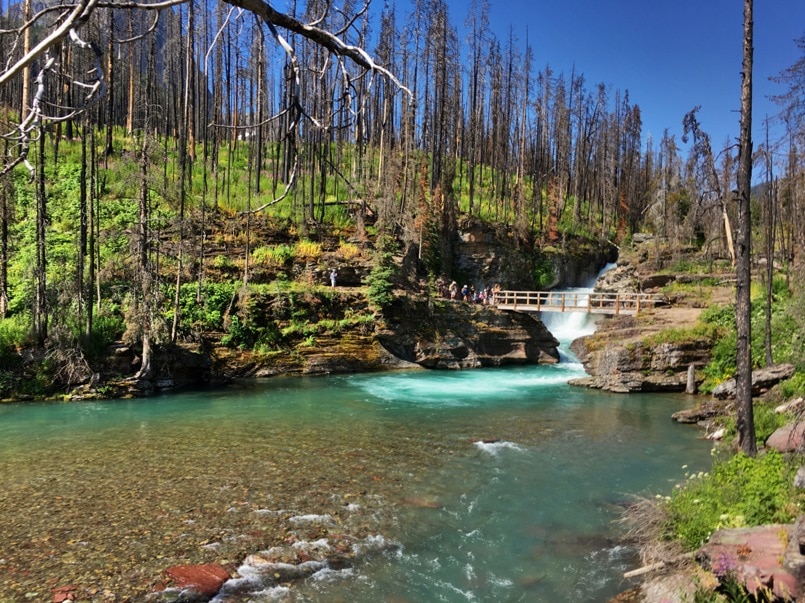 13. St. Mary's waterfall is a stunning hike that's not too hard. You'll be rewarded with turquoise waters rushing over the rocks into a pool. It's one of the most rewarding, least strenuous hikes available.
14. Rocky Point Trail at Fish Creek Campground is a hidden gem of a trail, bordering Lake McDonald with stunning views of the lake and mountains. You don't have to be staying in the campground to hike it. It's a relatively flat and easy trail. When you see well worn trails lead off to the lake off of the Rocky Point Trail, take those down to the water for a chance to sit by the lake and dip your toes in the water.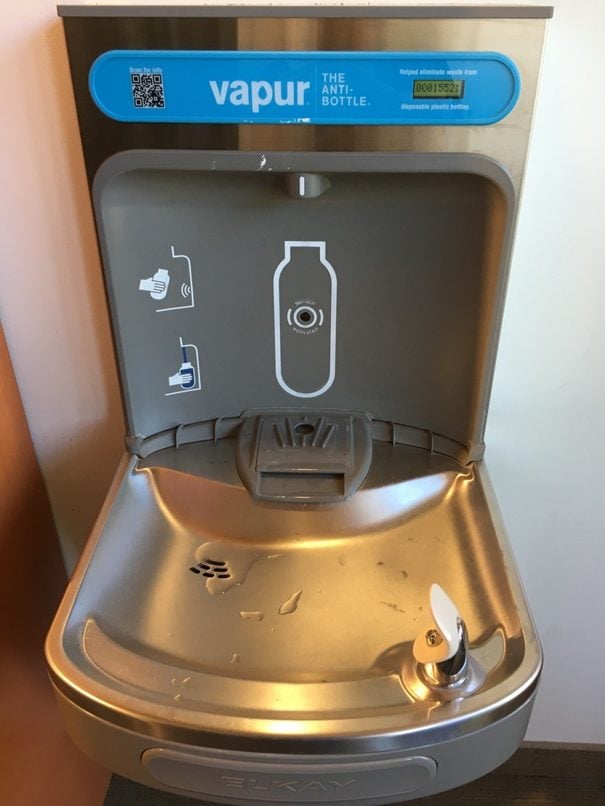 15. There are water bottle filling stations at most visitor centers, lodges and some gift shops. No need to buy bottled water. Be sure to bring along a great reusable water bottle to save money.
16. Don't bring in firewood from outside. The National Park Service is trying to prevent invasive species that come from outside of the park. The motto is, "buy it here, burn it here."
17. It can get HOT in Glacier National Park – ironically. Be prepared with plenty of water and sunscreen, and time your activities for early morning or after 6 p.m. on the hot days.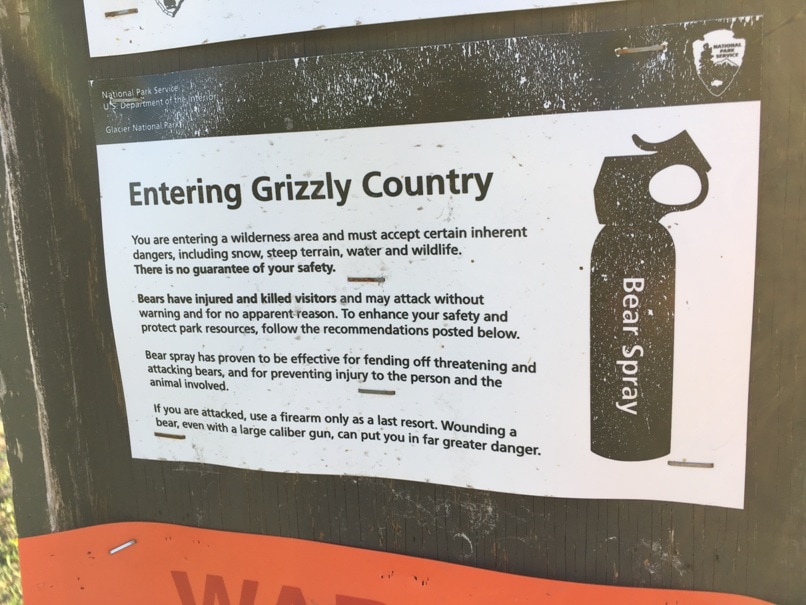 18. Bear Spray is smart. I didn't want to spend the $42 price for a can of spray that I might never use. Thank God, we let someone use our can of bug spray before heading out on a trail. When they saw us at the end, they asked if we wanted their can of bear spray because they were flying out the next day and couldn't bring it with them. We gladly said Yes! What a blessing!
Days later, we were on a trail at Lake McDonald when the people in front of us saw a bear climbing a tree. We spooked it and it ran, but it's the first time we've ever encountered a bear on the trail. The lady in front of us had her can unpinned and ready and asked everyone behind us to do the same. Thank God we had a can (but didn't have to use it). Consider renting bear spray or buying on Amazon beforehand if you don't want to spend the $42 at the park. (Check with your travel provider, though, to see if you can pack or travel with bear spray.)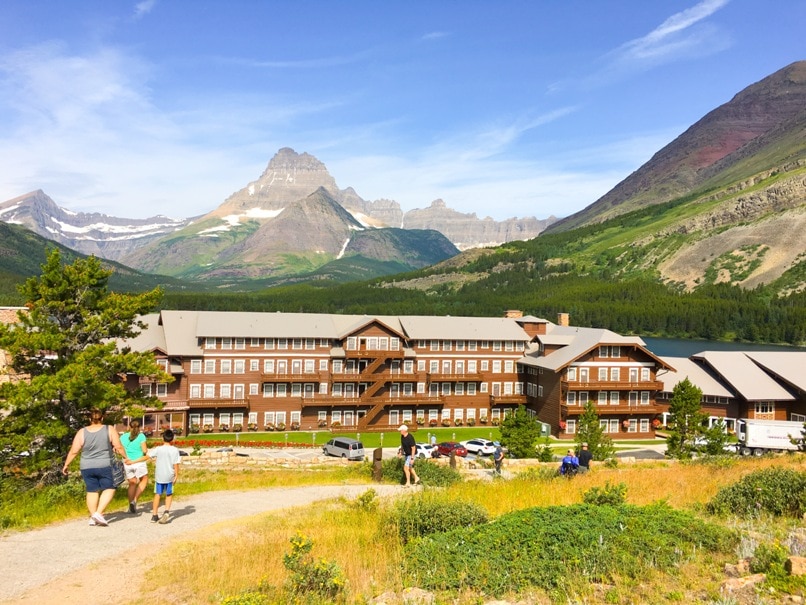 19. The Many Glacier area is absolutely beautiful – with the historic lodge and traditional rugged mountain peaks that have glaciers. It looks a lot like Switzerland in that area. Keep in mind, though, that Many Glacier is not a region accessible from within the main part of Glacier National Park (along the Going to the Sun Road) unless you hike in.
If driving, you must exit the park at St. Mary's and then drive (maybe 20-30 minutes) to enter the Many Glacier part of Glacier National Park. We were absolutely horrified at how rough the roads were leading to the park entrance. The ruts and dips were horrendous.
Also, there's not as much to do on this side of the park. So if you're planning on staying in the Many Glacier area for several days, be prepared to have to drive to see a lot of the more popular Glacier National Park attractions.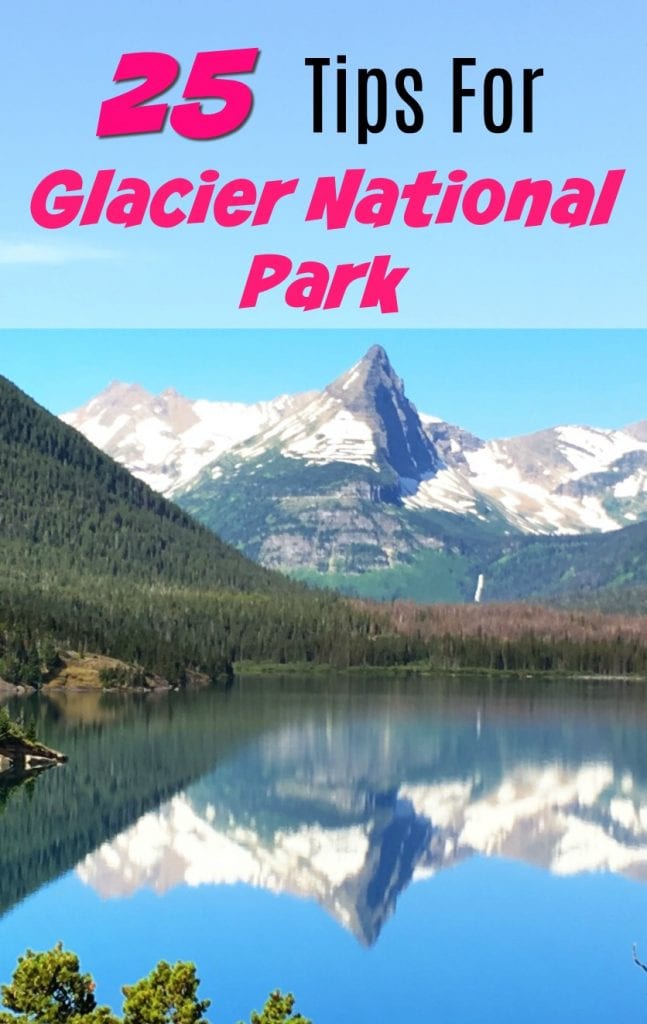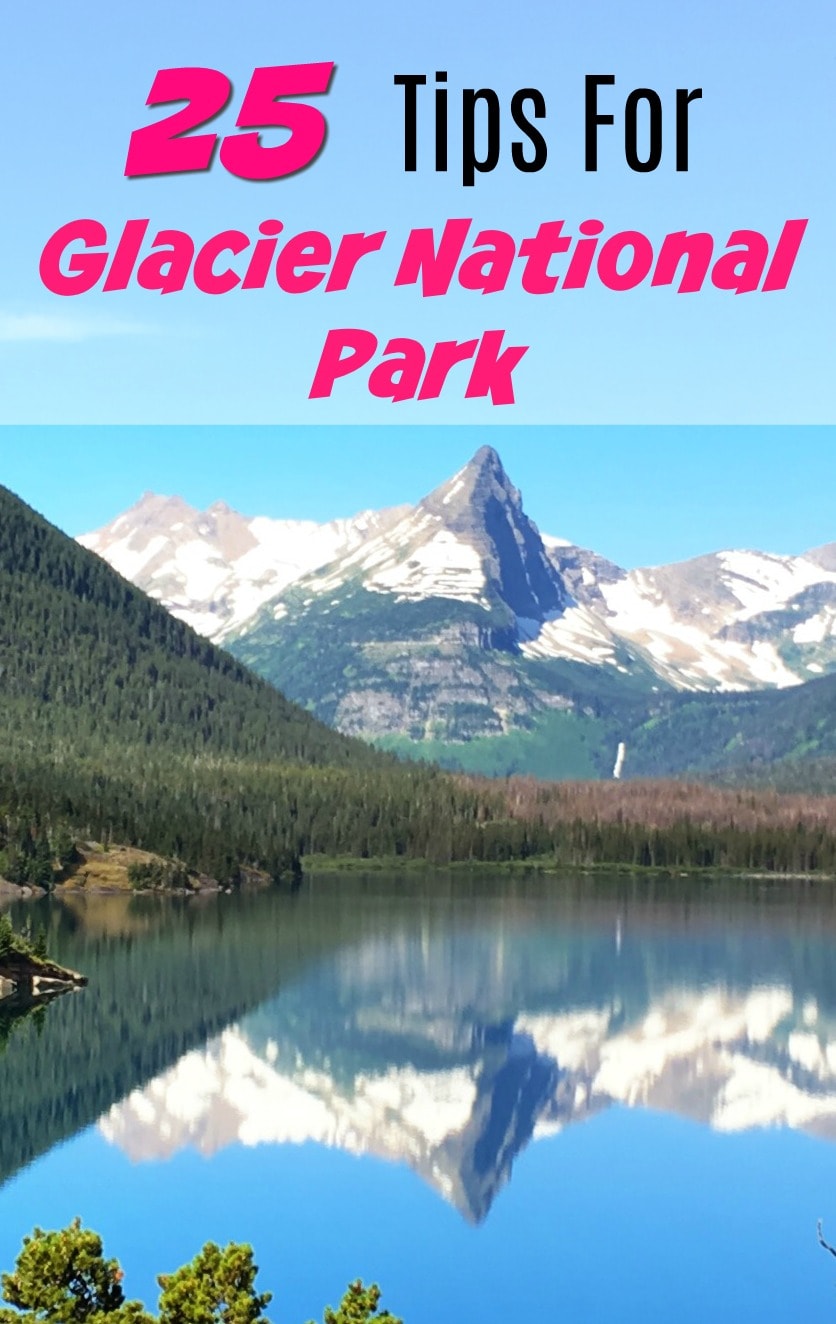 20. Amtrak stops right near the West Entrance of Glacier National Park. Could be a cool, old-fashioned way of traveling to the national park!
21. There are gas stations, grocery stores and restaurants outside of both the East and West entrances. Expect to pay higher prices.
22. Going to the Sun Road is awesome! Truly awesome. However, it is extremely packed during the day. Again (and we can't say this enough!) go really early or late in the evening.
23. Stay inside Glacier National Park if you can. In this case, time is money. If you only have a day or two to see the park, you're going to need a very early start. Driving in from outside of the park, then waiting to go through the ticket entrance, then getting far enough inside to see some of the trails and attractions, all takes precious time. You'll see more and (maybe) enjoy it more if you stay inside the park. (RVing or Tent Camping? Check out our site tours of St. Mary's Campground and Fish Creek Campground. And see what it's really like boon docking in Glacier National Park.)
If not staying inside Glacier National Park, consider staying close with an Airbnb. Use our Airbnb code for $40 off your first stay + $15 off your first Experience.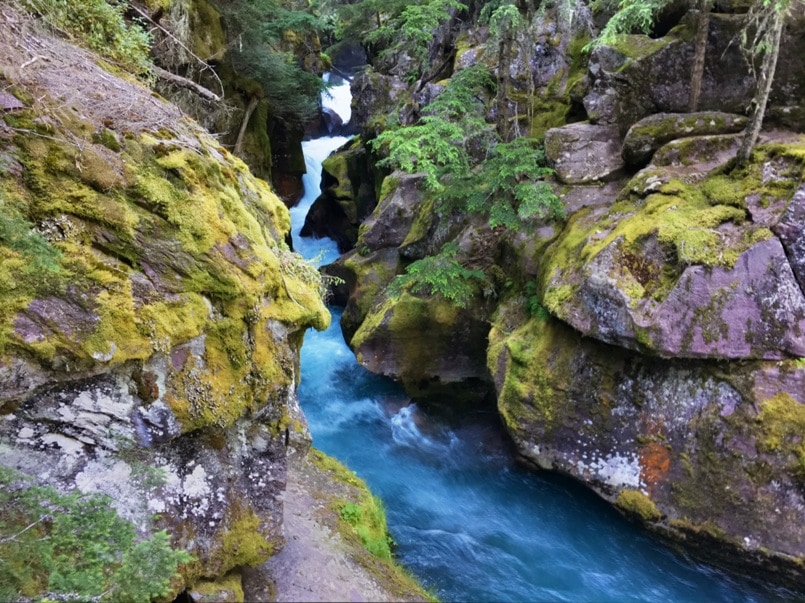 24. Trail of Cedars is a highly popular trail, because it's less than a mile long and entirely wheelchair accessible. It's an easy walk and a cool respite during the day. However, if you're able, consider going up the Avalanche Lake trail just ¼ mile. You don't need to do the entire 3 mile hike. The first ¼ mile offers a rocky hike along the rushing river with cascading waters and gorgeous photos.
25. Hidden Lake Overlook is a fabulous trail up a mountain to gorgeous views. However, it is covered in deep snow, even in mid-July. Bring appropriate shoes and hiking poles. Lots of hikers set off in sandals and shorts, and plenty of them do make it. Yet the melting snow offers slushy terrain that's not stable and you'll likely lose your footing A LOT!
Have you found these tips helpful? Check out our other National Park travel guides: