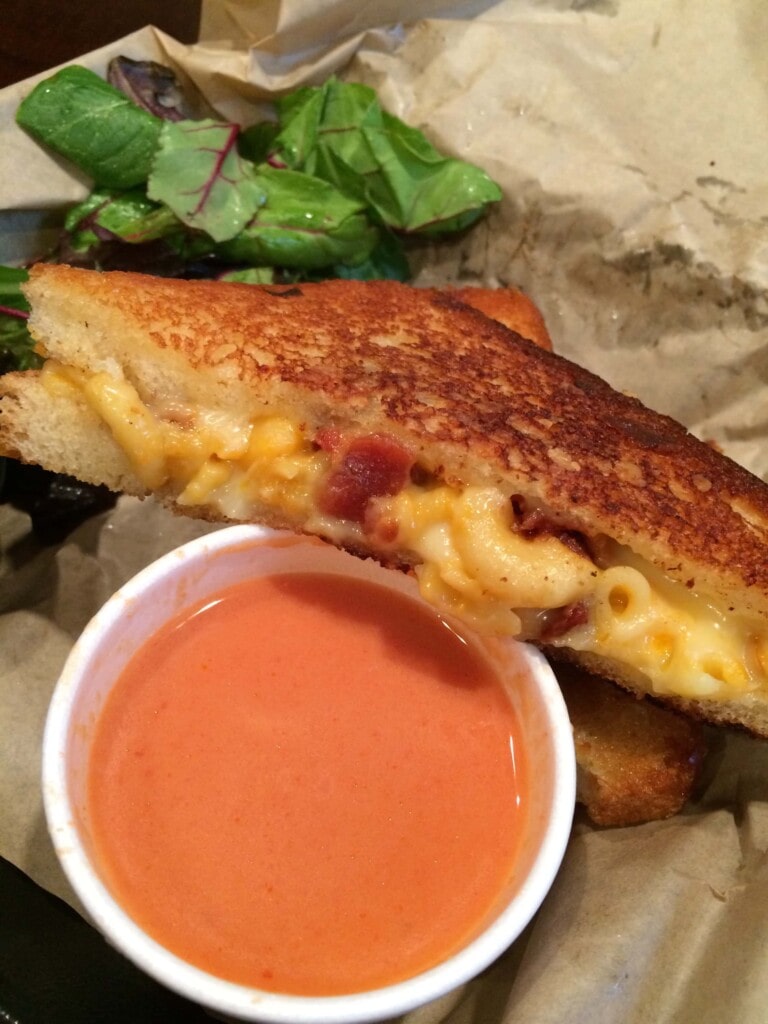 Gourmet grilled cheese sandwiches partnered with creamy tomato soup are the focus at a new neighborhood eatery in Windermere, Florida. Located in the Summerport Village community in the mixed used buildings of the Retreat, 33 & Melt is very much a neighborhood restaurant. It's also one of the best places to get grilled cheese in the Orlando area.
With a menu that focuses on gourmet grilled cheese combinations, as well as an extensive beer selection, 33 & Melt has already become a hot spot for the Summerport community since opening in late June 2015. With easy access via walking, biking or driving, it's a nice place to "go out" to eat, without having to go too far.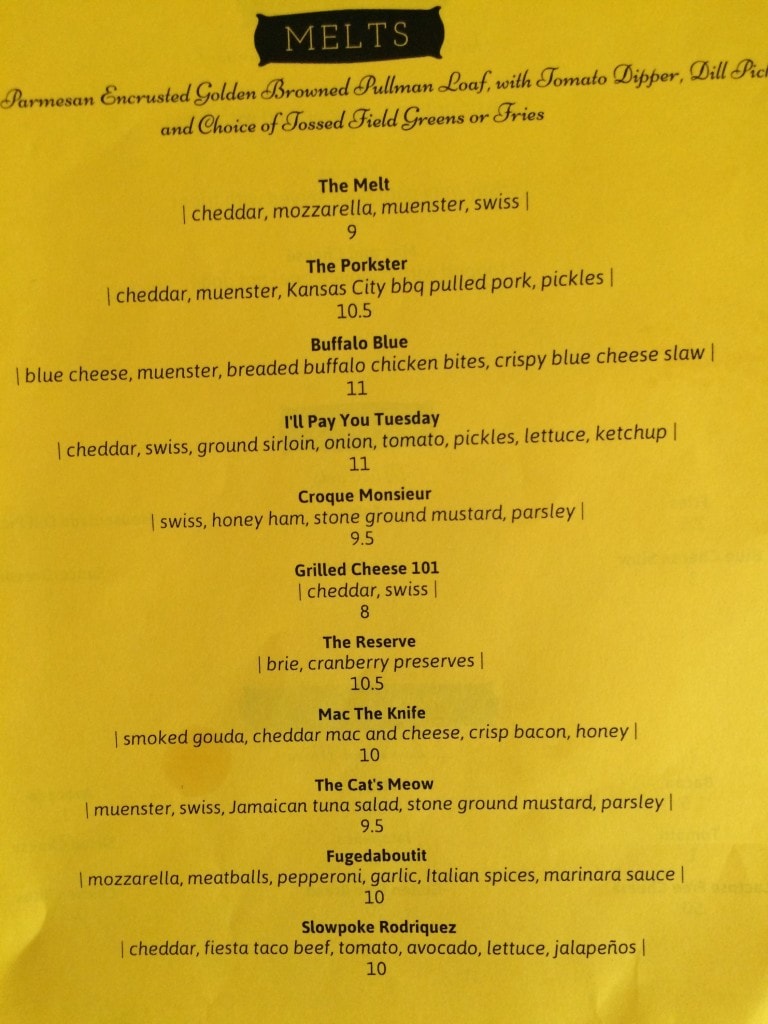 We've visited 33 and Melt a couple of times, using the take-out service to try an assortment of their grilled cheese sandwich combinations.
By far, our favorite (both Kim and Carrie's) was Mac the Knife, shown above. With a combination of smoked gouda, cheddar mac and cheese, crisp bacon, and honey in between grilled bread, it's an indulgent flavor that we still crave long after we tried it for the first time.
The Porkster is another favorite, with cheddar, muenster, Kansas City BBQ pulled pork, and pickles.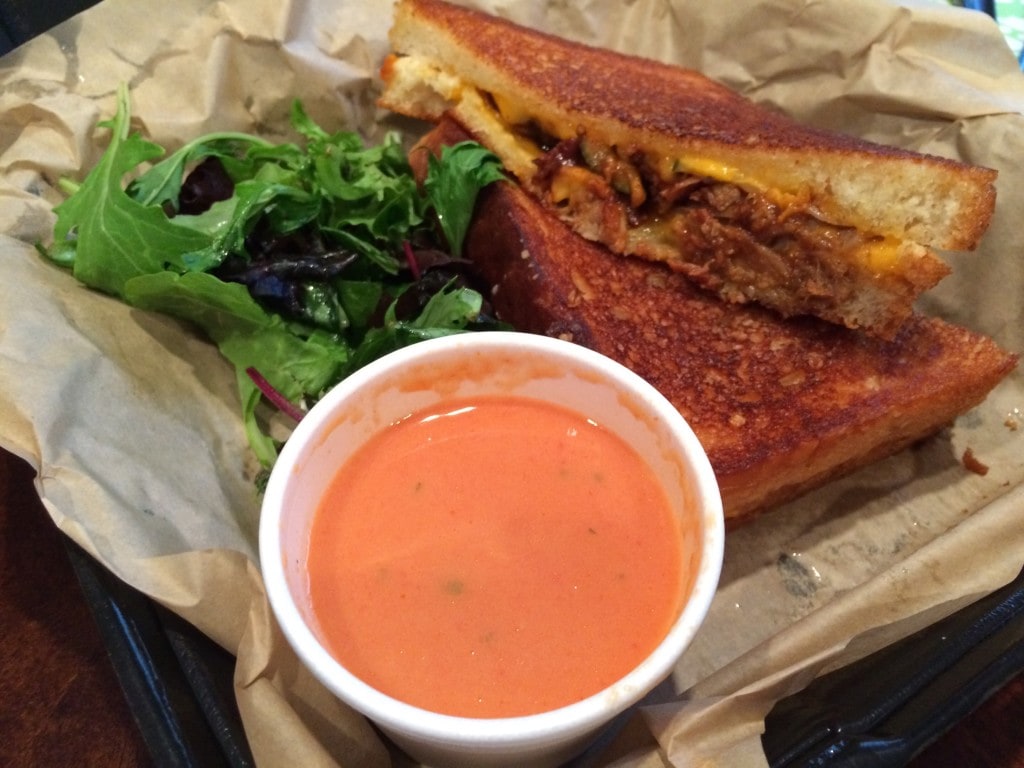 Carrie had The Melt, with just cheese – cheddar, mozzarella, muenster, and swiss – but after tasting everyone else's exotic combinations, she wished she had indulged in a unique grilled cheese sandwich combination.
The Croque Monsieur was great, with a thin slice of swiss melted on the outside of the sandwich stuffed with honey ham, parsley and a thick stone ground mustard.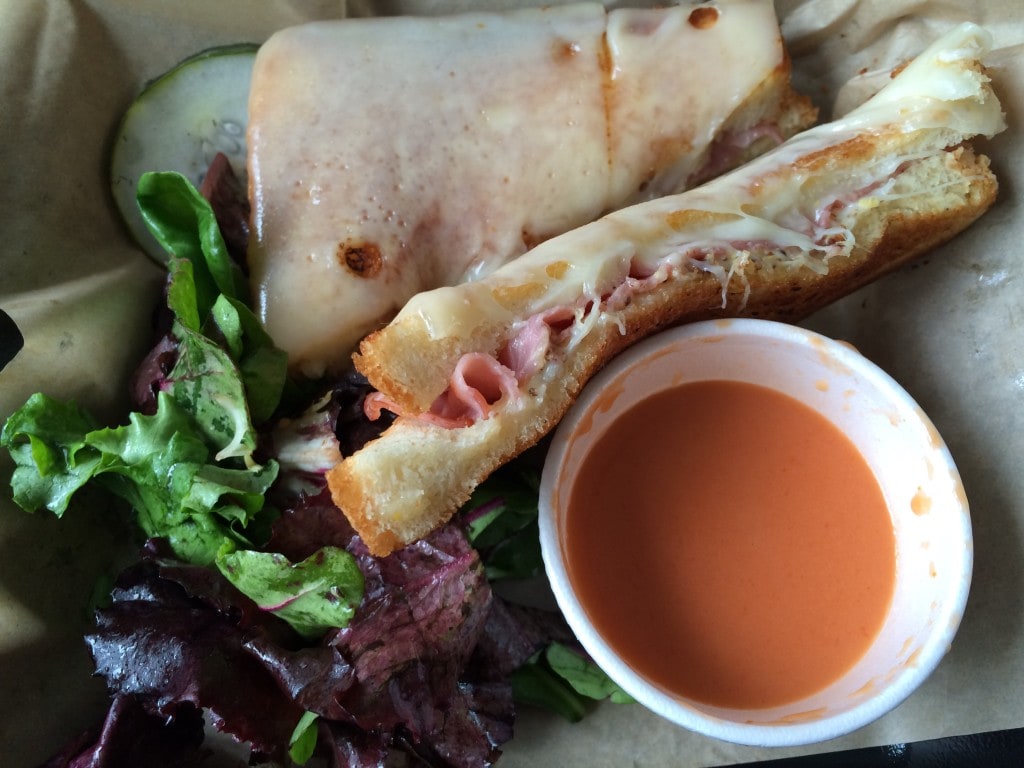 The Reserve, with brie and cranberry preserves (mixed with raspberry) is for more sophisticated palates with the brie cheese, which people either love or hate.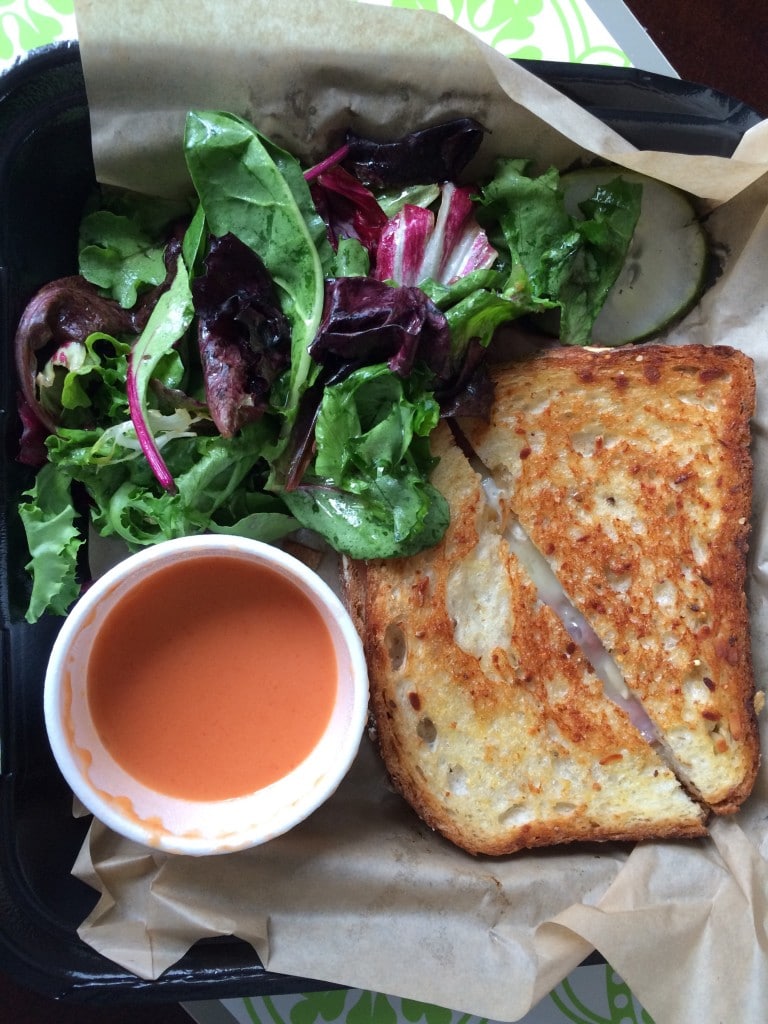 The Buffalo Blue is the perfect taste combo of all of these flavors that can sometimes be too harsh. The buffalo sauce isn't TOO spicy, the blue cheese isn't TOO sharp and the coleslaw isn't TOO heavy with a cabbage taste. All in all, it's a flavor combo that lets every taste shine through without being overpowered.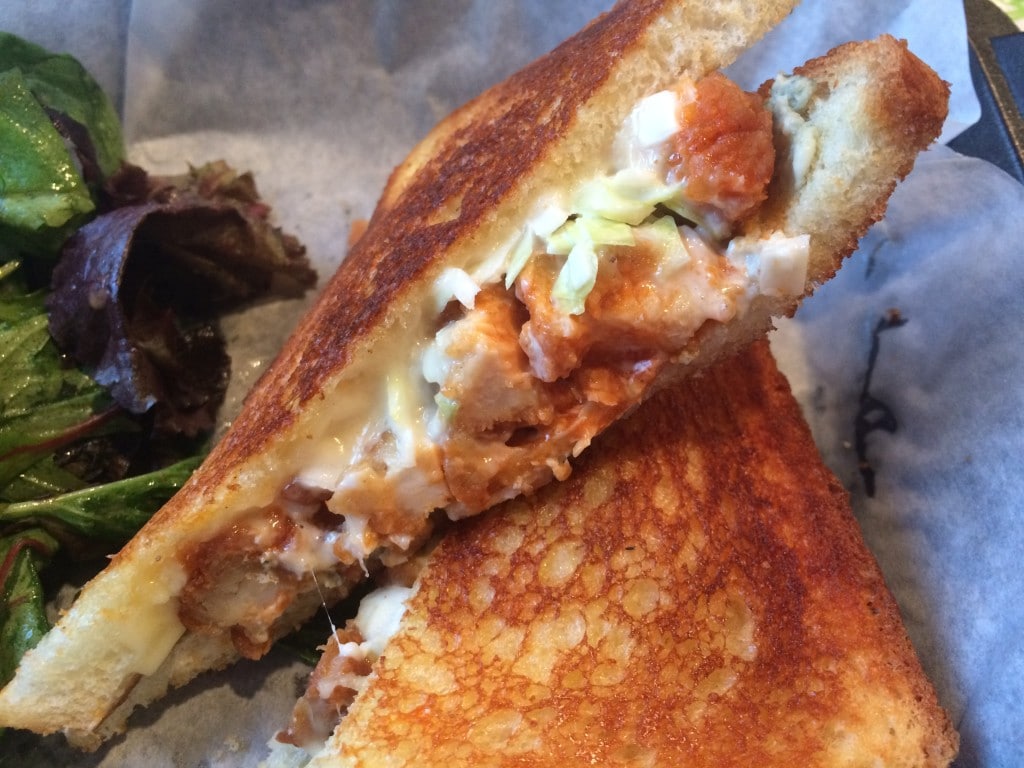 Each of the Melts is served on Parmesan Encrusted Browned Pullman Loaf, with a small portion of tomato soup that is smooth and creamy and comfort food, just the kind that you crave on a cold, rainy day.  A choice of tossed field greens with a light dressing or French fries also comes with each Melt.
There are a few other items on the menu, such as appetizers. It's a fun selection perfect for eating with a beer at the bar, including Screamin' Stuffed Poppers, jalapenos stuffed with cream cheese and wrapped with bacon; Parmesan Truffle Fries; and Devils on Horseback, dates stuffed with goat cheese, honey and wrapped in bacon.
One salad is also available, as is a kids menu. Sandwiches can have additions for an extra fee, such as ham, jalapenos, avocado, tomato and bacon.
Gluten Free Bread and Lactose Free Cheese are available for allergy friendly foods.
The restaurant is small, with only seven tables, two picnic tables outside and a bar. However, it's always full of people whenever I've visited, and everyone seems to be enjoying the beer (note, we haven't tried the beer selection, but others rave at the choices).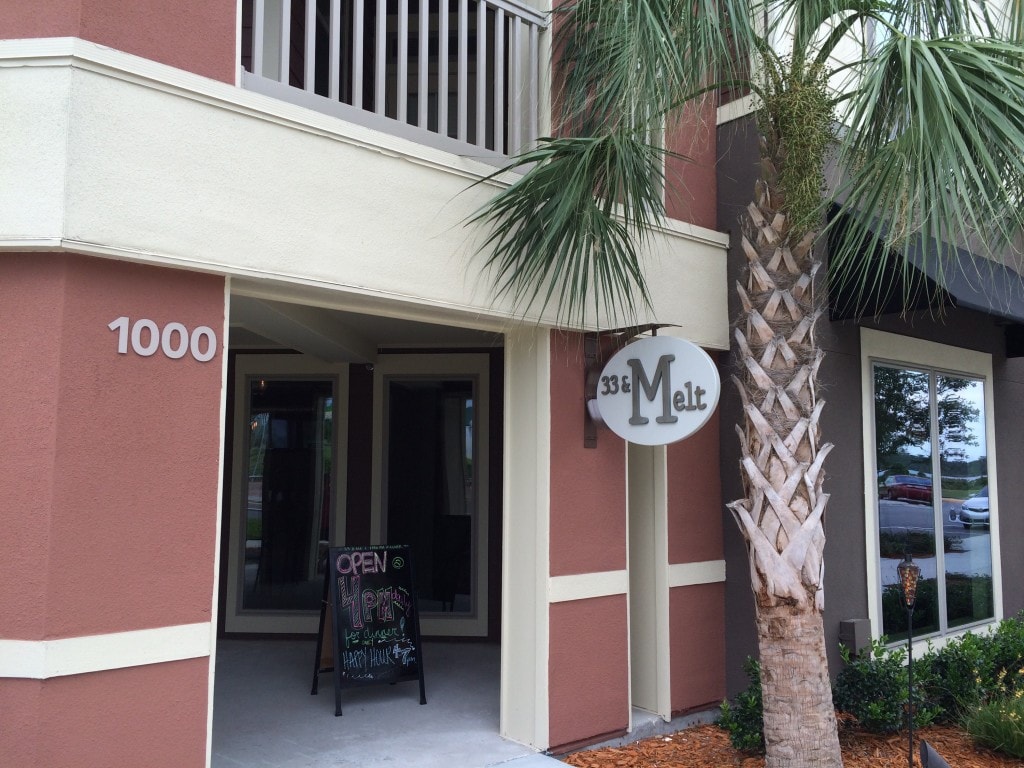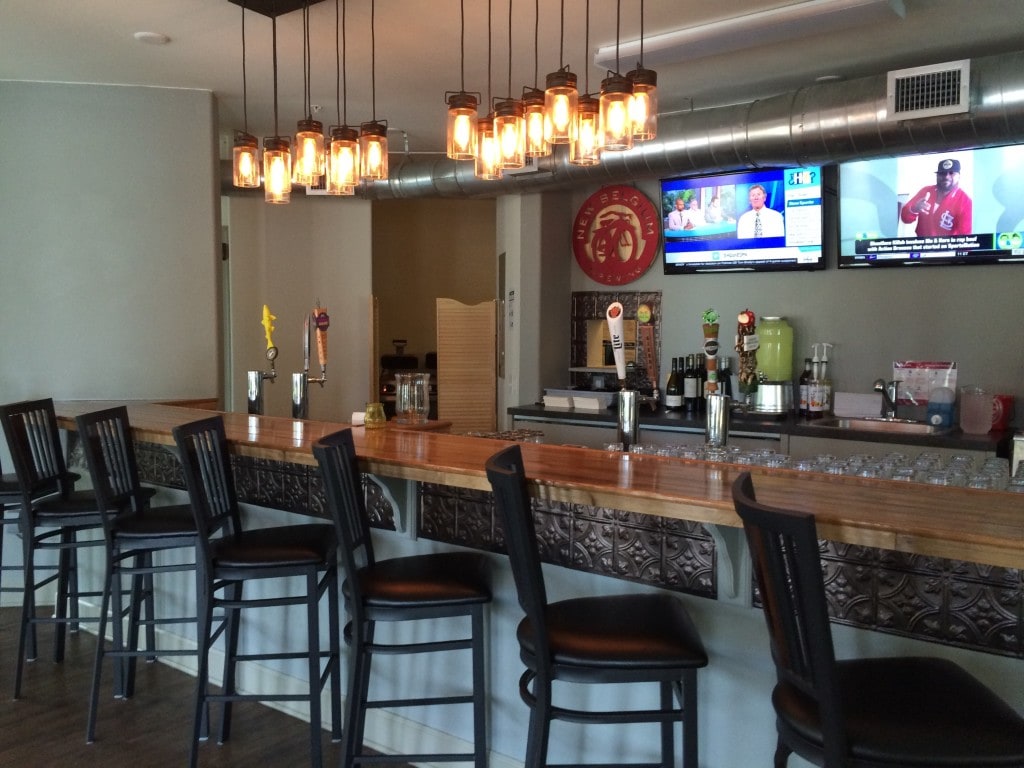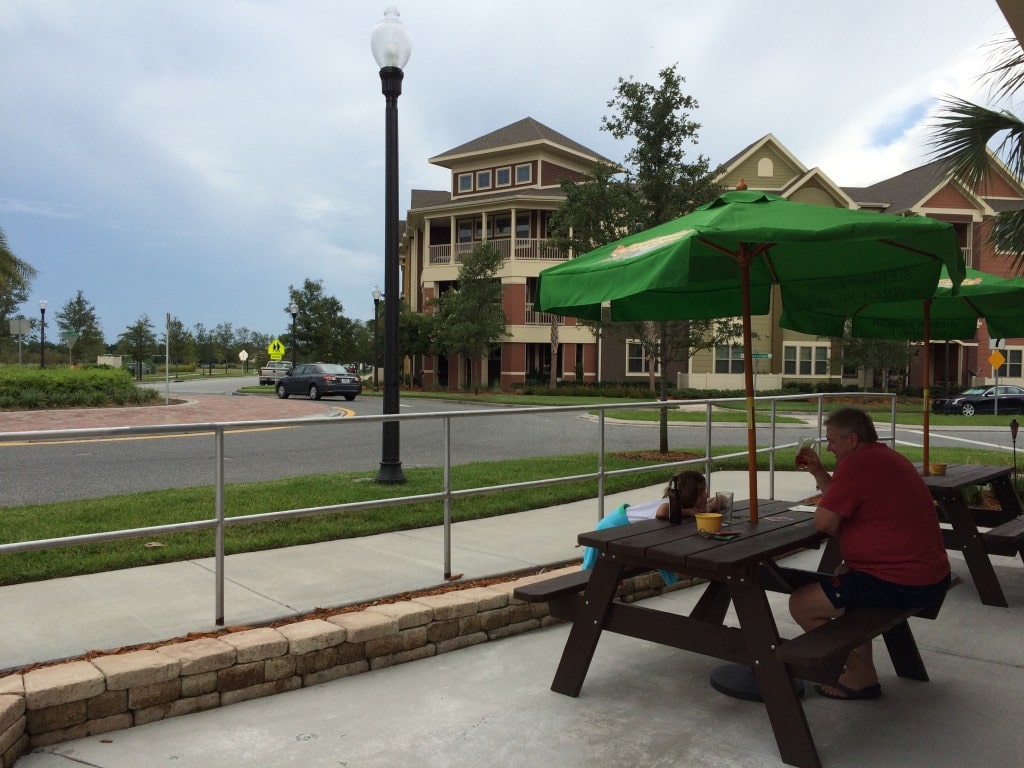 With no website other than a Facebook page and no phone number, it can be a little difficult to find out more about 33 & Melt.  It's just dinner for now, starting at 4 p.m. Monday to Saturday; with happy hour specials 4-7 p.m. The restaurant's address is 13790 Bridgewater Crossings Blvd., Suite 1000, Windermere, FL 34786.
We hope this small restaurant makes it and becomes successful in its unusual location in the middle of a neighborhood. There's not enough independent restaurants in the Windermere area, and a Grilled Cheese Bar is just the kind of unique place to eat that we've been craving.