Savvy shoppers know that July and August don't just signal the end of summer and back to school time. The mid-way point of the year also means a complete change in inventory for retailers. Which works in YOUR favor! While Back to School savings might be targeted towards the needs of children and teens, EVERYONE can enjoy back to school savings, no matter what you are shopping for.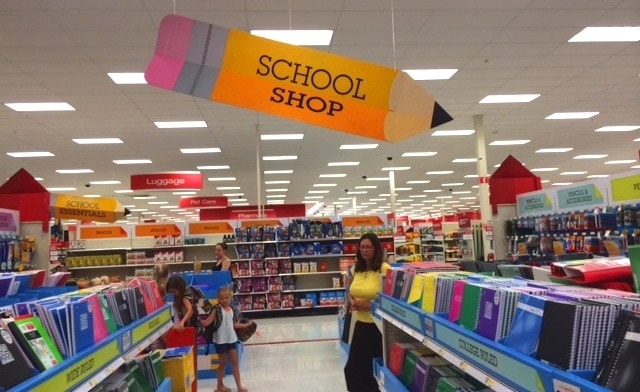 Now is the best time to get great deals on items you use every day, or will use soon. Though it doesn't feel like it, July and August are the perfect time to start stocking up for Christmas presents and Christmas decor. Here are some great tips for how to save money for Christmas in July.
July is also the time for Amazon Prime Day. Here's how to get the best deals.
You will be surprised at just what is actually on sale at back to school time, too. I've recently seen housewares, home decor, bedding and more go on deep clearance at Target. When I asked the salesperson why everything was discounted so deeply, she said it's just that time of year to bring in new items.
So back to school time isn't just all about buying school supplies, dorm room decor or backpacks.
It's about savings throughout the stores!
Stretch your budget further by stocking up on the following items during end of summer sales for savings that you will enjoy the whole year through.
Ingenious Back to School Savings Tips
Check out these departments for the back to school savings deals. But be sure to wander the aisles of whatever store you are in. Take a few minutes to really look for hidden mark downs. You might be surprised at what you find!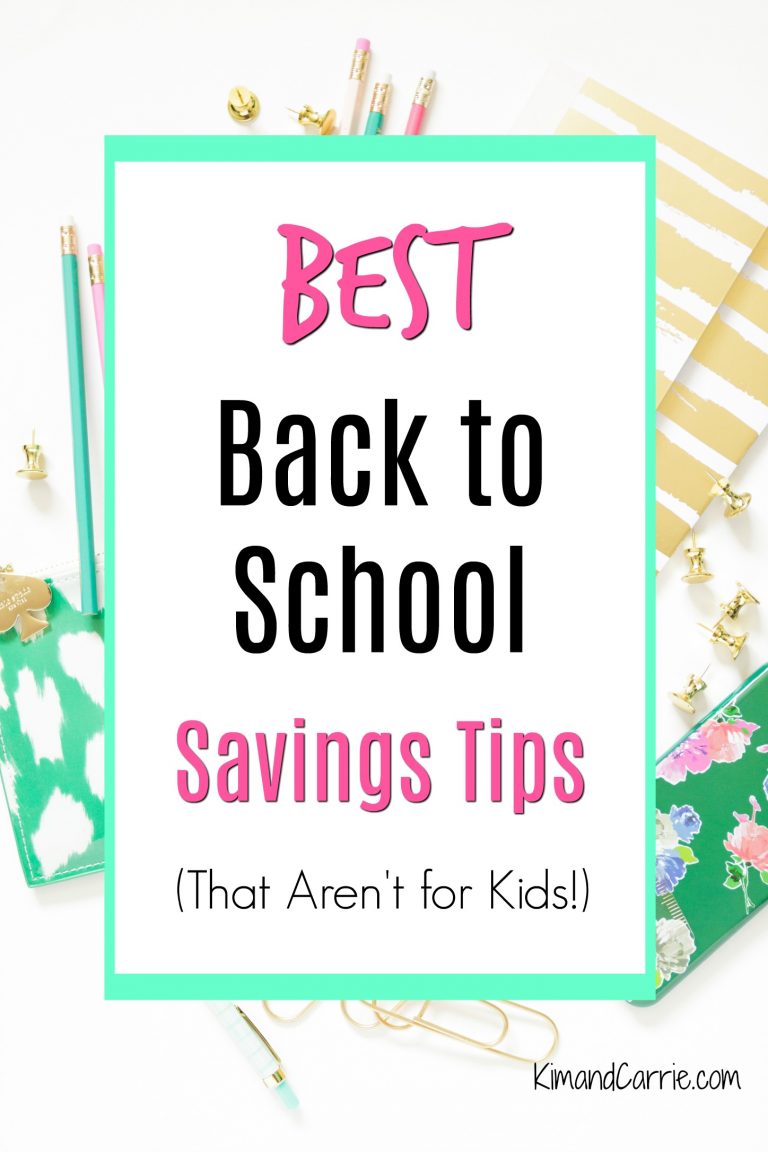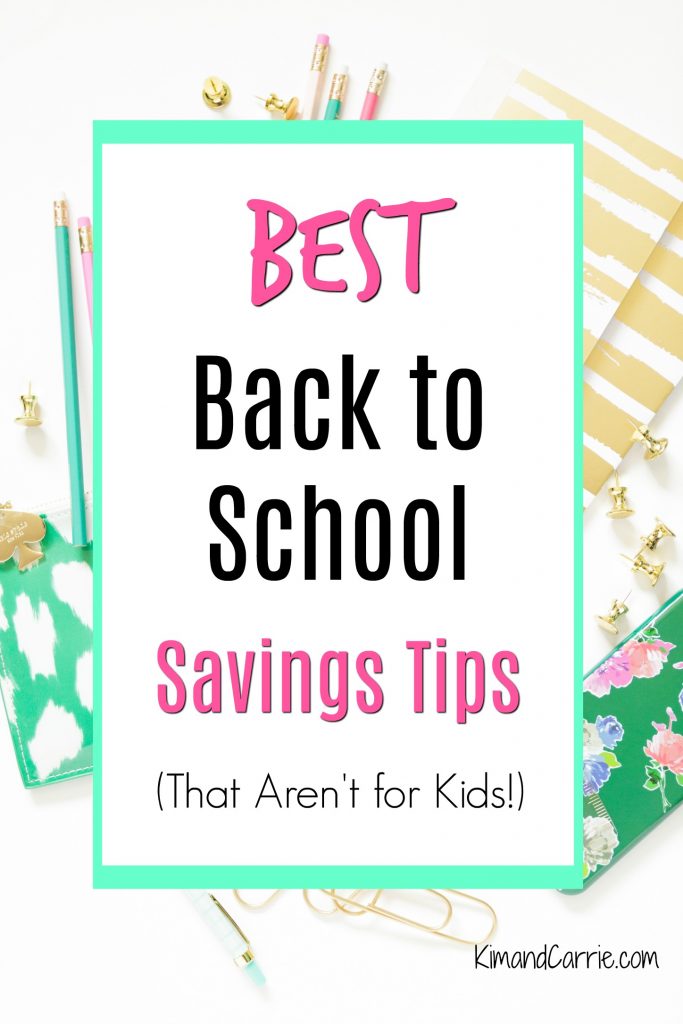 Clothing and Shoes
The start of the school year always means the end of retailers selling summer apparel. Even if the temperature outside shows no signs of dropping, retailers are desperate to unload any piece of clothing that looks like it could be worn during warmer months.
It's the perfect time to buy warm weather clothes for the upcoming school year that can still be used for several months. (In Florida, summer styles can be worn all the way until December!)
Also think about upcoming vacations. Are you planning a cruise (such as a Disney Cruise) in the winter or early Spring? You'll need cute warm-weather clothing then, so stock up now. And plan ahead for growing kids that might be wearing a different size when your vacation starts.
Or stock up now on the best shoes for Disney World.
The change of seasons sales won't just be in kids clothing. Look for deals in women's and men's departments, too. Essentials, such as socks and underwear, will also be on sale so now is time to stock up.
Paper, Pens, and Office Supplies
There is no better time in the year to purchase the items you need for your home office than during Back to School savings events.
For instance, during Back-to-School sales, packs of lined paper are usually sold for 25 cents while the same pack of paper can cost $2 during the rest of the year.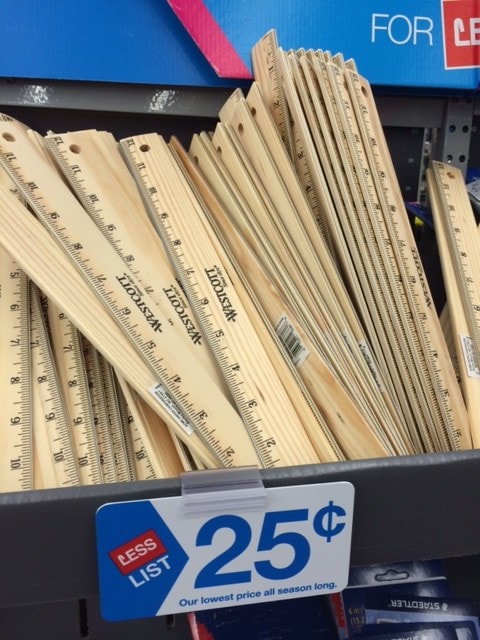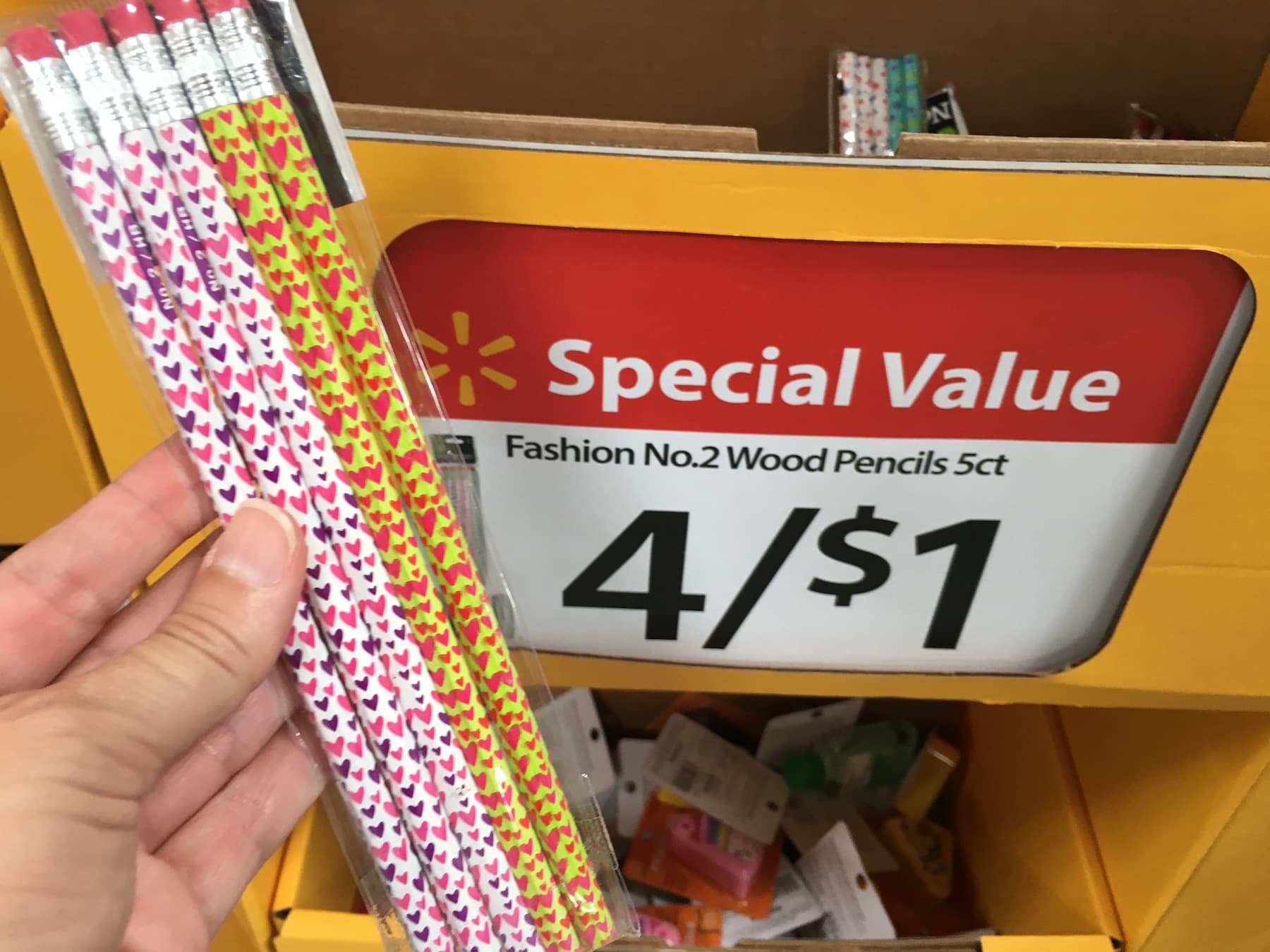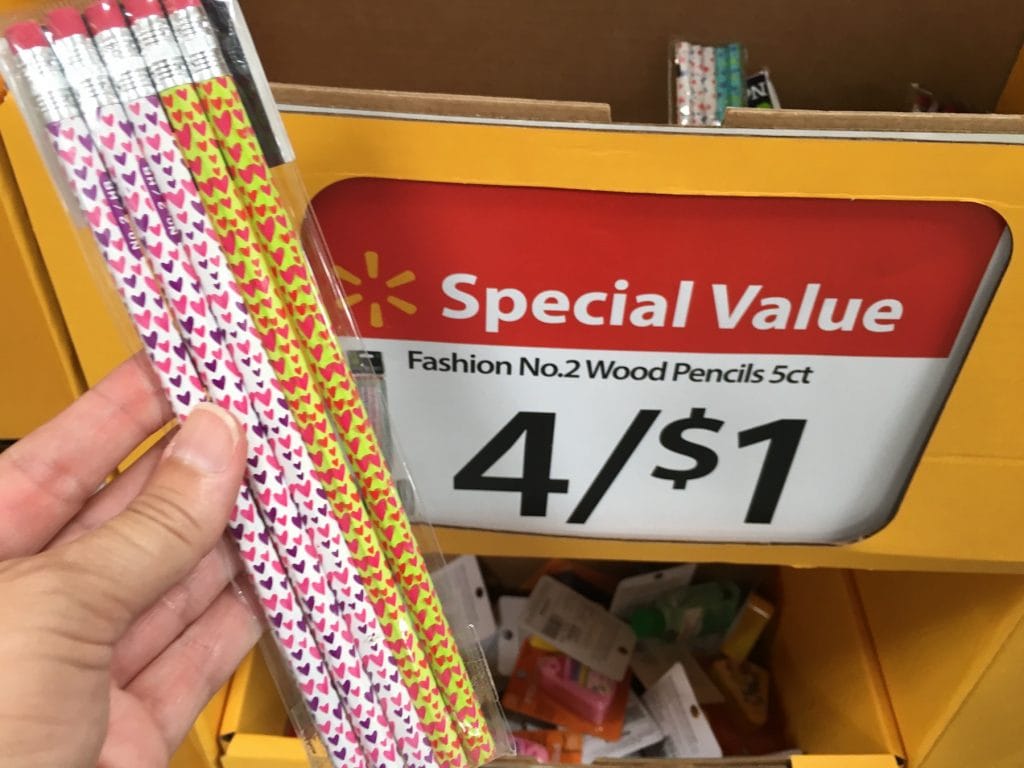 Also stock up on these office essentials for the entire school year. Plan ahead for kids school needs and craft supplies all year long, as well as your own home office supplies. You won't find lower prices on these items all year long:
Pens
Crayons
Markers
Paperclips
Binders
Mailing labels
Envelopes
Index cards
Pencil pouches
Computers and Tablets
If you have been looking to upgrade your computer equipment, or you just want to add additional accessories, Back-to-School sales are one of the best times to get amazing deals on computers and software. And if you shop during tax free events, you can save a bundle on computers included in the exemption.
All computer accessories can be on sale, too. Think about new a new mouse for the computer, adapters, sleeves for a tablet, mousepads, etc.
Fourth of July Decor
When Fourth of July decor goes on sale, I've seen it go as low as 90% off, yet there are still piles of the items left. No one is buying them!
It seems silly, to me, because Fourth of July decor can be used for upcoming holidays. So get the decor now when it's super cheap.
The red and white colors used in Fourth of July decor can easily be used for Christmas, too. And Fourth of July decor with stars works just as well for Christmas time as it does for the summer holiday.
Look at seasonal summer decor with a discerning eye and consider whether it could be used for birthday parties, Christmas or other celebrations.
Coolers
Though considered a summer item, coolers can be put to good use any time during the year.
Put a cooler in the back of your car to store perishable items after a trip to the grocery store. Or buy a cooler so that you can stock one full of food for your next family vacation. (We also LOVE this easy packing system for the car that comes with a collapsible cooler. Brilliant!)
Every family should have at least one cooler for use in a power failure to store frozen foods that would otherwise become rotten in the freezer. Now is the time to stock up for your emergency stash with a cooler (and other camping and outdoor gear) that are on clearance.
Storage Containers
Back to School time is one of the best times to buy storage containers! The selection is plentiful and the prices are cheap!
Retailers are targeting students heading off to college. If you don't have a college-aged child, you will still want to stock up on storage containers to store toys, blankets, clothing, family mementos and other objects that can become clutter when not properly stored.
Grab some storage containers to store your emergency supplies, too.
Sheets
Now is a great time to purchase sheets, comforters and bedding sets. New bedding is unveiled at back to school time for college students decorating their dorm rooms.
Most of the bedding, especially twin size and XL twin size sheet sets and bedding sets, will be on sale.
Check out these great XL twin sheets ideas. We love these companies that make organic sheets for college dorms and split mattresses.
Beach Accessories and Sporting Equipment
Though lawn games, beach balls, and swimming apparel go on clearance in August, most parts of the country can still enjoy outdoor activities for a couple more months.
Buy a badminton set or a sand pail for the kids to play with after school instead of watching TV.
Better yet, stock up on unique items for Christmas presents. A croquet set is a fun gift for the person who has everything.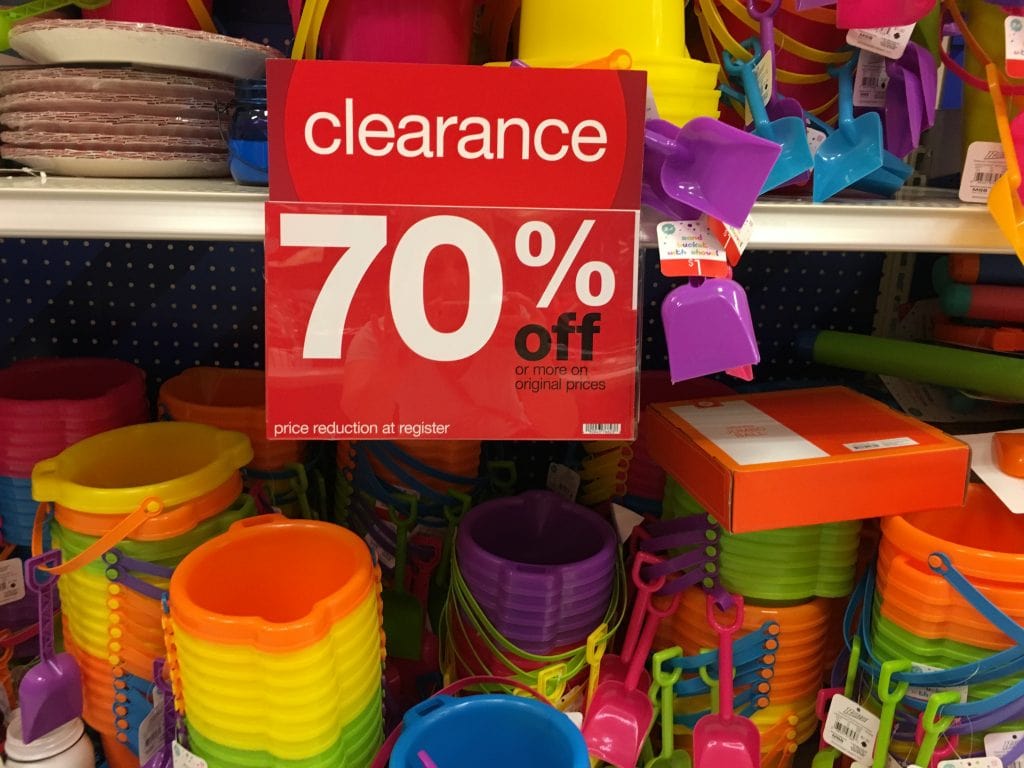 Kids will be delighted with a collection of rafts, beach balls, and goggles for the family winter vacation to Florida or the Caribbean.
Plan ahead for upcoming cruises and vacations to warm weather destinations.
Pots and Plants
Gardening supplies always go on clearance at the beginning of the school year. It's a change of seasons for plants and gardens too.
You can enjoy plants indoors all year round, though. And many of the plants on clearance will be perennials which means if you plant them now, they'll come back year after year with no extra work from you.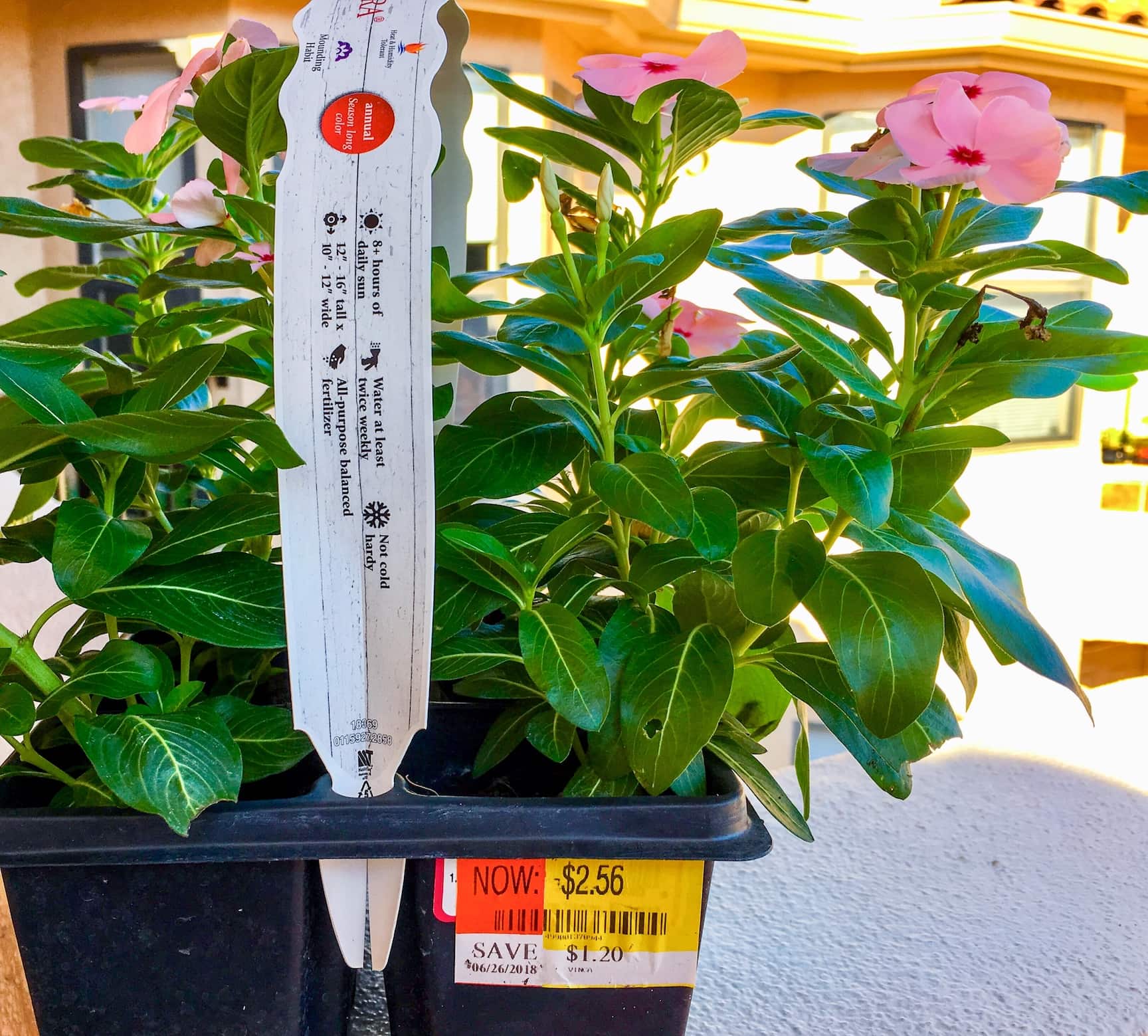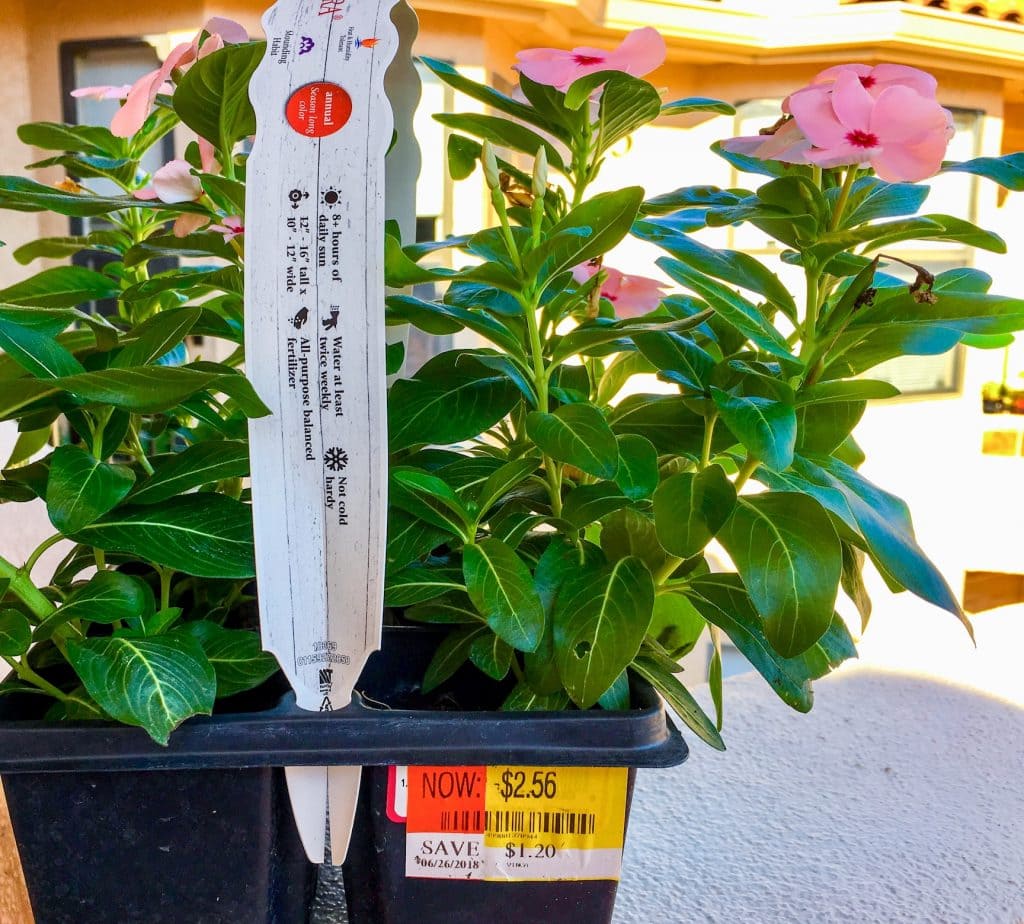 It's a great time to get great deals on plants, either indoor plants, outdoor plants, trees or shrubs, as long as you are willing to plant them now.
Just because the seasons change doesn't mean your yard care needs stop. Get great deals on these garden and yard supplies that can be used for a few more months, if not all year long:
Pots
Potting soil
Fertilizers
Insect sprays
Garden disease sprays
Irrigation supplies
Consider buying extra potted plants to give as gifts for birthdays, housewarmings, and hostess presents in the upcoming weeks.
P.S. If you want to know the houseplants that are the hardest to kill yet purify your indoor air, check out the Best Houseplants to Detox Your Home Course (it's currently free!).
Outdoor Furniture
Just because summer is over doesn't mean you still can't enjoy time in your backyard.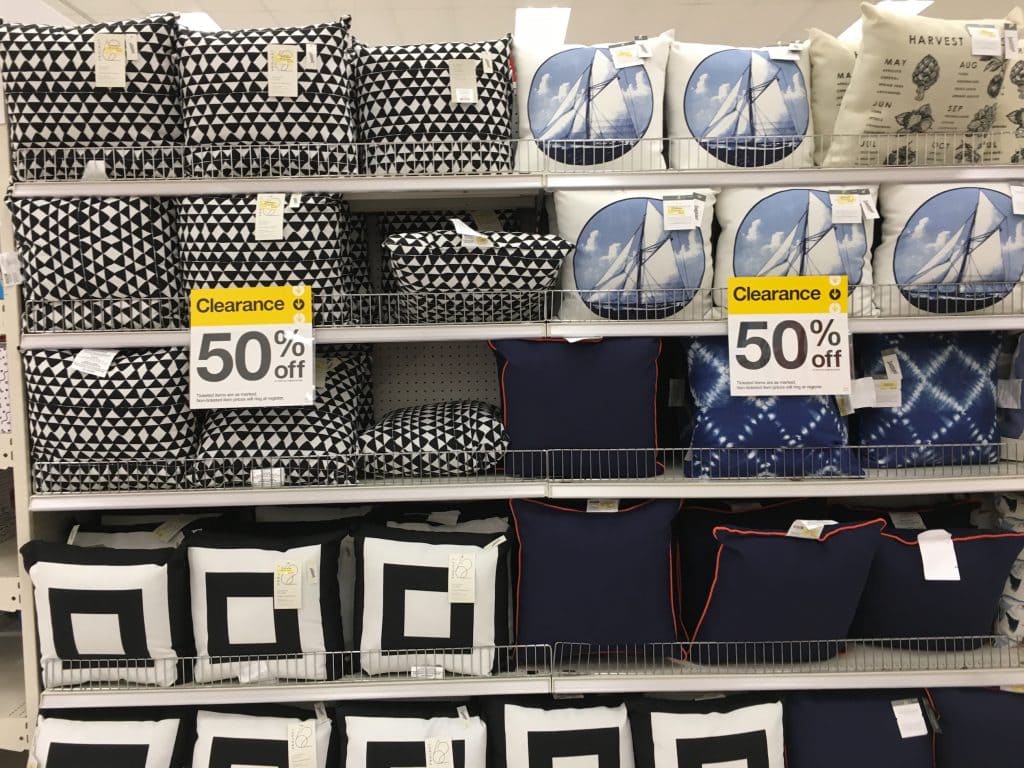 Patio dining sets, fire pits, benches, and weatherproof lamps are all on sale but can still be enjoyed during the autumn months.
Stock up on BBQ accessories, too, if you want to enjoy grilled meals all year round, because it's really tough to find charcoal briquettes in the middle of February!
More Fun Ways to Get Ready for Back to School!