I'm tired of sore shoulders and sweaty straps as I enjoy a day at Walt Disney World. Trying to keep everything in a bag hoisted on my shoulder is painful and has seriously resulted in too many doctor visits to fix the damage that I've done to muscles and joints.
Add in the fact that my camera of choice nowadays is my iPhone, anyway, and I'm all about the comfort and ease of using a pocket belt as the way to carry my stuff in theme parks, as well as when I travel internationally.
What's a pocket belt, you say? Well, I'm glad you asked. You might be familiar with the concept of stashing stuff on your waist as using a fanny pack (yikes!). But as I wrote for Sherman's Travel recently, those disgusting fanny packs have been redesigned by modern companies to become cool pocket belts that accentuate your wardrobe.
(Note: This article contains affiliate links. There is NO additional cost to you, but it gives us a few cents to help support our site. Thanks for using!)
So I've been trying out a couple styles of BANDI Wear, a pocket belt made of stretchy fabric that is ideal for travel. As you can see in the pictures, I've utilized my BANDI Wear pocket belts in many ways – from the gym to Walt Disney World to stashing my passport securely while in Europe.
BANDI Wear is a sleek, fabric pocket belt that easily fits under or over your clothes. There are two inner pockets inside the belt, perfect for stashing little things that you need while traveling or working out. While I thought it was great for travel necessities, others have found it to be valuable for storing Epipens, insulin pumps and medical devices, too.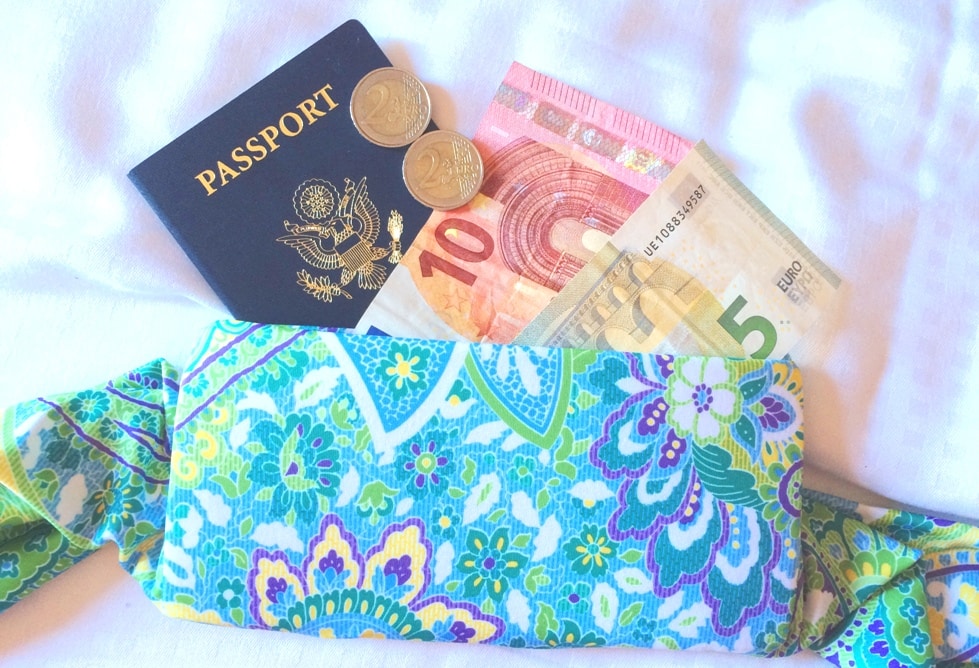 BANDI Wear comes is three styles and a variety of colors and prints. There is the Classic Pocket Belt (which is the black and white one I'm wearing at Disney) and the Large Pocket Belt, which is bigger and holds a passport, phone (even the iPhone 6), and more. An additional headband style holds small items while running or working out.
At Walt Disney World, I've found it valuable to hold cash, credit cards, my ID, lipstick, and my phone. If you're not carrying around a lot of stuff, and your pockets aren't deep enough to hold these items (or you're wearing an outfit without pockets), then wearing a BANDI Wear pocket belt is great.
In Europe, this pocket belt is invaluable if you want to travel with your passport, but are afraid to keep it in a camera bag or purse which can be easily stolen or pickpocketed. In Belgium, I put our passports in my Large Pocket Belt by BANDI Wear and wore it under my clothes, as an alternative to a money belt (I took it out from underneath my sweater for the picture).
When working out, I really like the BANDI Wear Large Belt for storing my phone and a key for security. The no-bounce feature of the pocket belt means that it's not uncomfortable to be wearing the belt even while walking, exercising, etc.
BANDI Wear is made in the USA and can be easily hand washed. It's a great investment for your next travels, and one that can multitask back at home, too, when you're active and exercising.
(Note: This article contains affiliate links. There is NO additional cost to you, but it gives us a few cents to help support our site. Thanks for using!)