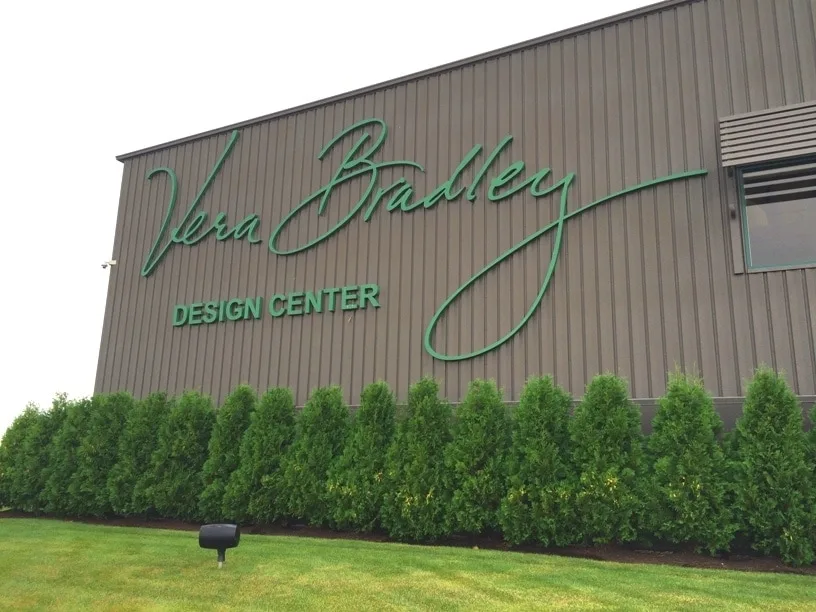 Outside of Fort Wayne, Indiana, in the town of Roanoke, hides the Vera Bradley Design Center and Distribution Center. Why is it hidden? Because it's not a destination open to the public. You'll likely never see it.
Until now.
I had the most amazing experience of being able to tour the Vera Bradley Design Center and see the upcoming design patterns for the 2015 and 2016 collections – including the Vera Bradley Disney collections through Fall 2016!
To say that this experience was awe-inspiring would be an understatement of massive proportions. I entered the Design Center as someone who mildly knew about Vera Bradley prints. I left with an intense appreciation for the design brand and a desire to buy as much of the fashion line as possible. Oh, boy. This could be trouble!
How did I get the rare opportunity to take a tour of the Vera Bradley headquarters? It was part of a travel writer's conference called Travel Media Showcase in Fort Wayne, Indiana. We were blessed to be able to get a sneak peek behind the scenes – and Barbara Bradley Baekgaard, one of the two co-founders of Vera Bradley, actually made a surprise appearance herself! (I'm kicking myself for not asking for a picture.)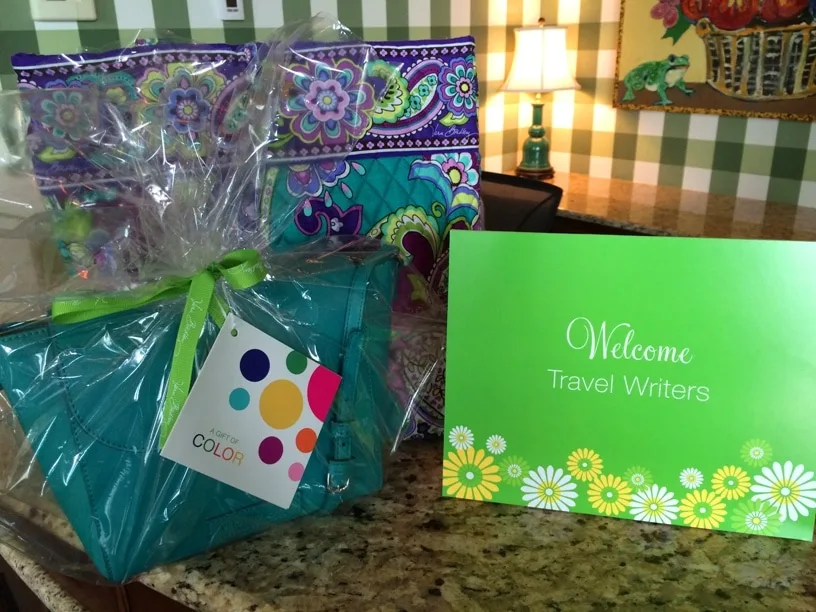 Vera Bradley was founded in 1982 as a luggage design company by two friends. Known for their bright and intricate patterns of cloth, the women-oriented company has branched out into purses and accessories such as key chains, wristlets, office supplies and more. What stole my heart and fashion dreams, though, is their relatively new lines of Wildwood, Stella, Sycamore and other modern purses and bags made of monochromatic colors with materials such as leather. Oh, how I want these bags. Really, really want these bags 🙂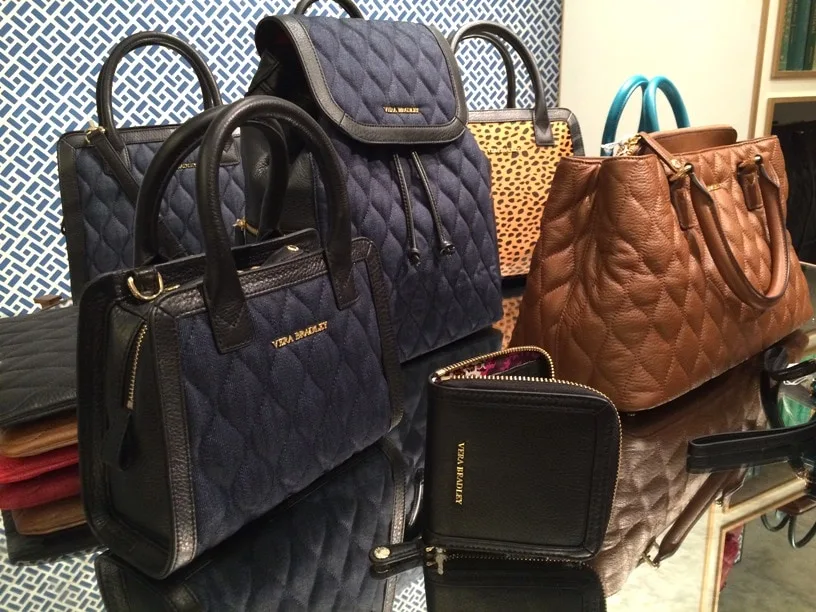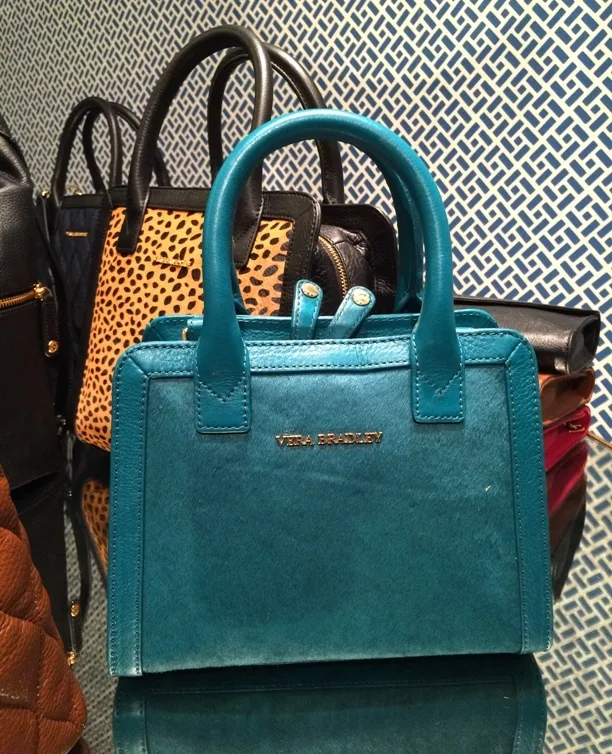 I knew nothing about these higher-end bags until we walked into the small display room at the beginning of our tour in the Vera Bradley Design Center. Inside, it was a veritable boutique of all of the latest and greatest designs currently available from Vera Bradley. A young designer instantly started telling us about the Fall collection, highlighting colors and trends, what makes Vera Bradley bags so unique, and why they have endured in popularity for so many years.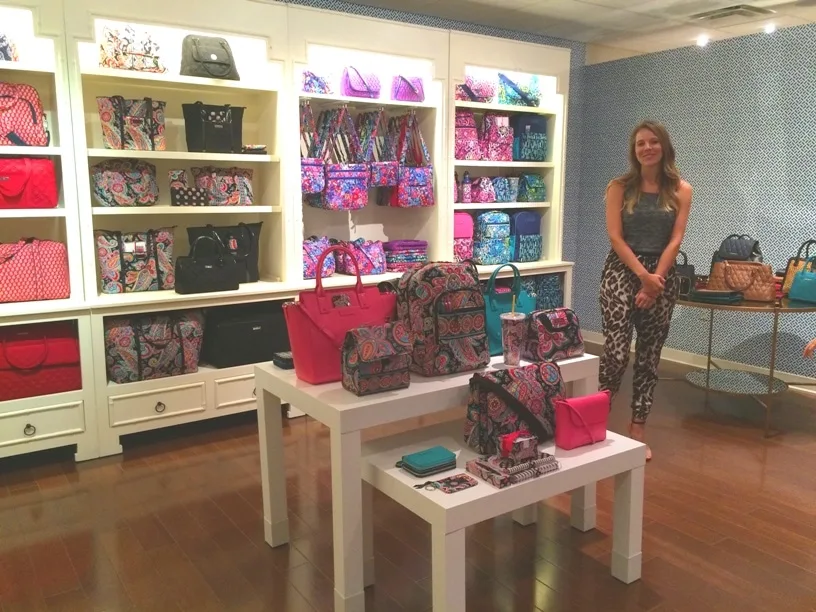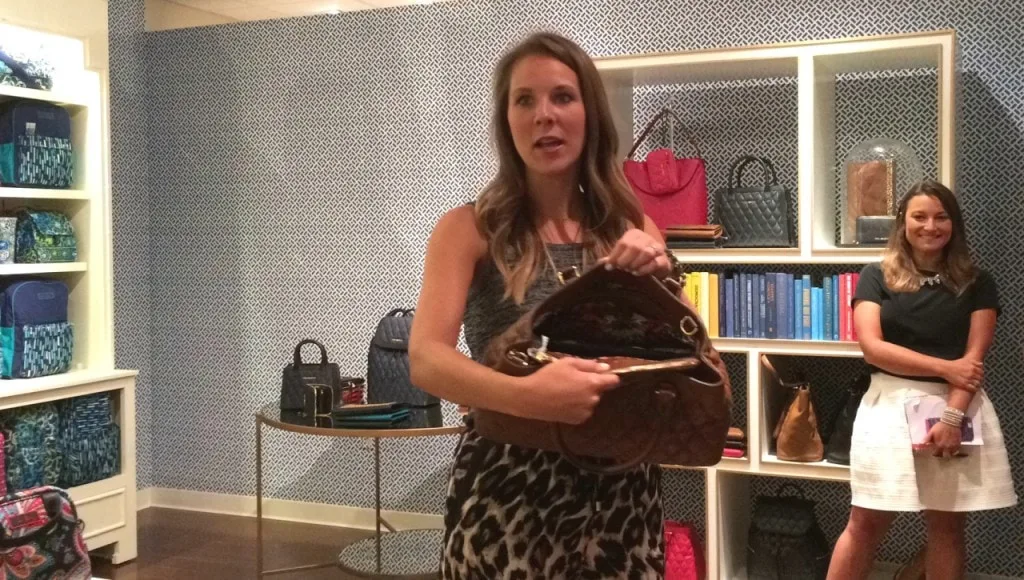 It might have been in this room that I fell in love with Vera Bradley. The colors, the styles, the clean lines, the functionality. These are all things that I never thought about when I saw the paisley patterns on familiar bags.
After the showroom, in which we could take photos, there would be few photo ops. Only in limited areas were we allowed to take photos – and boy, did I ever!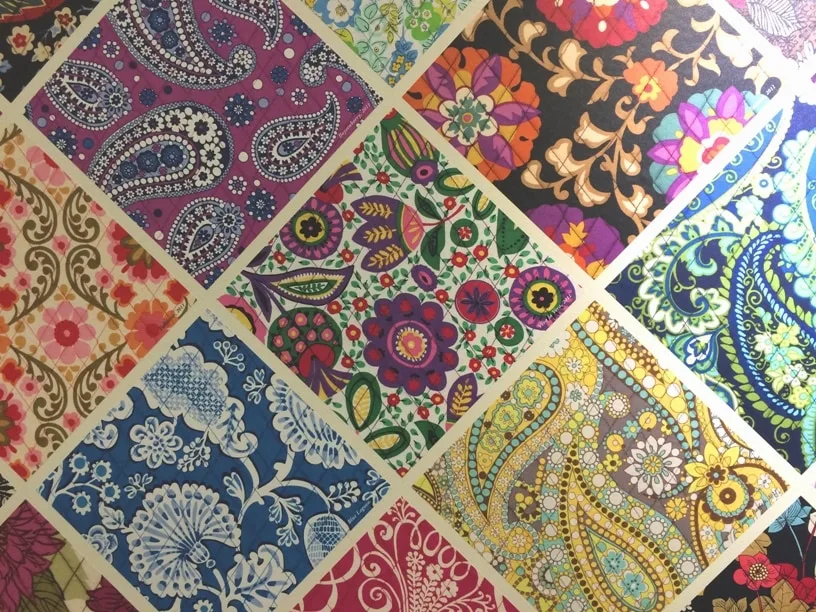 We walked through the offices of the support staff, bright, light filled rooms bursting will colors and patterns. Furniture that boasted Vera Bradley prints were just a part of the normal office décor. We asked where furniture was available for purchase. It's not. Just a few unique pieces in the Design Center.
The office complex was open and airy. Ceilings seemed vaulted based on the space. There weren't cubicles, per se. There were work desks, with colorful graphics and sketches tacked and taped to all available surfaces, and boxes of fabrics stacked for selection. It felt like a happy place, one in which you come to work and you don't mind being inside all day, working hard. There was joy in the air, and it was palpable.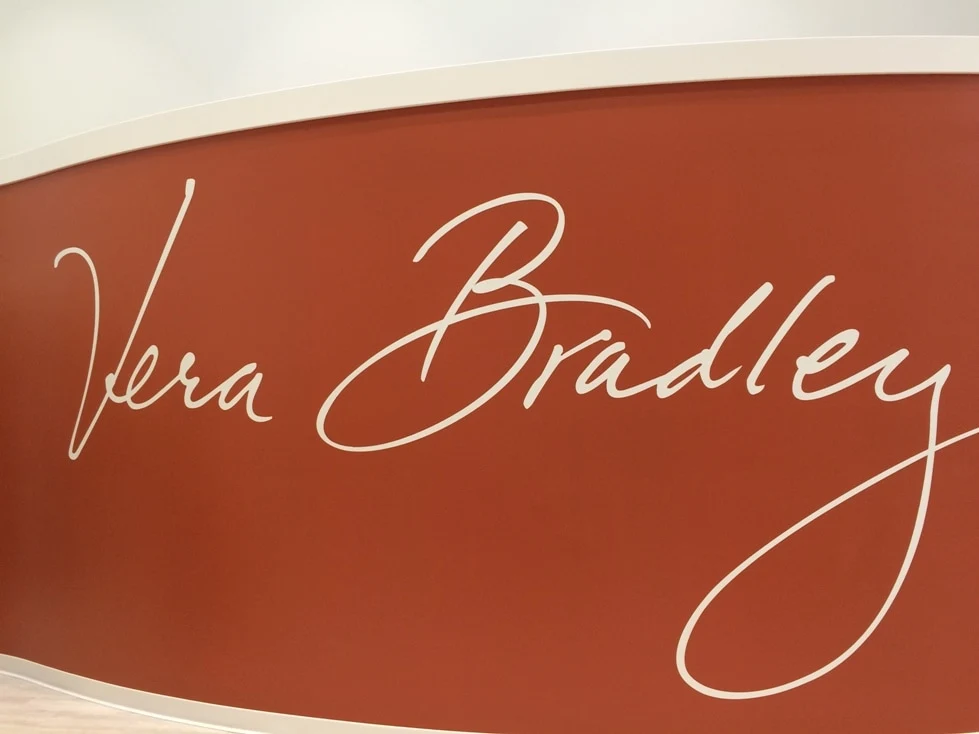 Curved walls were the boundary points between work stations and other communal areas, such as the conference room where interns were pitching their ideas to the staff during the day of our visit – a much anticipated highlight of their work experience at the Design Center.
Along these curved walls were all of the Vera Bradley patterns from the beginning of the company over 30 years ago. Samples of the Vera Bradley designs were displayed in a patchwork quilt that seemed to go on forever.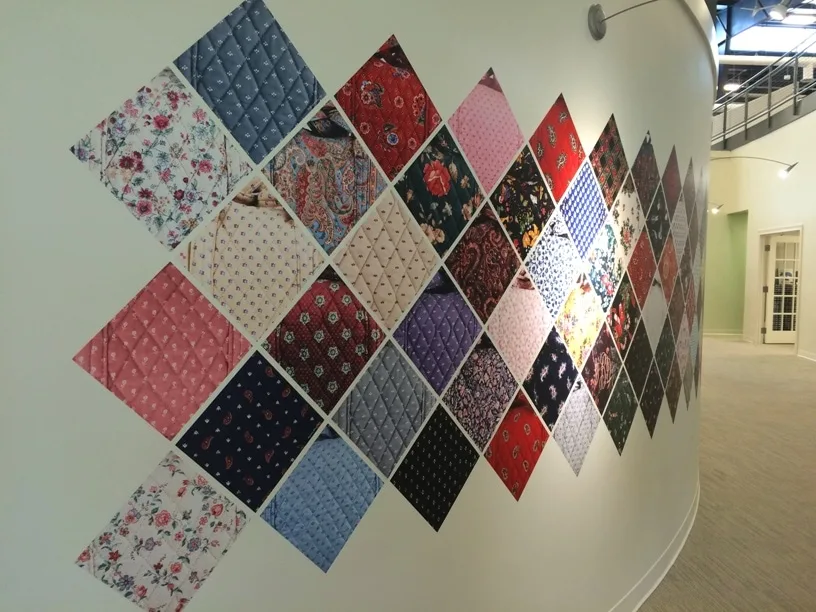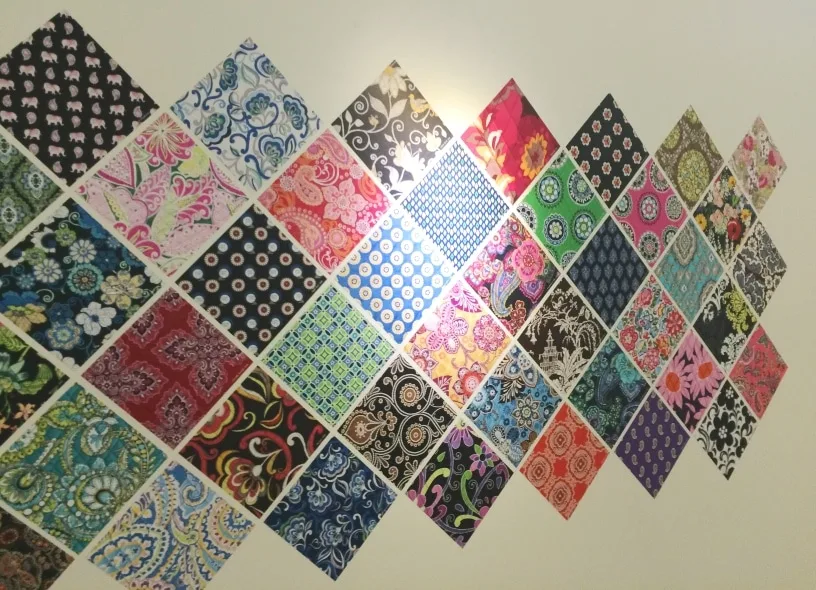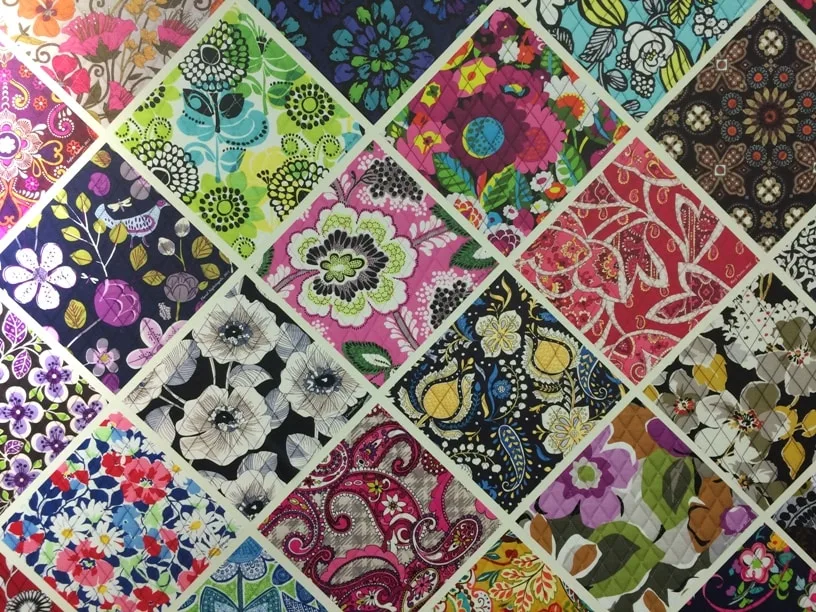 Soon we ventured up to the second floor. This is where the magic happens – or at least where it's on display. We walked into a room with design inspiration boards from floor to ceiling of Vera Bradley conceptual designs for each of the upcoming seasons through 2016. There were prints and patterns galore for all of their many styles. As a Florida girl, I was especially thrilled to see the Disney Vera Bradley designs on display for Spring and Fall 2016 to be sold soon at the Walt Disney World Resort. I wanted to take a picture SO BAD!!! But I was good. You don't accept gracious hospitality and then go against their wishes just for a photo op. That's not nice. And likely extremely illegal, too.
We learned about the trends, forecasts and research going into creating prints and patterns for sale two years from now (Hint: Lavender is going to be HUGE!).
Then it was on to the photo studios, an immense set up with white solid backgrounds, professional lighting and equipment under foot everywhere throughout the massive room. The team had just finished photographing the brand new Collegiate Collection, which debuted the very day that we had our tour. A clothing rack was laden with college-themed Vera Bradley bags hanging off of it, after being photographed for the website or other promotional uses. I can only imagine the excitement in that room each day as new products are being showcased and styled to look their very best.
We walked by tech support, admin offices and more before coming to one of the newest parts of the Vera Bradley Design Center, an open lobby space that will soon take the place of the original entry way. This new space comes complete with a huge Vera Bradley sign (which I was only too happy to pose with!), as well as a gigantic pink giraffe wearing Vera Bradley accessories because, why not?!?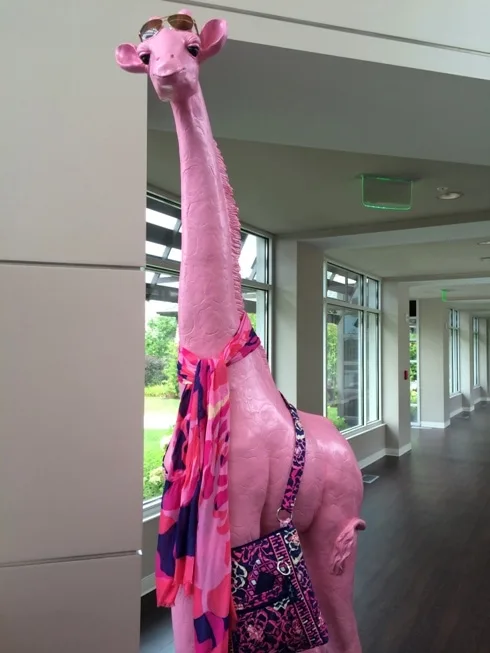 At the end of the tour, we left through the original lobby, a cozy pattern-filled mini living room that makes you feel like you're in a very chic and happy cabin in the woods for girls. Our parting gift was a Vera Bradley purse in the color I was hoping for – teal!!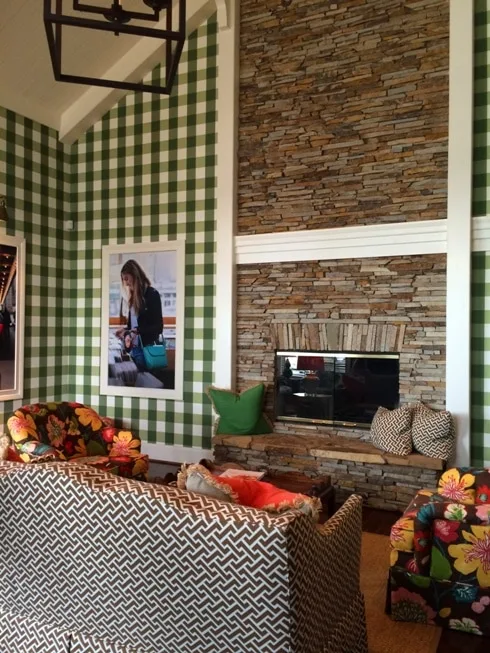 So now I'm a verified Vera Bradley addict. I'm scouring the website looking for great deals on those expensive bags that I want. And the Disney collections, which aren't available on the Vera Bradley website, are so close by in the Walt Disney World theme parks, too.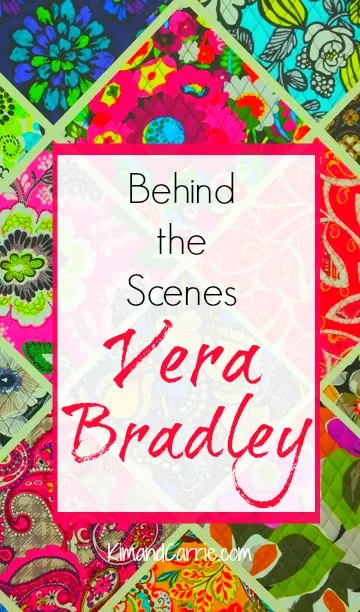 Vera Bradley is located in Fort Wayne, Indiana – just a short two hour flight from Orlando Sanford Airport on Allegiant Airlines. It's a great city that is full of friendly hospitality and plenty of unique things to see and do.
Where can visitors to Fort Wayne buy Vera Bradley items? There is one shop located in Fort Wayne. You might want to wait and come during the massive Vera Bradley Outlet Sale, with deep discount prices for one week in April. It's so big, it's held in a convention center.
You might see me there!