In our year of traveling the US by RV, it was super important for us to have reliable and strong Wifi signals. We were working on the road and I do a lot of image and video uploading, which requires strong internet signals. We quickly learned about the best and worst WiFi at RV parks!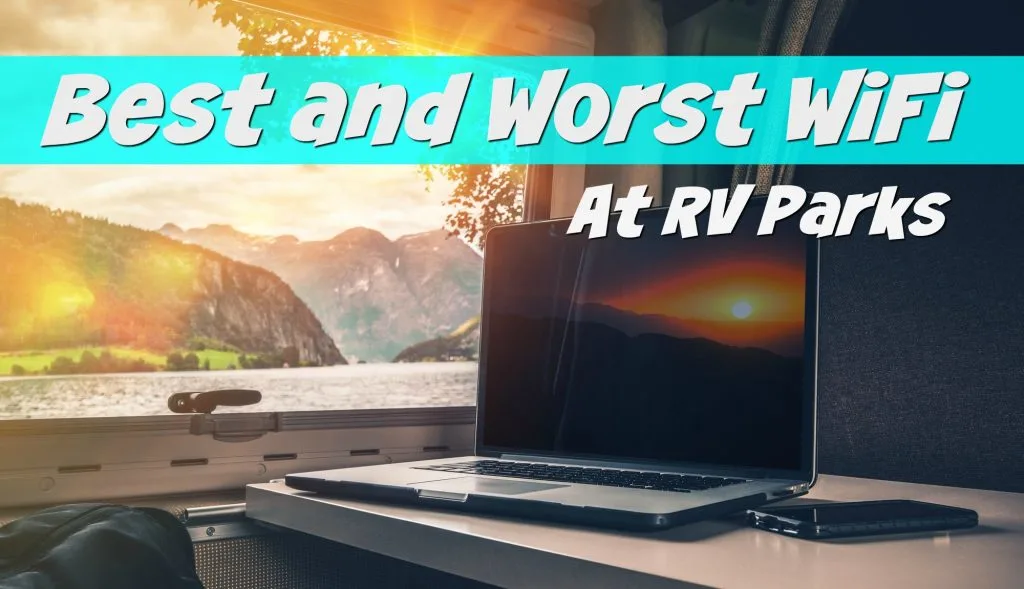 For us, we didn't need to just send emails or check in with family. We needed to WORK. And, yes, often stream Netflix on TV.
WiFi is a hot topic for RVers nowadays. Everyone wants to stay connected. You NEED to stay connected. Especially with working on the road and remote jobs that allow you to travel.
Yet many RV parks say they offer WiFi and it's a joke. It's laughable at best, frustrating at worst.
So how do you know which RV parks have the best and worst WiFi? Unfortunately, you often don't until you get there – or read recommendations from those that have stayed at the RV park and will tell you their honest opinion.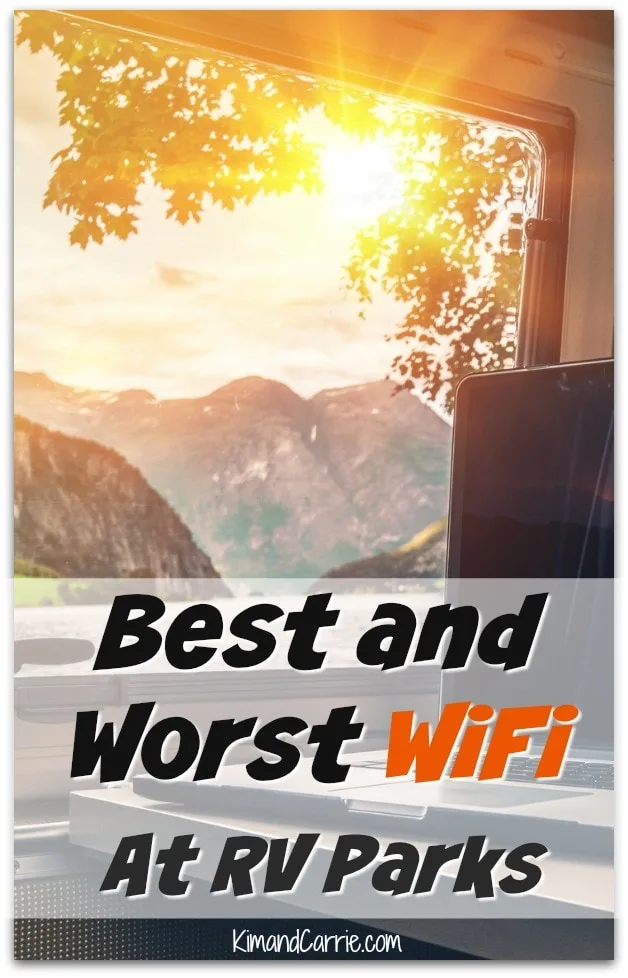 WiFi Versus Data Plans: What is the Difference?
When we say WiFi, we mean either WiFi signal or using a data plan. When a WiFi signal provided by an RV park was not strong enough to upload photos or download emails on our computer, we would often turn to our cell phones and use our personal hotspot as our WiFi.
This worked great for us because we increased our plan at Verizon to include an unlimited data package and a Verizon MiFi mobile hotspot. It ended up costing about $40-50 more a month than our normal plan, but it was TOTALLY worth it for being on the road non-stop.
We tried to get by on just our existing data plan and available WiFi at campgrounds and attractions. That only lasted for a month before we upgraded to an unlimited data plan. It was the best thing we could have done for working remotely.
Best WiFi Signals in RV Parks
Disney's Fort Wilderness Resort and Campgrounds
It's Disney. What else can we say? This was our very first RV park ever. We were spoiled by the WiFi signal and how fast and reliable it was. Not too many others compared.
Colonial Williamsburg KOA
This RV park was so much like Disney in SO many ways. The activities, the staff, the attention to detail. And the wonderful WiFi. It was strong coverage all day long.
Best Cell Phone Coverage for Data at RV Parks
St. Mary's Campground in Glacier National Park
This one was SURPRISING! We expected to be off the grid for a week. What we found was that we had some of the strongest cell phone signals as anywhere we camped all year long!
I cranked out work like you wouldn't believe in the middle of the day when the sun and crowds were unbearable. I upload a nine minute video – see below on Boondocking in Glacier – in a matter of minutes.
Cape Point Campground, Cape Hatteras, NC
Again, we were in the middle of NOWHERE! On the ocean and miles of sand. Yet we saw a cell phone tower in the distance and that gave us a very strong cell phone signal for data. No complaints on speed or reliability with this cell phone coverage.
Worst WiFi at RV Parks
KOA Charlottesville, Virgina
This KOA promises WiFi. I guess there is some WiFi. Like one bar. And it wouldn't even upload one email. So forget working or streaming.
The problem is that there is NO cell phone service in this area. Like NONE. It is in a zone that doesn't have cell phone coverage for miles.
So there's no calling out or getting in touch with anyone except through WiFi. And that is pretty pitiful.
You'll have to drive down the road to a parking lot (I think it was a church) to get any phone or data coverage. Seriously. This is what people were doing so that they could get directions to know how to leave the next morning.
Related Posts:
KOA Mt. Rushmore
This South Dakota RV park is AMAZING and quite huge! However, the WiFi is horrible.
Apparently you have to go to certain areas in the RV park for any sort of WiFi signal. I tried that and still didn't get any. You can buy cables in the gift store to directly hook up to the land line internet. But we all know that solution isn't ideal for anyone.
With its location in the heavy rock area of the Badlands region, there isn't much cell phone reception anywhere around. We actually drove to Mt. Rushmore and went inside the National Park Service site when we needed to get on the computer and use data or WiFi.
Seriously.
It was the best solution in the region that we found other than going into a restaurant or hotel and using their WiFi. Mt. Rushmore's wasn't super fast and you couldn't do A LOT of work on it, but it at least worked pretty good.
KOA Spearfish
This South Dakota RV park in the vicinity of Deadwood and the Badlands offered WiFi. We found it to be slow. And we couldn't get much data coverage, either. Not a whole lot of work to be done here.
Red Gates RV Park
Located in Hendersonville, NC, this RV park outside of Asheville kept trying to upgrade their WiFi signal in 2017. We were there a long time so we should know.
However, it never seemed to get strong enough for the two dozen campsites. We always relied on data signal for our internet, which actually worked out great. The cell phone signal was strong, the WiFi signal was not.
What WiFi Have You Found in RV Parks?
We know this is only a handful of RV parks and discussing their WiFi strengths. We want to create an RVer's list of the best and worst WiFi in RV parks. So we want to know which great ones you've found. And which RV parks campers should be aware of before heading out.
Let us know in the comments below so that other RVers can find out the best and worst WiFi spots.