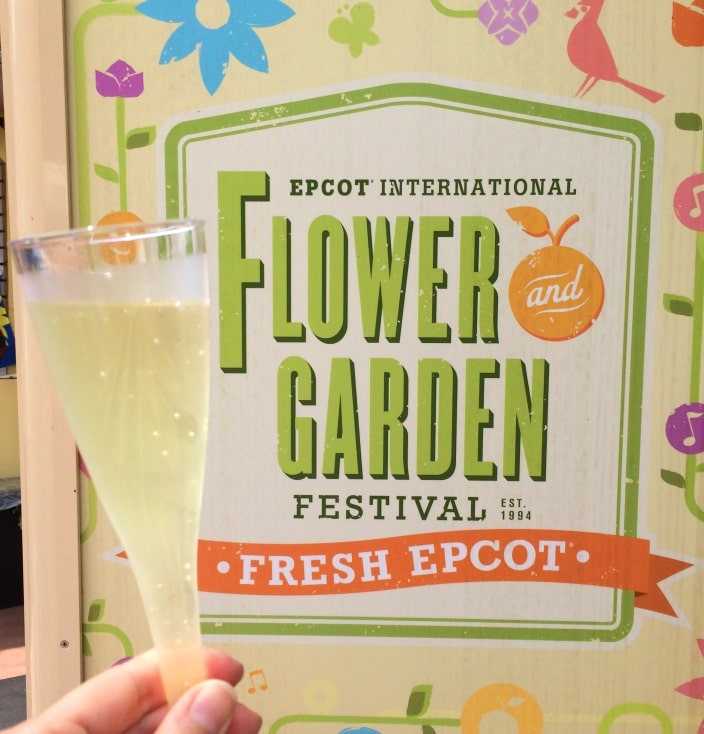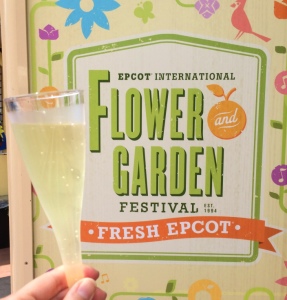 Just like at Epcot's Food and Wine Festival, the Epcot Flower and Garden Festival has food stands representing the cuisine of countries around the world, as well as highlighting specialty themed foods. They're quick and easy stations to stop at for just a taste of something, with prices ranging from $3-7 for foods, and higher for alcoholic drinks.
Dining around the World Showcase is a fabulous way to stop and savor the moments of beauty at the Epcot Flower and Garden Festival. There's nothing better than sitting down at a table or bench and being surrounded by colorful flowers or Disney character topiaries.
So what do we recommend for the best foods at the 2015 Epcot Flower and Garden Festival?  Here are some of our favorites.
Pineapple Promenade
By far, this is one of our favorite places to eat at the Epcot Flower and Garden Festival. Celebrating all things pineapple, it's the perfect place to feature a Dole Whip-inspired soft serve ice cream. Made with pineapple soft serve, it comes non-alcoholic ($4.25), or add on Sammy's Beach Bar Red Head Macadamia Nut Flavored Rum or Captain Morgan Parrot Bay Coconut Rum.
The Pineapple Dog ($4) is unusual, but the flavor is awesome (that is, if you like spicy!). Trust us, this hot dog has some heat, even if you leave off the Sriracha Mayo, as we tried. With a pineapple chutney and crunchy tortilla-like chips on top, the spice is part of the hot dog itself, so it's not really kid-friendly. Also, these portions are super small, not even half of the size of a normal hot dog. But it is really good.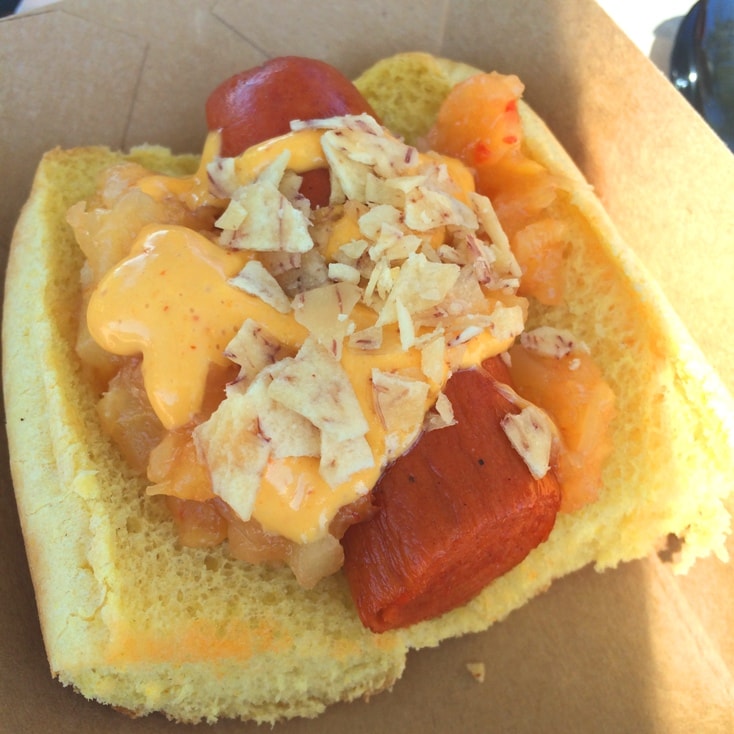 The Sparkling Pineapple Wine ($6.25) from Florida Orange Groves Winery in St. Petersburg, FL is refreshing and definitely has pineapple overtones. I thought it would just be a hint of flavor, but it's a bit stronger than I anticipated, which I liked.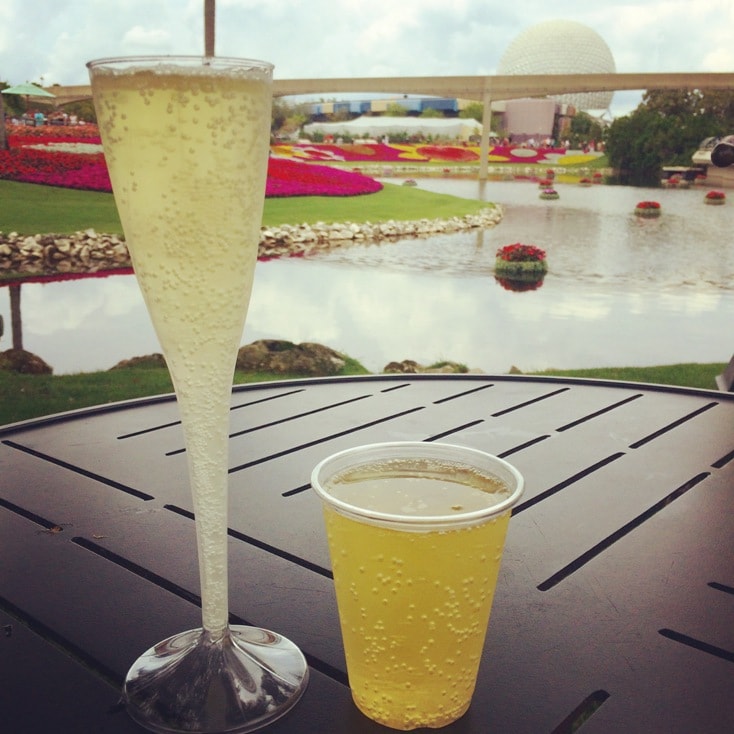 My favorite was the Ace Pineapple Hard Cider ($3.75). Wow! This definitely tastes like pineapple and in a good way! It's smooth and refreshing and an unusual flavor profile for cider, but I would highly recommend it. Ace states that they are likely the original pineapple cider. I know one thing for sure, they are the best!
Urban Farm Eats
This is another surprising winner that I definitely didn't anticipate liking! A much more healthy range of offerings comes from this food stand set among a display of how easy it is to grow food at home, via hydroponics, vertical gardening, chicken coops, straw bale gardening, etc.
The Kale Salad was amazing! The portion size was huge. With fresh greens along with dried cherries, almonds and goat cheese with a White Balsamic Vinaigrette, it's a healthy and filling choice.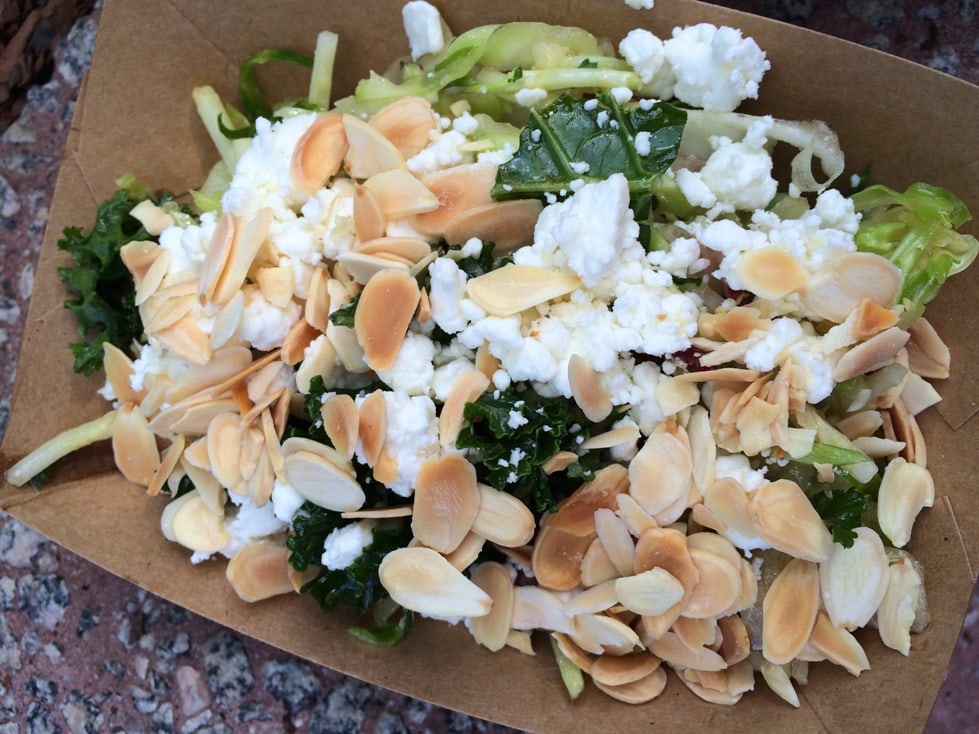 Another really-can't-believe-it's-good moment came from the Quinoa Vegetable "Naanwich." All of the cast members at the booth raved at how good it was, so I was feeling adventurous and took a chance. It was surprisingly delicious, without being too "earthy" tasting. Dense and filling, with a creamy arugula pesto sauce and oven dried tomatoes, it's a healthy option that's really packed with flavor and vegetable proteins.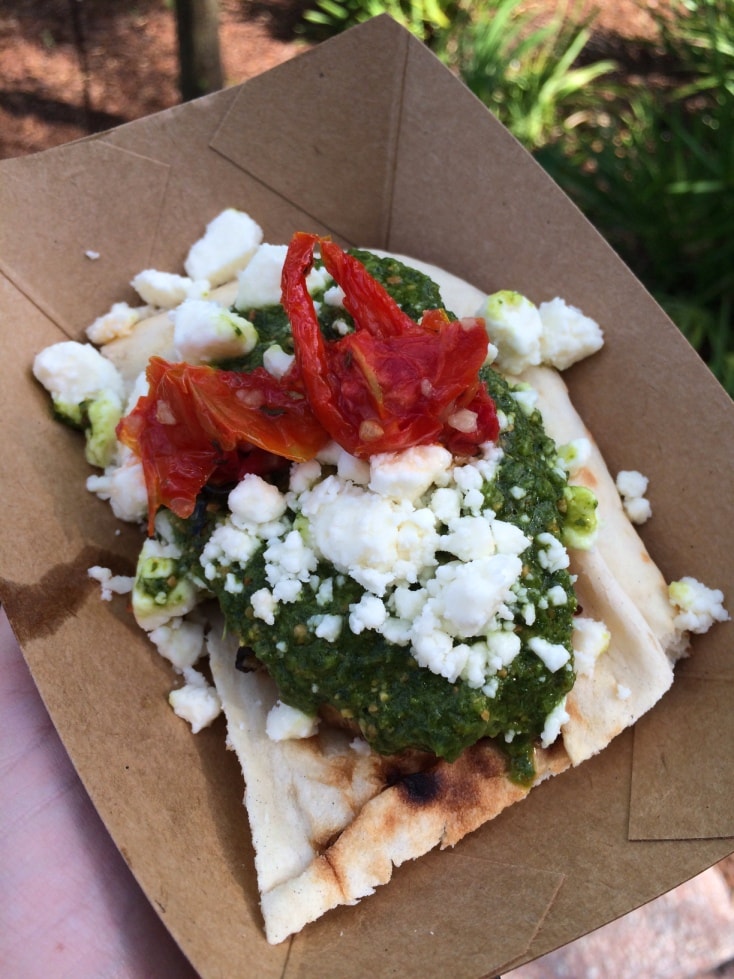 Just an FYI: There is a Cucumber Lemon Spa Water with Mint on the menu. When we were waiting for our order, another guest was given a glass of this. It was a hot day, and she asked for some ice. The cast members said they didn't have any. Clearly, she bought the water to cool off, but it was at room temperature. If you're expecting ice cold refreshing water, you 'll want to ask first about the ice.
Jardin De Fiestas
I tried the Flan de Queso Chocolate Abuelita ($4.20). This wasn't my favorite dish at the festival. The Mexican Chocolate Custard with Whipped Cream and Cinnamon was okay, but nothing special. It's not especially heavy with chocolate taste.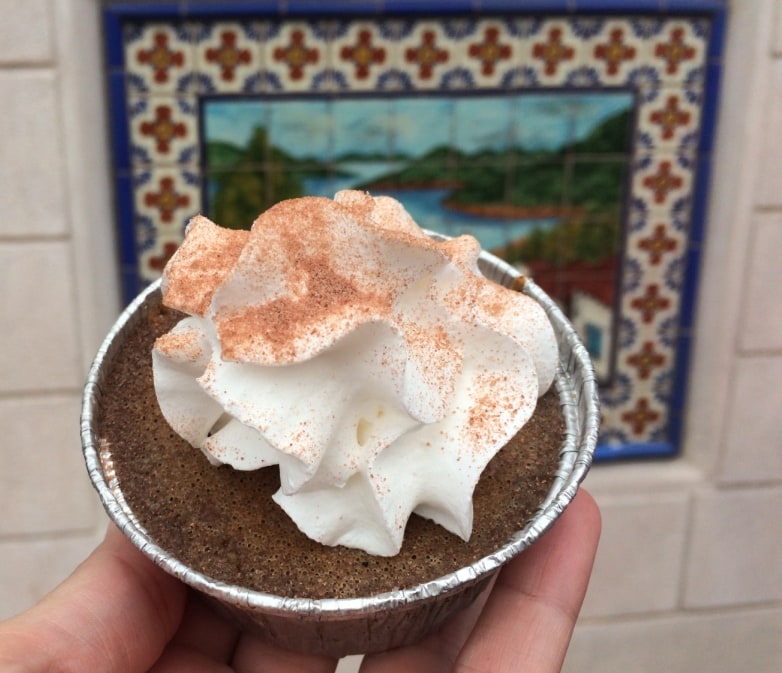 Florida Fresh
Another stand out winner, this eating area features all of Florida's great produce options. The Watermelon Salad with pickled onions, baby arugula, feta cheese and balsamic reduction is an unusual mix of flavors that really works.
Be sure to save room for the Florida Blueberry and Lemon Curd Tart ($3.75). The sweet and tart flavor combination is a creamy dessert in a light pasty shell and it's a good size portion.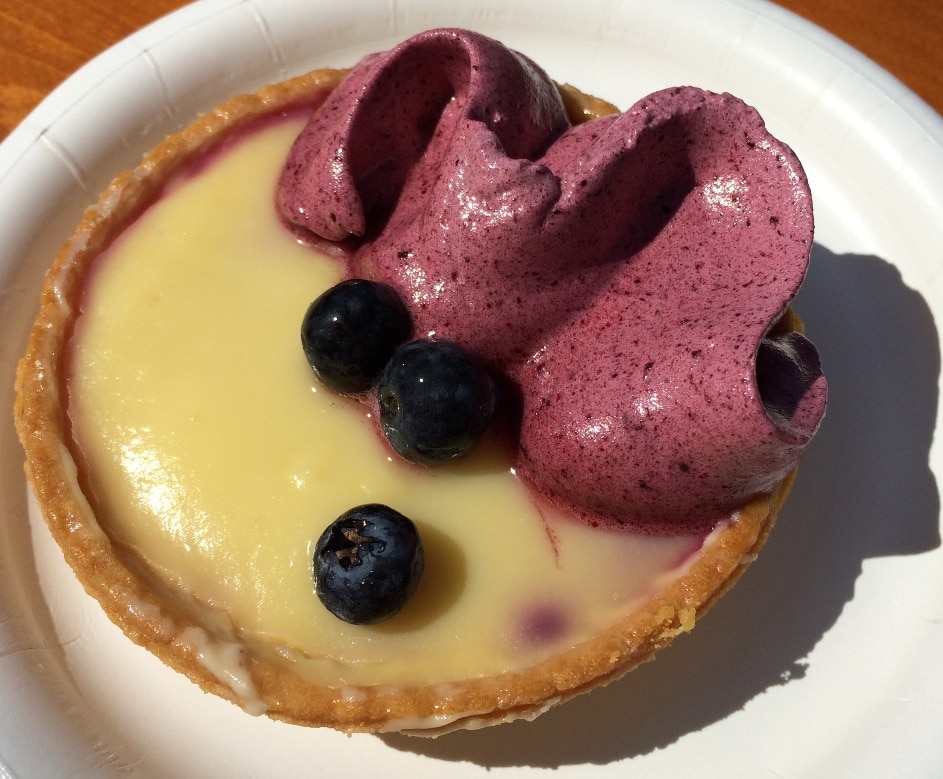 The Key Lime Sparkling Wine ($7.25) by Florida Orange Groves was a stand-out winner for me. Made with only key limes and no grapes, this refreshing citrus-based version of a champagne is uniquely Floridian, and oh, so good! Not too heavy on a lime taste, it's just a different flavor profile of most champagnes or sparkling wines in a fun flavor.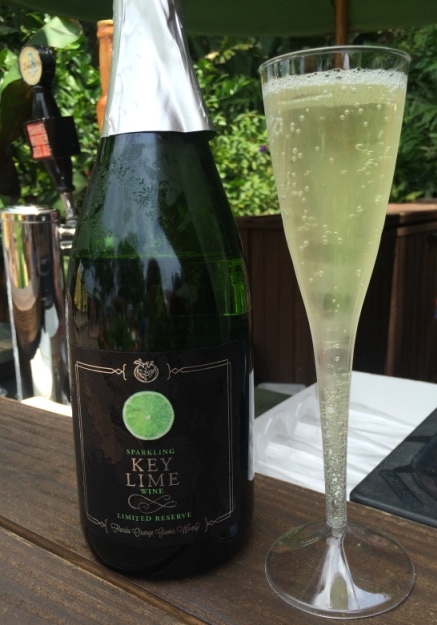 The Smokehouse: Barbecue and Brews
This is a favorite of everyone's at the Epcot Flower and Garden Festival. Situated in the American pavilion, it serves up hearty BBQ type foods.
We were amazed at how good the Beef Brisket Burnt Ends Hash ($5.25) was, served up with a White Cheddar Fondue and Pickled Jalapenos. It's hearty and typical BBQ flavors, with a potato and pepper base underneath. This one will stick to your ribs.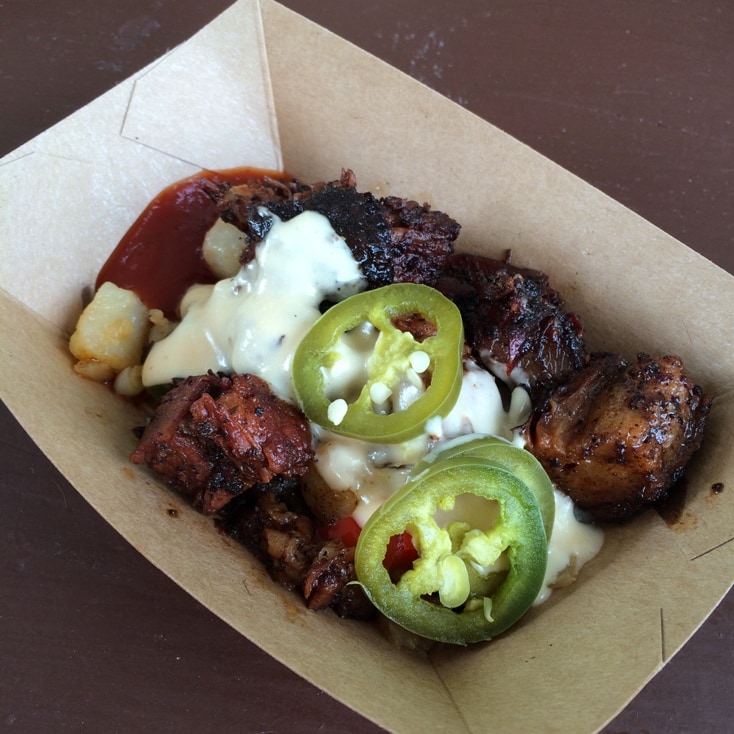 Also impressive was the Pulled Pig Slider with Cole Slaw ($6). Shown covered with an optional barbeque sauce (there's a self-serve BBQ sauce station nearby), it's a decent sized sandwich that is plenty to stave off hunger.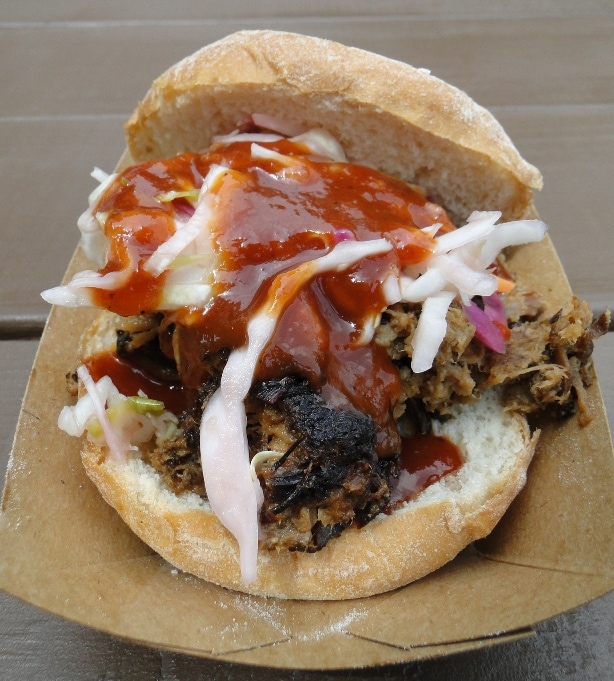 Last year we discovered the super rich goodness of the "Piggylicious" Bacon Cupcake with Maple Frosting and Pretzel Crunch. We've posted the recipe, so you can dive in at Epcot, or make it at home.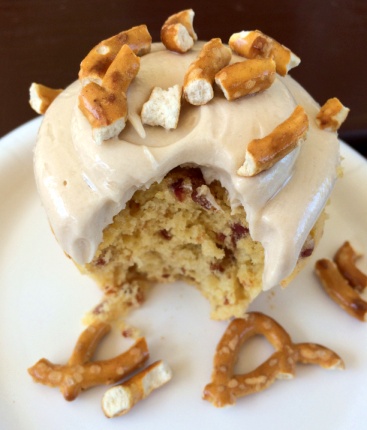 Hanami
This Japanese food outpost serves up Frushi, which has nothing to do with fish. The cute idea of turning a dessert into sushi is created by rolling fresh pineapple, strawberry and melon into a raspberry coconut rice, sprinkled with toasted coconut and whipped cream on the side. It's delicious, and unexpected, for sure.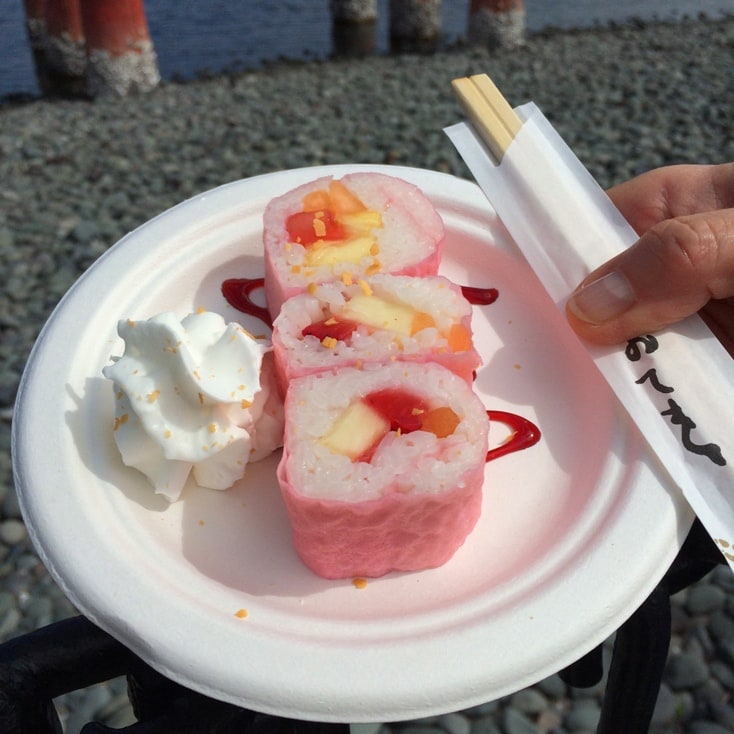 Taste of Marrakesh
In Morocco, I tried the Harissa Chicken Kebab with Sweet Couscous Salad. It wasn't anything spectacular, and the presentation is horrible, as you can see in this bland looking photo.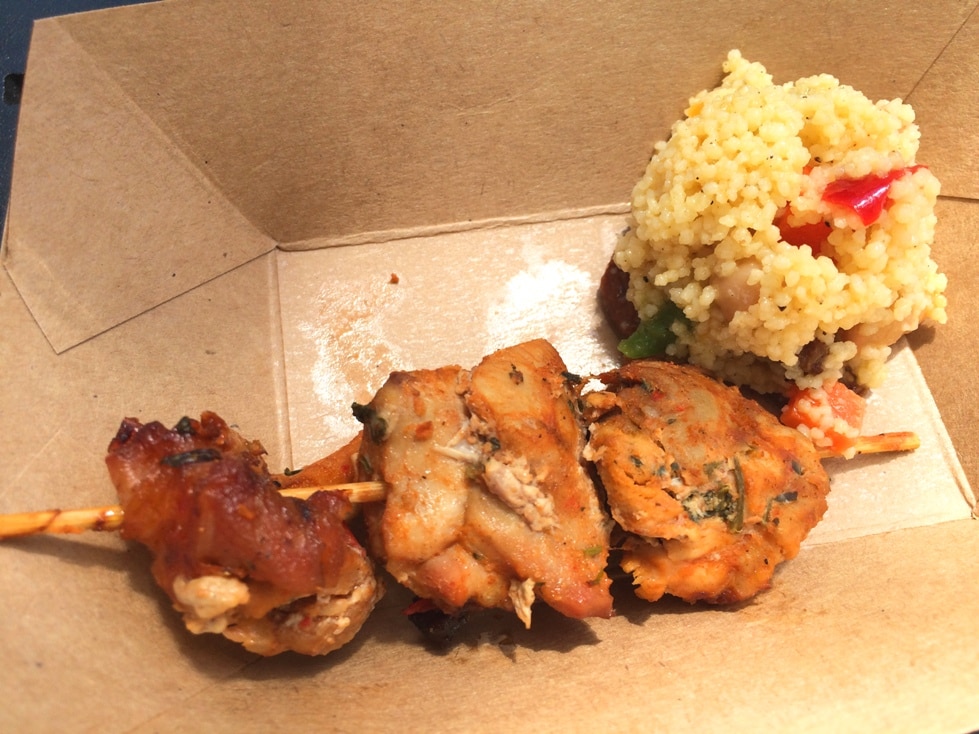 Better by far is the Desert Rose, a Sparkling Wine topped with Pomegranate Liqueur. It's sweet with a little bit of tartness, but a smooth taste that's one of my favorites.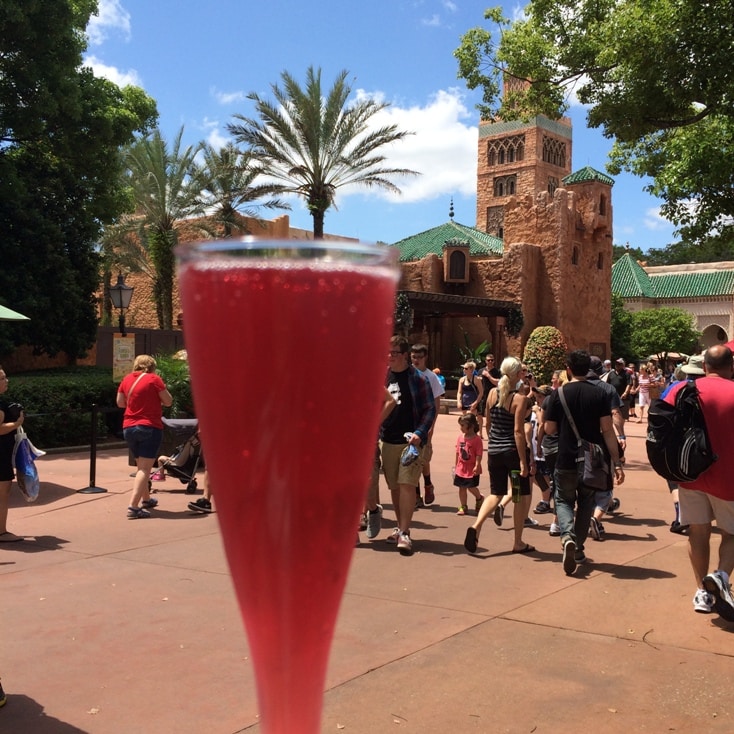 Fleur De Lys
In France, it's decadent foods and they do them up well! I tried the Gnocchi Parisien a la Provencal, a Parisian-style dumpling with vegetables and mushrooms. It doesn't look that appetizing from the plate, but it's a hearty, rich and yummy pasta dish that screams butter and fat and flavor.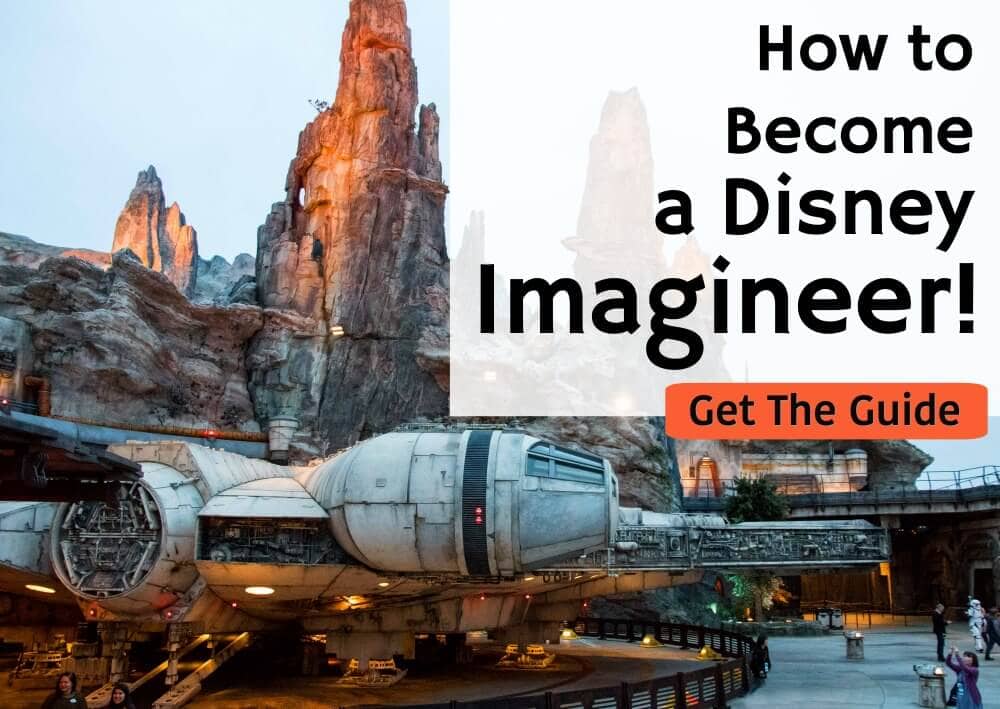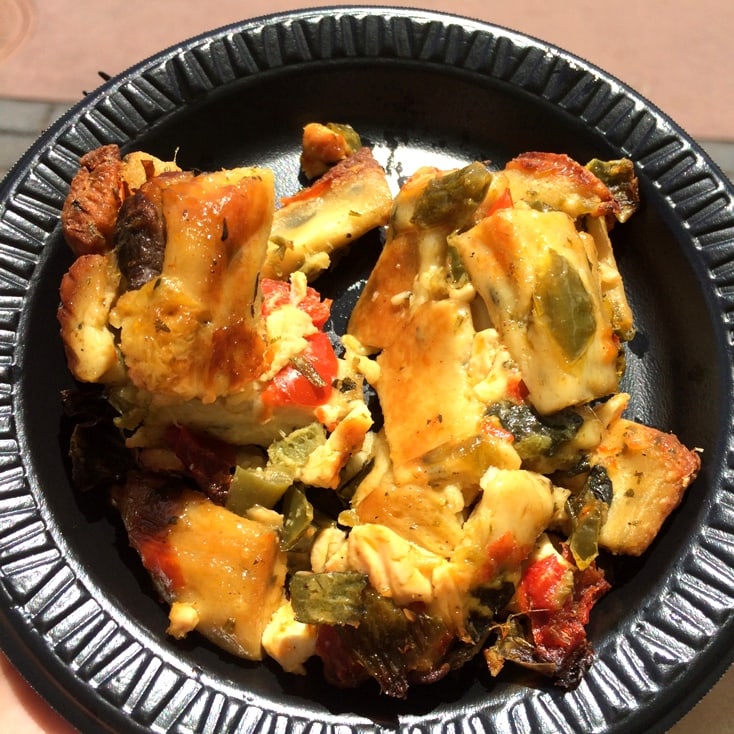 In a land known for macaroons, it's hard to pass up something like the Macaron Guimauve a la Fraise ($4.50). Basically it's a huge macaroon with a marshmallow type filling and in the center is a strawberry jam. It's super sweet and good, and the presentation in a French newspaper sleeve with the Eiffel Tower is brilliant.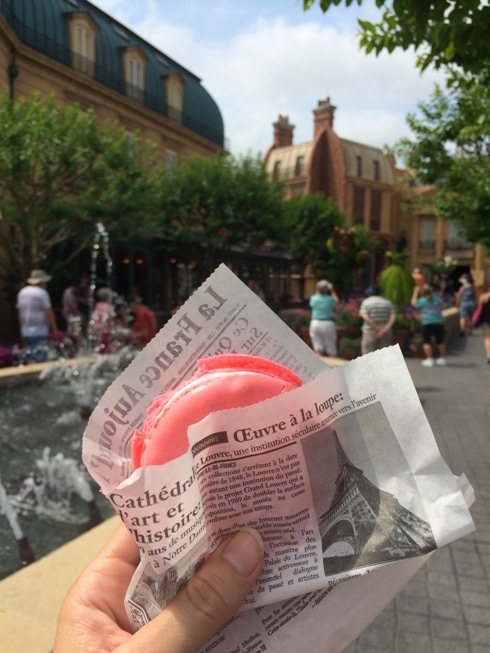 These are just a sampling of what's available. These days, there's more alcoholic drink options than food, it seems. You can always get a feel for what you'd like to try – and how to pace yourself – by picking up a Garden Passport Book found at all map locations throughout Epcot, which lists everything available to eat or drink at each specialty pavilion for the Epcot Flower and Garden Festival.