If you are looking for the best ice cream in Hendersonville, NC and the surrounding area, you have quite a few great choices! Options include award-winning Irish ice cream, old-fashioned ice cream sodas, and thick frozen custards.
Be sure to check out our Local's Guide to Best Restaurants in Hendersonville, too!
Celtic Creamery
Celtic Creamery uses Irish recipes, along with Irish cream and butter, to make decadent ice creams on site. The flavors are churned and frozen daily in Hendersonville.
A new comer to the area, the restaurant is located in the 7th Avenue District and within walking distance to downtown Hendersonville.
There are 14 flavors available each week. They do change frequently from the 58 Irish recipes that Celtic Creamery has.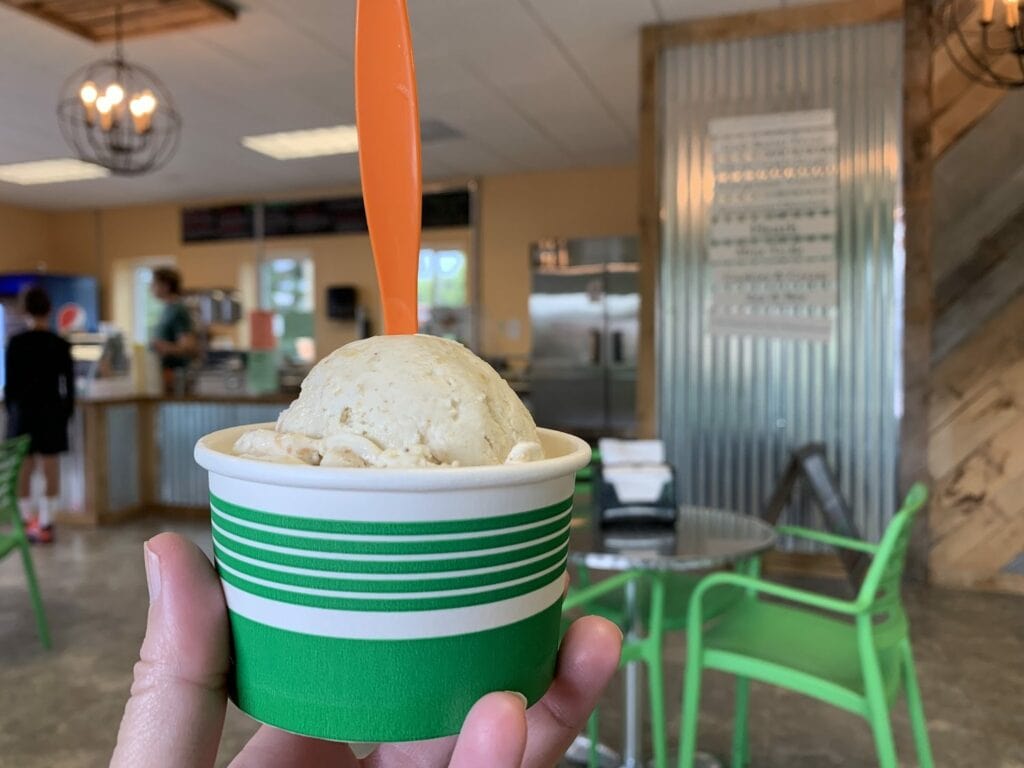 We tried the Caramelized Apple Ripple, which was created for the NC Apple Festival season. It tastes like Fall in a cup! Imagine an apple streusel with melted vanilla ice cream on top and that's what the cup of ice cream tasted like! It was delicious!
Celtic Creamery also offers:
Milkshakes
Sundaes
Mini Donuts
Celtic Coffee
If you've got a hungry family to feed – or are just brave yourself – get the Tummy Trembler with six scoops of ice cream served over a banana with hot donuts, whipped cream, cookies, other toppings, hot fudge and a firework!
The kid-friendly ice cream shop has fenced in area outdoors with tables and room to play, so that parent's don't need to worry about children running out into the street.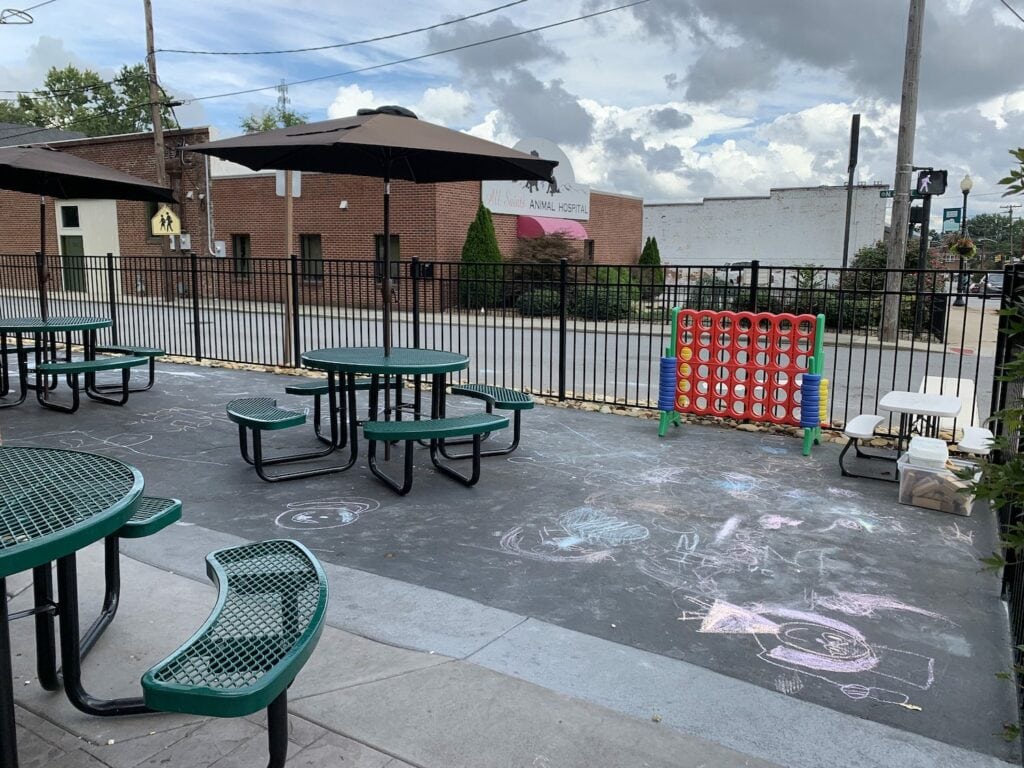 Indoor seating is also available.
The fusion between the west coast of Ireland and North Carolina started when Carolina Beach resident Jeff Hogan visited an ice cream shop – Sundaes – in Kerry, Ireland. Sundaes has been award Best Ice Cream in Ireland 6 times, an impressive accomplishment! A partnership was formed, allowing the scrumptious Irish ice cream shop to open up a few stores in North Carolina, including Hendersonville, Carolina Beach and Smithfield.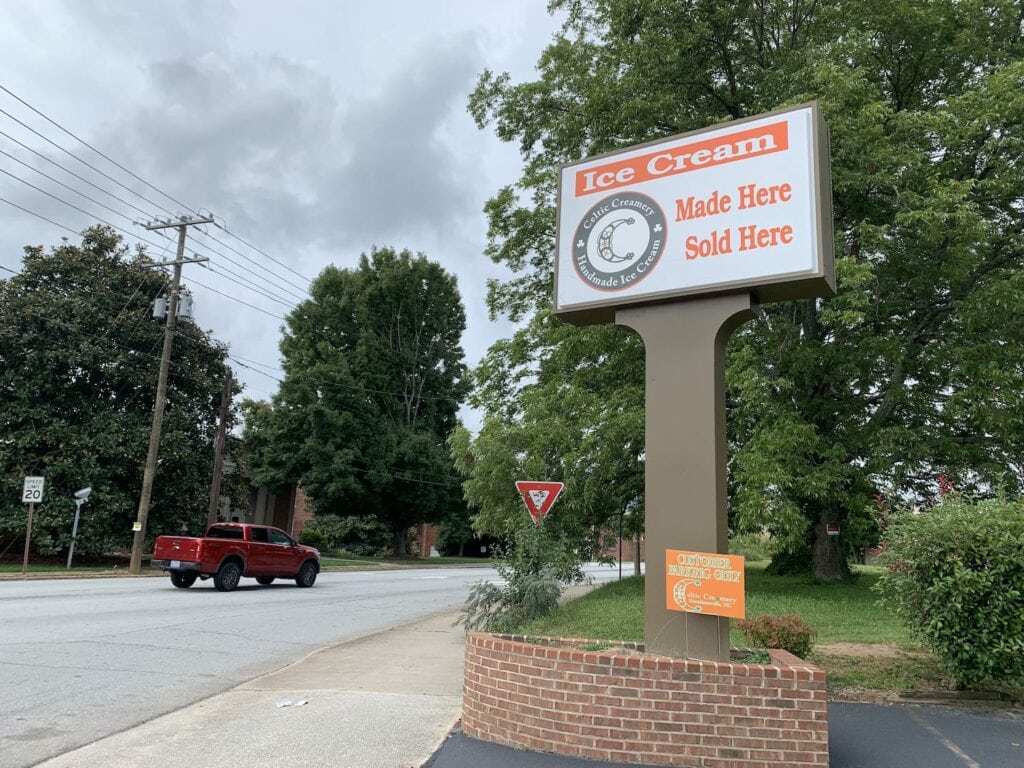 Piggy's Ice Cream
We love going to Harry's and Piggy's Ice Cream for the antiques and fun atmosphere. This one location has Harry's, which serves up food (and is one of our top picks for Cheap Eats in Hendersonville, NC), and Piggy's which serves ice cream.
Piggy's has been open since 1979. It has always been an antique and ice cream shop. Dining here is like dining in a museum of fun antique treasures. Everywhere you look there is something unique or unusual.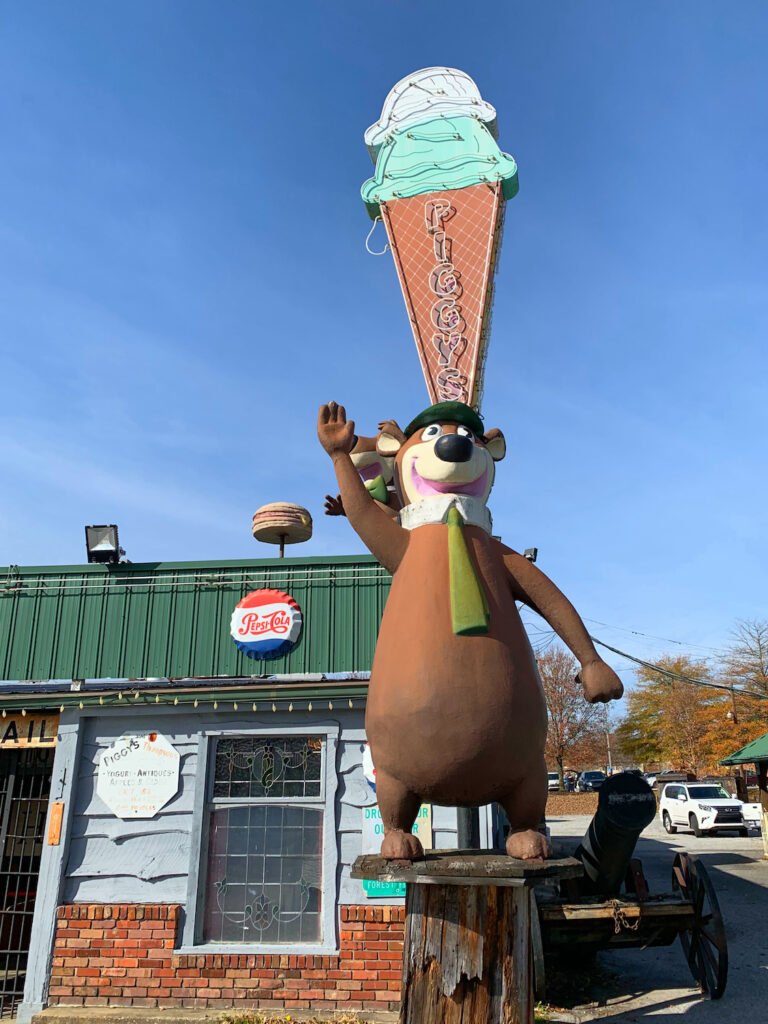 More than 31 flavors are available in a cup or cone. Also available are:
Sundaes
Malts
Banana Split
Freezes
Cakes
Located across from Lowe's, you'll know you are in the right place when you see the huge pink elephant on top of the building!
Whit's Custard
Whit's Frozen Custard is an institution in Hendersonville. It's been around a long time and has a loyal following!
Each day, there are four flavors available at Whit's, including Chocolate, Vanilla and two specialty flavors. You can see what flavors are available by looking at their Flavor Calendar.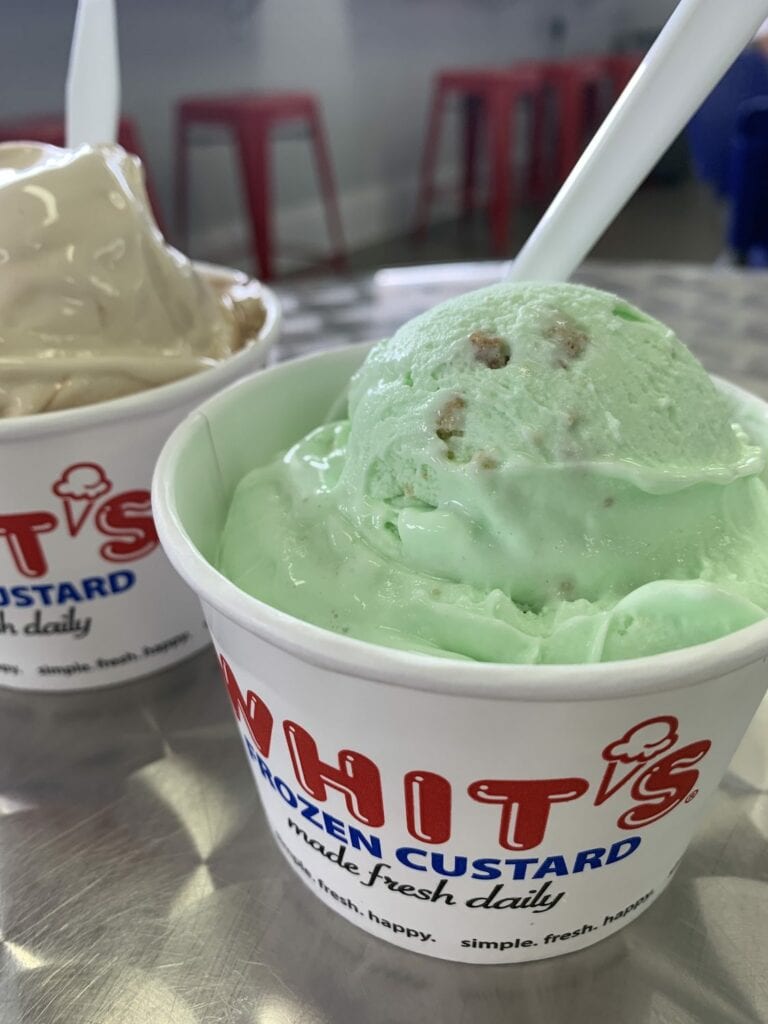 A huge selection of toppings, fruits, sauces, nuts and candies can be added to your frozen custard or blended in to create a famous Whitser.
There's plenty to choose from every day, including Sundaes, frozen custard cakes and a freezer stocked with frozen goodies to go.
Whit's Frozen Custard is a small chain, with more stores located in Ohio.
Mills River Creamery
Mills River Creamery has a storefront in Mills River, which is close to the Asheville Regional Airport.
At the Creamery, you will find their ice cream, along with other of their dairy products, including butter, milk, and buttermilk.
Enjoy a scoop of one of several flavors of homemade ice cream using Jersey Cow milk.
Kilwin's
Kilwin's is a national chain that has been in downtown Hendersonville for 18 years.
Walking into the small shop, you will immediately start inhaling the sweet smell of sugar! There's so much to enjoy at Kilwin's beside ice cream, including fudge, peanut brittle, caramel corn and other sweet treats.
During apple season, Kilwin's uses local apples to make their caramel apples.
Get an Ice Cream Punch Card and after buying 9 ice creams, your next one will be free.
Mike's On Main
This old-fashioned diner on Main Street is the perfect place to enjoy a scoop of ice cream or a malted shake. The 1950s-style diner is packed with antiques and memorabilia.
Mike's on Main is located in the building with the huge Coca-Cola mural on the side. If you are walking down Main Street, you will see it!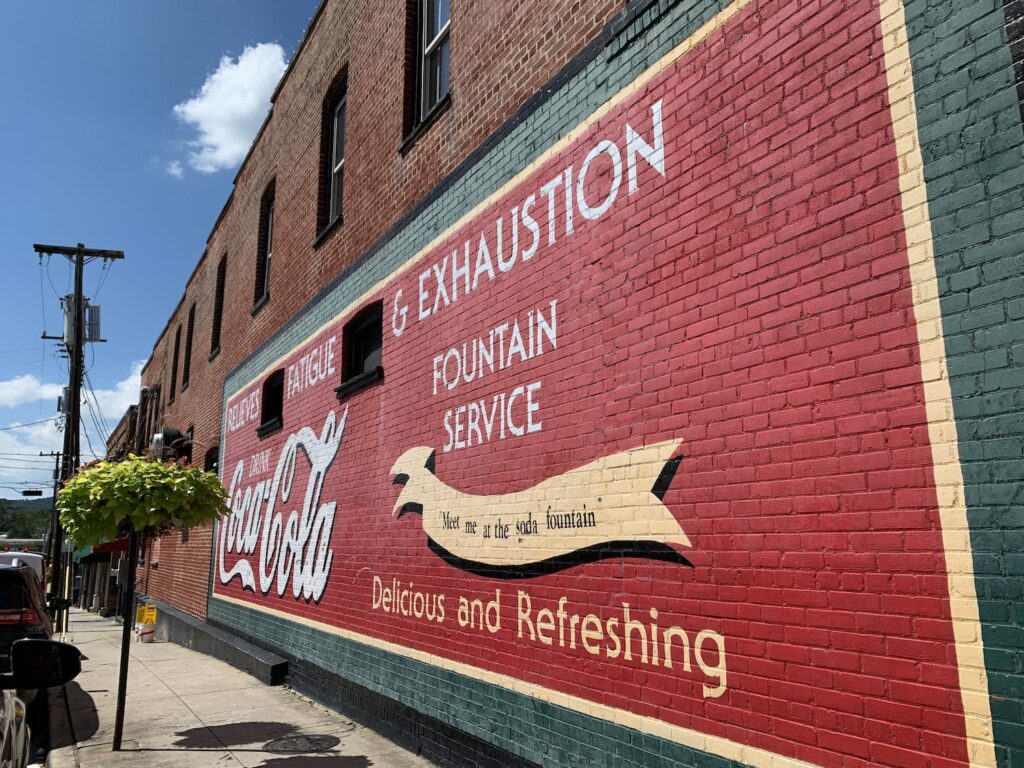 However, if you are coming from the opposite direction of the mural, then you might just spot Ginger, the coin-operated carousel horse, outside when walking by.
Sit at the historic soda fountain or grab a table to enjoy your ice cream and a meal (including breakfast) if you'd like. Be sure to choose a free selection from the juke box, too.
This is the location of the first soda fountain in Hendersonville, and it continues to be the only soda fountain in the city. The original tile floors and high ceilings are still there, as well as seven stools dating back to 1935.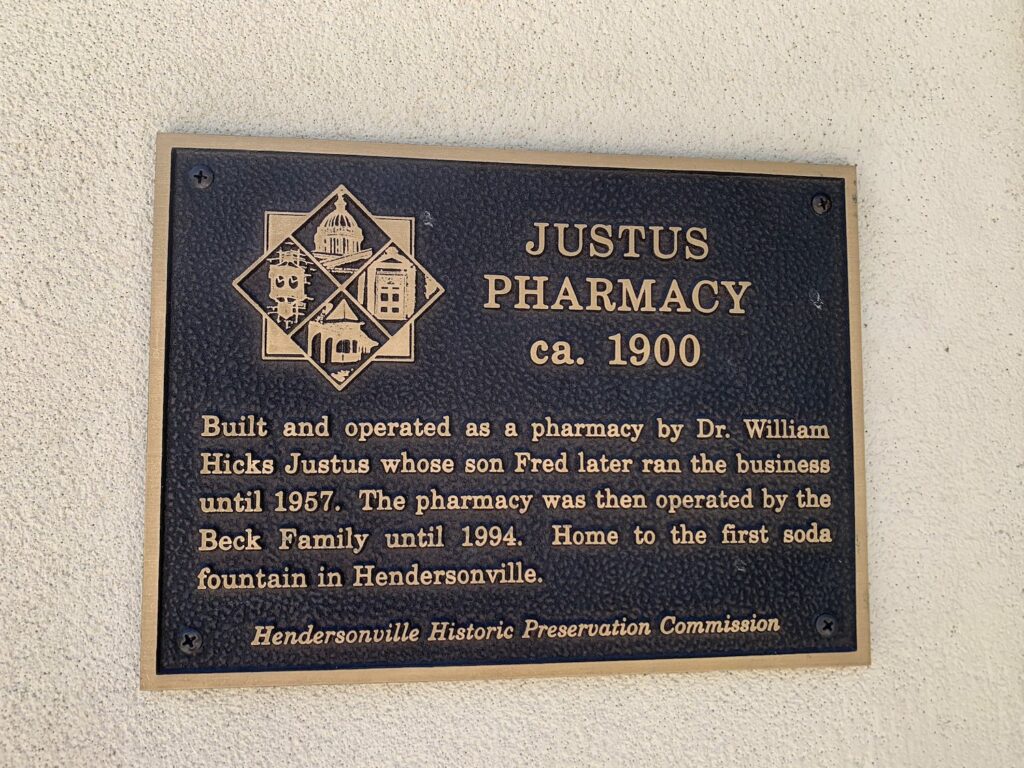 Mike's on Main originally opened as Justus Pharmacy in 1900, when the building was built. Today, you can still find the original cash register, as well as antique soda bottles, old menus, and apothecary glass jars.
In addition to ice cream cones, you can choose from:
Milkshakes
Egg Creams
Ice Cream Soda
Malted Shakes
Ice Cream Floats
Banana Split
Sundae
Brownie Delight
The murals on Main Street and a historic downtown walking tour are just some of the free things to do in Hendersonville that you can enjoy after your ice cream.
Johnson Family Farm
This family-owned roadside farm has an ice cream stand inside with really delicious flavors! It's perfect for enjoying while cutting flowers in the field or shopping for locally grown produce.
Jack the Dipper
Jack the Dipper is an ice cream parlor with five locations in Western North Carolina, including a Fletcher location just outside of Hendersonville.
If you like warm waffle cones or bowls, this is your ice cream shop!
Over 32 flavors are available, with sundaes, malts and shakes, too.
---
Check out our list of kid-friendly activities in Hendersonville, too!
You might also like visiting one of Hendersonville's cideries, which are all family friendly. And be sure to have fun at one of these u-pick apple orchards in Hendersonville (some of which serve ice cream!)