Want to stuff a stocking but don't want to spend a lot of money? You've come to the right place! This is our huge list of inexpensive stocking stuffers that women, men, teens and kids will love! Almost all of them are under $10.
We strived to find thoughtful, impressive gifts that don't cost a fortune. In fact, most of them are only a few dollars. These are unique stocking stuffers that look like you've gone shopping somewhere fancy, but in fact you've only spent a few bucks.
Prices do change online all the time, but we strived to find the most inexpensive stocking stuffers that we could that will still make your friends and family smile when they open them up.
Amazon Prime
All of these inexpensive stocking stuffers are found on Amazon. Having Amazon Prime makes these items even easier to get, with free shipping (often very quickly – sometimes same day or in a day or two).
Are you on a very limited budget? Did you know that Amazon offers discounted Amazon Prime memberships for certain qualifying customers?
Plus, many of the items offer free returns, as well. So you don't have to worry about the quality of the items. If you don't like it, just send it back (be sure to look at each individual seller's terms, though, to see if they offer free returns).
*HOT TIP: If you're not ready to buy right now (or you just want to keep adding things as you see them and like them), be sure to add them to your Amazon cart. That way, you'll have a lot of options already hand picked for when you need a quick gift or realize you don't have enough stocking stuffers!
Inexpensive and Cheap Stocking Stuffers (That Don't Make You Look Like a Cheapskate!)
We've narrowed down these inexpensive stocking stuffers into sections to make your shopping easier. Just scroll through the sections to be surprised with all of the inexpensive (we don't dare say cheap!) stocking stuffer gifts you can get.
Plus, many of them can be delivered quickly in case you've waited until the last moment!
Here's how these inexpensive stocking stuffers are organized:
Stocking Stuffer Ideas for Men
Beauty Stocking Stuffers for Women and Teens
Jewelry Stocking Stuffers for Women and Girls
Stocking Stuffer Ideas for Kids
Kitchen Stocking Stuffer Ideas
Inspirational Stocking Stuffers
Stocking Stuffer Ideas for Everyone
Stocking Stuffer Ideas for Men
Bourbon Vanilla Lip Balm is Certified Organic and made for men. How can he resist?
We LOVE these tactical men's bracelets which not only look great as an accessory, but also unravels to 12 feet of parachute cord, with a compass and whistle built in. Perfect for hikers, campers, National Park lovers and outdoors aficionados!
Survival Hacks is a wilderness manual perfect to have in your backpack or bookshelf.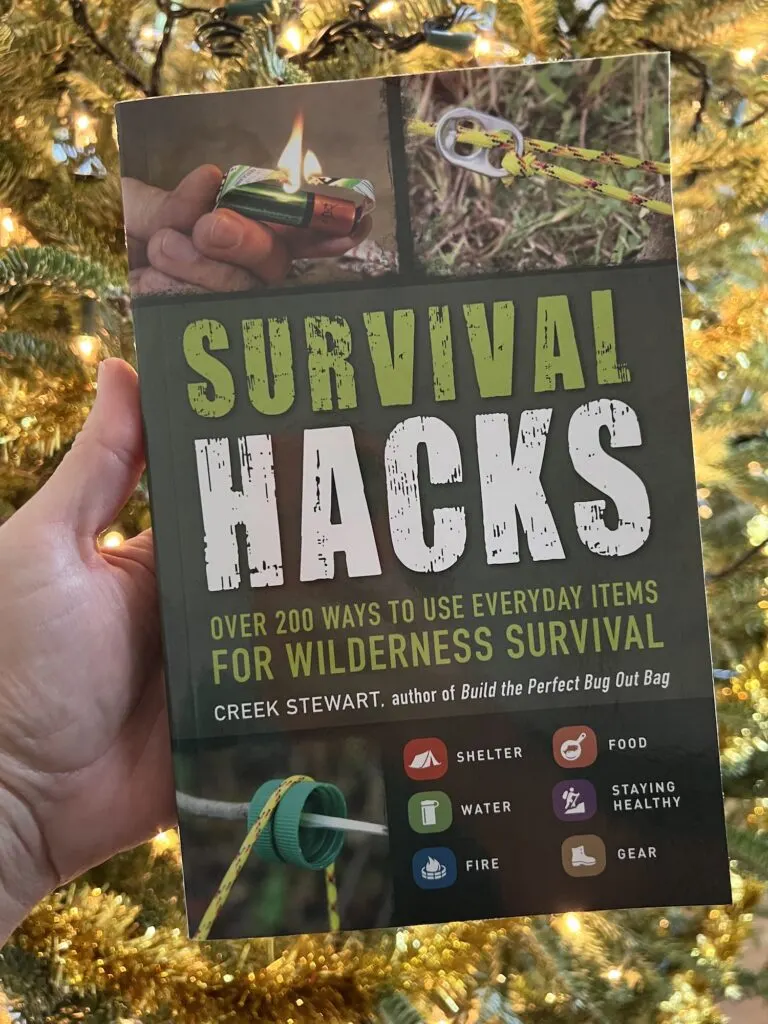 I can't tell you how often we use this USB car charger adapter. It is SO handy! And for this crazy low price, you should get a few for every vehicle.
A digital tire pressure gauge is a small investment for a lot of peace of mind. Perfect for trucks, cars, RVs, motorcycles and bicycles.
Car cleaning gel doesn't sound like a fun gift. But it's kind of like Silly Putty for adults! It's weirdly therapeutic to get rid of all the dust and dirt on car vents and dashboards with this goo. Plus, it's just great for anyone that loves to take pride in caring for their vehicle.
A motion activated night light for the toilet? Yeah, it's bizarre. And, yep, they'll LOVE it!
A magnetic wristband makes it easy to work on projects around the home without losing screws or nails.
A battery tester is perfect for anyone who uses a lot of electronics (or is trying to keep kids toys powered).
A desktop boxing kit will definitely be a conversation piece at the office. Or just stress relief while working from home.
Beauty Stocking Stuffers for Women and Teens
We can't believe how many amazing gifts you can find for just a few dollars.
All of these beauty and accessory items are perfect for girls, tweens, teens and adults.
Not only are they affordable, but they are also very useful, too! Many of these inexpensive stocking stuffers can improve wellness and well being by using them, which is definitely a welcome gift for your friends, family or co-workers.
Beauty Tools
Body Care Gifts
Hair Accessories
This highly rated 4-pack of spiral hair ties (they look like old-school phone cords) is great for getting hair off of your face.
Headbands are always welcome for girls, teens and adults. Not only can headbands be a great accessory, but they are also good at keeping hair off of your face while washing your skin, working out, bending over to do chores, etc. There are a variety of different types of packs of headbands. This 5-pack of classic headbands comes in a variety of colors. This 6-pack of ouchless head wraps is only in one color, and works better for athletes or using in a beauty routine.
But for a REALLY BOLD fashion statement, we love this 8-pack of head wraps in a variety of patterns.
This 2-pack of hair clips are beautiful geometric barrettes that are perfect for girls, tweens, teens and adults. They come in two different metals so that they coordinate with a variety of different outfits and looks.
Cosmetics
A 6-pack of organic lip balms for an insanely low price? Yes, please! We love how they are boxed (rather than a blister package or just in a bag) so you can wrap them in gift wrap and make them look more impressive.
Travel-size toiletries are a fun way to try new brands. Or to get ready for a vacation. Check out this list of where to find the best travel size toiletries.
With a crazy amount of different colors and flavors, you'll have a fun time choosing one of these sphere lip balms for all of the girls, teens and women in your life.
Cake Batter or S'mores flavored lip balms? How delicious! Get a three pack for a crazy good price!
This lip gloss comes in so many shades it's hard to choose which one is the best! Or try this juicy lip gloss at a great price. So why not get more than one?!?
These dermaplaning tools might not seem sexy, but we are pretty sure that they'll love using them! These touch up razors are perfect for hard-to-reach areas or taking off peach fuzz.
Jewelry Stocking Stuffers for Women and Girls
Stocking Stuffers Ideas for Kids
Kitchen Stocking Stuffers Ideas
A tiny cast iron skillet from Lodge (who's known for amazing pans)? Yep! You didn't know that skillets could be this small, but they're great at melting butter, cooking a small egg, or any other small tasks.
This digital cooking timer is easy to use and makes sure that you never forget about cookies in the oven! Want to gift something a little more decorative and cute? This egg timer is the perfect gift, then!
Perfect for tea or coffee lovers! This is the cutest way to store and display sugar for hot drinks.
It might not be sexy, but they'll think about you every time they cook when you give them this silicone utensil rest! Perfect for resting a spoon by a pan without making a mess on the countertops!
Get odors off of hands after chopping onions or garlic or fish with this odor eliminating bar. It's stylish and beautiful on the counter, too.
This silicone basting brush is great for BBQ lovers, cake decorators and anyone who spends time in the kitchen.
Four colorful cutting mats not only take up a lot of room in the stocking, but they'll have a multitude of uses in the kitchen all year long!
It chops, its scrapes, it's a spatula and more! This multi-functional kitchen tool is great for all kinds of cooks!
If someone in your life just LOVES mayo on their sandwiches or other foods, then make their life easier with this unique knife just for mayo!
Fill water bottles without any mess or spilling with this collapsible 2-pack of brightly colored funnels (works great for other funnel needs, too!).
A 4-pack of dish cloths in this gorgeous and cheery color is sure to brighten up their kitchen!
Inspirational Stocking Stuffers
Angels are always watching over us. Remind your friends and family with this lovely angel box perfect for storing jewelry.
We love this small box of inspirational sayings for women. The size of a deck of playing cards, it is a perfect gift to keep in a glove compartment, purse, bedside table, etc.
Perfect for the moms in your life, this paperback One-Minute Inspirations book is packed with wisdom and inspiration to be enjoyed in 60 seconds or less.
Know someone who is going through some challenges in life right now? This Too Blessed to Be Stressed devotional book is perfect for them.
This Choose Joy vinyl decal can be applied to a laptop, car window, mirror or even a refrigerator for a powerful message to be seen daily.
Blessings of Grace cards are so beautiful they can be framed for gorgeous, inspirational artwork!
Want to give the girls at church something special? This pack of 101 Promises from Psalms is great for church friends and gift giving exchanges, or tuck them into an inspirational gift package.
Stocking Stuffer Ideas Perfect for Everyone
Seed packets are excellent stocking stuffers because everyone is looking forward to a fresh Spring after Christmas! Botanical Interests are my favorite seeds of all time, because they actually grow! Whether you choose edible plants, beautiful flowers or herbs for cooking, there is something for everyone for just a couple of dollars each. Plus, the seed packets are beautiful!
This portable cell phone or tablet holder is perfect for helping out with FaceTime, Zoom calls, or reading recipes while cooking.
A Bob Ross bobblehead with sound, and a book with 30 of his paintings? Yes, please!
A password organizer will save them SO MUCH stress and frustration! They will thank you each and every time they use it!
This impressive sewing kit is full of everything anyone might need to repair clothes or sew a small craft.
Or get a Survival Sewing Kit which also has some glue and tape (for when sewing isn't necessary for a repair).
A wooden tic-tac-toe set is pretty impressive for being so cheap!
We can't believe this Bon Voyage luggage tag cost just a few dollars. It's super cute for any traveler or anyone planning a vacation soon.
For multiple suitcases, consider this 4-pack of world map luggage tags.
A foldable bag is always a welcome gift. This world map travel-size laundry bag is great for anyone with wanderlust in their hearts.
This unisex sleep eye mask comes with its own pouch. Works great for travel or home.
A Nightmare Before Christmas Cross-Stitch Kit that is super affordable? Yeah, they're going to love this!
Never underestimate the power of a gift card. Even a $5 gift card. It's a perfect gift for indulging in a coffee, ice cream, song download, new app, etc.
Cash is always a perfect gift, too. Instead of sticking a dollar bill in their stocking, make it unique! Try out these incredible dollar bill origami ideas!
A public toilet survival kit? Yep! It's a gag gift, for sure, and kinda funny. But, honestly, it actually works and will likely be appreciated more than you know!
An 18-pack of colorful pens is a perfect inexpensive stocking stuffer for writers and those who like to journal (see great gift idea below). Plus, it's size takes up a lot of room in a stocking, filling it up quickly on a budget!
Perfect for a work gift exchange, or to give someone who dreams of a career change, this "Things I Want to Say in Meetings But Can't" notebook gives them an opportunity to draw, doodle or actually write whatever they want in a 100 page journal.
These finger hands will bring laughter to their lives. Perfect for both adults and kids, they'll laugh out loud with the silliness!
A leather coin pouch is perfect for both men and women. This one comes in a variety of colors.
This double macrame plant hanger is a perfect gift for gardeners or plant lovers. Plus, you can't believe how good this cheap stocking stuffer looks!
Mini fans that plugin to your mobile phone are great for anyone heading to warm places for vacation, such as Florida. Great for theme park lovers, too! This 2-pack lets you give two gifts for cheap!
Holiday flavor teas are perfect for enjoying while watching Hallmark movies after all the gifts have been opened! Put a box of these Christmas teas in their stocking.
You can't go wrong with candy bars. Stock up on full-size candy bars in flavors that they love.
Family game night gets even better with these card games, such as Connect 4, UNO Dare or Blink. For adults, this drinking party dice game might be a better fit.
Be Sure to Pin This List So That You Can Find it When You Need Stocking Stuffers Quickly!
More Gift Ideas!
Want even more gift guides and inspiration for gift giving ideas? Check these out!