San Diego is a great destination for families with kids! If you're trying to avoid the expense and crowds of a theme park, though, you might be wondering what kid-friendly activities there are. These are the best San Diego Attractions for Kids. Some are free, and others do have admission or day pass fees.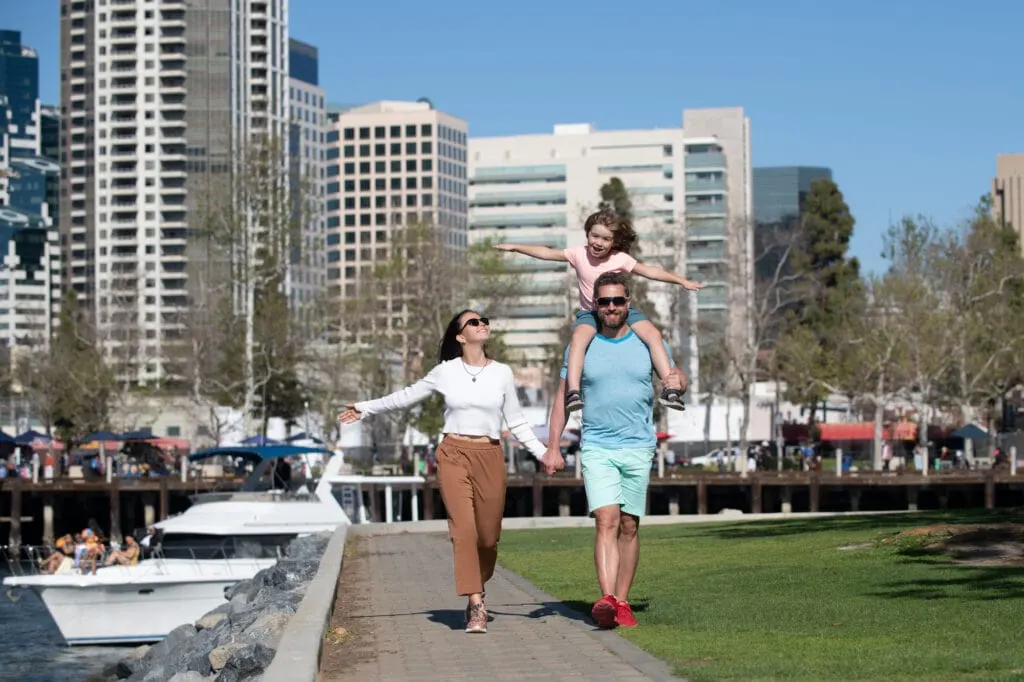 Free Attractions for Kids
Balboa Park
Balboa Park is one of the most popular destinations to visit in San Diego, and for good reason. You can spend an entire day there and not have to worry about leaving or getting in the car to drive somewhere else.
There are seventeen museum buildings, a large garden, five playgrounds, a carousel, and a miniature railroad track.
The iconic merry-go-round was built in 1910 and features intricate hand-carved animals.
Balboa Park has free admission for the public spaces such as playgrounds, gardens, trails, the dog parks, and admiring outdoor art. The museums and other attractions on the grounds do have admission prices that vary.
Another great thing is that the grounds are open 24 hours a day, seven days a week. Which is great if you are dealing with jet lag or your kids just love to wake you up at the crack of dawn. Ugh!
Mission Trails Regional Park
Mission Trails Regional Park is great for active families looking for some adventure in the outdoors. Plus, it has some great views of San Diego's skyline, too. It is located just minutes from downtown San Diego.
With more than 65 miles of trails and 8,000 acres of hills and canyons to explore, there's something for everyone at this urban park. Activities include hiking and biking trails, playgrounds, fishing, picnic areas and overnight camping.
La Jolla Cove
La Jolla Cove is a beautiful and popular beach in the coastal town of La Jolla. The crystal-clear water, warm swimming temperatures year-round make this one of California's most picturesque beaches to enjoy your day at sea with family or friends. Visitors can spend their time in the water by snorkeling through shipwrecks offshore or enjoying the sea life while kayaking. Thrill-seekers will love diving into deep waters where manta rays often swim underwater!
There are also plenty more things on offer for visitors who want to stay on land including watching sea lions from some distance away (depending on your courage), checking out old caves near the shoreline, or taking advantage of Ellen Browning Scripps Park's grassy shade for an afternoon family picnic. Stay for the amazing sunsets and enjoy live music at many of the nearby restaurants.
Check out this detailed guide of everything to do at La Jolla Cove.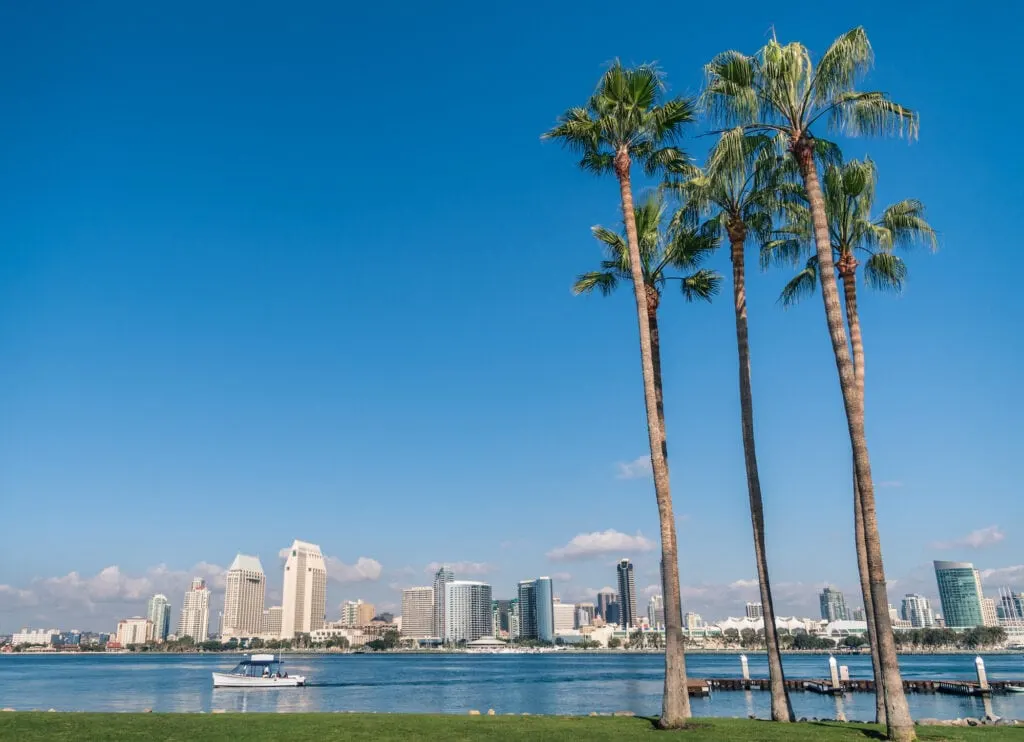 Attractions with Admission Tickets
San Diego Zoo
See more than 4,000 animals at the San Diego Zoo! This massive zoo is easy to get around with small children thanks to the buses and trams that are available. So no worries if the little ones get tired just a couple hours into your visit.
With over 800 species, you probably won't be able to see everything in one day! There are tons of topiaries, statues and photo ops for a fun day of making family memories and photos.
We suggest buying a ticket ahead of time to avoid waiting in lines. This San Diego Zoo 1-Day Pass ticket can be used at any time and doesn't need to be exchanged for a paper ticket. Just scan the mobile code on your phone at the entrance for quick and easy admission.
Keep in mind that the San Diego Zoo Safari Park is different and is about a 45 minute drive from the San Diego Zoo seen above.
Fleet Science Center
Children of all ages will spend hours learning about how things work while turning knobs and pressing buttons in the giant interactive space within the Fleet Science Center at Balboa Park.
It is one of the largest science museums in the country, with more than 100 interactive exhibits. Kids will love exploring everything from technology to outer space, and parents will appreciate the educational content combined with plenty of fun activities.
There's also an IMAX theater on-site for even more immersive learning.
San Diego Natural History Museum
Located in Balboa Park, the San Diego Natural History Museum is a fun spot to go inside and cool off from the heat.
The huge museum features exhibits on many different aspects of natural history, from dinosaurs to plants to animals. You can easily spend an entire day here, the exhibits are that good!
Pedal Boat Rentals
Get close to the water and burn off some energy at the same time with Eco Pedal Boat rentals in San Diego Bay. Within minutes of sailing out into the bay, you could see sea lions in their natural habitat! This is a great activity to do on a beautiful sunny day in the city!
San Diego Air and Space Museum
Do you have an interest in the universe and everything beyond our planet? If so, the San Diego Air and Space Museum will take you on a journey through space, from the planets and stars all the way out to the edge of the known universe. You'll learn about everything from ancient astronomy to modern space exploration, and there's even a section dedicated to UFOs! Whether you're a seasoned space buff or just starting your journey of cosmic discovery, put on your rocket scientist hats and get ready for an out-of-this-world experience!
Cabrillo National Monument
Bring the kids to the Cabrillo National Monument for a real history lesson in San Diego. There are plenty of activities for kids of all ages, so the whole family will have a great time exploring the park together. The Old Point Loma Lighthouse museum provides visitors with sweeping photographs of the life of the 1800s by displaying period furniture and lighting equipment.
Follow the Bayside Trail for a spectacular panoramic view of the ocean and the city below. You can sometimes spot migrating whales here from January or February. Make sure you stop by the tide pools too while you're there – they're always a hit with kids!
Admission is FREE if you have the National Parks Annual Pass!
Go Surfing!
Yep, you can take surfing lessons in San Diego! Your kids can learn how to surf with a fabulous instructor that takes the time to teach them the basics in a semi-private surf lesson.
You might never get them to leave the beach after they have fun learning to ride the waves!
The New Children's Museum
Do you have young kids who love to explore and learn? If so, The New Children's Museum is the perfect place for them. With exhibits and activities designed specifically for kids aged 10 and under, this hands-on museum is packed full of exhibits and activities that will keep your kiddo entertained for hours. From its interactive exhibits to its rotating art programs, there's always something new to explore at this museum.
Plus, the location can't be beat – it's right in the heart of downtown San Diego, so there's plenty to see and do in the surrounding area. Keep in mind that the museum is closed Tuesdays and Wednesdays when planning your trip.
Birch Aquarium at Scripps
The Birch Aquarium at Scripps is a world-famous institution for marine biology and public education perched on picturesque bluffs overlooking the Pacific Ocean. With exhibits on everything from the creatures of the deep sea to coral reefs, the aquarium is home to 60 different habitats, including sea lions and jellyfish. It also features an impressive single-paned window that provides visitors with a stunning view of the ocean from within.
Whether your interest lies in marine life or just looking at cool fish, there's something for everyone at the Birch Aquarium. And if you're feeling brave, you can get up close to some creatures in the Touch Tank!
Torrey Pines State Natural Reserve
Torrey Pines State Natural Reserve is one of the city's most popular state parks for a reason! Southern California's native plants are on display along the miles of hiking trails. There are also beautiful beaches and awe-inspiring views.
The reserve is well-known for having the rare twisty Torrey pine and the prickling pear cactus, and other native species.
There are free guided walks, as well as Mindful walks, available for visitors.
The Guy Fleming Trail is a top pick for families. This 2/3-mile loop has the greatest variety of wildflowers, ferns, and cacti. The trail also offers two scenic overlooks with panoramic views that make for a great day trip or just something different from your average hike.
Make sure to stop by the visitor center to learn more about the reserve and pick up a map before hitting the trails. You won't be disappointed!
San Diego Botanic Garden
If you're looking for a fun and interesting day trip with your family, the San Diego Botanic Garden is definitely worth considering. With more than 37 acres of gardens, plants, and nature trails to explore, there's something for everyone to enjoy. Themed gardens include a Japanese garden, rose garden, succulent garden, and several gardens made especially for children.
The Seeds of Wonder Children's Garden focuses on young children. It features a dinosaur-themed garden, playhouse, and topiary as well! During most months it also hosts weekly activities in partnership with SAPLinGS – Science Art & Play In Ground Space Saves (a program that promotes creative learning).
The Hamilton Children's Garden provides a wealth of learning opportunities for kids. Here, children will have fun exploring the Butterfly Bed and Breakfast, playing giant tic-tac-toe, wandering through an elaborate slatted labyrinth, learning about sundials, or climbing an elaborate treehouse.
The San Diego Botanic Garden is also home to a variety of interesting plants and animals, so be sure to keep your eyes peeled! A variety of events are also held at the botanic garden throughout the year, so be sure to check their website before your visit.
Maritime Museum of San Diego
The Maritime Museum of San Diego is a world-renowned floating museum that showcases maritime history and culture. The museum's fleet includes eight vessels, including the USS Midway Museum, which is the largest naval vessel in the world open to the public and offers a fascinating glimpse into life on a US aircraft carrier.
There's plenty to keep kids entertained, from interactive exhibits to aircraft simulators, and parents will appreciate the historical and military context provided by knowledgeable guides. You can tour the Star of India, the oldest active sailing ship, and even stay aboard during special family overnight adventures in the summer.
Skip the line and head directly to the entrance with this mobile ticket that comes with an audio tour included.
Carlsbad Flower Fields
The Carlsbad Flower Fields are a must-see popular attraction in San Diego County. Every spring, the fields come alive with a rainbow of colors as 50 acres of flowers bloom in every imaginable color. Mother Nature's display of color at Carlsbad Ranch will not be seen anywhere else in the world.
Locals and tourists alike flock to Carlsbad Flower Fields to admire the Giant Tecolote Ranunculus, tiptoe through the maze of sweet peas, fill out passport papers at stamp stations and learn about recycling and composting.
The best time to see the fields is usually mid-March through early May, but check the website for updated information on blooming times.
This attraction reminds us of our visit to Keukenhoff Gardens in Amsterdam with all of the tulip fields!
Belmont Park
This one is kind of like a theme park, but not like the big-name ones you are familiar with! Belmont Park is a historical gem and has plenty of rides and games to keep kids entertained, as well as some great food options. It's not only affordable but also offers plenty to do with your whole family!
From the Giant Dipper (a vintage wooden roller coaster originally built in 1925) that will leave you screaming at speeds over 45 mph, to the brand new rock wall, there are 22 rides and attractions plus carnival-style games to enjoy, all while being surrounded by beautiful views and amazing oceanfront scenery.
San Diego Indoor Skydiving Experience
For adventure-loving kids, let them experience skydiving without actually having to jump out of a plane! The San Diego Indoor Skydiving Experience offers indoor fun with the chance for some drool-worthy photos and videos to share with friends!
If you liked this list of the Best San Diego attractions for kids, you might also like these articles: