Is the trunk or back seat of your car a complete mess? Got things thrown everywhere with no room? You are NOT alone. Most of us face a problem of too much stuff stored in a car or truck with no real organization. That's why I'm so excited to share the very best vehicle organizer that I have found, meori.
The moment that I got my meori organizer system was the moment that my car finally got organized.
Perfect Vehicle Organizer for RV Living
Living in an RV, we essentially are living out of our vehicle, too.
We pull our travel trailer behind us, which means that everything we might need during the day (including food and drink) must be in our truck as we drive.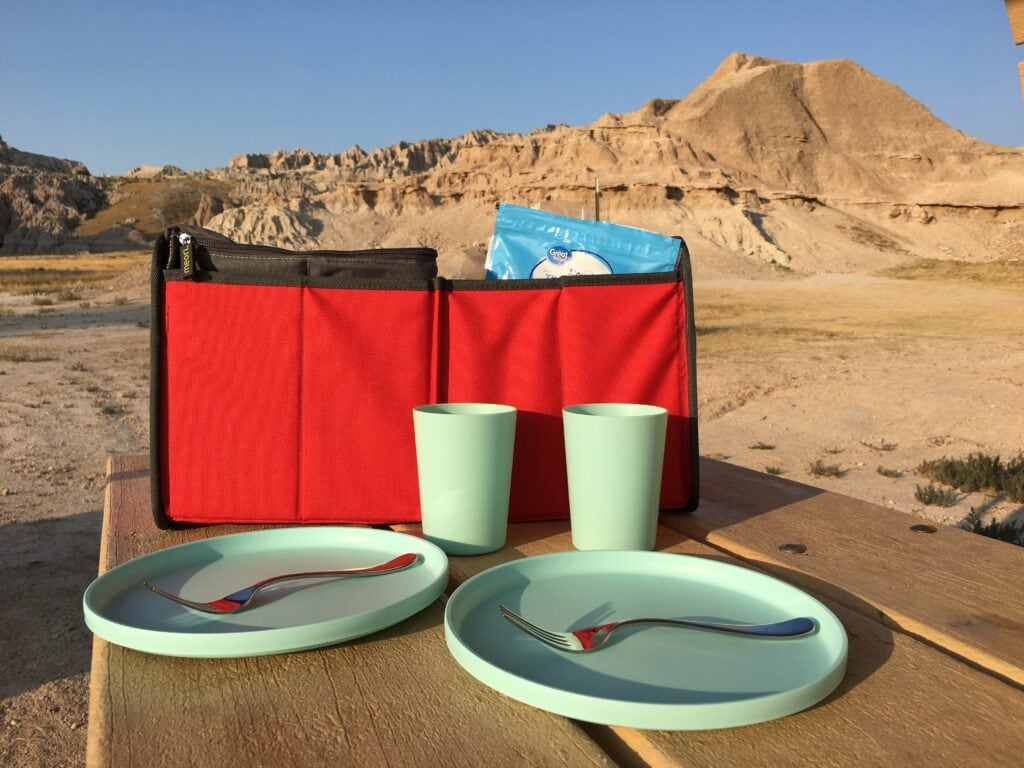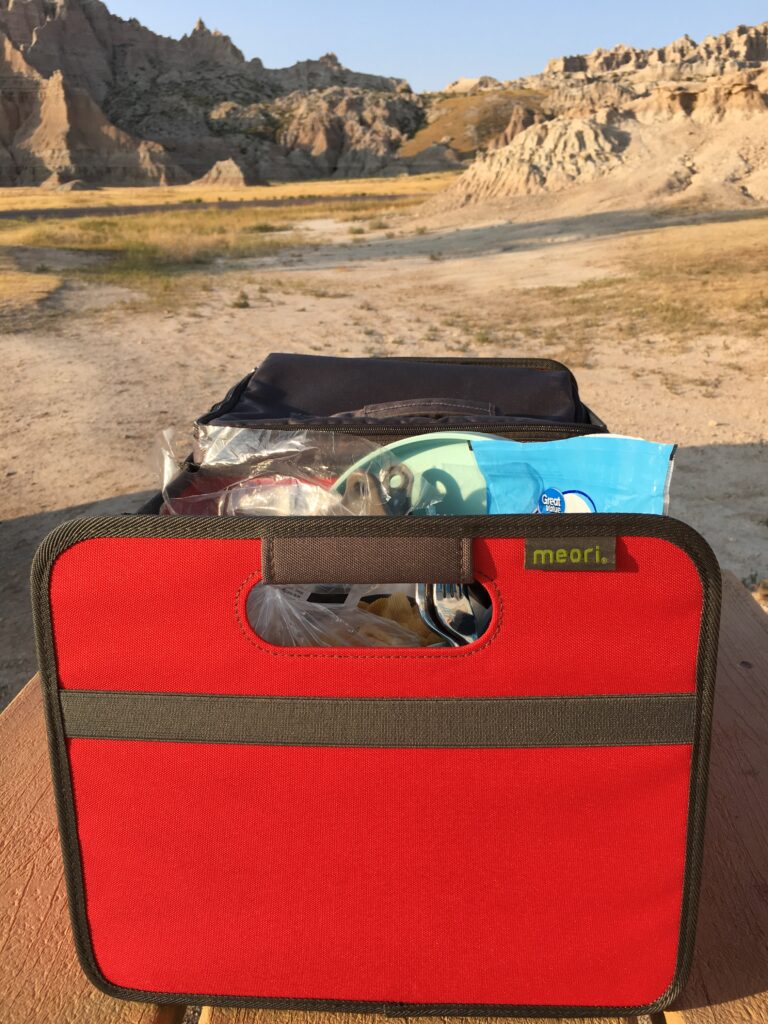 My main goal was to be able to organize food, snacks and drinks in our truck for the day.
It was driving me bonkers trying to put food and drinks in bags which would tip over or collapse. Then I had to have a separate insulated cooler for ice packs for cold drinks and refrigerated foods for snacking and eating lunch.
I had stuff everywhere, and none of it was organized.
I desperately needed a car organizer.
So when I found meori products, I was amazed! Colorful, stylish, and modern organization cubes that are interchangeable and perfect for my car organizing needs!
See how easy it is to pop up the meori Foldable Box and accessories:
Best Car Trunk Organizer
I also wanted something that would seamlessly blend into my life after we were done RVing across America. To work in my car just as easily as it works in a truck or RV.
The vehicle organizer must handle situations like:
Grocery shopping
Office supplies
Kids toys
Thrift Store shopping
Tailgating
Farmer's market purchases
Books, folders, file folders
Sporting equipment
Pet's toys
Emergency supplies
ANYTHING that could be stored and stashed in a car or truck – I wanted it to be organized from here on out. But I also wanted as room as possible in my trunk for when I wasn't using the car organizer. That's why meori organizing products are so great!
The base product that I got was the meori Foldable Box in Classic Large (it was a hard choice because I loved the polka dot ones in other colors, too).
I chose a bright red, two compartment box that is foldable and pops up easily when you want to use it. When it is unfolded, it is seriously sturdy and supportive. The sides and bottom of the foldable organizer are not going to collapse in or be unsupportive.
Each compartment has a mesh pocket and is made of tear-proof material. The stylish organizers wipe clean with a sponge.
What's so great about meori products is that you can customize what you need for your life. So I chose a meori picnicker and a meori cooler insert to put in each side of the organizer for my specific needs for picnicking and eating on the road while traveling.
The organizing system works seamlessly from our truck pulling our RV to my car to inside the house.
It's the best car organizer that does not have to stay only in the car. Which saves you money, aggravation and a whole lot of time while trying to keep your life organized.
Pop Up Insulated Organizer
This pop up insulated organizer cooler has been AMAZING! No more need for a bulky plastic cooler that takes up so much space when I'm not using it.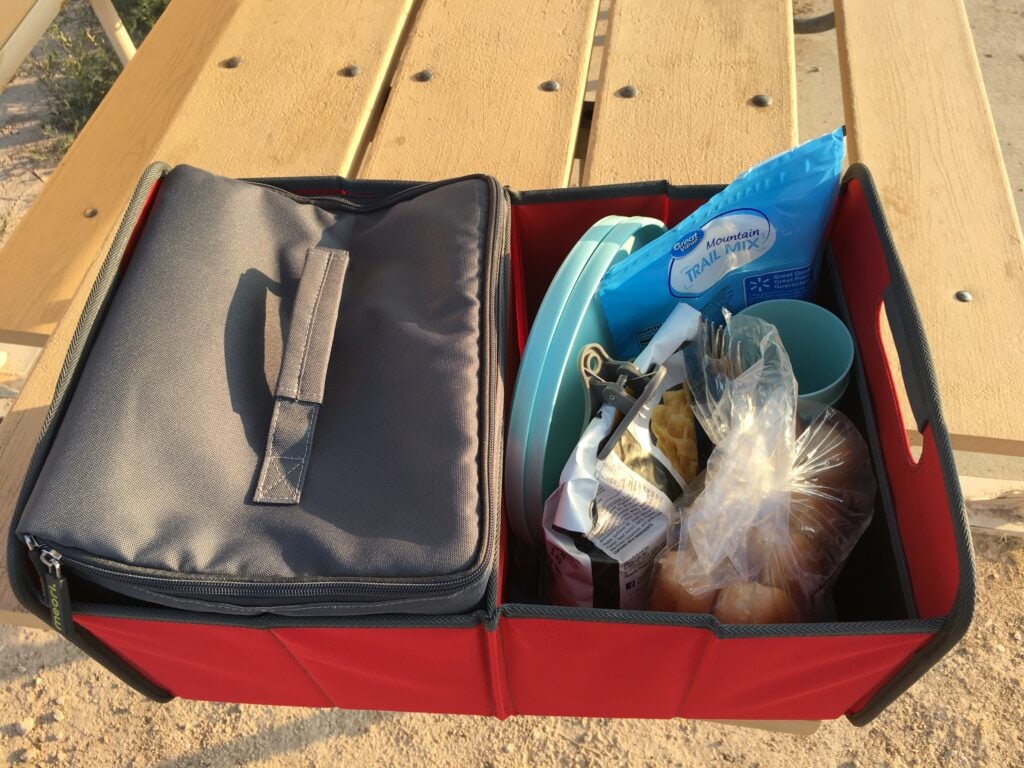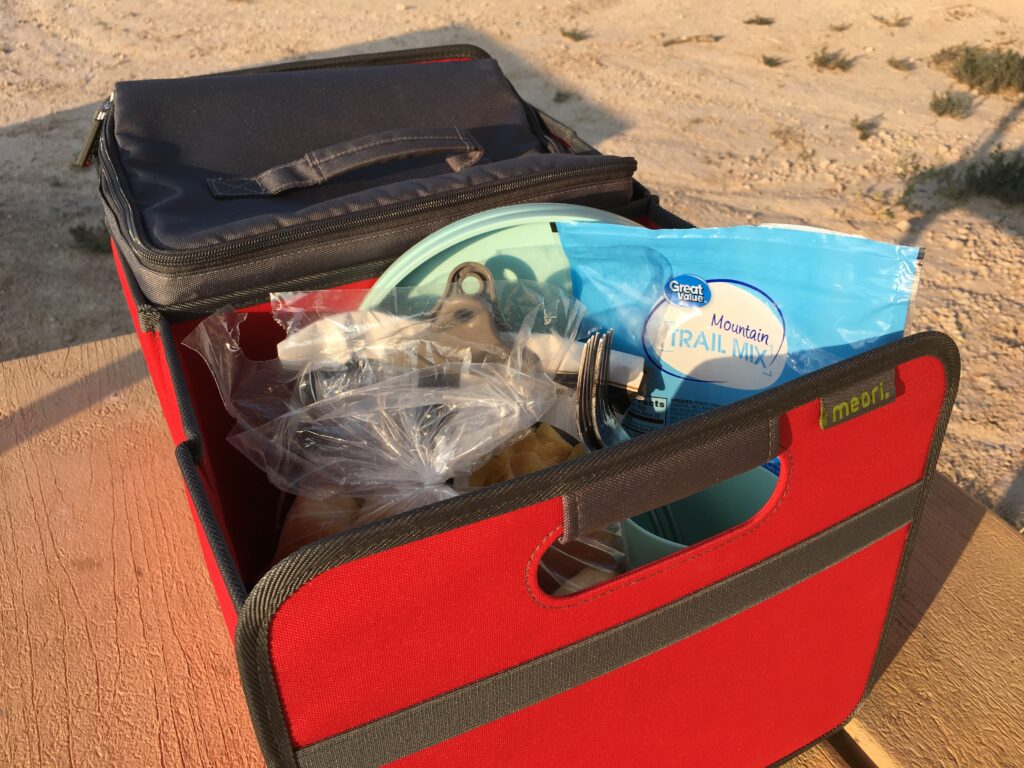 The pop up insulated cooler inserts into one side of my meori Foldable Box and easily folds down flat when I'm not using it.
I've stocked the insulated cooler with ice packs and lots of wide mouth reusable water bottles, cold meats, and picnicking necessities. They've stayed cold inside, even in the summer heat.
The zippered bag really does keep food and drink cool (even medications or medical supplies if you need them kept chilled).
It easily wipes down when it gets dirty inside (I know this because I got BBQ sauce everywhere and I wiped it away with a damp rag.)
Now that we're not full time RVing, I use the pop up insulated organizer when I make an unexpected purchase at the grocery store. Or when I have leftovers from a restaurant, but still a few more errands to run before heading home.
Perfect Picnic Caddy
The meori Picnicker is a smart idea that wraps around the inside of a compartment and holds plates, cutting board, silverware, etc.
Happily, you can store plates and silverware in the sides and still be able to put food, napkins, a tablecloth, etc. in the middle of the compartment for smart space-saving storage.
Great Travel Organizer!
This organizer has really worked great as we travel across America. Be sure to check out some of our National Park travel guides!