Blockade Runner Beach Resort is a family-owned and operated hotel in Wrightsville Beach, North Carolina where every room has a water view. Situated on land that is surrounded by the harbor on one side and the Atlantic Ocean on the other, Blockade Runner is truly unique!
This historic hotel has a family-friendly atmosphere that can't be found at many modern chain hotels nowadays. You get the feeling that families have been coming here for decades, making memories at their favorite place by the ocean.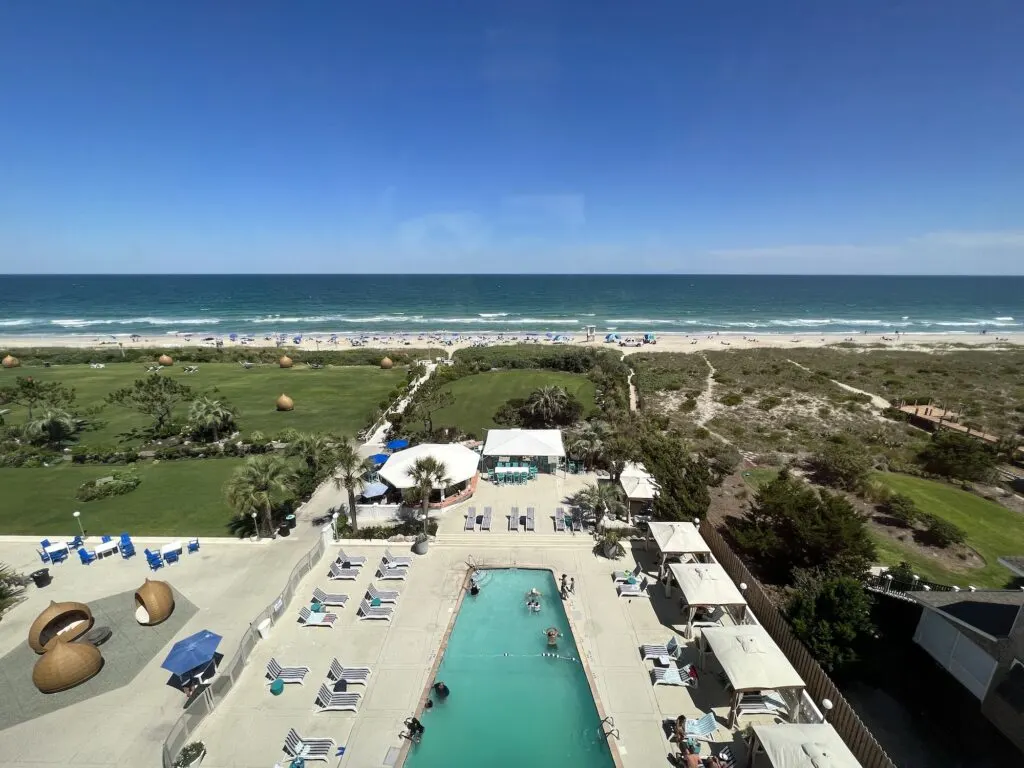 This spot has had a hotel on it since 1897, with the Blockade Runner Resort being the third structure on the site and built in 1964.
We stayed at the resort for two nights in June while we were exploring the best things to do in Wilmington, which is just about 20 minutes away from Wrightsville Beach. If you want a beach-front setting while enjoying the attractions of Wilmington, then Blockade Runner Resort is the perfect place!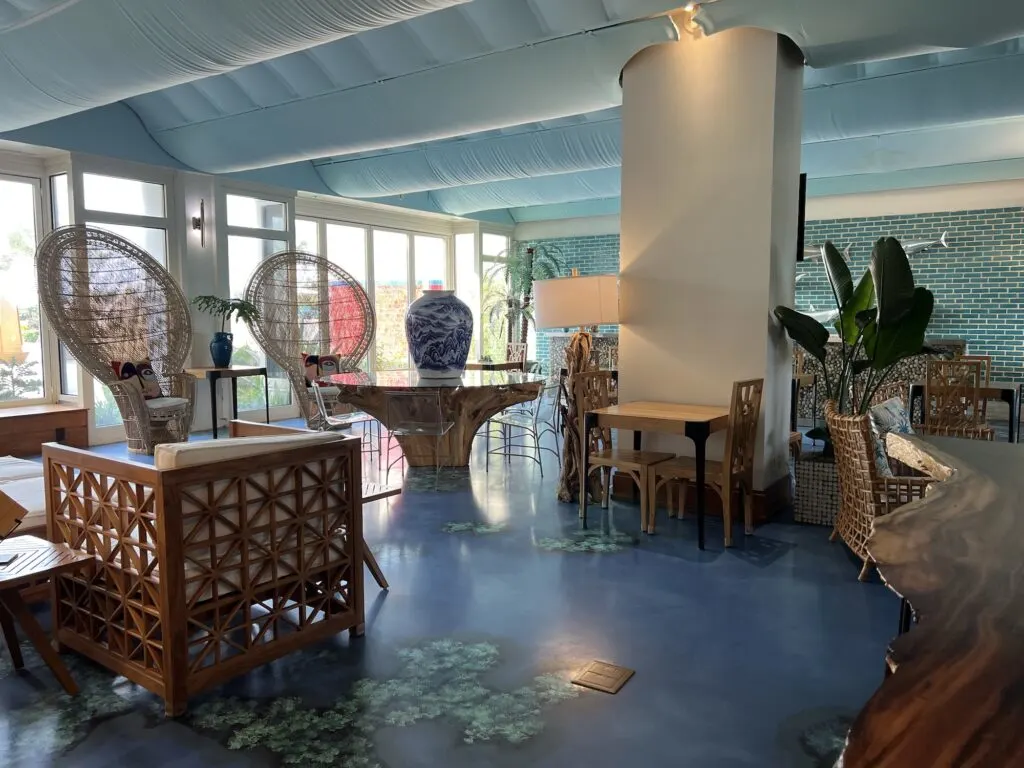 Many thanks to Blockade Runner Resort for hosting us during our trip. It was so enjoyable that we are planning on returning for a personal visit soon.
Room
We stayed in Room 637, a Club Level room with two queen beds and an Oceanview.
It was a connecting room with a connecting door on each wall. That was a first – we've never had a hotel room with two connecting doors.
From the moment we walked into our room, I knew that I was going to like Blockade Runner! The views of the Atlantic Ocean, with turquoise water shimmering outside the balcony, was unreal.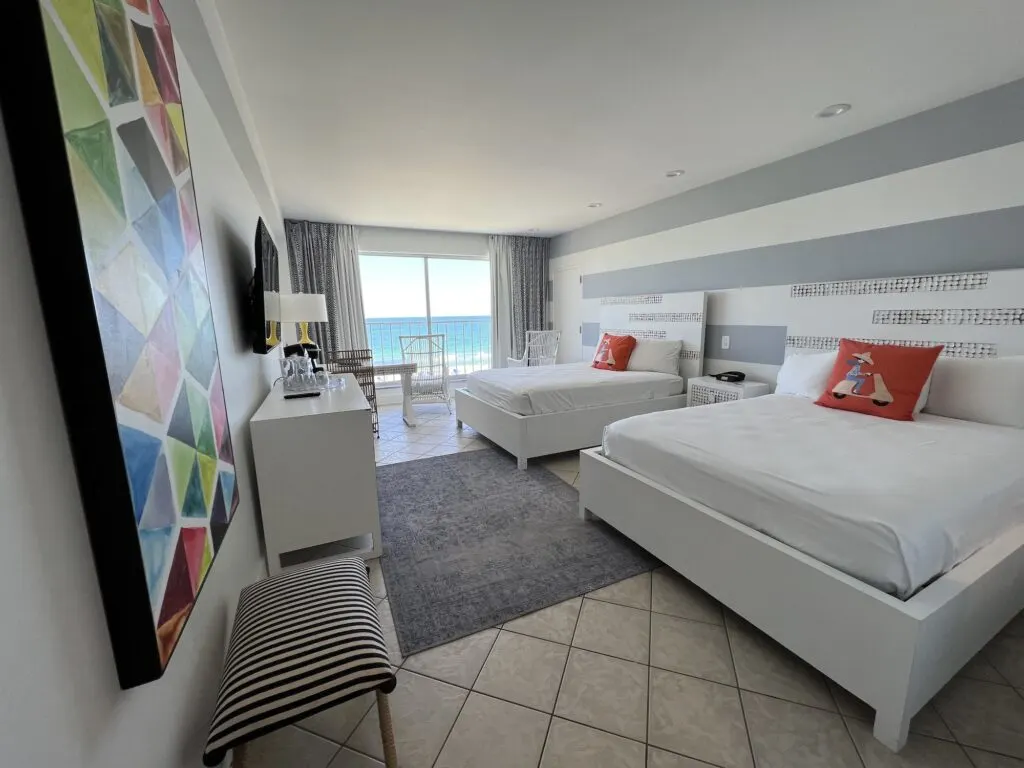 You can see our entire room tour in our YouTube video below:
The resort knows that you don't want to miss one second of those views, so even the bathroom is arranged so that you can see the ocean while getting ready. That's brilliant!
What I truly appreciate about Blockade Runner Beach Resort is that every room has a water view. Every single room. You can choose between either ocean view or harbor view, but you are guaranteed a waterfront view regardless of the price point you choose.
Not all rooms have the same decor. Peeking inside rooms on our floor, I could see that they had a different color scheme than ours.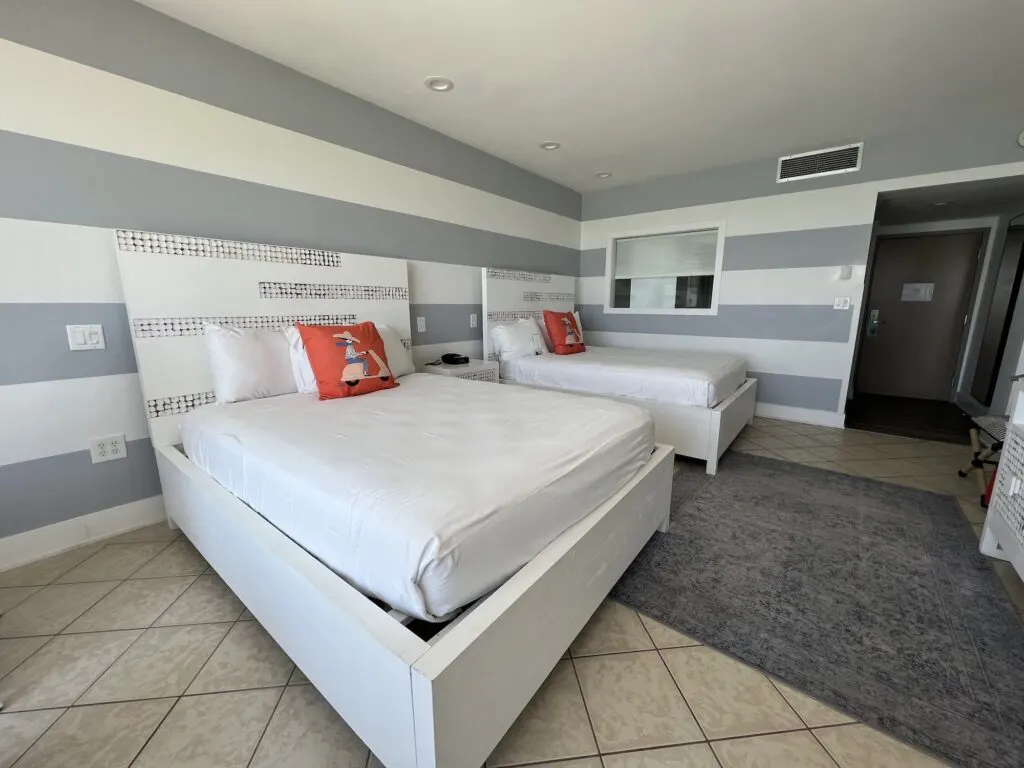 We found the room to be very clean and quite comfortable.
It's always nice to have a refrigerator available to store drinks and foods, so we did appreciate that amenity.
There was one thing I definitely didn't like, and that was the pocket door to the bathroom that didn't completely cover the opening. I hate pocket doors for bathrooms in general. They allow way too many gaps with light and especially sounds getting out, and that's not really cool in a bathroom setting. But this particular door was cut smaller than the door opening. So there was a 1-2 inch gap of being able to see inside the bathroom.
Amenities
One of the reasons that I love the Blockade Runner Beach Resort so much is that the property has so many different ways to enjoy being by the beach and spending time outdoors.
Even if you don't lounge in a beach chair in the sand all day, you can still have fun in the sea air without feeling like you are missing anything.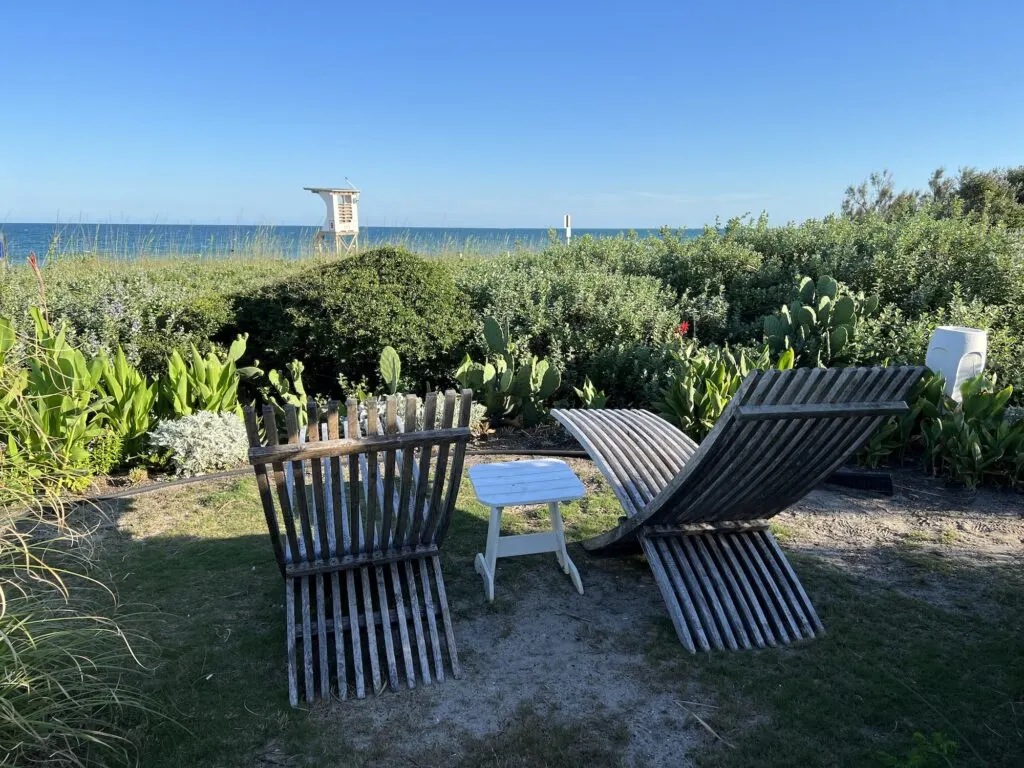 One of the best amenities for me was the expansive green lawn that is located between the hotel rooms and the ocean. To have this much open, green space by the beach is a rarity in today's age.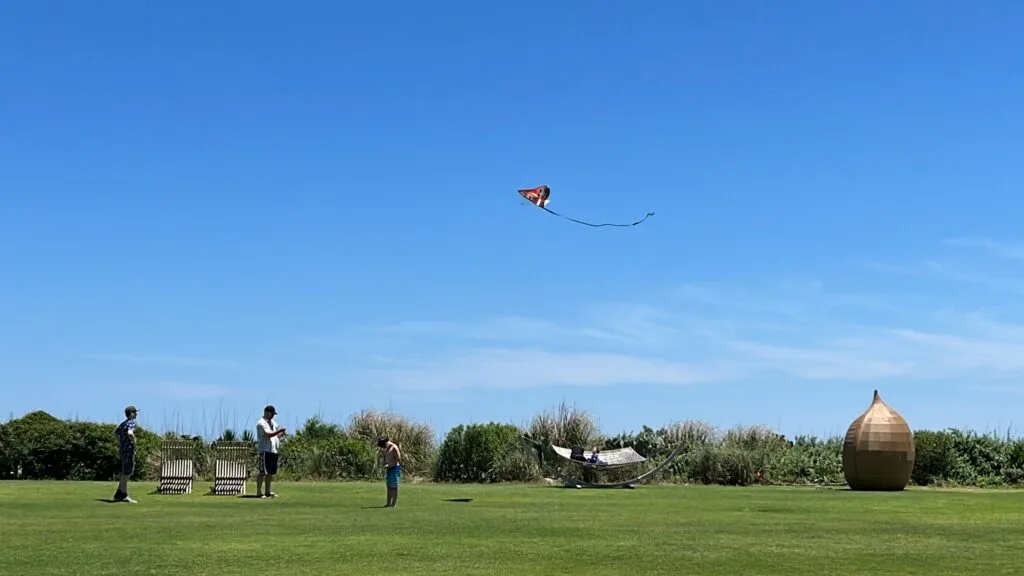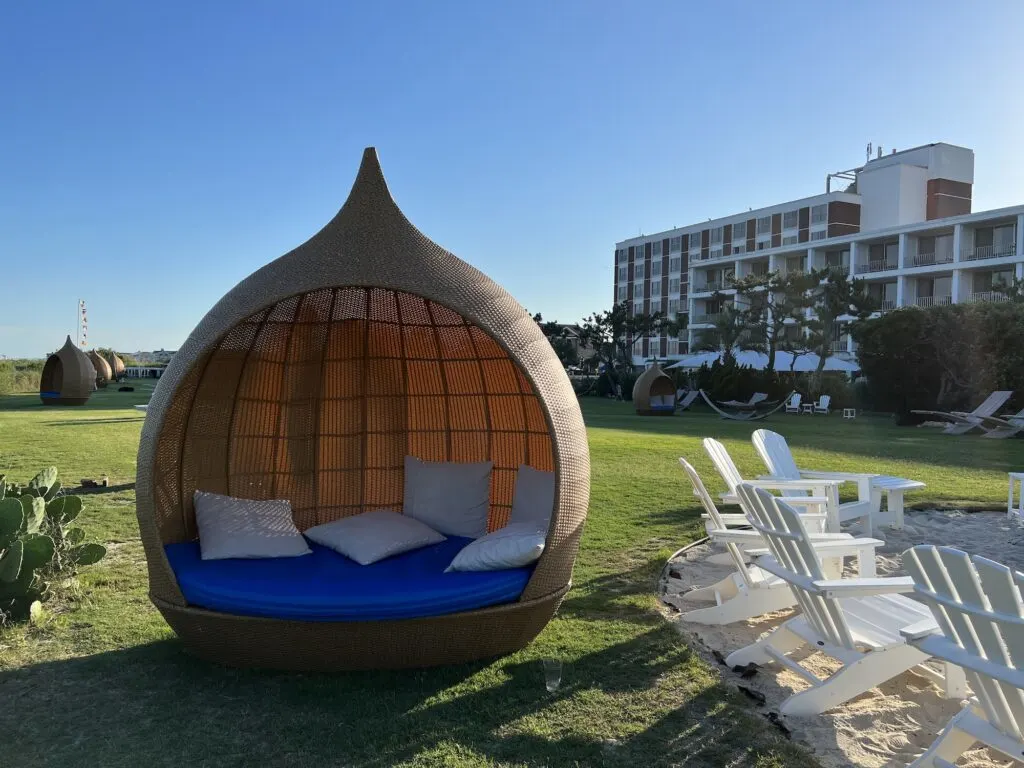 This was one of the most popular areas at the resort. From morning to night, kids and families would be in the grass either playing, running around or simply relaxing.
The large wicker seats/beds that are set up around the resort were so much fun! These were really great places to feel like you were hidden from the world yet enjoying views of the ocean with sea breezes on the air. The oversized seating inside is big enough to comfortably lounge on and can accommodate more than one guest.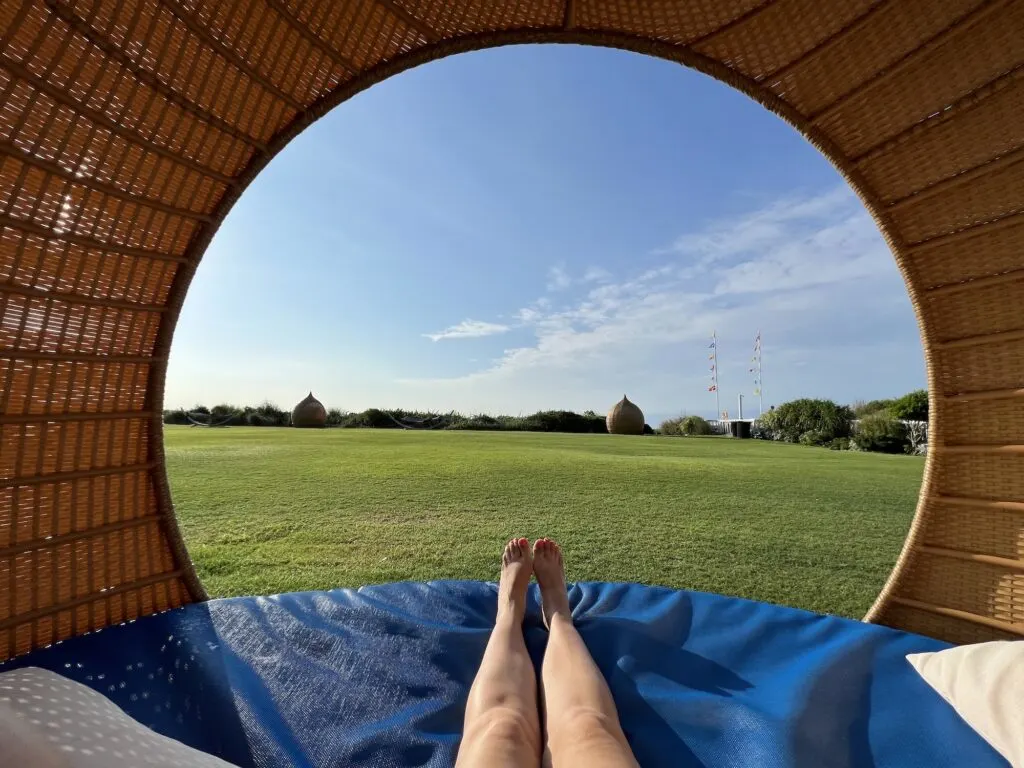 Hammocks and lounge chairs are dotted across the property to rest and relax.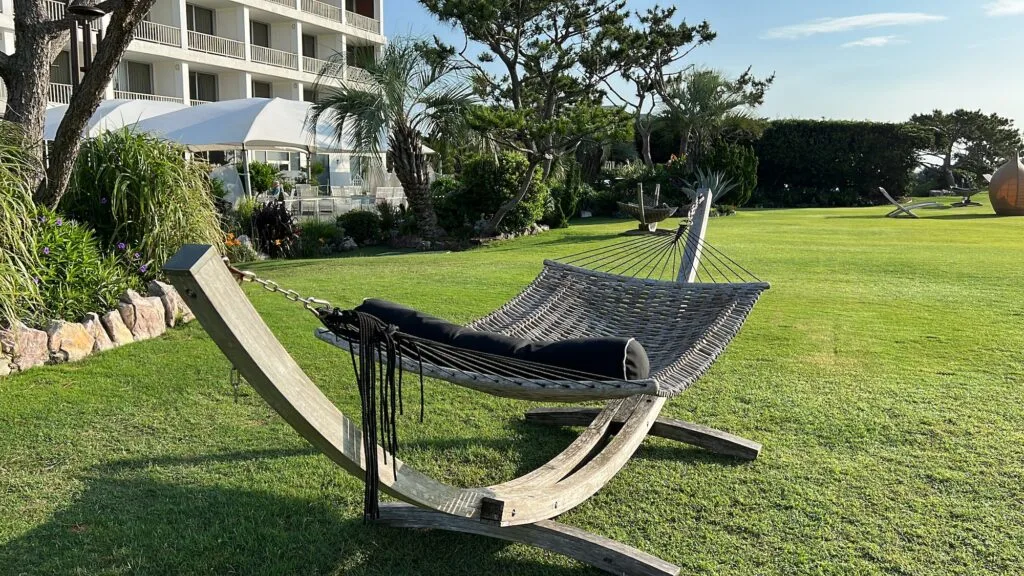 The pool was extremely popular and always full of kids and adults!
At night, there were fire pits in multiple areas. There were a few fire pits and lounge chair pods right by the main exit, as well as a larger fire pit with lots of seating at the edge of the resort.
The fitness center was pretty big. What I loved best is that part of the outdoor pool comes indoors in the fitness center, so you can enjoy an indoor pool for exercise.
There were a variety of educational activities that I saw that sounded intriguing. They just weren't offered during the time we were there.
For instance, the Audubon Bird Tour is a free tour highlighting seabirds that nest on the Southside of Wrightsville Beach. Guests got to go onboard the Carolina Runner boat and sail to the beach where they disembarked for a guided tour of nesting birds before coming back to the Blockade Runner.
Restaurant
We ate two meals at EAST Oceanfront Dining, the main restaurant at Blockade Runner Resort. EAST is the location of the popular Sunday Jazz Brunch.
There is also the Sea Escape pool bar that we did not have time to enjoy.
EAST is a great place to eat because they offer a variety of options for dining either indoors or outdoors, as well as outstanding meals for breakfast, lunch and dinner. We truly were really happy with the food and the cocktails that we ordered.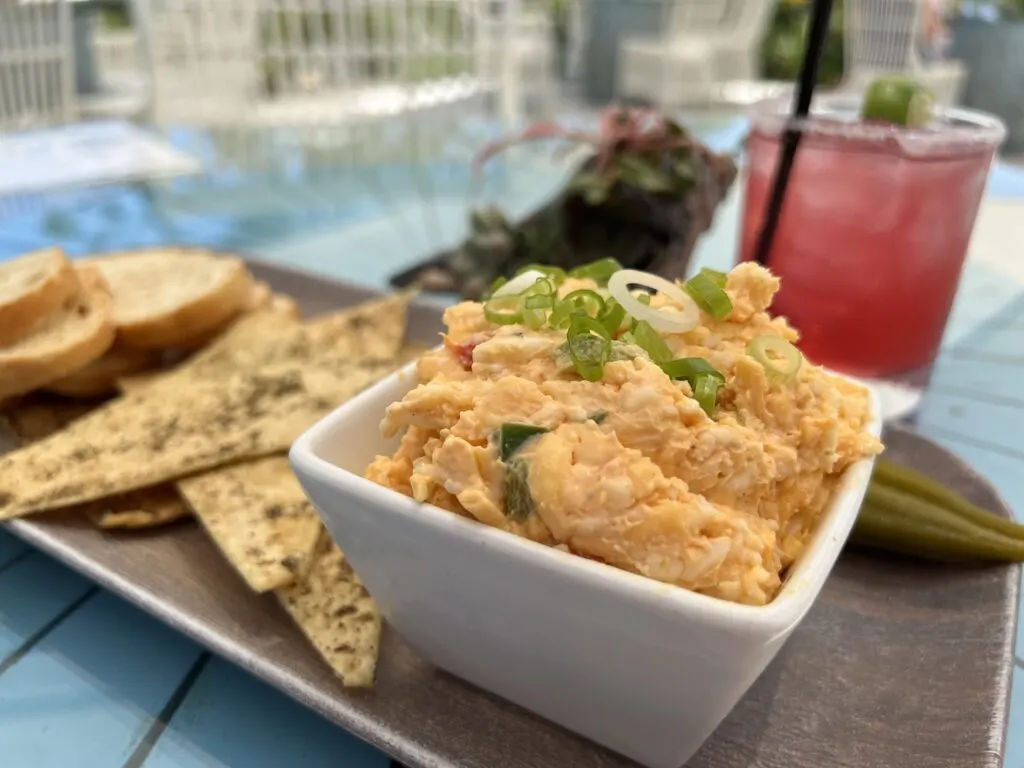 We enjoyed dining outdoors, on the covered patio, which was really nice! If you can, be sure to enjoy your meal out here!
Many of the resort's package deals offer breakfast or dinner at EAST as part of the special booking, so be sure to look for those deals.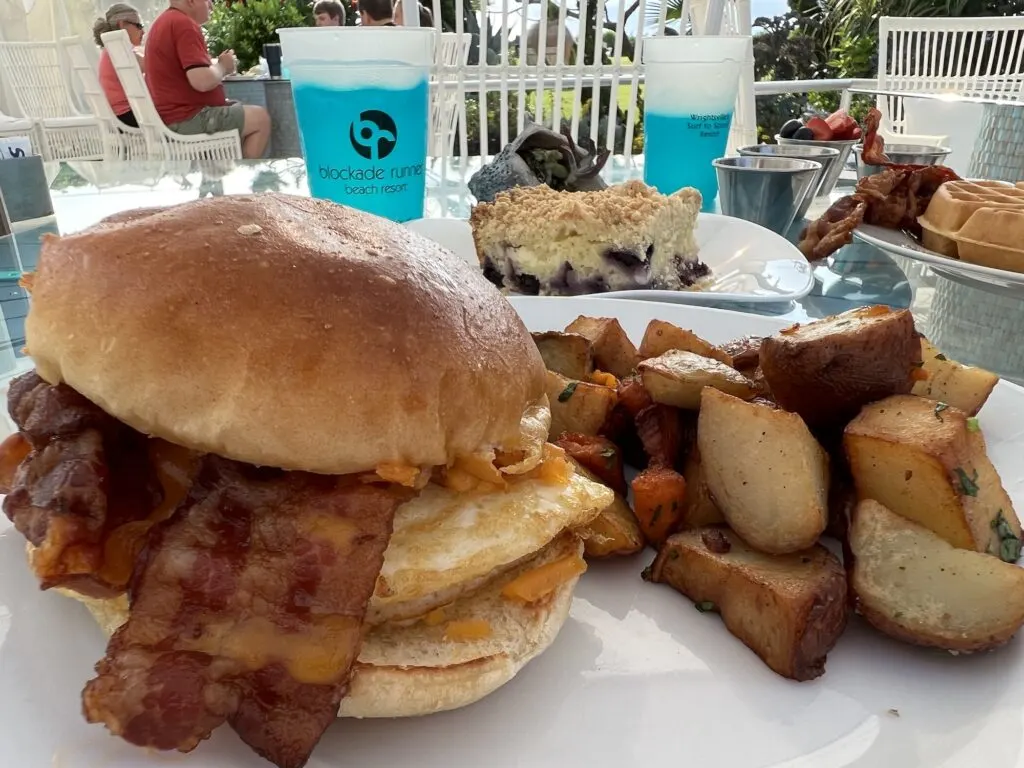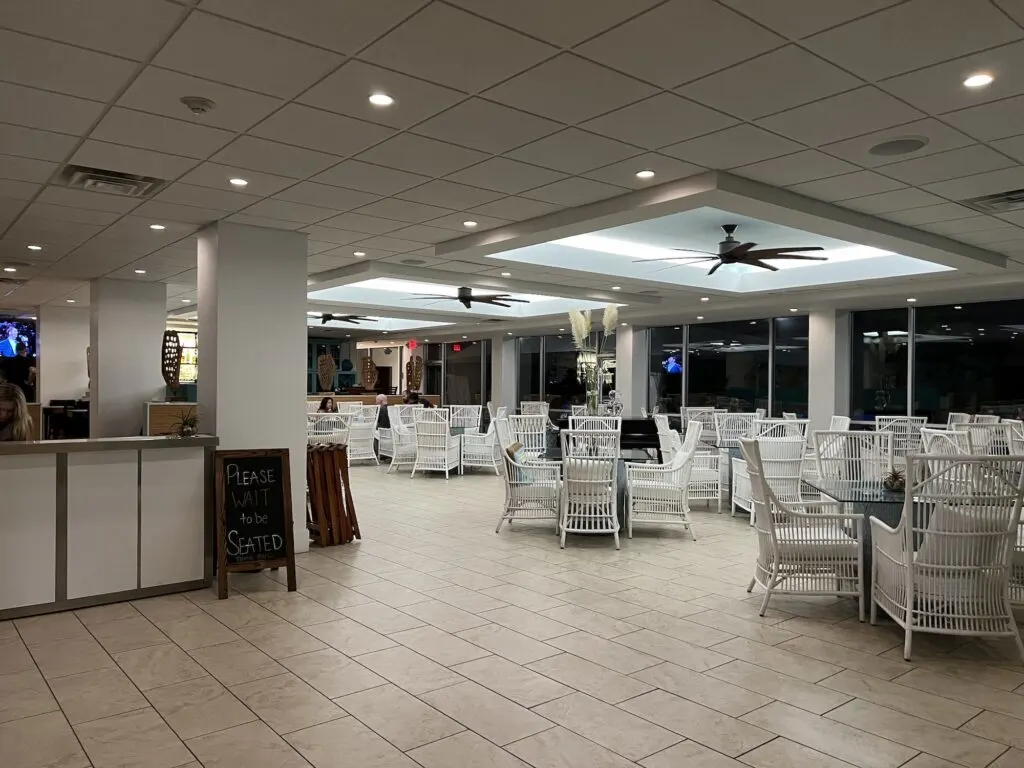 While in the area, be sure to visit one of Wilmington, North Carolina's breweries. There are quite the variety of options for great beers in the city!
Activities
There are so many activities to choose from while staying at the resort that it can be hard to choose.
Wrightsville Beach is known for plenty of water sport fun, such as surfing, paddle boarding and boating. The Blockade Runner can easily provide instruction and equipment for you to get out on the water just steps away from your hotel room.
Among the choices are:
Kayak rentals
Paddleboard rentals
Eco Paddle Tour
SUP Yoga
Surfing lessons
Sailing lessons
Boat rental
Guided sailing adventures
Fishing
Kids programs
Cruises
We enjoyed a Sunset Harbor Cruise. Cruises leave from the harbor across the street. Just walk from the parking lot across the street and you will be at the Blockade Runner's docks, where there is another lovely grassy area to hang out with beach chairs and enjoy the water view.
On the Sunset Harbor Cruise, we sailed around the harbor and towards the ocean for a delightful cruise. It was really laid back, with the captain and skipper answering questions about what we were seeing, giving us some history and letting the kids drive the boat.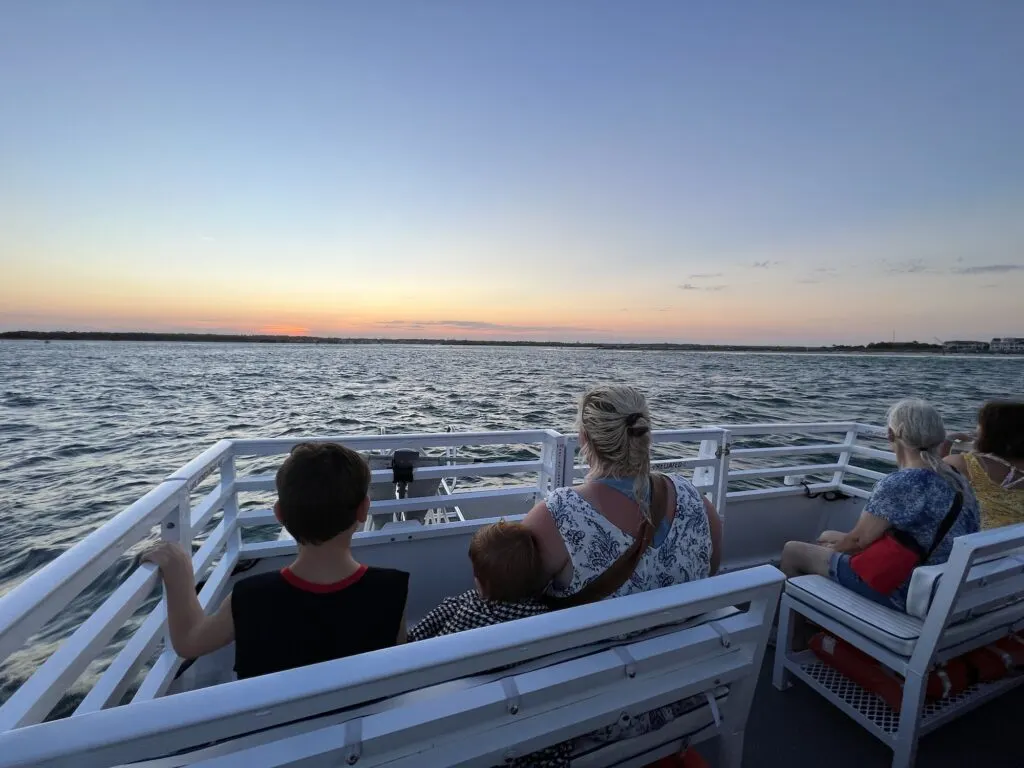 This wasn't one of those boring narrated cruises where there is non-stop talking. Instead, it was casual and relaxed, with soft drinks served and plenty of opportunities to stand up and take some photos.
Of course, the views of the sun setting were amazing on the water, too!
I would highly suggest this sailing, whether you do the sunset or daytime cruise.
Enjoying the Beach
There's no need to bring beach chairs or umbrellas because the Blockade Runner provides rentals at a reasonable cost.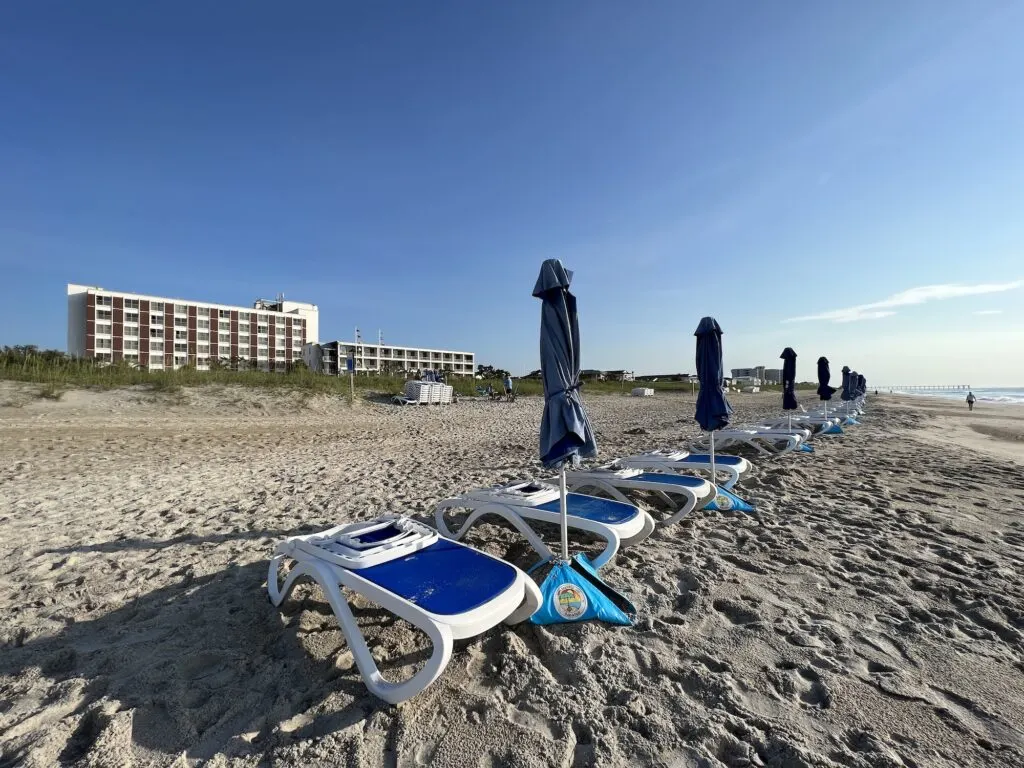 Of course, you are more than welcome to bring your own items and set up in front of the resort.
What I loved is that it is such an easy walk to get from the hotel to the beach. And a quick walk, too.
While at the Blockade Runner Beach Resort, be sure to drive to Wilmington to see the Battleship North Carolina.
And check out all of our favorite things to do in North Carolina!