It's been a little while since I last posted the progress of our modular home! We were so caught up in baseball season, packing and moving that time got away from me. After anxiously waiting for our home to arrive- it finally came! The day it was 'put together' was great! The HUGE cranes that took up the majority of the road brought neighbors out and slowed passing cars down for the majority of the day. One at a time the crane lifted the pieces into the air, rotating and setting them down into their perfect position. Let me tell you- if you get a chance to watch this happen you should take it. It's amazing. Once all of the pieces were in place, the roof line appeared out of no where like a pop up book! In one day, we had a home!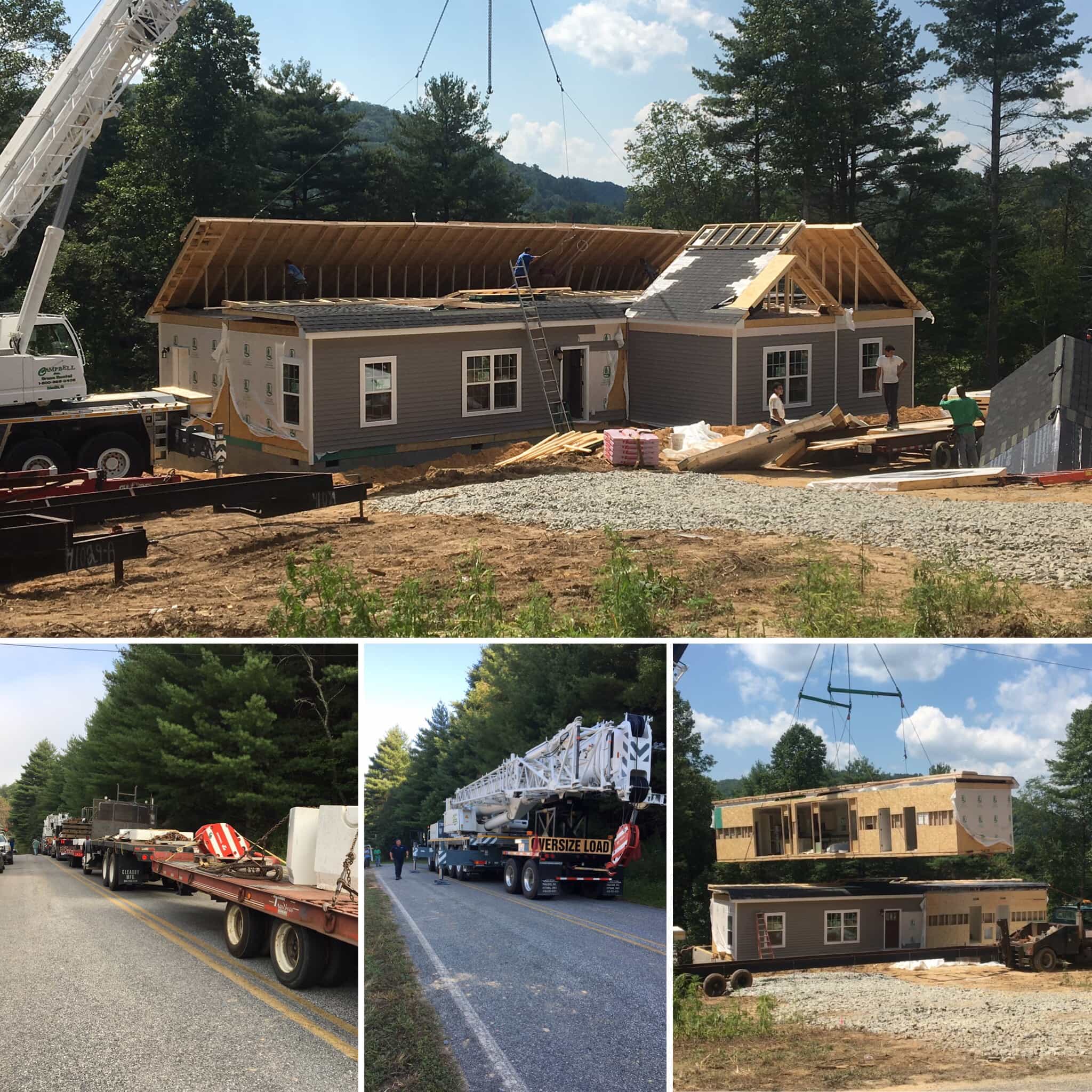 Since that day we had several walk through's of our home and became slightly overwhelmed at the growing to do list. When your home travels to its homesite and gets elevated into the air you know:
A) It's made well enough to stand all that abuse and B) there is going to be some damage involved.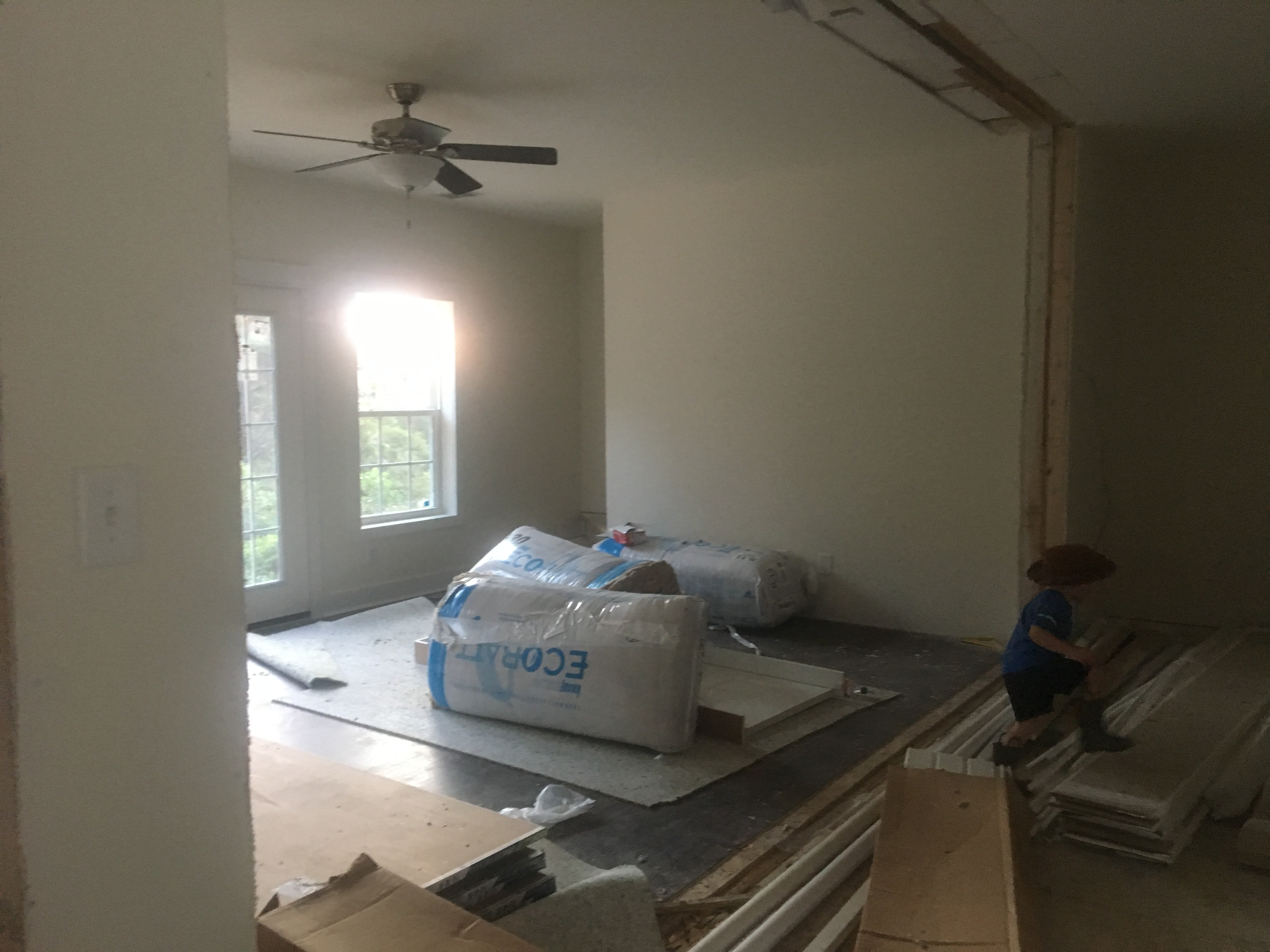 When we first got to look at the house we were so pleased with so many aspects of it! Outdoor lights were already in place as was the ceiling fan and our appliances. I had an awesome arched doorway into the hallway that I didn't ask for, but I'm sooo glad I got! Our front Mahogany door was beautiful and the windows allowed so much light into our home which I love! The pieces of our home fit together nice and tight!
Then we started looking a little harder and GULP- yep there's the damage. Several cabinet doors took a beating (probably from flapping open along the way during transit). There were several areas requiring sheet rock repairs and windows that weren't opening. And my beautiful Mahogany door had scratches in it. All of these concerns and a few others were noted by the factory and promised to be repaired prior to closing day, & most of them were.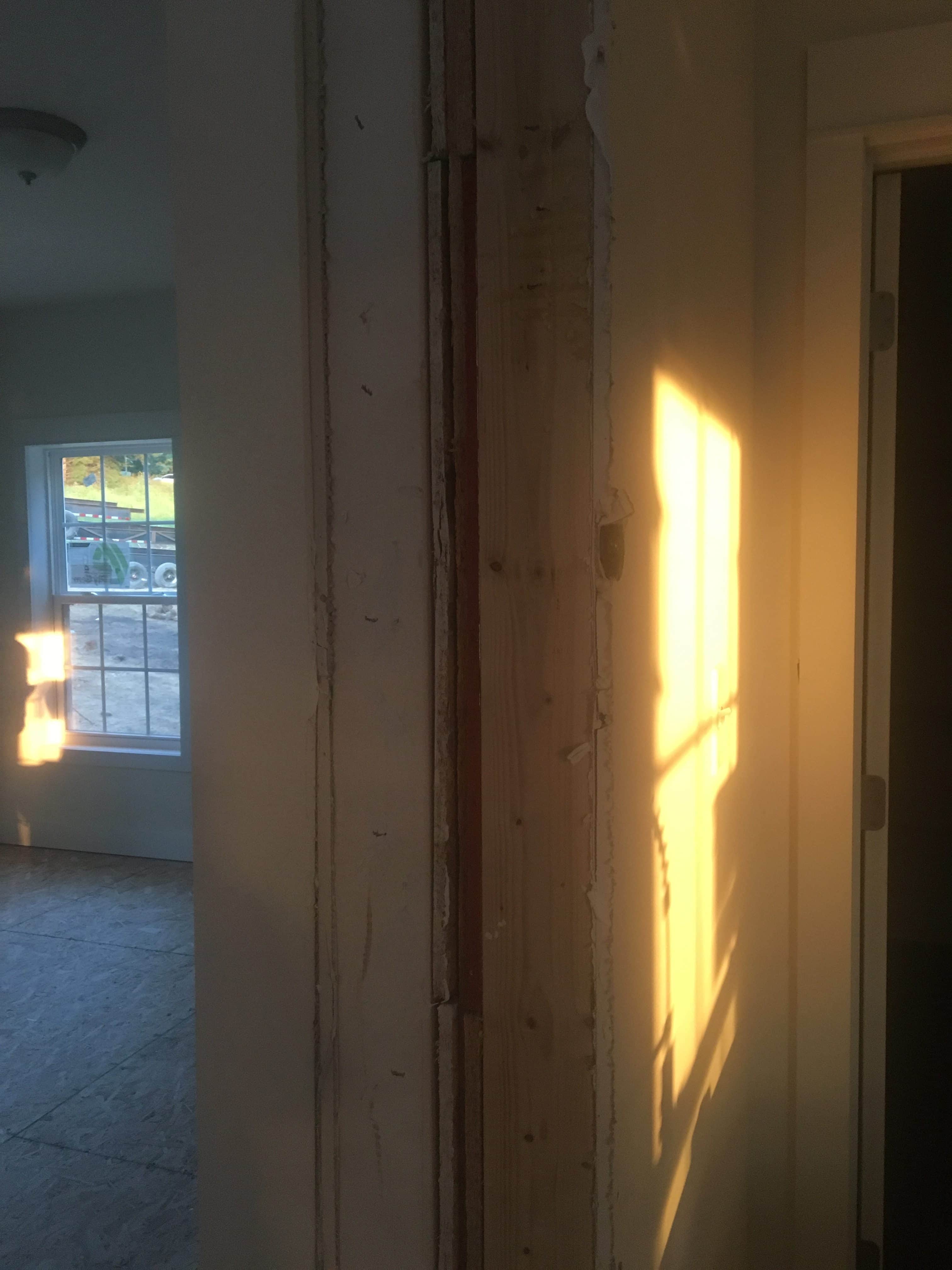 The house was a work zone since arrival. Tools, rolls of carpet, dust and dirt were everywhere. We were welcomed to visit and try out paint colors, etc as often as we wanted which we did; however, keeping the kids out of trouble in a work zone was a task! For several weeks we had to climb up a ladder to get in the house, and when we finally got porches and stairs we were ecstatic!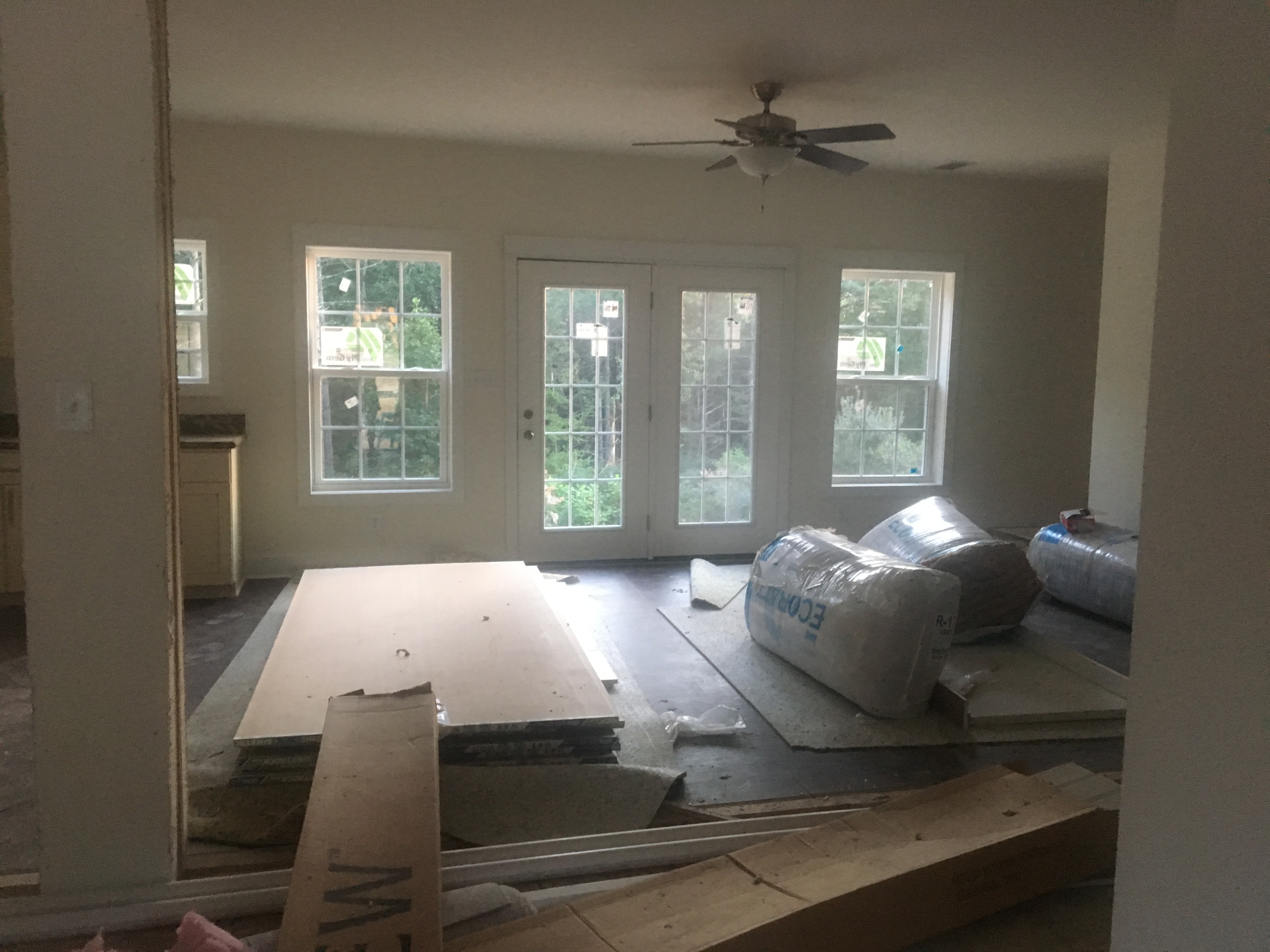 After our home arrived, it sat for a couple of weeks with little to nothing happening. Ugh. Finally, the grading of the land took place. The septic and well went in about a month after arrival. The trees that had been cut down sat on the property for about 5 weeks and then one day they were gone! Along with a bush we wanted to keep but forgot to tag – make sure you mark what you want to keep! Week 6 the heating and air went in, the plumber was there and water appeared from the faucets! A beautiful site.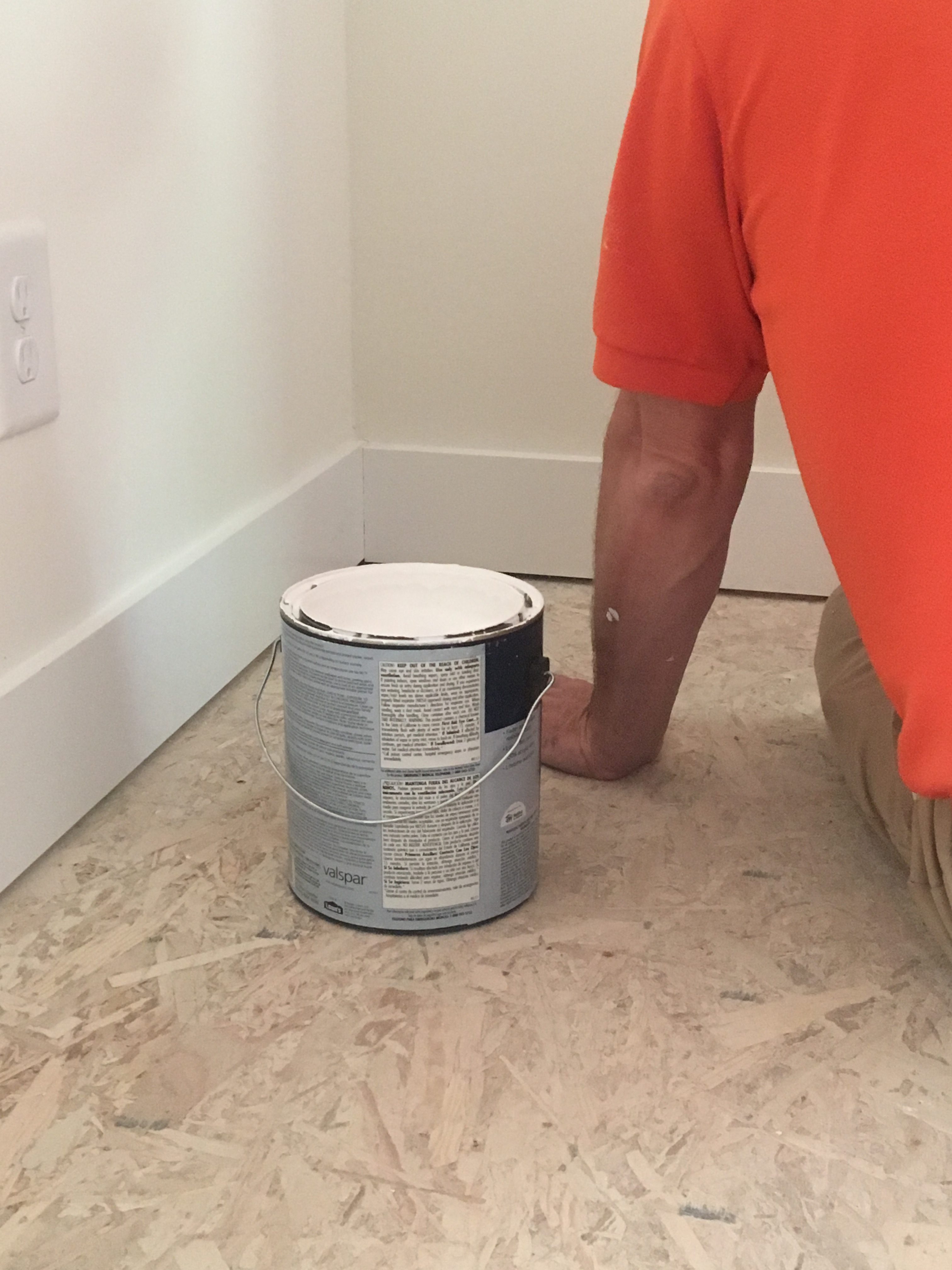 As for our to do list; aside from waiting for moving day, we had quite a bit of painting to do. I had been told that the house would come painted white. That means primer. Maybe I should've known that, but I didn't. SO the overwhelming thought of painting a whole house presented itself. After writing verses from the Bible on our walls for God's blessings, we started painting trim and picking wall colors.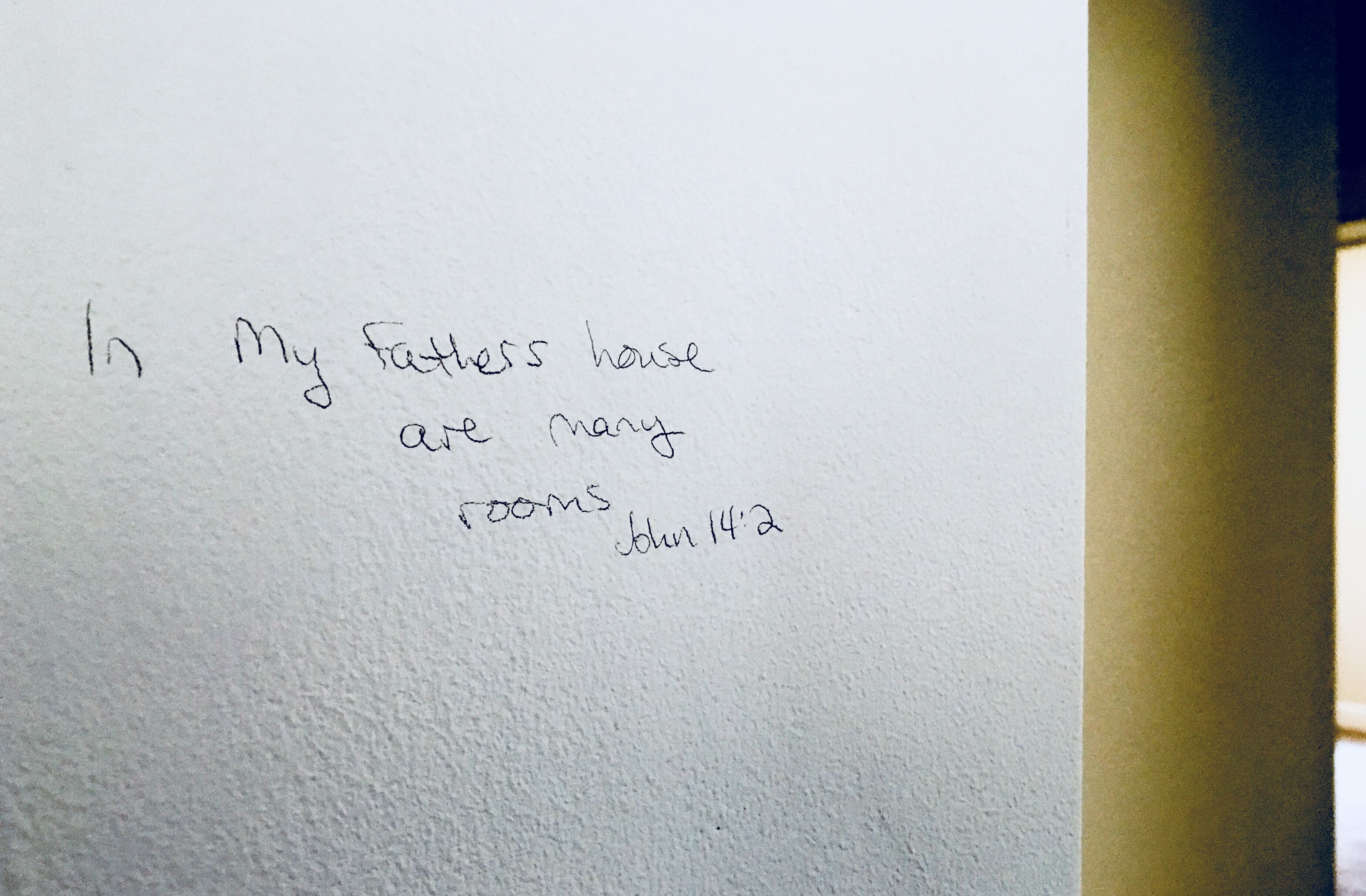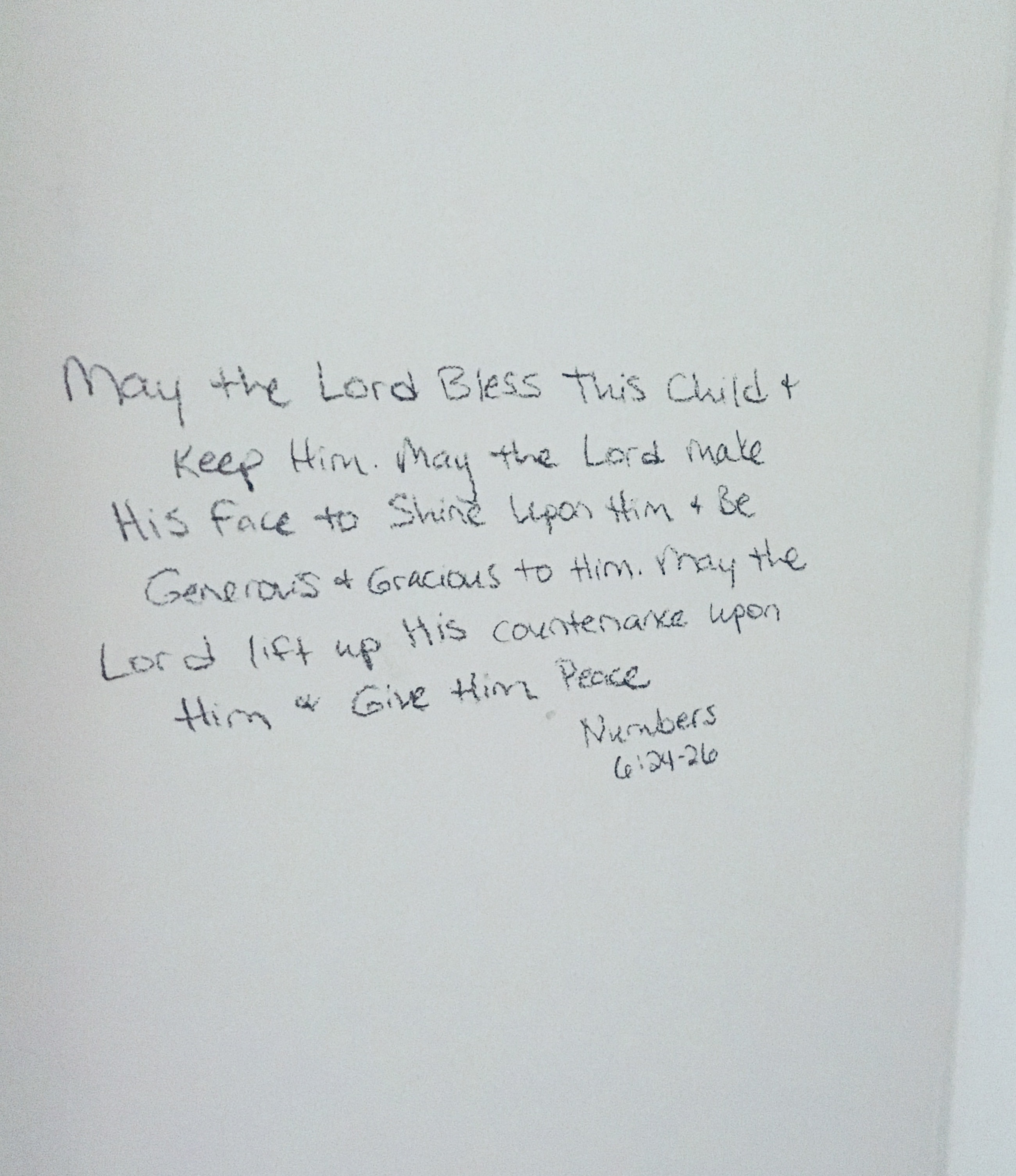 Because it's so time intensive & trying to squeeze in an hour or two here and there between toddlers and work, it was definitely a slow progress. If you have the money to spend I would encourage you to hire painters! Due to the daunting task and our time restraints, we decided to paint the main living area and the laundry room so that we wouldn't have to move the washer and dryer at a later date and then work on the remainder of our home after moving in.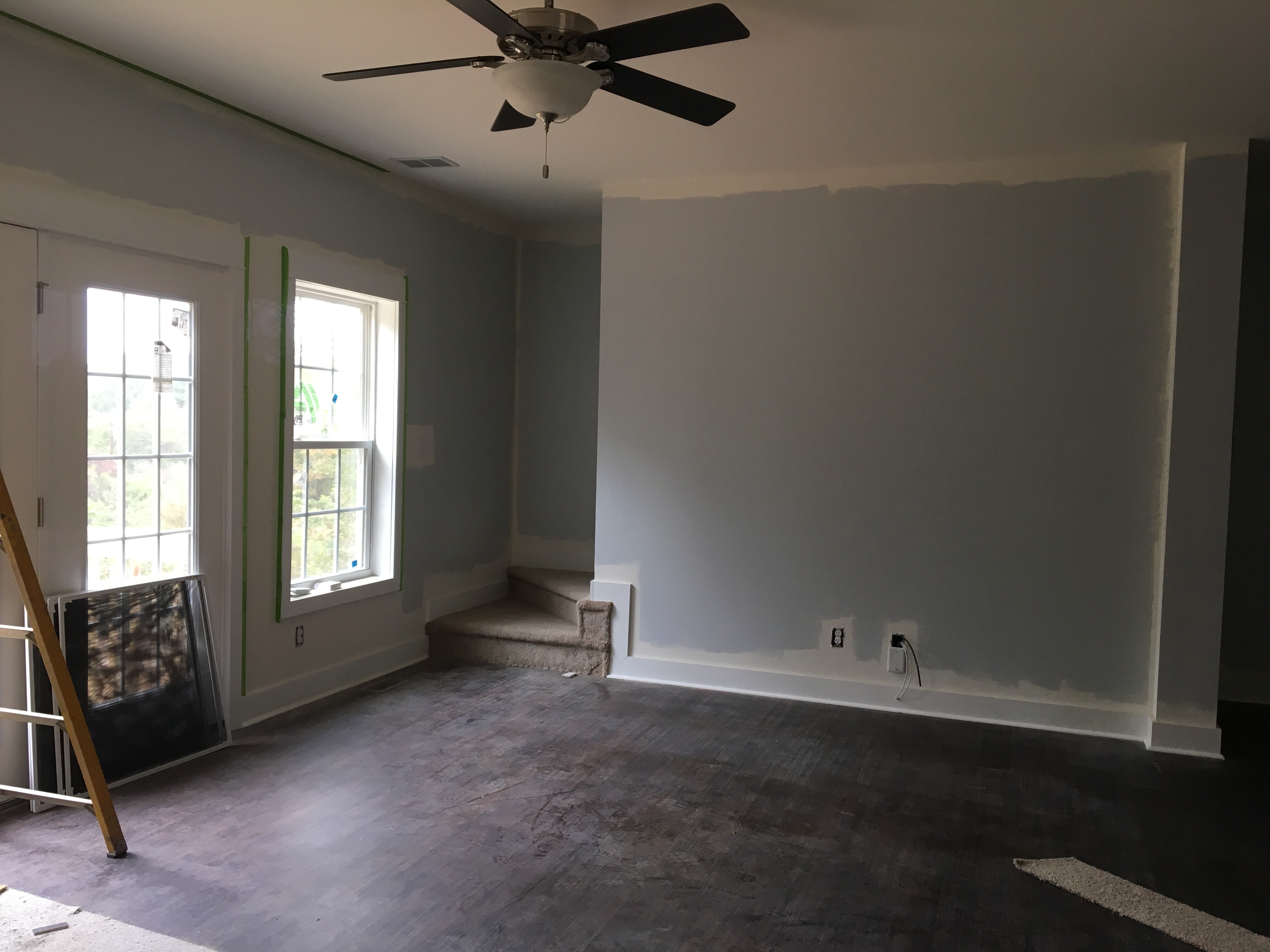 After the porches were finished, the flooring was going in and we are still waiting for the factory workers to come make all the inside repairs – the original problems and the new ones made by the workers inside. Our estimated closing date has been delayed about 3 times.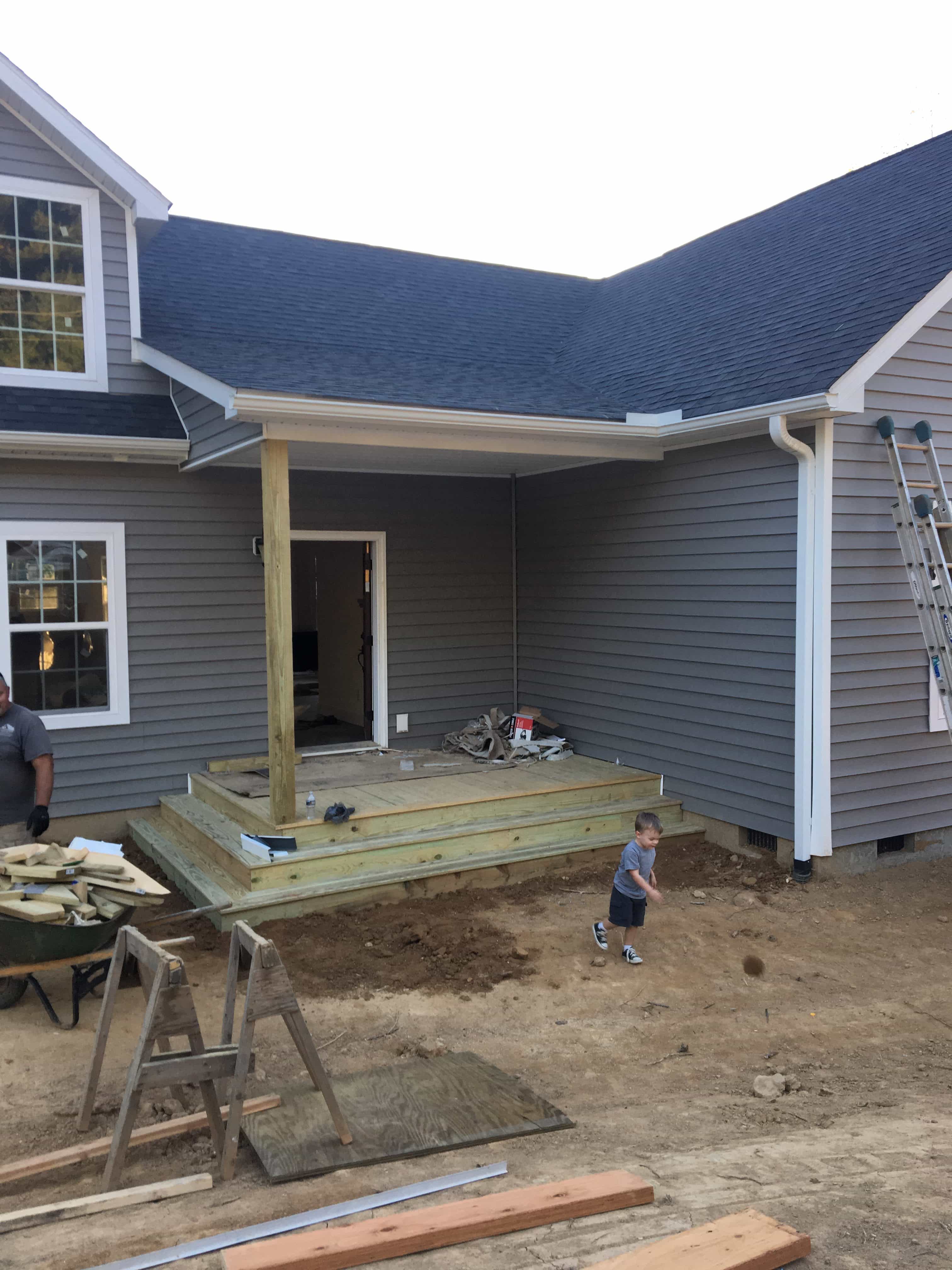 In the many times we have gone out to the house, we have always been impressed by the workers we have encountered. They have all been so kind and polite. There have been several times that we have gone to the house later in the night or on Saturday and have found workers still hard at it. The week before closing, the driveway was placed, the final grading was done, grass seed was applied, and they posted our address on our porch!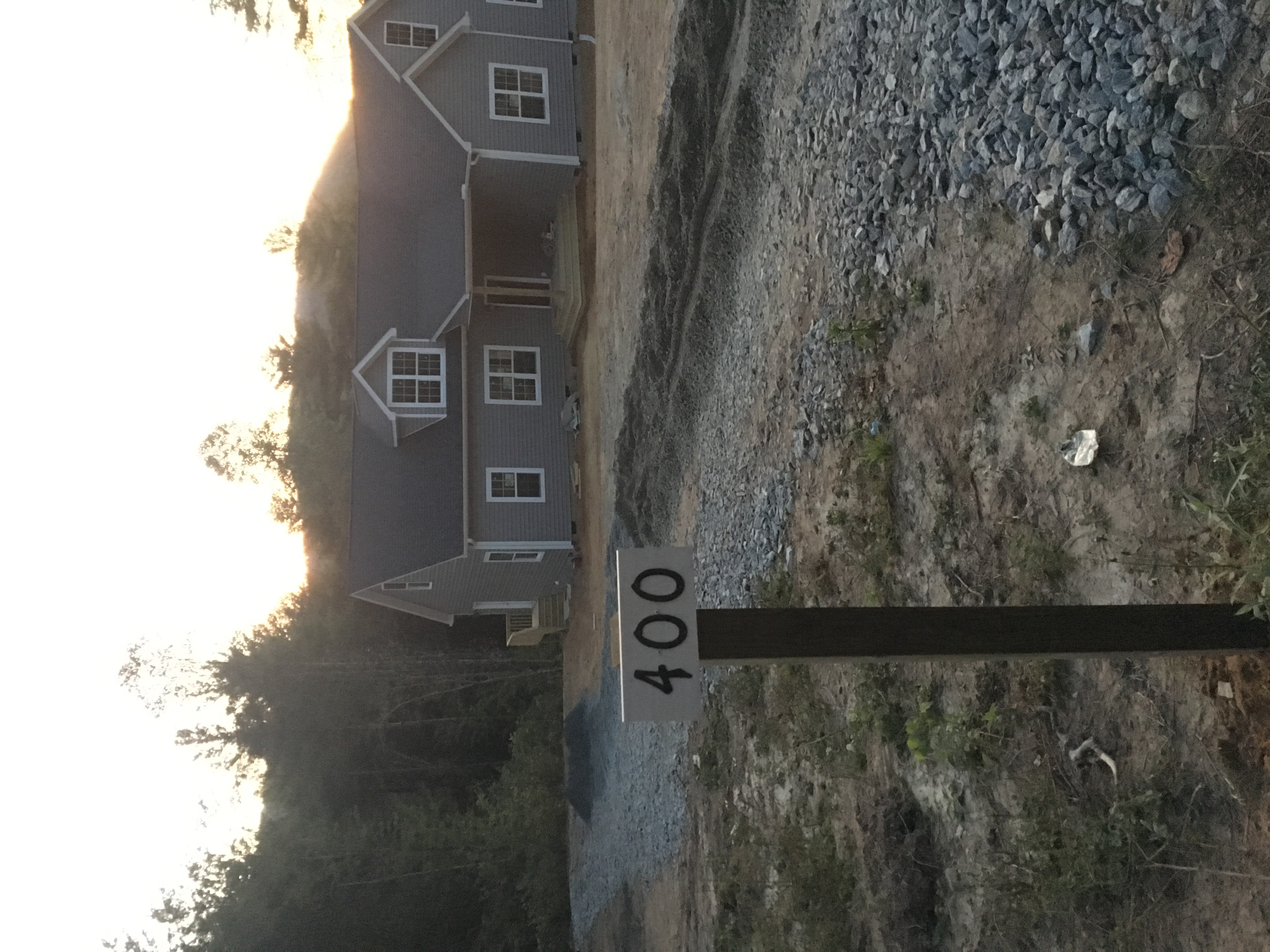 It's been a slow process. I've heard 'next week' more times than I've cared to. But it's our home and it takes time to come together. When it felt like NOTHING was being done, in a matter of days there are guys everywhere and so much was accomplished. With any construction, you have to ride the wave. Promises will be made and timelines will fail. We experienced several set-backs because someone didn't do their job perfectly. It all adds up to exercising patience. Our closing and moving day sure didn't happen during my ideal timing, however; about 10 weeks after delivery, the day did come when we got to move in our home!
We had a couple of continuing issues including the well not working and a leaking pipe on moving day. We also discovered a leaking ceiling on the first rainy day, but HomeCrafters got out here addressed all issues promptly.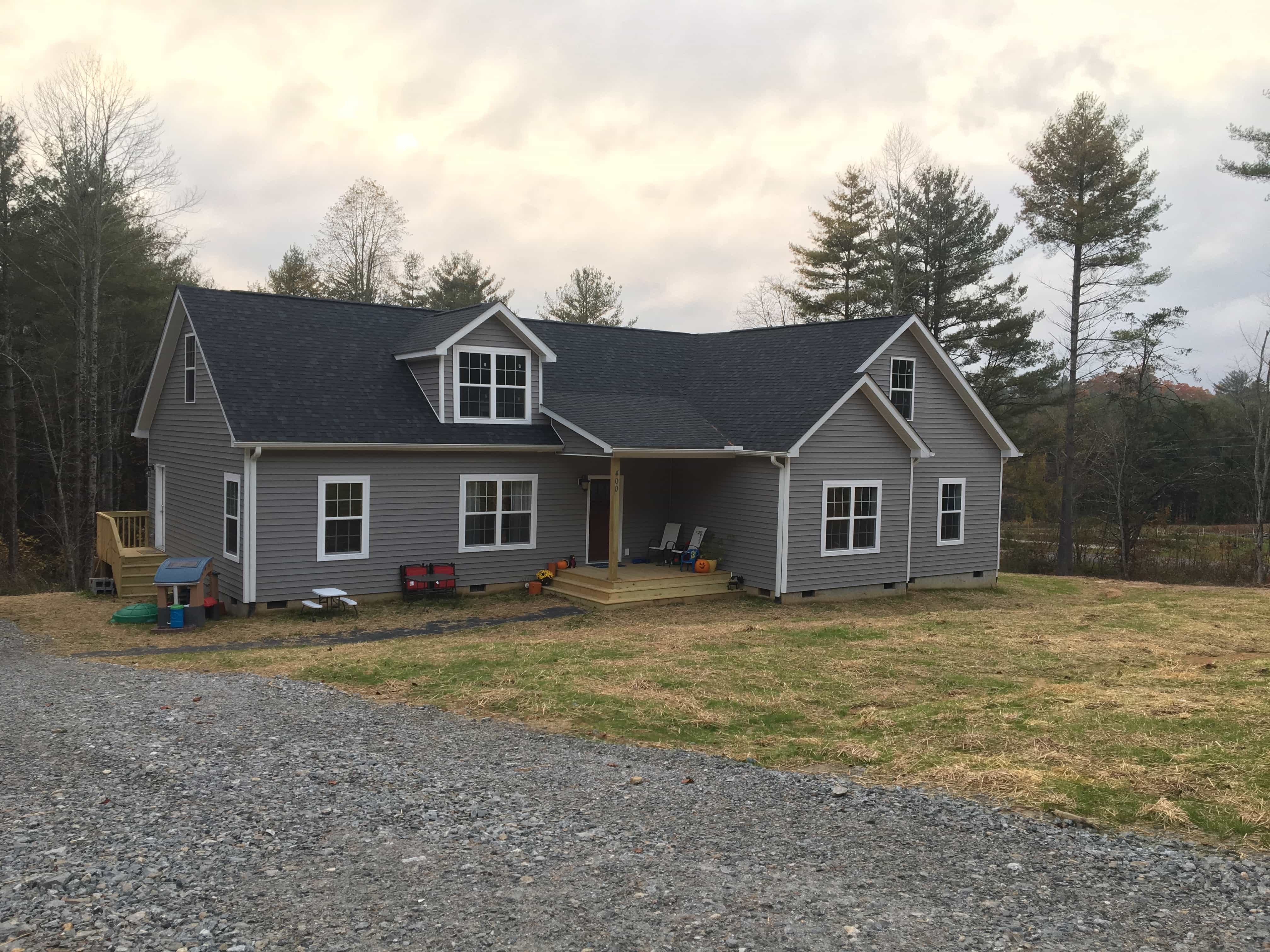 Overall, we have had a good experience with building our modular home. In a short time frame, we designed a home, watched it fly through the air, and get pieced together ready for our family to move in! If you aren't sure about which avenue you want to take, I wouldn't hesitate to encourage you to build a modular home. The time frame was great and the ability to adjust floor plans was very appealing. Sure, there are some quirks but it's our home and we love it!!! Thanks HomeCrafters of WNC!
*** While we are thankful for our home, we are not impressed with HomeCrafters and their lack of attention once our house was completed. We are coming up on three years since we moved in and there is still a repair to do list that hasn't been completed. Despite the submittal of our repairs within our first year, we received nothing but lies and broken promises with no repairs made. This past year has been complete silence to my inquiries. As I feared, the kindness and assistance only goes so far. Passing the blame and eventually ignoring you completely is what you'll have to expect if you work with HomeCrafters of WNC. In my opinion – save yourself a headache and look elsewhere.