If you love Harry Potter's favorite drink, then why not make these easy butterbeer cupcakes for a party or movie marathon?
While butterbeer is great to drink, there are other variations of the delicious butterscotch-flavored beverage that are fun to enjoy, too. These Harry Potter butterbeer cupcakes are perfect for any muggle that wants a butterbeer treat.
These gorgeous cupcakes are great for a Harry Potter birthday party, or any special wizard celebration.
Our Butterbeer Cake Jars are also great for celebrating, too!
What is Butterbeer?
Butterbeer is the fictional drink that Harry Potter and his friends enjoyed in both the books and the movies. J.K. Rowling, the author of the Harry Potter series, described the drink as creamy and sweet and tasting like butterscotch.
At Universal Studios' Wizarding World of Harry Potter, you can buy butterbeer drinks that have been created just for the land.
See our easy butterbeer recipe using just 4 simple ingredients!
Do These Cupcakes Have Alcohol in Them?
No. The name butterbeer suggests there is alcohol in the drink. However, butterbeer is non-alcoholic. (Except for the spiked butterbeer drinks that Universal Studios sells at Harry Potter restaurants.)
You will find that most butterbeer recipes will include cream soda and butterscotch. Those two ingredients are integral to making the sweet and distinctive butterbeer taste.
While you have these ingredients on hand, it is easy to make more of our Butterbeer Recipes.
You will find the recipe below. I get straight to the point on recipes and don't believe in wasting your time. If you appreciate it, please help me out by sharing this recipe on Facebook, Pinterest, Reddit or your favorite social platform!
Butterbeer Cupcakes Recipe
This easy butterbeer cupcake recipe uses cream soda and a homemade butterscotch sauce for a delicious cupcake that Harry Potter would love.
Makes: 24 cupcakes Bake Time: 17-20 mins Total Time: 50-60 mins
Ingredients
1 cup light brown sugar
3 eggs, large
1/2 cup vegetable oil
2 cups all-purpose flour
1 tsp baking soda
1 tsp baking powder
1 teaspoon kosher salt
1/2 cup buttermilk
2 tsp vanilla extract
1 tsp butter extract
1/2 cup cream soda
Butterscotch Sauce:
1 cup butterscotch chips
1/2 cup heavy cream
Frosting:
½ cup unsalted butter, room temperature
2 cups powdered sugar
1/4 cup butterscotch sauce (made from ingredients above)
Materials
Two 12-count cupcake pans
24 cupcake liners
Hand or Stand Mixer
Measuring Cups & Spoons
Piping bag fitted with 1M tip
Directions
1. Preheat the oven to 350 degrees.
First, let's make the butterscotch sauce. Heat the heavy cream in the microwave for 40 seconds.
2. Pour the heaving cream on top of the butterscotch chips and put to the side for now.
3. Line the cupcake tin with paper liners.
Then, in a bowl combine the brown sugar, eggs and vegetable oil. Whisk the ingredients together until smooth.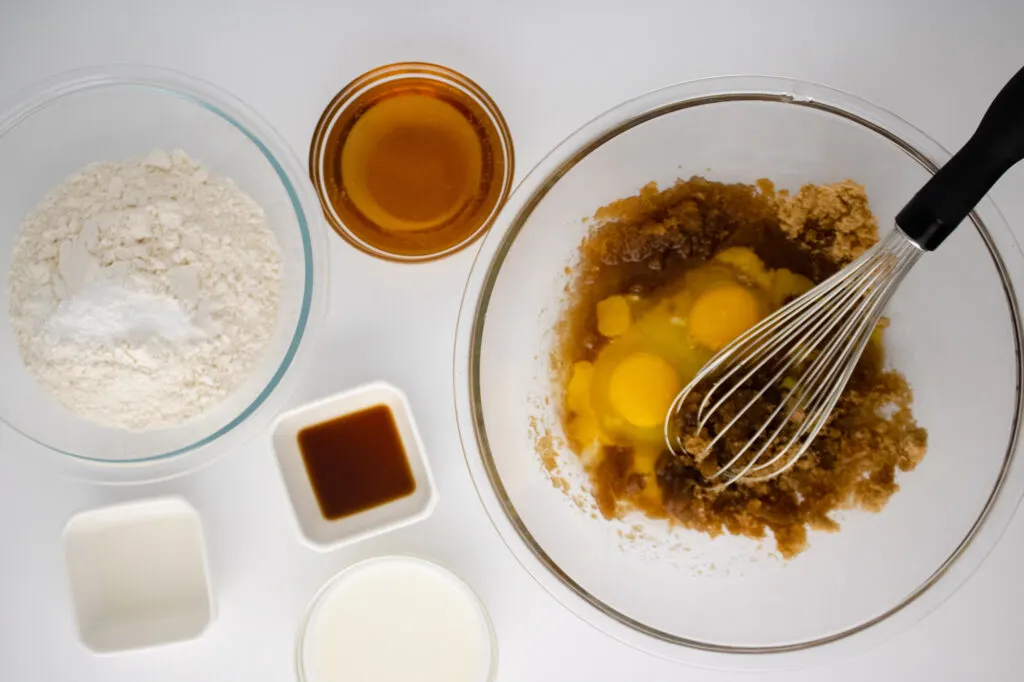 4. Add the flour, baking soda, baking powder, and salt into the egg mixture. Whisk together.
Next, add buttermilk to the mixture and whisk until smooth.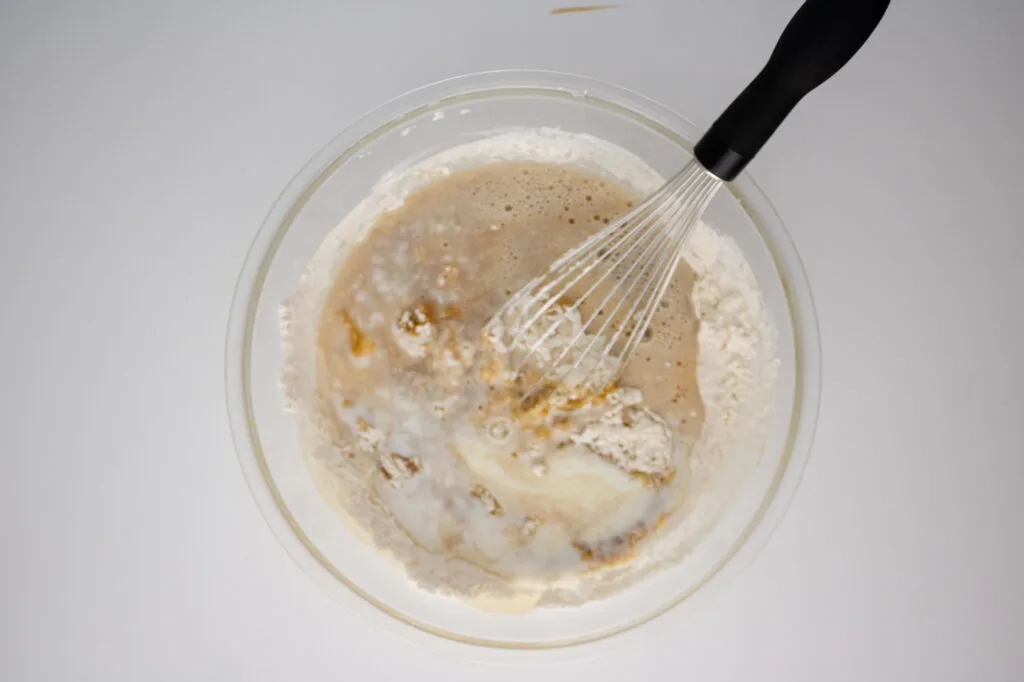 5. Add in the butter extract and vanilla extract. Whisk this together until smooth. Then stir in the cream soda. When you do this, it will fizz so don't be surprised!
6. Immediately add ¼ cup batter to each cup on the cupcake tin.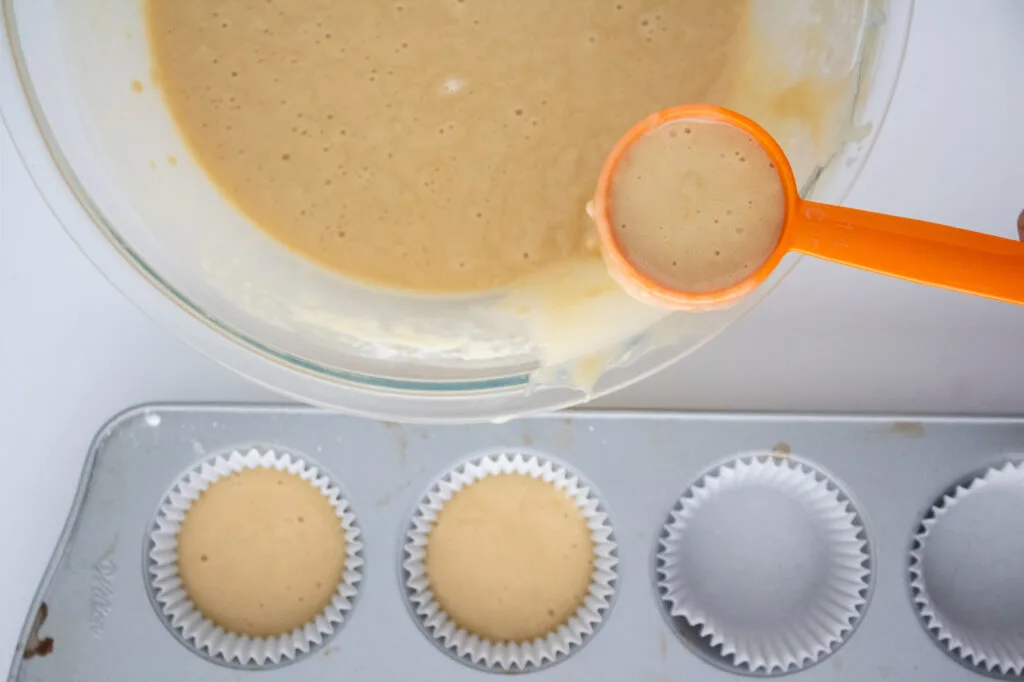 7. Bake for 17-20 minutes or until golden brown.
8. While the cupcakes are baking, you can finish the butterscotch sauce and make the frosting.
Stir the butterscotch chips and heavy cream. The hot heavy cream should have melted all of the chips, but if not, you can heat the mixture in the microwave for about 10-15 seconds.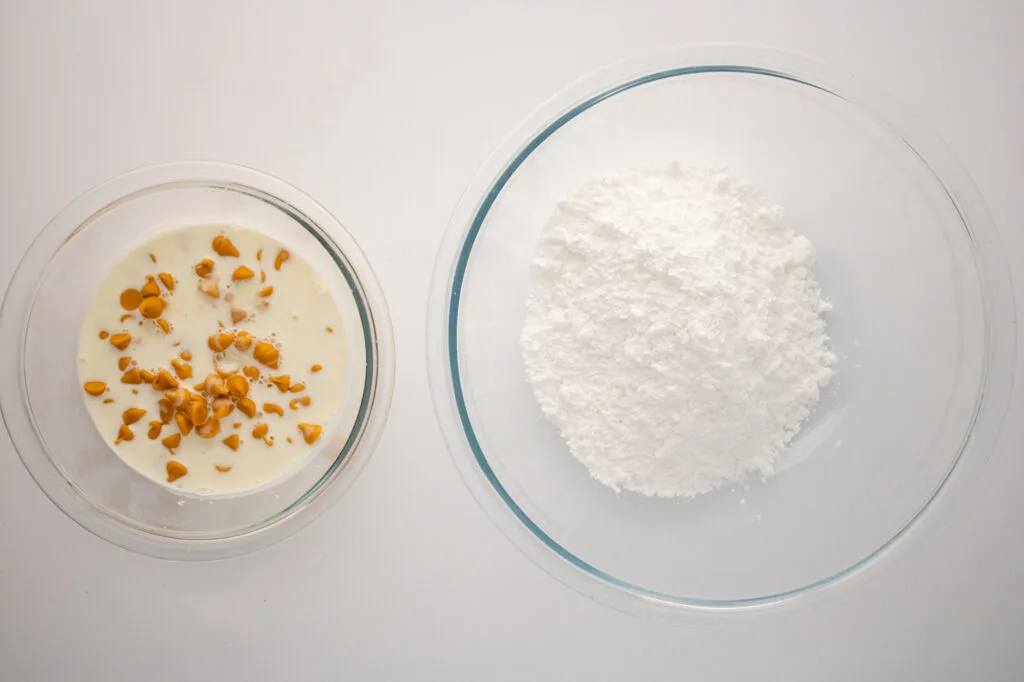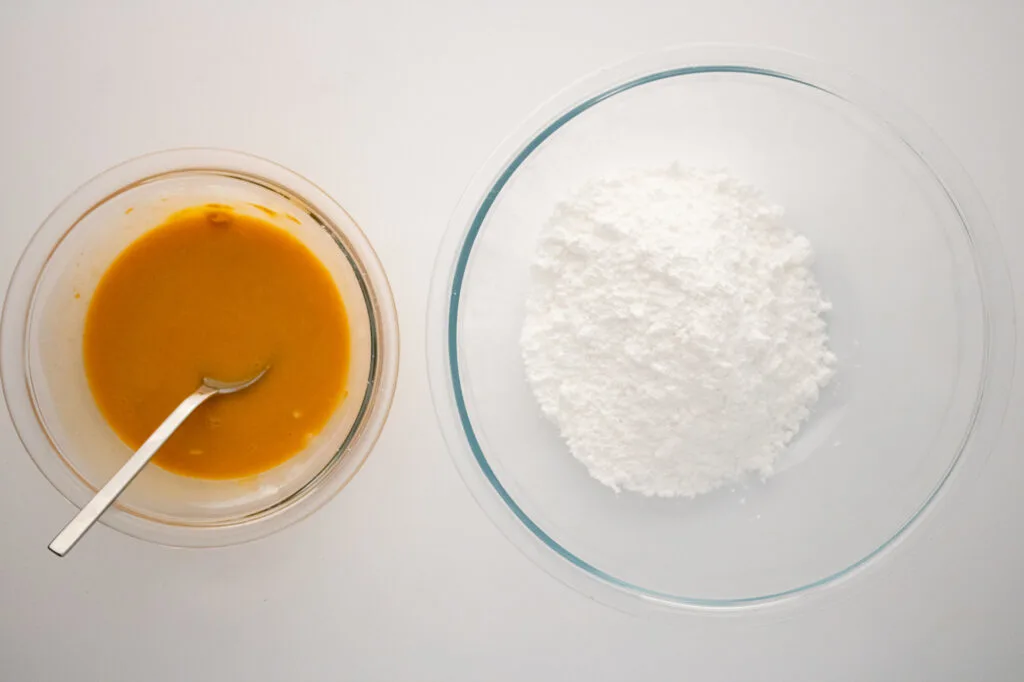 9. In a bowl, blend the butter until it is smooth. Add in the powdered sugar and blend together. It will be crumbly.
10. Pour the butterscotch sauce into the frosting. Keep a little bit of the butterscotch sauce reserved for drizzling over the cupcakes as a topping.
The frosting should be fluffy and not runny. If it is runny, then add more powdered sugar. About 1/4 cup at a time until it reaches a fluffy consistency.
11. Add the frosting to a piping bag that is fitted with tip 1M. Pipe the frosting on top of the baked and cooled cupcakes. Drizzle the remaining butterscotch sauce over the top of the cupcakes.
If you like these easy butterbeer cupcakes, be sure to check out our other Harry Potter recipes: