While RVing across America this year, we stayed at Cape Point Campground at Cape Hatteras National Seashore. The Outerbanks have been on my bucket list for two decades, so we were thrilled to be able to come and stay on the coast of North Carolina. However, we had some trouble finding out any information about this National Park Service Campground.
So here are the details about staying at Cape Point Campground at Cape Hatteras National Seashore:
Video tour:
Camping at Cape Point Campground
Cape Point Campground does not have a manned gate/office. It has a shack that you drive up to and collect an envelope that you fill out yourself. (See video). When we were trying to get information – such as whether there were hookups, etc. – we found the phone number to be disconnected. No one will answer any phone calls.
You can reserve a campsite on Recreation.gov. I'm not sure what the point is, though. There is nowhere to check in, and all of the sites are first come first served, and you choose whatever is open. Thinking that you have a confirmed reservation might be foolish (especially since there is no one to talk to for any dispute if there are no sites when you get there.)
There are NO hookups. Check out the gadgets we used to stay powered up and connected.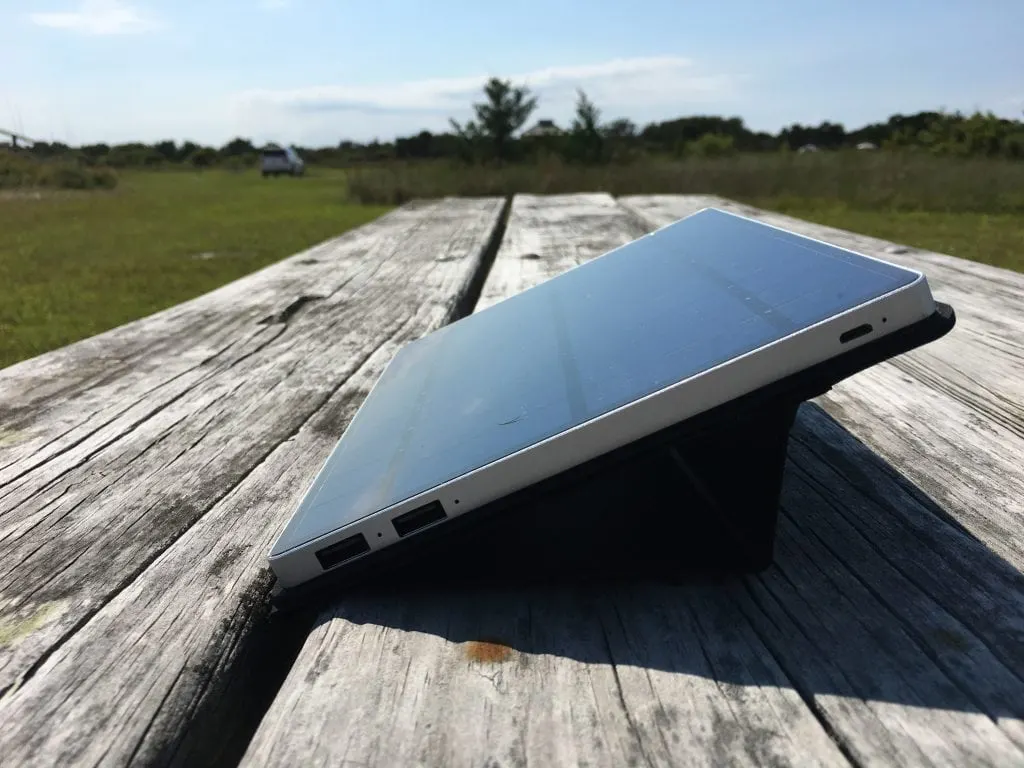 We did have a water spigot at our site, but that's because we parked near a restroom. There is a public water spigot on the road one per loop.
Dump station and fresh water fill up are about 1/2 mile down the road. You'll pass it before you arrive at the campground. Look for the small dump station sign – but it's easy to miss, so better directions would be to look for the WWII Memorial sign and it's immediately across from that sign on the left.
The bathhouses are not bad. Three stalls in the women's. Kept clean and simple. Two sinks, as well. Mirrors, but they are the kind that can't break so you really can't see much in them. No outlets in the bathrooms.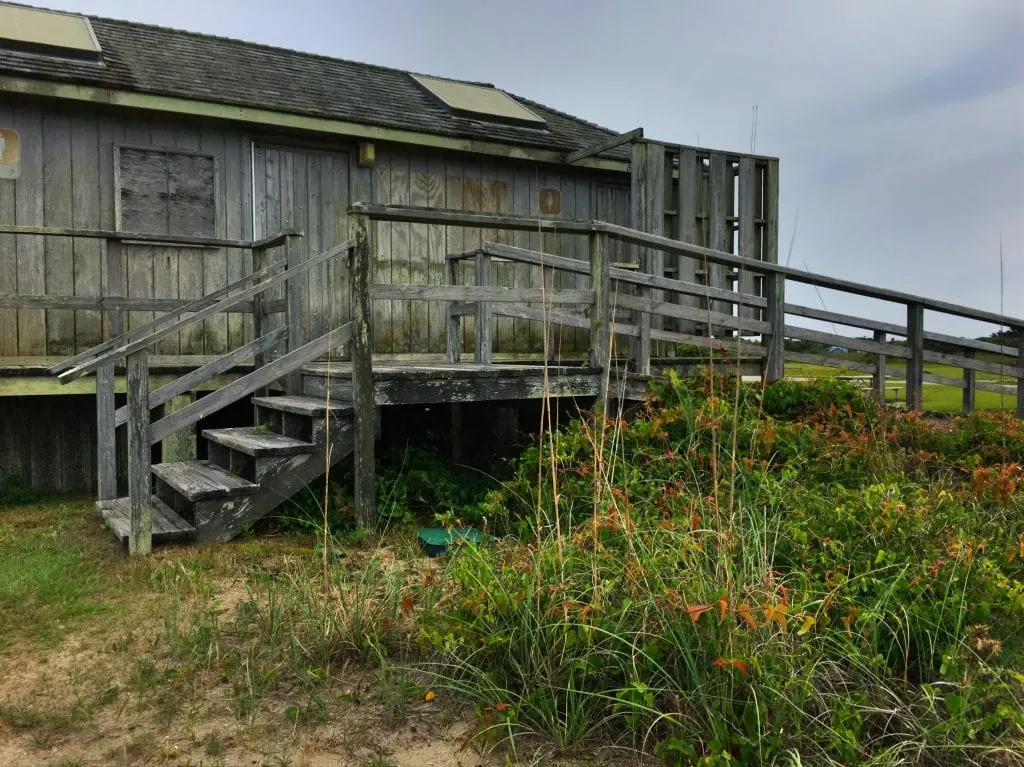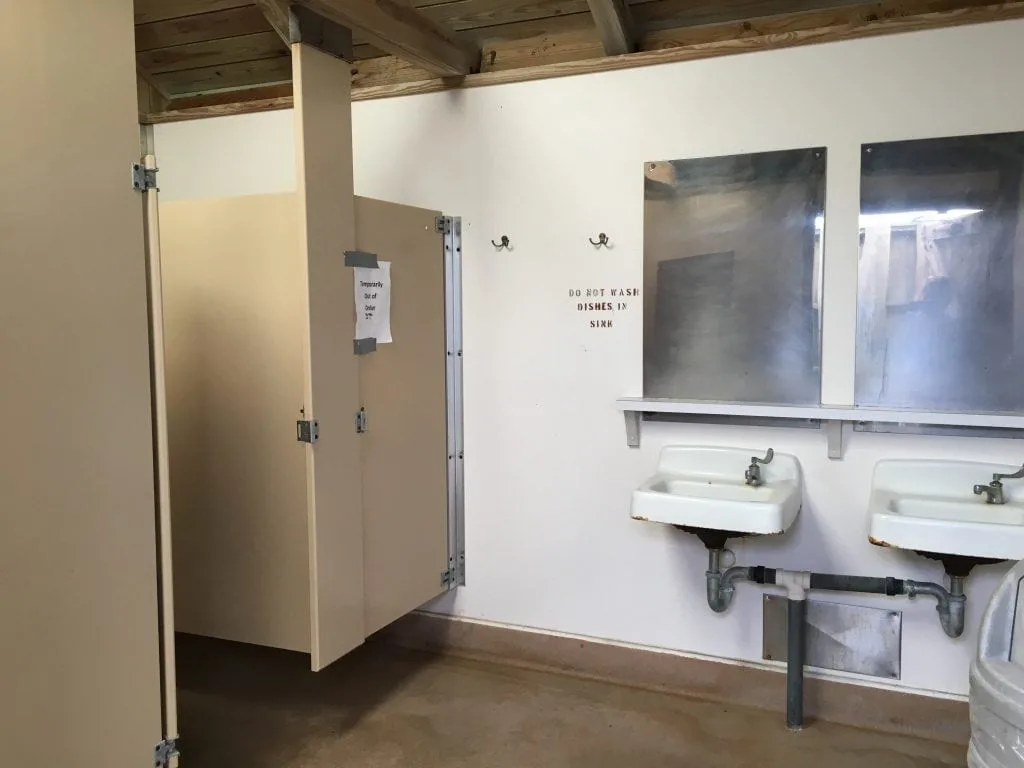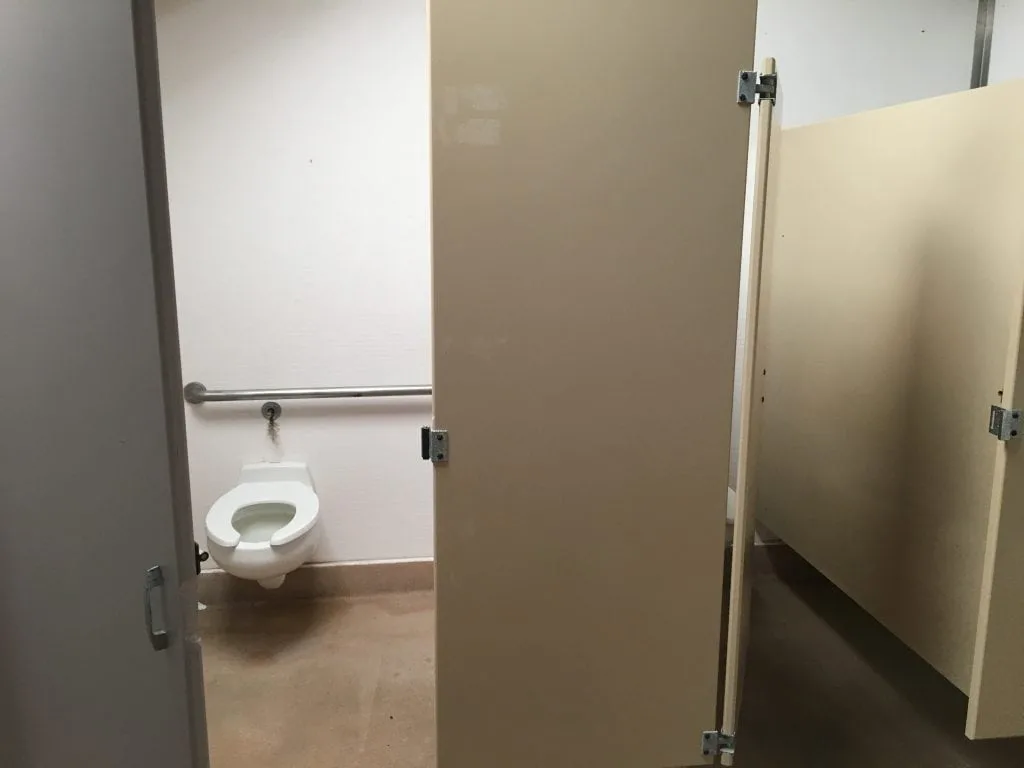 The shower stalls in separate buildings looked horrific. I didn't even bother trying to take a shower in them. It looks exactly like a garden hose attached to the ceiling and a nylon cord pull-string. (See the video).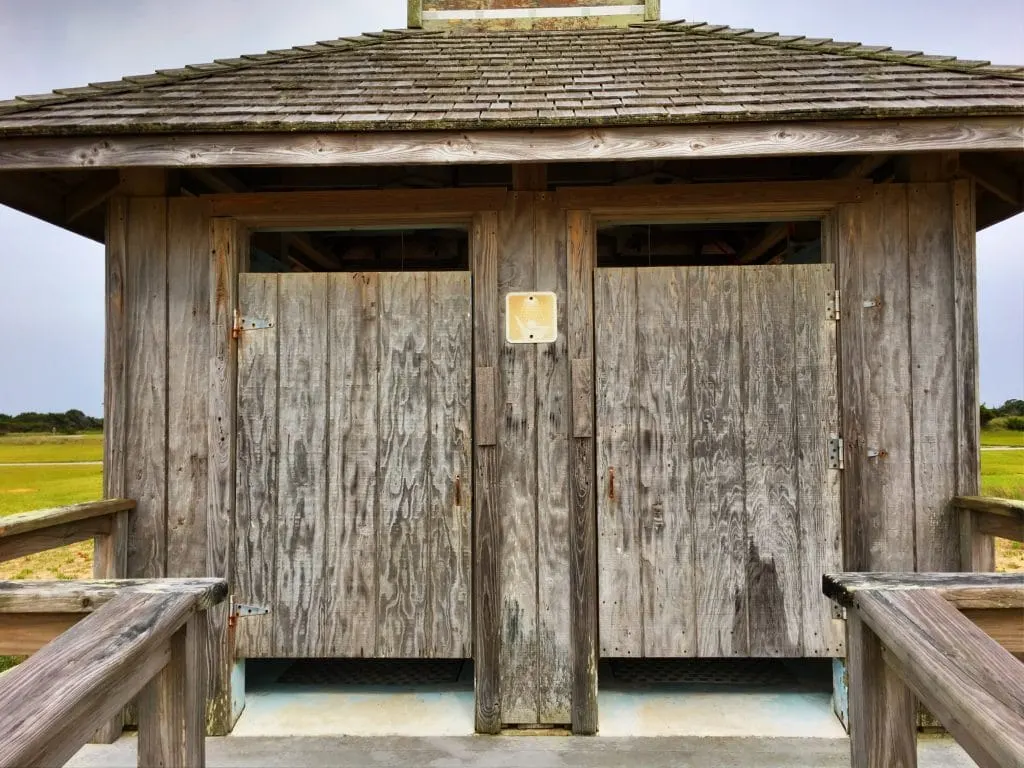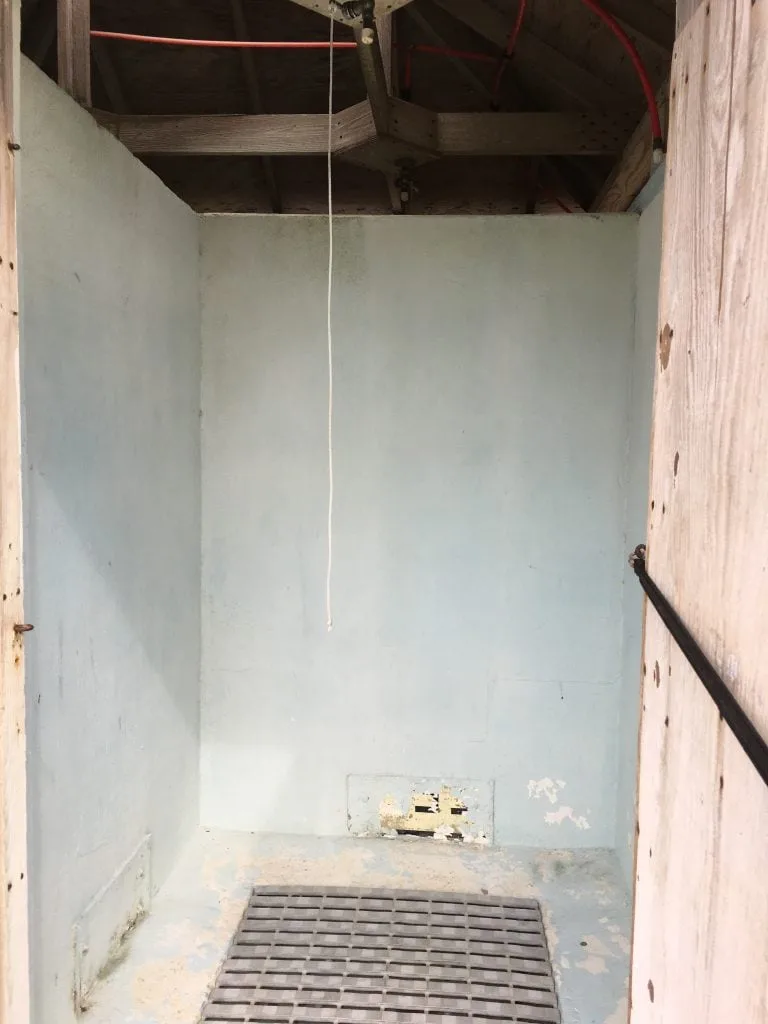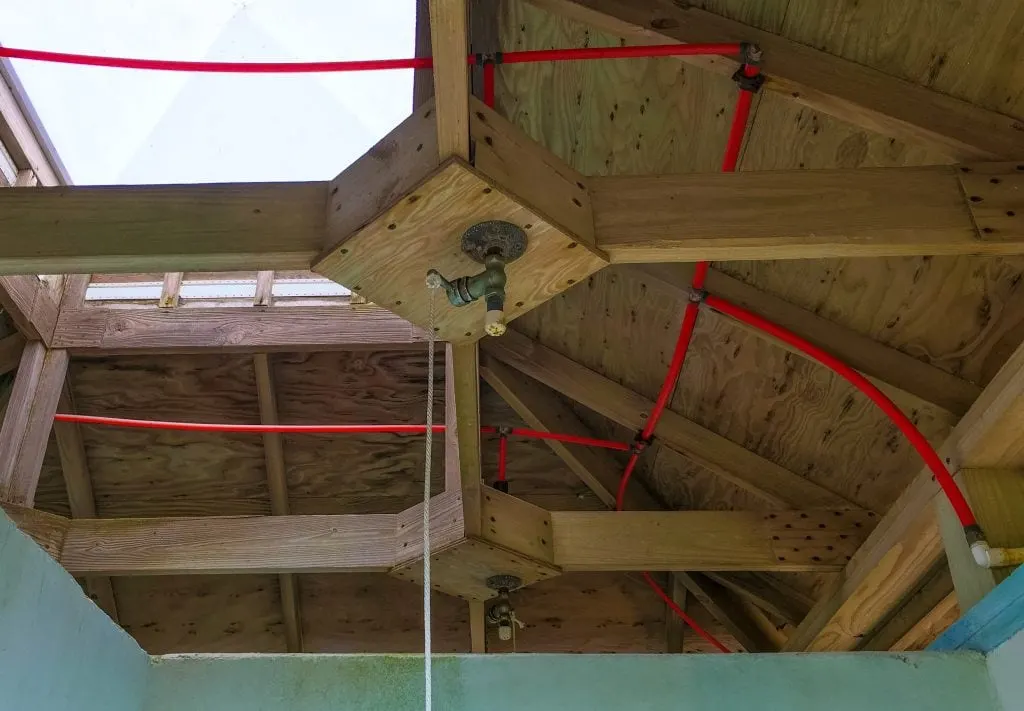 You can hear the ocean in the distance breaking on the other side of the dunes if the wind is just right. However, you are still a decent walk away and cannot just climb the dunes. There are multiple layers of dunes leading to the ocean and they are full of bramble, including cacti.
Each site has a picnic table and grill. There are no trees.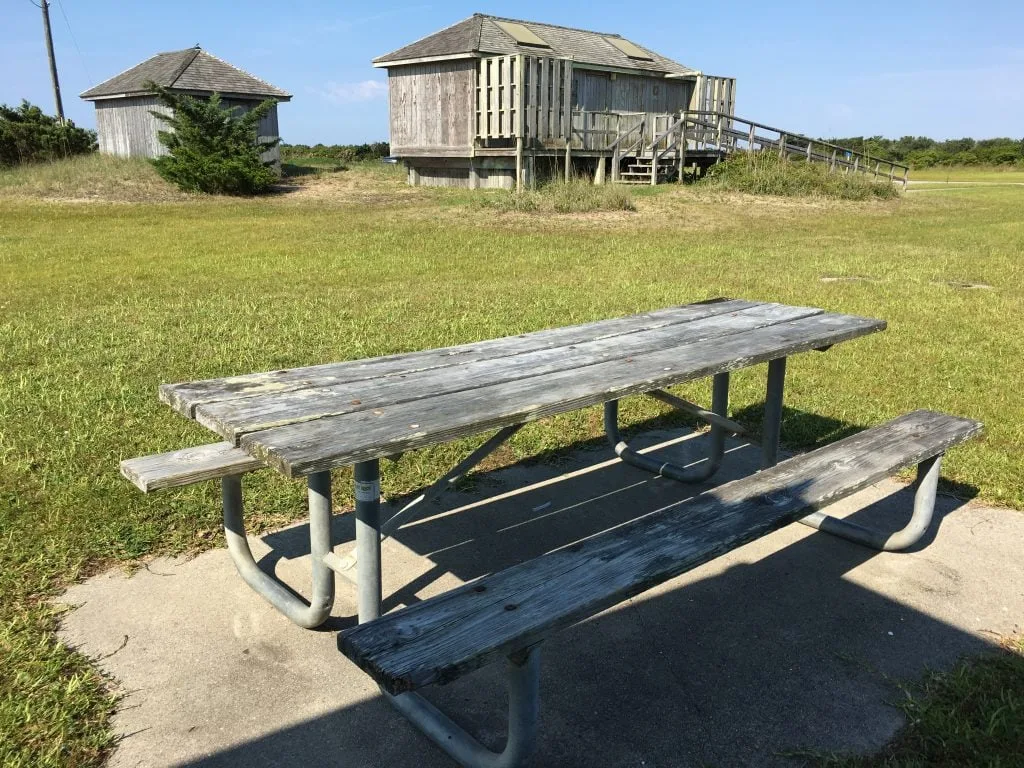 The sites are paved.
Wood fires are prohibited. There are no fire pits or ground fires. Only charcoal and gas cooking fires are allowed.
Generators are not explicitly encouraged, but there is no rule that you can't have them. Quiet hours are from 10 p.m. to 6 a.m. Several RVs could be heard running them for a couple hours.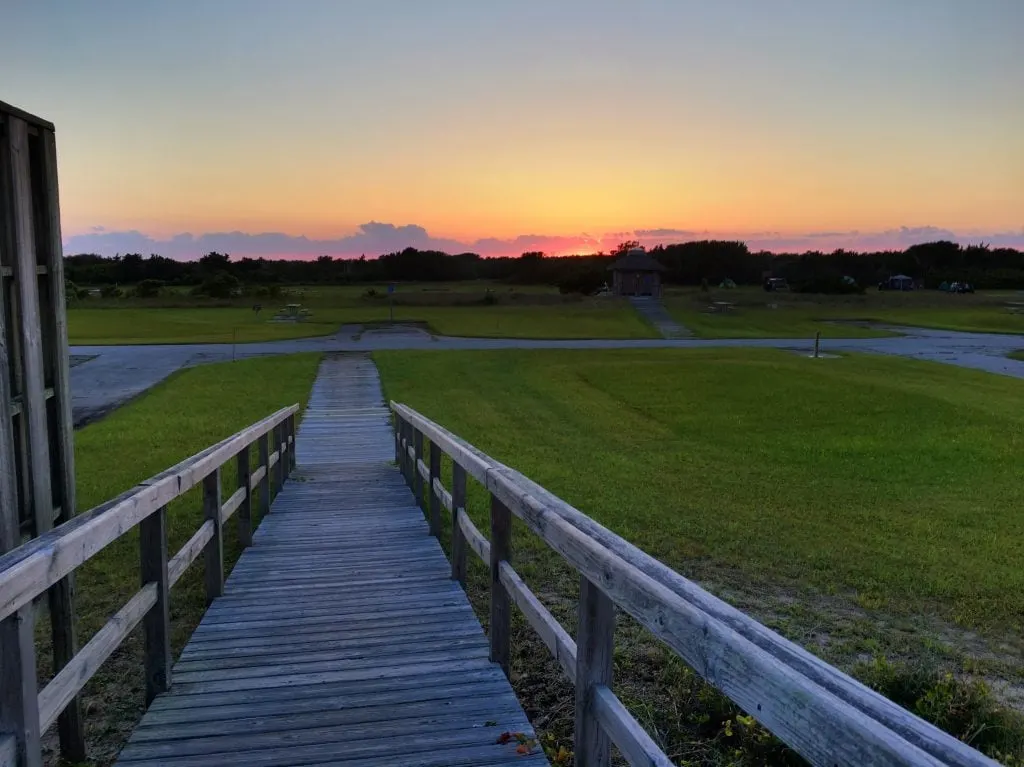 Checkout or renewal is at 12 p.m.
A maximum of 6 people at a site, with either 2 cars per site, or one trailer and one car.
Maximum of two tents per site (though this wasn't enforced while we were there during a slow season)
Pets confined on a leash (6 foot maximum). Again, this wasn't exactly enforced.
It can get really hot in the open, grassy field. Here's some great ways for how to stay cool while camping if you are here in the summer time.
From Memorial Day to Labor Day, stays cannot exceed 14 days.
A park ranger can frequently be found on a golf cart zooming through or making repairs if you should need some help, but don't count on it.
Cape Hatteras National Seashore Beach Access
Cape Hatteras Lighthouse can be seen from the campground. It's off in the distance, but still visible. The light will shine through the night and you might be able to see it depending on what site you're staying at.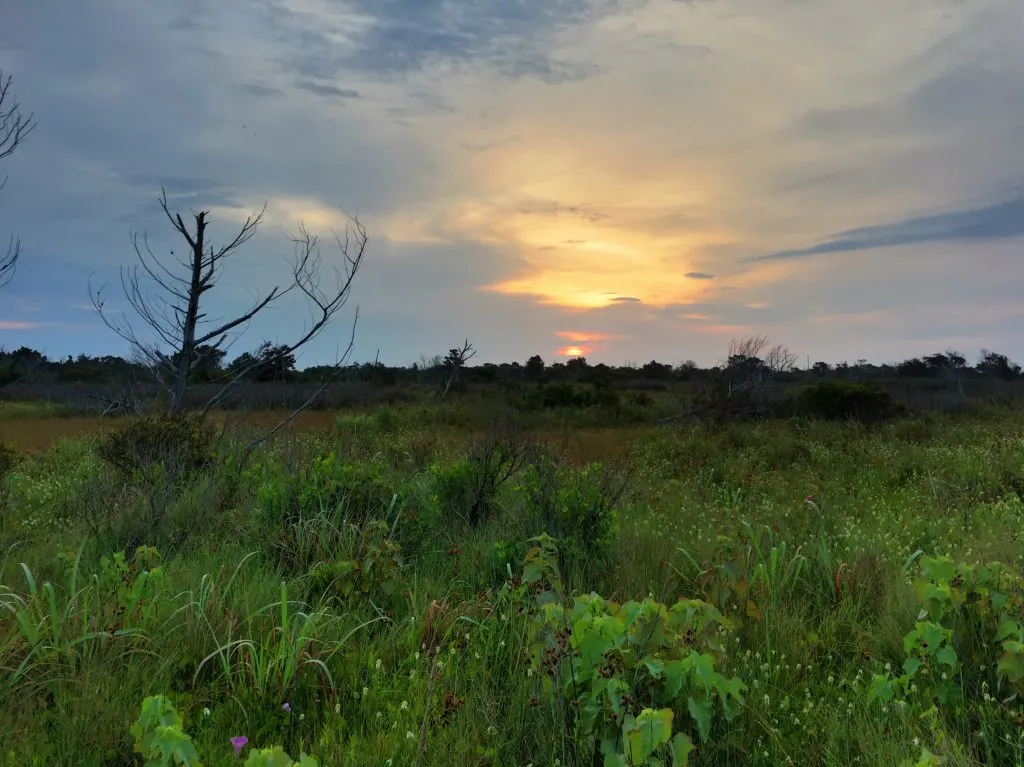 Really need some help? The Visitor Center for the Cape Hatteras Lighthouse is just down the road about a mile. When staffed, they might be able to assist you. Or, maybe call the campground at Frisco? We didn't try this, but noticed they have a manned gate house at that NPS campground location.
The campground map says there is parking for the beach within the campground (Ramp 45). On our visit in early June 2017, the parking area was closed. Even if you could park there, it is a serious hike to the beach from the location. So much easier to use the other ramps!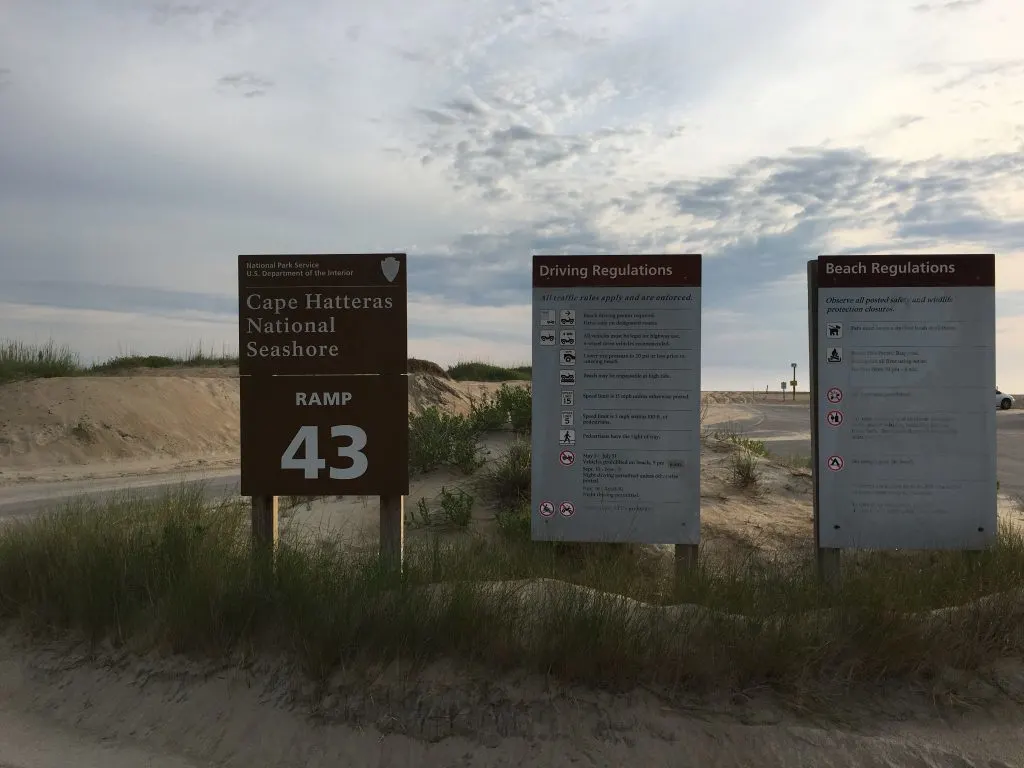 There are two access points to the beach within walking distance of the campground. Ramp 43 and 44. One is a ramp for Off Road Vehicles. A fish cleaning station is located at the entrance of the Ramps.