The Christmas events in Hendersonville, NC are full of small town charm and down home holiday fun. We love enjoying all of the Christmas activities in our hometown. Many of them are traditions that have been going on for years and years. Others are brand new. All of them create a memorable holiday experience in western North Carolina!
The following are some of the Christmas events and activities that we've personally done in Hendersonville this year. They are part of the Come Home for the Holidays calendar of events in Hendersonville.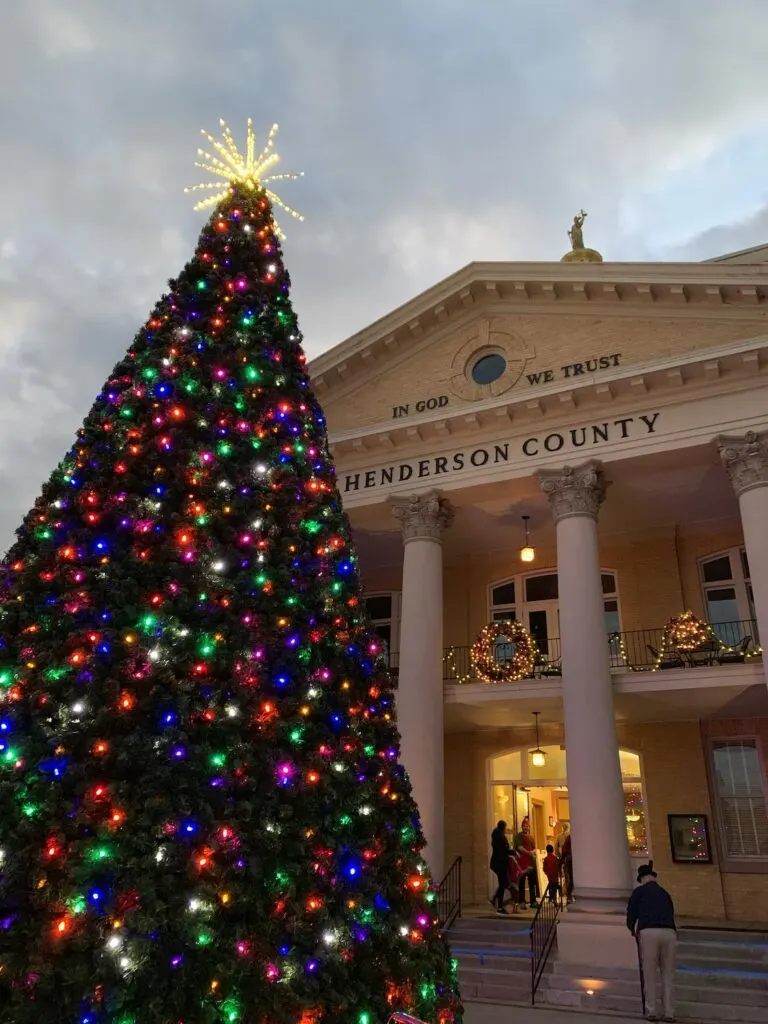 Christmas Events in Hendersonville, NC
Christmas Tree Lighting
The holiday season kicks off with the official Christmas Tree Lighting in front of the Henderson County Courthouse. Santa magically lights the tree from his rooftop location nearby.
Enjoy music, as well as the lights up and down Main Street. There are free visits with Santa, as well as carriage rides.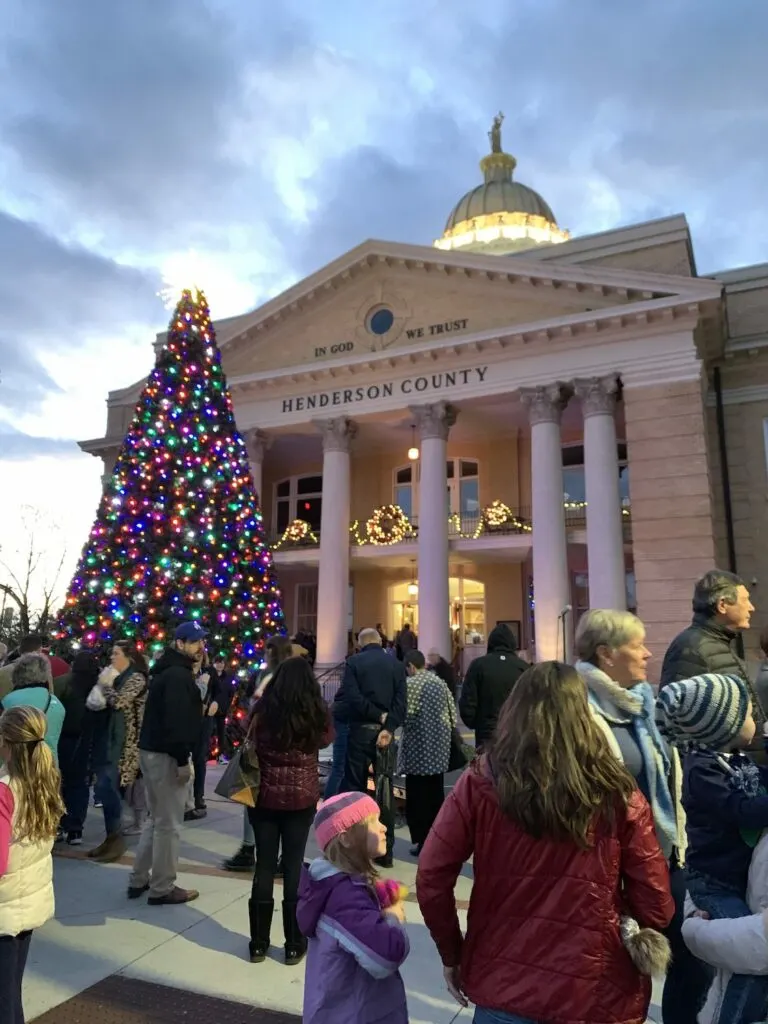 All of Main Street celebrates the occasion with late opening hours of shops and holiday foods available.
Henderson County Curb Market Ol' Time Christmas
Start your holiday shopping and decorating by supporting truly local vendors and farms at the Henderson County Curb Market Ol' Timey Christmas Day. On this Saturday, you can shop the historic market while listening to Christmas music; enjoying free cookies, hot chocolate and mulled cider; seeing Santa's elves and enjoying roasting marshmallows around a fire pit.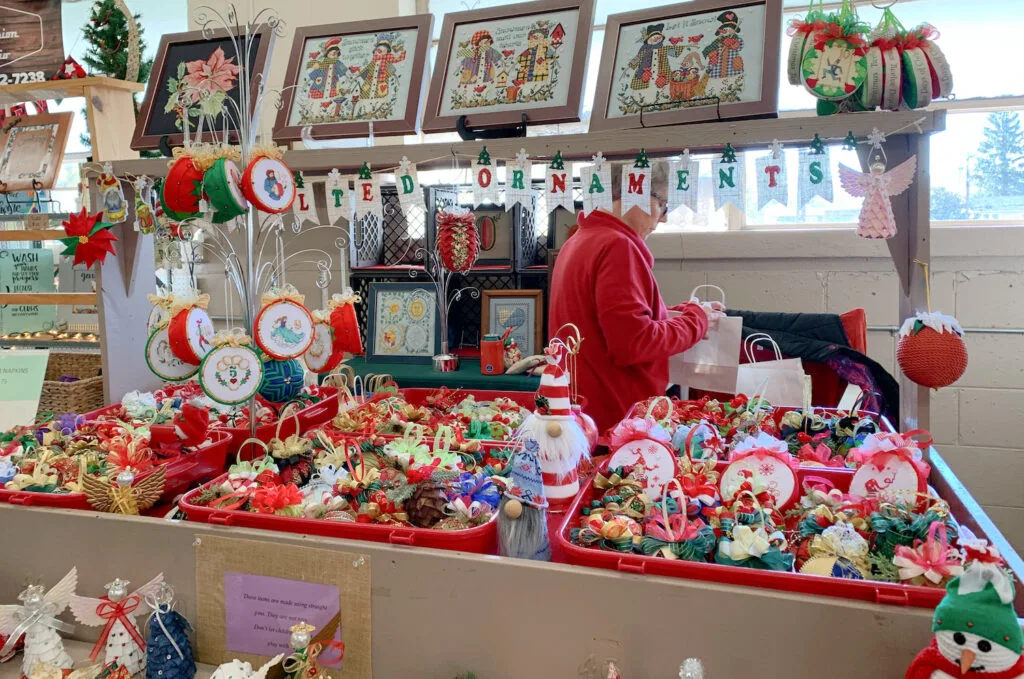 Each purchase gives you a chance to win a holiday basket full of Christmas merchandise from the vendors.
There were even many vendors giving away free Christmas treats for kids.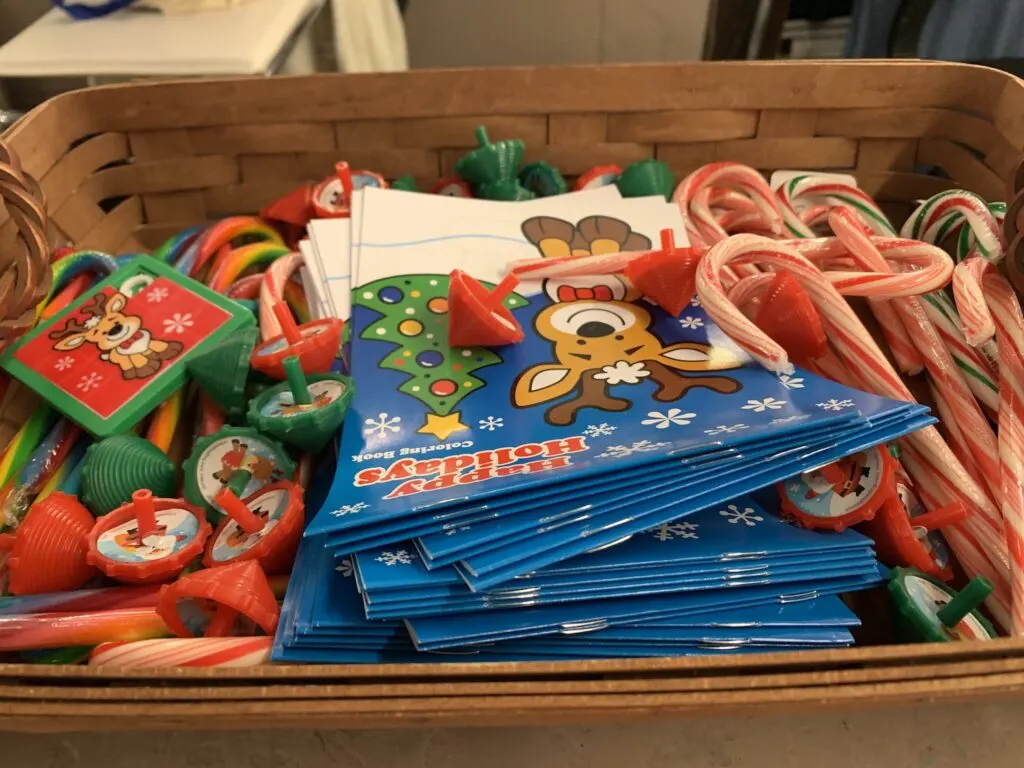 This is a great place to get your fresh greenery to decorate your home. Vendors will customize wreaths, swags and other decor on site.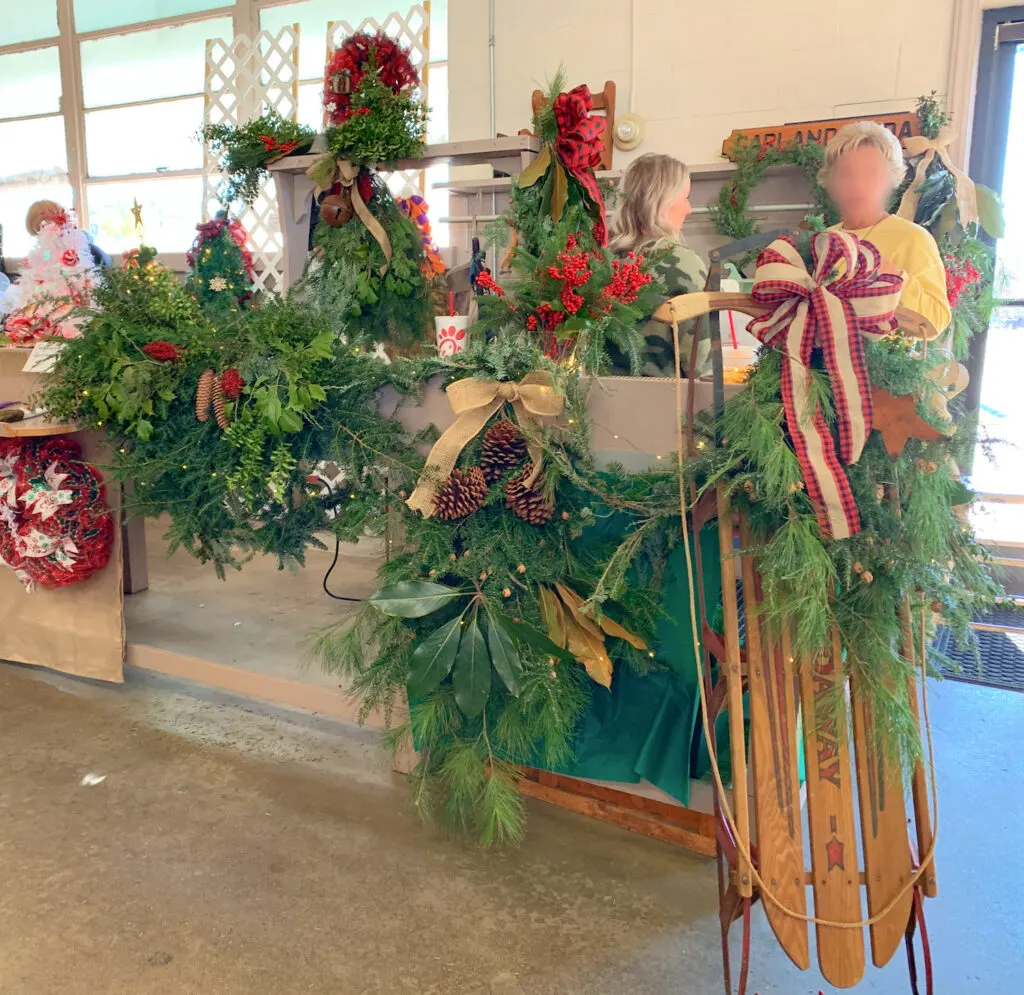 Annual Christmas Display at Carolina Ace Hardware
The Carolina Ace Hardware Christmas display looks like something that should be found in a New York City store window. Every year it is over the top with holiday cheer!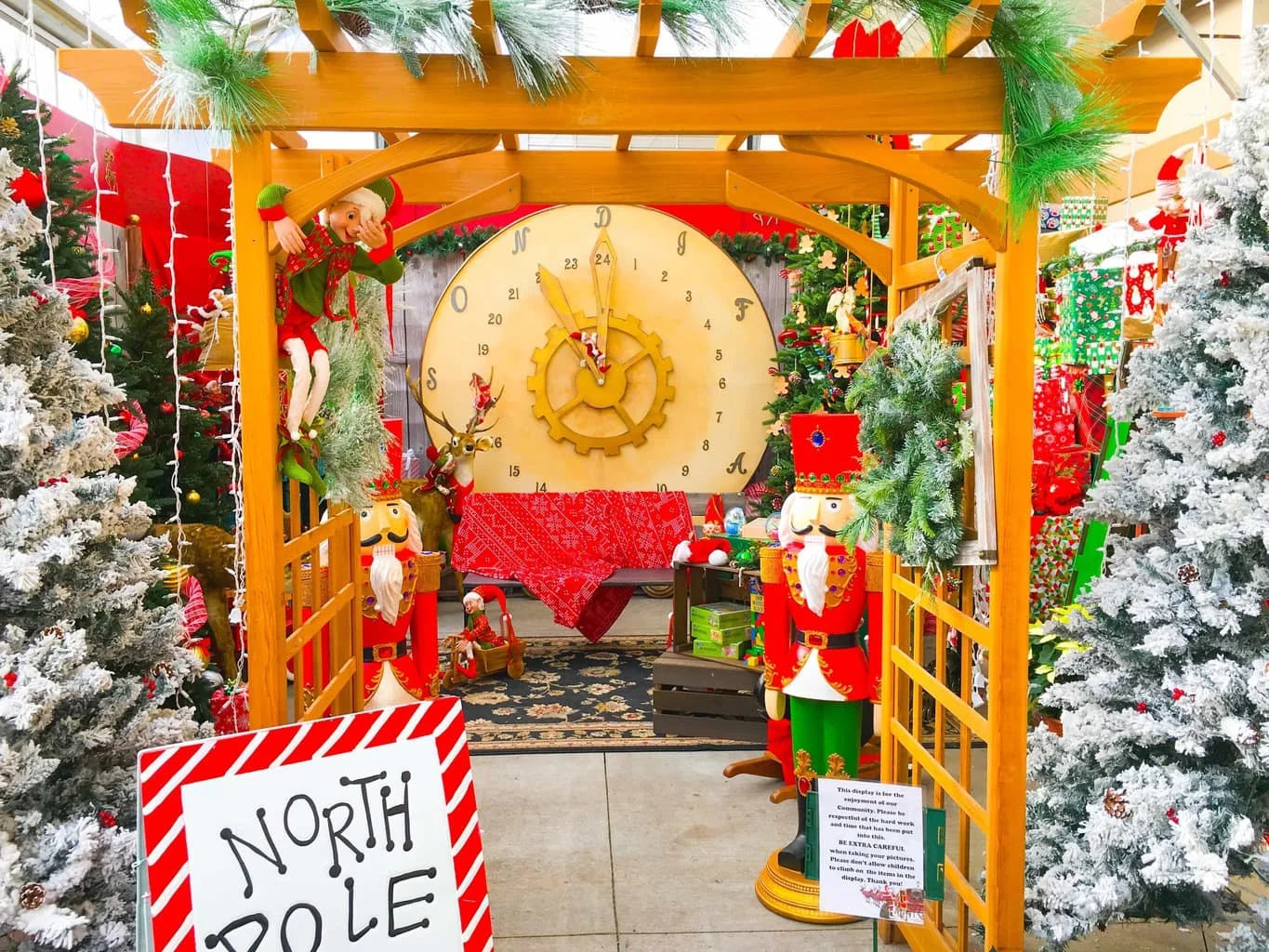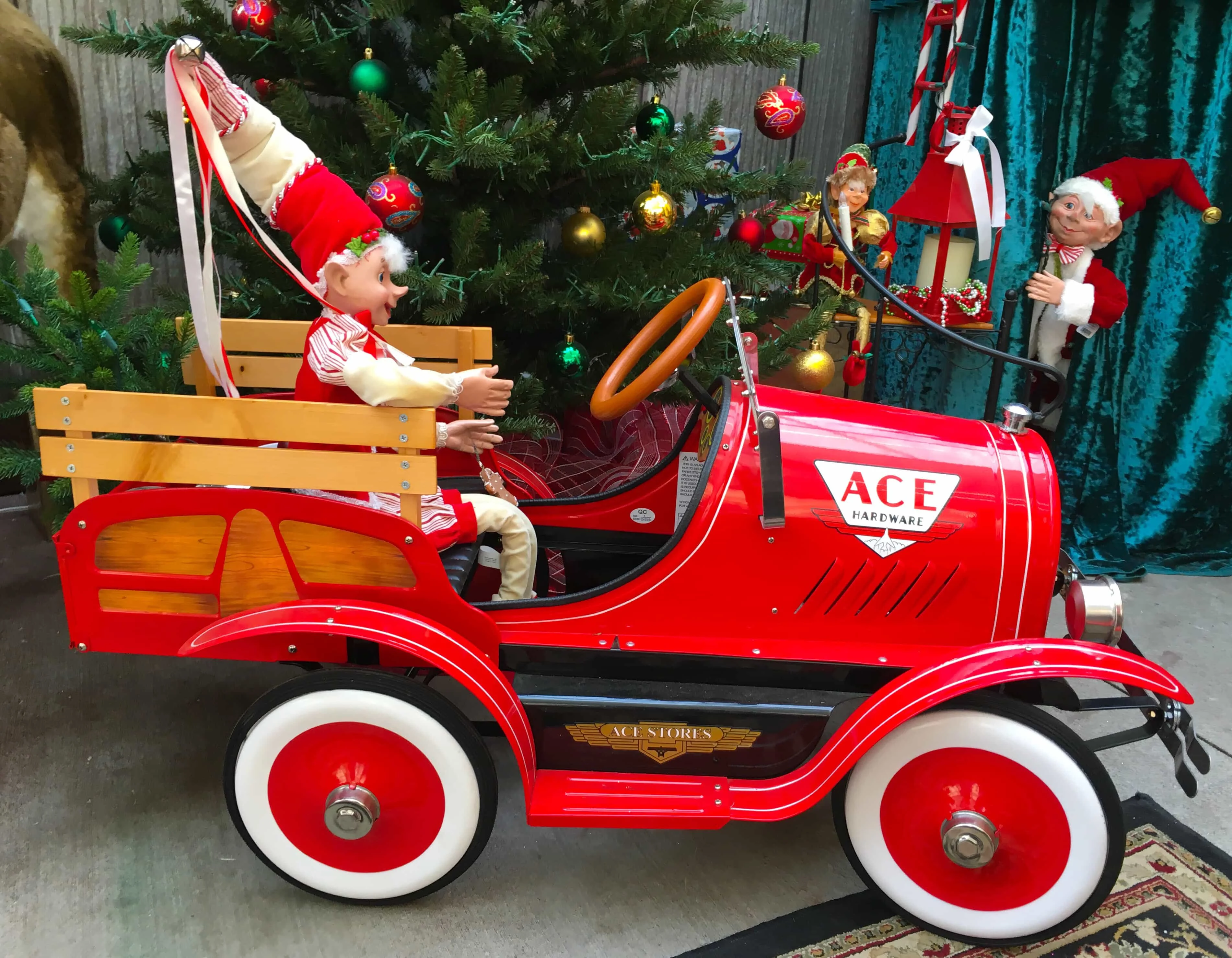 On your way into Ace, grab a free bag of popcorn.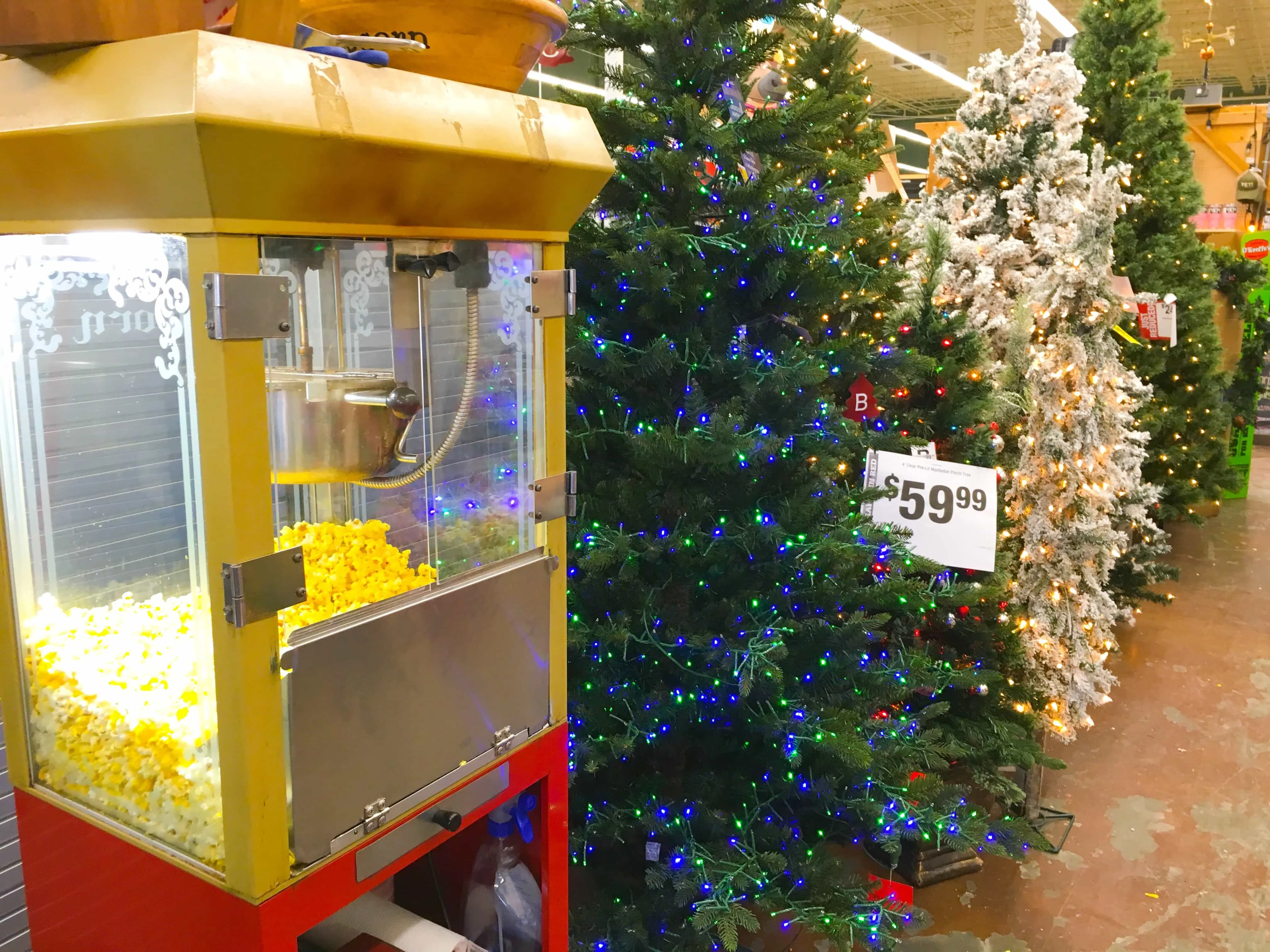 We were truly amazed at how professional and colorful this display is. The over-the-top décor and layers upon layers of decorating create a stunning Christmas display that really pops in photos.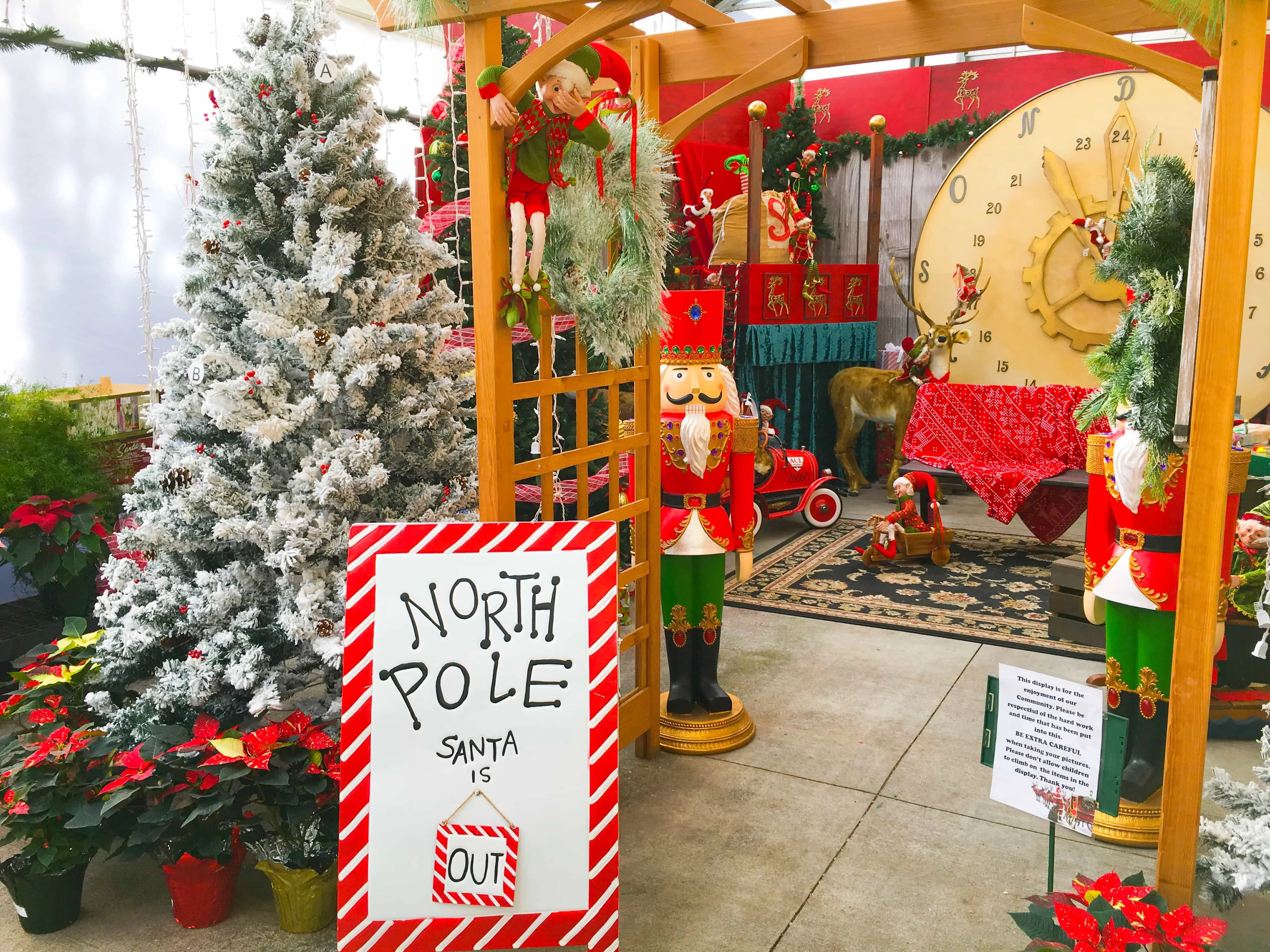 The great thing is that photo opps are FREE!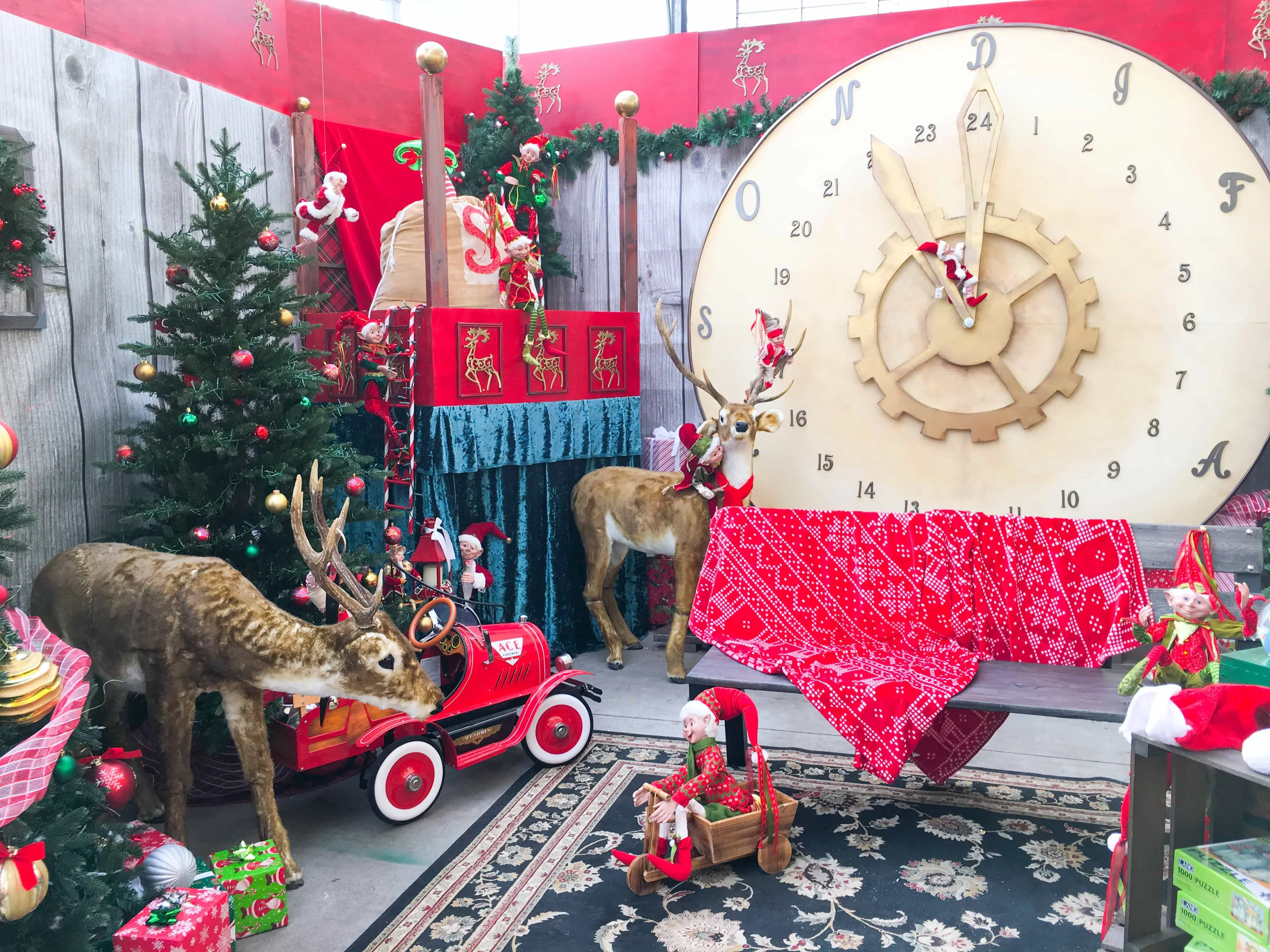 Santa made an appearance for families as well as pets (with donations of toys and pet items). Every day, though, you can bring the kiddos or the family and take some Christmas photos in the sleigh or in Santa's cottage.
This is one of the great free kids activities in Hendersonville, NC. And one of the free things to do in Hendersonville during the holidays.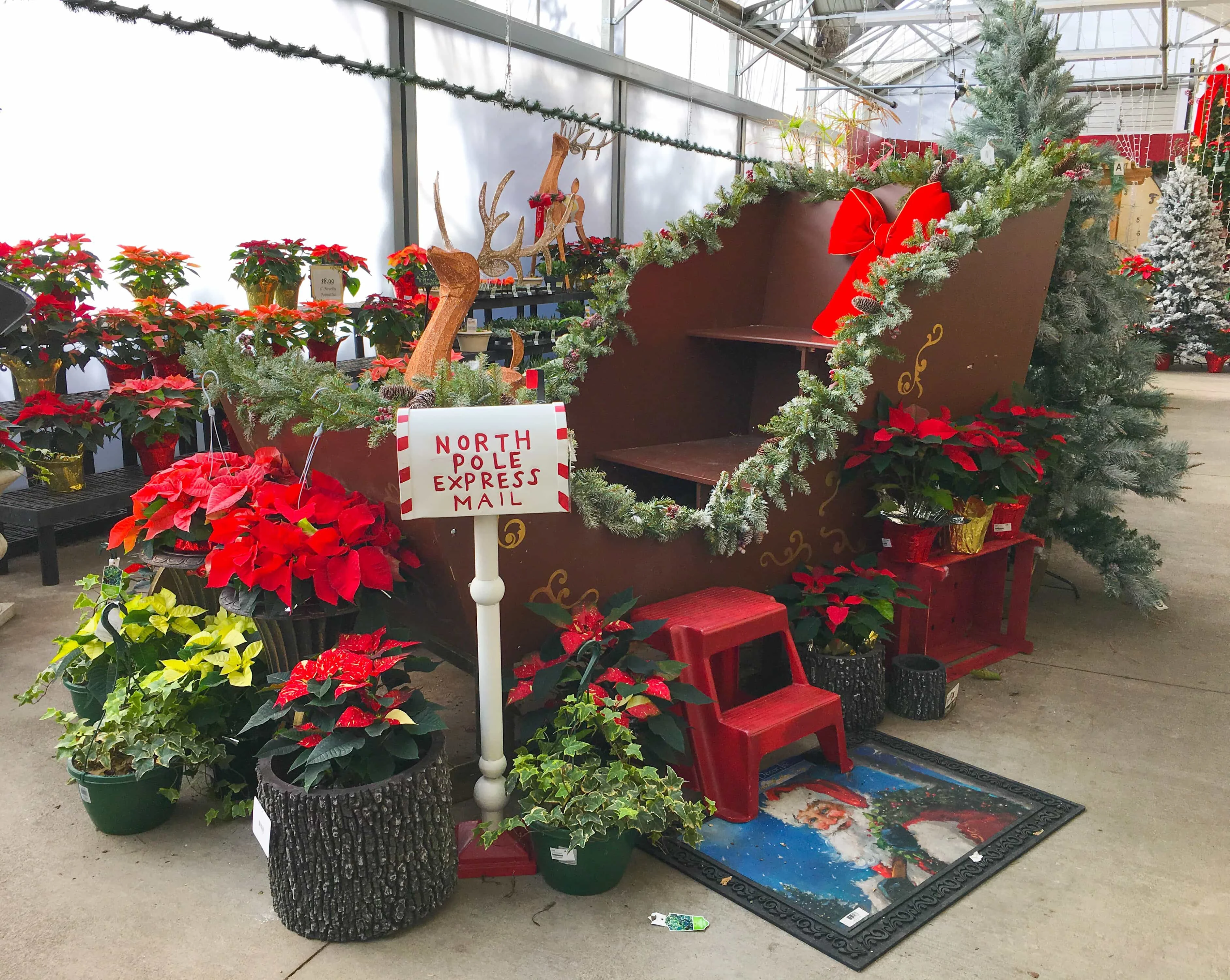 We love that the Christmas display is in the greenhouse garden center of Carolina Ace Hardware. It's warm in there on cold days. Being surrounded by live poinsettias and greenery for sale, too, adds to the holiday ambience.
Check out the 2022 display: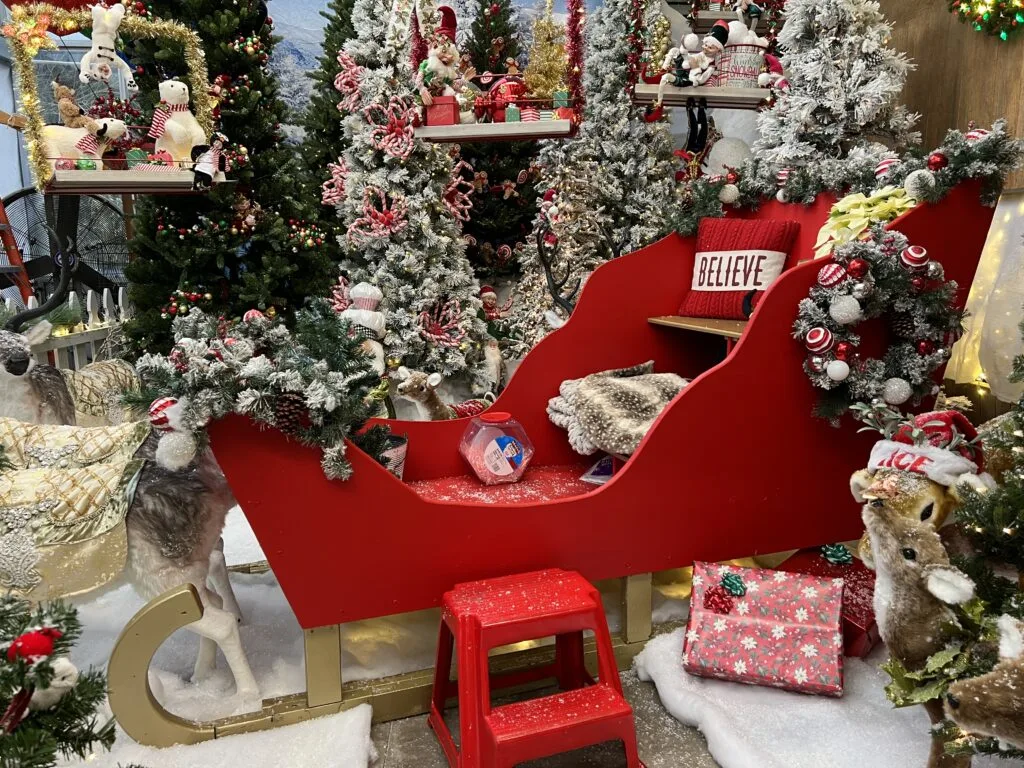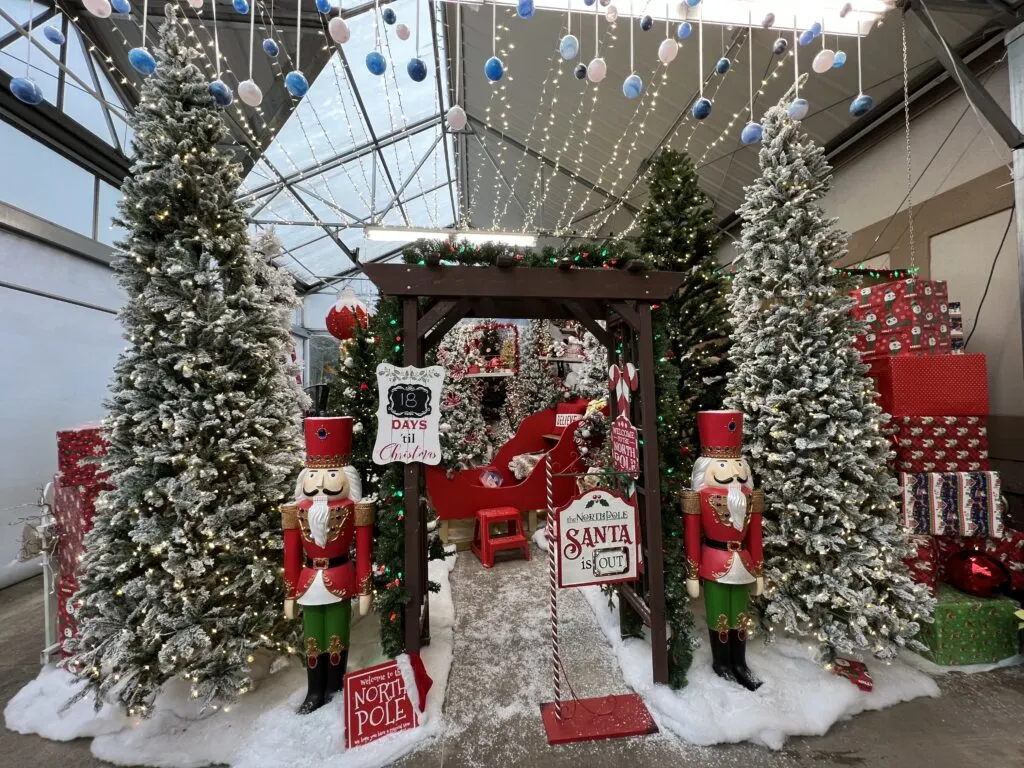 Holiday Inn Tour and Cookie Caper
This tour is finally returning on December 11, 2022 after a two year hiatus!
A combination of historic home tours and delicious indulgences, this annual event was a favorite of ours this year. The Hendersonville Historic Preservation Commission partners with the Henderson County Tourism Development Authority for the self-guided tour.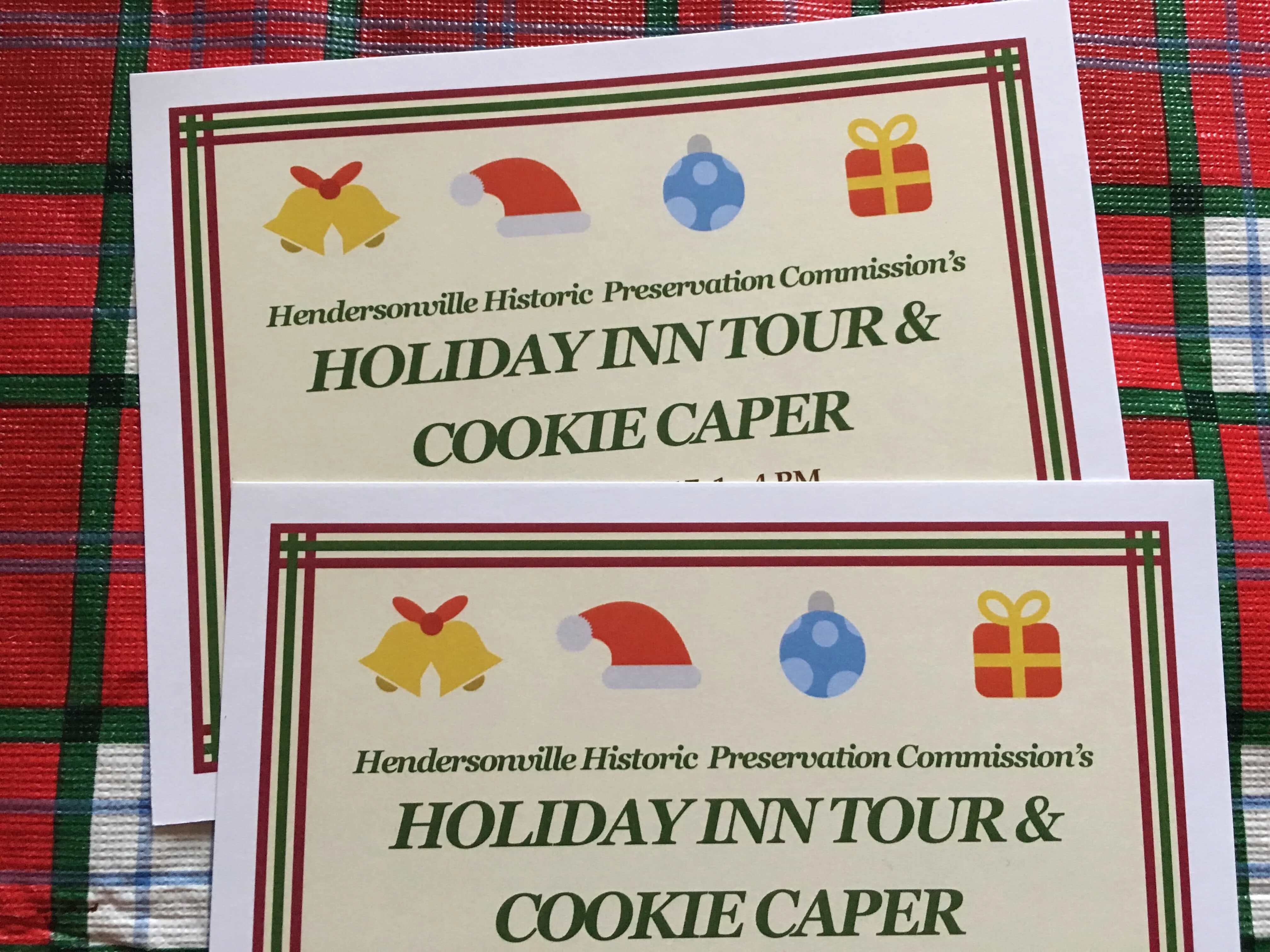 When we did the Holiday Tour of Inns and Cookie Caper, eight inns were on the tour. They are all spread out throughout Hendersonville and the surrounding area. Participating inns included:
The Waverly Inn
The Henderson
The Melange
Northern Lights B&B
Pinebrook Manor
Echo Mountain Inn
Brightwaters Guesthouse
B&B on Tiffany Hill
We loved the variety of inns. Yet it would have been very difficult to see them all in the short three hour time span of the tour. That is really frustrating, since all of the inns were so different. We'd love to see the time span increase in future years to at least four hours.
Each inn offered a tour of their guest rooms and public areas. Some were self-guided, others were hosted by staff.
In addition to peeking into unoccupied guest rooms, guests have the sweet surprise of cookies (and other treats) at the inns. We were definitely impressed with the large display of sweets, savories and other treats, along with drinks that were offered to tour guests.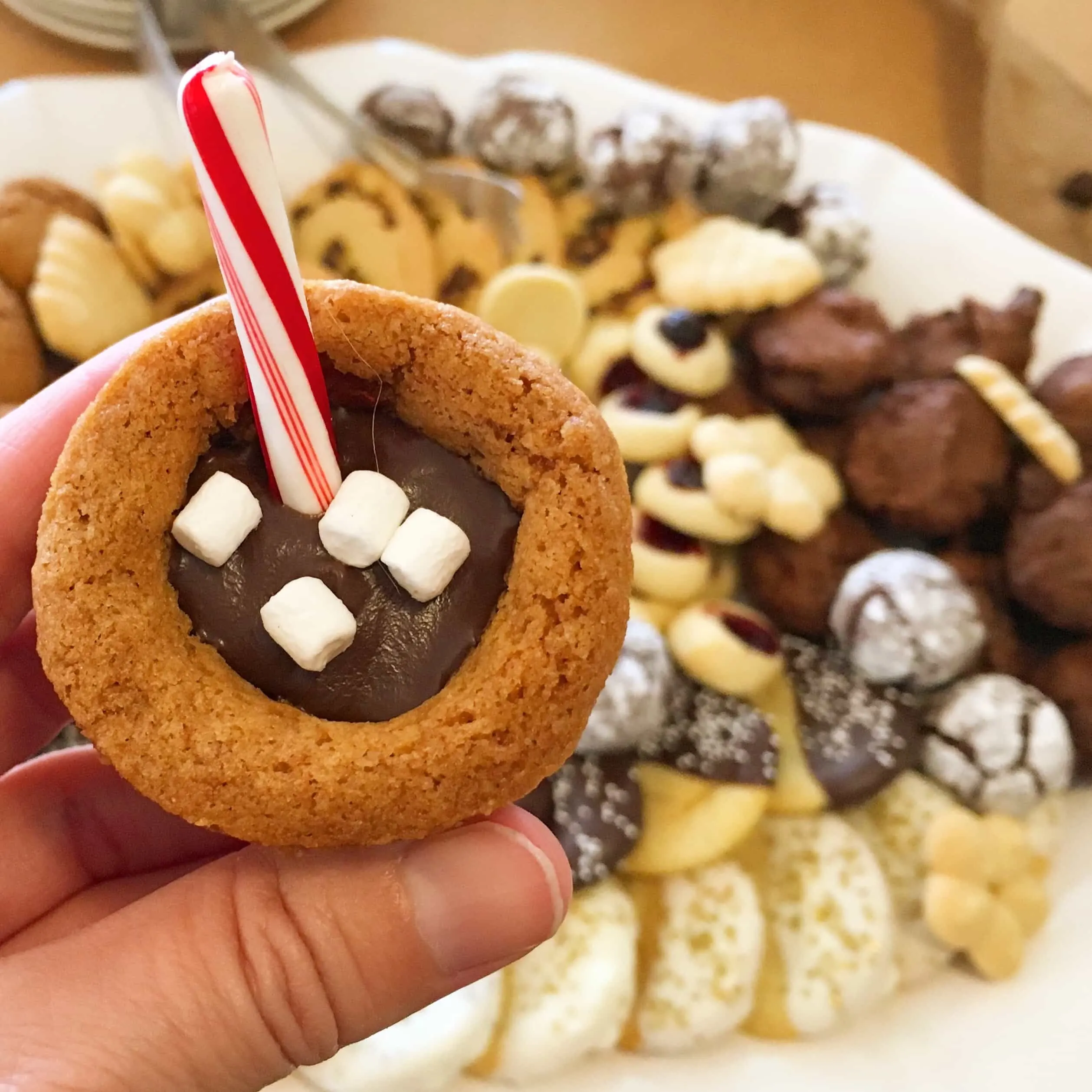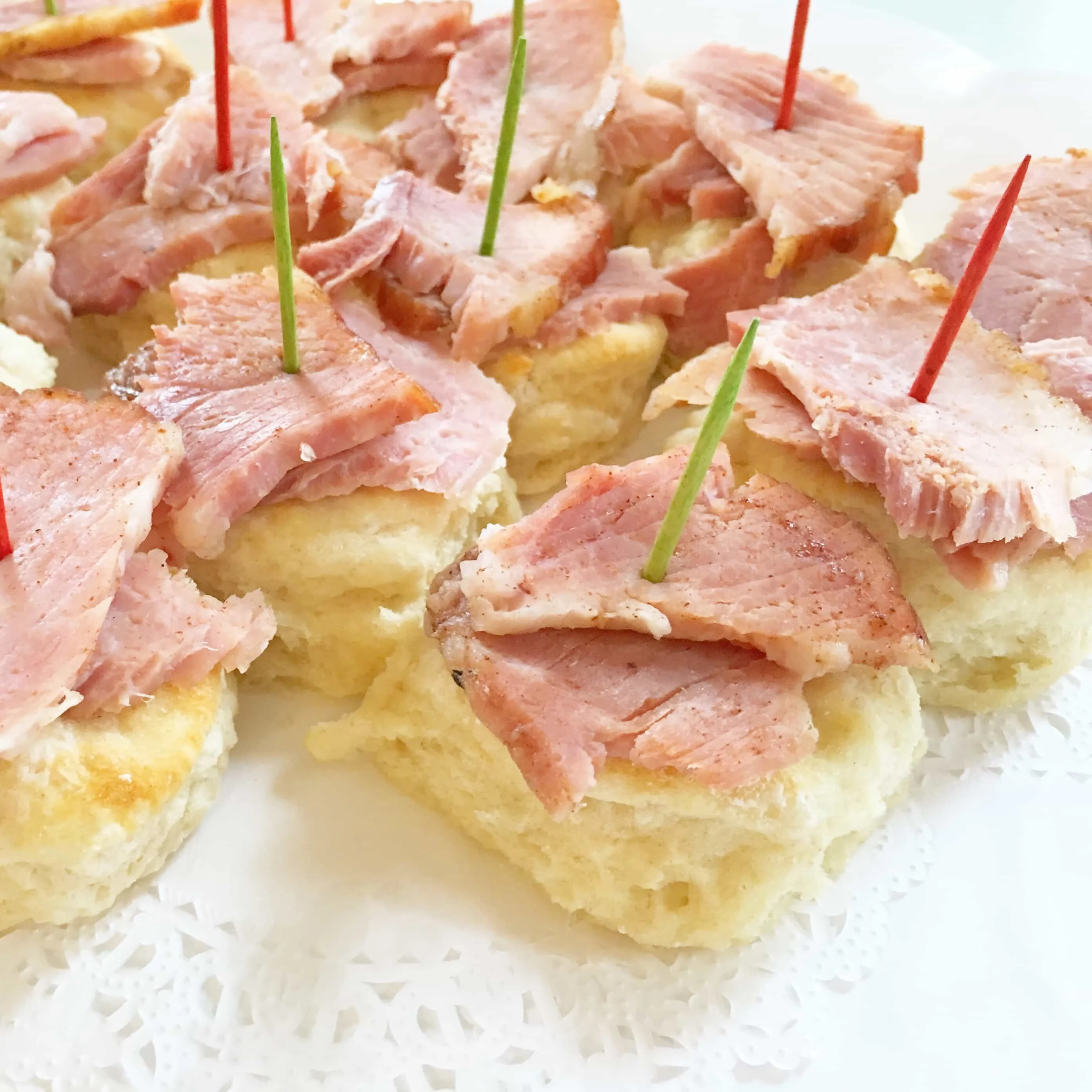 Christmas Lights Parade
The annual Christmas parade is held at night for the first time ever in 2022. 6 p.m. Main Street
Historic Johnson Farm Christmas Tours
This historic house in Hendersonville offers a weekend of candlelight evening tours, as well as daytime guided tours and self-guided tours.
Admission fee. Candlelight Christmas Tours December 2-3. Daytime tours held December 5-9 and December 12-16.
Peppermint Bear Scavenger Hunt
Kids have fun searching for bears throughout Downtown Hendersonville. Many merchants offer small treats once the child finds the bear in their shop. Collect at least 12 out of 26 stamps and you are able to win scavenger hunt prizes.
Pick up your free brochure at the Hendersonville Visitor's Center for participating locations and the cards to stamp. November 25-December 23.
Old Fashioned Christmas
Downtown Hendersonville shopping from 5-8 p.m. Horse drawn carriage rides through downtown. Rides are free, and first come, first served. December 2, 5-8 p.m. at Historic Courthouse.
Holiday Home Decoration Contest
Homeowners all over Henderson County vie for the honor of having the best holiday decorations, as voted on by the public Download the map – or get a printed copy at the Visitors Center – and drive around the county to look at all the festive holiday displays and then vote online for your favorite.
Hendersonville Merchant Decorations Contest
Hendersonville and Henderson County merchants compete for the honor of Best Holiday Window Display and Lights, as voted on by you. Take a stroll downtown or drive around the county to enjoy the festive holiday displays, then vote online.
Hendersonville Community Band Christmas Concert
Sounds of the Season concert presented by 75-member band at Blue Ridge Community College Concert Hall. December 11, 3-5 p.m., $10
Rugby Middle School Craft Fair
Over 100 crafters at Rugby Middle School on Saturday, December 3 from 9 a.m – 3 p.m. Children are able to make their own crafts at the fair for free in the craft room. Admission and parking are free.
This location is across from Historic Johnson Farm, which makes it easy to take their Candlelight Evenings historic tour afterwards.
Enjoy an inexpensive meal at Bold Rock Hard Cider afterwards, one of the best places to eat in Hendersonville.
Winter Holiday Concert
Carolina Concert Choir presents two shows on Friday and Saturday, Dec 9-10 at Grace Lutheran Church.
Flat Rock Playhouse
A holiday revue for the entire family! November 25-27 and December 7-22. A Charlie Brown Christmas is presented December 1-4. Shows Wednesday-Sunday. Prices start at $45 per ticket.
Holiday Train Rides
Ride Mountain Fresh Orchard's mini-train up and down Main Street in Downtown Hendersonville. Rides begin at Historic Courthouse. Free train rides are first come, first served. December 17, 5-8 p.m.
New Year's Eve Apple Rise Family Celebration
A family countdown celebration featuring New Years Eve swag giveaways, crafts, DJ dance party, hot cocoa, games and an apple rise countdown. December 31, 5 p.m – 7 p.m. at the Historic Courthouse Square
Annual Tannenbaum Tea
This event is not available in 2021. Perhaps it will return soon.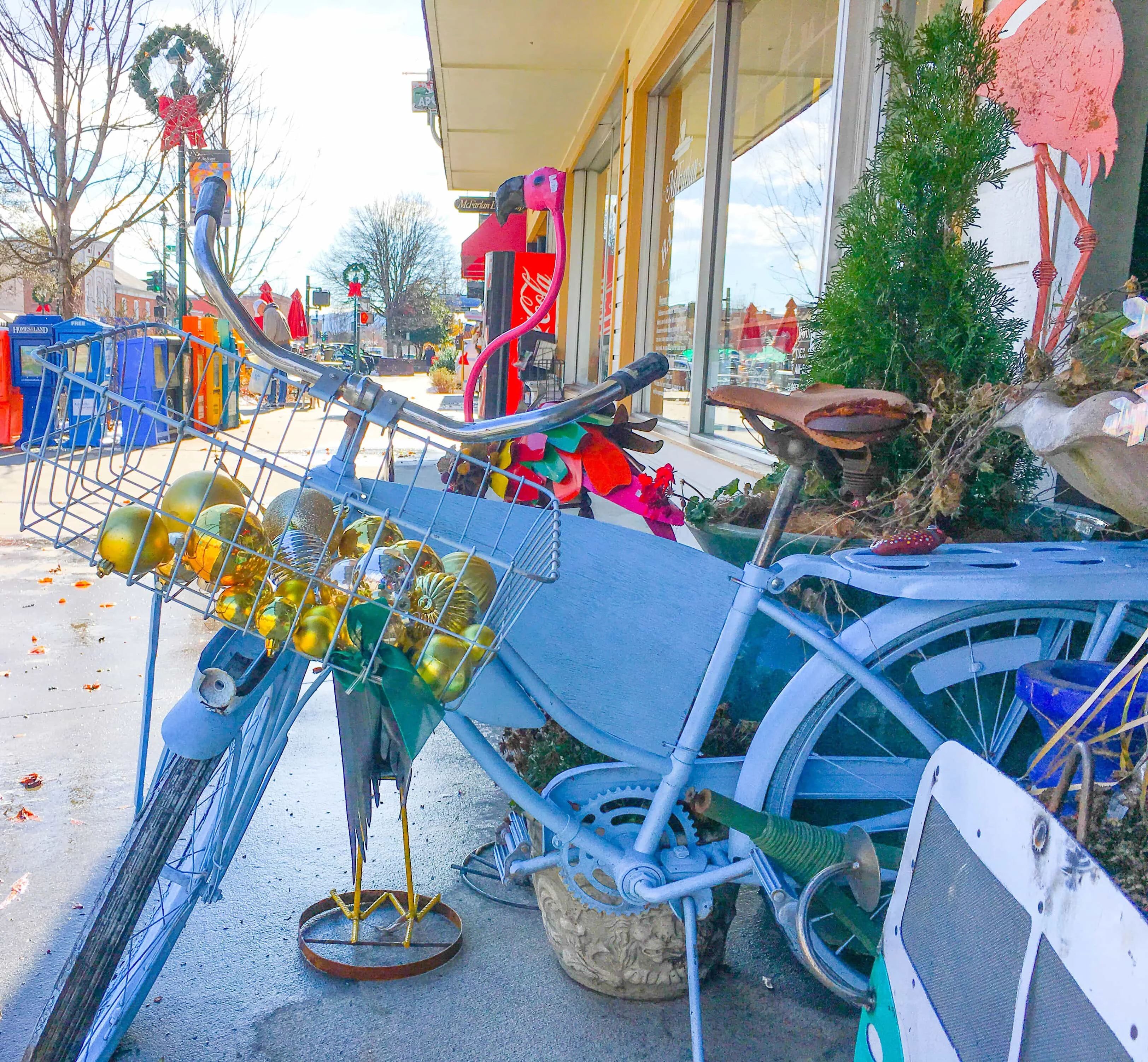 Downtown shops and merchants were offered the opportunity to be a part of the Annual Tannenbaum Tea.
We went during the 11th year of the annual tradition. Sadly, just a handful of Hendersonville businesses decided to take part in the fun walking tour. So we were kind of disappointed – not in the tea which was fun – but in the turn out from Main Street merchants. We went to 4 of the 5 businesses participating, and only 2 were serving cookies and tea. The other two just had discounts.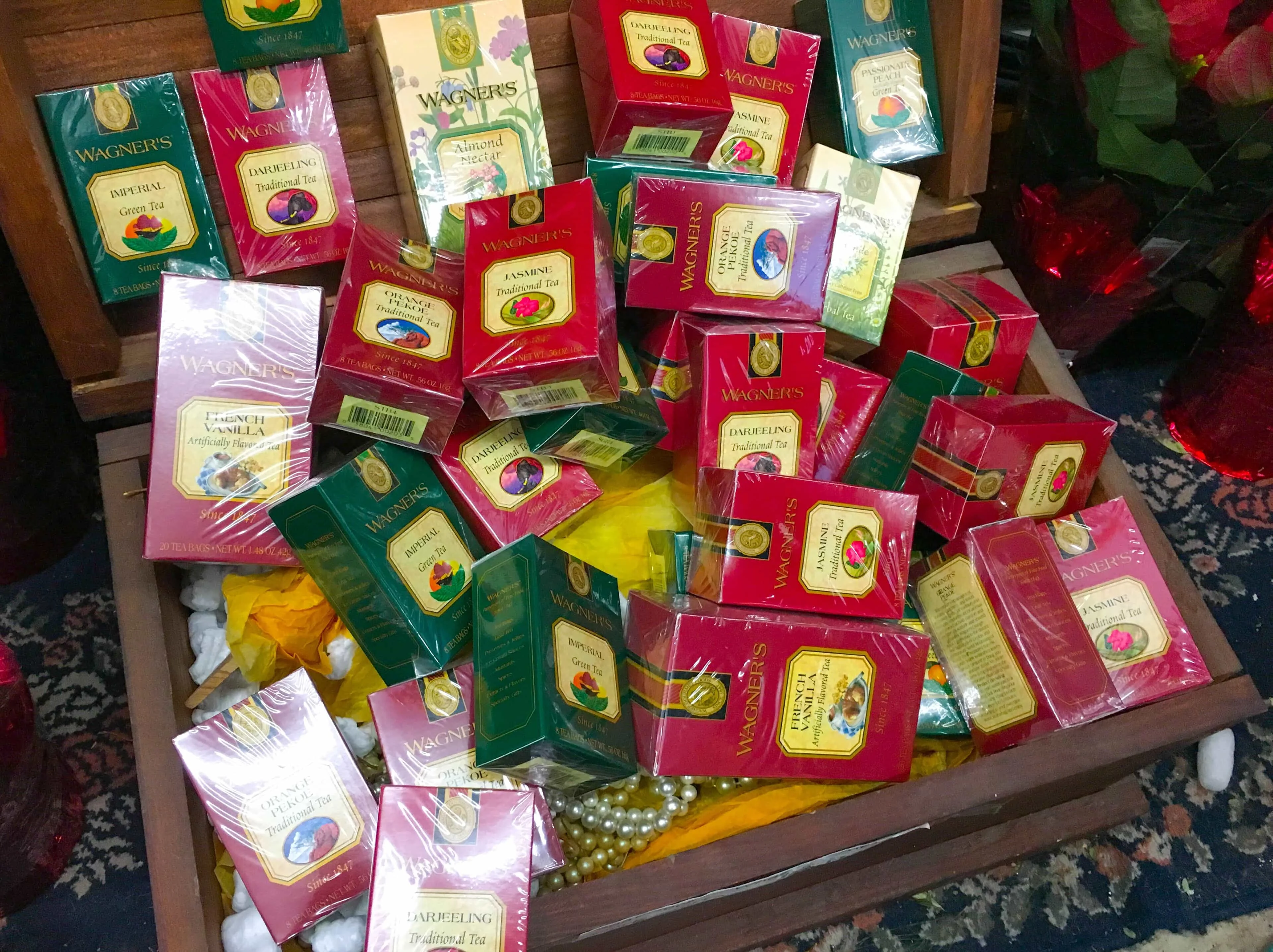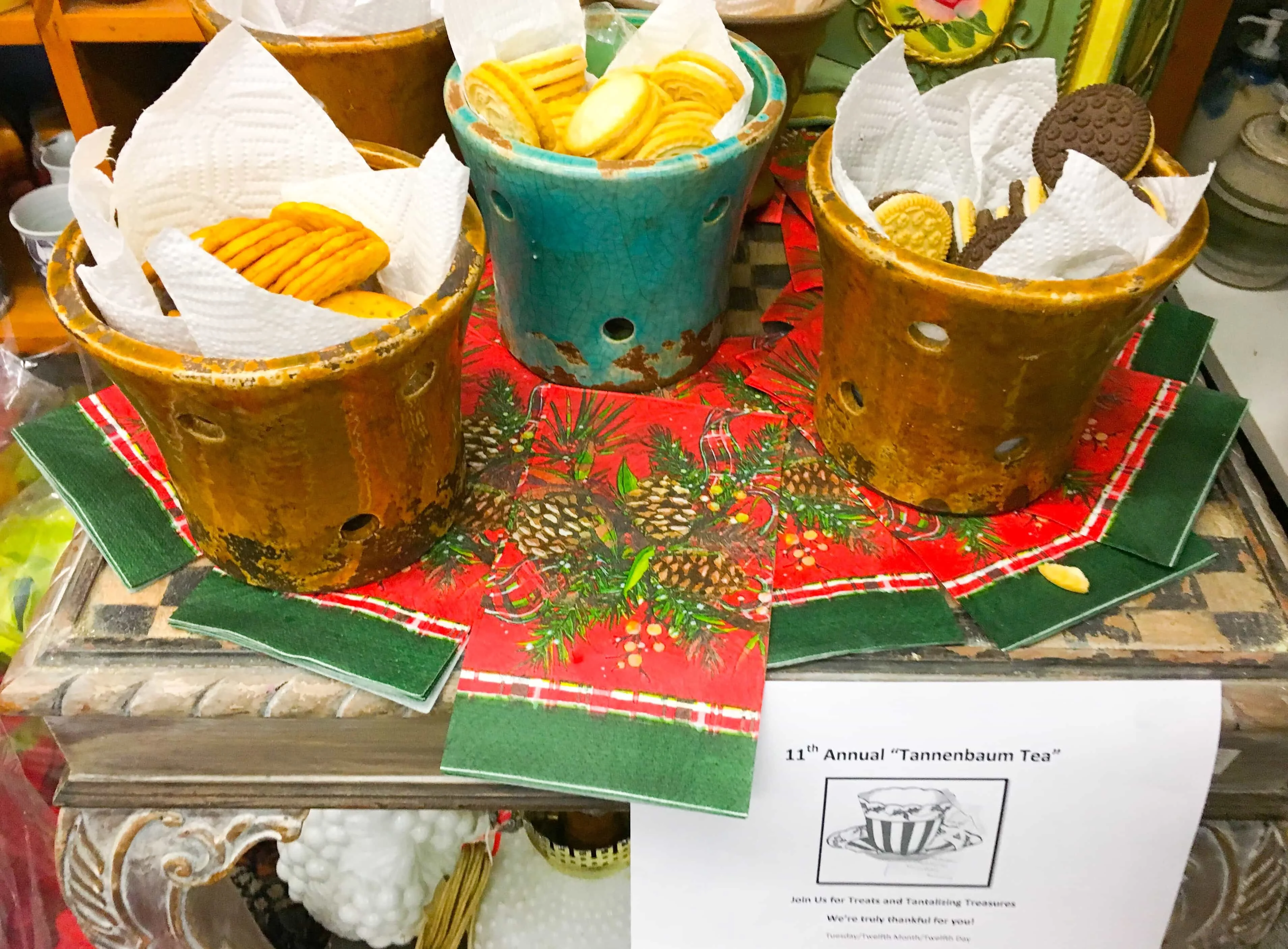 We'd like to thank Narnia Studios, who organizes the Annual Tannenbaum Tea, for their great treats and giving away boxes of tea from Wilmington, NC.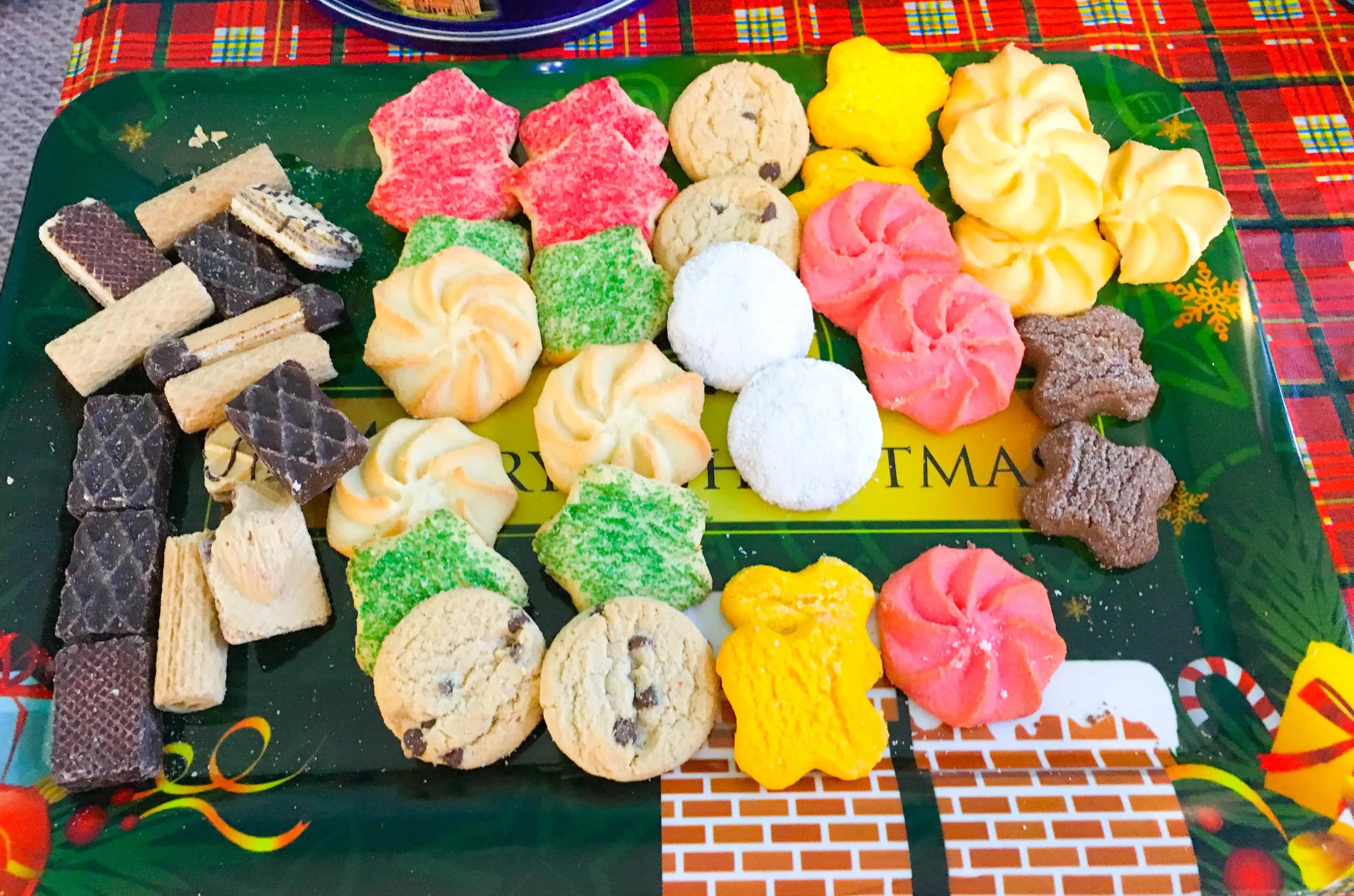 Another fun activity to enjoy during the holidays in snow tubing! Hendersonville has two of the best snow tubing locations in North Carolina!