There are so many amazing ways to celebrate the holiday season with your family. And putting together a fun craft is at the top of my list. Christmas crafts are a great way to spend time together as a family and enjoy the Christmas season with your kids – all while making some amazing holiday memories. And if you're looking for a great holiday craft to do with your kids today, you're going to love this adorable Christmas window craft.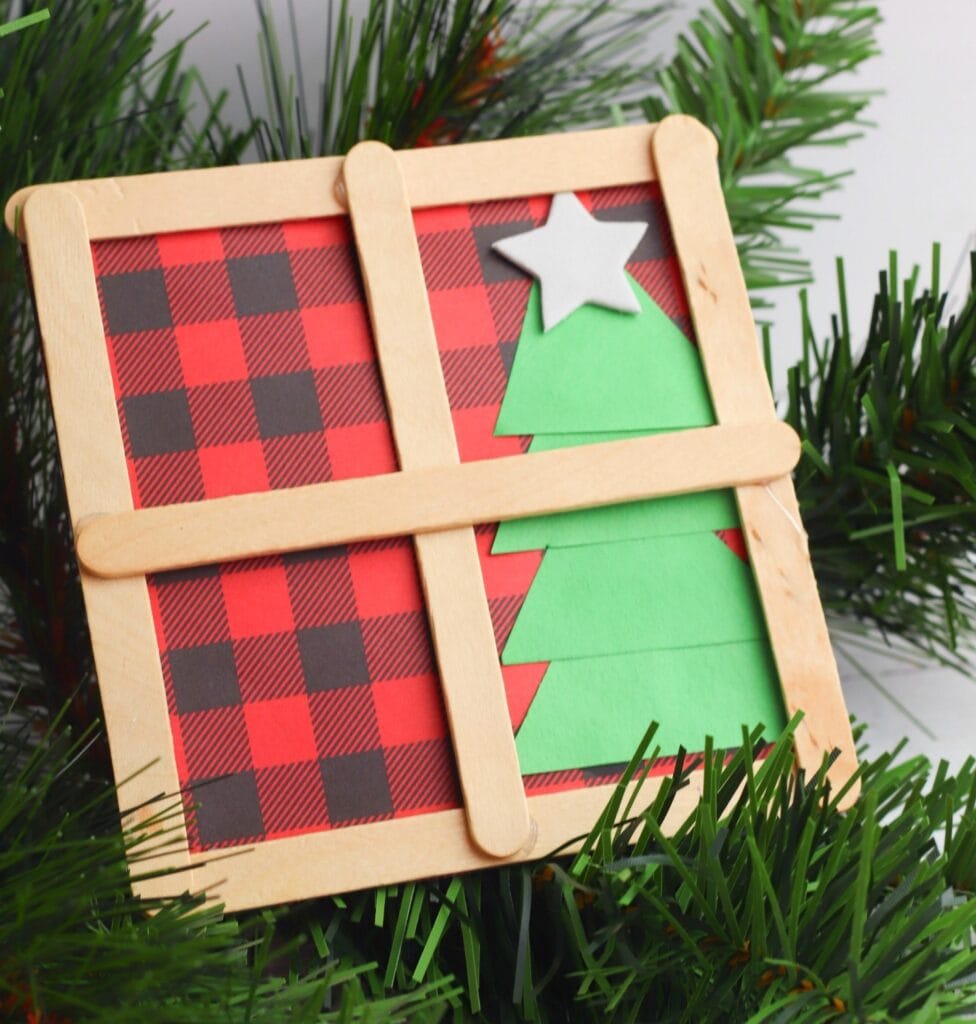 How to Make a Christmas Window Craft
One of the things I really love about this fun craft is that it's great for kids of any age.
Younger children will love putting this simple craft together, while older kids can have a blast adding embellishments to it to make it uniquely their own.
But no matter what age your kids are, I'm sure they'll enjoy making their own Christmas window craft this holiday season.
Supplies
To make this easy Christmas craft as I made it, you'll need:
If you are planning on making this craft with younger kids, there is a little bit of prep work to be done to make it simple for little hands.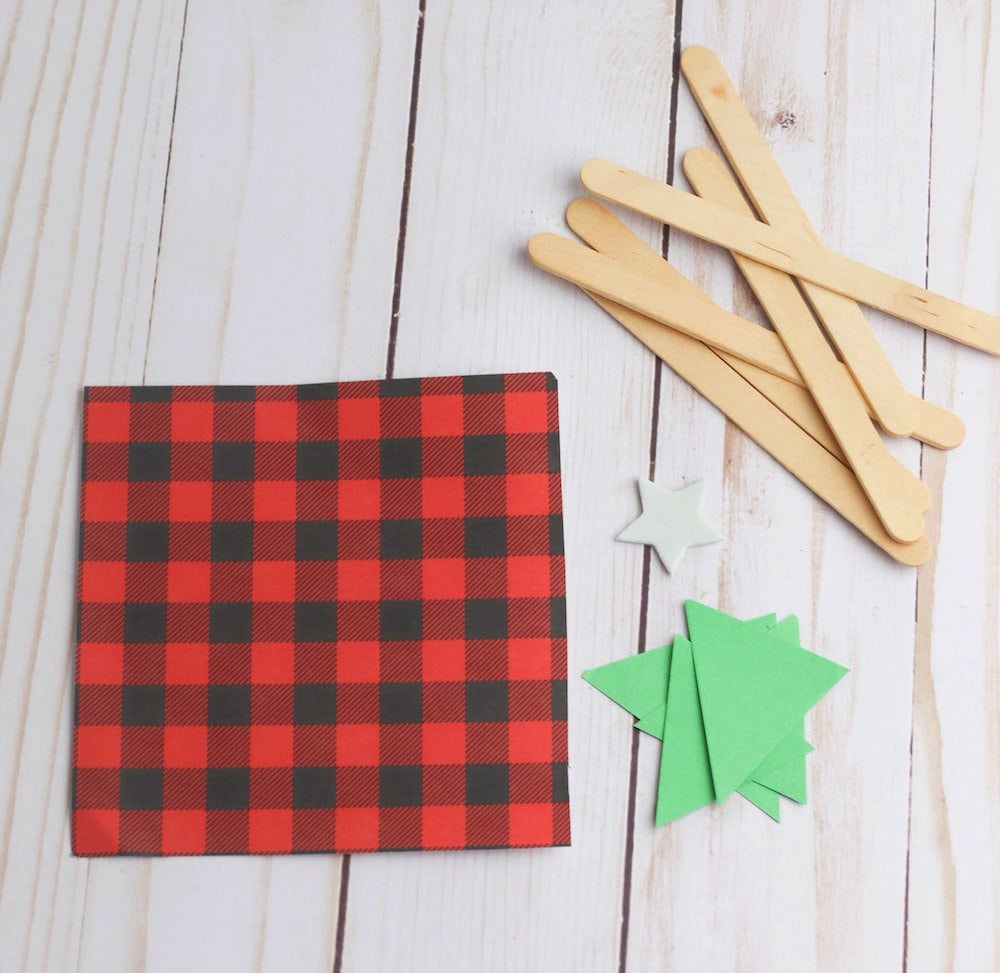 Instructions
Start by cutting four triangles from the green construction paper. Each triangle should be slightly smaller than the one beneath it. But nothing has to be exact for this simple craft to look adorable!
After cutting the triangles for the tree, cut a square from your patterned scrapbook paper to fit behind your craft stick window. To ensure you cut your patterned paper the correct size, measure it by placing a square of craft sticks on top of the paper and marking the size before you cut.
When you have all the pieces prepared, let your kids go to work!
Younger children can easily stack and glue the triangles together to form the tree and place the star sticker on top.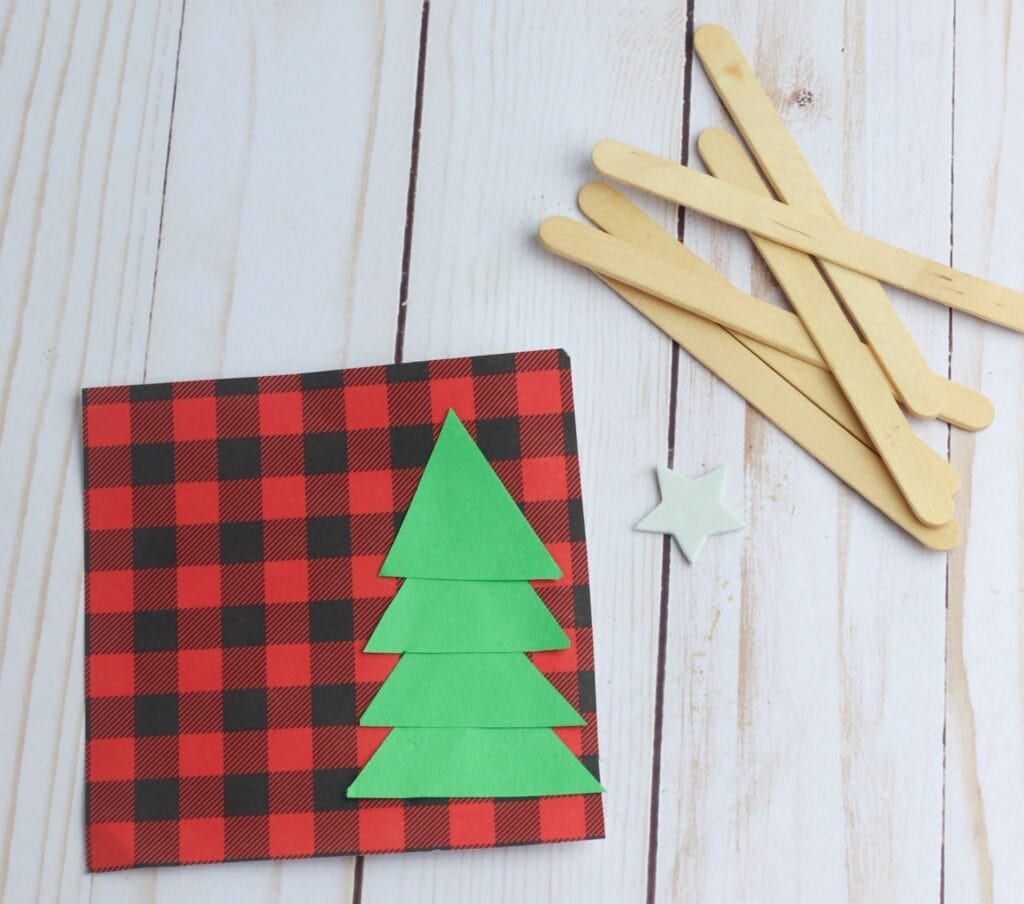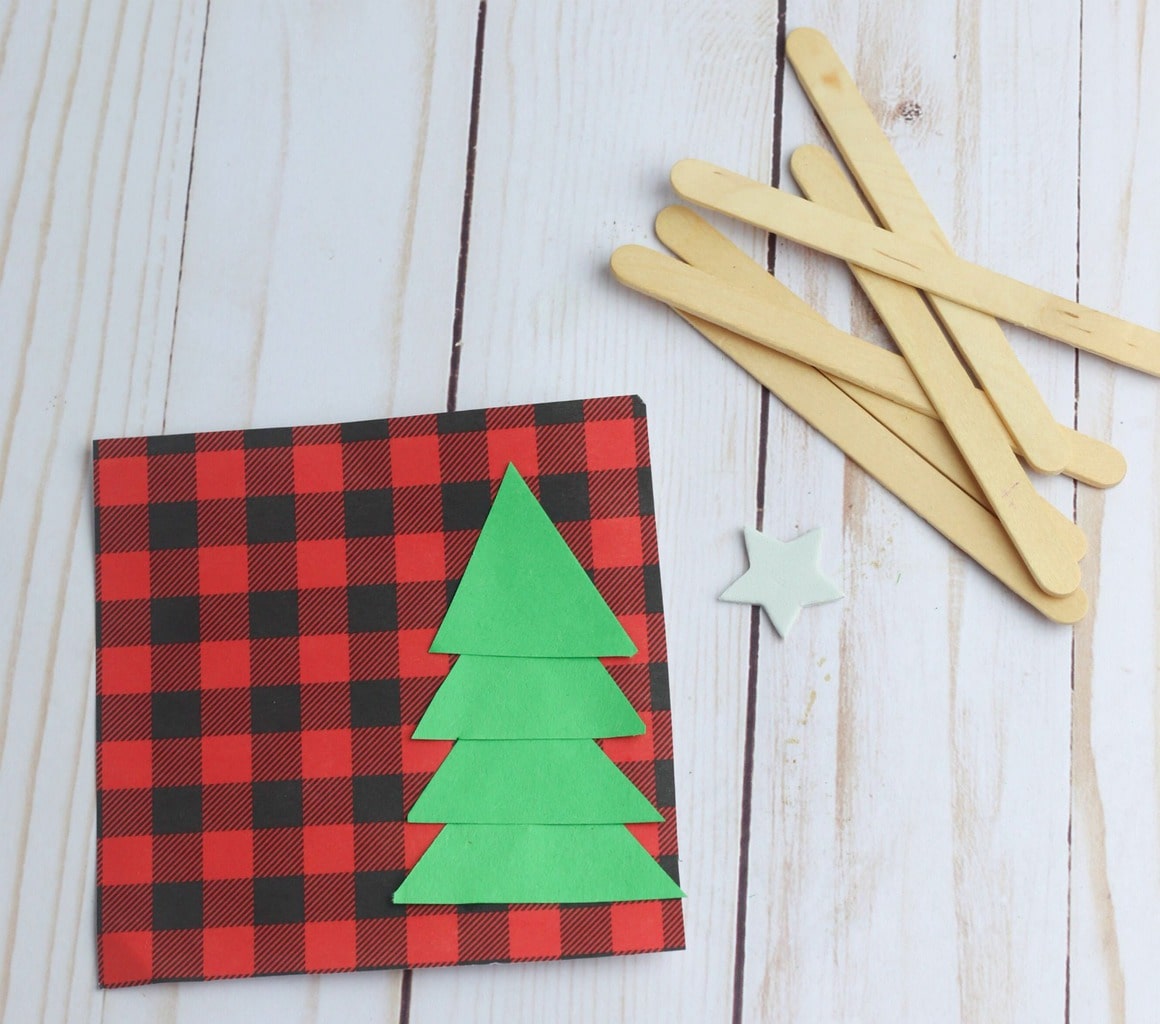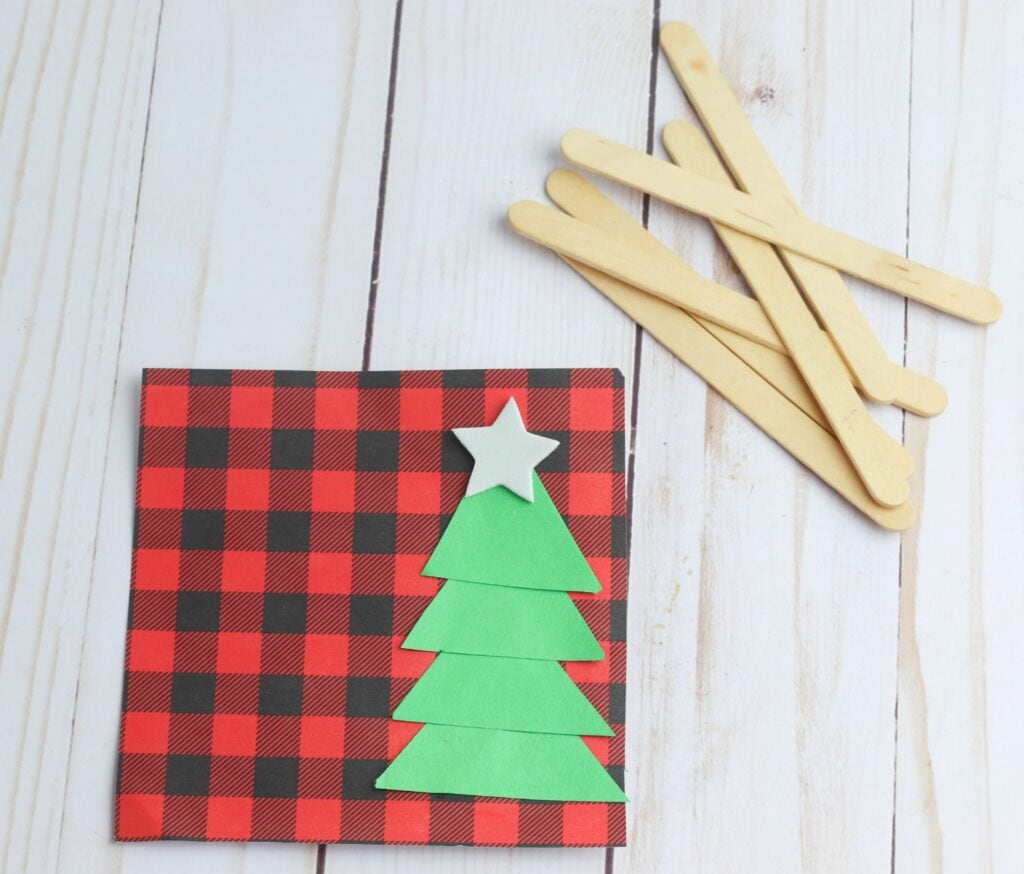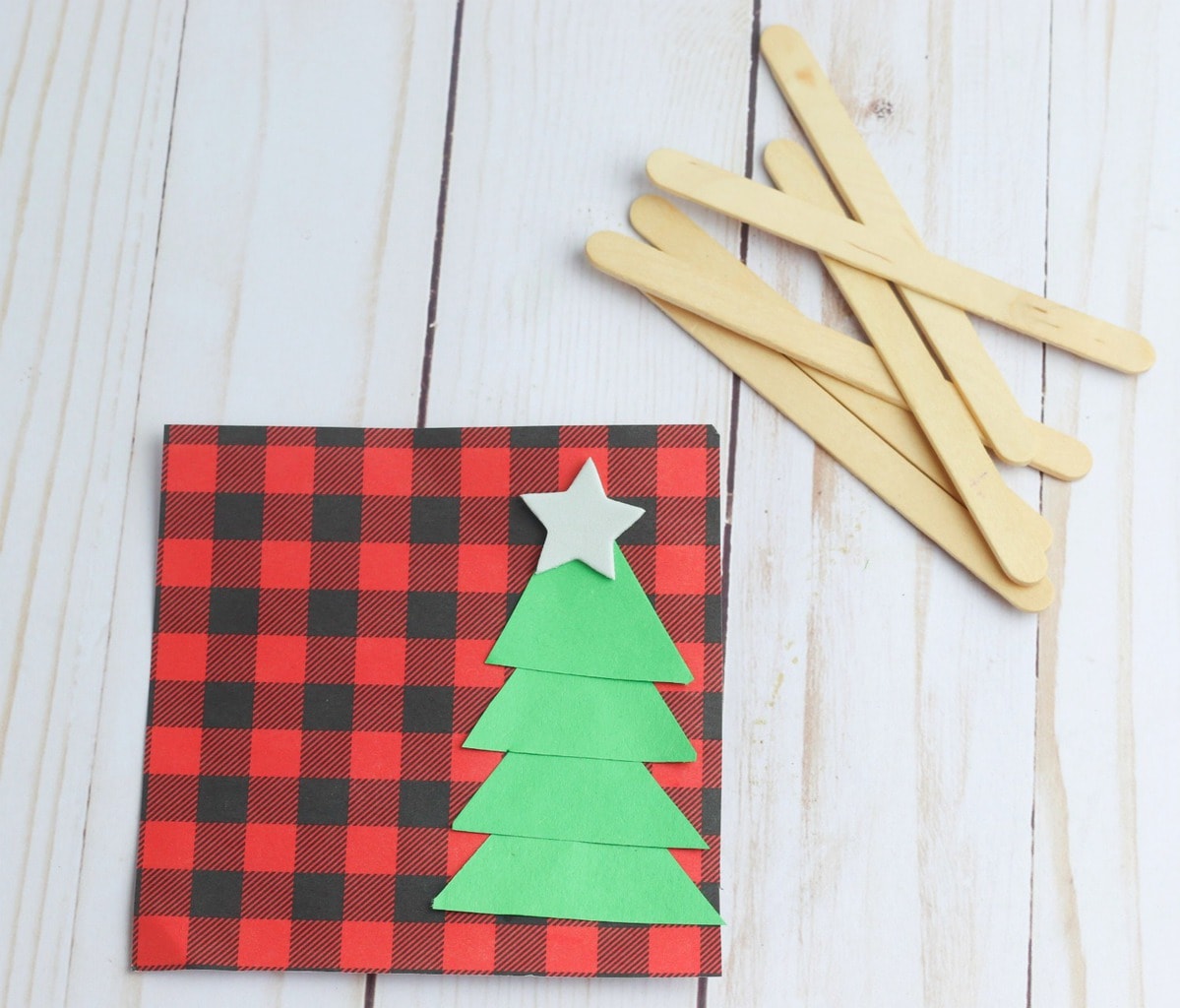 As your construction paper tree dries, you can start putting your craft stick window together. This is another step that younger children can easily do with a little help.
Start by gluing two craft sticks together to form a cross.
Then, build the window frame by gluing a craft stick to each end of the cross and securing each corner of the square together with a drop of glue.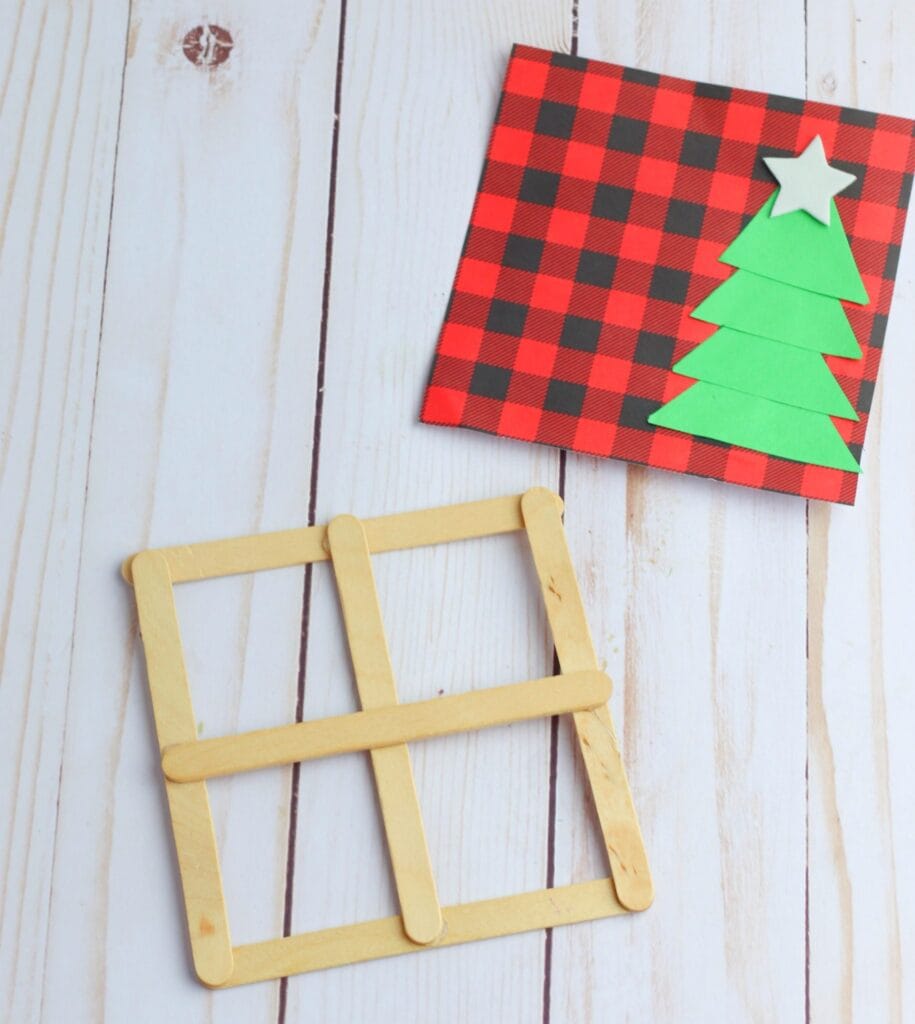 When both your craft stick window and construction paper tree are dry, attach the patterned scrapbook paper square to the window with glue.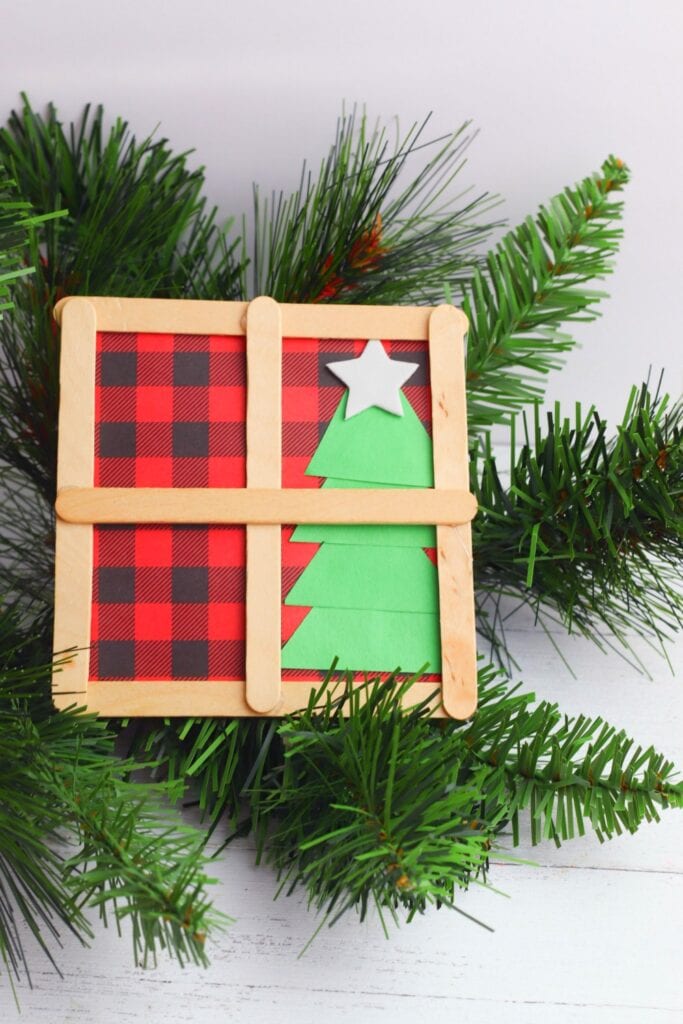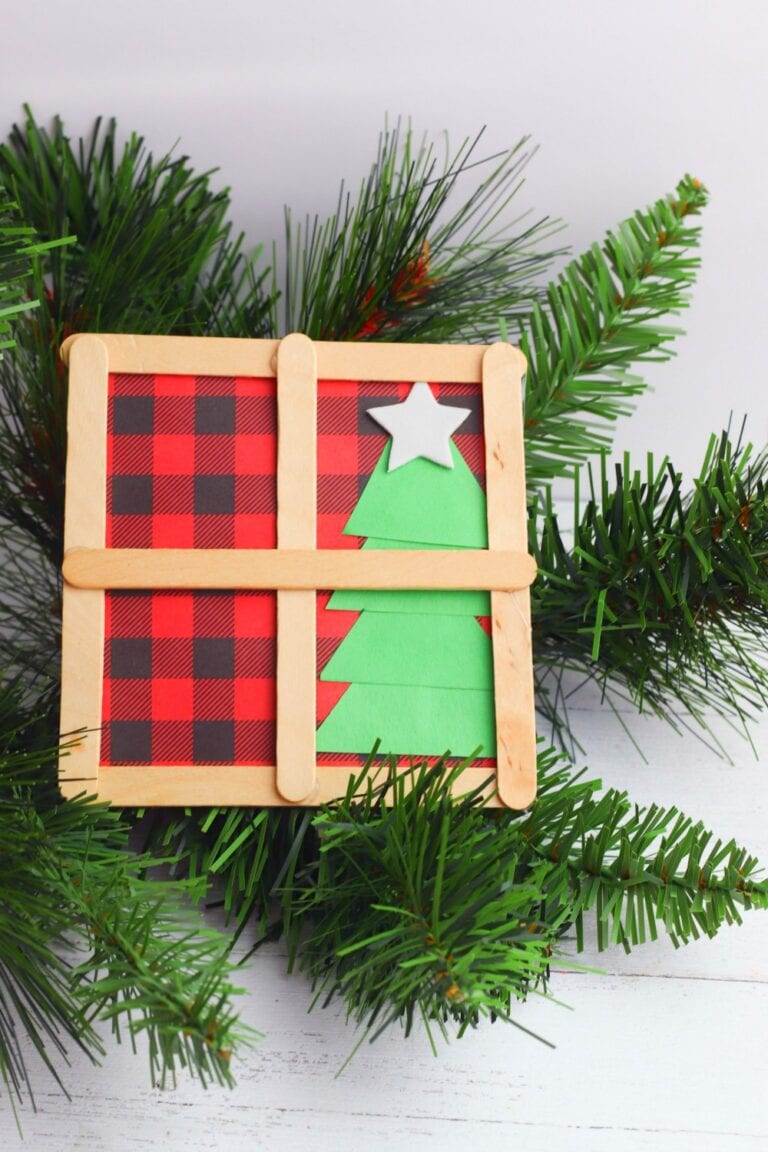 Christmas Window Craft Variations
While this basic window craft is perfect for young crafters, older kids can easily make this Christmas craft their own by adding their own variations to the foundation outlined above.
Here are some simple ways your older kids can enhance this craft to make it more fun for them:
Let them do the cutting. Give your kids a chance to practice their scissor skills by measuring and cutting each of the pieces of the craft and then putting it together on their own.
Decorate the Christmas tree. Instead of placing a plain Christmas tree in the window, decorate the Christmas tree with stickers, beads, pom poms, and glitter. To make sure your window frame fits snuggly over the tree, it would be best if the decorations are added to the tree after the frame has been glued in place.
Add color to the window frame. While the plain wooden popsicle sticks on this craft give it a rustic look, you can easily add another step the craft and let your kids paint the sticks to add a pop of color to the window frame.
Decorate the background. If you have an artistic older kid, let them get creative with the background. Instead of picking a patterned paper as the background for this Christmas craft, give your child a blank piece of paper. Then, allow them to draw their own Christmas scene in the window before adding the tree and window frame.
Make it bigger. When I made this craft, I used traditional small popsicle sticks to create the window frame. But it can easily be made bigger by using larger craft sticks. By making the window bigger, you'll give your older child more canvas to work with. Allowing them to get really creative with their decorations! They could even add some presents under the tree!
Add snow to the window. Want to make your Christmas window craft look more like a winter scene? Add some snow! To add snow to your window, place some glue on the window frame. Then sprinkle glitter or faux snow over the glue. Allow the glue to dry completely, then pick the window frame up and tap it on the counter to remove excess snow before displaying it.
Make it an ornament. Want to use this cute Christmas craft as part of your holiday decorations? Simply glue a loop of ribbon to the back of the window frame and turn it into an ornament. Then, you can hang it on you Christmas tree year after year!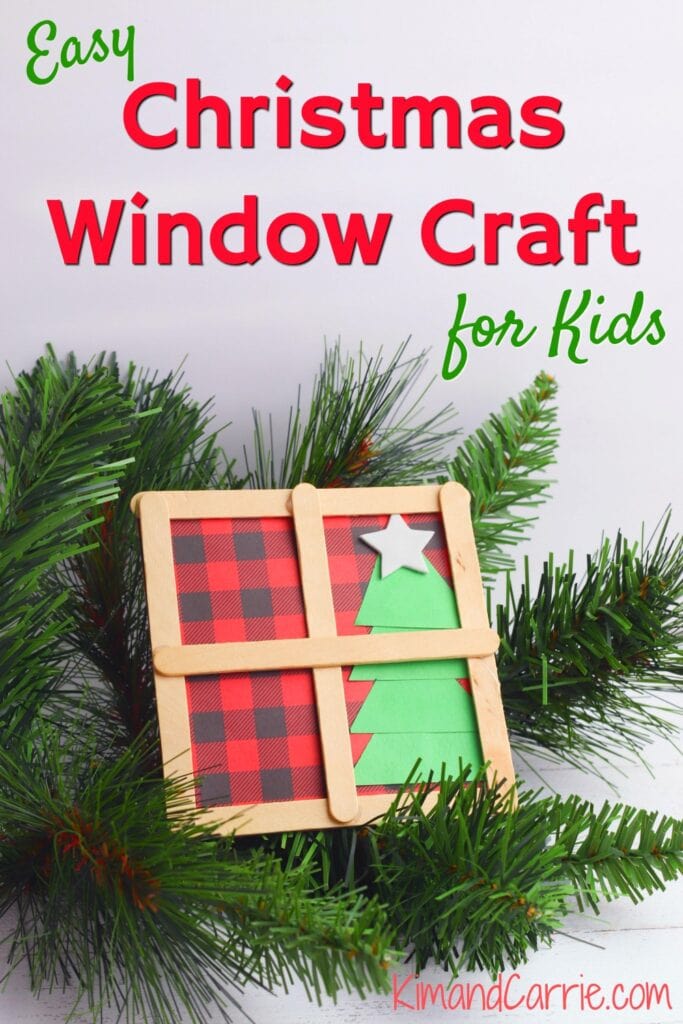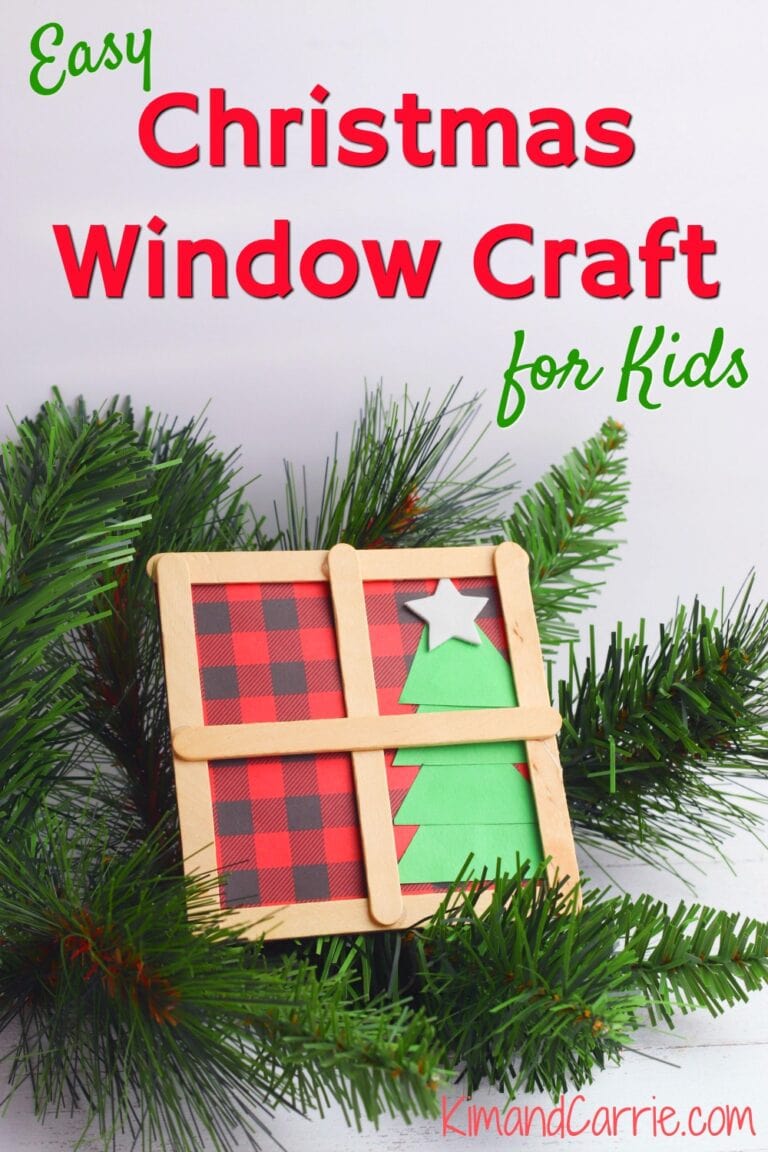 More Fun Christmas Crafts
Want more simple and fun Christmas crafts for kids and adults?
Check out our DIY Disney Theme Park Map Christmas Ornament. It's the perfect way to remember your visit to Disney World or Disneyland!