Sometimes the most simple crafts are the most beautiful. Such as these DIY coffee filter flowers that remind us of a Monet painting.
The soft, color-splashed flower edges create the most gorgeous fake flowers! In fact, we would love to keep these flowers out all year round. And we can!
Which is important because flowers increase happiness in our lives. And if you don't have fresh flowers indoors, you definitely should have these!
Making these coffee filter flowers is super easy. They are simple enough for kids to make. Or if you are trying to create some beautiful home decor, you can spend some time making these with paints that match your design aesthetic.
Gift these to mom for Mother's Day or place in a lovely jar on a mantle.
However you choose to use them, you'll enjoy how easy this craft is to make!
Monet-Inspired DIY Coffee Filter Flowers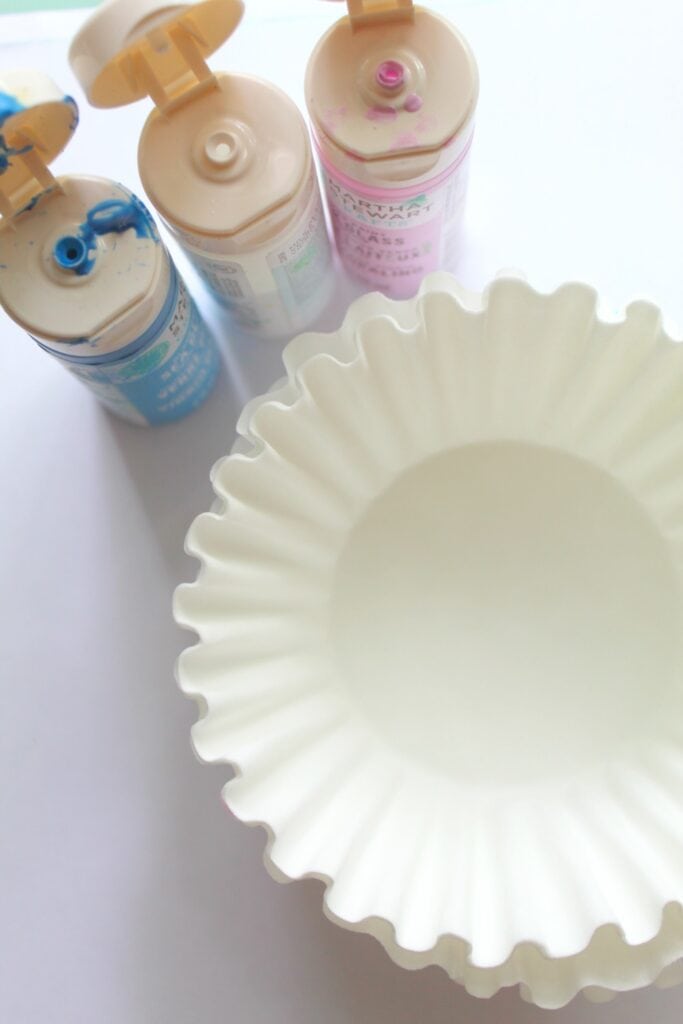 Supplies:
white, large coffee filters
assorted craft paints in blue, pink, purple, aqua (we used regular acrylic craft paint but you can use watercolors or paint of your choice)
stapler or pipe cleaners
cookie sheet or tinfoil
large bowl
Directions
Begin by adding a few drops of each paint color to your bowl.
Add in a few drops of water and gently stir. This will loosen the paint up and help the coffee filters absorb the color well.
Take 2-3 coffee filters at a time (still connected/stacked) and turn them over, gently dipping and swishing them around in the paint mixture. You want to make sure the ends of the coffee filters are covered well and allowed to absorb the paint.
Set the wet/painted coffee filter on a cookie sheet or tinfoil to dry. Repeat, coloring as many coffee filters as you wish.
Once the filters are dry, gently peel the layers apart to fluff them out a bit.
You can then take multiple layers and combine them, one inside of the other, to create a full and colorful flower.
Secure the coffee filters together with either a staple at the base of the flower, or you can tightly wrap a piece of pipe cleaner around it.
Give the flower one last fluff and you are ready to display them. Arrange them in a simple bowl or vase for a pop of color in any room.
More DIY Crafts
Love easy DIY projects? So do we!
Make more long-lasting flowers with this DIY no sew felt flower tutorial.
Check out these super simple rocket bookmarks made from scrap paper.
These DIY shower poufs are super simple to make!
For elegant and meaningful jewelry, try making this beaded pendant. Or these matching mother-daughter heart necklaces.