While driving from Asheville, NC to Orlando, FL, we're always looking for unique and interesting places to stop along the way. When we saw the sign for Congaree National Park, we knew we had found a great place to stop and stretch our legs while driving on I-26.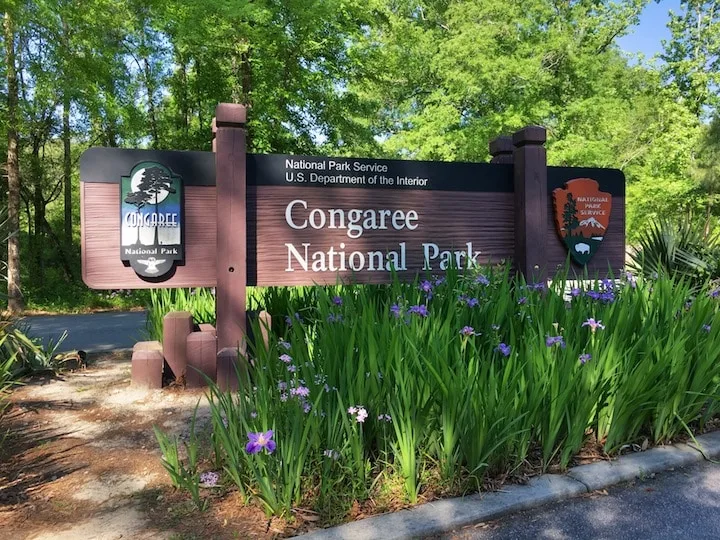 It's rare to find a National Park right off of a highway. But that's what makes Congaree National Park special. It's near an urban area (just outside of Columbia, South Carolina – the state capital) and it's just a short drive from I-26.
Even though it feels like you are away from civilization when you visit Congaree National Park, it's still so close to everything!
Where is Congaree National Park Located?
Congaree National Park is southeast of Columbia, South Carolina.
There are two different ways to get to Congaree National Park when driving between North Carolina and Florida.
If driving from the South, there is an exit sign (Exit 145) to Congaree National Park. This will take you via U.S. 601-N. It will take about 45 minutes or so. FYI: This road has NOTHING on it but logging areas and cotton farms. Don't expect to stop for food or gas.
From either the North or South, take Exit 116 for I-77. It will get you to the National Park quicker off of I-26.
Congaree National Park is about 1 hour and 30 minutes from Walterboro, South Carolina (here's why Walterboro has six great reasons to stop for the night during a road trip).
What Makes Congaree National Park Special?
It's all about the trees at Congaree National Park. The trees and the Congaree River.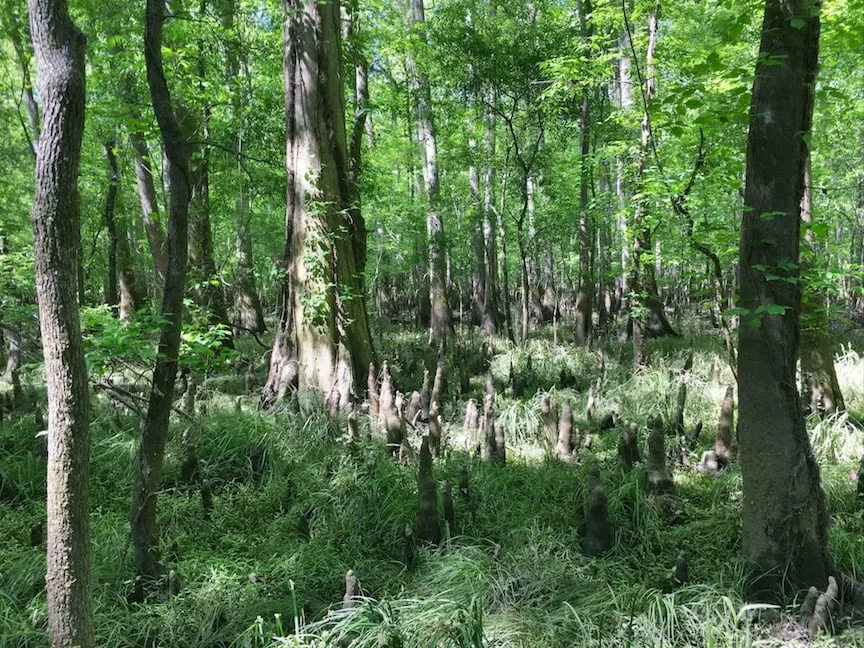 Congaree National Park is one of the youngest National Parks. It reached National Park status in 2003.
Old-Growth Floodplain Forest
The area protects 27,000 acres of rare old-growth floodplain forest. Which means that the trees and forests in the area are constantly in the ebb and flow of receding waters from the Congaree River and other nearby waterways. Sometimes the area is flooded. Sometimes it's not. The landscape is always changing.
Congaree National Park protects the largest remnant of old-growth floodplain forest in the United States.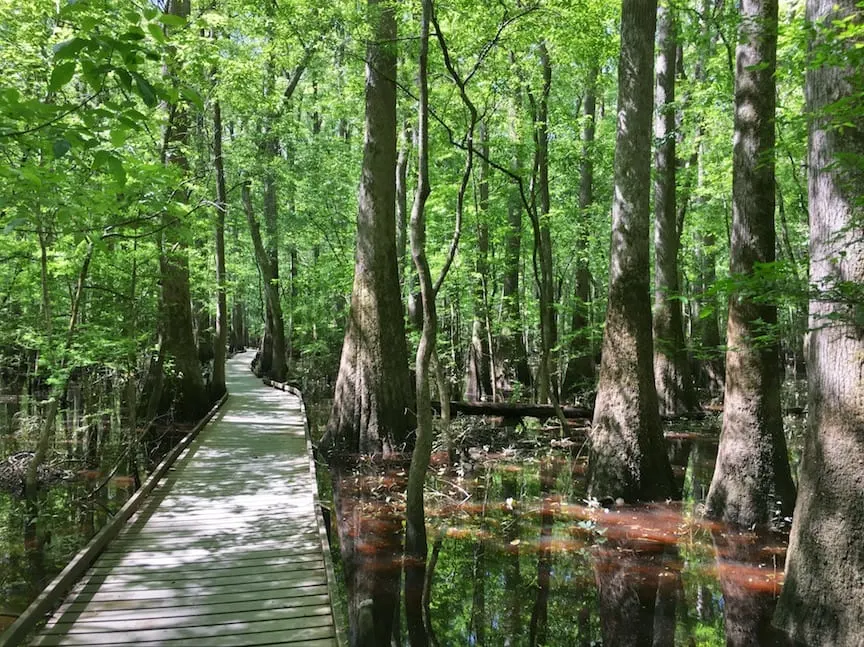 Over 35 million acres of old-growth floodplain forests have been lost to logging and urban growth. That's more than 99% of old-growth floodplain forests gone forever. Less than 1/2 of 1% of this type of forest remains protected in Congaree National Park.
In the National Park, you will find Champion trees – trees that are the tallest or oldest of a species. Many of them are Champion trees not only for South Carolina, but also for all of the United States. Among the Champion Trees are pawpaw, loblolly pine and Sweetgum.
Congaree National Park is home to some of the oldest and tallest trees in all of the United States.
Congaree River
Besides walking through thick forests where the temperature dips a few degrees and the birds can be heard chirping non-stop, the Congaree River is the other major attraction of the National Park.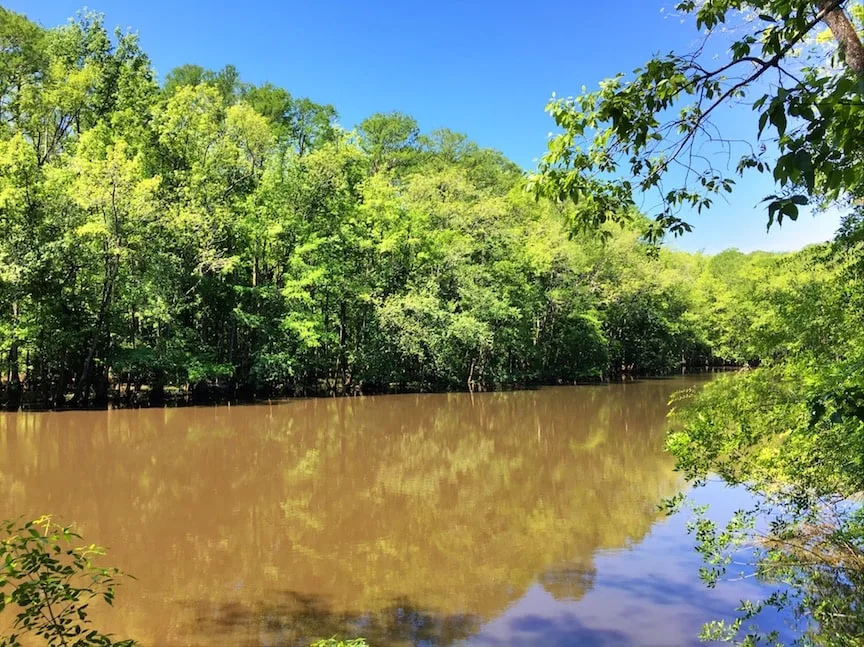 Ranger-led canoeing trips in Congaree National Park are HIGHLY popular! They sell out in minutes and must be booked online for the next month's trip. They are free, which could be a big reason why they are so popular!
You can walk to the river or canoe or kayak with your own equipment – or rent canoes or kayaks from local outfitters.
Related Posts:
Congaree National Park Travel Tips
We visited Congaree National Park as a place to stop while driving. So our travel tips are geared towards a short visit, not an all day visit or overnight camping stay.
We went straight to the Visitor Center and did not drive to any other trailheads.
Free admission. There was no guard gate or place to pay any entrance fee. This National Park is free to enter. No need for a National Parks pass.
There is NO cell phone service or WiFi at the park.
Bring bug spray. Lots of it! (Better yet, wear these mosquito-repelling clothes!) The mosquitoes can be quite bad at Congaree National Park. You don't want insects to ruin what would otherwise be a great trip. Check out these great tips of how to avoid mosquito bites from National Park rangers at Everglades National Park.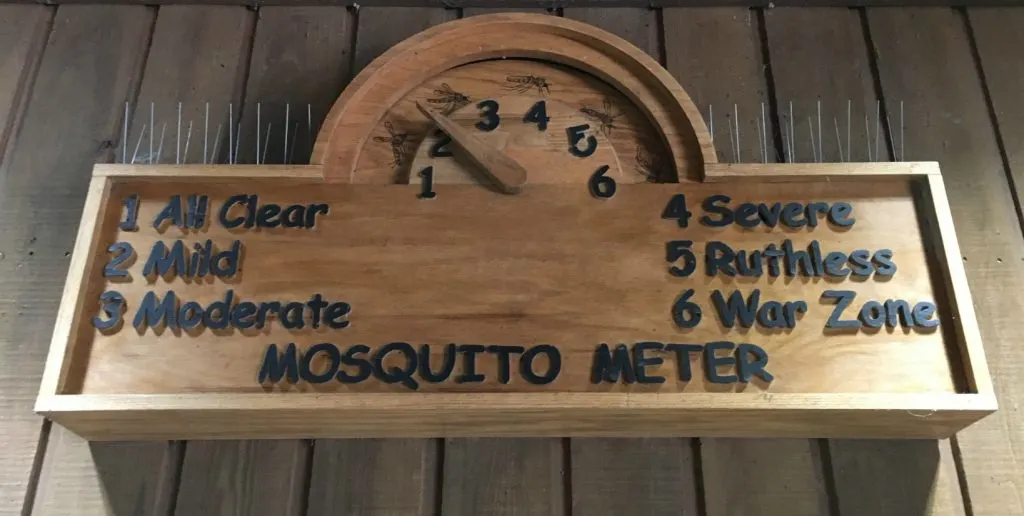 There are picnic tables available near the Visitor Center.
A potable water filling station is available. Great to fill up these reusable water bottles!
The Visitor Center has interesting displays on the area, a 20-minute film, and a small gift shop that also has a few bags of snack items and cold drinks.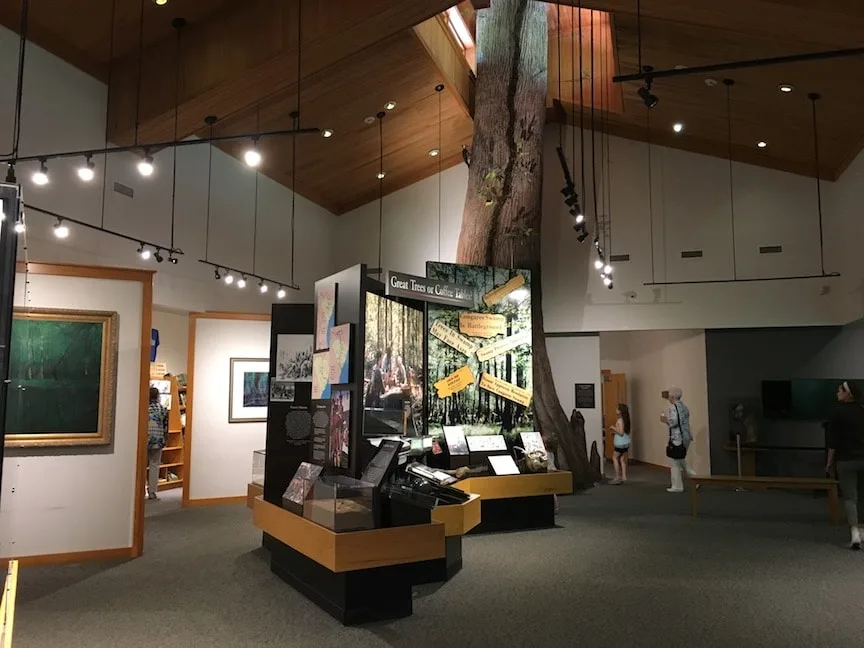 Ask about the Track Trails and Junior Ranger programs for kids.
Congaree National Park Visitor Center is closed on Federal Holidays, in case you're planning on traveling on a holiday.
Boardwalk Loop Trail Tips
The Boardwalk Loop Trail is 2.4 miles long and starts at the Congaree National Park Visitor Center. Be sure to pick up a Self-Guided Trail map for interesting information about 20 different stops along the trail. If you don't have time to do the entire trail, choose to do the lower portion of the Boardwalk Loop trail. It gets you closer to the ground to see more unique landscapes. Take the trail and keep bearing right. Don't turn left.
The Boardwalk Loop Trail is a level wooden boardwalk trail.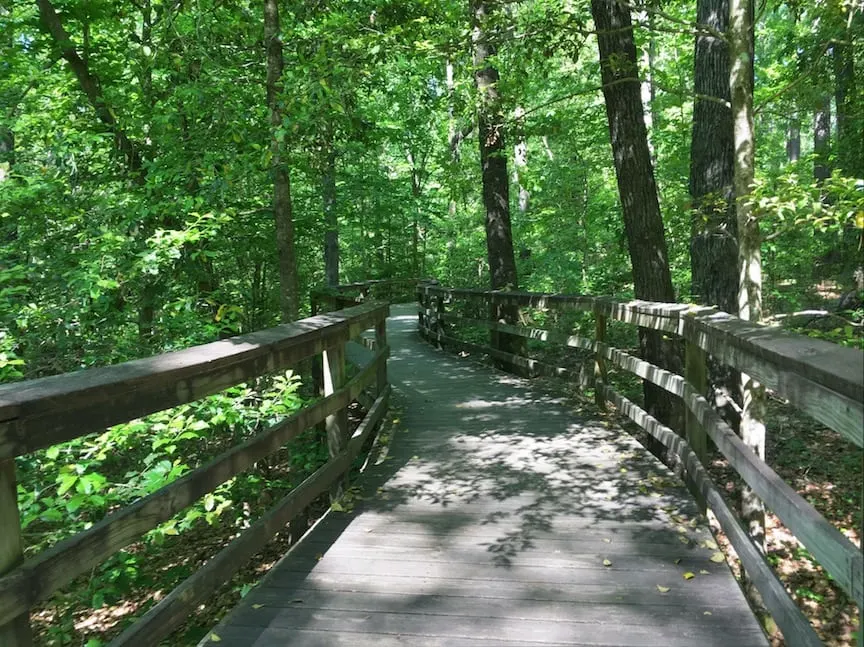 There are additional trails in Congaree National Park, ranging from 1.7 miles to 11.7 miles. A majority of them start from the Visitor Center.
Flooding can occur at any time, since the National Park is in an active floodplain area. Which means if there has been heavy storms or rain lately, the entire Boardwalk Loop Trail might not be accessible.
You will be able to see large wetland trees, such as bald cypress and water tupelo.
Pets are allowed on all trails, but must be on a leash.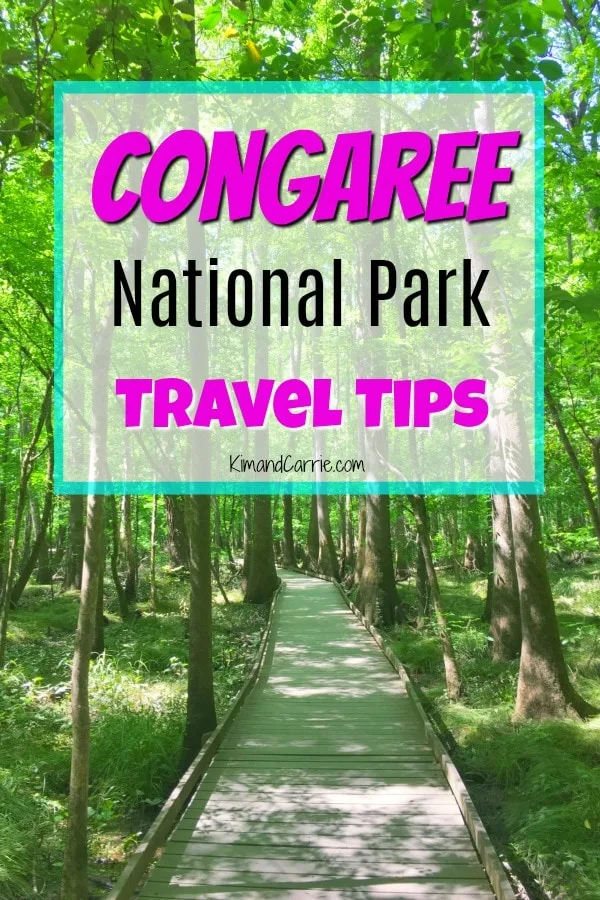 Synchronous Fireflies at Congaree National Park
For a two-week stretch sometime between mid-May and mid-June, you can find synchronous fireflies.
The easiest place to see this natural light show is on the boardwalk trail near the visitor center. Plan to be here right after dark to see the male fireflies flash in unison.
Synchronous fireflies are found in only a few places on Earth, which makes this display quite rare.
Birding at Congaree National Park
Hike out to Cedar Creek for great birding. In these wetlands, you might see wading birds such as wood storks, little blue herons and white ibis.
Hermit thrushes and orange-crowned warblers, along with other season migratory birds, can be found over-wintering on their way south.
More than half a doze woodpecker species live in the hardwood trees and downed snags in the National Park.
Barred owls are also cavity nesters that can be found along the trails.
Among the many empty holes in tree trunks, you will find wood ducks and prothonotary warblers.
Have specific questions? Call the Congaree National Park Visitor Center at (803) 776-4396.