It's almost Back to School time (can you believe it?!?) which has us wandering the aisles at Target looking for deals on school supplies and other great end-of-season Back to School savings. One of our favorite items for Back to School time is always the boxes of crayons! All of the colors in a fresh box of crayons promises hours of fun and creativity. Which is why we love these edible crayon cupcake toppers which are perfect for back-to-school or fun kid friendly parties!
While crayons aren't just for kids (check out our list of adult coloring books for stress relief), there is something fun and playful about old fashioned crayons that still bring joy even in a technological age. We would LOVE to have this gigantic box of crayons (it's the largest that Crayola makes)!
In Orlando, we are LUCKY to have the Crayola Experience in town. If you haven't been to the Crayola Experience at the Florida Mall, you truly do not know what you are missing! This place is SO much fun for kids of all ages! Be sure to get your Crayola Experience tickets at a discount.
Here's a sneak peek of what it looks like inside Orlando's Crayola Experience:
So whether you're planning a classic kids party, looking for a fun snack recipe or excited about celebrating the first or last days of school, these edible crayon cupcake toppers are super easy and fun to make!
Edible Crayons Cupcake Toppers
Ingredients
Vanilla cake box mix + ingredients to make it
2 sticks butter, softened
4 cups confectioners' sugar
2-3 tbsp. milk
Yields: 24 cupcakes
Directions
Prepare your cupcakes according to box's directions. Allow to cool completely before decorating.
Using an electric mixer, beat the butter, confectioners' sugar and milk on high. These ingredients will make your buttercream. Continue mixing on high until buttercream forms stiff peaks.
Using a piping bag, frost each of your cupcakes with the buttercream icing.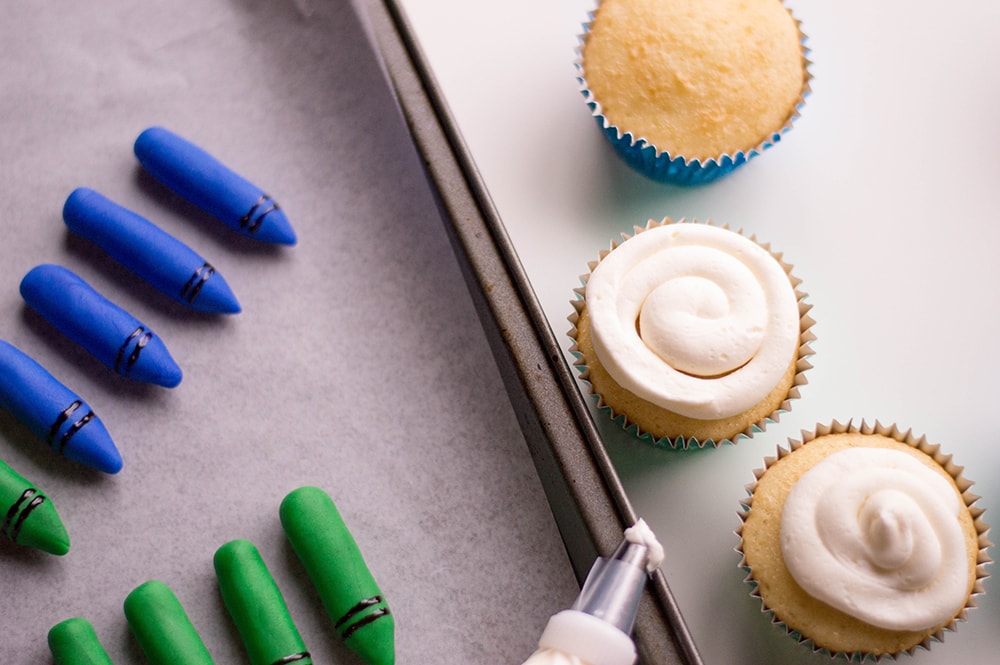 Take 12 of your cupcakes and draw some squiggles with your blue gel frosting. Do the same with your other 12 cupcakes with your green gel frosting.
To form the fondant edible crayons, pinch off enough fondant to create circles that are about 1.5 inches in diameter.
Roll each fondant circle out into a cylindrical form. Pinch one end to create the "tip" of the crayon.
Using a toothpick and black gel frosting, draw two thin black lines on each crayon.
Place one fondant crayon on each cupcake (with its respective squiggle color, of course!).
Now that you've made edible crayons, perhaps you'd like to see how traditional crayons are made for coloring. Here's our video from the Crayola Experience about how Crayola crayons are made:
These edible crayons cupcakes are so cute we wouldn't want you to lose the recipe! Pin it for later!
Want more super cute recipes for kids? Check out these ideas:
…