Cross-country skiing in North Carolina is a great way to enjoy the beautiful mountains without a lot of crowds! There are a handful of official and unofficial spots for cross-country skiing in North Carolina – especially near the towns of Boone and Blowing Rock.
These areas are not packed with skiers like you will find at North Carolina ski resorts or snow tubing destinations.
If you want peace and solitude this winter, along with some great exercise, then head to one of these NC cross country ski trails.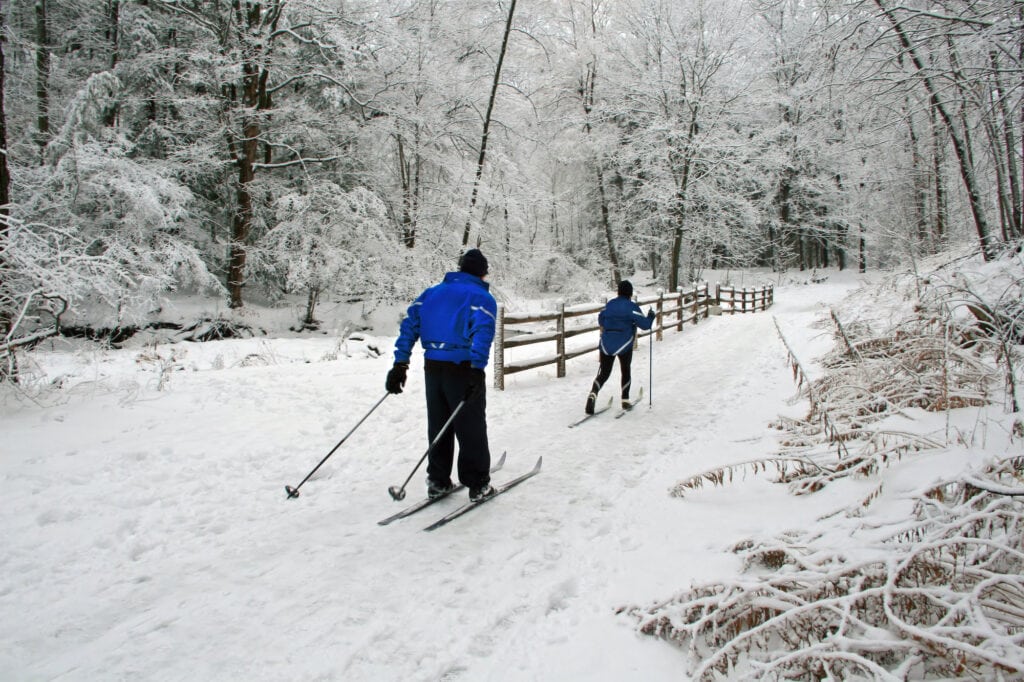 Elk Knob State Park
Elk Knob State Park, with one of the highest peaks in the region, is the only state park in North Carolina that is officially open to cross-country skiing and snow-shoeing. They offer about a mile of trails that are open to skiers.
While the park does stay open in wintery weather, it is wise to call ahead of time to make sure that trails are accessible.
Elk Knob is a great option for those in Boone as it is just 10 miles away.
Moses H. Cone Memorial Park
Another option near Boone is the Moses H. Cone Memorial Park. While the 25 miles of flat trails are used for carriage rides, in the winter they double as cross-country ski paths.
Because these trails are so well maintained for carriage rides, they are great for cross country skiing in the winter!
Portions of the Blue Ridge Parkway do close down in winter when conditions aren't safe in tunnels and other parts of the road. This can cause problems trying to use the road to get to destinations.
Don't worry, though. You can still access Moses H. Cone Memorial Park from Bass Lake or Trout Lake in Blowing Rock.
Blue Ridge Parkway
As a National Park Service site, the Blue Ridge Parkway does not use salt or other chemicals to melt ice on the road. When winter weather has dumped snow on the roadways, it will stay there until it naturally melts, creating an ideal environment for cross country skiing and snowshoeing.
Even though the gates will be closed to portions of the roadway when the NPS has deemed it unsafe to travel by car, the public is still allowed to access the road via foot traffic (or skis).
Keep in mind, you will need to find a place to park and walk or ski in.
Linville Cove Viaduct is a beautiful place to ski to in winter, as seen in the video below. The Linville entrance on Highway 221 is a good place to access the area.
The Blowing Rock entrance off of Highway 221 is also a popular location to start your trail.
Related Post: 10 Christmas Tree Farms Near Asheville, NC
Roan Mountain State Park
This state park is actually in Tennessee, but it is so close to the North Carolina border that we have included it because it's one of your best options!
Receiving around 100 inches of snow per year, Roan Mountain State Park is another popular option for cross-country skiing in North Carolina.
Access to the trails at Roan Mountain is usually pretty easy as they clear the road within 1-2 days of any major snow.
There are several trails – part of the Appalachian Trail, the Cloudland Trail, and the road to Roan Gardens – that connect to create a loop that is ideal for cross-country skiing.
Carver's Gap is one of the parking areas to use and it is located about an hour from Boone.
Boone Greenway Trail
An unofficial cross country skiing trail in winter, the Boone Greenway Trail is great if there has been natural snowfall on the flat trail. You will need to get there before the town scrapes the trail of snow, but is not one of the first roads or paths to be cleared, so you will probably have some time to enjoy this location!
These cross country ski trails are just some of the fun ways to enjoy winter in North Carolina!