Wondering what all of the buzz is about the annual Disney Social Media Moms Celebration? It's one of the most highly anticipated blogging conferences of the year – and you can't register for it. You've got to be invited.
With a coveted invite to the Disney SMMC conference, though, you and your family will enjoy one of the most magical ways to enjoy Walt Disney World in Orlando (or maybe Disneyland Resort in California, depending on the year).
Disney Social Media Moms is one part conference, a million parts fun at the Walt Disney World Resort. The schedule is loose – allowing families plenty of opportunities to spend in the theme parks and at the resorts. Only one day is full of blogger conference talks and seminars, but that one day is still lots of fun for the bloggers hard at work, while their families play in the parks all day.
I was invited to Disney Social Media Moms Celebration for the first time this year, and was able to bring Carrie and her son. Here's what we did, what the schedule was like, and how much fun we had:
Host Resort Location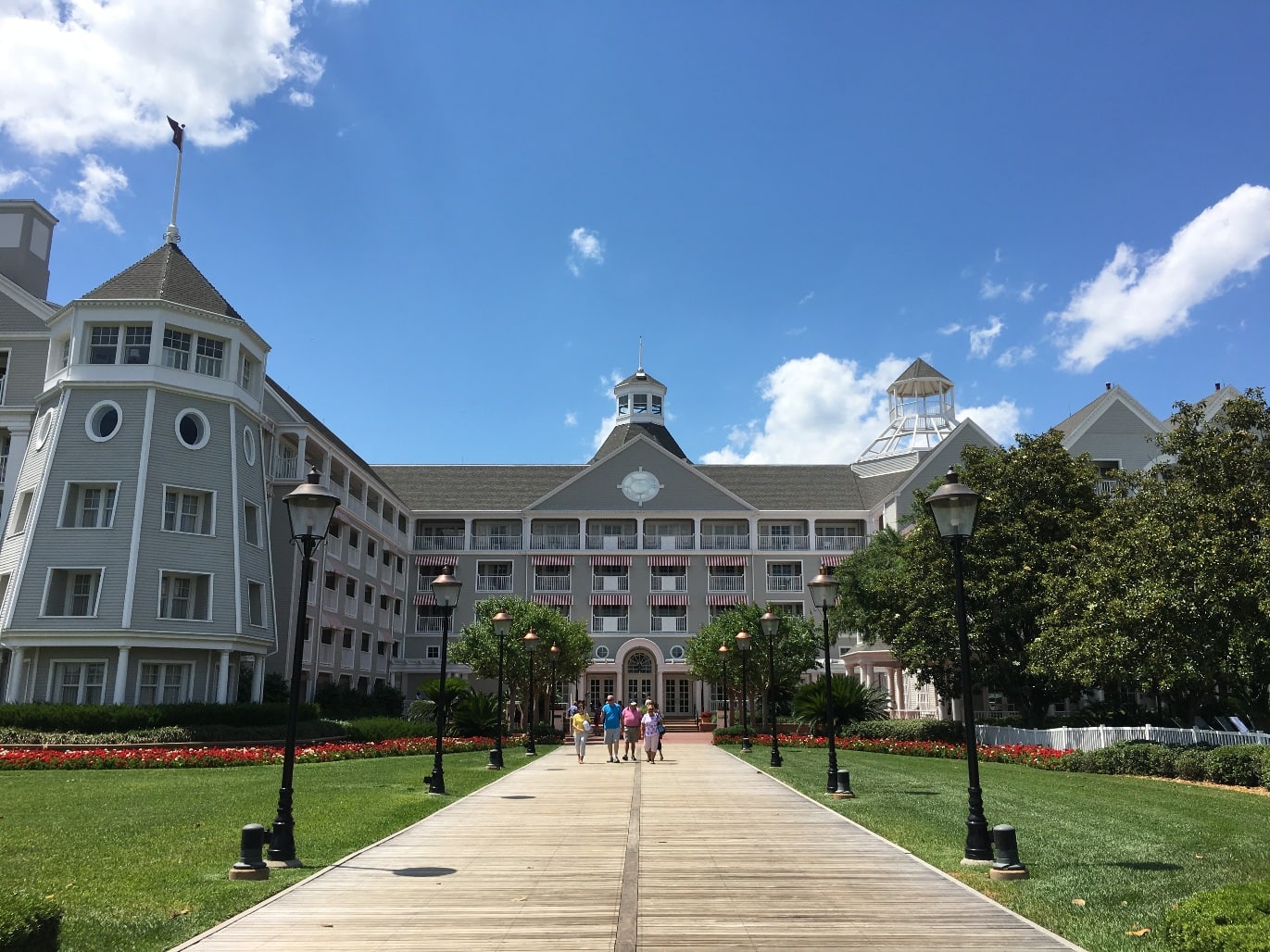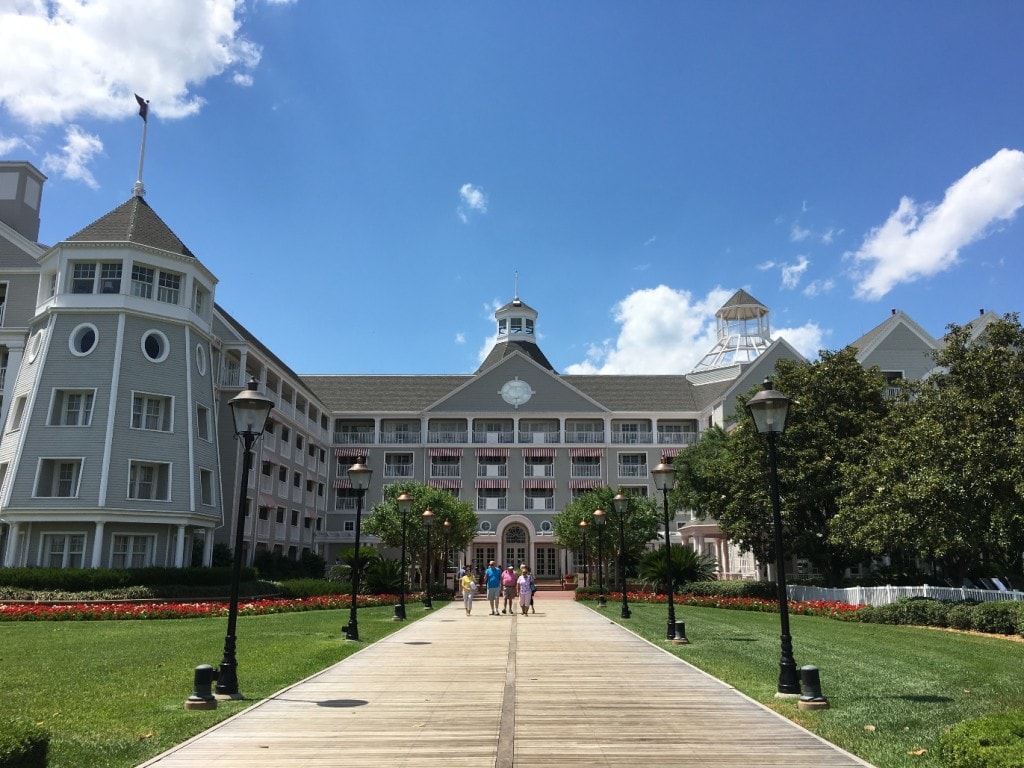 With your conference ticket, you'll be given three nights at the host conference resort. For us in 2016, it was the Disney Yacht and Beach Club Resorts.
We stayed in an amazing room at the Disney Yacht Club, with a balcony view overlooking the main courtyard, the marina and the Eiffel Tower from Epcot's France pavilion in the distance.
It was a stunning room that we'd never afford on our own without being able to stay there through Disney Social Media Moms Celebration. Watch our video room tour below:
Other attendees stayed at Disney's Beach Club. Everyone attended the seminars and met for transportation at Disney's Yacht Club Conference Center.
Day One – Check In and Lots of Fun!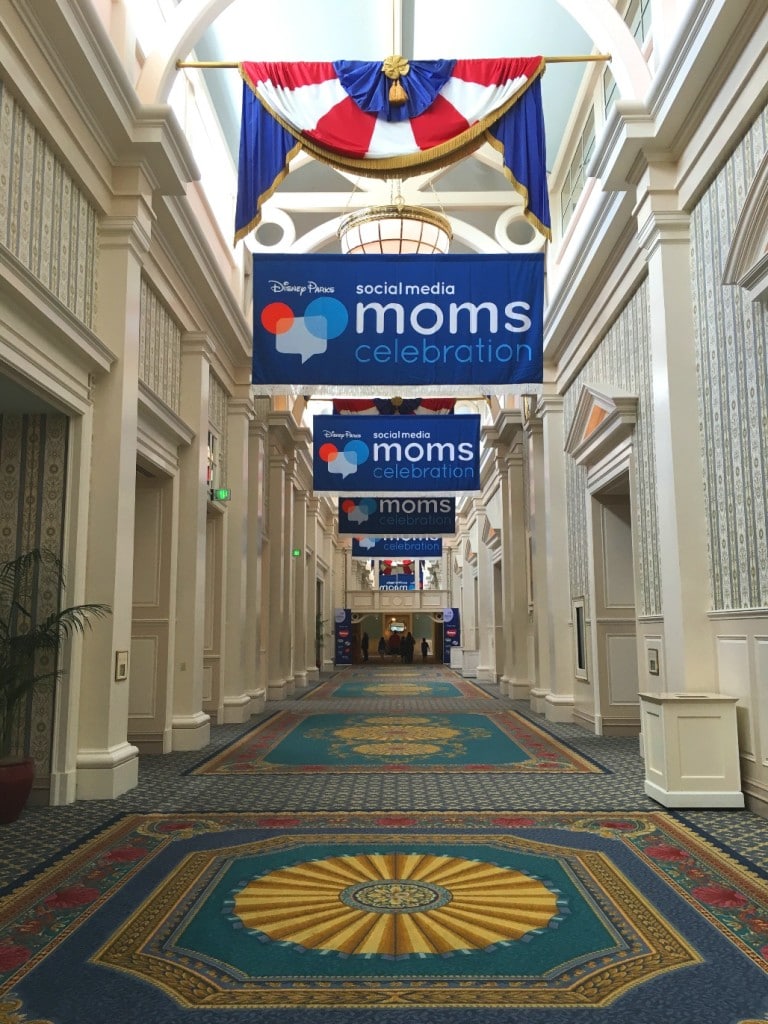 We checked in early afternoon at the Yacht Club Resort Conference Center. It's a happy time, and everyone is anxious and excited and so thrilled to be there! For many Disney SMMC attendees, they've come early and have already been in the theme parks or in Orlando in general for a few days. Others arrive the day of, and stay for a few days after the conference.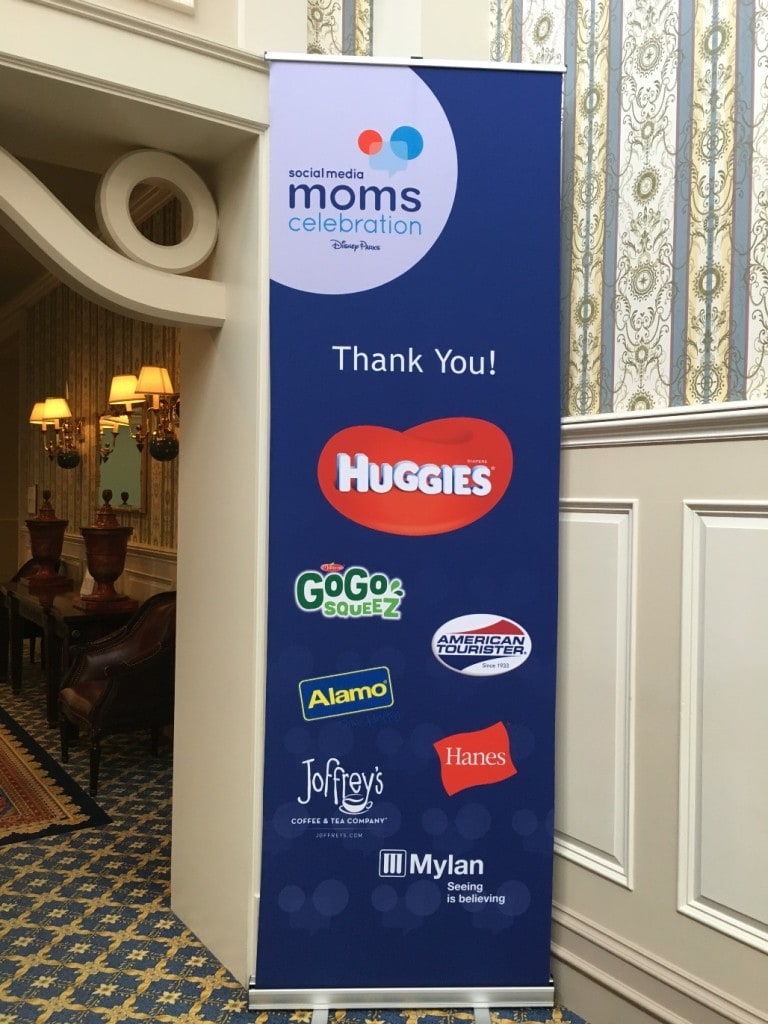 Check in is easy, since you've filled out all information online already. You get a big goodie bag full of Disney Social Media Moms Celebration swag – the first of many happy bags of goodies that you'll be receiving.
What would a Disney conference be without getting to meet Mickey Mouse himself? Mickey was available for meet and greets during registration – and there was no lines at all! What a blessed opportunity to see Mickey Mouse and get some fabulous pictures!
There was also an amazing display of luggage from American Tourister, one of the official sponsors of the Disney Social Media Moms Celebration.
Let's just take this moment to say how much we enjoy the sponsorship from American Tourister! I had recently bought an American Tourister bag at Target, after my Samsonite luggage wore out.
I am really, really, really picky about my luggage and how it performs as a travel writer that uses luggage like I use any other work tool. I have been so happy with my purchased American Tourister bag! So when I was surprised with a Disney-themed piece of luggage that was sent to me before leaving for Disney Social Media Moms Celebration, I was ecstatic!
I truly do love their luggage, and American Tourister's Disney line of bags is so fun and amazing. Loved to get the American Tourister tote bag full of swag at check-in, too. I know these will last a long time 🙂
After check-in, we had just enough time to get dressed, changed and ready to catch the shuttles to Disney's Animal Kingdom for a private party held after the theme park was closed to the public. We were escorted to the Africa section, where vibrant dancers, performers, and singers created an African safari mood, as we feasted on themed regional delicacies at buffet stations throughout the area.
We sat outside at large tables, but there was indoor seating, too. When we finally found that section, and peeked in, we realized that there were character meet and greets not to be missed!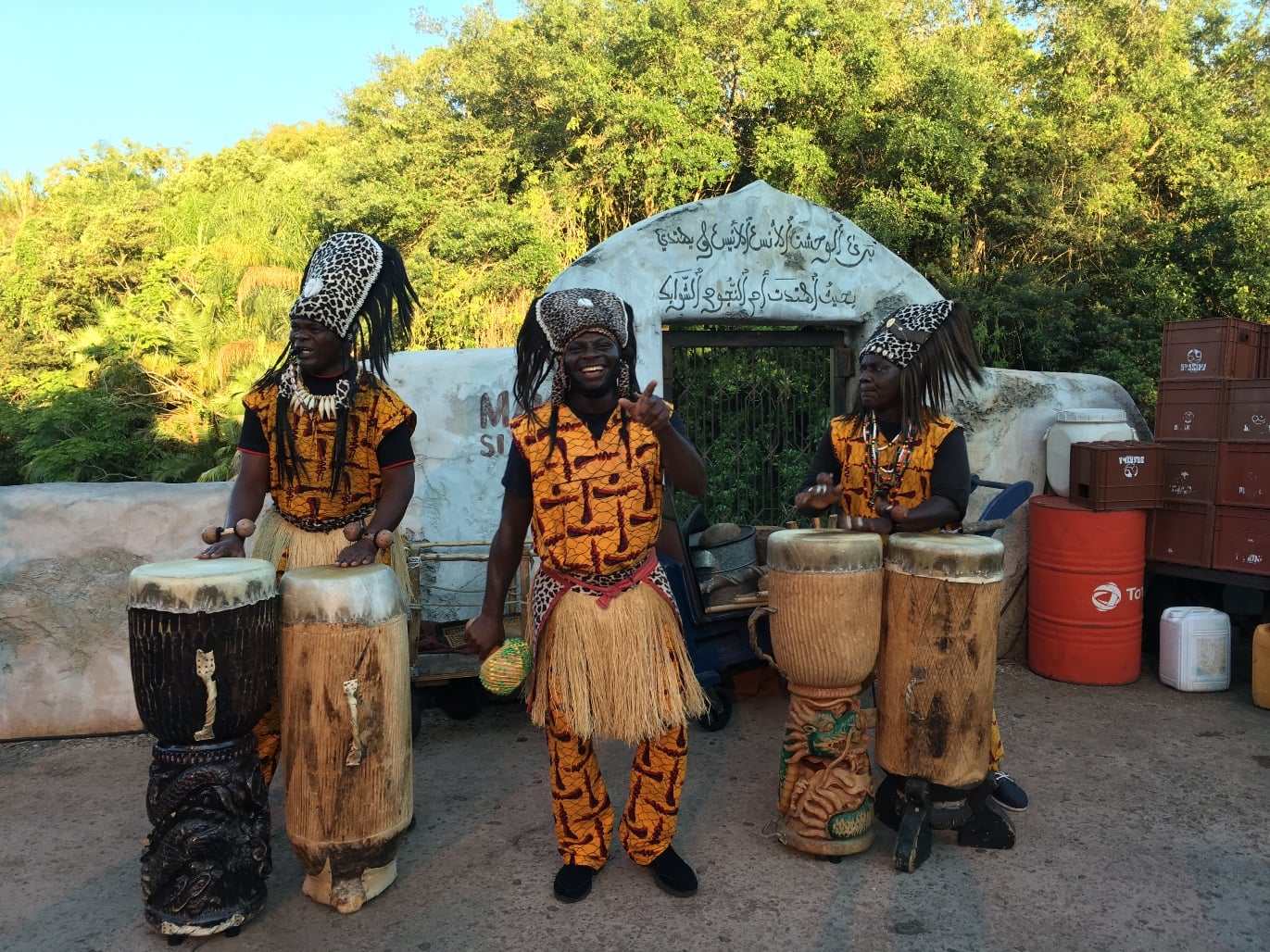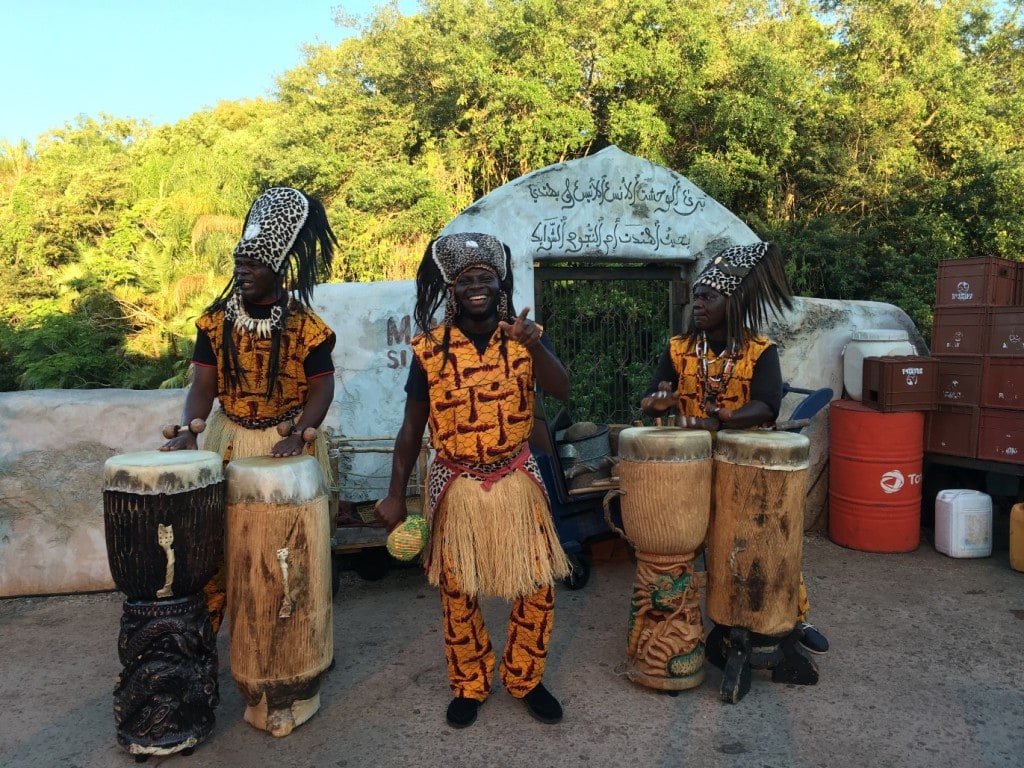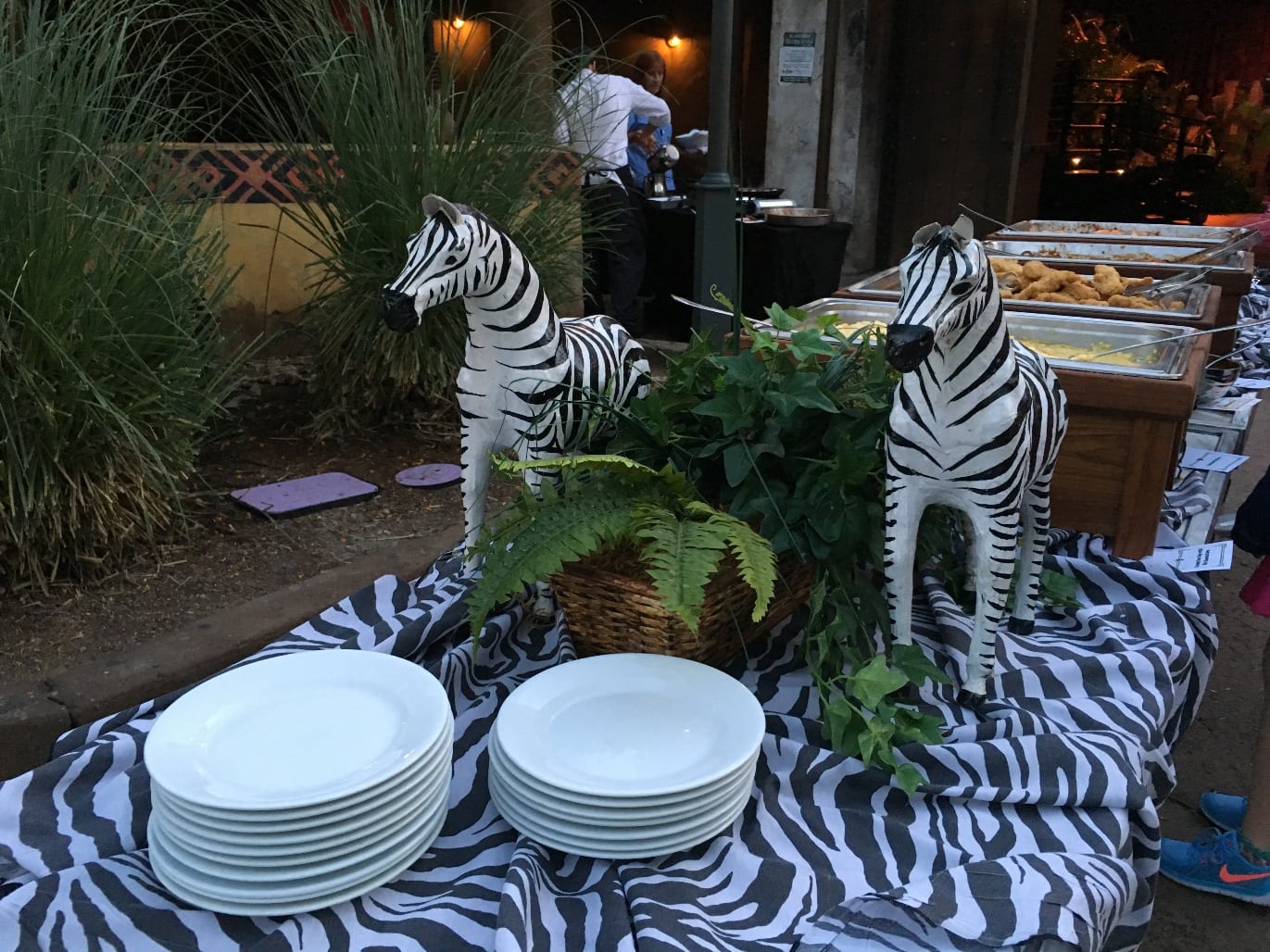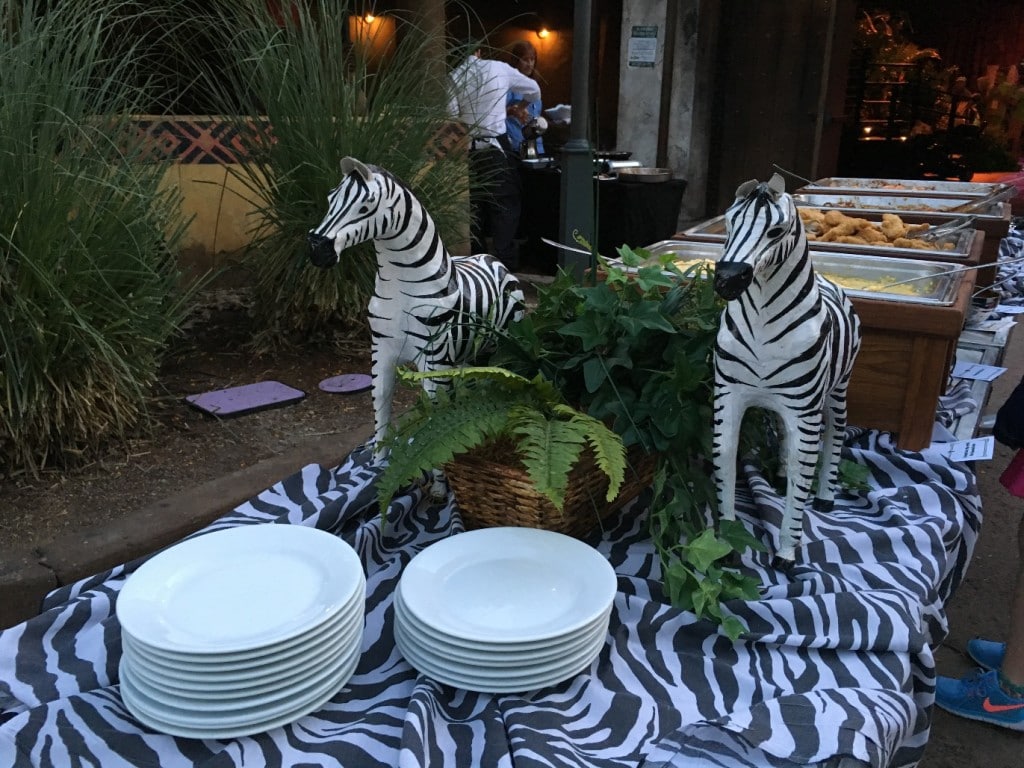 So Carrie and I pretended like we were kids again (her son was back at the hotel!) and raced to get photos with the characters. All photos were captured by Disney PhotoPass photographers, and we were able to get them all thanks to a complimentary Memory Maker as part of our purchased ticket.
After dinner, we headed to Asia, where a dessert party was taking place and those that were brave enough (not us!) could ride Expedition Everest over and over and over again.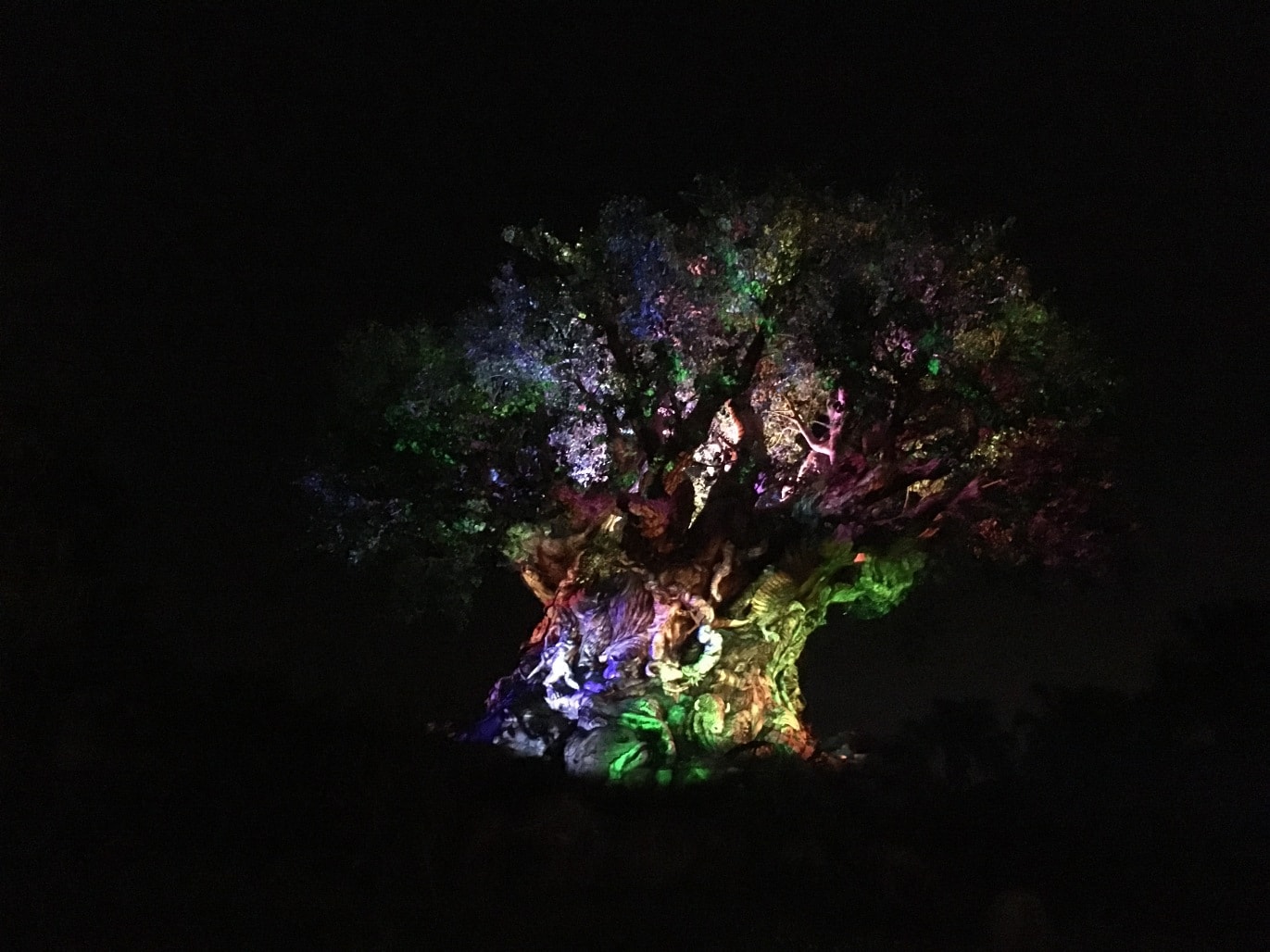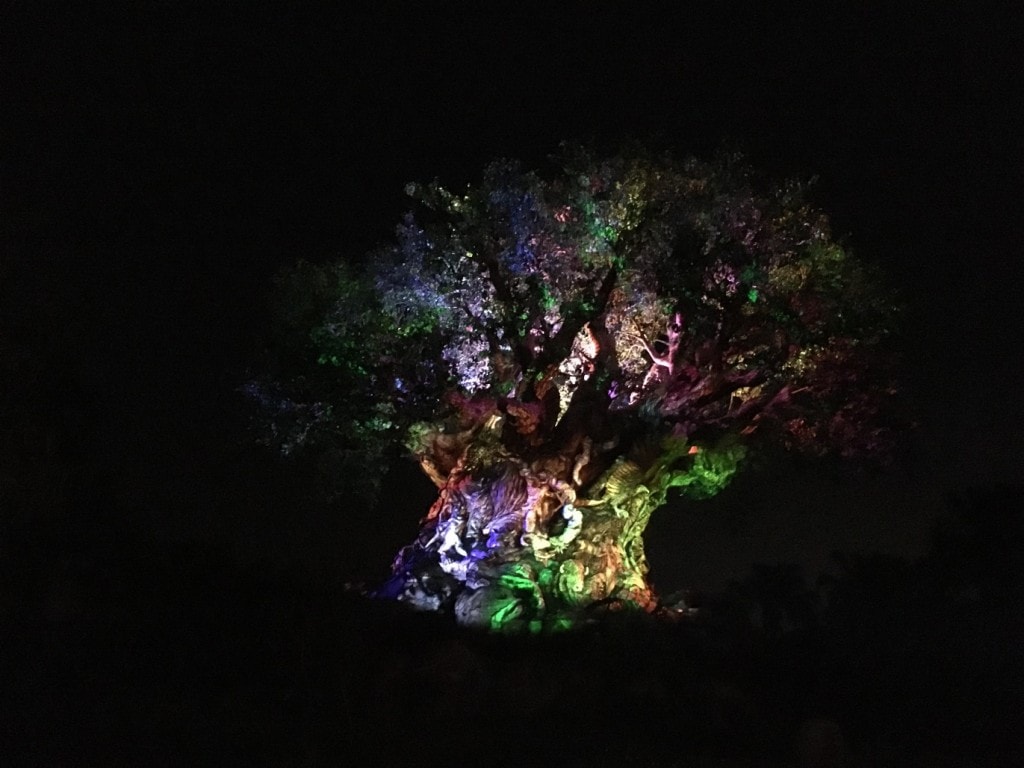 Finally, we were ushered to the front of the park, in front of the Tree of Life, to watch one of the first public viewings of the "Awakening" night time spectacular broadcast onto the Tree of Life. This brand new show debuted officially over Memorial Day weekend, but we got a sneak peek three weeks early.
Day Two – Disney Social Media Moms Celebration Conference and Blogger Seminars
This was THE day. A day full of entertainment, inspirational stories, and ideas devoted solely to the bloggers.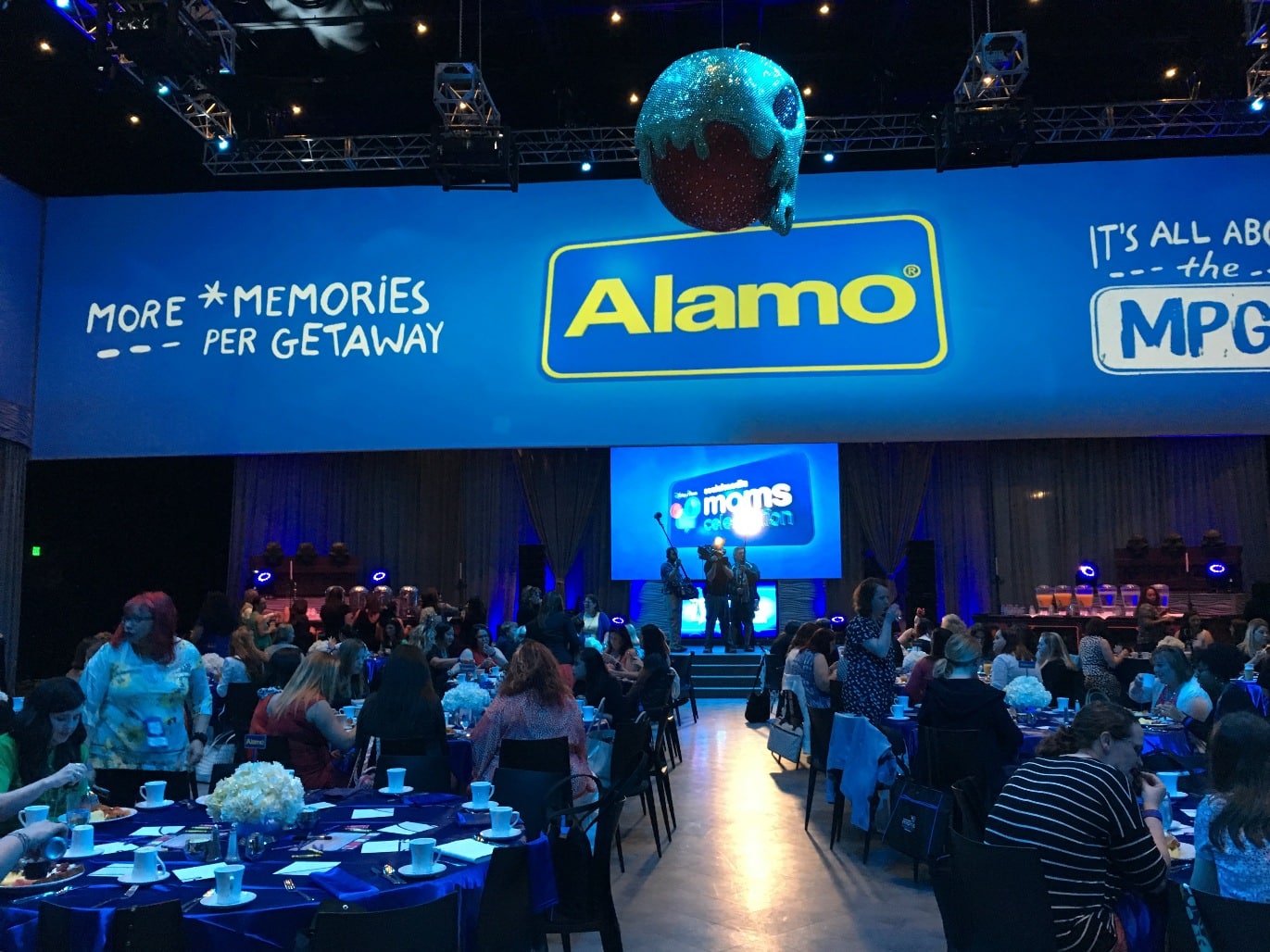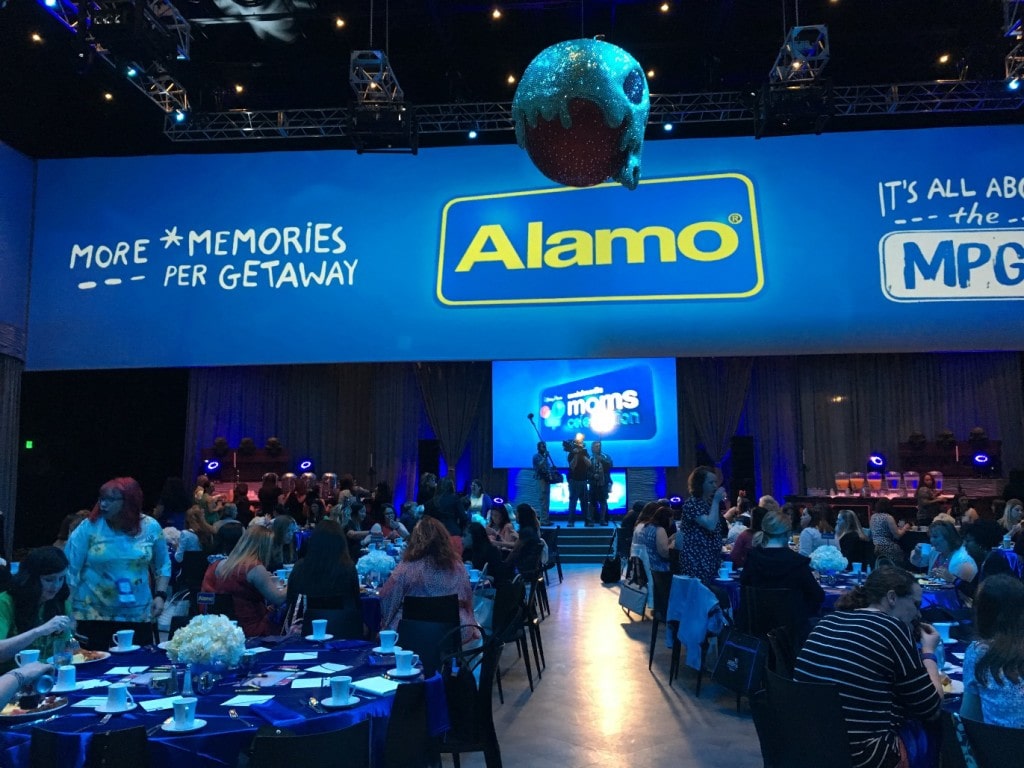 The invited bloggers were first hosted very early in the morning at Disney's Hollywood Studios for a breakfast featuring Star Wars Show Director Michael Roddy.
Then it was on to Star Wars Launch Bay for meet and greets with the Star Wars characters!
Meanwhile, our families were able to enjoy breakfast at Disney's Boardwalk, with character meet and greets and activities for the kids.
Then we came back to the Disney Yacht Club Convention Center for an all day event.
Here's how it started (video below). Pretty cool, huh?!?
This day was amazing. It doesn't hurt that I was seated with some of my favorite Orlando area bloggers – Nicole from SparklyEverAfter.com and Amanda from WheresAmanda.com.
The sessions were pure Disney entertainment. We had Storm Troopers invade the conference room:
We had the Sanderson Sisters perform, on the heels of the announcement that they'd be returning to Mickey's Not So Scary Halloween Party this year:
We had a preview of the Rivers of Light spectacle coming to Disney's Animal Kingdom at Disney World soon:
We even had the President of the Walt Disney World Resort, George Kalogridis come to talk to us. Wow!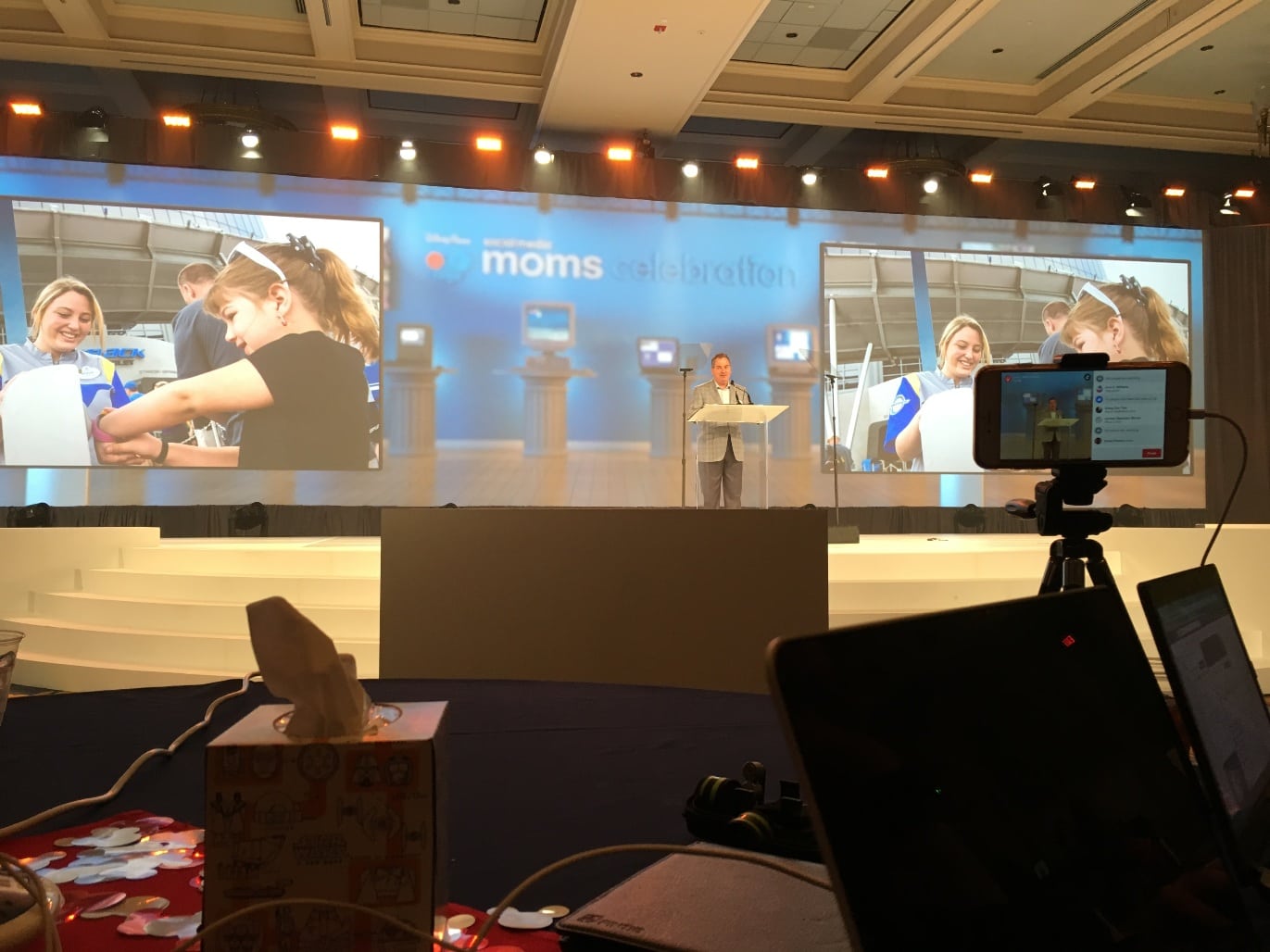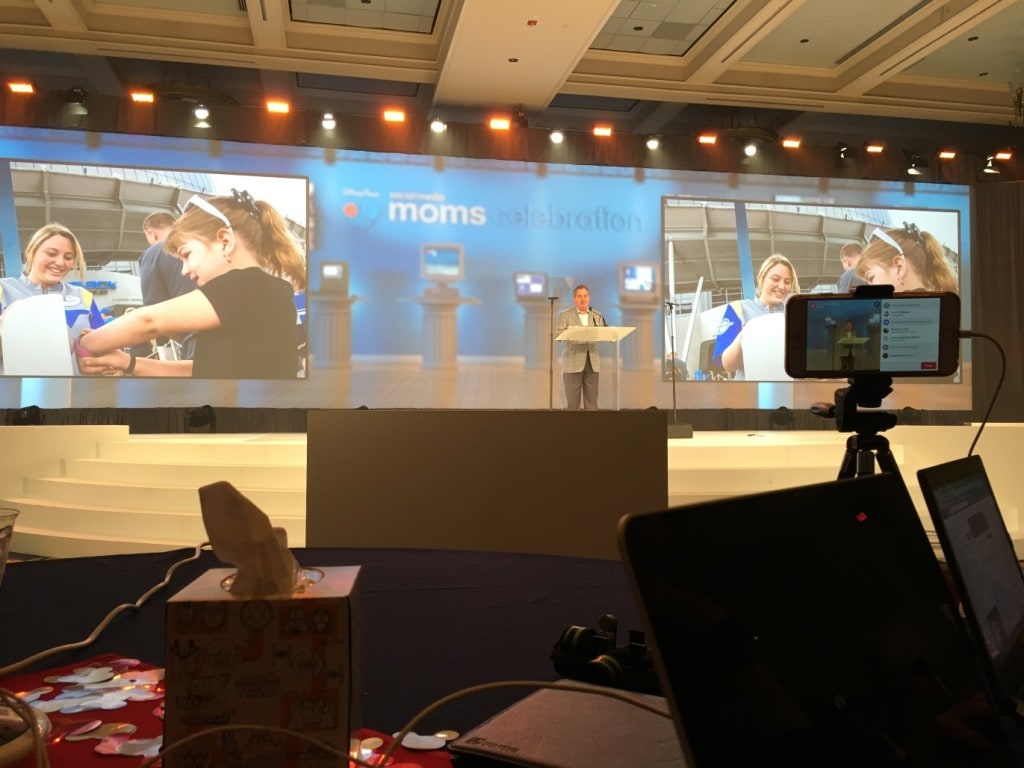 Among the presentations and promotion of Disney World entertainment and events were Suzanne Todd, Producer of Alice Through the Looking Glass, and Lindsey Collins, Producer of Finding Nemo and Finding Dory.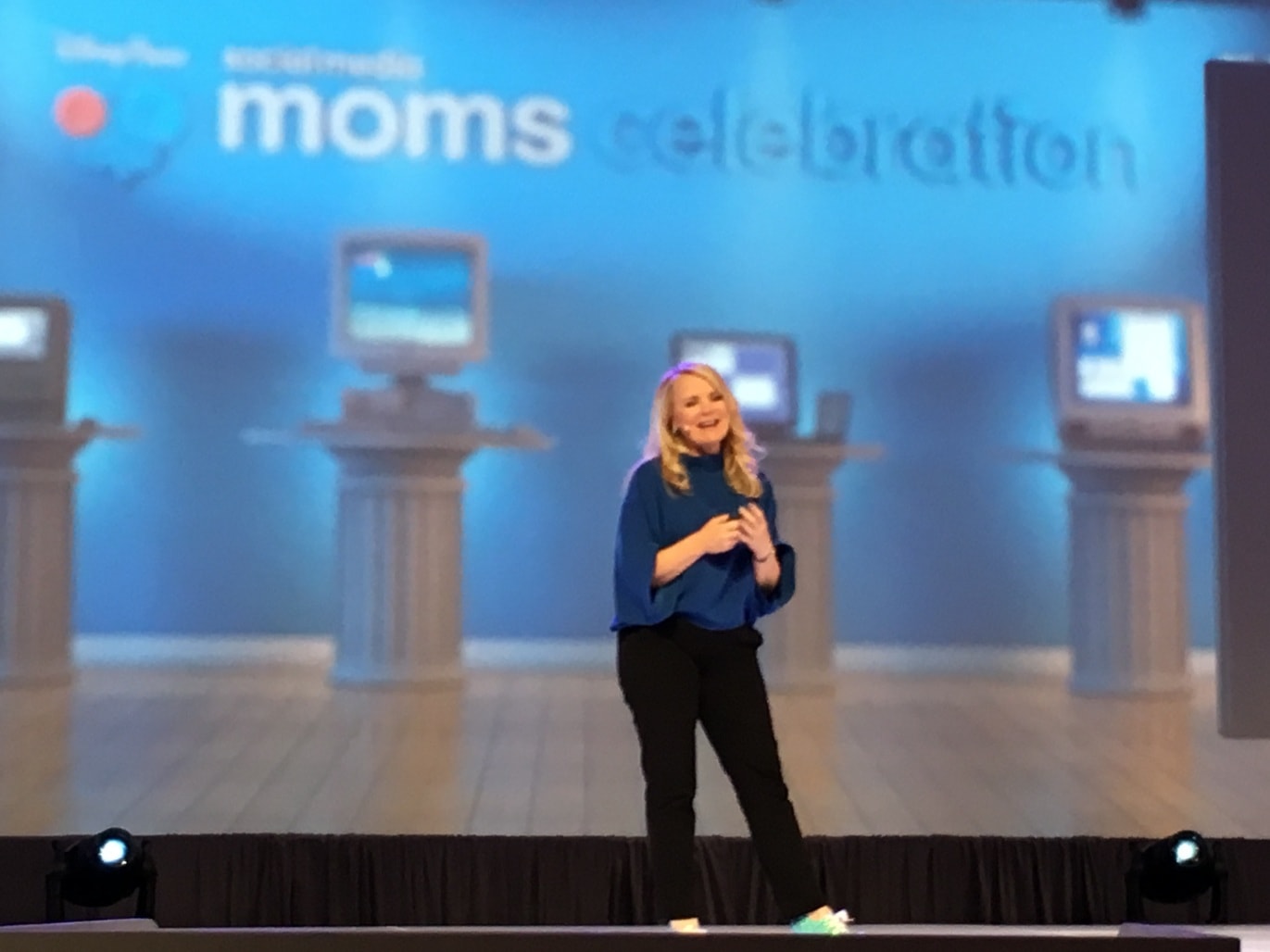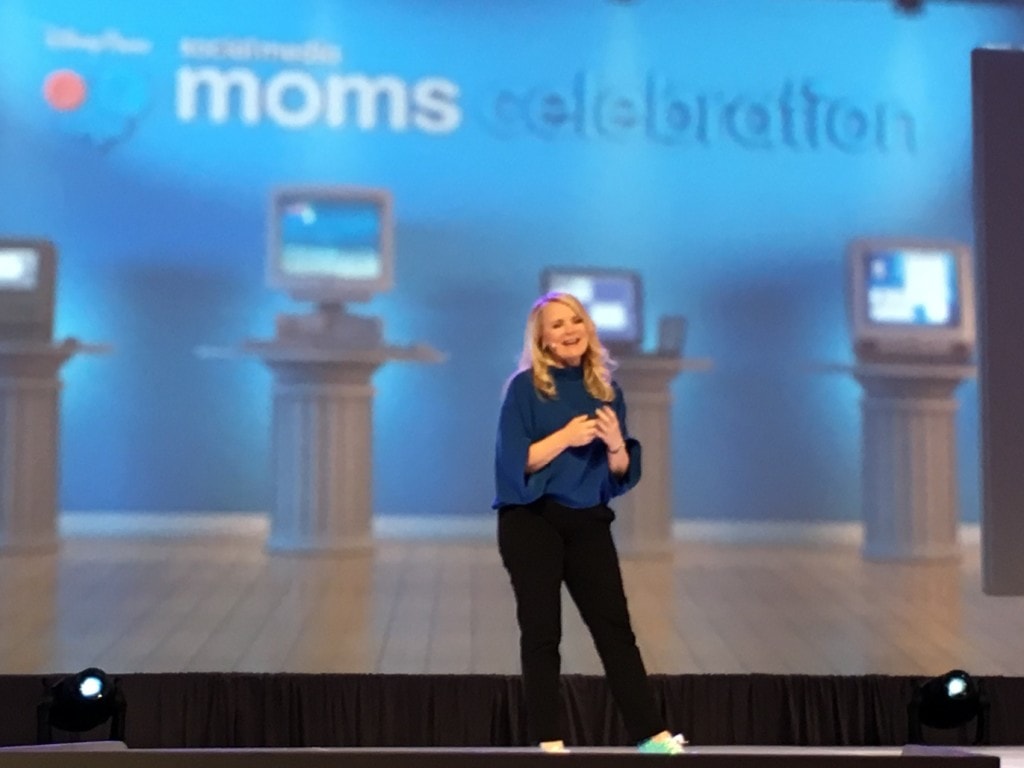 In fact, we were only the second audience ever to get a sneak peek of the Finding Dory movie, which was still over a month from releasing in theaters. We saw the first 33 minutes. Let me say, there was not a dry eye in the house after watching this teaser of the film!
At night, we went to Typhoon Lagoon for a private beach party, with lots of picnic foods served on the sand and a stunning and unusual fireworks display overhead set to beach music.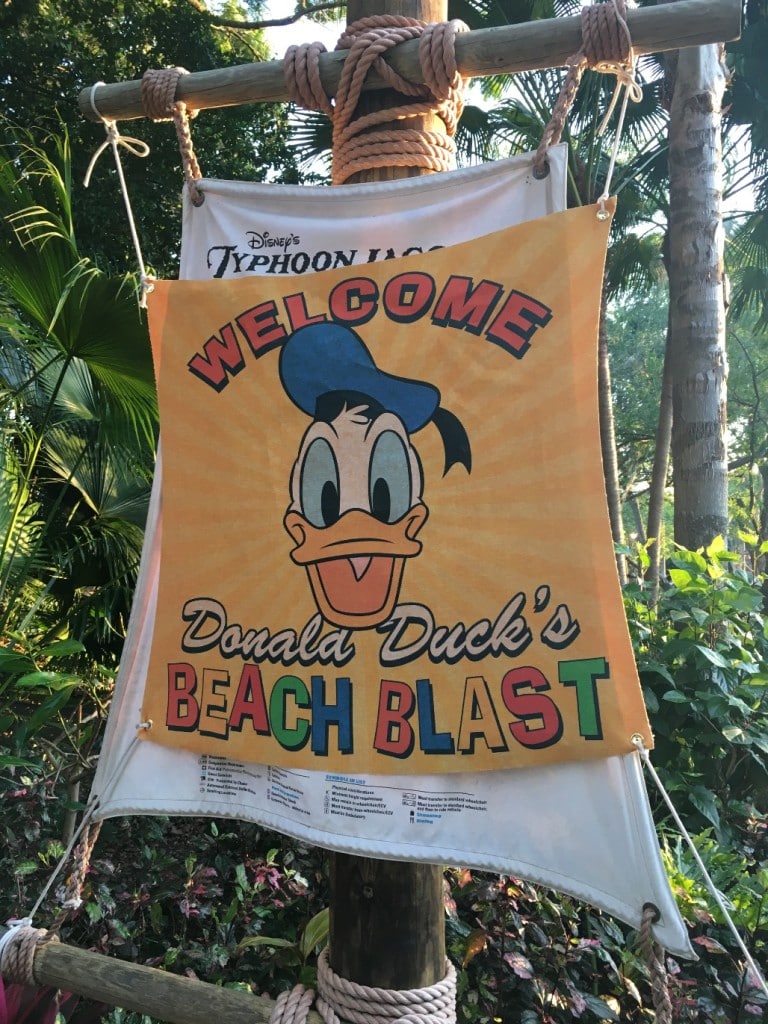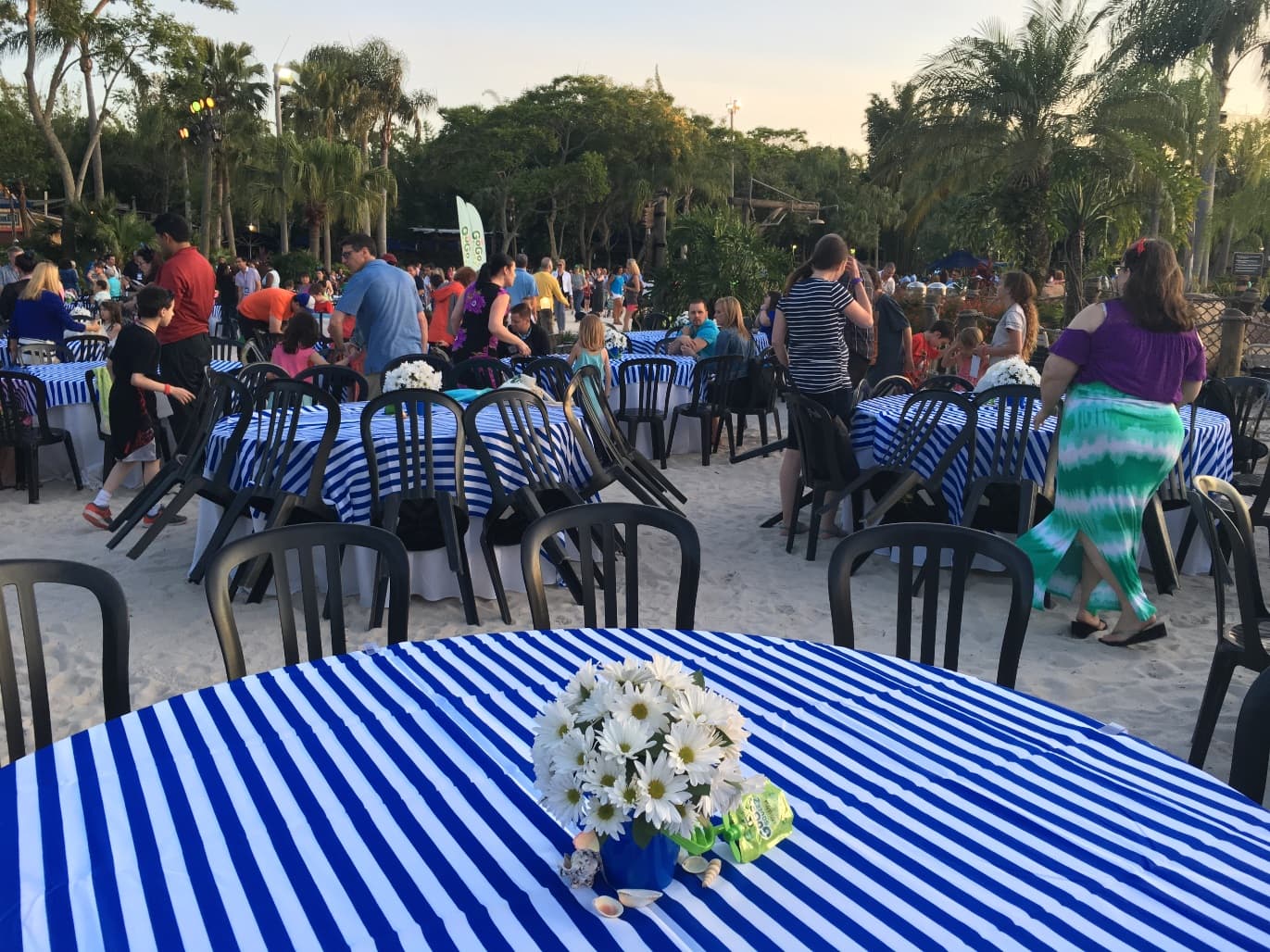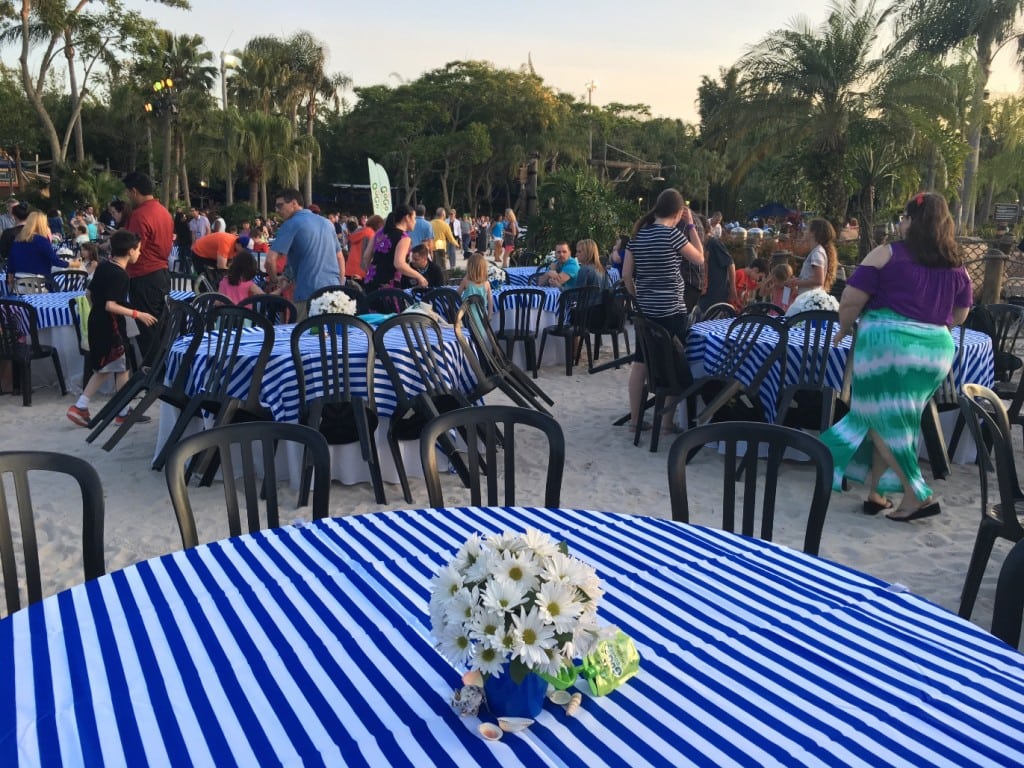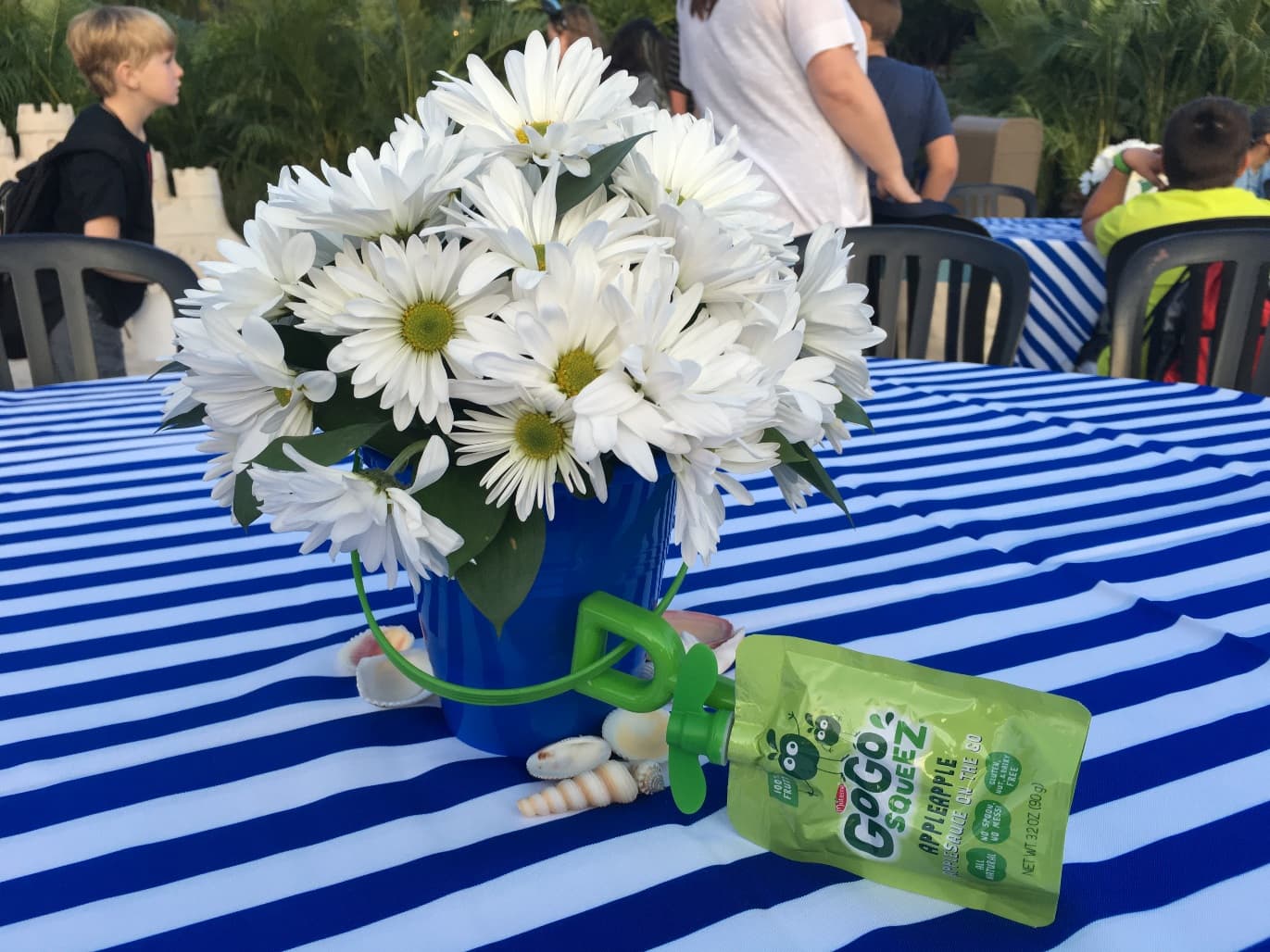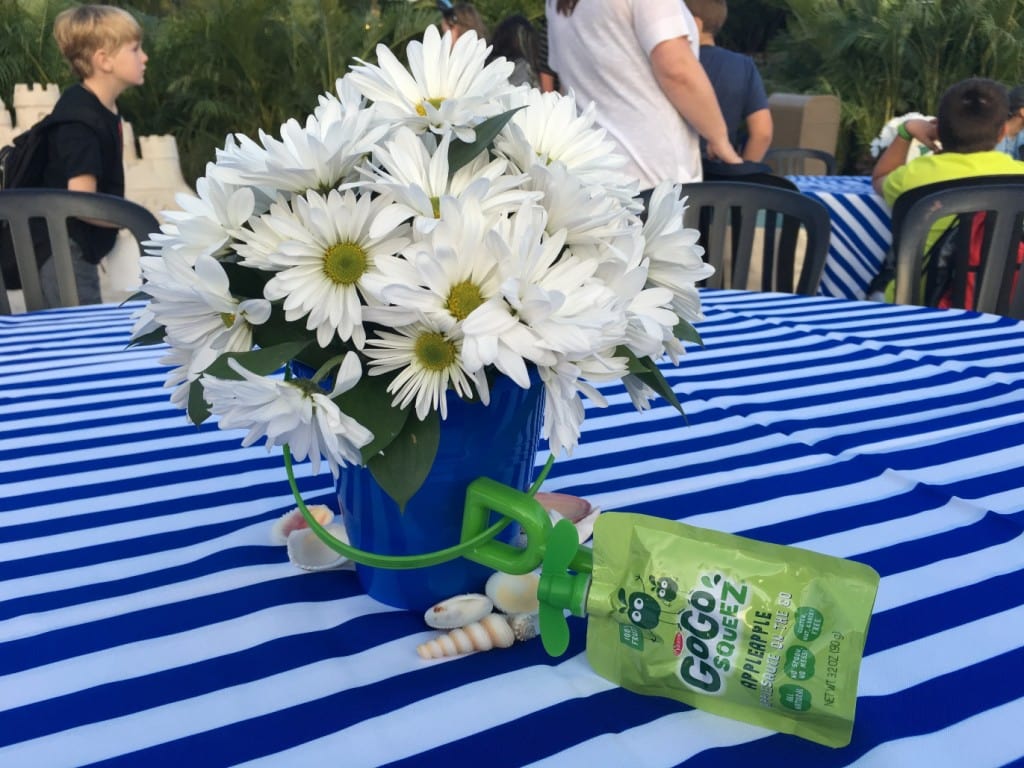 And this little guy loved the fireworks!!!!!
Day Three – Fun at Disney World
Today was a very relaxed day, full of experiencing Disney magic at your own pace. An early morning screening of Alice Through the Looking Glass was held at Disney Springs, along with character meet and greets. Some lucky bloggers got a behind-the-wall tour of Disney Springs with an Imagineer before it officially opened to the public.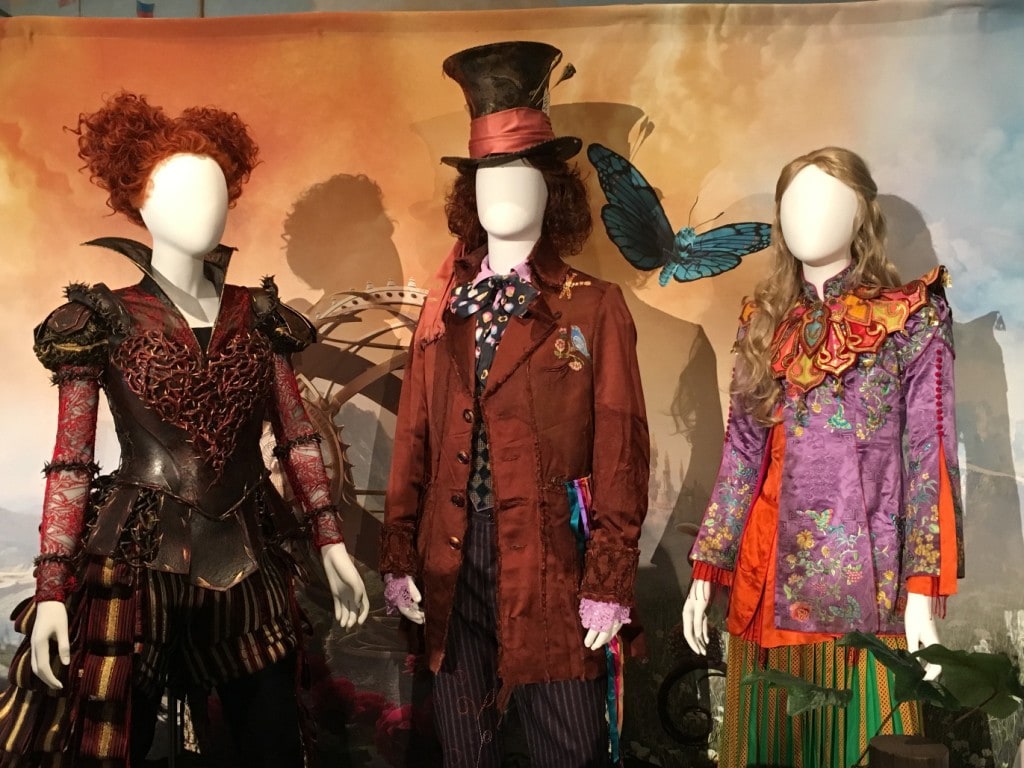 Then it was time to enjoy the day as you pleased! Theme park tickets are part of the ticket that you buy for each member of your family, so some people stayed at Disney Springs, while others went to the theme parks, or stayed at the awesome pool at Disney's Yacht and Beach Clubs.
We did Epcot, an easy walk with a one year old and so convenient nearby in case he decided he was too tired to enjoy the parks anymore.
Day Four – Mother's Day Brunch and Saying Goodbye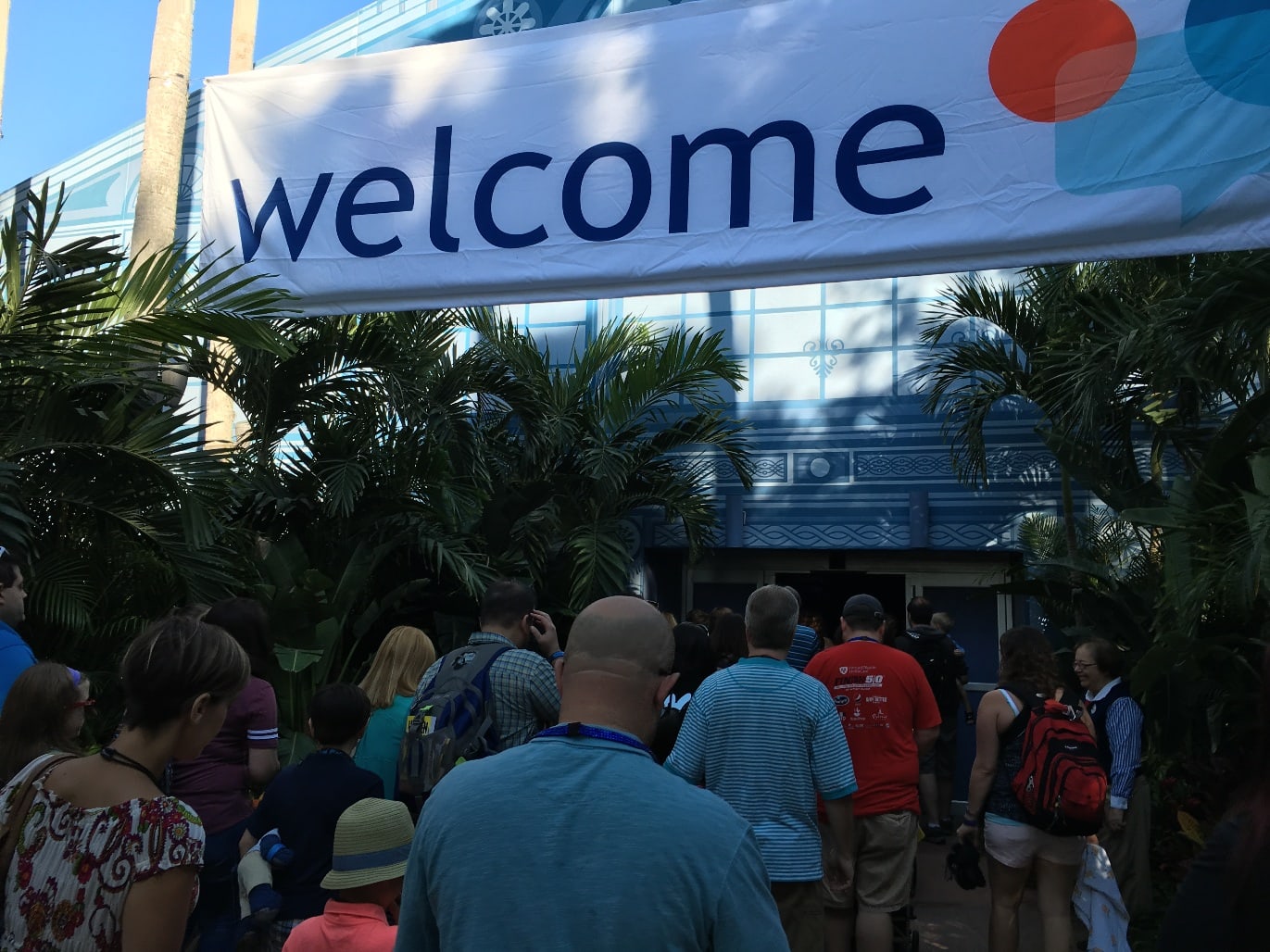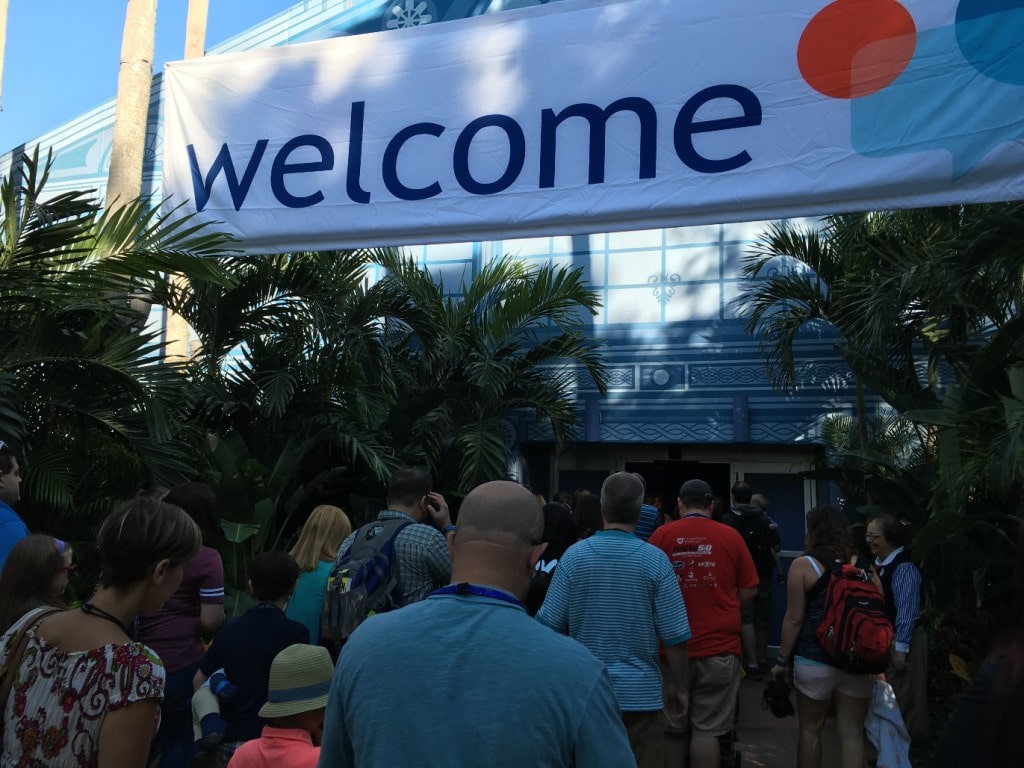 The celebration ended on Mother's Day, a fitting tribute since almost all of the official attendees are mothers (there are some dads invited).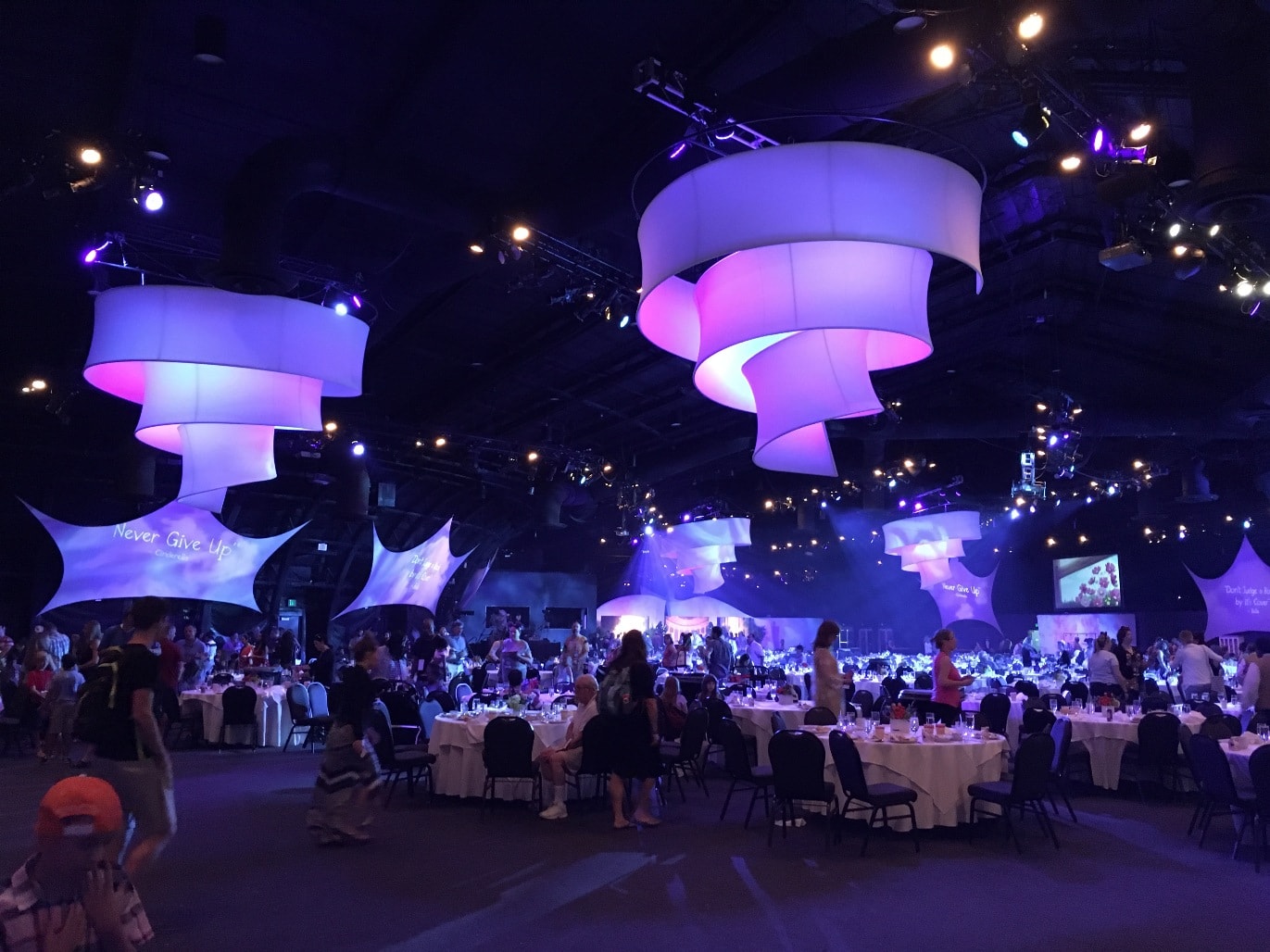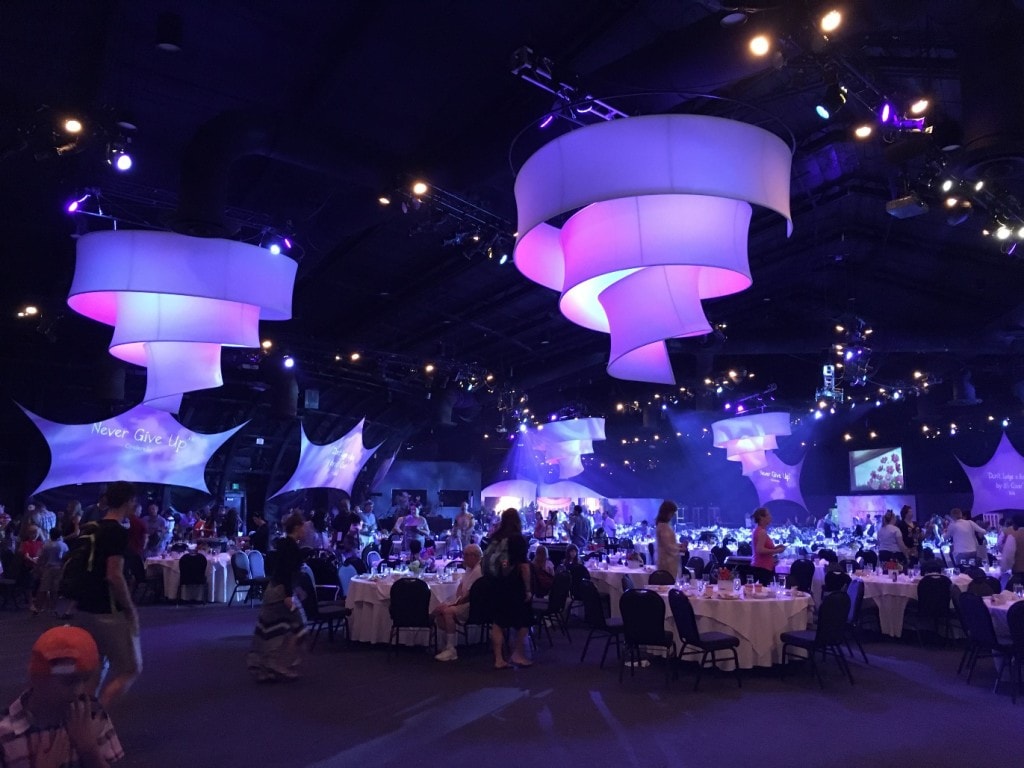 This was a grand celebration for the last day, and we were completely taken back with how well it was done for the honor of the mothers.
An early buffet breakfast meant we hopped on buses and rode through backstage Epcot well before the park was officially open.
We were escorted to the convention area in World Showcase for a stunning and elegant breakfast buffet. The lighting and music were magical. The Disney Princess character meet and greets and princess play area were fun, as were the awesome photo backdrops and props to be enjoyed during the breakfast.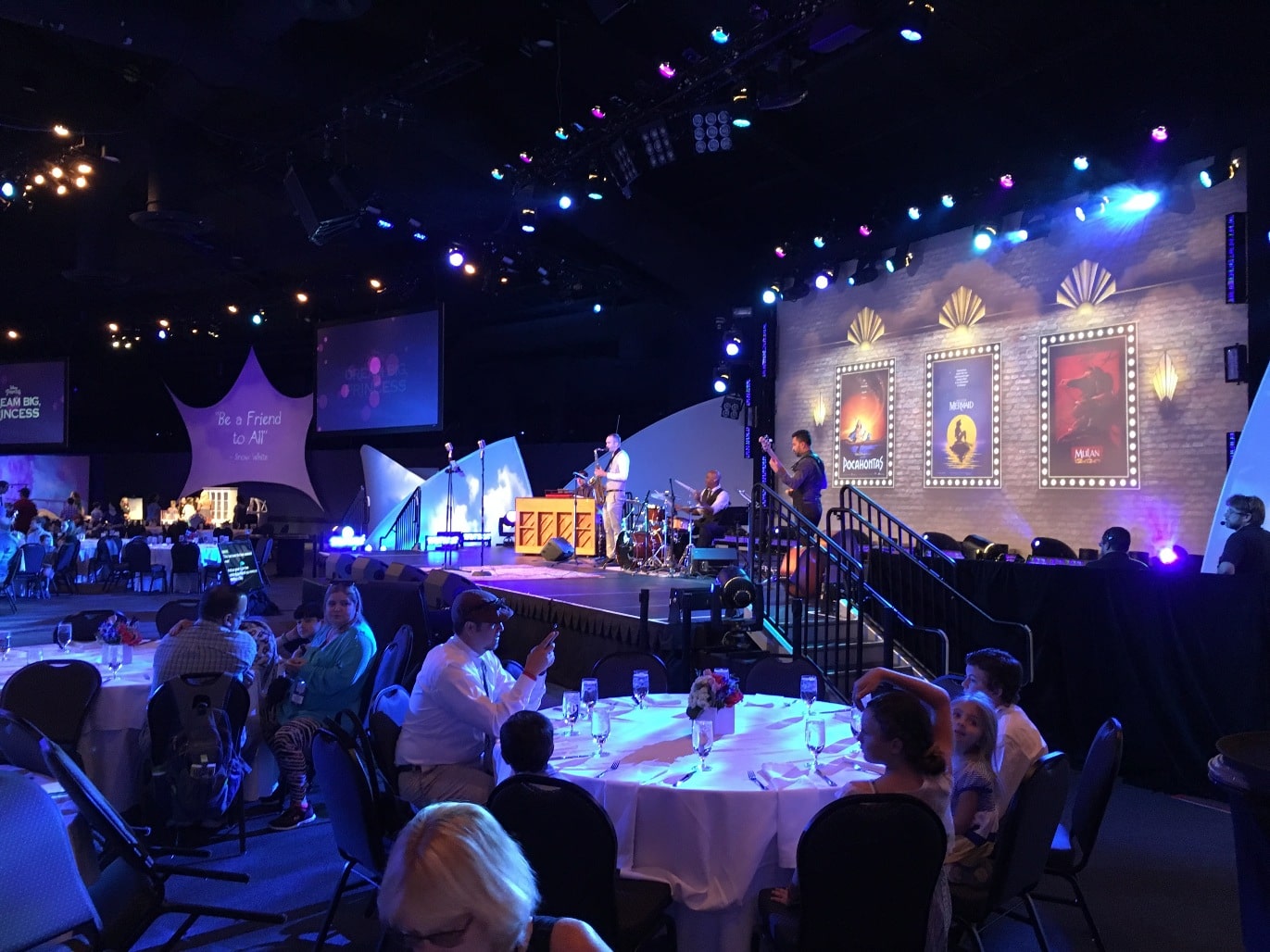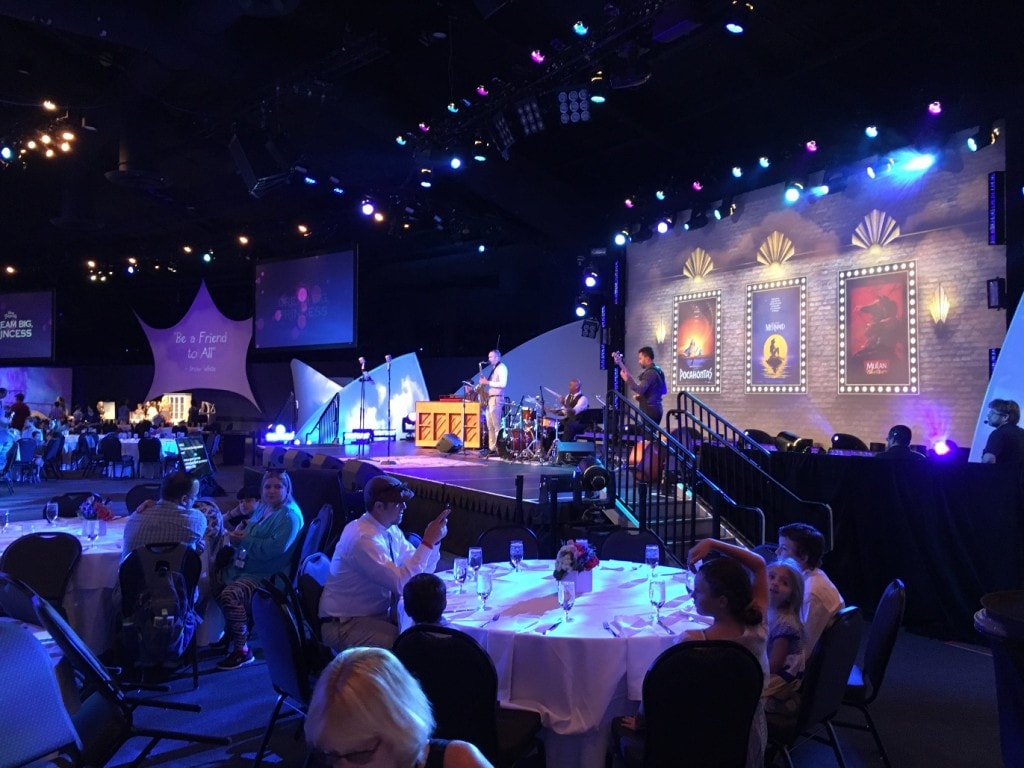 With final goodbyes from our hosts, and a dramatic reveal of a colored mural collage that both bloggers and their families had been working on over the past days, it was time to say good-bye. In pure Disney fashion, it was full of emotion, love and inspirational feelings – both for wishing all of the moms a Happy Mother's Day, as well as celebrating the joy of Disney.
I'll be honest. I get a little choked up writing about the last day. I also get a little teary eyed watching the opening video of the Disney Social Media Moms Celebration Conference. There's something – something – the Disney does a little differently to touch and pull at your heartstrings. It's what gets you and keeps you coming back.
This was a conference that I'll always remember. It was different, in so many good ways that you can't quite put your finger on, but you know that it was special. I didn't want it to end. Not just because it was being held at Disney World, but because the emotion and sentiment from Disney to the bloggers, and among the bloggers, was so pure.
As we walked out of Mother's Day brunch, running after my little nephew that was darting through the crowd as he was just learning to run, I instantly was sad that this moment was over. And full of Faith, Trust and Pixie Dust that hopefully I'll be invited back.