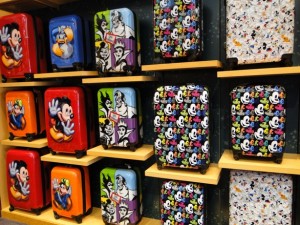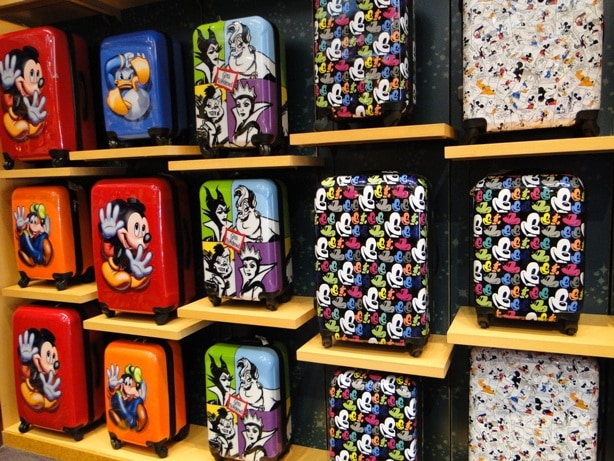 Are you making plans to vacation at Walt Disney World, Disneyland, on the Disney Cruise Line or at another Disney location? Wish you could show your Disney Side even on the plane and in the baggage carousel? Flaunt your passion for Disney from the moment you start packing to the moment you come home with bulging suitcases and a heart full of memories with these great Disney travel accessories.
The Disney travel luggage and travel accessories showcase some of your favorite characters. There is Mickey Mouse and Minnie Mouse, of course, and their iconic mouse ear heads on most of the luggage, tags and accessories. Donald and Goofy also get their own suitcases, too, with comical graphics of Disney characters being stuffed into a tiny suitcase. These luggage pieces are sure to get attention in the airport! There's also Disney Villains, too.
All of these pieces were found at the World of Disney at Downtown Disney near Orlando, Florida. There is an entire section devoted to travel accessories at World of Disney. Perhaps it's so large because so many people need an extra suitcase going back home after buying so many souvenirs! What better way to continue the vacation than buying a piece of Disney luggage to bring home your goodies?
My sister has one of these suitcases for traveling to Disney. We would both recommend not using them as checked luggage on a plane, because the plastic is somewhat flimsy and flexible and would likely get damaged on a flight. Instead, consider using these plastic pieces as carry on luggage, or for driving to Walt Disney World or other Disney getaways.
Here are some additional looks at Disney suitcases, luggage, and travel accessories available: