Are you making plans to vacation at Walt Disney World, Disneyland, or on the Disney Cruise Line? If so, show off your passion for Disney from the moment you start packing to the moment you come home with bulging suitcases and a heart full of memories with these great Disney suitcases and travel accessories.
These luggage pieces are sure to get attention in the airport and on the luggage carousel!
We actually own several pieces of this luggage. Yep, we actually use it! We like to use smaller bags as carry on pieces for the plane or on a Disney cruise so that they don't get damaged as checked bags. We like to keep our favorite travel bags neat and pretty!
Mickey Mouse Suitcases and Travel Bags
What could be better than arriving to Disney World with a Mickey Mouse suitcase?
Not all Disney suitcases have Mickey Mouse on them. In all honesty, there aren't a lot of suitcases with Mickey Mouse on them. So if you are looking for Mickey travel bags, we've rounded up the best to make your search easier!
Mickey Mouse Pants Soft Suitcase
This is the suitcase we have and we totally love it! (See picture above.) The soft sided luggage has some give to it, making it easier to stuff a little bit more in the bag!
The traditional Mickey colors of black, red and yellow are showcased on this luggage that looks like a pair of Mickey Mouse pants. It's so cute, even with his autograph on the top.
It does come in either a 21-inch or 28-inch size. (21 inch luggage also available on Walmart.com)
Retro Mickey Luggage with Packing Cubes
We just can't believe what a great deal this suitcase is! Not only does this Retro Mickey Mouse suitcase have a great look with classic colors, but it also has a Mickey Mouse design on the lining inside. PLUS it comes with two Disney packing cubes and a removable laundry bag!
Mickey Scribble 2-Piece Set
This exclusive 2-piece Mickey Scribble set from American Tourister is classic and works for everyone! You won't find it anywhere else!
We love the fun drawings of Mickey in a variety of poses on this black luggage that won't show up dirt and wear and tear as easily.
Mickey Mouse Soft Sided Luggage 2-Piece Set
Another American Tourister exclusive, we love this soft-sided luggage set. Sometimes it makes sense for hard luggage, and sometimes it makes sense to have soft-sided, like if you expect to have to stuff tons of stuff in your suitcase and try to make it fit!
The red accents on the luggage handles really are a smart way of using Mickey Mouse colors for these suitcases! Plus, they'll make your luggage stand out on the baggage carousel.
Mickey Carry On Luggage Set
These small carry-on luggage pieces are perfect if you are trying to avoid checked baggage fees. The colorful Mickey Mouse heads will have your luggage standing out among the crowd!
Mickey Mouse Luggage Set
If you want enough suitcases for the whole family (or one person that packs a lot!), this hard side Mickey Mouse luggage set is perfect for you! The 3-piece set on rolling wheels comes in a variety of sizes, with a carry-on bag and checked bags to hold more clothing, snacks and souvenirs coming home.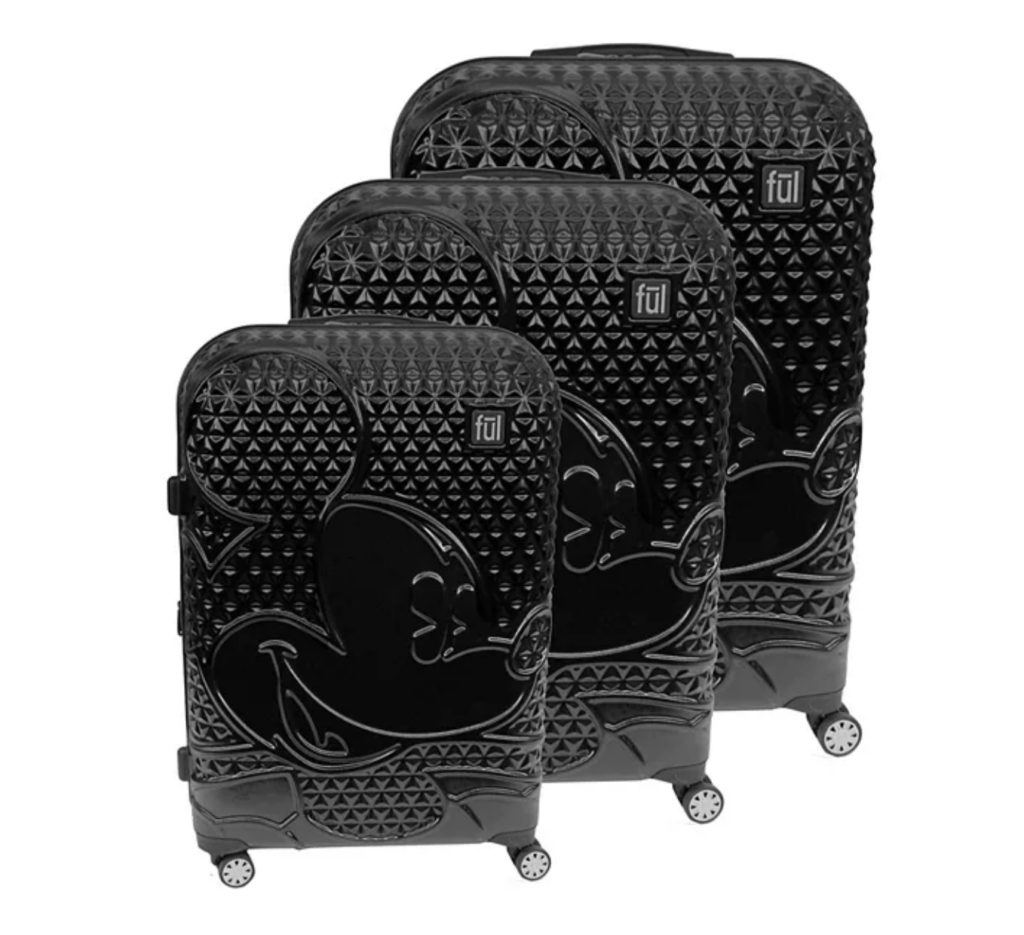 Like this luggage but just want one piece? You can buy individual pieces in other colors, such as silver and rose gold.
Also available on Walmart.com.
Mickey Mouse Hard Side Carry On Luggage
Mickey and Minnie Go to Europe Luggage
You might also like this Mickey and Minnie luggage if you are dreaming about or taking a European vacation. This luggage set features icons of famous European cities, such as the Eiffel Tour from Paris and gondolas from Venice.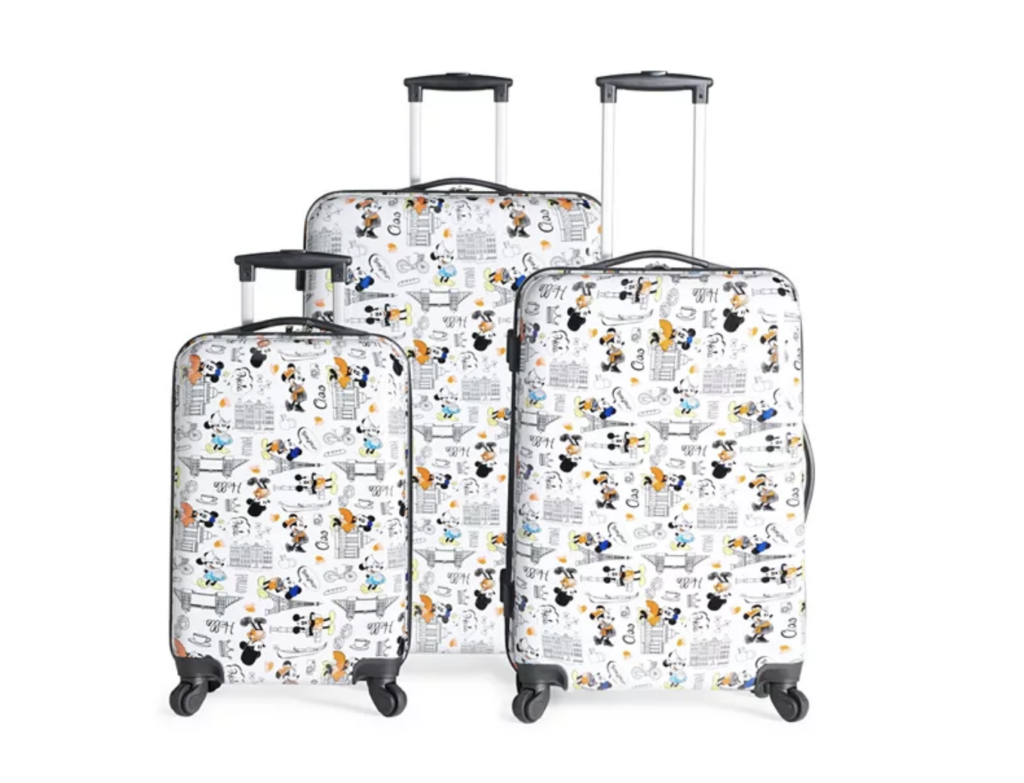 Also available on Target.com.
Disney Travel Accessories
If you don't need new luggage, why not share your love of Disney with these fun travel accessories?
These Disney Luggage Stickers are so cute, too! You can instantly put them on any luggage you own to give it a unique look!
Disney Villains Suitcases and Luggage
There are not a lot of options for Disney villains suitcases. But if your Disney side is more villain than princess, these are the best picks for you!
Disney Villains Travel Bag
This is a duffel-bag style suitcase. It will hold a lot, and can easily be carried on top of a rolling suitcase for ease of travel. It is made to order and comes in two different sizes.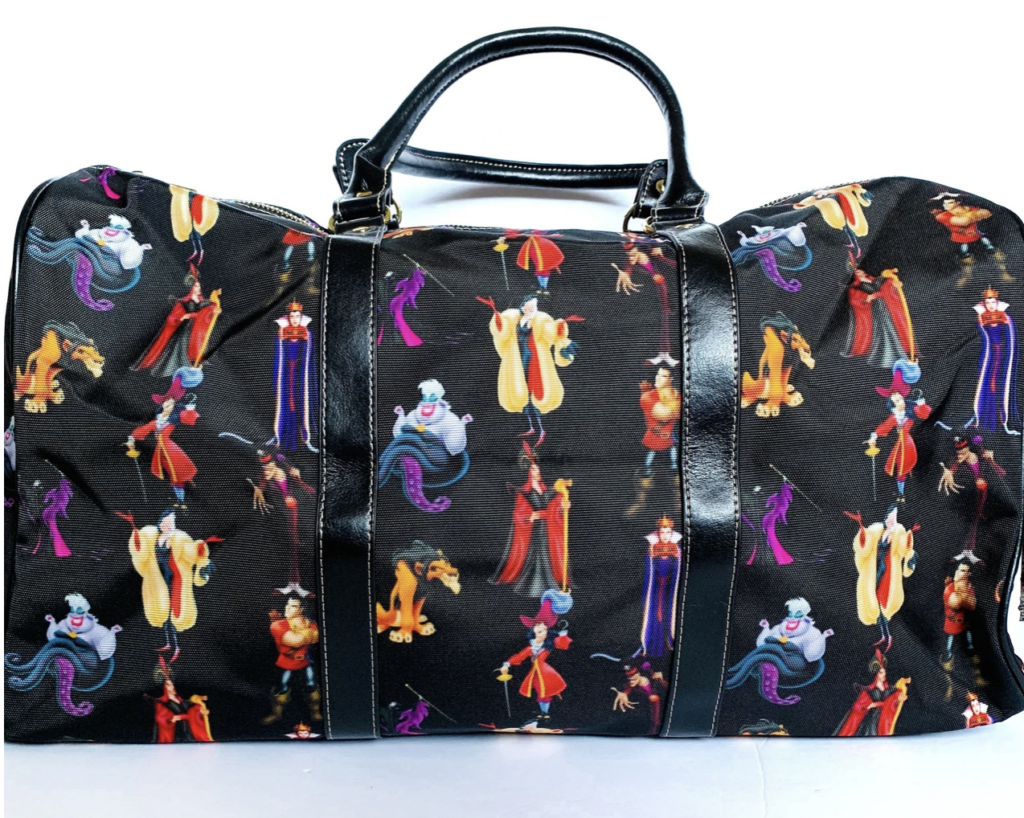 Disney Villains Hard Side Luggage
This American Tourister Villains luggage was sold a few years ago. It's out of stock everywhere except for one size on Amazon. If you like this, grab it now! It won't be available for long!
Disney Villains Luggage Tags
Thought the number of villain's suitcases is very limited, you can get great luggage tags! Check out these rubber luggage tags for adding to your travel bags.
Disney Store Luggage
There are a few options for buying luggage at the Disney Store or their website, shopDisney.
Most of the items available are Disney store carry-on luggage. We've only seen a couple suitcases large enough to be checked bags.
These pieces do tend to be smaller. In fact, a few of them are definitely geared towards kids, since they are so small.
Here are a few of our favorites:
Vera Bradley Disney Travel Bags
We've been a big fan of Vera Bradley bags from the rare moment we got to tour the Vera Bradley headquarters in Indiana and see new product lines being developed!
Vera Bradley partners with Disney to create limited edition magical prints featuring Disney characters. The prints are constantly changing and being retired, so if you see something you like, get it quick!
These Disney travel bags for adults are soft-sided and made of quilted fabric. The pretty prints are easily washable. And these bags are soft and squish-able, making them perfect for stuffing under plane seats, putting in overhead compartments, using on a road trip or even using them as a day bag for the theme parks.
Currently, the Vera Bradley Disney print is The Little Mermaid, known as the Ariel Floral print. There are quite a variety of products available in this print, including The Weekender Travel Bag, with a sleeve that allows it to fit over a rolling luggage handle.
Smaller bags, such as the Medium Travel Duffel Bag and backpacks are also great for traveling.
Buying Luggage at Disney World
Disney World used to sell a lot of luggage in its stores at Disney Springs. Perhaps that is because people buy so many souvenirs that they need an extra piece of luggage to bring them home! And what is better than buying luggage that is a souvenir in itself, too?!
We've actually bought some fun pieces at the World of Disney. In the past few years, we haven't seen much luggage for sale at Walt Disney World, though. Probably because it takes up so much room on the shelves!
I've added some historical photos of the types of luggage and Disney travel accessories that you used to be able to find in the theme parks in Orlando. You will see that it is very similar to what you can buy online today.
Here are some additional looks at Disney suitcases, luggage, and travel accessories available:
Planning a visit to Disney? Check out some of our popular travel guides: