Hate to pay airline fees for checked bags? Travel with all of your stuff and save some money with Best Western's Baggage Bucks promotion.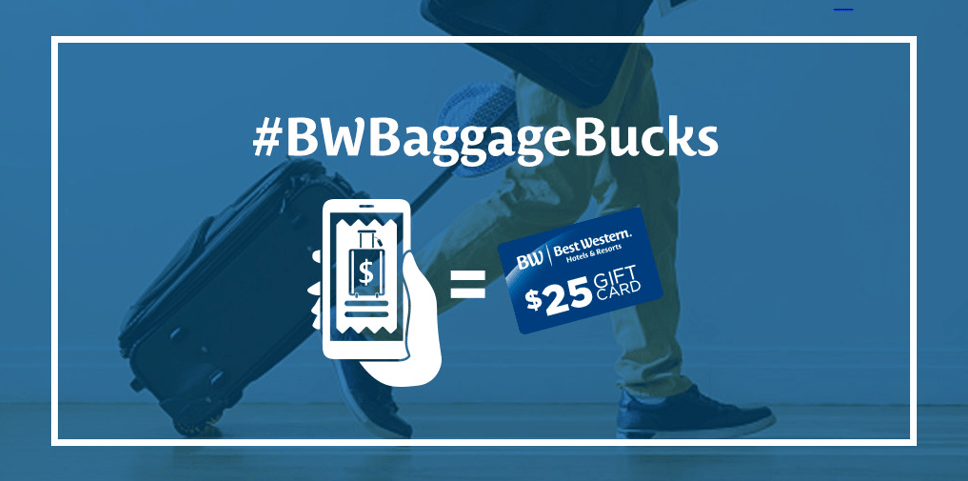 From August 1 – September 30, 2017, Best Western Rewards members can recoup baggage check fees. Best Western Rewards members booking a stay at any of the company's properties in North America and traveling on a commercial flight during the promotional period are eligible to receive reimbursement for baggage fees with a $25 Travel Card per checked bag. Travelers must simply send proof of payment to baggagebucks@bestwestern.com. Up to two $25 Travel Cards can be earned during the promotion.
In addition, Best Western Rewards (BWR) members will earn a $10 Best Western Travel Card® for each night booked now through September 4, 2017 and AAA®/CAA® members will receive a $20 Travel Card for each night. Travel Cards can be redeemed at participating Best Western properties around the world.
BWR is the only loyalty program in the industry where points never expire and members have access to the richest promotions in the industry. Reward redemption begins at a lower point level requirement relative to industry competitors, and free nights earned can be redeemed at any Best Western branded hotel worldwide, with no blackout dates. Members can also earn gift cards from some of the most popular shopping, entertainment, gas and airline partners.
Instant Enrollment, Instant Rewards
As part of Best Western's recent BWR refresh, members are given instant rewards and gratification on every stay.  Additionally, the Status Match…No Catch® program allows members to instantly have their status matched with other hotel loyalty programs upon enrollment.
Elite Members, Elite Rewards
In addition to enjoying the perks and benefits of BWR, elite members will receive elite rewards. Upon arrival, elite members are given a choice of a "Thank You" gift or bonus points. Additionally, they receive a 10 percent discount for all free night redemptions. Finally, Best Western hotels provide guaranteed free nights for Diamond and Diamond Select members at properties with availability.
For more information on the Baggage Bucks promotion, visit baggagebucksforyou.com; and for complete program terms and conditions, visit bestwesternrewards.com. All Best Western Travel Card rules apply to this promotion. Visit travelcard.bestwestern.com for complete details.