Using a shower pouf, also called a body sponge, is a luxurious way to shower or bathe each day. Scented body washes lather up so much better with mesh poufs compared to washcloths. Which is why we are so excited to share this DIY project for your bath!
Shower poufs are simple body sponges made from mesh nylon netting and gathered together in a "pouf" form. Buying one of these mesh poufs, though, can get pricey. Especially since you need to change them frequently, as you don't really wash them in a washing machine like washcloths.
With this DIY Shower Pouf craft, not only can you make a body sponge for less, but you can make can choose which colors you love best.
Even better, these make AMAZING gifts for anyone! Consider making these DIY shower poufs for:
Christmas
Birthdays
To sell at craft fairs
Get Well Soon gifts
Self Care gifts
To put in your guest bathroom
These bath sponges are great in spa gift baskets or spa boxes. Make a few to add to a gift along with:
Body wash
Shampoo
Conditioner
Body scrub
Nail polish
Body spray
Consider some of our favorite spa products to pair with these cute mesh sponges!


DIY Shower Pouf Body Sponge
List of Supplies
1/4 yard tulle fabric (you can buy online, but it's easy to find in craft supply stores)
Scissors
Needle and thread
Directions
1. Cut out 2 long strips of tulle fabric, both strips should be of the same size (same width and length). Mine was 4 inches wide and 18 inches long. (However, a reader said this was too small for them. So you could try 6 inches by 24 inches for a larger pouf.)
2. Place both strips together on top of each other with their ends matching.
3. With a threaded needle, start from either end along the width of the strips. In the middle of the two strips together, make your first stitch and tie a knot to secure.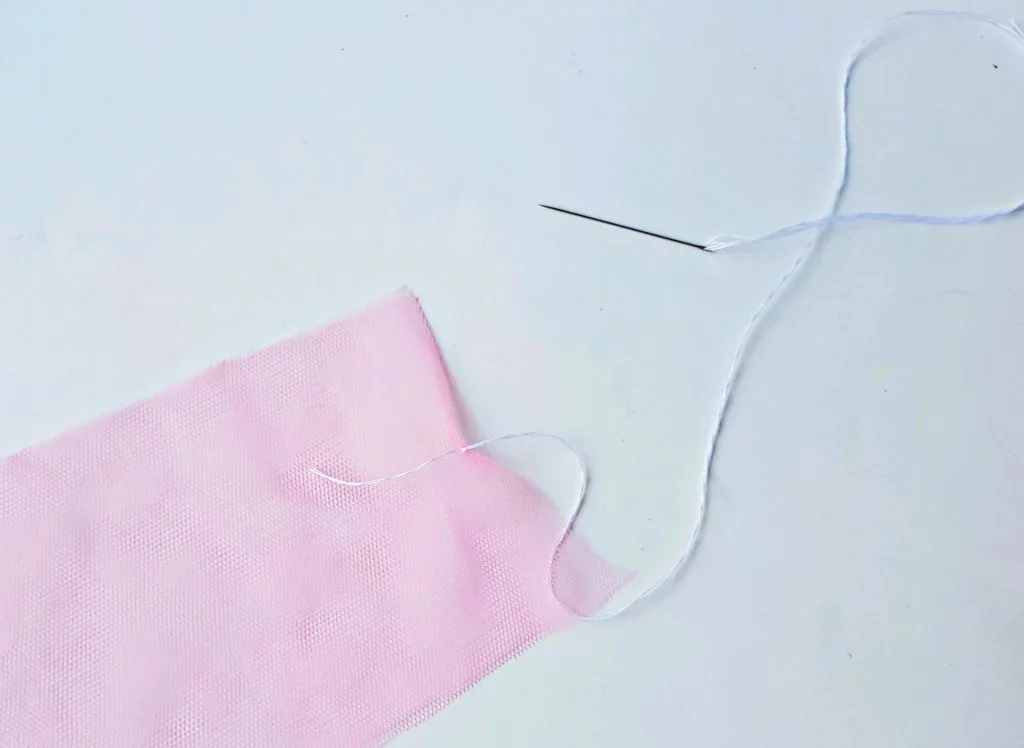 4. Do a running stitch along the middle of the strips along their length (no worries if it's not exactly even, but try to keep in the middle the entire way). Make sure to hold both of the mesh tulle strips together while stitching.
Don't know what a running stitch is? It's kind of like going up and under the fabric. Here's a great running stitch tutorial video.
5. Once you reach the other end of the strips, grab the loose thread and push down the stitched mesh tulle strip towards the other end. You are essentially "bunching" it up and creating the pouf effect.
6. The mesh tulle sponge looks gathered now, but you still want it to be more round. So bring the ends of both sides of the pouf together (kind of like making a circle with the mesh strip).
7. Stitch the ends together with the needle and thread. You don't have to stitch up the entire seam. Make a few knots to keep the mesh sponge gathered up in the pouf shape.
8. If you want to make a hanger for the mesh sponge, then loop the needle and thread to make a hanger (leave plenty of open room to hang it on whatever hook you have in mind) and knot the end inside. Be sure to do this step AFTER you have secured the mesh tulle into a body pouf shape.
Pin It to Save for Later!
These shower poufs are so easy, you can probably make quite a few of them in one night while watching TV. If you enjoy these easy DIY craft, you'll probably also love our Duct Tape crafts, DIY Heart Pendants, DIY No Sew Felt Flowers and Honey Slime recipe.