After leaving a life of RVing for a year and moving back into a condo, we needed a new bed. Not just wanted one but needed one. As in, we didn't own a bed anymore (except for a 4-inch foam slab masquerading as a bed in our fully furnished rental home). Buying a mattress online has become so much easier over the past year, so we decided to skip looking in furniture stores and order a bed online. Not wanting just a latex mattress, we were intrigued by the luxury hybrid DreamCloud mattress.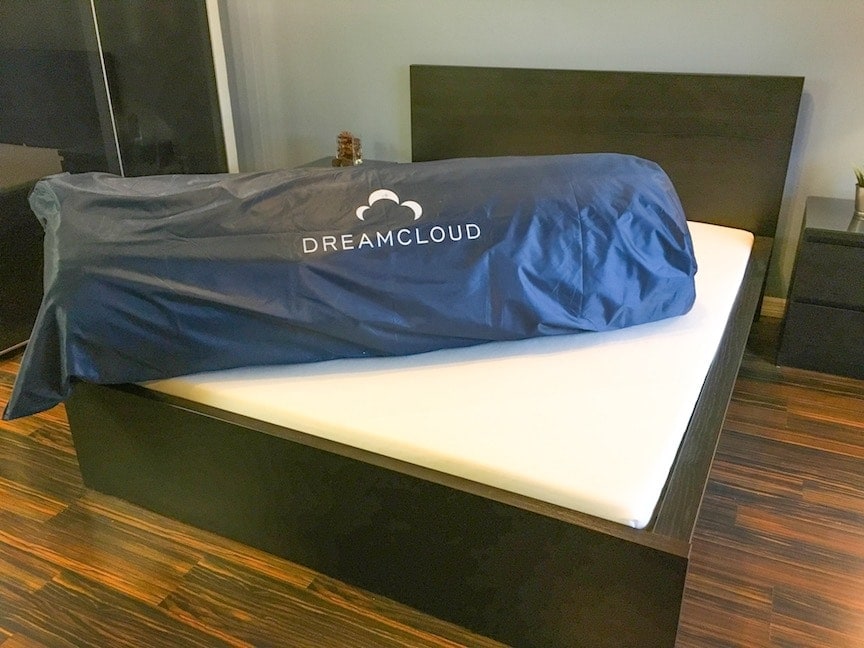 Buying a DreamCloud Mattress
I have got to tell you, DreamCloud offers absolutely one of the best trial periods in the bedding industry. You can try a DreamCloud mattress for 365 nights before deciding for sure if it's the right mattress for you.
Which made us feel comfortable in ordering a DreamCloud mattress.
DreamCloud is innovative in that it combines latex and memory foam, with traditional tufting and coils, in eight layers of the hand constructed bed with a cashmere top. Since my husband doesn't like pure latex mattresses, we thought this might be the answer to finding a more traditional bed but buying it in a non-traditional way.
Surprisingly, even with tufting and coils, a DreamCloud mattress can be rolled and shipped in a large bag.
DreamCloud is a relatively new mattress company, so we didn't find too many unboxing videos or reviews that were more than a couple months old.
With the extensive money back guarantee, though, we thought we'd take a chance and order the mattress online.
Once we did, we were surprised at how quickly it shipped! Even thought the estimated delivery time was a couple weeks, I was surprised when I got a shipment notice in just a few days.
DreamCloud Mattress Review
The DreamCloud Mattress truly did come way more quickly than we imagined. I think it was 2 weeks earlier than we had anticipated!
Which is awesome for when you really need and want a new bed, and don't want to wait for it!
Delivery of A Bed in a Box
An FYI – beds shipped via the mail are HEAVY. That's just the way it is. And the concentrated weight in an oblong duffel bag can make it difficult to pick up and move, especially if you have to bring it upstairs (like we did). So please plan ahead for that.
We were greatly disappointed in the way that our bed was delivered. It was left propped up sitting against our garage on the main street, even though we live on a second floor condo.
I understand that the 113-lb. mattress is extremely heavy. I get it. That's why we didn't want to have to carry it up the stairs. And apparently the FedEx delivery person didn't either.
Apparently FedEx's delivery policy is that a delivery person can leave a package anywhere on your property. It does not have to be the door or even under cover (thank GOD it didn't rain in one of Florida's afternoon thunderstorms while our bed was sitting unprotected in a driveway).
So keep that in mind. If you need a bed delivered upstairs, it's going to be super heavy and awkward to carry. Same goes for beds you have delivered to your door but must bring to bedrooms upstairs inside. Consider White Glove delivery service for an additional fee if you are physically unable to carry that much weight.
Unrolling Your Compressed Bed
When we finally got it inside our house, opening the mattress was simple. We slid the outer bag off, and then unrolled the mattress covered in plastic.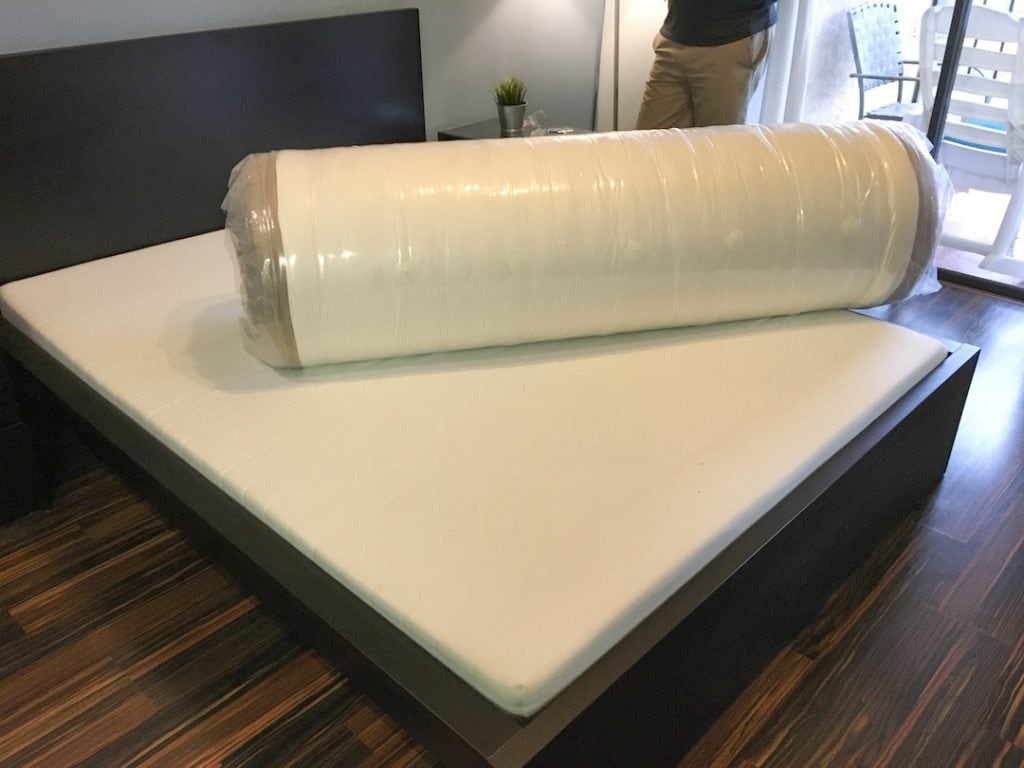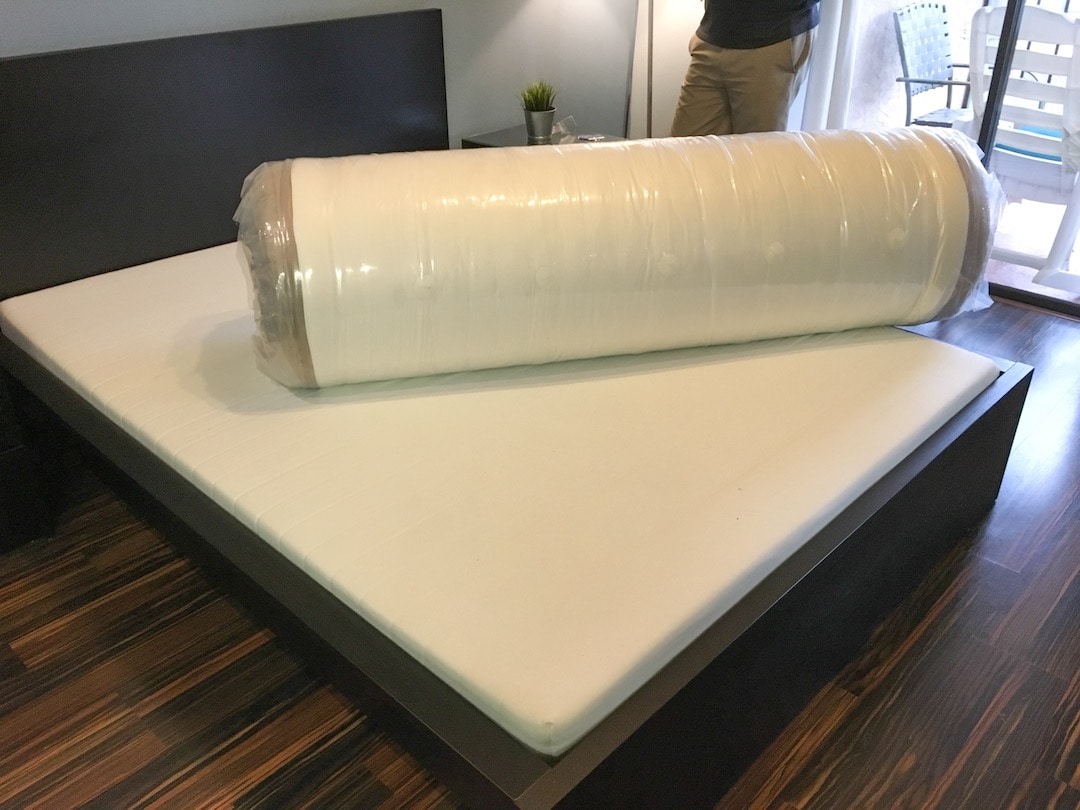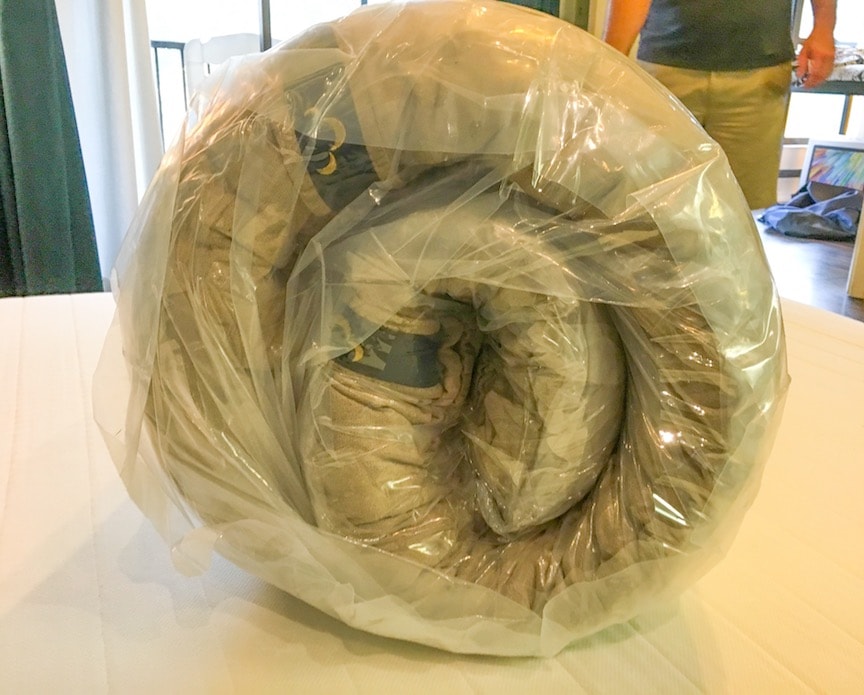 DreamCloud sends a special tool to cut open the plastic wrap without fear of cutting the mattress.
Once the plastic started being cut, the hybrid mattress popped up and started decompressing immediately. The mattress actually made quite a funny noise while popping open, similar to the sound of a pool toy losing it's air.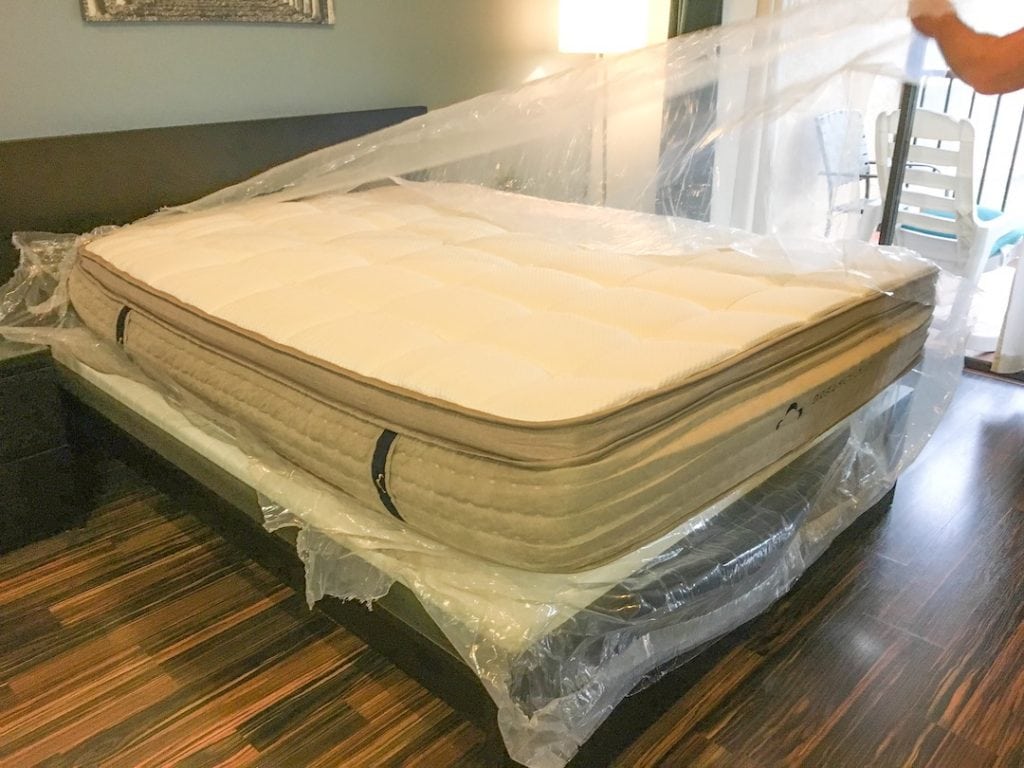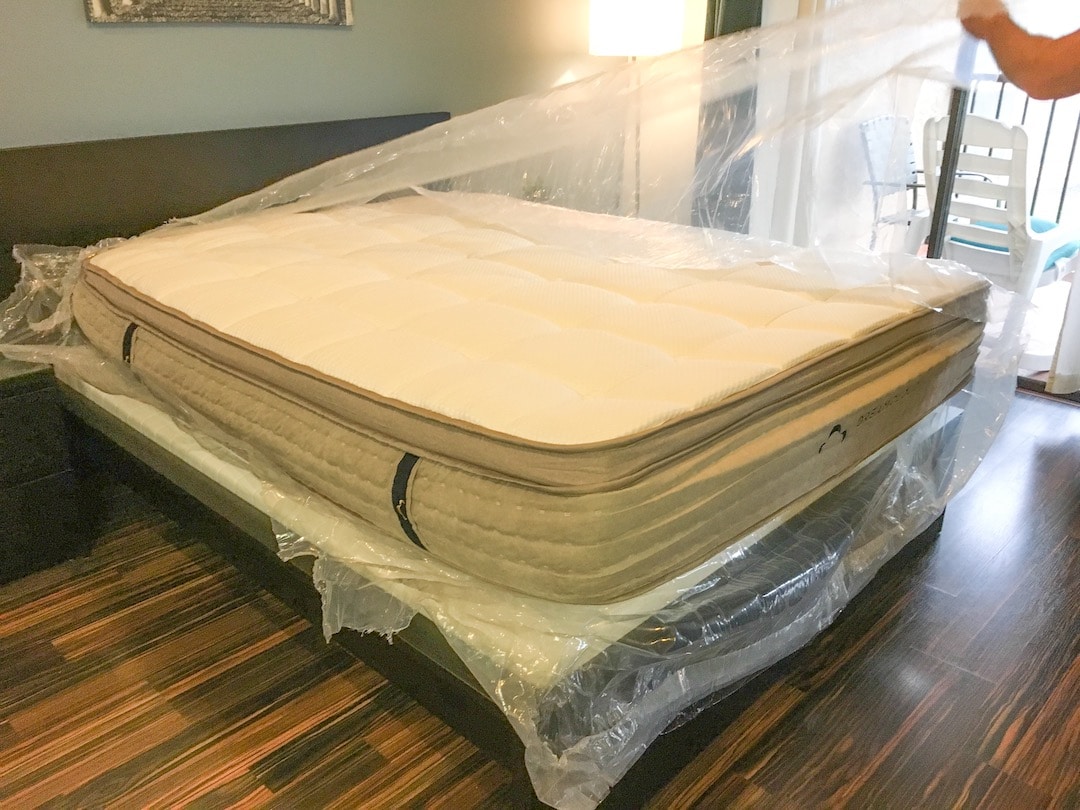 In just a minute, we had a brand new mattress ready to enjoy.
How a DreamCloud Mattress Feels
Of course the bed needed a few hours (ideally a few days) to completely decompress and puff up to its full mattress thickness. We think it took at least 2-3 days to become normal.
The bed definitely was plush. We were hoping for a hotel-like feel of a bed, and it was similar to a plush innerspring mattress.
However, it was still a little firmer than we anticipated, especially with all of the multiple layers of cushioning and the name DreamCloud.
We wanted to give it a chance for a while. And we kept expecting it to get better.
Maybe it would have.
But the problem is that our bed seemed to have a crease in the middle. So you actually rolled into the center of the bed no matter how hard you tried to stay on your side.
We actually got rid of an old bed after 10 years for that very reason. So to have the valley in the middle of the bed after only sleeping on it 2 nights was frustrating.
Thinking that the bed springs or latex would eventually plush up, we kept sleeping on it. After 30 days, my husband had had enough. He asked for the bed to be returned. And I happily agreed. Trying to stay on one side of the bed required holding onto the edge and sleeping as close to the edge as possible.
Not enjoyable.
Returning a Bed in a Box Bought Online
So, what' it like to return a bed that you bought online?
Surprisingly easy!
We contacted DreamCloud via email stating that we did not like the bed.
There was no questions. They didn't try to harass you into keeping the bed longer or not returning it.
In fact, the DreamCloud return team responded in less than a day to our request and started the return procedures immediately.
I had to take pictures of the bed tags, and pick 3 days for a freight removal company to come to the house.
The DreamCloud bed pick-up was handled in less than a week. And the company actually came up the stairs and removed it from our home. We didn't have to get the bed to the curb.
A week later, my return was processed. No questions, no fuss.
So it really is easy to return a DreamCloud mattress if you don't like it.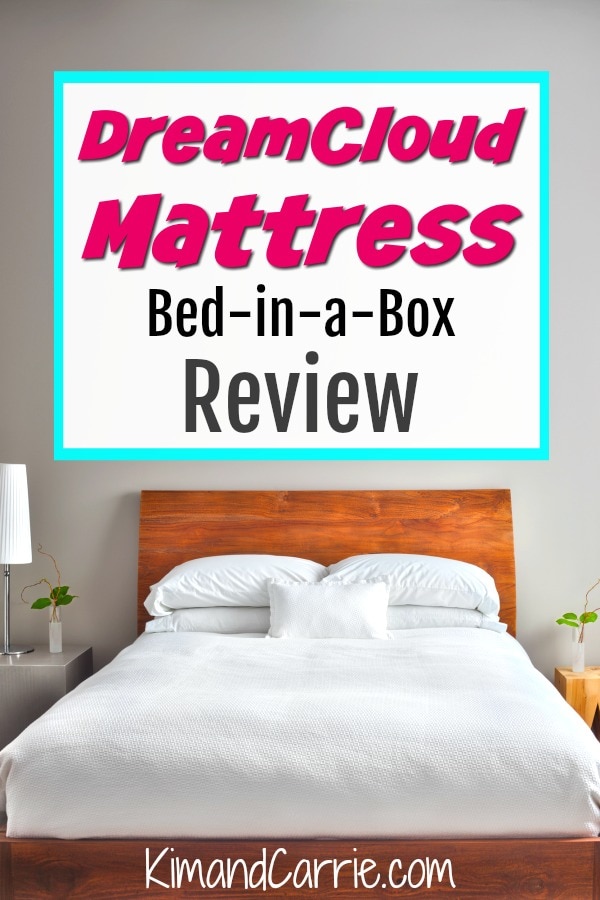 Pros and Cons of DreamCloud Mattress
While the DreamCloud was not the perfect bed for us, it is definitely one that we would recommend. Here are the pros and cons of a DreamCloud bed.
Pros
Easy online ordering
Quick delivery
Soft, plush feel
More like a traditional bed that you would buy in a furniture store compared to other bed in a box companies
Great price point, considering what you are getting
Solid construction
365 night sleep guarantee (that's a whole YEAR to sleep on it!)
Easy returns
Cons
Firmer than you might anticipate
Ours had a defect (we assume) – although we never asked the company to send another mattress
Delivery can be problematic if you don't live on a first floor or have problems carrying heavy weight
Has anyone else ordered a DreamCloud mattress? What did you think?