If you have ever wanted to hike with llamas, Ellaberry Llama Farm in Hendersonville, NC might just be the best place to experience these unique hikes!
Started by a teenage entrepreneur who is sharing her love of llamas on her family's farm, you will be delighted by this family-run agritourism experience that lets you pet llamas and learn more about these gentle animals.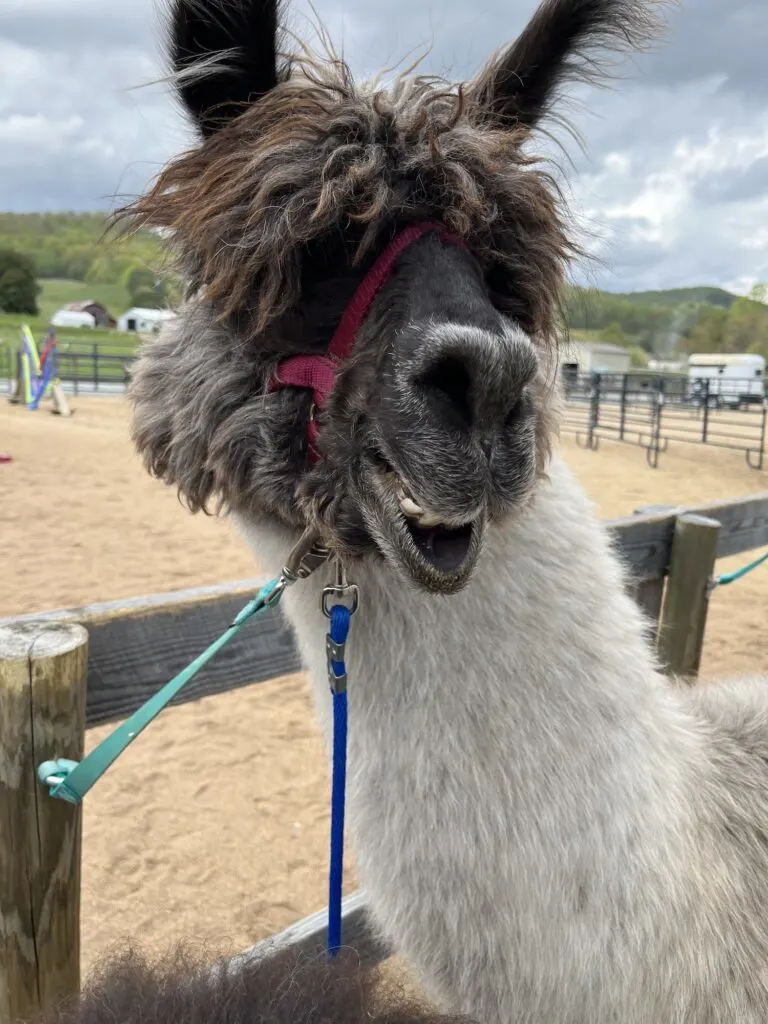 Llama Experiences
Ellaberry Llama Farm has a variety of llama experiences for kids and adults, including:
Farm tours
Birthday Parties
Llama Treks
Homeschool Tours
School Tours
Bringing llamas to your private event, such as weddings, birthdays, day care, etc.
What Are the Llama Hikes Like?
There are two different llama hikes offered:
One hour orchard tour (easy to moderate)
Two and a half hour tour (moderate and more strenuous)
My family did the one-hour orchard tour hike.
We arrived a few minutes before the hike and were happy to see all of the llamas out to greet guests.
After a quick introduction after everyone in the group arrived, we were able to choose which llama we wanted to hike with.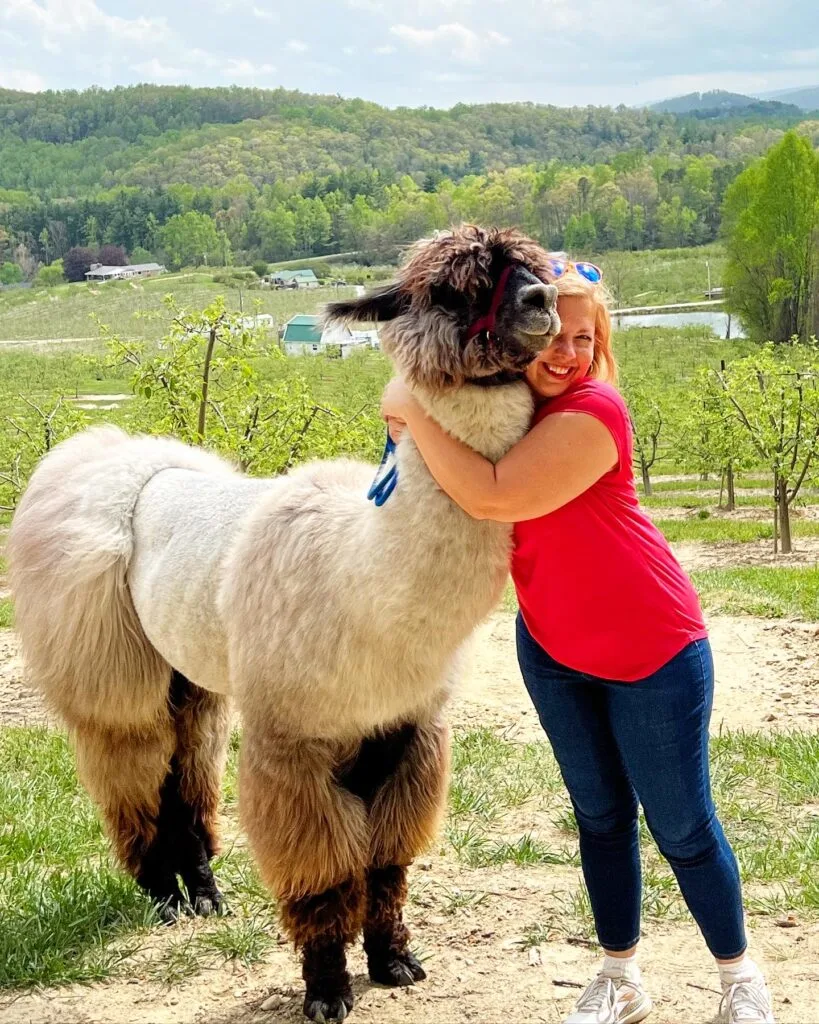 Allie described the personalities of the llamas, since each one is different. For instance, Sasquatch is a llama that likes to be in front, so whoever chose him would need to lead the hike. Other llamas were slower or more docile. So you can visit with the llamas and see which ones would be a good fit for you.
We were also given some treats to feed the llamas. They don't have top teeth, so I wasn't worried about them biting my hand as I fed them.
After we chose our llamas and put any personal belongings we wanted in the llama's hiking pack, such as water bottles, we started a gentle stroll from the farm to the apple orchard across the road.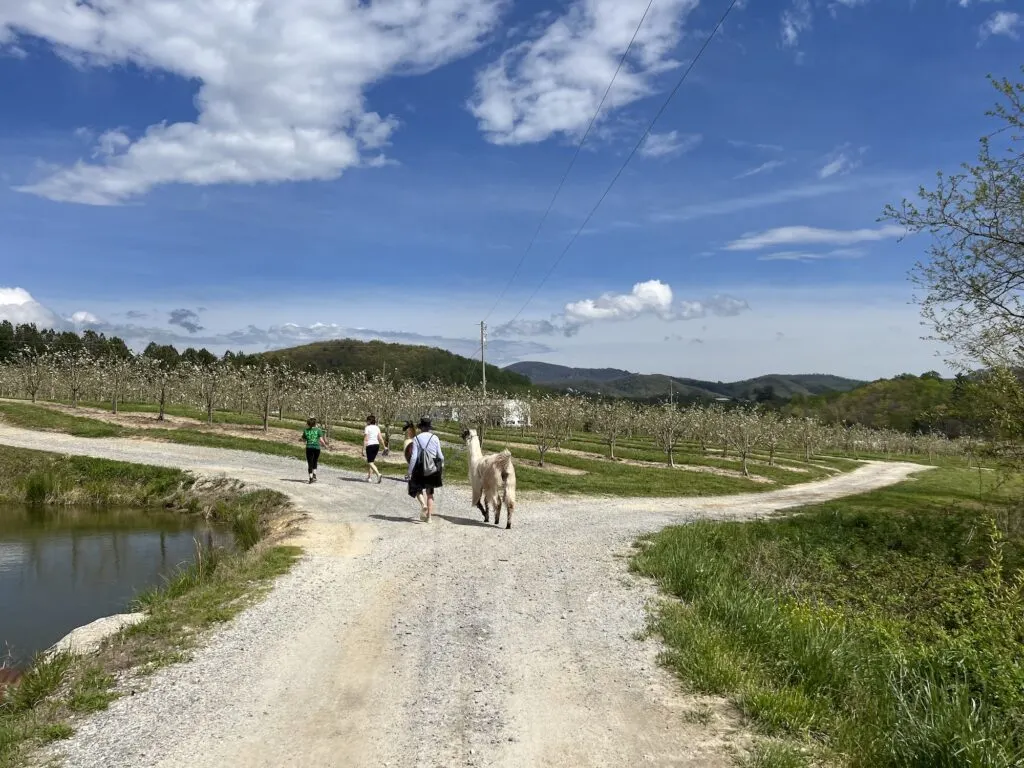 It was a nice pace, not too fast and not too strenuous for most of the hike.
Llamas will try to take advantage and stop to eat the grass, so you have to keep pulling up their reins to keep them from feasting on the grass as you are trying to walk.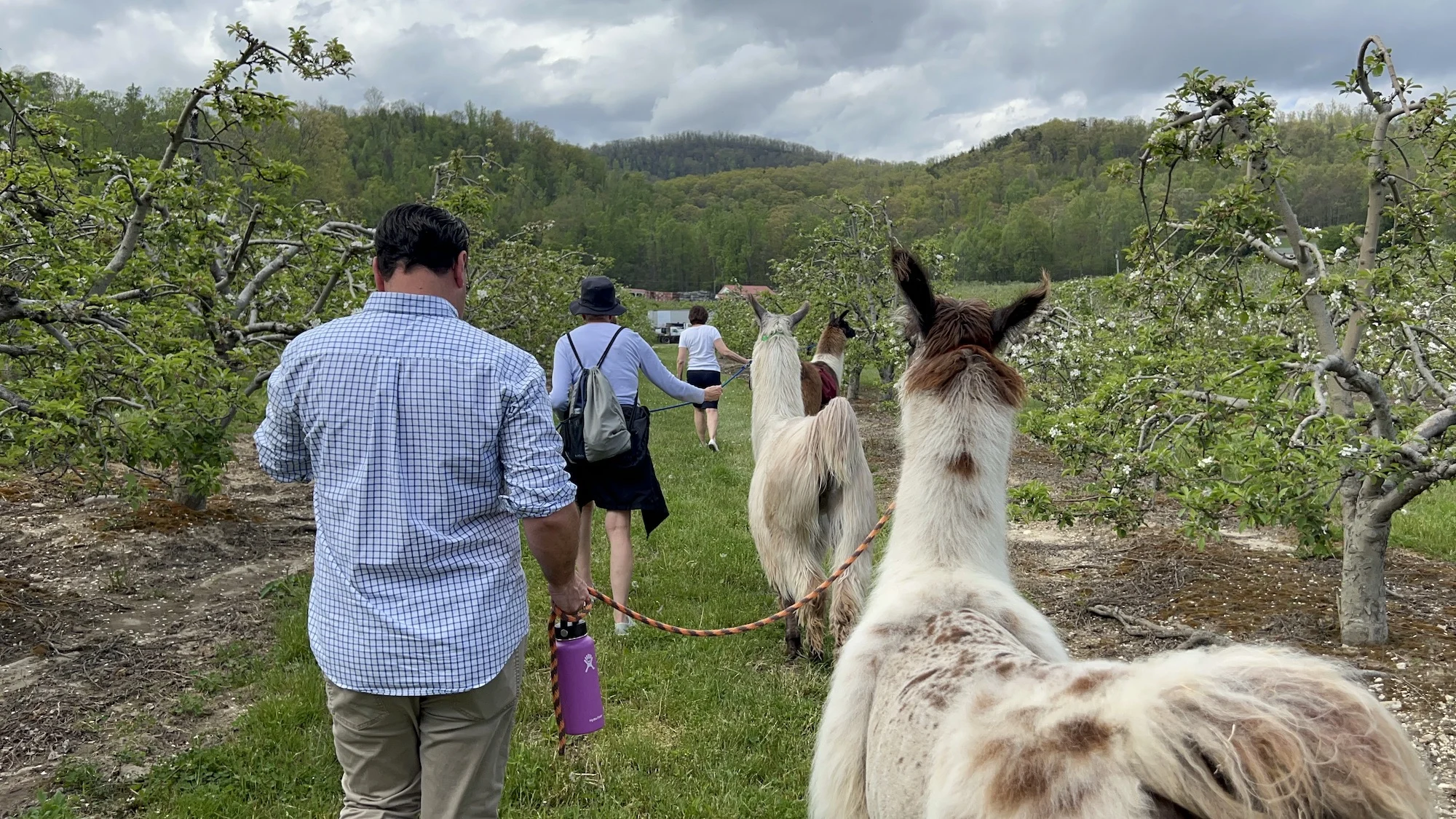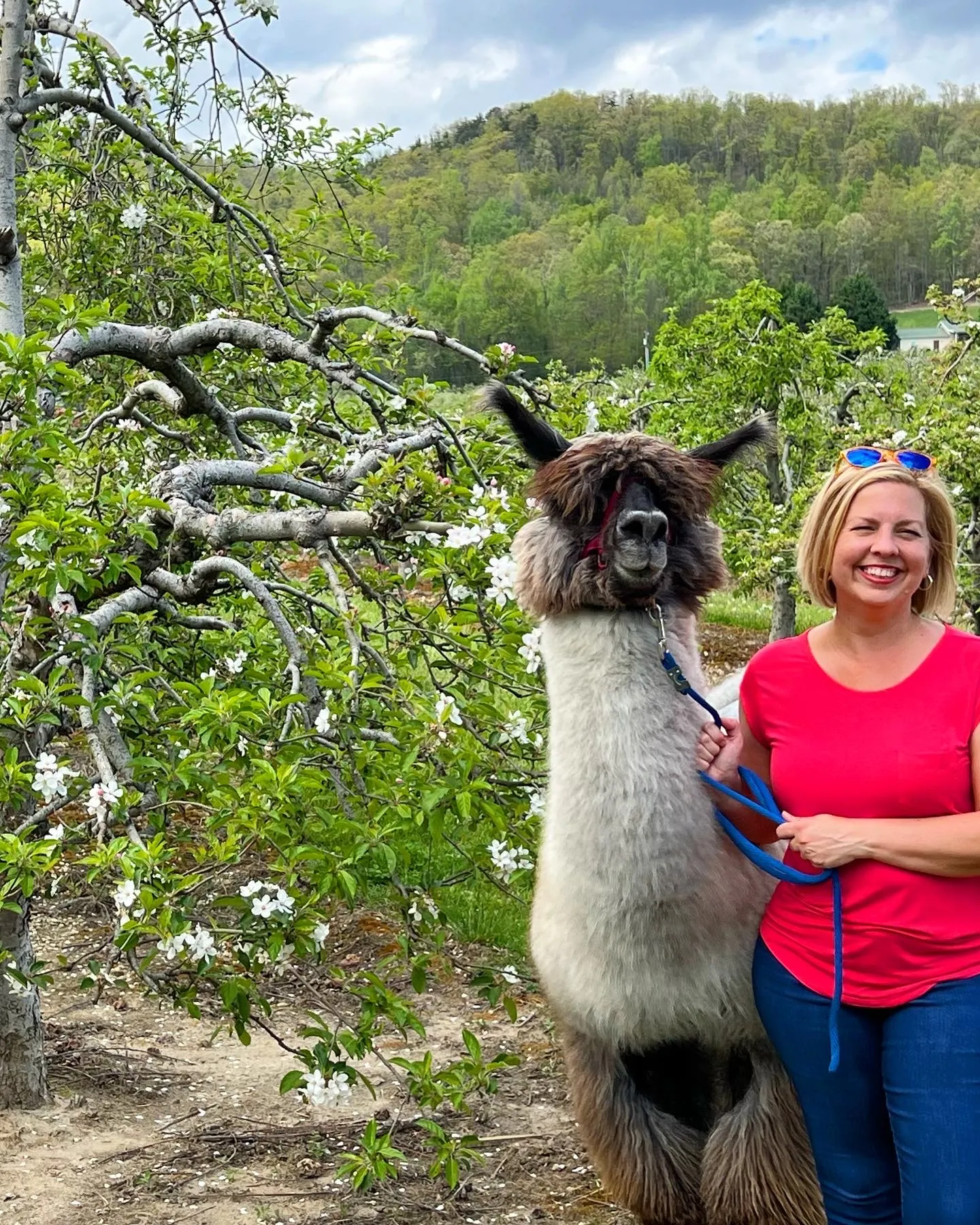 Our hike was in mid-April when the apple blossoms are blooming. In Fall, these same trees will be covered in apples to be sold at Hendersonville apple orchards.
We did stop about half way through to allow the llamas to indulge in some grass and to allow the humans to get their bottled water if they would like.
Towards the end of the hike, we walked up to an overlook that had wonderful views of the farm and valley below. This is the only part that really felt hard.
The road was a bit steep, but not too bad. However, it is gravel with uneven rocks.
Llama's aren't going to pull you up the hill, you've got to do that yourself. And when you are trying to lead an animal up the hill, it's a bit more challenging than just a normal hike.
At the top, there was a great place to get photos of your group.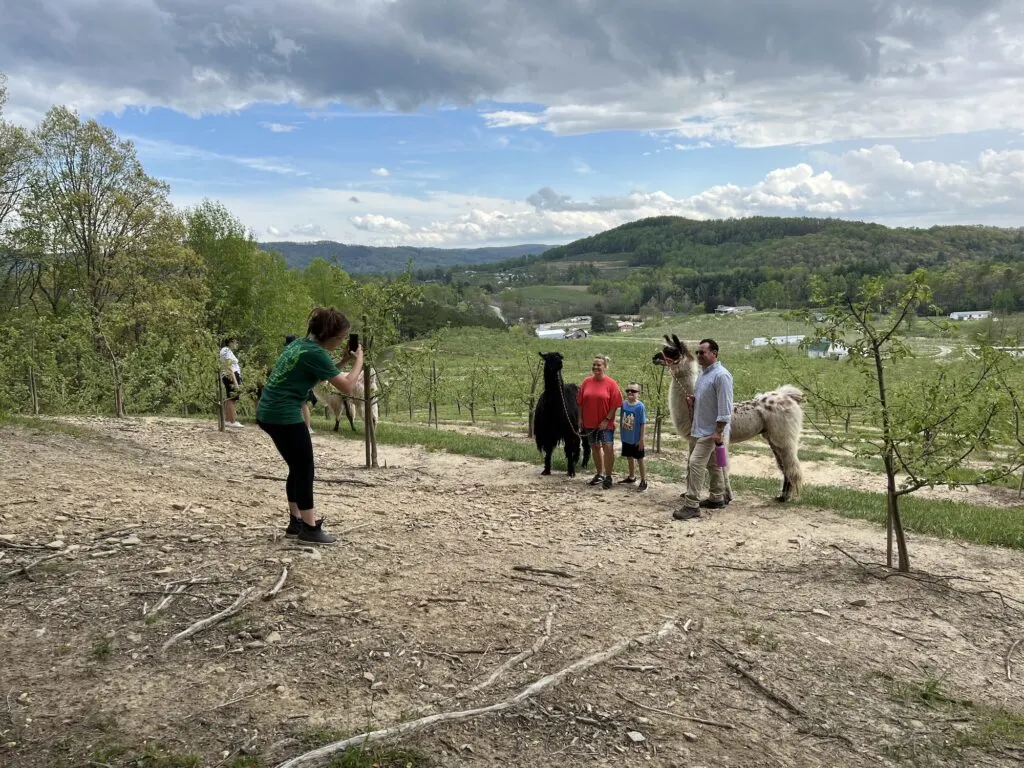 After that view, we walked back down the hill (much shorter than the way up) and headed back to the farm.
See our hike in our YouTube video:
FAQs
What Shoes Should I Wear?
You will be walking on gravel roads and farmland. Sturdy shoes with a non-slip sole are best.
Keep in mind that llama's have big feet, too! In case on accidentally steps on your foot, you want protection!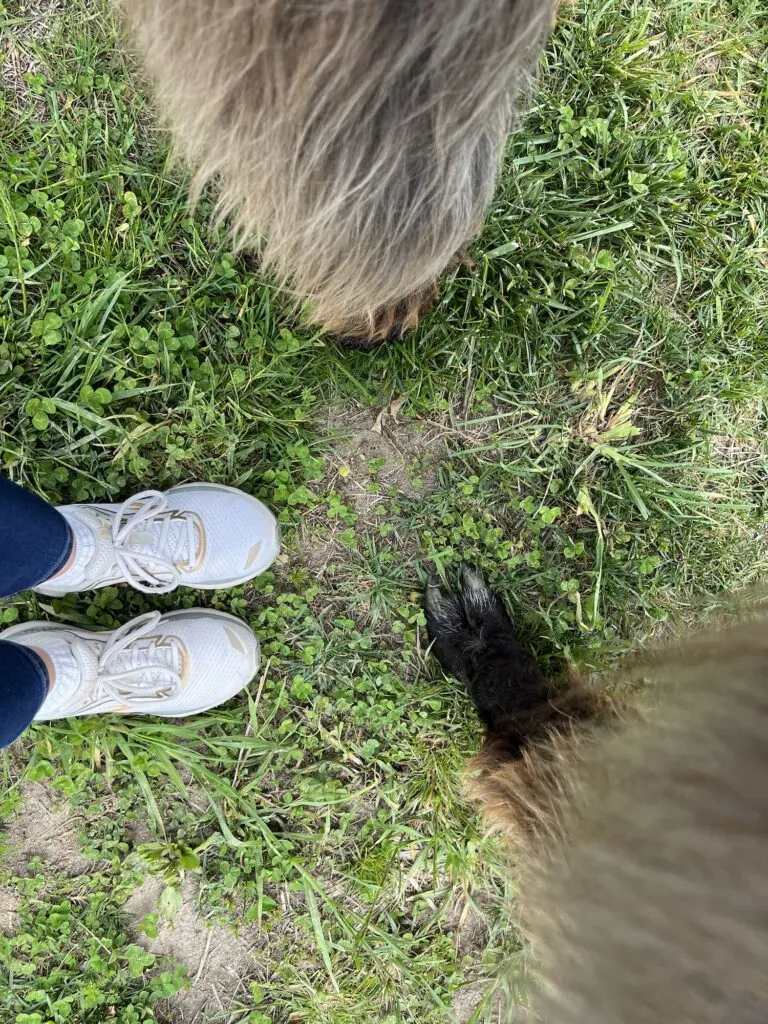 While you could certainly be okay with flip flops or sandals, you might not be comfortable or be able to walk as easily.
What Should I Bring?
On the llama hikes, there will be a pack that a llama carries where you can put personal belongings you need.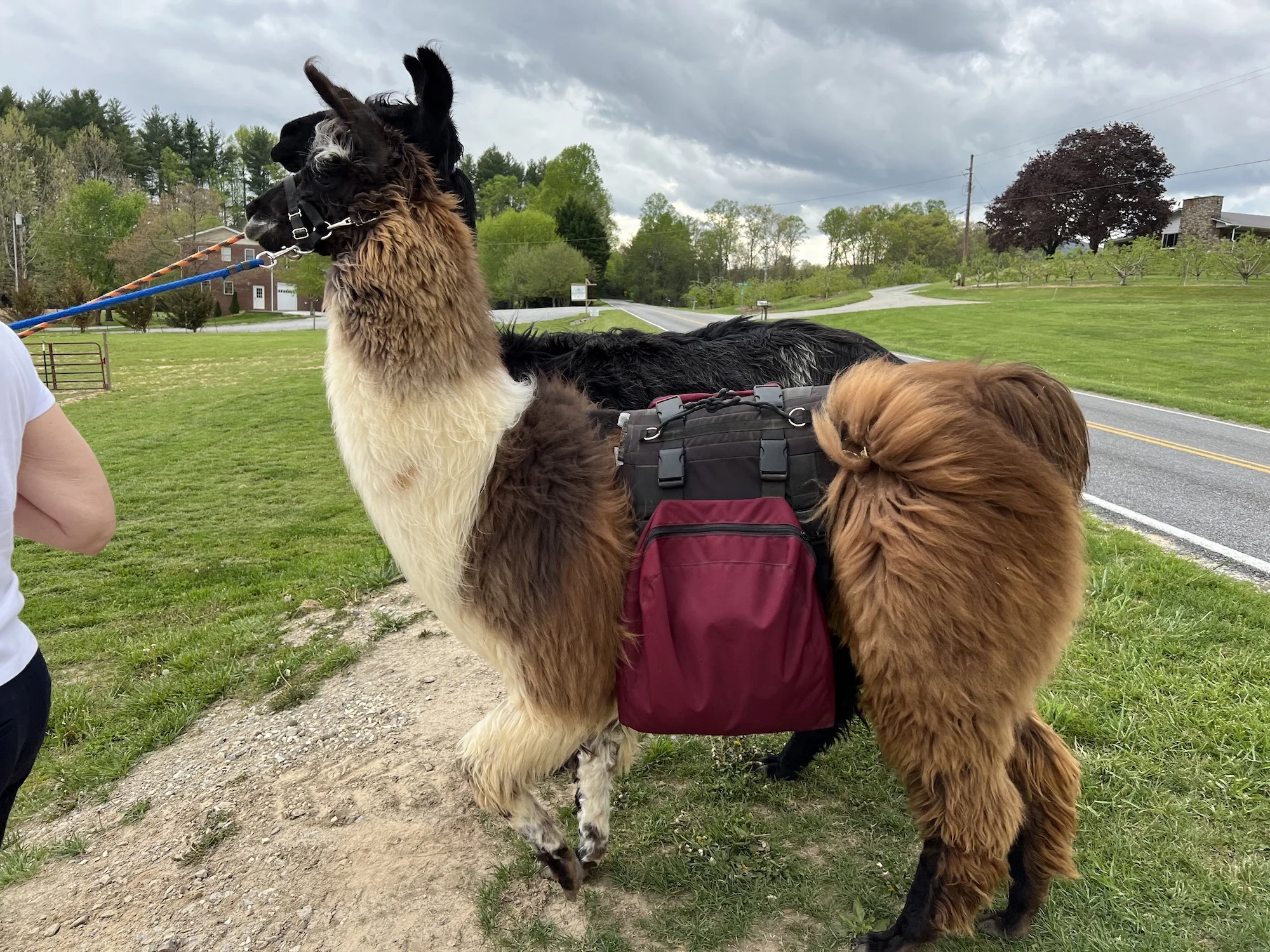 Bring a water bottle. For longer hikes you might want to bring a snack.
Bugs can be thick in the orchard, after all they are busy pollinating! So you might want to apply bug spray. If you are allergic to bees, bring necessary medication.
Are Kids Allowed?
Yes! Kids can enjoy the llama experiences.
For the hikes, an adult or older child will need to be the ones that take the harness and walk the llama.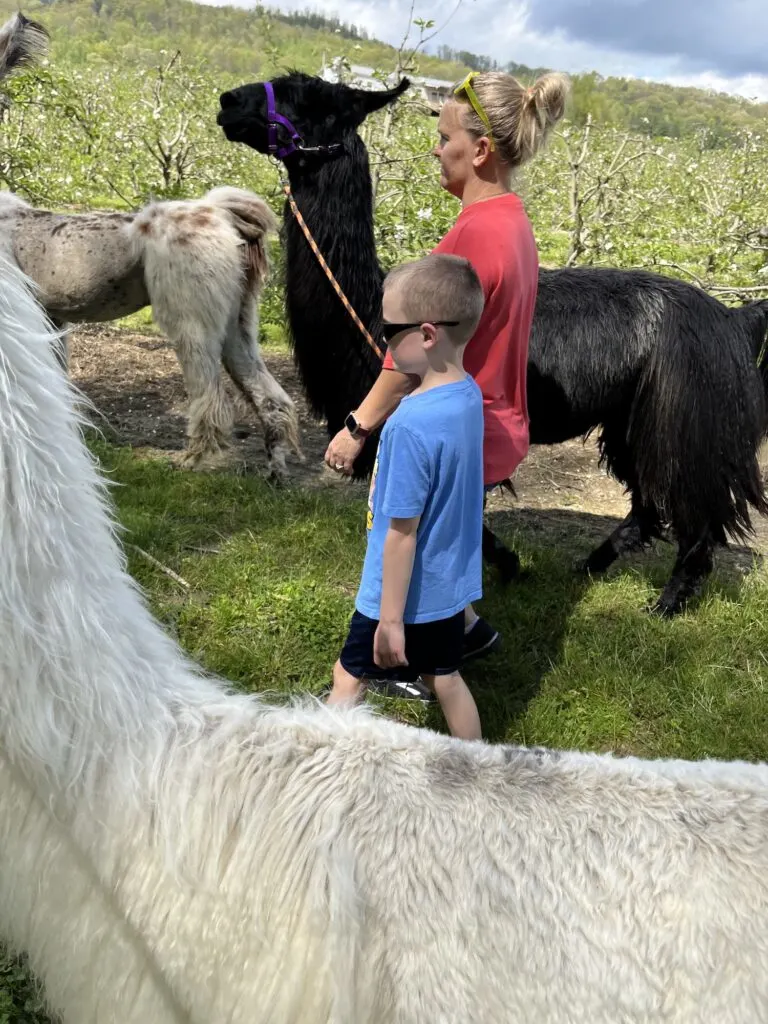 While younger children can accompany the hike, there will be a small charge for the walk-along experience. (It was $20 when we took our hike.)
Can I Buy Drinks or Food?
Ellaberry does sell bottled water, soda and a slushy to enjoy before or after your llama experience.
Are There Souvenirs?
Yes, there is a small gift shop on Ellaberry Farm with llama-themed gifts. Some of the items we found were:
T-shirts
Stickers
Local honey
Llama hiking is just one of the fun things to do in Hendersonville! Be sure to see all of our Hendersonville, NC travel guides: