Gran Destino Tower opened at Disney's Coronado Springs Resort on July 9, 2019. As part of a greater reimagining of the entire Coronado Springs Resort, the Gran Destino Tower adds 545 brand new rooms to the hotel that is perfect for both convention guests and leisure travelers.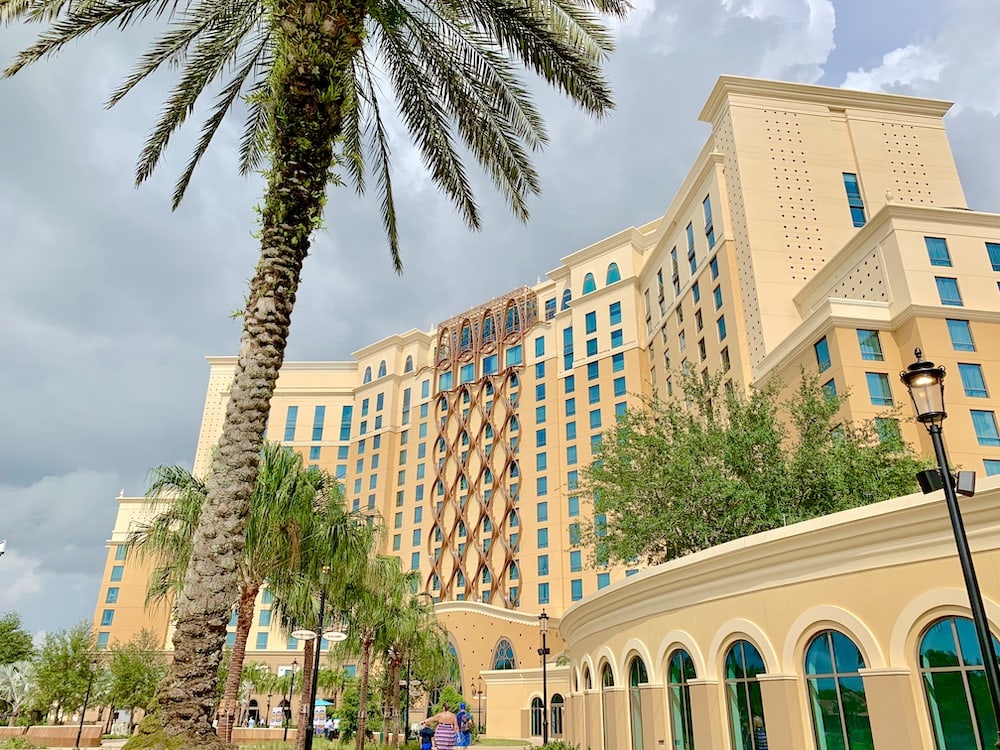 What is the Theme of Gran Destino Tower?
The entire Gran Destino Tower is inspired by global travelers, with an emphasis on Spanish culture. The name of the tower, and much of the design inspiration, comes from Destino, a short film that Walt Disney and Salvador Dali collaborated on.
Gran Destino Tower Rooms
We stayed in a standard double queen room in Gran Destino Tower.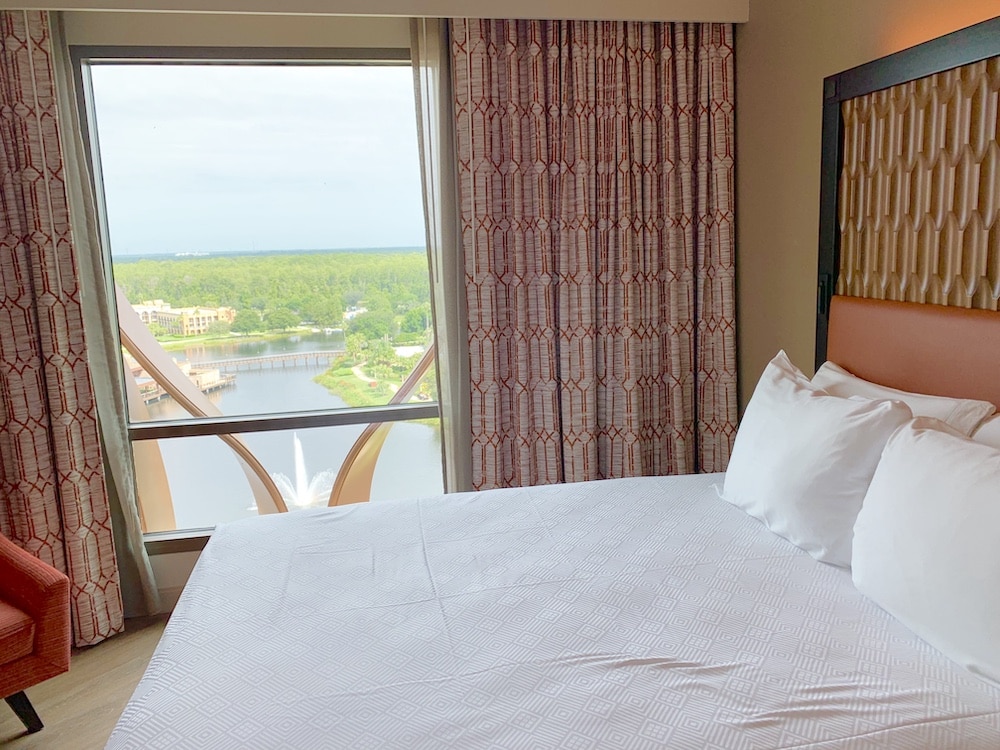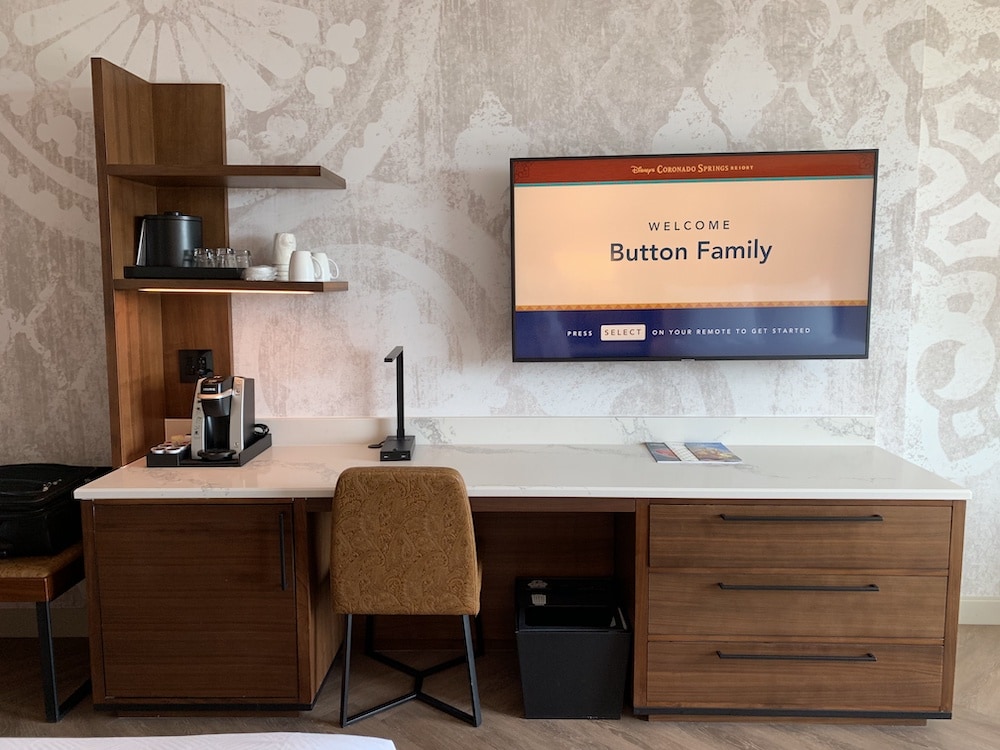 The modern rooms clearly have been designed with today's traveler in mind.
Wood-like flooring is perfect for everyone who hates carpet in their bedrooms 😉 And there's a lot of people that just don't like having carpet around.
The beds have been elevated, allowing for storage of luggage underneath the bed.
Plenty of USB charging ports are throughout the room, allowing guests to stay charged without any hassles during their stay.
The bathrooms feature gorgeous tile work that is modern and fresh. Two sinks are perfect for travelers who prefer to have separate areas in the bathroom.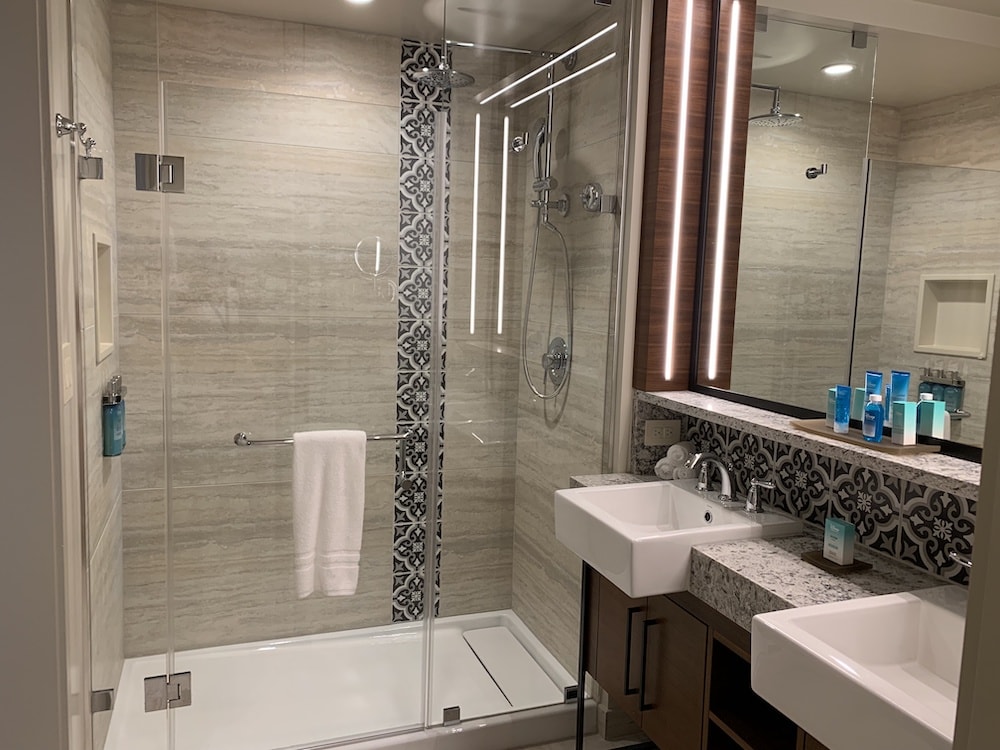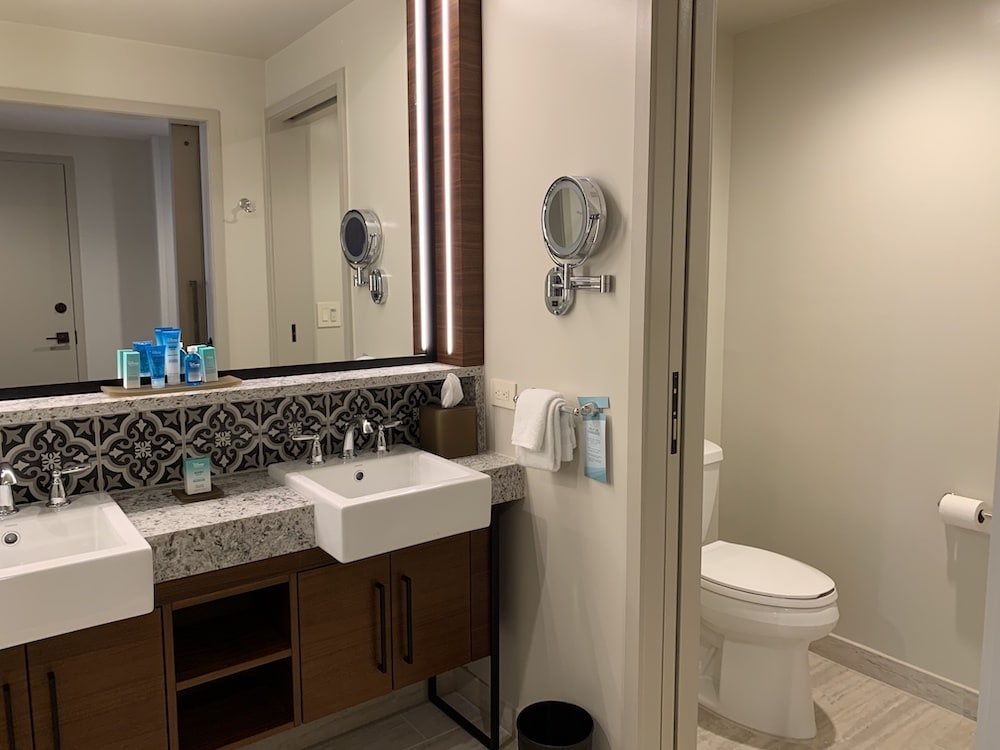 The safe is oversized to allow for laptops, another modern convenience for today's convention guests.
Expansive windows overlook either the Park Side (which looks over the parking lot, but offers views of Disney's Hollywood Studios and perhaps Epcot) or Lake Side, which has great views of the lake and fountain, with the possibility of the Magic Kingdom far off in the distance (depending on where your room is located.)
Here is what a Gran Destino Tower King Room looks like. It has a couch, but the couch does not fold out for guests. You can only sleep 2 people in a King room.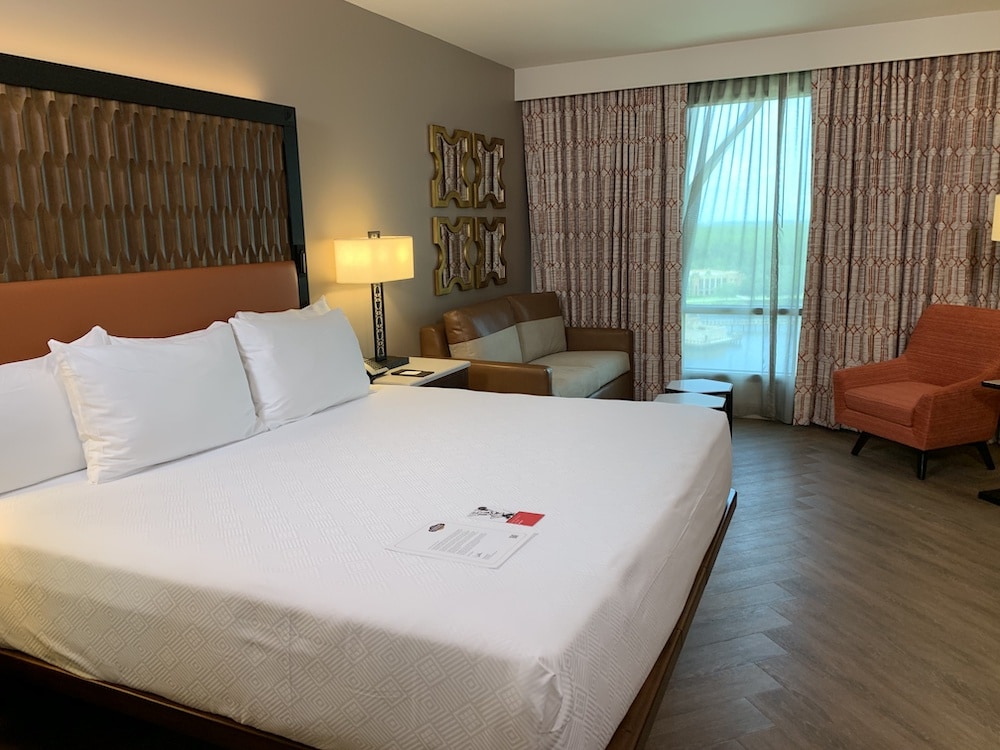 For complete room tours and what the views look like in queen rooms, king rooms and Club Level suites, watch our video tour below:
Gran Destino Restaurants
There are three new restaurants and lounges to dine at in Gran Destino Tower.
Gran Destino Toledo
This is the sit down restaurant in Gran Destino. The upscale Spanish-inspired restaurant offers tapas, cocktails and entrees.
With large expansive windows on either side of the Gran Destino Tower, you'll be able to see much of Walt Disney World Resort property while dining. Including fireworks in the distance.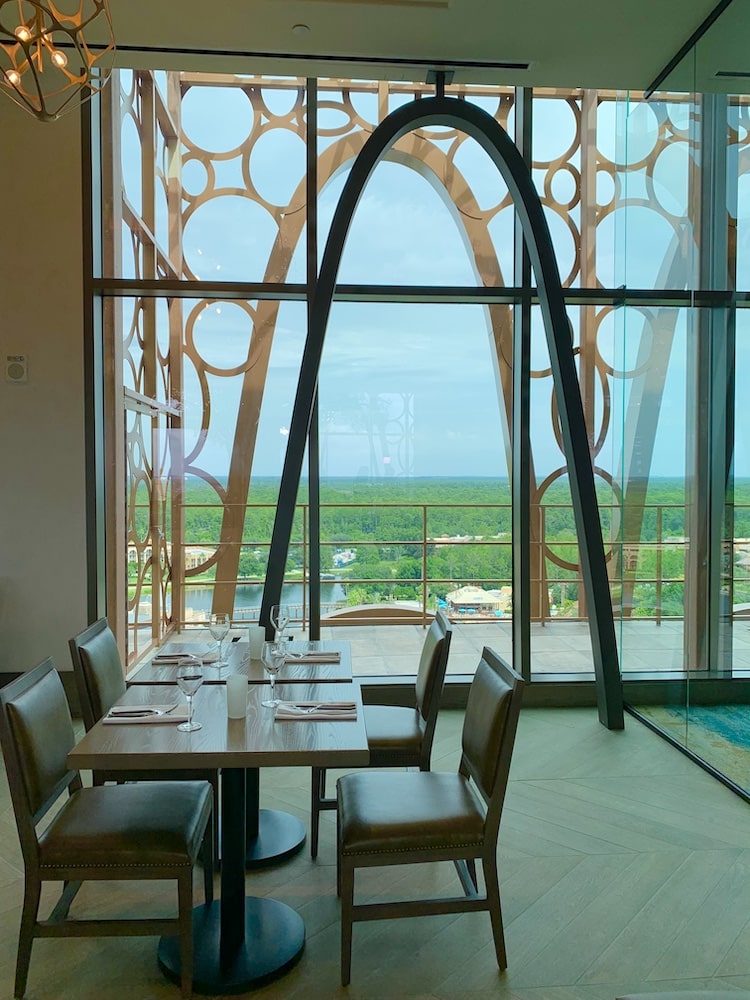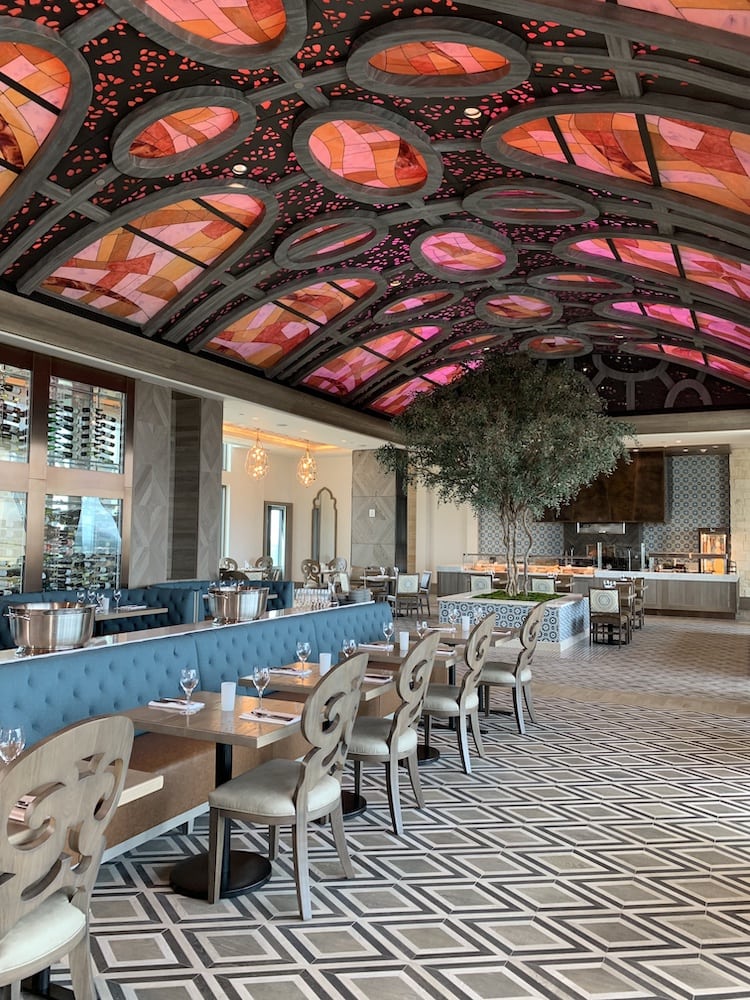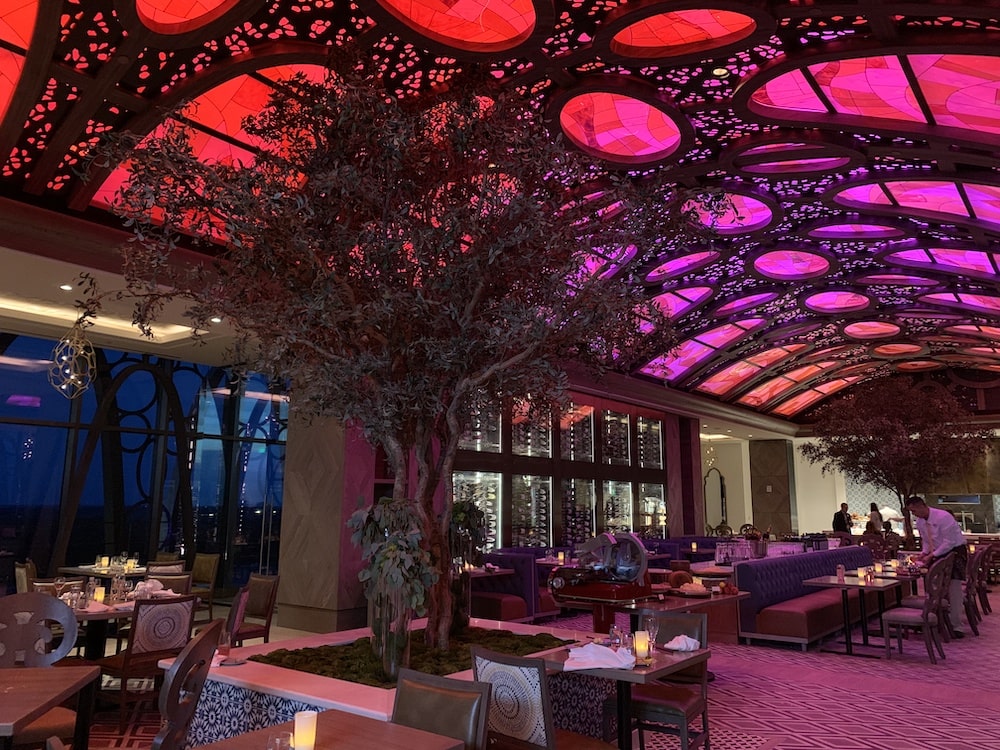 The beautiful restaurant features olive trees and an ombre glass ceiling that is stunning all day long.
Dahlia Lounge
Located across from Toledo, the Dahlia Lounge is a tribute to the character Dahlia in the short film Destino. (See the film below)
You will find pictures of Walt Disney and Salvador Dali in the Dahlia Lounge, paying homage to their time collaborating together on Destino.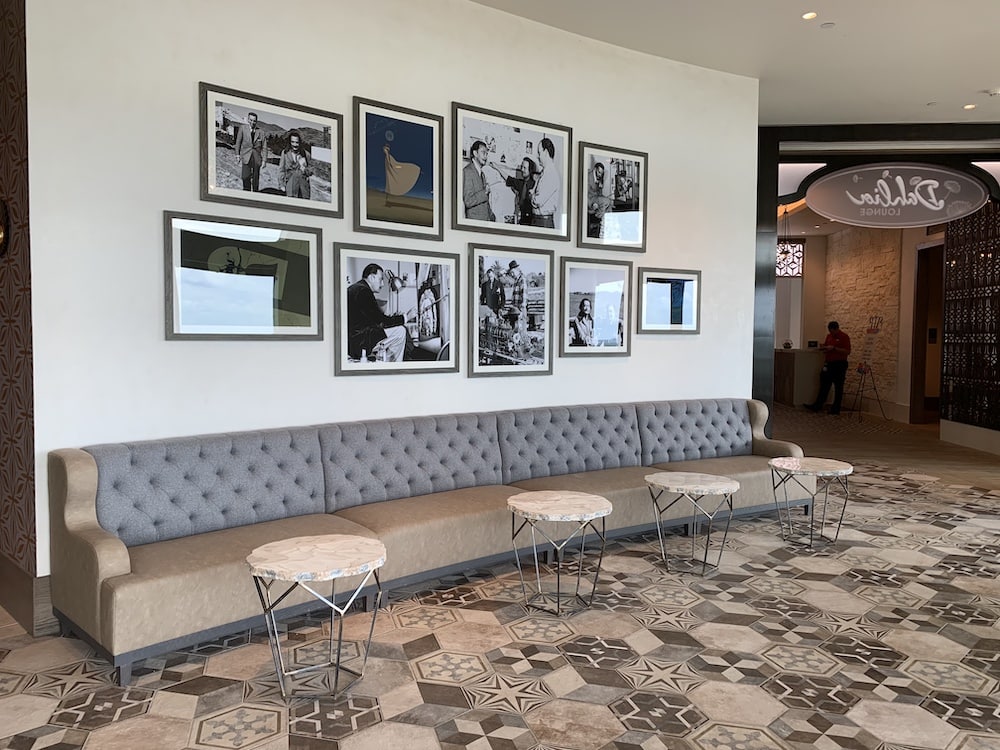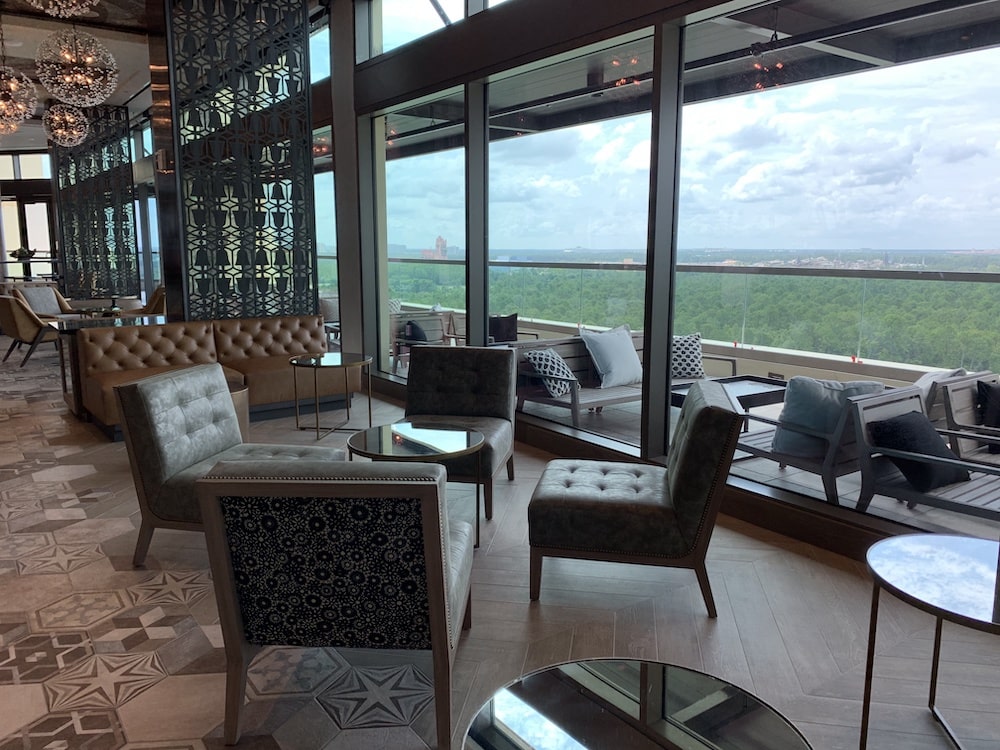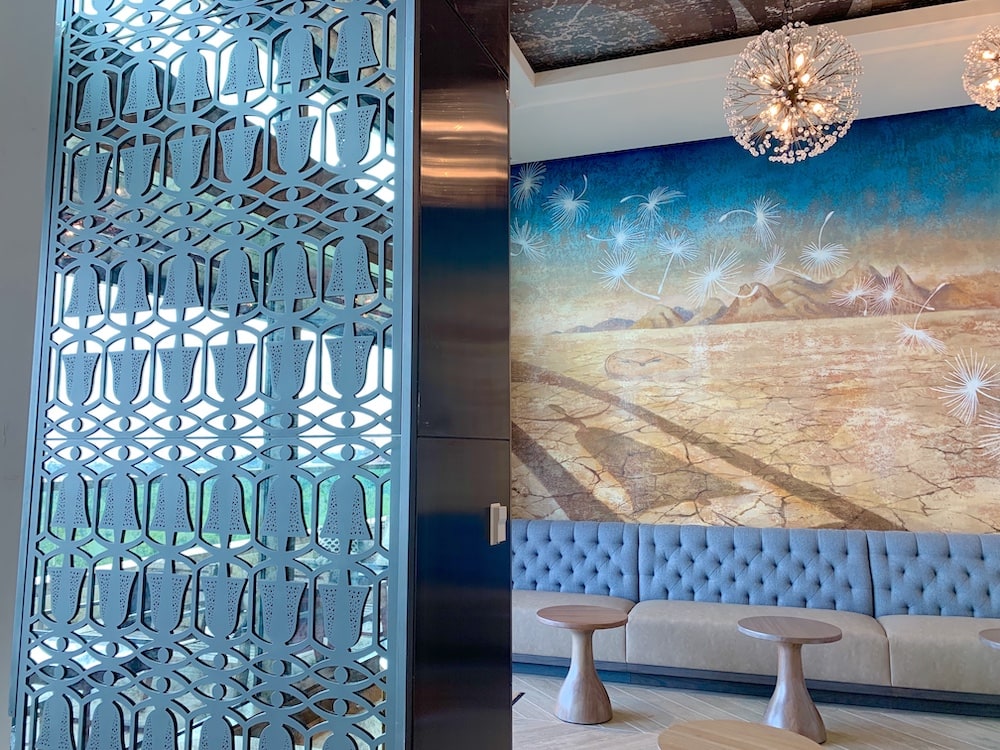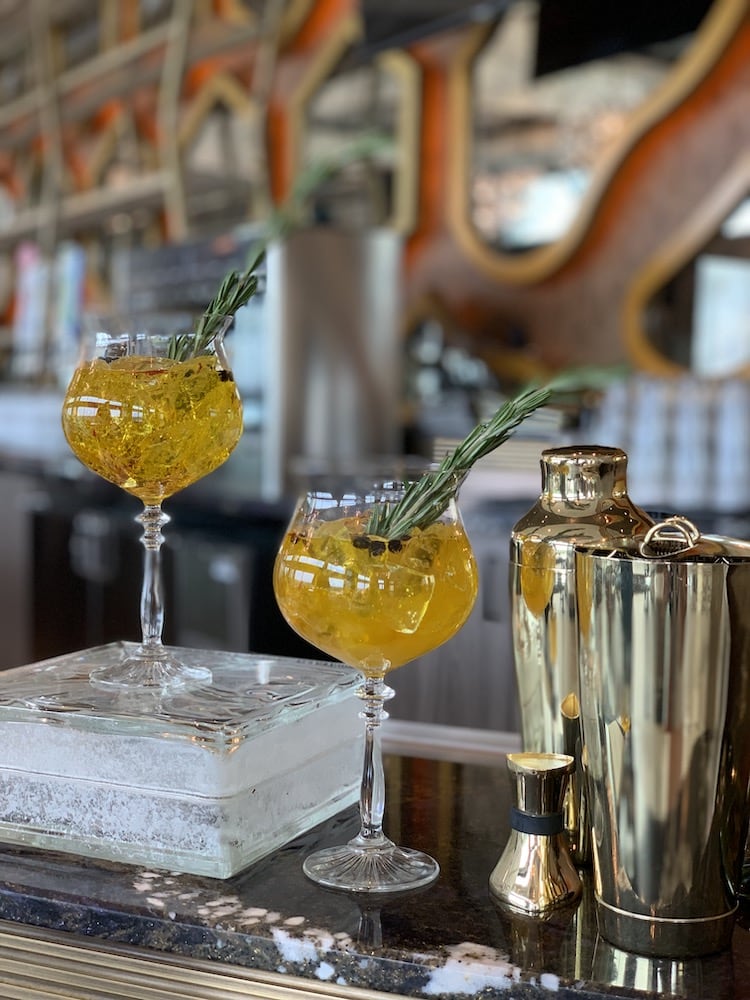 The decor is whimsical, with plenty of references to dandelions floating on the breeze, just as with the Dahlia character in Destino.
Gin Tonics will be the signature cocktail in the rooftop lounge. Try the saffron inspired Gin Tonic cocktail if you want to enjoy the signature drink.
A light menu is also available in the Dahlia Lounge.
The outdoor tables, which can seat 30 guests, will be in high demand, especially at fireworks time. The views from the rooftop deck are stunning. Spaceship Earth, Tower of Terror, Blizzard Beach and Mount Everest can all be seen in the panorama views from Dahlia Lounge.
Barcelona Lounge
A perfect place to grab food or drink throughout the day. Barcelona lounge will offer pastries and items for breakfast. During the day, enjoy a cocktail or menu of light bites.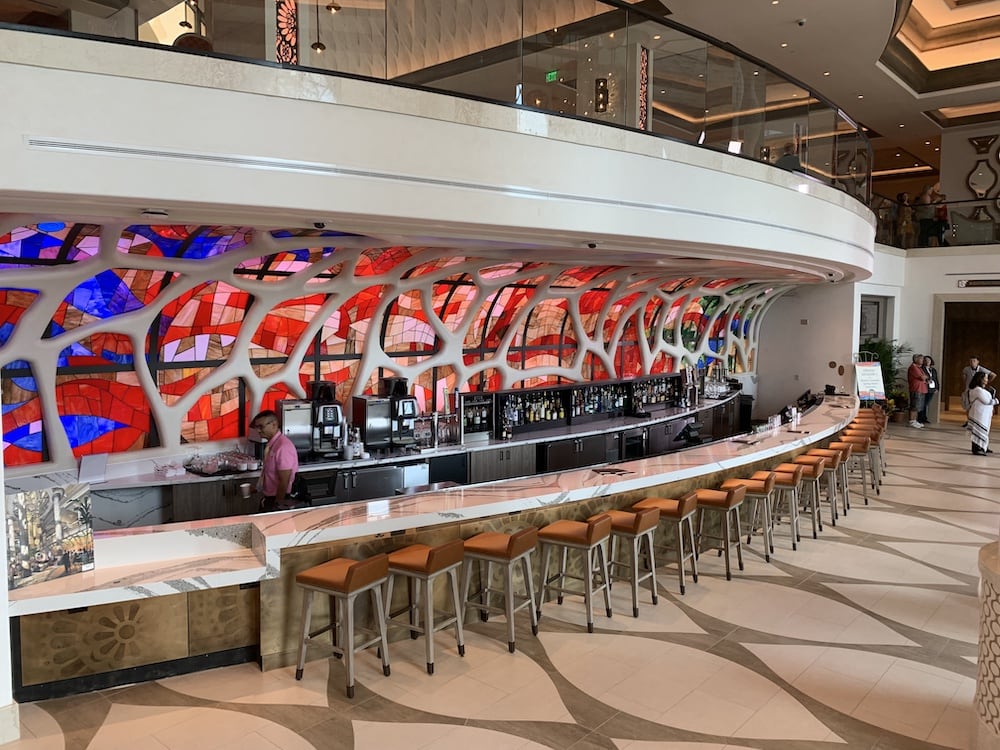 Gran Destino Tower Club Level
The Gran Destino Tower Club Level is a level of luxury that might be worth the extra cost for you and your family.
When staying in a Club Level suite, you will have extra space to stretch out in your room. Not only will you get a dedicated living room and lounging area that is separate from the bedroom, but you'll also get an extra half bathroom. Which is great when four guests or more are sharing a room.
A Club Level Suite offers large windows that let in tons of light, both in the bedroom and the bathroom. The bathrooms are oversized with a shower that is larger than the standard rooms.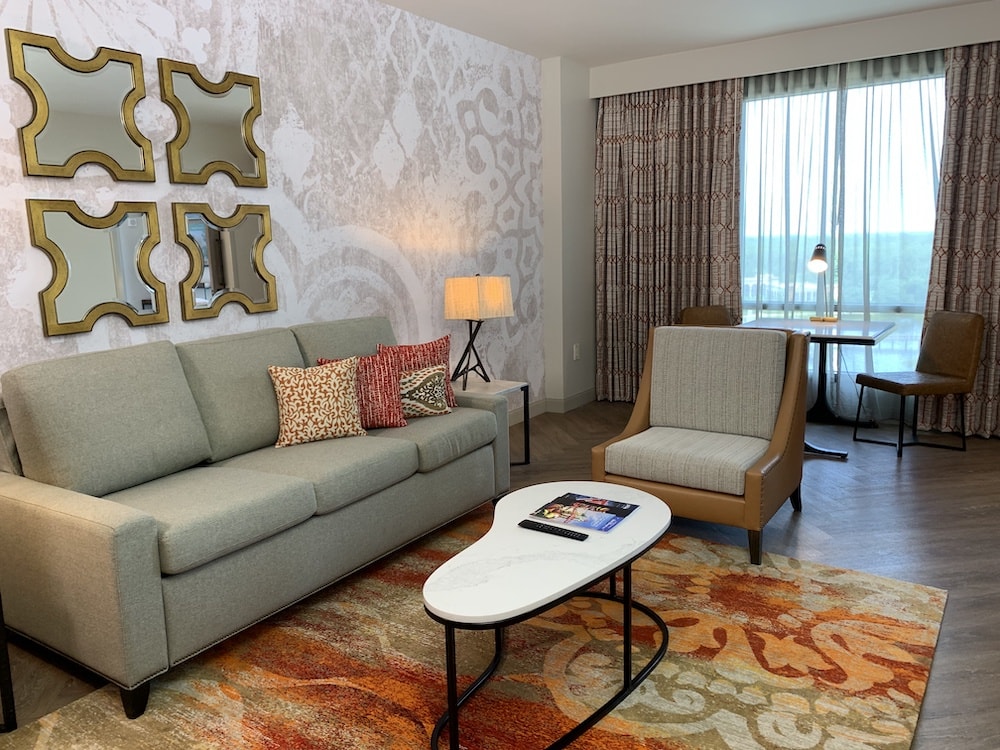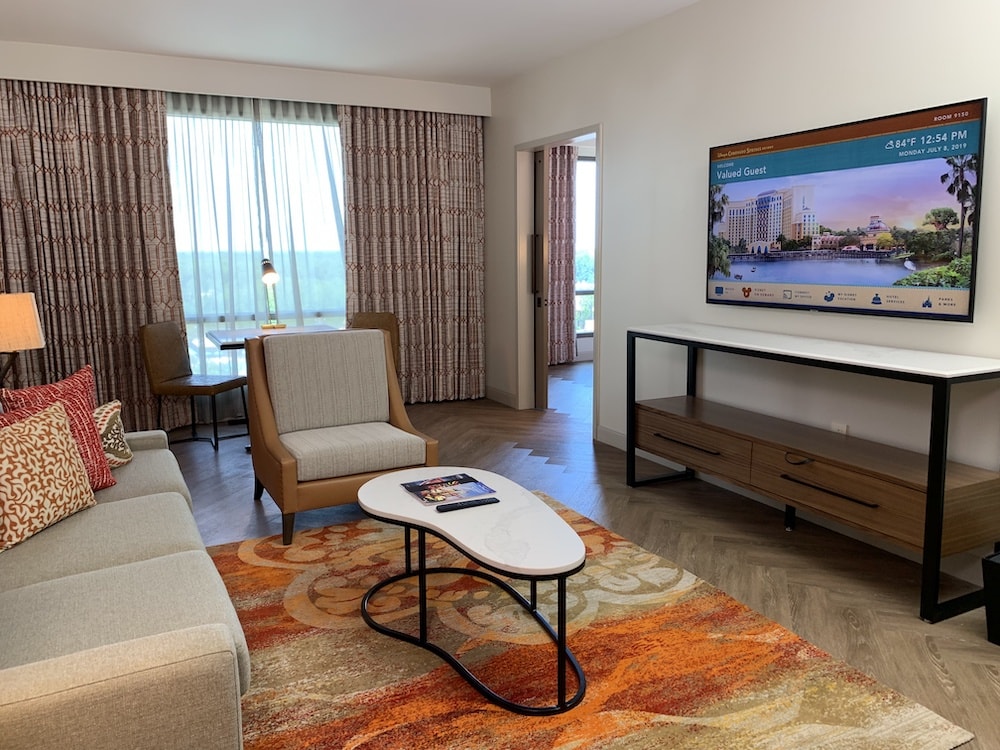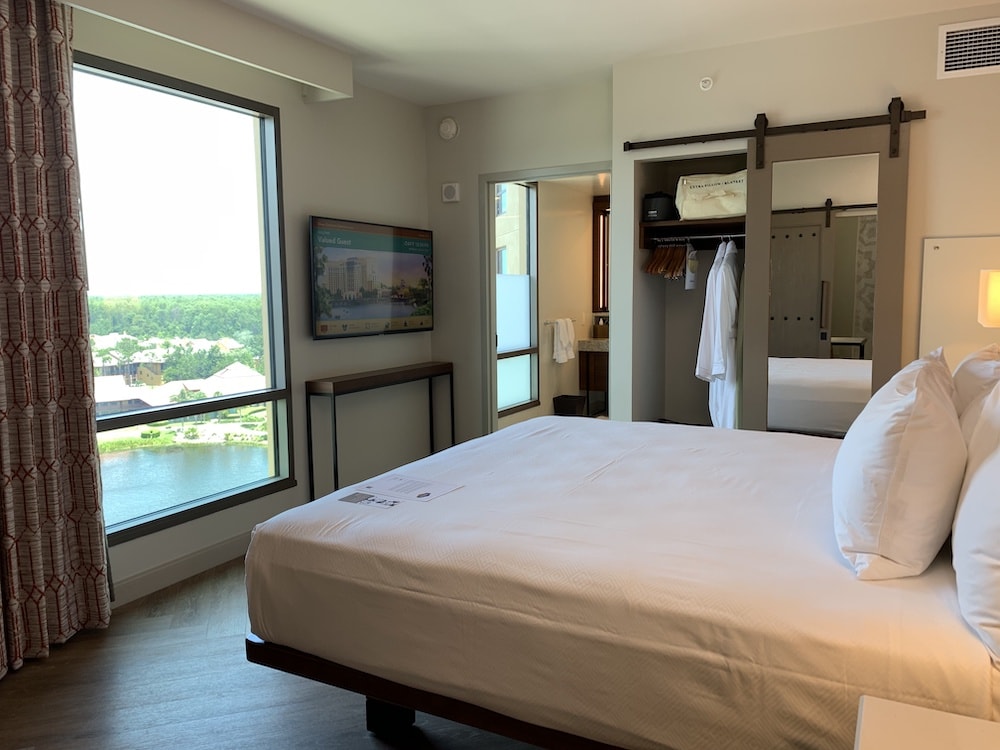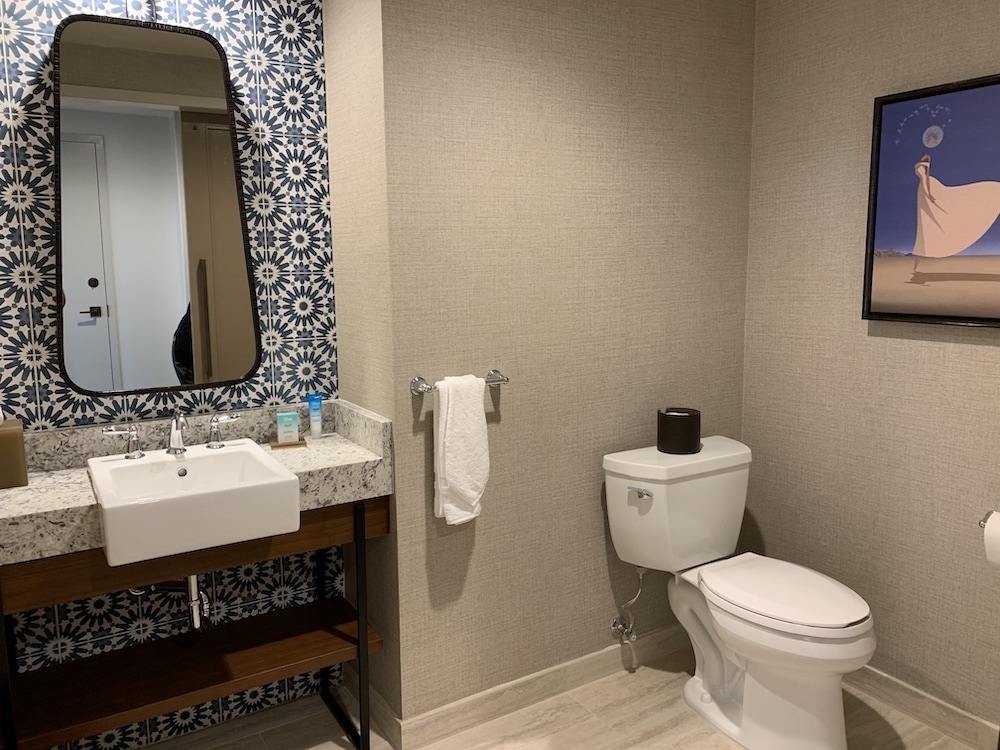 Perhaps the best perk of the Club Level suites is access to the Chronos Lounge.
Named after a character in the short film Destino, which inspired the theme of the Gran Destino Tower, the Chronos Lounge offers snacks and drinks throughout the day.
Starting in the morning, you'll be able to grab a light breakfast in Chronos Lounge, including coffee service. This is a great way to fuel up before going to the theme parks or starting your day in a conference.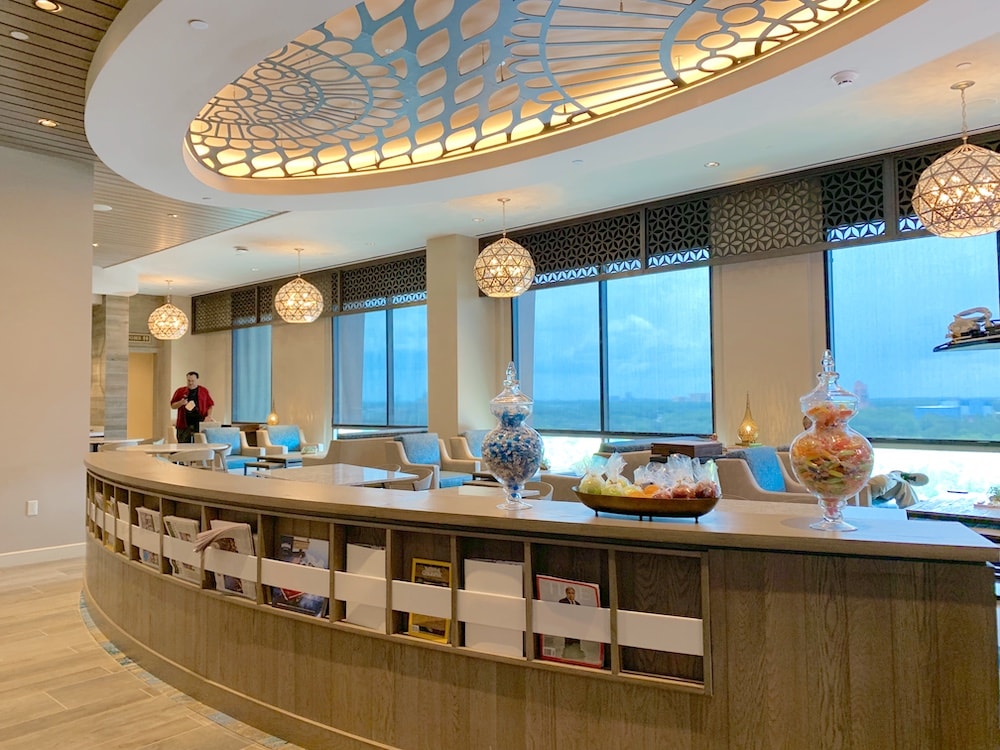 Choices will range from pastries to hot dishes such as eggs.
During the day, snacks will be light but plentiful. Options will include granola bars, trail mix, light bites such as hummus and bulgur salad, cookies, and sweets. Options will change often. Beer, cider and wine will also be available.
At night, expect heavy appetizers and other assorted foods. From 8-10 p.m., desserts will be offered.
Gran Destino Tower Pool
Is there a pool just for the Gran Destino Tower? No.
There are three pools throughout Disney's Coronado Springs Resort. There is not a pool specifically for Gran Destino Tower guests.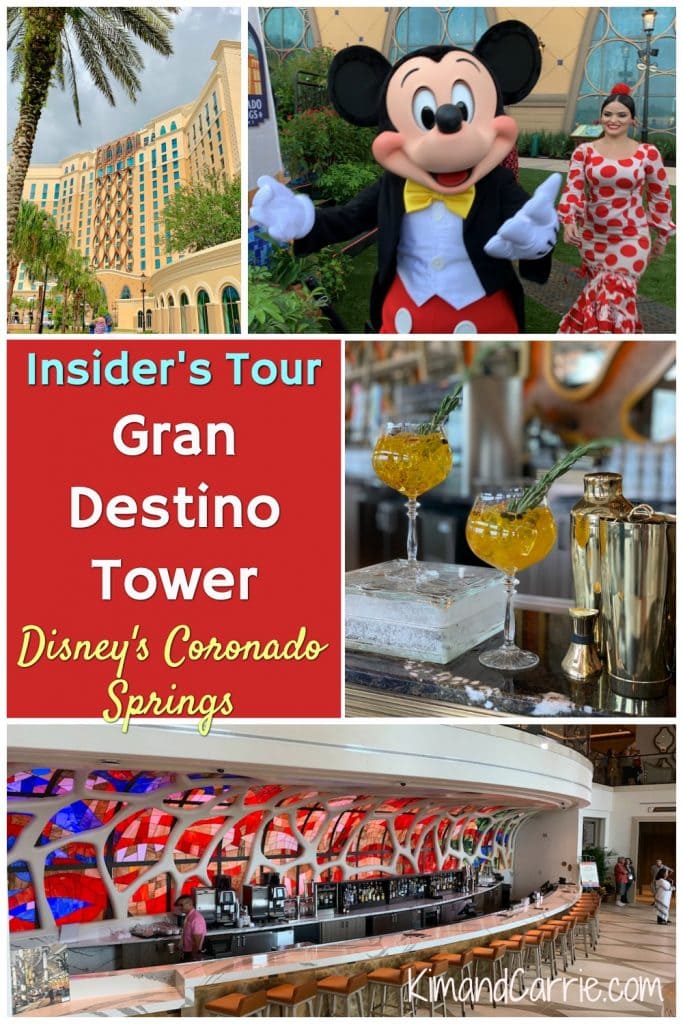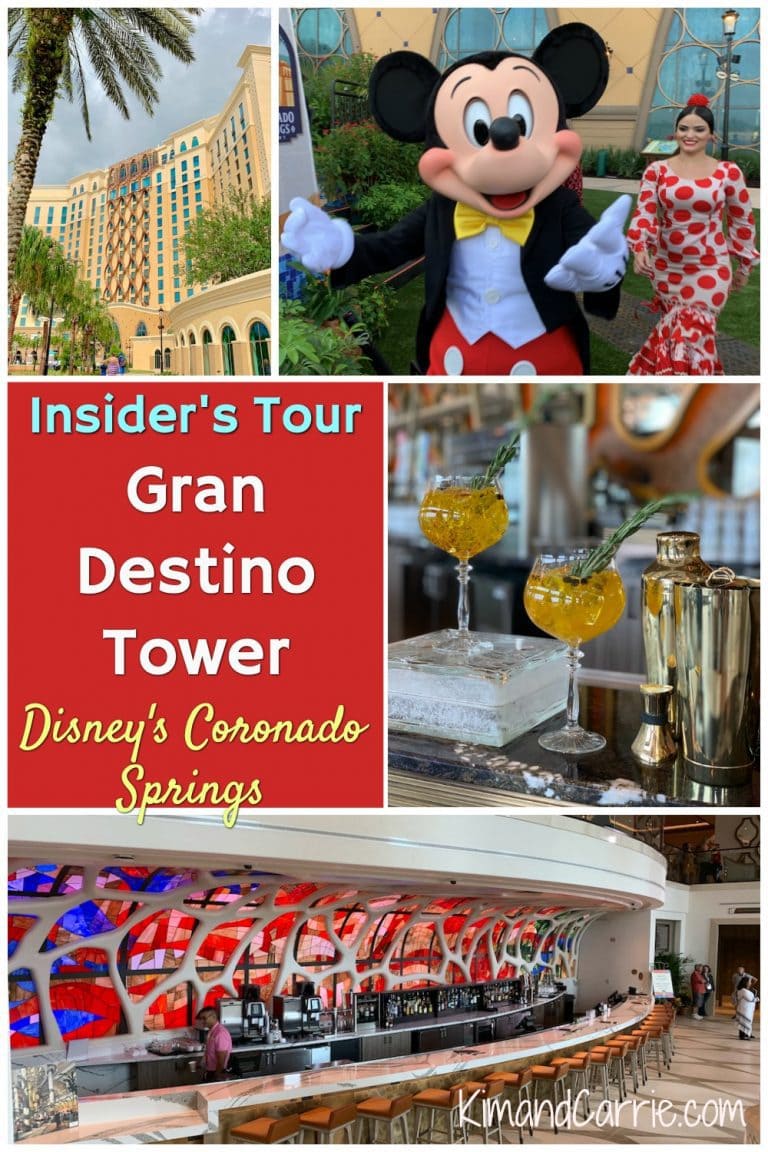 More Disney World Planning Tips
Disney World is a big place. And there's so much to know as you plan your vacation before you get to Orlando.
Here's our best Disney World hacks and tips: