These Harry Potter holiday elf outfits and accessories are perfect for families that love the wizarding books and movies, as well as the Universal Studios' theme parks!
If you are looking for Harry Potter Elf costumes, these are the best finds we have found! They are sure to make your kids smile when they see the elf in the morning.
Traveling to Universal Studios during the holidays or will you be at Universal Studios at Christmas? Then you will definitely want to outfit your Christmas elf with these ideas.
We use affiliate links, which means we might make a commission if you make a purchase using our links.
Personalized Hogwarts Letter with Owl Delivery
Start a week of Harry Potter holiday elf costumes with the arrival of an owl with a Hogwart's acceptance letter kit.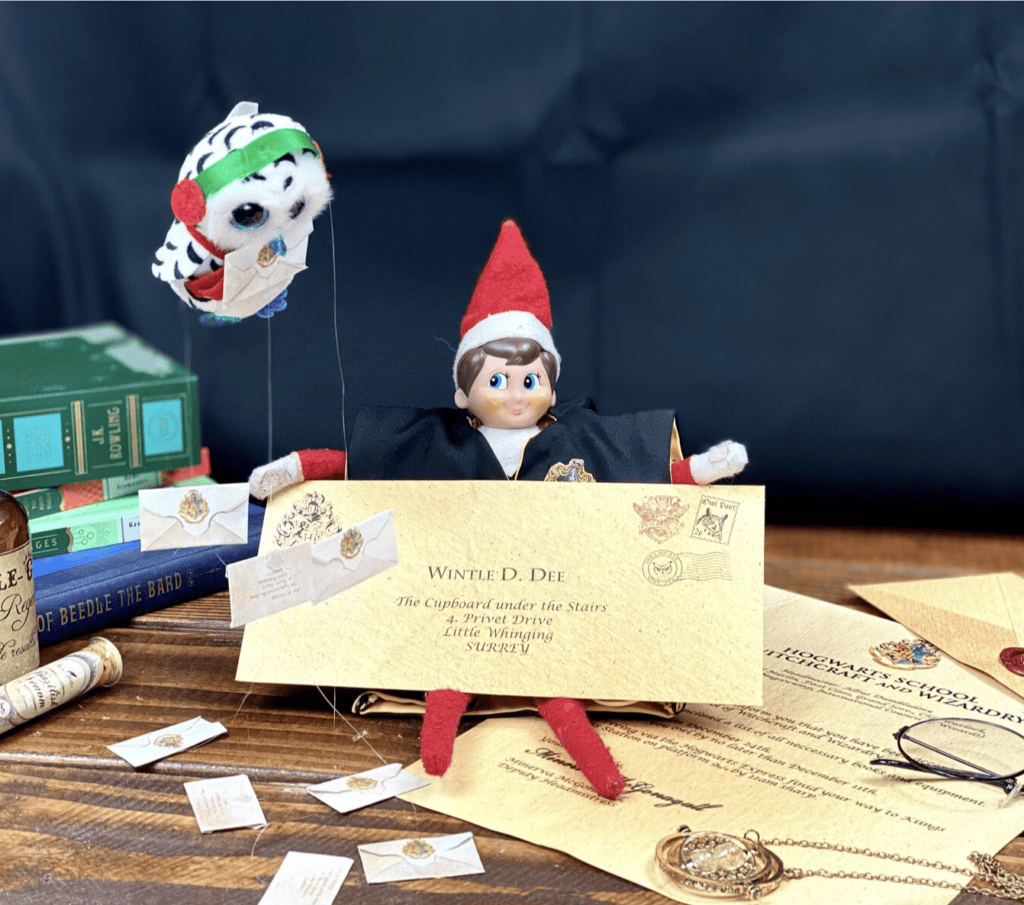 The letter can be personalized and even comes with a wax seal!
This Harry Potter kit includes:
Frostwick the owl
8 Miniature letters attached via invisible fishing line to the owl
Personalized Hogwarts invite letter in a parchment envelope sealed with a real red wax Hogwarts stamp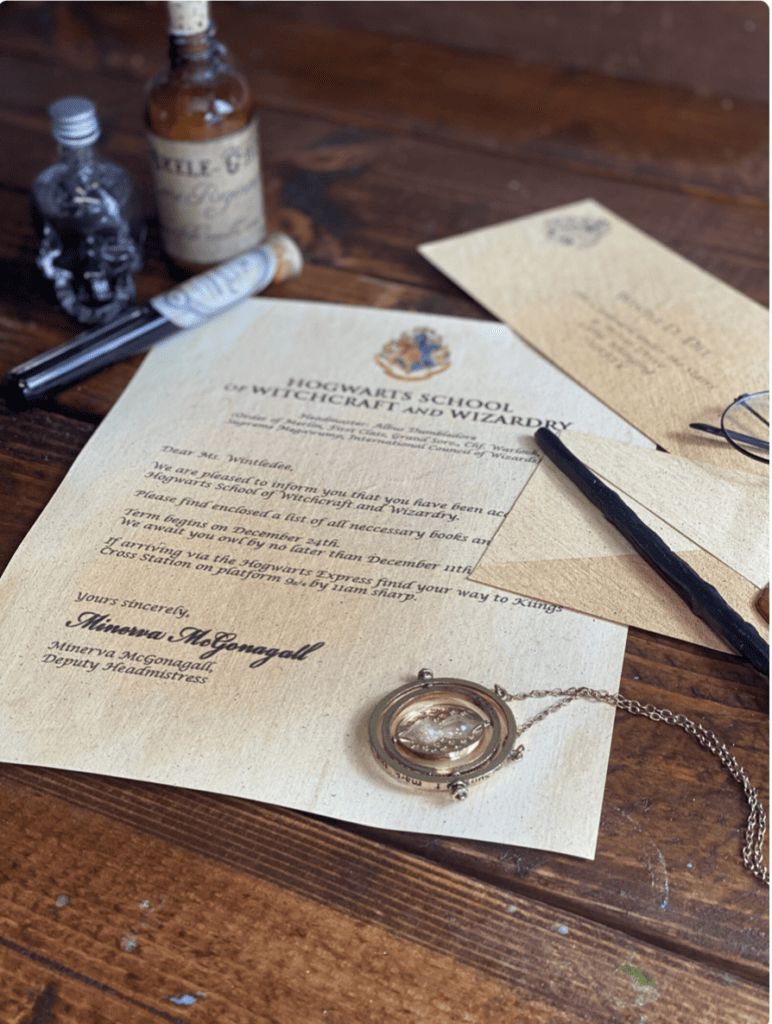 Related Post: Ultimate Guide to Harry Potter Wands at Universal Studios
Sorting Hat
If the Christmas elf doesn't know what House they belong in, get them an elf-sized Sorting hat!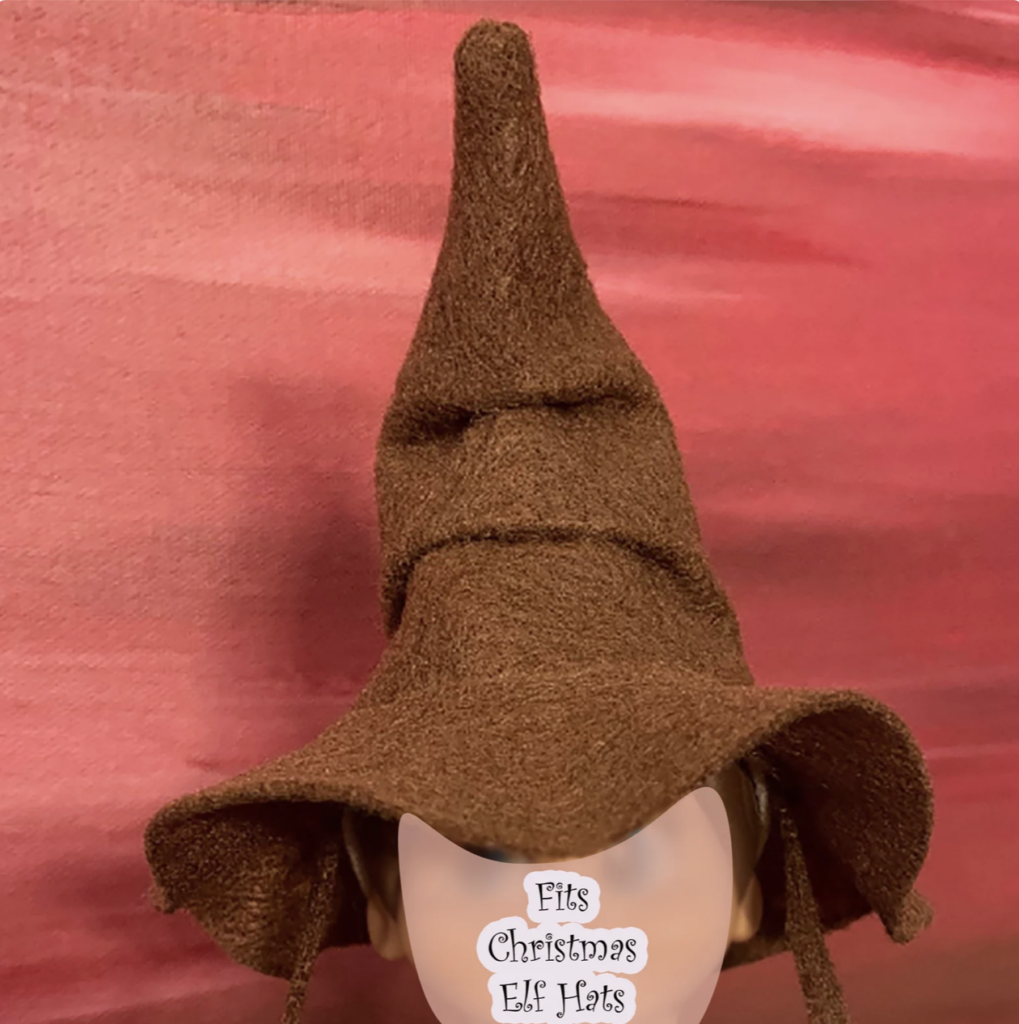 This is the perfect accessory to start a week of Harry Potter costume ideas!
Related Post: Sorting Hat Cookies Recipe
Harry Potter House Robe
No Harry Potter holiday elf is complete without a House robe for Hogwarts! Choose one of these embroidered robes that have a tie and patch sewn on the black robe, as well as a color and other details in the house color.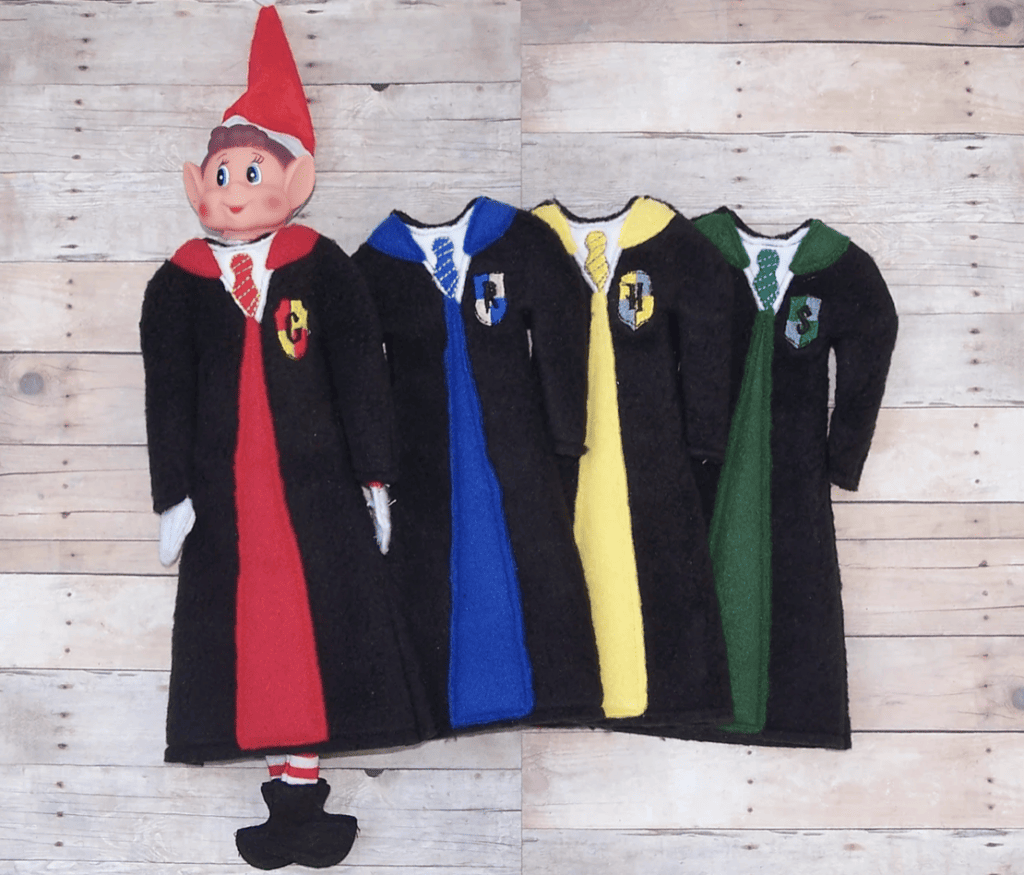 Related Post: Best Harry Potter Restaurants at Universal Studios
House Sweater and Scarf
Your elf can wear a sweater and scarf for their house at Hogwart's School. These fleece sweaters are embroidered with 9 3/4 on the sweater, and stripes embroidered on the scarf.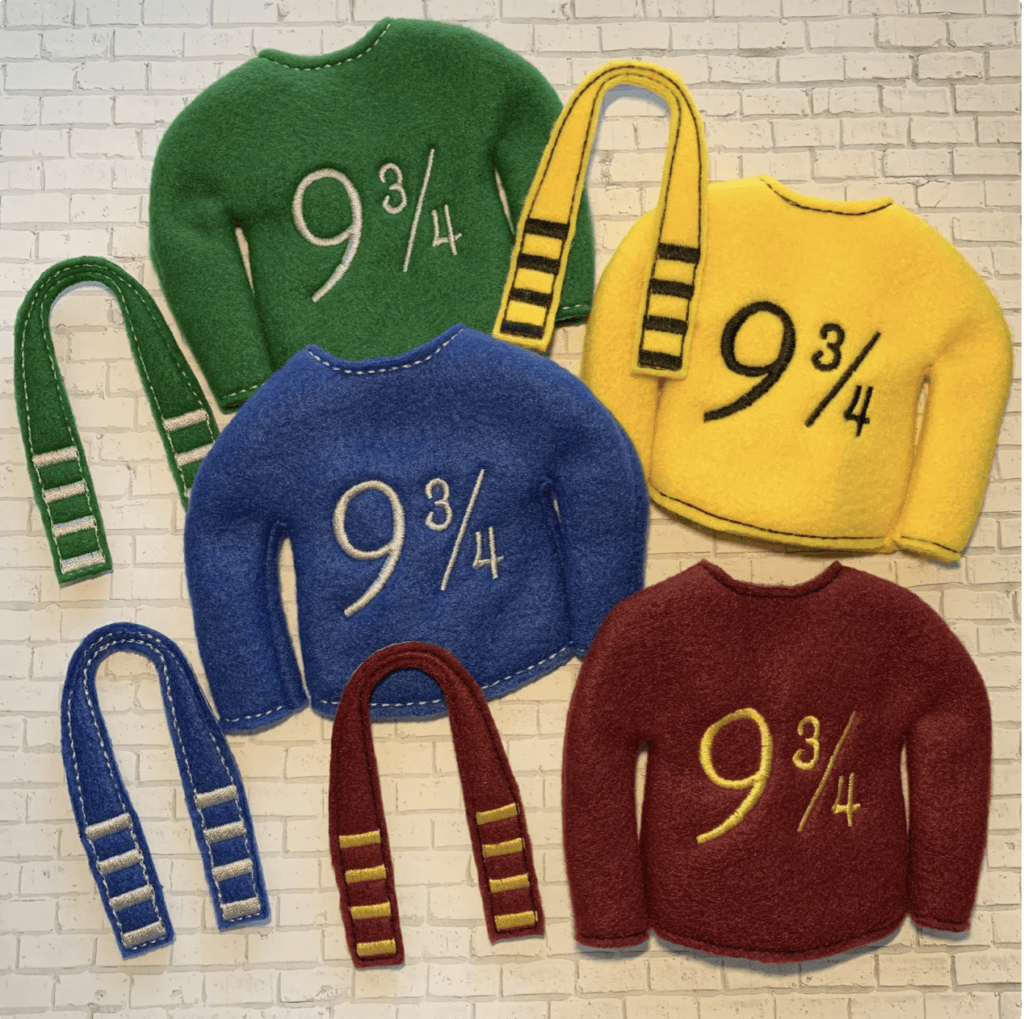 Related Post: Harry Potter Fanny Packs for Wearing at Theme Parks
Knitted Hats and Scarves
These hand-knit hats and scarves come in each of the four house colors. They are the perfect accessory to keep the holiday elf cozy and warm!
You might also like these hand-knit house sweaters with a patch for each house attached to the front of the costume. Also doubles as a cute ornament!
Related Post: Harry Potter Easter Eggs (Hidden Details) to Find at Wizarding World of Harry Potter
Potion Kit
This Harry Potter Potion Kit has everything that the Christmas elf needs to make bubbling potions in a cauldron, including:
Elf-sized cauldron
Hollyberry Potion
Hoarfrost Powder
Essence of Pine
Stardust
Navitatis Spiritus Potion directions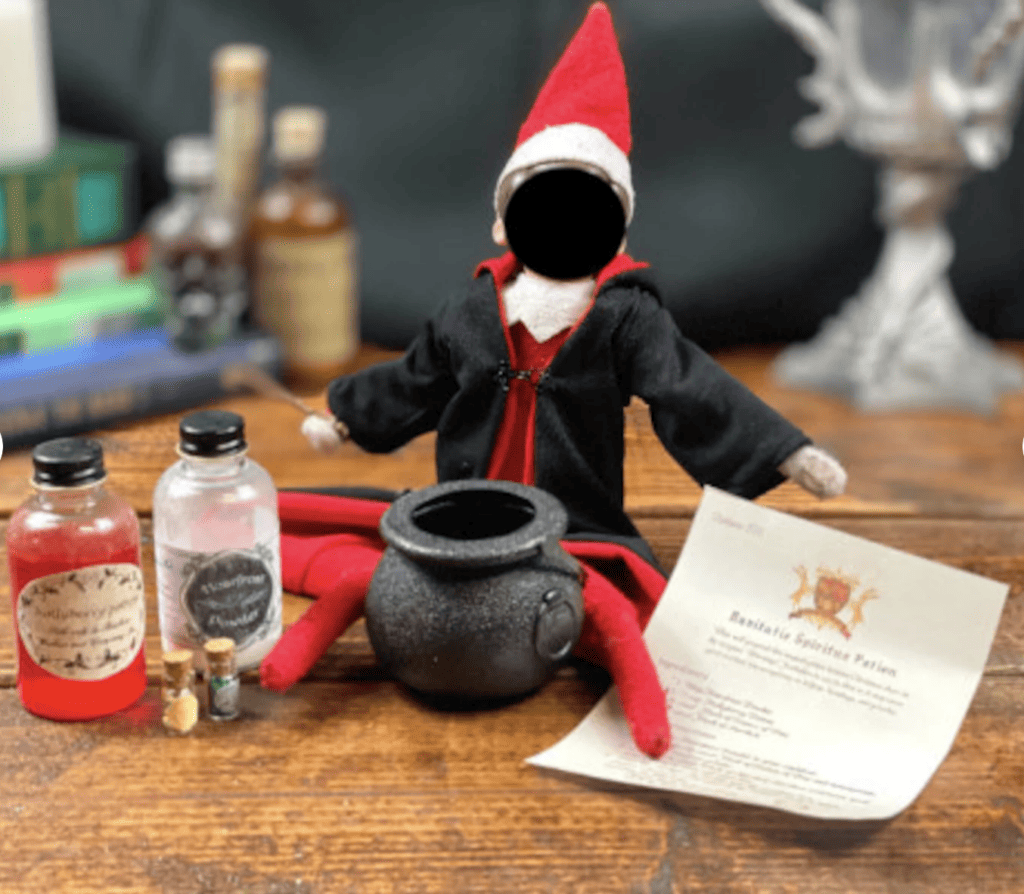 Yes, this potion really will bubble! And the colorful red and green glitter makes the potion festive for the holidays.
Related Post: iPhone Harry Potter Spells Using Siri
Butterbeer
This miniature glass of Butterbeer comes with a small Hogwarts acceptance letter and a scarf.
Related Posts:
Harry Potter Glasses with Book and Letterboard
Every Harry Potter elf needs a pair of glasses and this elf accessory kit has them and more!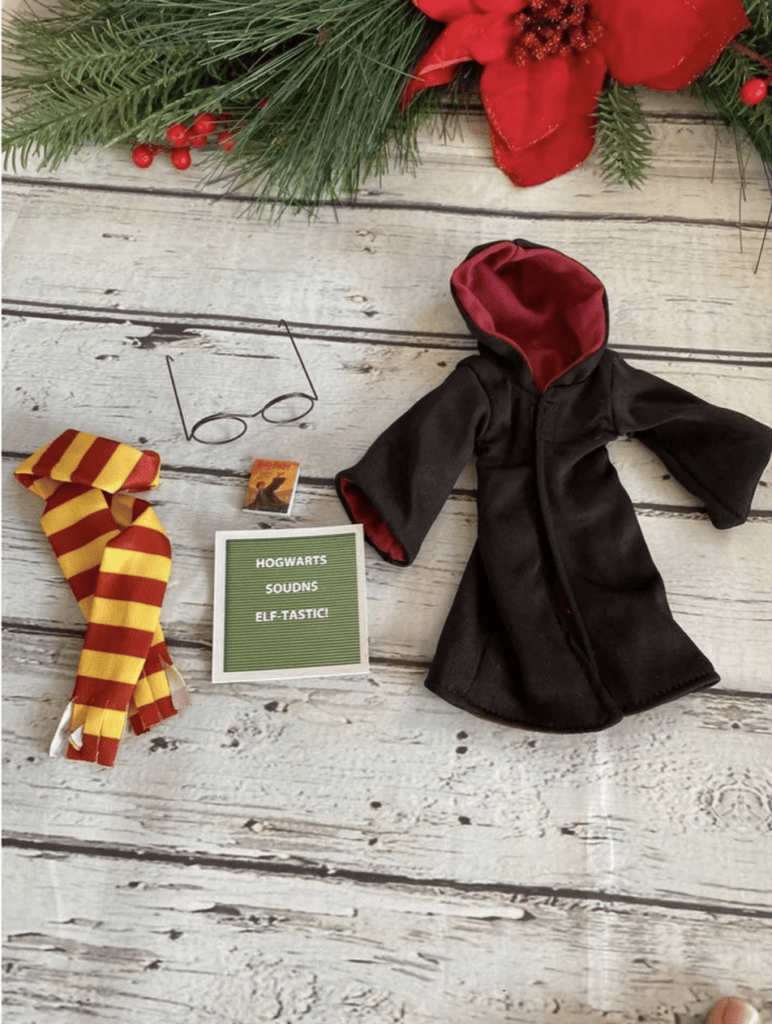 Get everything you need for your elf with this bundle kit, which includes:
Black hooded robe
Red and yellow scarf
Black wire rimmed glasses
Miniature "Harry Potter" book
Letterboard-like sign
Be sure to see this Etsy seller's other Harry Potter kits which are amazing! There are three different kits in addition to this one, with choices including a Marauder's Map kit and a Quidditch kit with a Snitch.
Related Post: Pretzel Broomsticks Recipe
These Harry Potter elf costume ideas are so much fun for kids, but they are also great for adults that are fans, too! In fact, these small wizarding outfits make perfect ornaments and Christmas decorations.