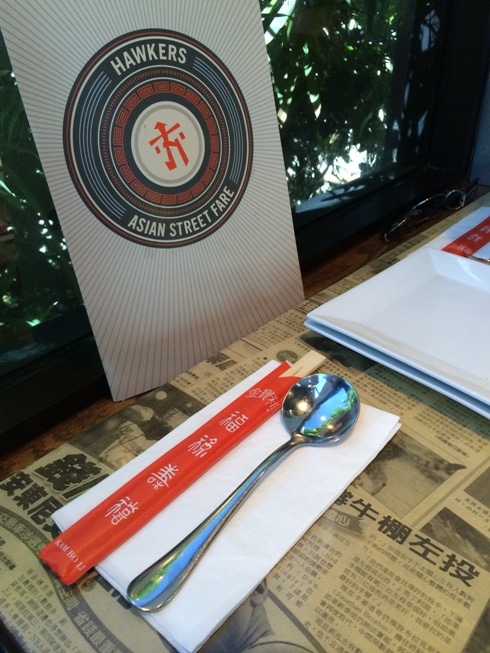 The Mills 50 District in downtown Orlando (some still call it ViMi), is rich with Asian eateries selling authentic foods at cheap, cheap prices. Among the standouts is Hawkers Asian Street Fare, a hip, urban restaurant with indoor and outdoor seating that serves some of the best Asian cuisine at prices so low you'll wonder how they do it.
On a recent visit, I happened to show up on a Sunday at 12 p.m. Only a few cars were in the parking lot, and I thought that this place must still be undiscovered. Was I wrong!
Turns out, Hawkers Asian Street Fare doesn't open until 12 p.m. on Sundays. The fact that there were already several cars waiting for the opening belied how good the food is. In 10-15 minutes, the crowds started pouring in. By 12:45 p.m., only two tables were still empty.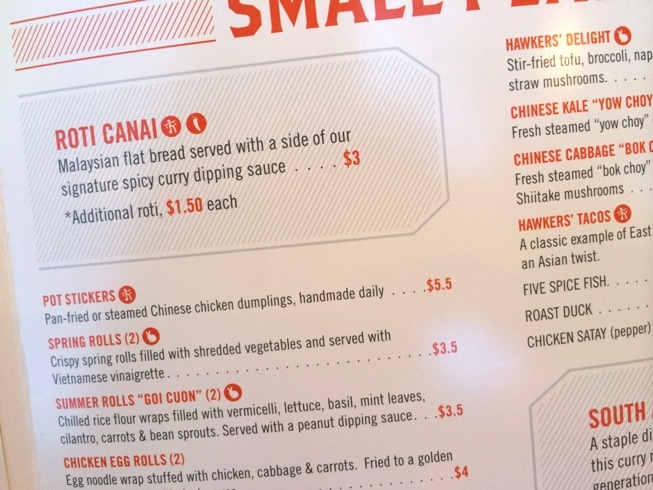 I was surprised by the crowds, but even more surprised by the service and the delicious food. When hearing that this was our first time to Hawkers, our waitress patiently explained the entire menu, offering hints and suggestions for what to try. In a surprising twist, she even asked about food allergies, which is something rarely done by wait staff. After telling her my allergies, she immediately told me what to avoid, and that she'd be on the lookout for anything that I happened to order throughout the meal.
The menu for Hawkers is huge. There is so much to choose from, it is pretty hard to decide what you want. It's actually not a problem because the food is served up tapas style. If you want to share with your friends or family, it's a great way to try a few different things without being committed to an entire plate. If you want to indulge on your choice all by yourself, it's a big enough portion for a small meal. Our waitress left a menu with us at our table, encouraging us to order whatever we wanted, whenever we wanted. It's not as if you have to put the entire order in at one time, which is a stress-free way of ordering small bites.
We ordered one of the waitress' recommendations, the Roti Canai. This Malaysian Flat Bread resembles a huge dumpling, moist and dense. It's served with a spicy curry dipping sauce. The sauce looks like a thick gravy. The color alone would probably keep you from eating in normally, but when the flat bread is dipped in, you realize how savory – and slightly spicy – the sauce really is. Watch out for the chili oil on top, which will clear your sinuses if you get too much in one serving!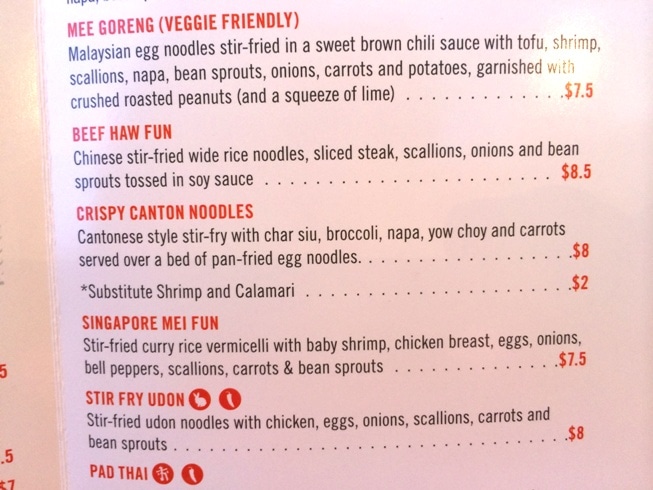 After the Roti, two more plates were delivered. One was an order of Beef Haw Fun, a freshly made noodle and meat stir fry that made me think it was far better than P.F. Chang's. Another plate of Korean Bulgogi Steak Banh Mi Sliders arrived several minutes after the Beef Haw Fun. I've had several Banh Mi in restaurants throughout the ViMi District. These weren't my favorite, and it seemed there was way more bread than steak, so I'll try something different next time.
Though we'd like to have eaten more, the three choices were just enough for lunch. Our bill, including tax and tip, was $25.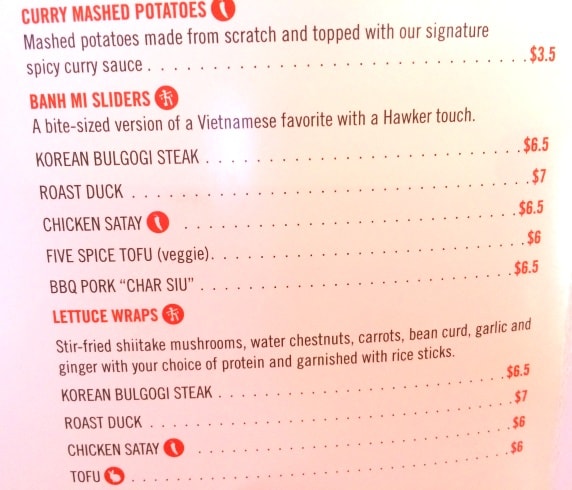 To cap the meal off, another staff member came by after our meal and asked how we enjoyed our lunch. His name was Vince, and he said he heard it was our first time at Hawkers Asian Street Fare and he wanted to see what we thought and if we enjoyed it. His concern was genuine, and it was such a delight to have a member of the staff come over during such a busy time to talk to us.
We'll definitely be back. The food is great. The prices aren't bad. The atmosphere is fun and fresh. We just know now that you might want to arrive early to beat the rush!