Henderson County is North Carolina's largest apple-producing county and seventh largest nationally. With all of those apples, there are plenty of ways to enjoy the fruit, including pressing the apples to produce hard cider.
These three Hendersonville Cideries are one of the newest ways to enjoy the area's bountiful apple harvest. Local apples are used to make alcoholic hard cider that can be enjoyed in tasting rooms located at the production facilities.
Whether you are stopping in for a tasting or purchasing a variety of bottles or cans to take back home for a delicious souvenir, these three cideries located on the Hendersonville Cheers Trail! are fun destinations of their own.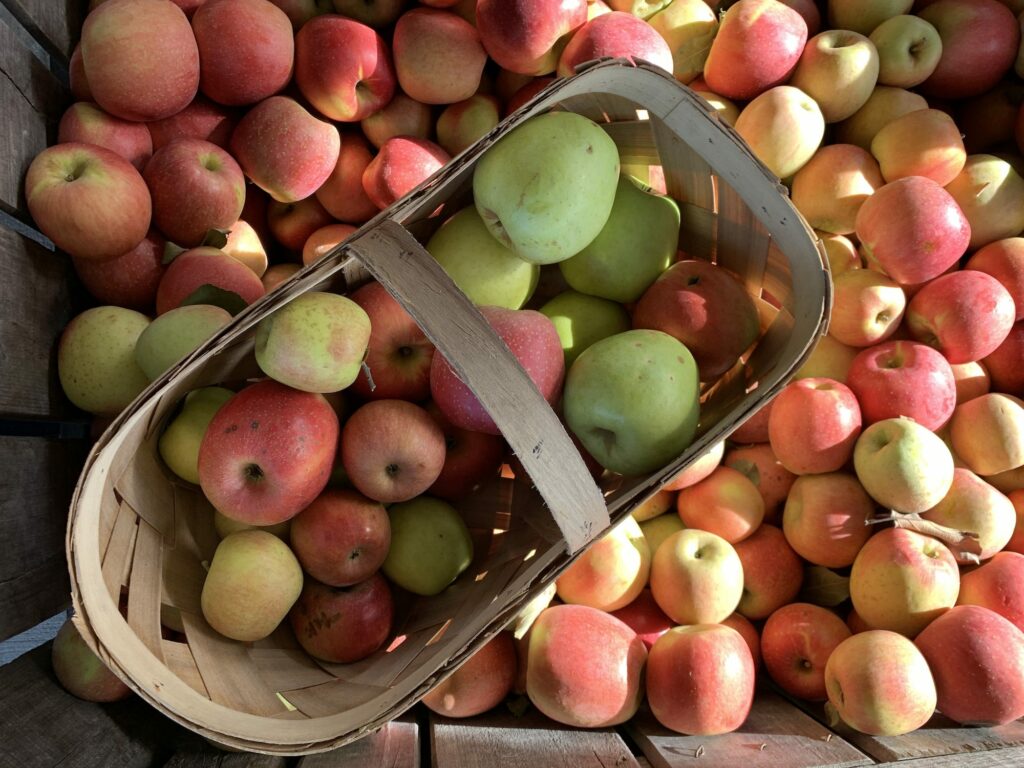 Every location is kid-friendly and pet-friendly, and the perfect place to enjoy time outdoors.
Be sure to see our Ultimate Guide to Hendersonville Apple Orchards to see where these apples are grown and how to pick some for yourself!
Appalachian Ridge Artisan Ciders
Located among rolling farmlands, Appalachian Ridge Artisan Ciders is a small hard cidery making European style ciders from Henderson County apples.
Traditional apple varieties from the area are used, in addition to some apple trees that have been brought over from France's Normandy region. The owner's Nursery of Normandy Apple Trees has provided 14 different types of cider apples that cannot be found anywhere else in the United States.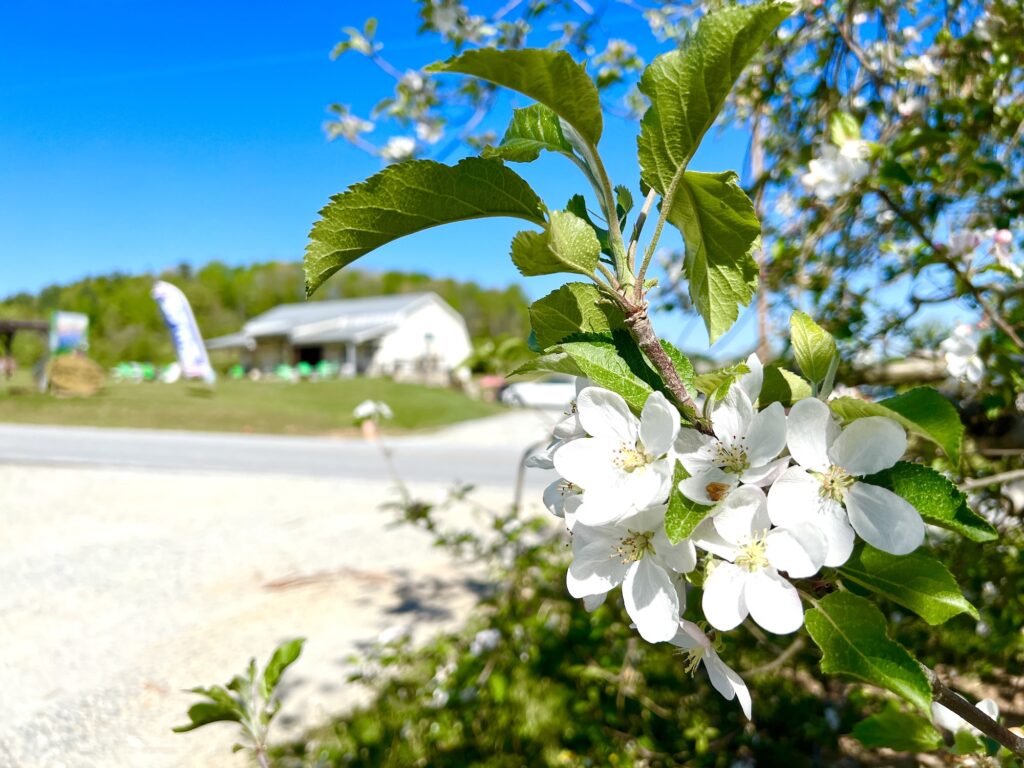 I love the 1920s barn that has been renovated to become the cidery. The intimate setting feels perfect for enjoying ciders made from apple trees that you can see outside. In the lower level of the barn conversion, you will find beautiful stained glass windows, along with a coffee shop from Sharewell Coffee.
Outside, you will find an expansive patio that overlooks the apple orchards. At certain times of the year, including the Hendersonville Cider, Wine and Dine Weekend, you can sign up for walking tours of the orchard.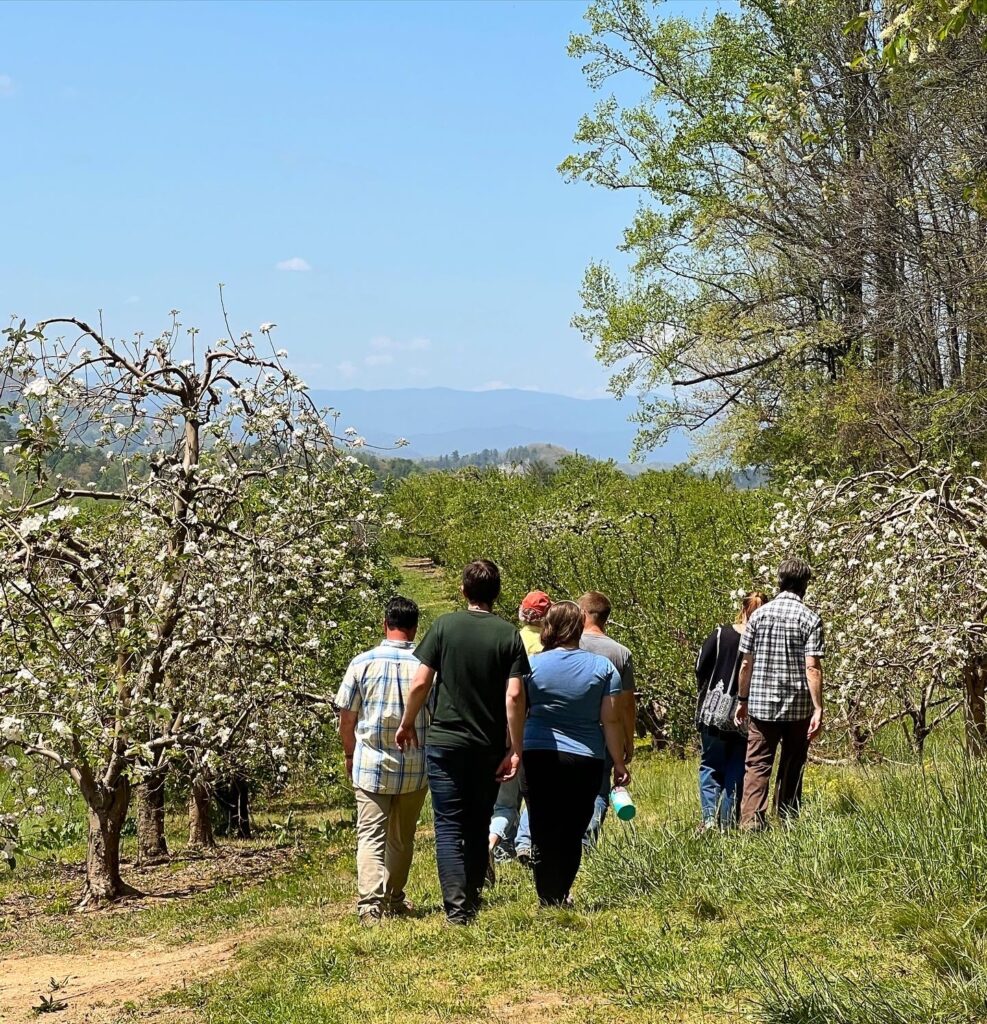 There are a lot of special events that take place at the cidery, including live music, special tastings, etc.
This is also one of the best places to see apple blossoms in Hendersonville and be able to take pictures.
Appalachian Ridge is located across from St. Paul Vineyards. You could actually walk from the cidery to the winery.
Location: 731 Chestnut Gap Road, Hendersonville, NC 28792
Phone Number: (828) 699-7507
Hours of Operation (ALWAYS call ahead first, as operating hours are subject to change): Sunday-Thursday, 12-6 p.m.; Friday-Saturday, 12-7 p.m.
Pet Friendly: Yes
Bold Rock Hard Cider
You might already be familiar with Bold Rock Hard Cider. As the nation's largest craft cidery, their products can be found in most states east of the Mississippi. Plus, they have additional locations outside of Henderson County, including their original location in Nellysford, VA (see our cider tour of Charlottesville, VA for more details on the unique venue).
Bold Rock in Mills River is an amazing place to get a drink, order a meal or some snacks, and enjoy sitting outside with picturesque rolling hills in the background. Kids and pets are welcome here. The cidery is extremely family friendly and you can often find children running around the wide open fields burning off some energy, or dancing on the stage if there isn't a performance.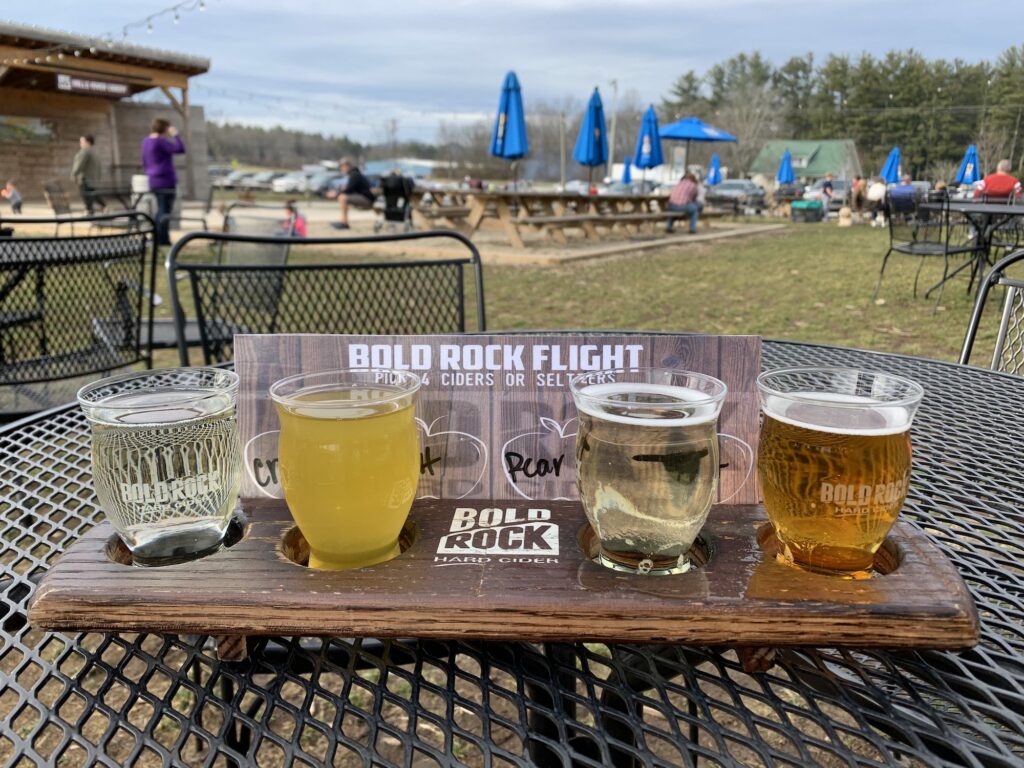 Bold Rock has a regular line of hard ciders, and they offer seasonal options several times throughout the year. We especially like the special events and weekends when cider slushies or cider cocktails are available.
The indoor tasting room has large windows overlooking the production facility behind the bar. You'll find lots of indoor seating, as well as plenty of merchandise and products to buy. You will also find hard lemonade, hard tea and hard seltzer as options, as well.
You can always find food to purchase at Bold Rock, thanks to a permanent food truck with lots of options. (Why there isn't an actual restaurant at the location is a mystery to me.) Bold Rock does have a restaurant in downtown Asheville. Because food is served at the Cidery, you cannot bring food to Bold Rock.
There are indoor and outdoor stages for regular live music. Movie nights are a popular event, too, along with trivia nights and a variety of special events throughout the year.
Bold Rock is on our list of Cheap Eats in Hendersonville thanks to the rotating food specials that they have every week.
Complimentary tours have been previously offered. Call for dates & times and whether currently offered.
Location: 72 School House Road, Mills River, NC 28759
Phone Number: (828) 595-9940
Hours of Operation (ALWAYS call ahead first, as operating hours are subject to change): Sunday, 11 a.m. – 5:50 p.m.; Monday-Thursday, 12-9 p.m.; Friday-Saturday, 11 a.m. – 10 p.m.
Pet Friendly: Yes
Jeter Mountain Farm
For the complete apple experience, from picking apples to eating cider donuts to drinking hard cider, then head to Jeter Mountain Farm. This sprawling agri-tourism destination has a little bit of everything, including a small Taproom inside the retail space.
Step up to the bar to enjoy six hard ciders on tap. Two of the ciders are crafted entirely from Jeter Mountain Farm's own apples and are pressed on site. These include "The Original," which is not too sweet and not too tart; and "Pink Lady," which is both sweet and tart and has a dry finish.
Four additional ciders are featured from Flat Rock Cider Company, a local cider company that uses Henderson County apples. (We sure do miss their former Main Street location!)
Keep in mind that Jeter Mountain Farm is open seasonally. It will re-open in July 2022 and usually stays open until November. They also are one of the best U-Pick Flower Farms near Asheville, in addition to U-Pick fruits.
Location: 1126 Jeter Mountain Road, Hendersonville, NC 28739
Phone Number: (828) 513-0404
Hours of Operation (ALWAYS call ahead first, as operating hours are subject to change): Seasonal. Check website for current information.
Pet Friendly: Yes
Henderson County Apple Orchards with Hard Ciders
Many of Henderson County's apple orchards have their own hard ciders to sell at their farm locations. Made with apples grown in their own orchards, the ciders are only available while visiting each location, which include:
Sky Top Orchards Nearby Noble Cider makes the hard cider for Sky Top, but it is only available at the orchard. I really liked the cherry hard cider!
Grandads Apple Orchard Large bottles are available to purchase in the barn. I've tried it and absolutely did not like the hard cider here.
The Blue Door
Blue Door Bottleshop doesn't make ciders, but they sure do serve them up! This bottleshop and beer hall serves up a variety of 500 different types of beer, meads, sake, wines and hard cider.
On tap, you'll find 20 items, including a hard cider. Or browse the selections from the regional shelves or refrigerated coolers.
As a community hub, you are welcome to bring your own food (or order food from nearby downtown restaurants) and enjoy a drink while relaxing indoors. They'll even provide the plates for you! And pets are welcome inside.
Location: 146 3rd Avenue East, Hendersonville, NC 28792
Phone Number: (828) 290-4191
Hours of Operation (ALWAYS call ahead first, as operating hours are subject to change): Sunday-Thursday, 12-8 p.m.; Friday-Saturday, 12-9 p.m.
Pet Friendly: Yes
Cider, Wine and Dine Weekend
In April each year (around the time that the apple blossoms start blooming), there is a three-day even celebrating Hendersonville's cider, as well as wineries and incredible food. Additional special opportunities are also available during this time, including tours, live music, educational opportunities and more.
Learn more about the activities planned for the 2022 Hendersonville Cider, Wine and Dine Weekend.
---
Looking for even more ways to enjoy Hendersonville? Check out our guides: