Are you hopping on the hot chocolate bomb craze? We've never seen these recipes until this year. We have to admit, we love them! So we decided to make Mickey Mouse hot chocolate bombs with marshmallows inside. We hope you enjoy the easy recipe!
What is a hot chocolate bomb? It's a solid ball (or in this case, Mickey Mouse head) that is added to a mug. Pour hot milk over it and watch the outer layer melt away, revealing goodies on the inside.
Our recipe has marshmallows inside, which pop out when the hot milk dissolves the dark chocolate shell. It's a fun treat for kids to see the candies pop up to the top of the mug!
P.S. If you're looking for an adult-friendly hot cocoa bomb, check out our boozy spiced rum hot chocolate bombs!
The great thing about this recipe is that you just might already have all of the ingredients at home. They are that simple to make! The main thing you need is the Mickey Mouse mold, and it's inexpensive and easy to get!
Molds We Used
In order to make these Mickey Mouse hot chocolate bombs, the main ingredient is definitely the mold! This is the Mickey Mouse silicone mold that we used.
We had three of them to make a total of six drinks (two Mickey Mouse molds are needed for each hot chocolate bomb; we made 6 hot chocolate bombs so needed 12 molds in total). However, if you are willing to let the chocolate set in small batches, or do not need that many drinks, you can get by with less molds.
As you can see, no silicone mold is perfect. We had a little bit of chocolate that just didn't come out smoothly. I guess if we tried and tried we could perfect it!
Yield: 6 Hot Chocolate Bombs
Mickey Mouse Hot Chocolate Bombs with Marshmallows Inside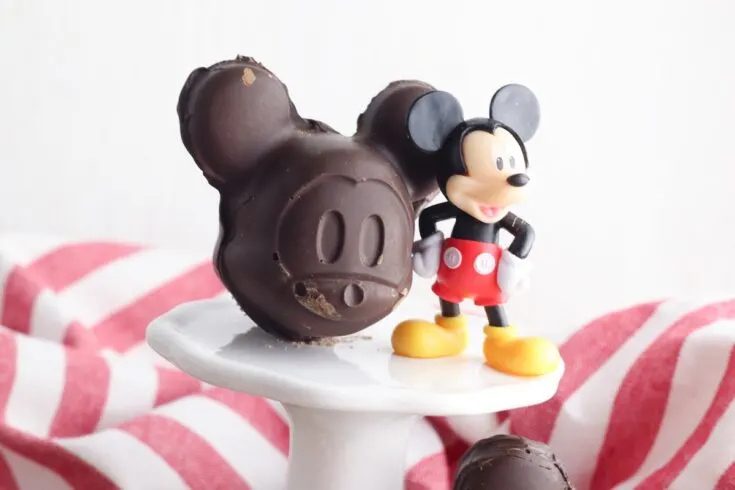 These hot chocolate bombs with marshmallows inside are perfect for watching Disney Christmas movies or sitting around the campfire. Mickey Mouse shaped molds add a fun and magical whimsy.
Total Time
4 hours
30 minutes
Ingredients
12-ounce package dark chocolate chips
1 packet instant cocoa mix with marshmallows
1 cup mini marshmallows
6 cups hot milk (to make the bombs)
Mickey Mouse silicone mold
Instructions
Place the dark chocolate chips in a microwave safe bowl and microwave in 30 second intervals, stirring between each interval, until the chocolate chips are fully melted.
Put a spoonful of melted chocolate inside one Mickey Mouse head on the silicone mold. Use the back of the spoon to spread the chocolate up the sides of the mold. Continue this process until all the molds are coated.
Set the remaining chocolate aside for sealing and decorating the hot chocolate bombs.
Allow the chocolate to set completely, around 2 to 3 hours. If you are in a hurry, you can place the chocolate in the refrigerator to set quicker.
When the chocolate is set, remove each of the chocolate pieces from the mold. Add a small amount of instant hot cocoa mix with marshmallows to half the pieces and top the hot cocoa mix with mini marshmallows.
Reheat the chocolate in 15 second intervals until melted. Pick up an empty chocolate Mickey Mouse head and dip the edges into the melted chocolate. Carefully place it on top of a filled Mickey Mouse and lightly press it into place. Use your finger to smooth melted chocolate around the seam. Continue until all the chocolate bombs are sealed. Allow the edges to set before serving.
To make the hot chocolate bombs, place the bomb in the bottom of a mug. Pour one cup of hot milk over the top of the bomb to melt the chocolate. When the chocolate is completely melted, stir to combine.

Nutrition Information:
Yield:
6
Serving Size:
1
Amount Per Serving:
Calories:

350
If you like this Disney-themed recipe, we think you'll like our other Disney recipes, too:
Don't lose this recipe! Be sure to Pin It for Later!