Over the top charcuterie boards are all the rage right now. Maybe because we want to overindulge in good stuff this year, am I right? Which is why this deliciously decadent hot chocolate charcuterie board is your answer to combining nostalgia, sweet indulgences and perfect party planning all in one!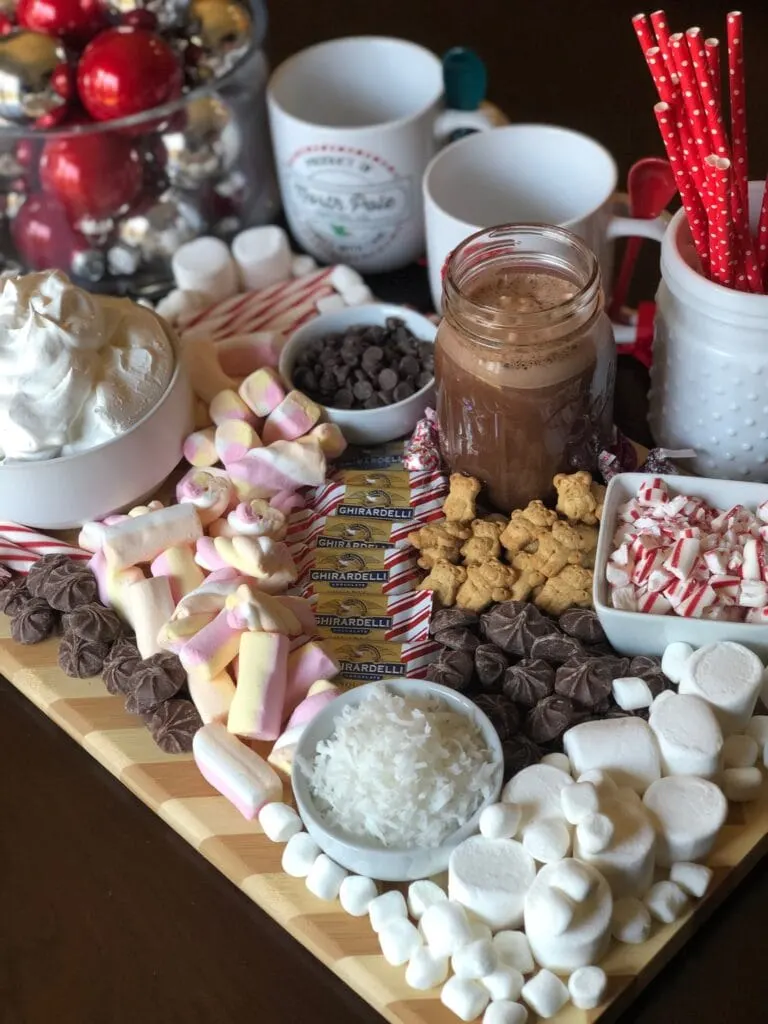 Get ready to enjoy liquid dessert like you never have before! This ain't your momma's hot cocoa (but your mom probably will really enjoy this hot chocolate tray)!
You might also like our Mickey Mouse Hot Chocolate Bombs recipe.
Charcuterie Board Trend
First of all, yes, the term charcuterie board is generally used for a tray of meats. Or cheeses.
Second, yes, charcuterie is a difficult word to spell or say! LOL
So we're not sure why the outrageous boards that look more like a dessert buffet than an appetizer are called charcuterie. Nor do we care! We just like the overindulgence of anything on a board made to look pretty! Check out our friends' Kim and Kalee and their Sundae Charcuterie Board.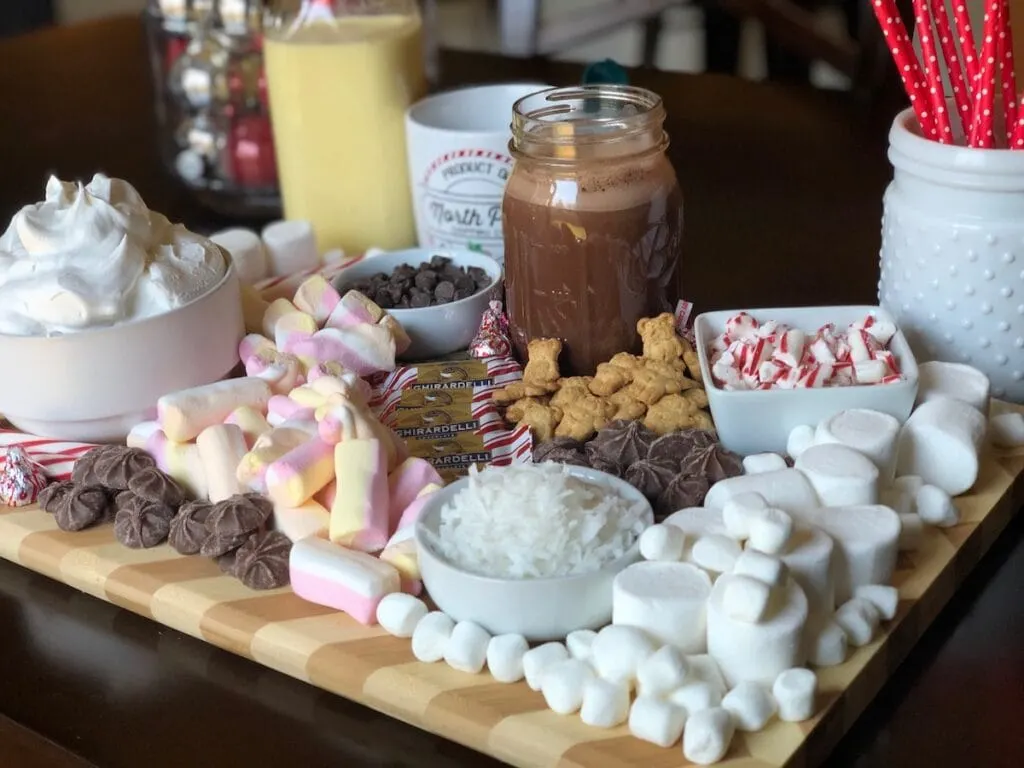 These overstuffed boards are the perfect show-stopper and Instagram-photo worthy.
Here's some ways to justify making these insane dessert boards:
Holiday party
Use by a campfire
Movie nights at home
Family game night
Family Christmas photos
Zoom calls with family over the holidays
How to Make a Hot Chocolate Charcuterie Board
1. Start with a board to pile the goodies on. It can be a wooden cutting board, or a plastic cutting board. Or a really big serving platter. (Even Dollar Tree has some excellent huge platters for just $1.) Chances are, the board will be piled so high with stuff no one will see underneath.
2. Use some small bowls and vases if you have them. This will add height to the goodies on the board so that there is more visual interest. It also makes it look like there is more candy on the platter than there really is!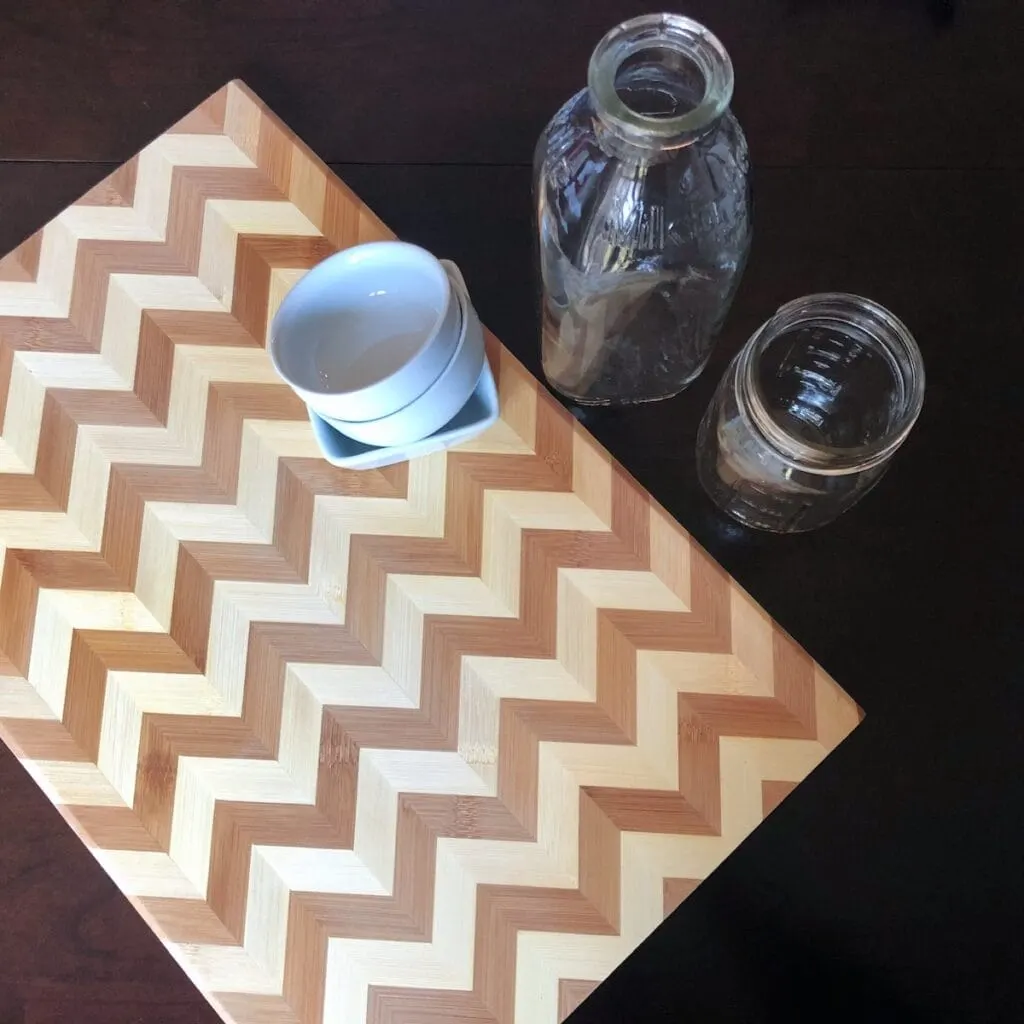 3. Brainstorm about what to use on the board.
Here are some great ideas for hot chocolate mix-ins:
Marshmallows
Candy canes
Peppermint candies
Chocolate candies
Caramels
Graham crackers
Marshmallow twists
Chocolate chips
M & Ms
Andes Mints
Chocolate bars
Hershey's Kisses
Coconut
Cherries
Chocolate syrup
Strawberry syrup
Whipped cream
Baileys
Kahlua
4. Add some items in the small bowls and jars. Especially tiny treats like chocolate chips. Place these around the board.
5. Start piling sweet treats on the board. Keep in mind, you don't need to put out the entire bag of candy all at once. Leave some in the cupboard to replenish as needed. Pile up treats in front of the bowls, too, so that it looks like hot cocoa stir-ins are overflowing!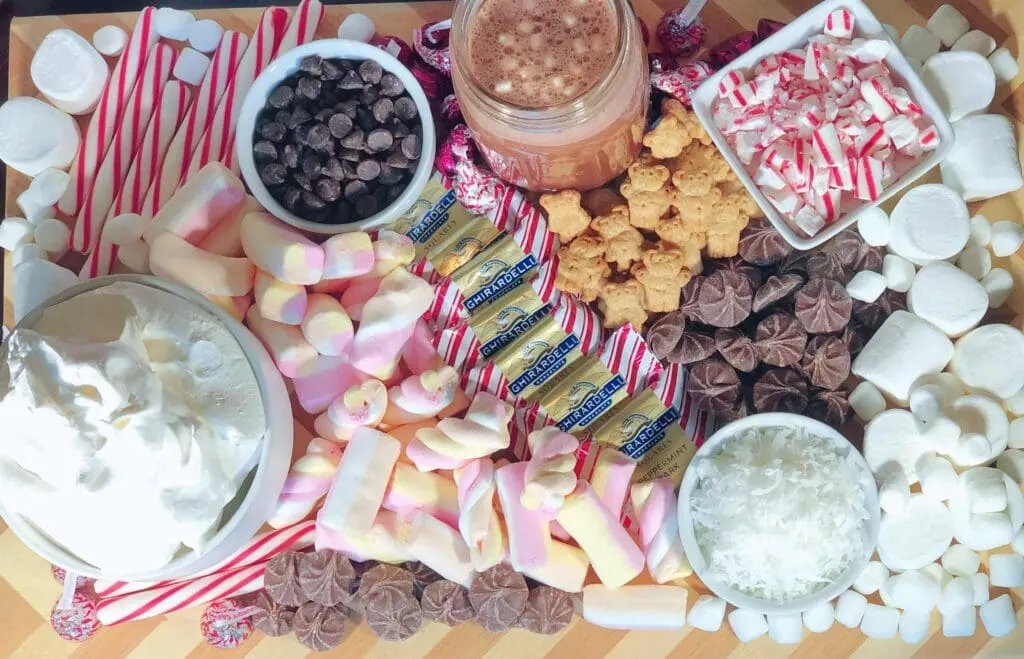 6. Look at your charcuterie board like a rainbow. You want to group like colors together. But try to add some interest. You don't want all red items on one side of the board and all white items on the other side. That's not pretty. Instead, make pockets of color throughout the dessert board for visual interest.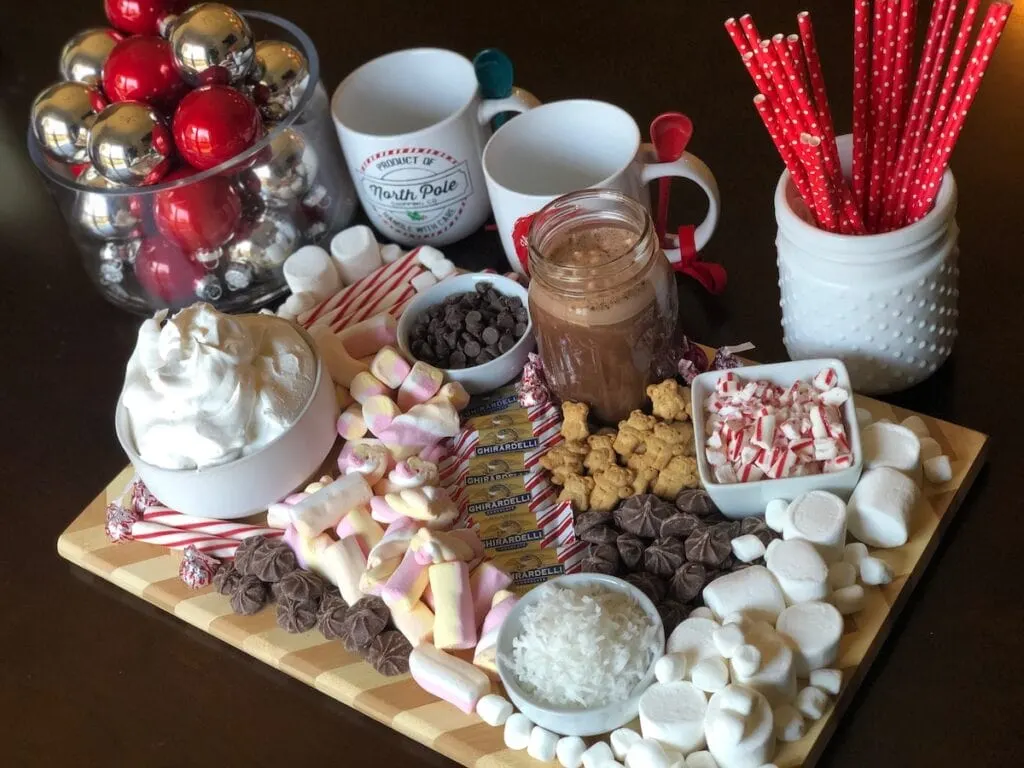 7. Be sure to have a way to safely serve the hot chocolate toppings if you are sharing with people outside of your immediate family. A spoon (such as these cute edible candy cane spoons), skewers, toothpicks or tongs are a must to prevent cross contamination.
These Christmas tree tongs are super cute. Or try these fun colorful hand tongs!
P.S. A bottle of hand sanitizer nearby is welcome for gatherings of friends and family.
8. Don't forget how to serve the hot chocolate, too! With a board this beautiful, you've got to think about the presentation of the mug, as well. Use cute mugs with a theme (not your old work mug that promotes some random company). Maybe you want all campfire themed mugs? Or Christmas mugs? Let your imagination run wild.
9. Mug cozies are a great way to continue the party feel.
10. Have plenty of spoons, stirrers and straws on hand! Put these in mason jars or mugs that you're not using. Wrap them up with napkins if you'd like.
We can think of nothing better than making this gourmet hot chocolate while opening your Christmas stockings! Here's 101 ideas for stocking stuffers.